Anti-Inflammatory Ginger & Turmeric Carrot Soup
This amazing Ginger & Turmeric Carrot Soup is anti-inflammatory and great for digestion! It's packed with nutrients, easy on the gut and packed with flavor.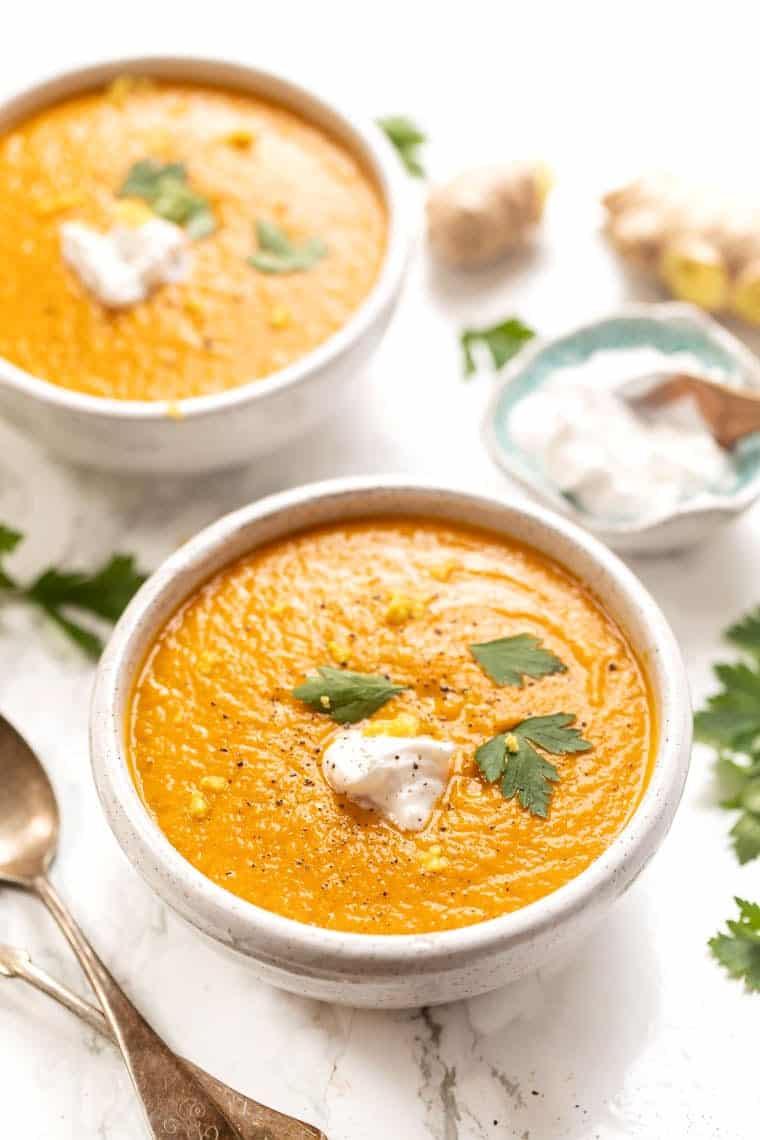 For me, soups are the ultimate healing food. Not only are the cozy and comforting, but they're also really nurturing for your gut. When you have an upset stomach, what do you crave? Probably something with ginger and probably something soothing.
Well hello, there Miss Ginger & Turmeric Carrot Soup! The ultimate remedy for upset tummies and people struggling with digestive issues. This soup is easy to make, it's packed with anti-inflammatory goodies, and it's all really easy on your system.
Bonus points: this soup also tastes amazing!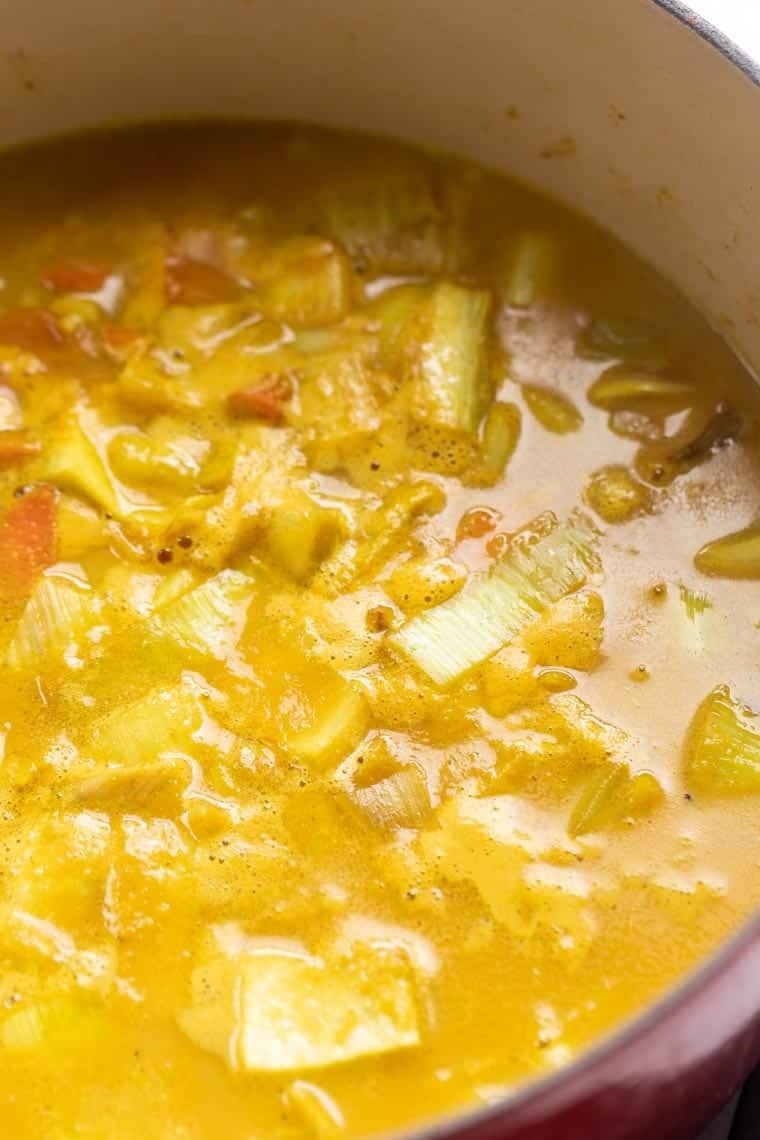 Why Are Soups Good for Digestion?
If you're like me and you like knowing the why behind things, let's chat about how soups can help your gut be healthy and happy.
Soups are cooked. Cooked foods are typically more gentle on your system than raw foods, especially when it comes to vegetables. The cooking/heating process breaks down the cell walls and makes it easier for your digestive system to break down the food.
Soups are "chewed". This really relates to pureed soups (like this Ginger & Turmeric Carrot Soup) as these soups have been completely pureed before you eat them. The benefit of eating pureed food is that you don't have to "chew" it. The food is already broken down once it hits your stomach, so it can easily mix with your digestive juices and move through your intestines more gently.
(Vegan) soups are nutritious. In addition to them being easy to digest, most the time, soups are made from nutrient-dense ingredients like herbs, spices, vegetables, and beans. Because the soup is full of those nutrients AND that it's easy to digest, your body is able to absorb more of those nutrients into your system.
And ultimate, soups just make you feel SO good!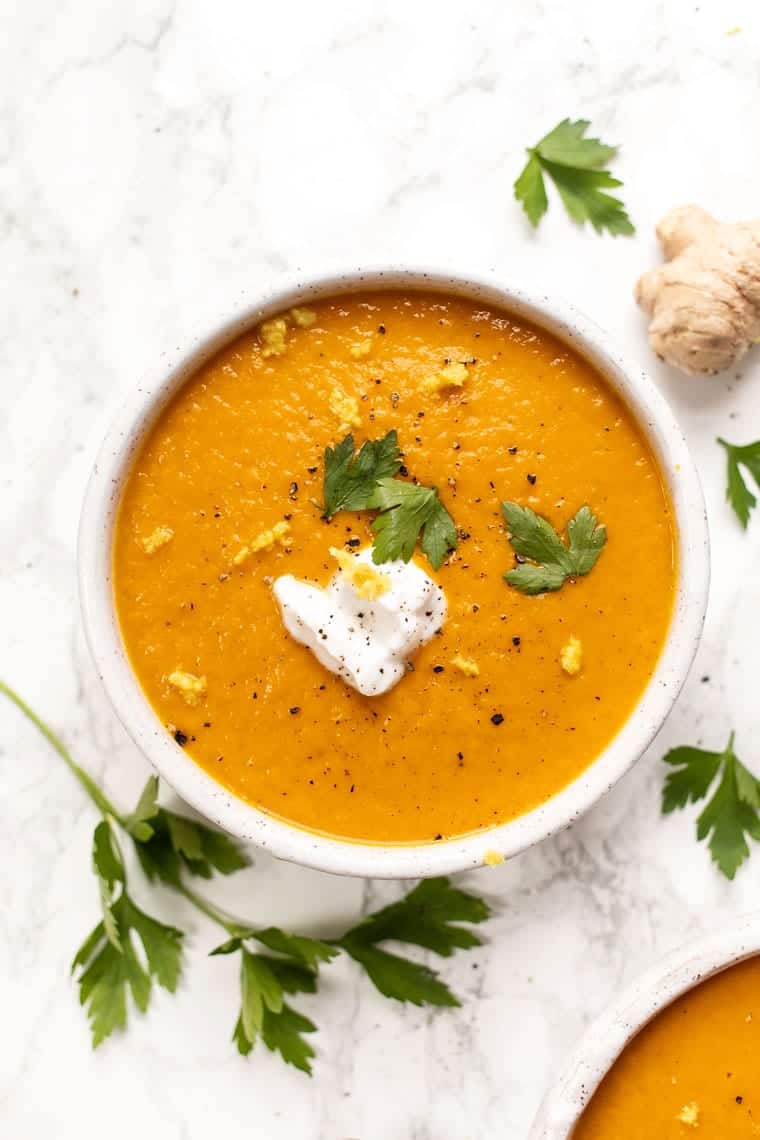 Anti-Inflammatory Ingredients for Soup
Many people struggle with inflammation, but I find that after the holidays it's even more common. Why? Because over the holidays we're usually eating more of the foods that can cause inflammation – like gluten, sugar, dairy, alcohol, etc.
I for one am definitely struggling with some digestive issues, bloat and just a general feeling of not being my normal self.
Enter the anti-inflammatory start ingredients: ginger & turmeric!
GINGER: has been used for centuries to help calm an upset stomach. Ginger stimulates the production of bile making it a wonderful digestive aid. And ginger can also help with diarrhea and nausea.
TURMERIC: is a known anti-inflammatory ingredient. The active ingredient in turmeric is curcumin (which is activated with black pepper) and has been shown to help reduce inflammation not only in the gut but also throughout the body. Turmeric is also great at soothing the muscles in our digestive system so that food can be pushed through more easily. And finally, turmeric can also help relieve heartburn, gas and bloating.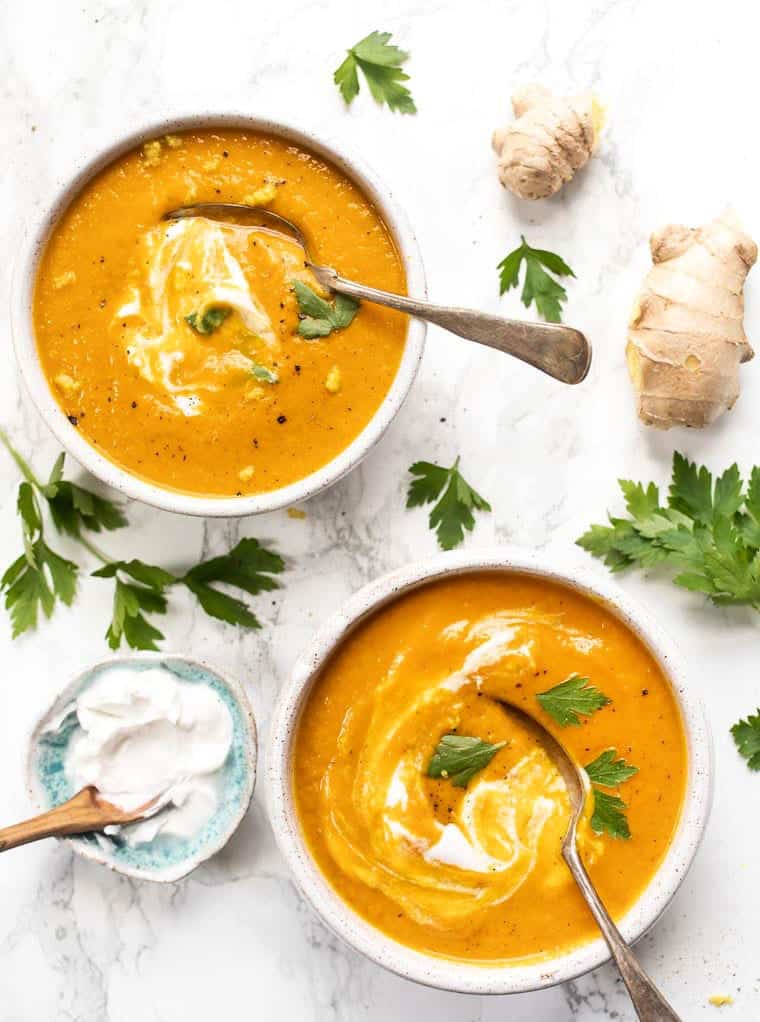 The Ultimate Anti-Inflammatory Soup Recipe
Knowing that I, and others, would need a healing soup to kick off the year, I created this delicious and insanely nutritious Carrot Soup. We're using ginger and turmeric to not only amp up the flavor but also help make this soup ultra healing. It's nourishing for your system and will definitely help you get back on track with your digestion.
We're using leeks, fennel, carrots, and squash as our main soup ingredients and I've got to say, it's an amazing combo. The fennel gives it a little zing, while the carrots and squash make it subtly sweet.
Then with the addition of garlic, fresh ginger and turmeric, this soup is just packed with flavor! By far one of my favorite soups on the blog thus far!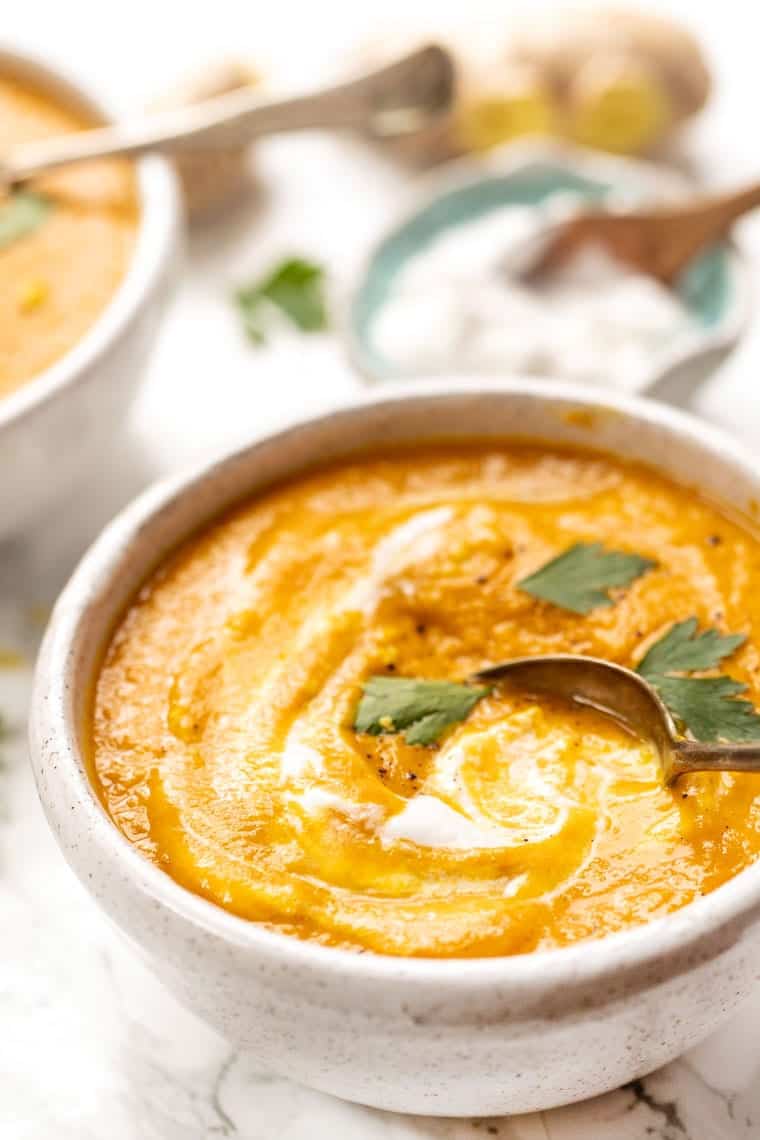 The Perfect Carrot Soup
I haven't always been a fan of carrot soup, but this one I'm obsessed with.
We've talked a lot about the spices used to add flavor, but probably my favorite part of all is the coconut milk. I'm a HUGE fan of coconut milk based soups; the flavor is delicious and the texture is incredible.
Full-fat coconut milk adds this incredible richness to soups without making them feel heavy. It also helps get them super creamy and makes it feel like you're eating a cream-based soup. It's my secret weapon for pretty much all soup recipes!
I know you're just going to love this carrot soup and I can't wait to hear about it. If you do end up making it, be sure to come back and let us know what you think with a star rating!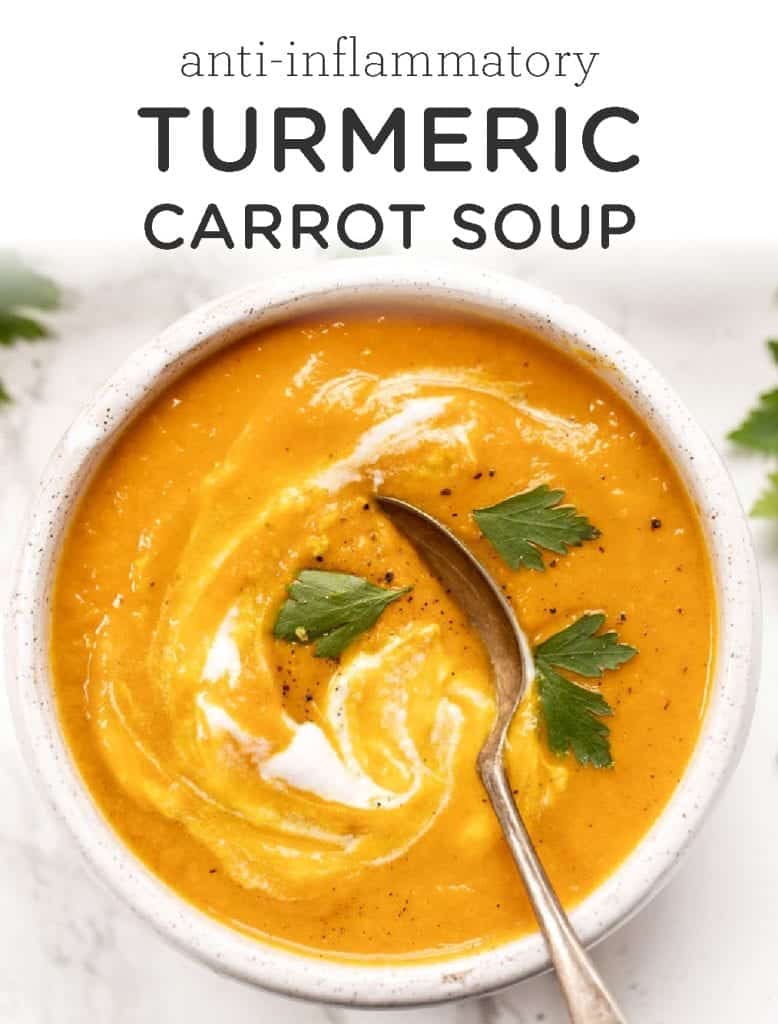 More healthy soup recipes to try:
Anti-Inflammatory Ginger & Turmeric Carrot Soup
This soup is cozy, comforting, and hearty, and perfect for winter. It's full of anti-inflammatory ingredients, so it's a great soup to eat around the holidays.
Servings 4 servings
Calories 205kcal
Ingredients
1 tablespoon olive oil
1 leek , cleaned and sliced
1 cup chopped fennel (1 small head)
3 cups chopped carrots
1 cup chopped butternut squash (or more carrots)
2 garlic cloves , minced
1 tablespoon grated ginger (about a 2-inch piece)
1 tablespoon turmeric powder
Salt & pepper to taste
3 cups low-sodium vegetable broth
1 can lite coconut milk (14.5 ounces)
Instructions
Heat the olive oil in a large dutch oven or saucepan. Add the fennel, leeks, carrots, and squash. Sauté for 3-5 minutes until the veggies start to soften. Add the garlic, ginger, turmeric, salt, and pepper, and sauté for a few more minutes.

Add the broth and coconut milk. Bring the mixture to a boil, cover, and simmer for 20 minutes.

Once the soup is cooked, add it to a blender and blend until creamy. You could also use an immersion blender. Taste and adjust the seasonings to your taste.

Serve immediately with a dollop of coconut yogurt and enjoy!
Notes
Store in an airtight container in the fridge for up to 5 days, or in the freezer for up to 6 months. Reheat on the stove over medium heat.
Nutrition
Serving: 1.5cups | Calories: 205kcal | Carbohydrates: 25g | Protein: 2g | Fat: 10g | Saturated Fat: 7g | Polyunsaturated Fat: 1g | Monounsaturated Fat: 3g | Sodium: 869mg | Potassium: 618mg | Fiber: 5g | Sugar: 9g | Vitamin A: 20534IU | Vitamin C: 19mg | Calcium: 78mg | Iron: 2mg
share what you make
Tag #simplyquinoa on Instagram with your creations! We love sharing what you make with the community. We can't wait to see!

follow on instagram