Skip the coffee and whip up this delicious Maca Latte! It uses just 5 ingredients, is packed with superfoods and is naturally energizing without the caffeine.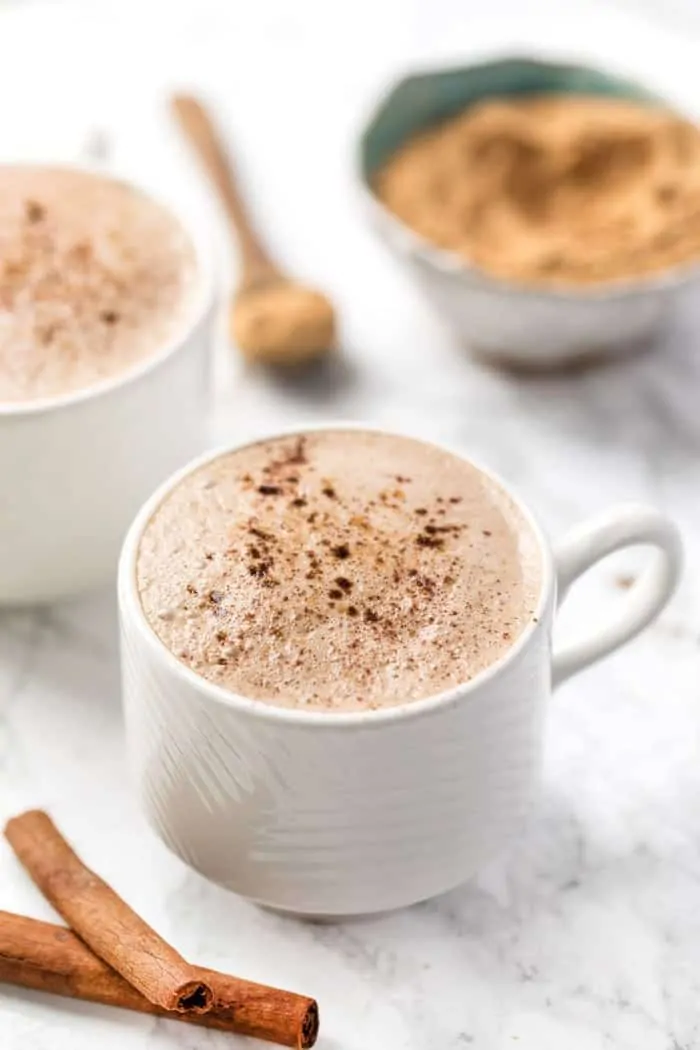 If you love cappuccinos and lattes, but don't want those caffeine jitters, today's recipe is for you!
I personally stopped drinking coffee about 9 years ago and have since been an avid green tea fan. I love that you still get a little bit of caffeine, but it's not too overwhelming for my system. But even that can be a little much sometimes.
The other week I was feeling like I wanted something warm and cozy, so around 5pm, I made a matcha latte. So yeah… that a mistake! It took me forever to fall asleep and I tossed and turned all night long. Lesson learned.
But what about those times when you're craving a coffee or matcha, but you don't want that caffeine? Enter my newest obsession: this Caffeine-Free Maca Latte!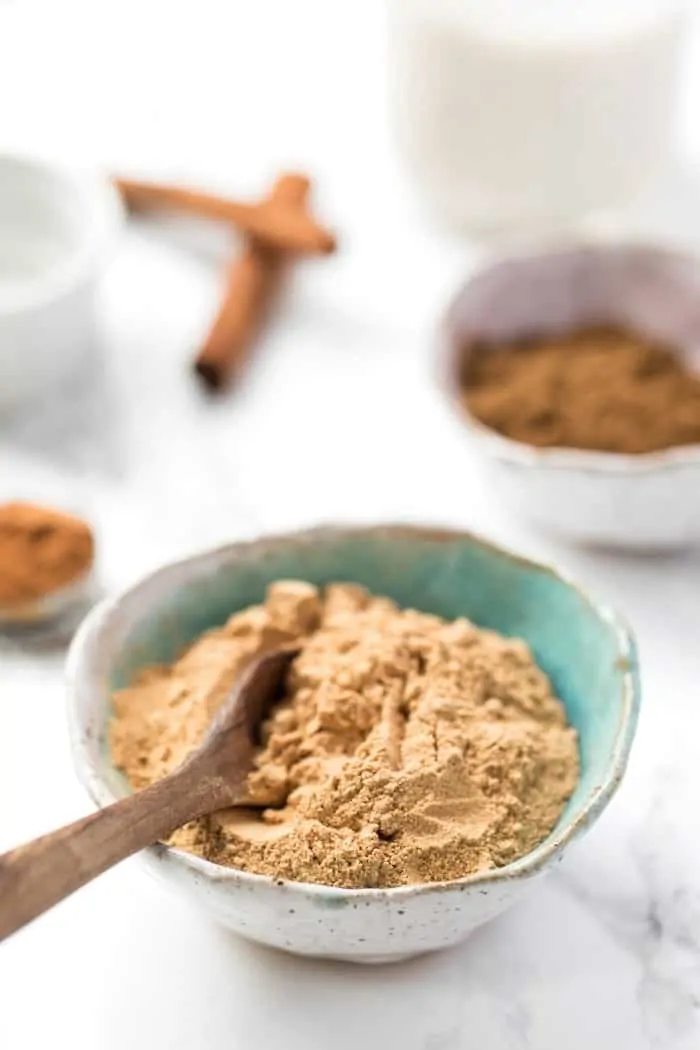 What I love about this latte, is that even without caffeine is still very energizing! It's also got a really nice flavor and amazingly creamy texture.ch
The star of the show is maca powder!
If you're unfamiliar with maca, let me give you a quick overview…
Maca is a plant found in the high altitudes of Peru and Bolivia, used by indigenous Andean societies for its superfood qualities. Maca powder is made from the root of the plant and is known to nourish the body's endocrine system and help us cope with stress. Maca also energizes naturally, without the side effects that you get from caffeine.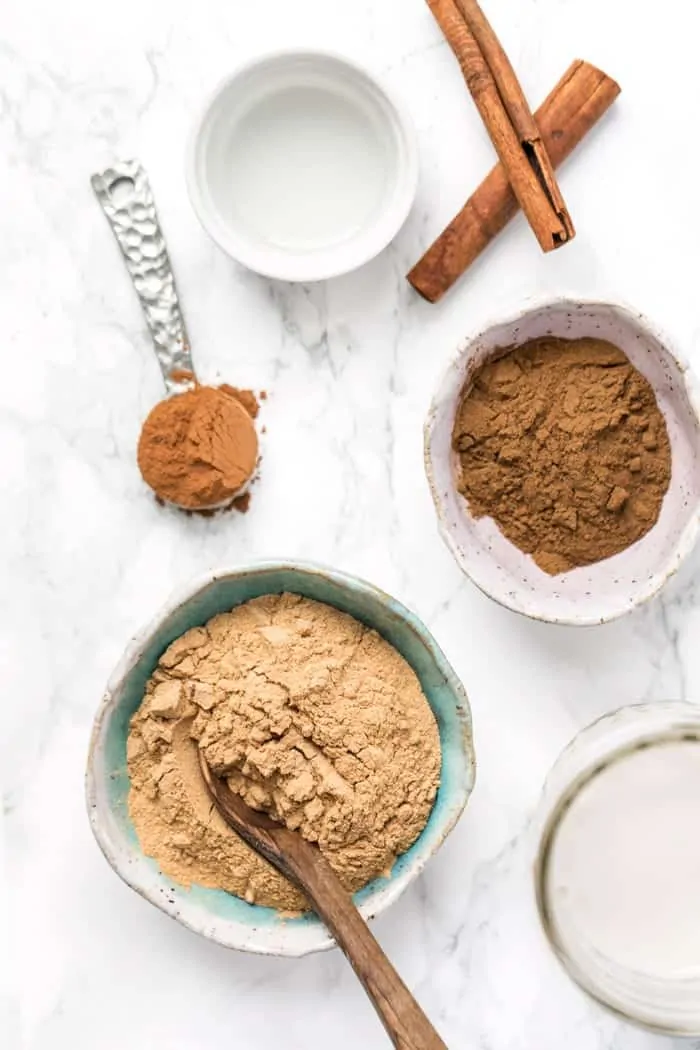 I personally like to use gelatinized maca, which is different than raw, because before it gets dried and ground it's actually boiled and then pressurized to remove all the starches. While this does alter the nutritional properties slightly (as cooking does to all foods), but it actually makes the maca easier to digest.
Meaning that when we use gelatinized maca vs. raw maca, our body is able to more effectively reap the rewards.
One thing I do want to mention about maca is that it's not recommended for people who are pregnant. Because maca works with our endocrine system, it can have some impact on hormones, so I think it's best to steer clear of it if you're pregnant!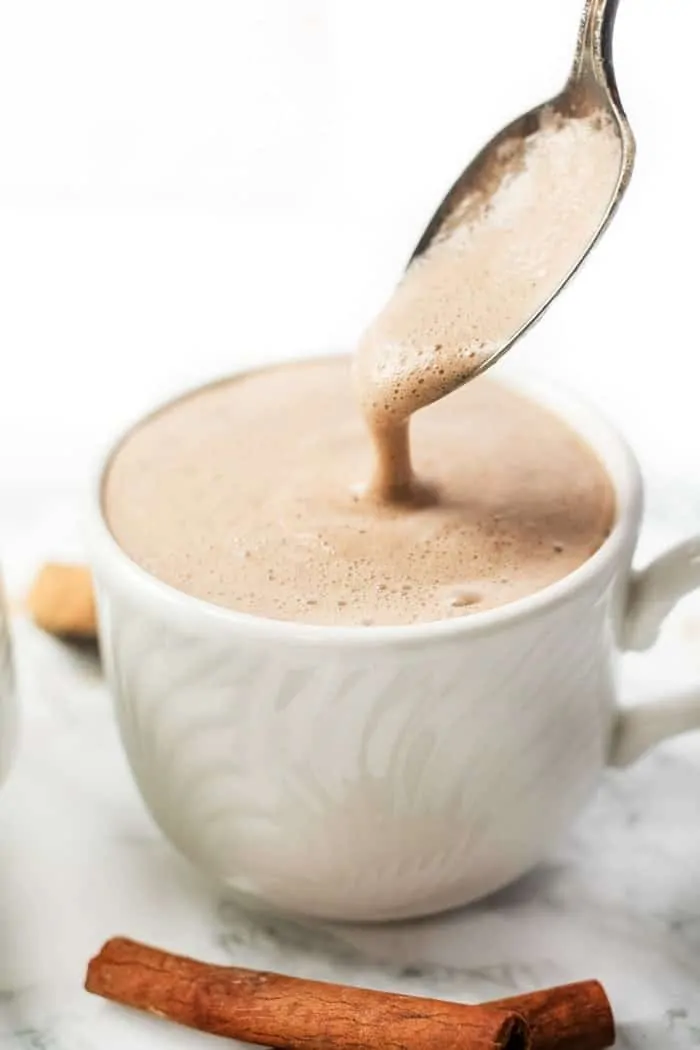 So maca is our base, but what else have we got inside this caffeine-free maca latte?
Chaga Mushrooms. Known as the "king" of mushrooms, chaga is one of the highest known sources of antioxidants. It's also rich in phytonutrients, zinc, b-vitamins and digestive enzymes. Chaga can also reduce inflammation, cleanse the liver, aid in digestion, regulate the immune system, and provide a little energy boost.
MCT Oil. I've shared the benefits of MCT oil before, but essentially it's an oil that has been shown to go directly to the liver and brain when consumed, rather than being stored as fat. This means it can boost our metabolism, gives our brain a pure form of energy and actually reduce stored body fat.
Ceylon Cinnamon. Not only does cinnamon taste amazing, and gives this latte a wonderfully comforting flavor, but cinnamon is also wonderful for our health. It's a warming spice, but it can also help regulate our blood sugar levels, which in turns helps stabilize our energy. So while it isn't necessarily energizing us, it's helping us stay more even and not have those dreaded energy crashes.
And then to finish it off, we add a little almond milk which gives the latte a really nice frothy texture and an optional sweetener!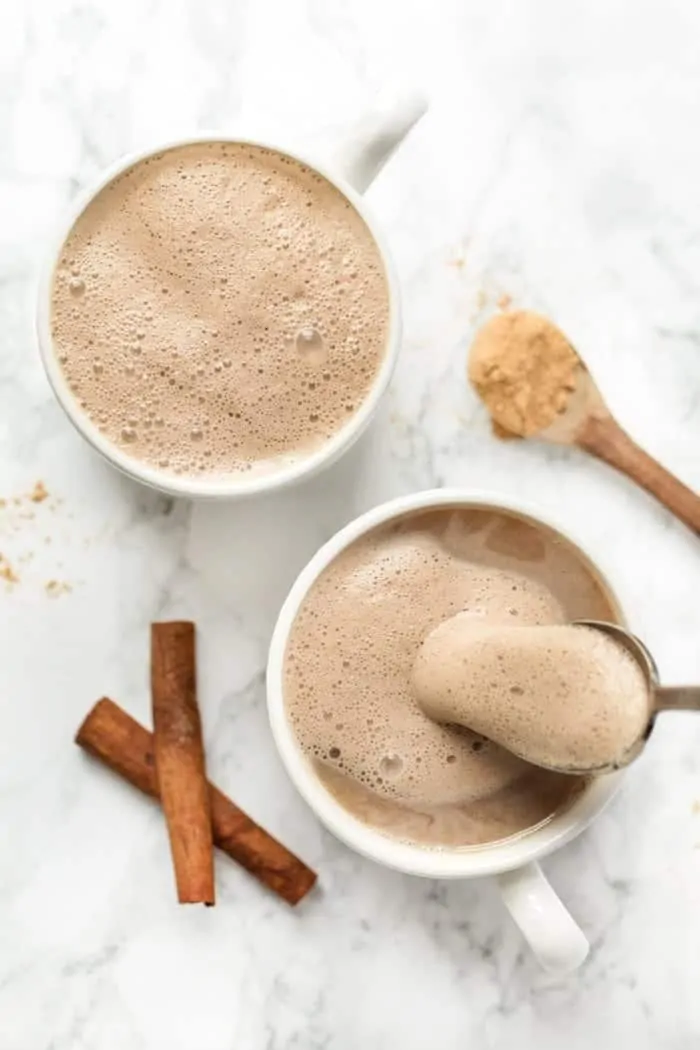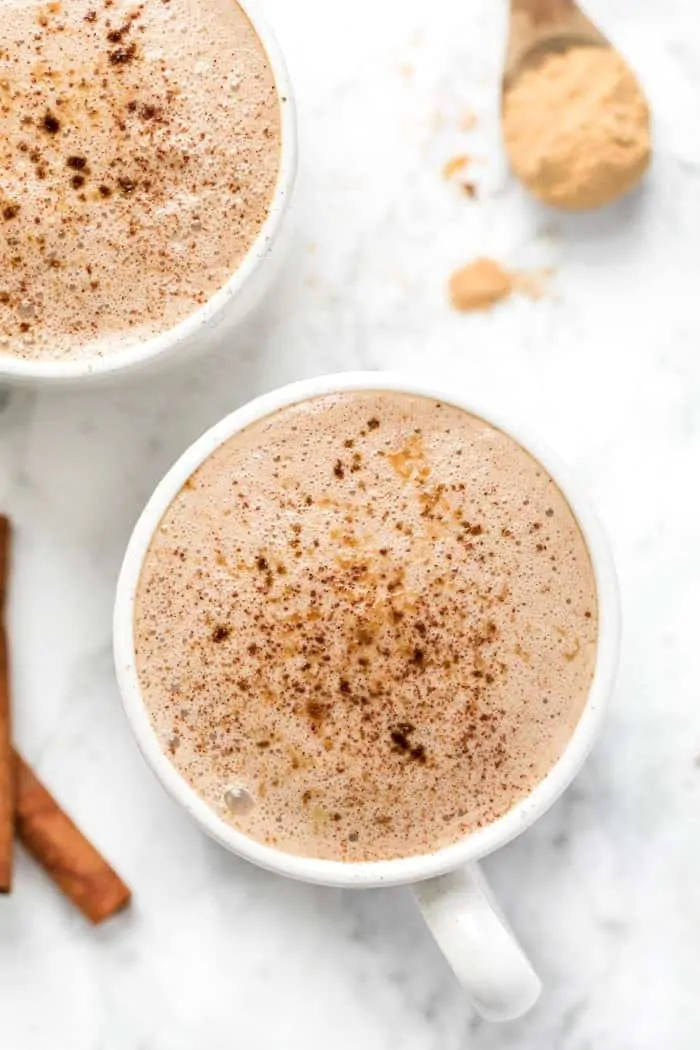 For me, this is the perfect alternative to a classic cappuccino or latte. It's smooth, creamy, delicious and makes me feel really energized without the jitters. It's also a great alternative to green tea and is now what I find myself sipping on most afternoons.
I love the flavor, I love the texture and I can't wait to hear what you think too!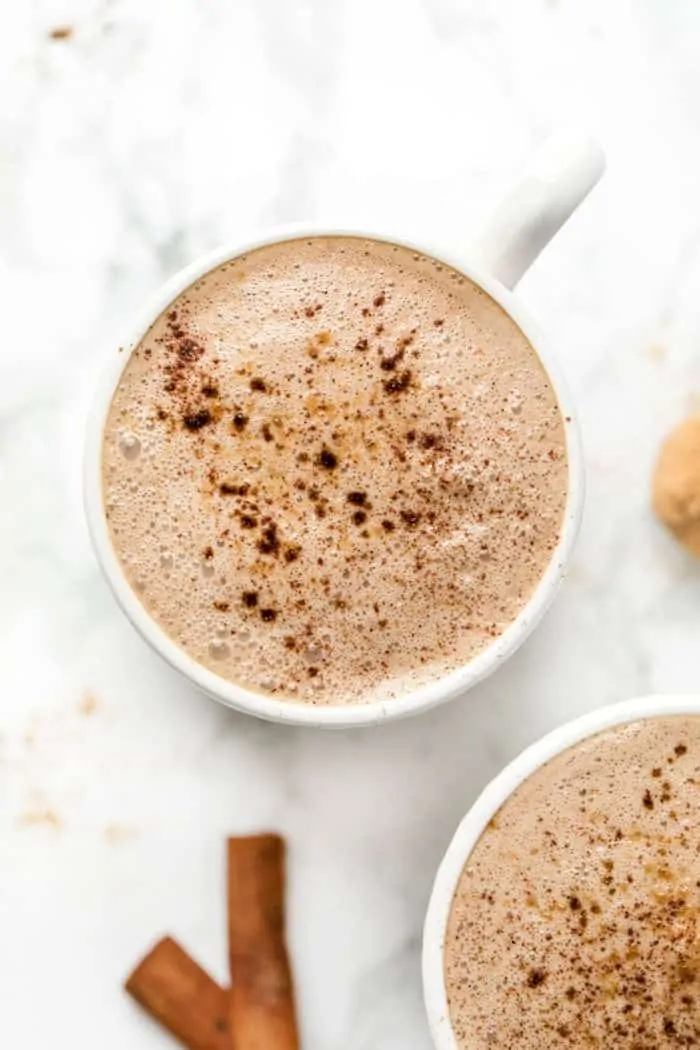 I know that these "crazy" powders and ingredients can sometimes feel a bit overwhelming, and I totally respect that. This might not be the option for everyone, but if you are interested in adding some more superfoods into your diet, I think this is a really great place to start.
Maca, chaga and MCT oil can all be used in a variety of things including my Superfood Vegan Nutella, Energizing Matcha Latte, Superfood Energy Bites, as a Natural Cold & Flu Remedy, and even just added into your morning smoothies!
I personally love optimizing my diet with superfood powders and would be more than happy to answer any questions you might have in the comments below! ❤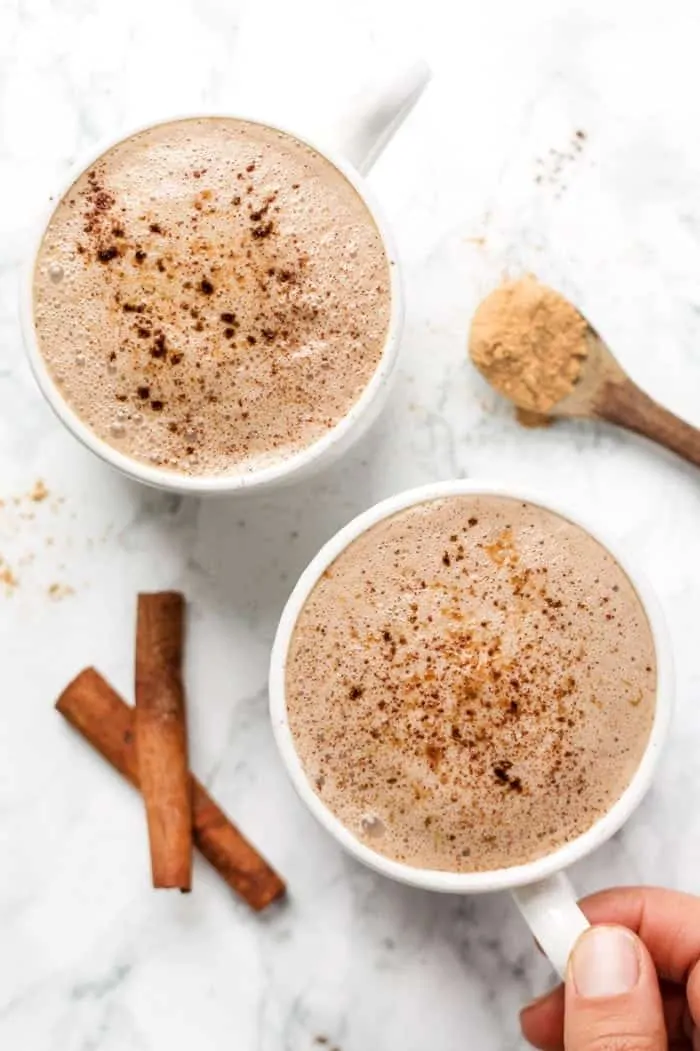 More Energizing Drink Recipes
Vegan & Caffeine-Free Maca Latte
Avoid the afternoon slump with this Caffeine-Free Maca Latte! It's packed with superfoods and is naturally energizing without the caffeine.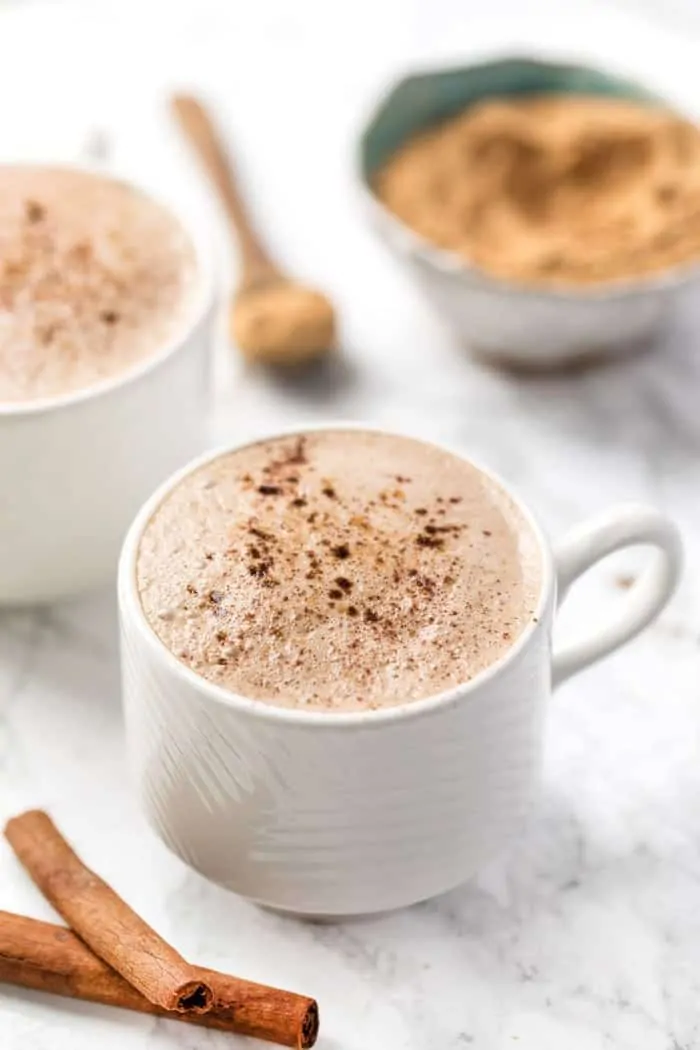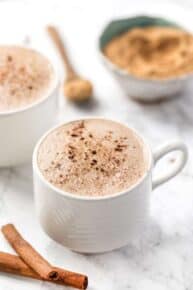 Instructions
Add all ingredients into a blender. Blend on high until creamy.

Divide evenly between two mugs. Drop a dollop of foam onto each latte and garnish with a sprinkle of maca.
Notes
* I buy my chaga from Root & Bones -- use code "simplyquinoa" to get 15% off your order!
** monk fruit extract can be substituted for 2 tablespoons pure maple syrup or honey
Nutrition
Calories:
97
kcal
|
Carbohydrates:
6
g
|
Protein:
1
g
|
Fat:
8
g
|
Saturated Fat:
1
g
|
Sodium:
54
mg
|
Fiber:
2
g
|
Sugar:
2
g
Filed Under: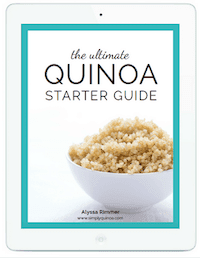 New to cooking quinoa? Grab your FREE Quinoa Starter Guide!
Become part of the Simply Quinoa community and receive weekly emails with exclusive content that I only share in email, as well as my in-depth guide to starting your quinoa journey.