A simple iced matcha latte made with medicinal mushrooms and coconut butter for added energy and nutrition! Naturally sweetened, vegan and gluten-free!
Looking for a warm matcha latte recipe? Try this easy matcha latte.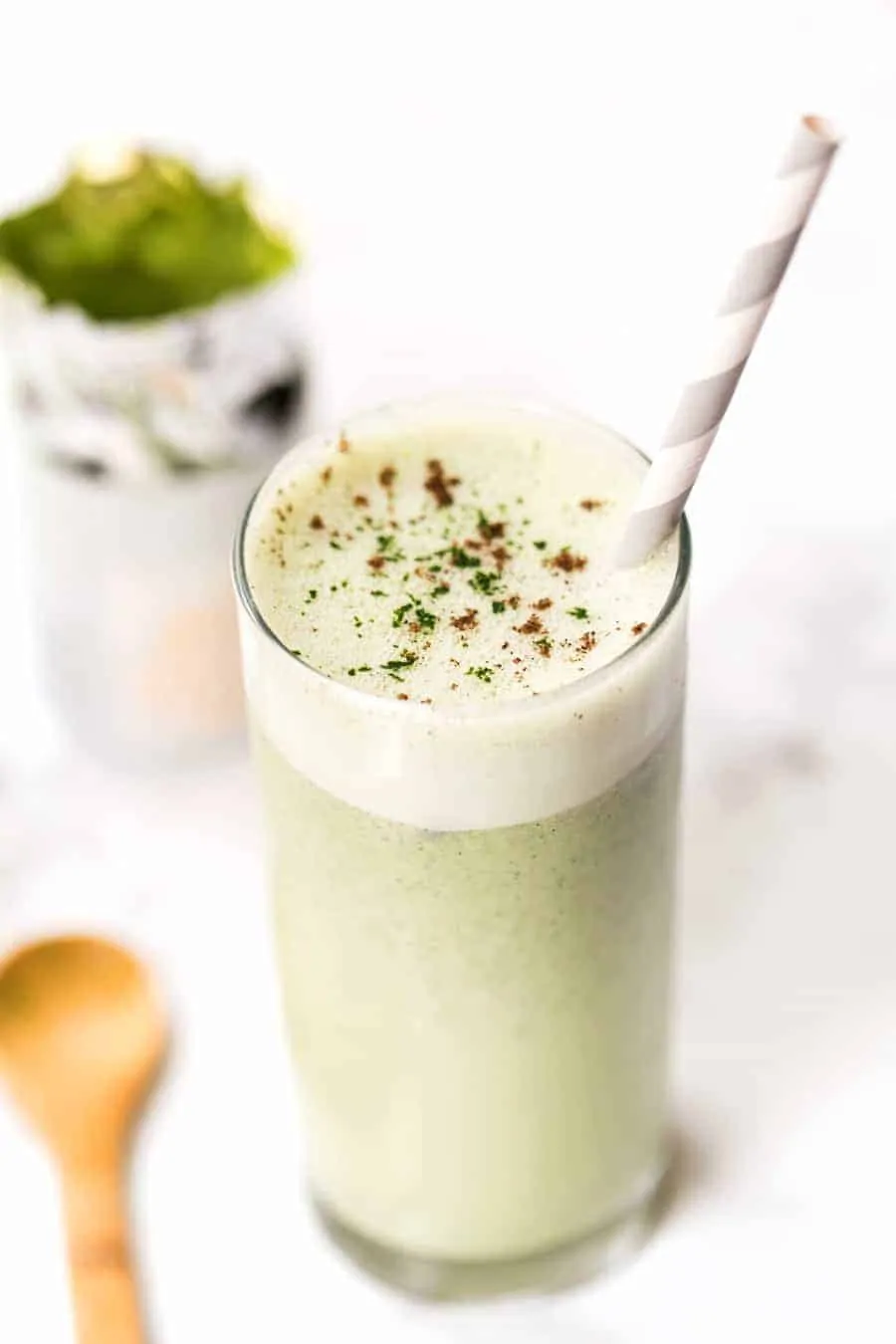 If you've ever since one of my What I Eat in a Day videos than you know I'm pretty much obsessed with matcha green tea. I pretty much have some form of matcha latte every day, and lately I've been really enjoying it iced.
Typically I'm a hot tea fan, but July in New York City is incredibly hot and humid, so I get back from my morning walks with Trevi and I can't imagine drinking something hot. Yet, I also can't seem to live without my matcha…so iced matcha lattes it is!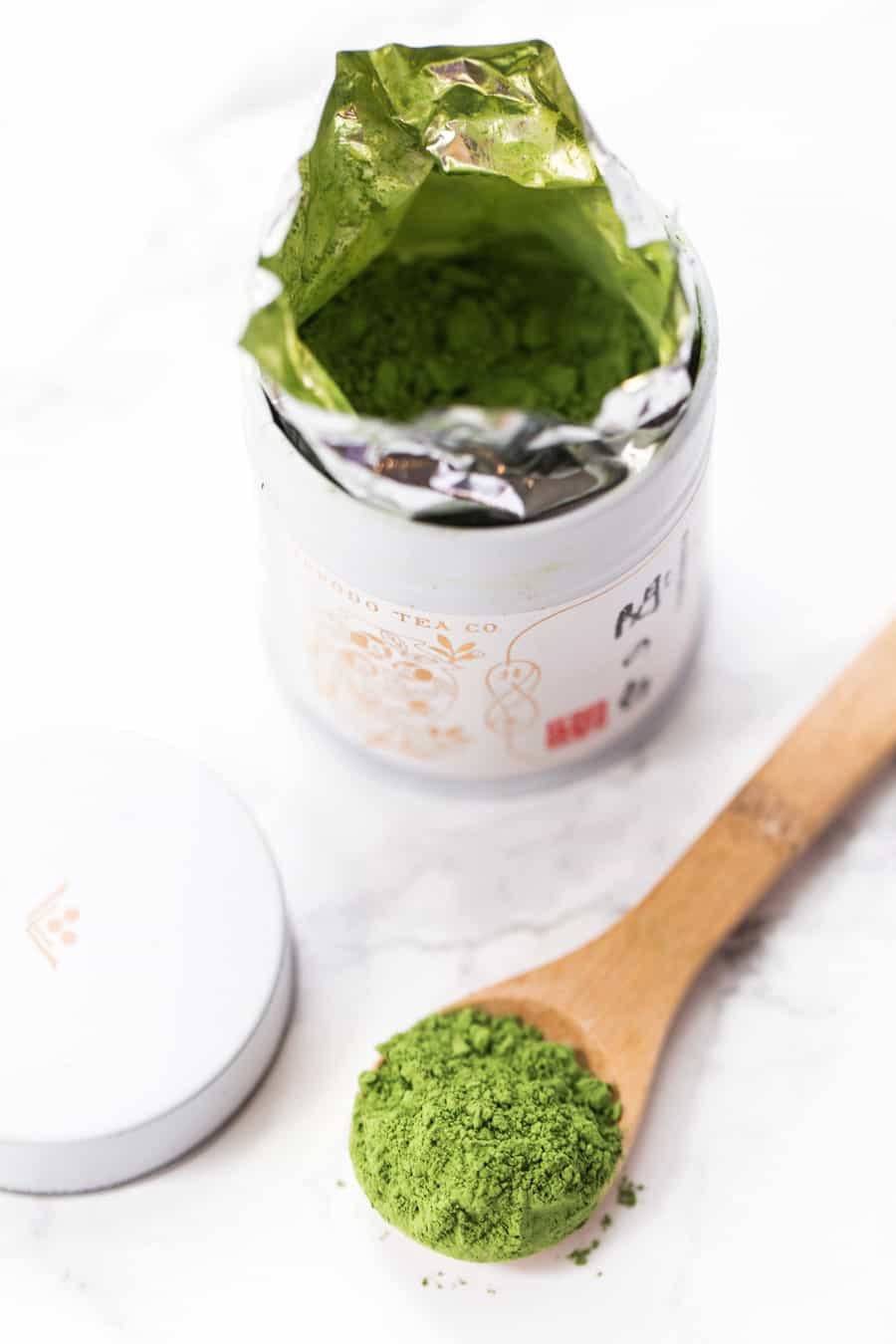 I've talked a little bit about matcha on the blog before, but I want to clarify some questions I've been getting on my Instagram lately. I talk a lot about matcha over there and the difference between culinary grade matcha and ceremonial grade matcha (which is what I use), so I thought we could chat about it here.
The main difference between the two is quality. Culinary grade matcha is good for baking, adding to ice creams, protein balls, etc., but it's not good for lattes or drinking. It has a slightly bitter sometimes grassy flavor, it's much less vibrant in color (meaning the leaves aren't as high quality) and when you compare the two side by side, it's pretty apparent how different they are.
Ceremonial, on the other hand, is the best of the best. It has a lovely smooth finish, isn't grassy at all and has the most intense green color. It's a bit harder to find, and definitely more expensive, but if you're drinking matcha as a tea, I can only recommend ceremonial grade.
My two favorite brands are Ipoddo tea and The Matcha Reserve. Ipoddo is a bit more expensive, so if you're new to matcha, I recommend trying The Matcha Reserve first. I also have a special code for you: use SIMPLYQUINOA at checkout to get 15% off your entire order.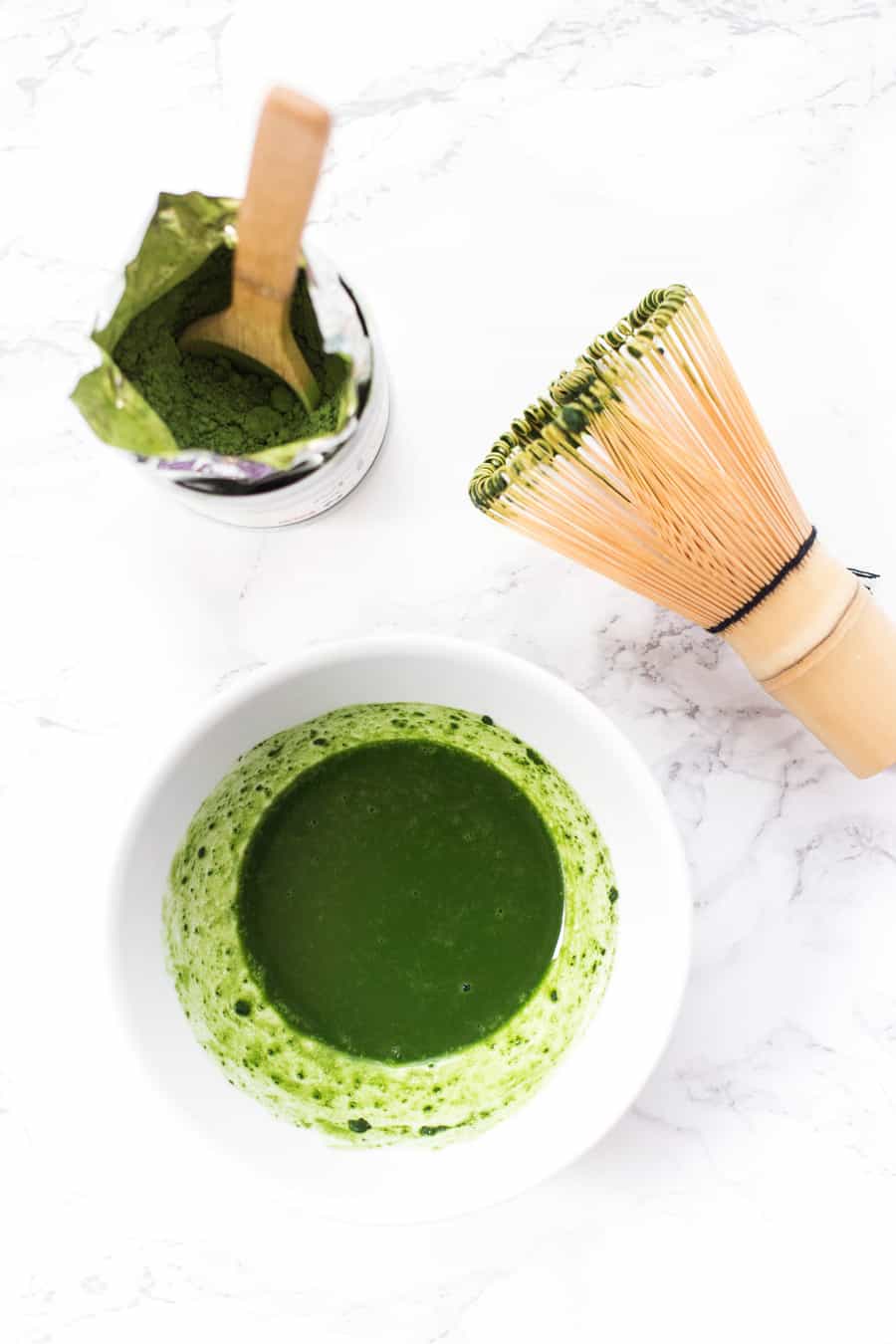 I mean that color… isn't it amazing!? ???? Check out my Energizing Matcha Latte post for more info about the difference and nutritional value!
Because now it's time to make our High Vibes Iced Matcha Latte!
The preparation for this is a tiny bit different than my standard matcha. Here's what we'll need:
Ceremonial grade matcha powder
Bamboo whisk
Warm water
We start by making a matcha paste using the matcha powder and a tiny bit of hot water. Ideally, your water should not be boiling, but instead around 170ºF (which is why I love this electric tea kettle!).
Then just whisk it together with a bamboo whisk, which I add to my blender with some non-dairy milk and move on to my powders!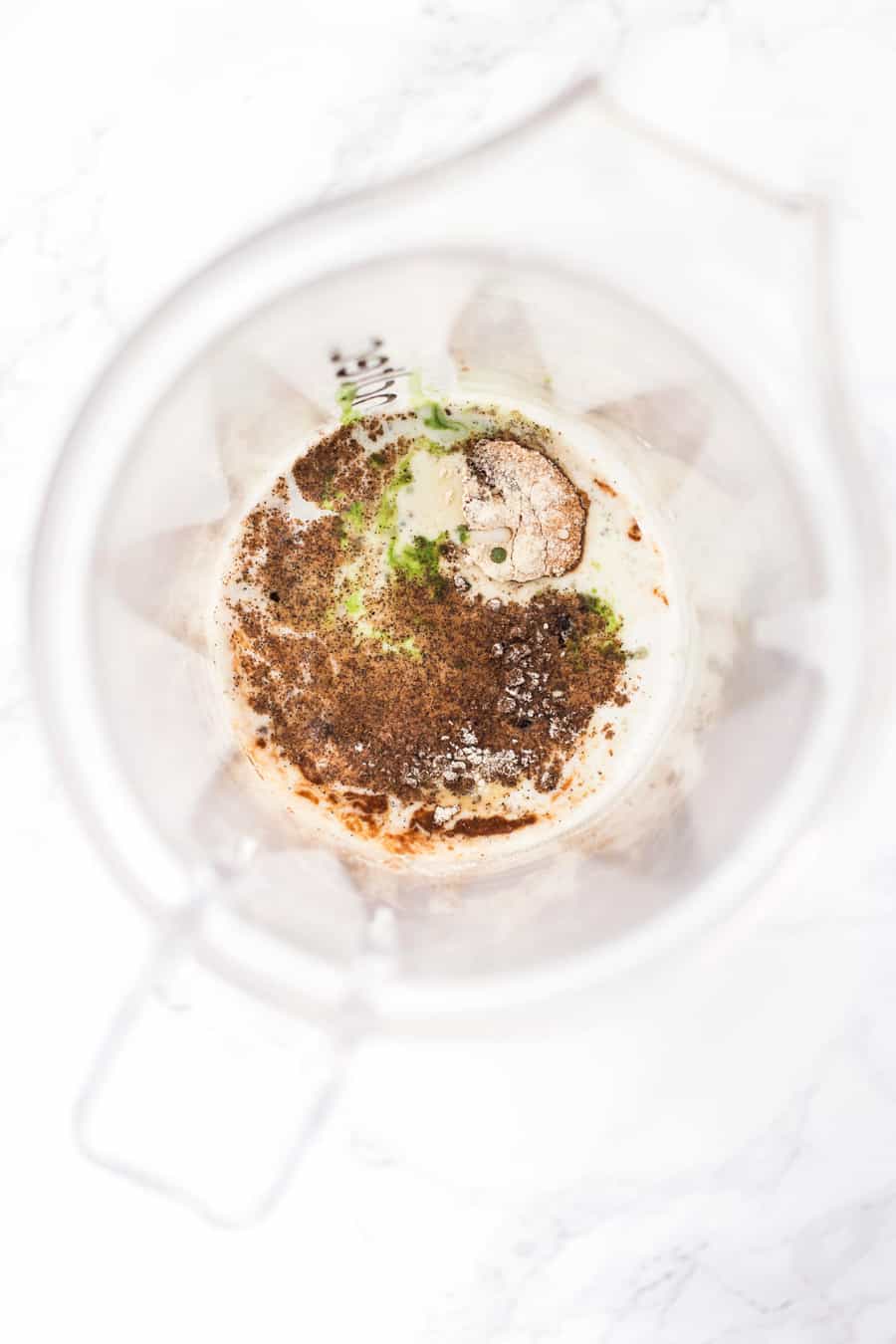 Next step: the add-ins!
I'm calling this my "high vibes" iced matcha latte because I added in some medicinal herbs and mushrooms to make this extra special. Here's what I used:
Ashwagandha Powder: known in ancient Indian culture to support the immune system, increase the body's levels of Super Oxide Dismutase, harmonize mind, body & spirit, reduce the effects of mental, emotional, and physical stress.
Reishi Mushroom Powder: generally known as "the queen of mushrooms" due to its body-and-mind balancing properties, reishi can help calm you down, get better sleep, naturally regulate the hormonal system and lower cortisol levels.
Cordyceps: this is a mushroom that is also an adaptogen, so it helps you maintain constant energy levels. It activates the body's own energy production in the cells, and is nature's miracle booster!
For some added creaminess and flavor, I also add coconut butter, pure vanilla bean powder and some monk fruit extract for sweetness!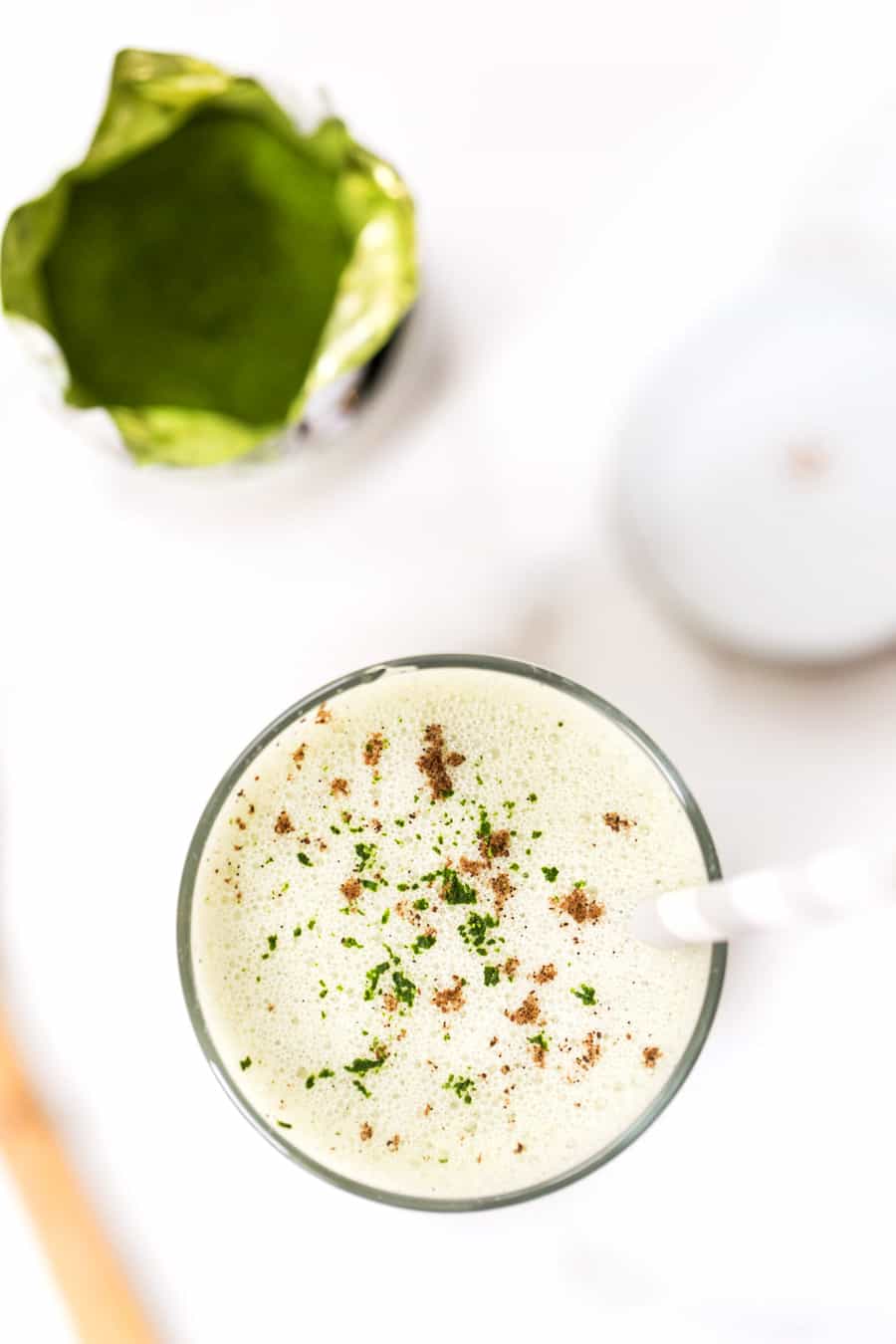 Blend it all up, pour it over some ice and you're ready to go!
What you're going to L-O-V-E about this iced matcha latte, aside from the fact that it's the ultimate summer pick-me-up, is that is has the most luxurious creamy texture and flavor. The vanilla bean is a perfect complement to the matcha and the monk fruit gives it just a touch of sweetness. This is definitely one of my newest morning obsessions!
Can't wait to see your pictures of this recipe! Make sure to tag me on Instagram using @simplyquinoa or #simplyquinoa ???? this helps me quickly and easily find your photo and give you a little love in return!
xo Alyssa
More Ways to Use Matcha Powder
High Vibes Iced Matcha Latte
A simple iced matcha latte made with medicinal mushrooms and coconut butter for added energy and nutrition!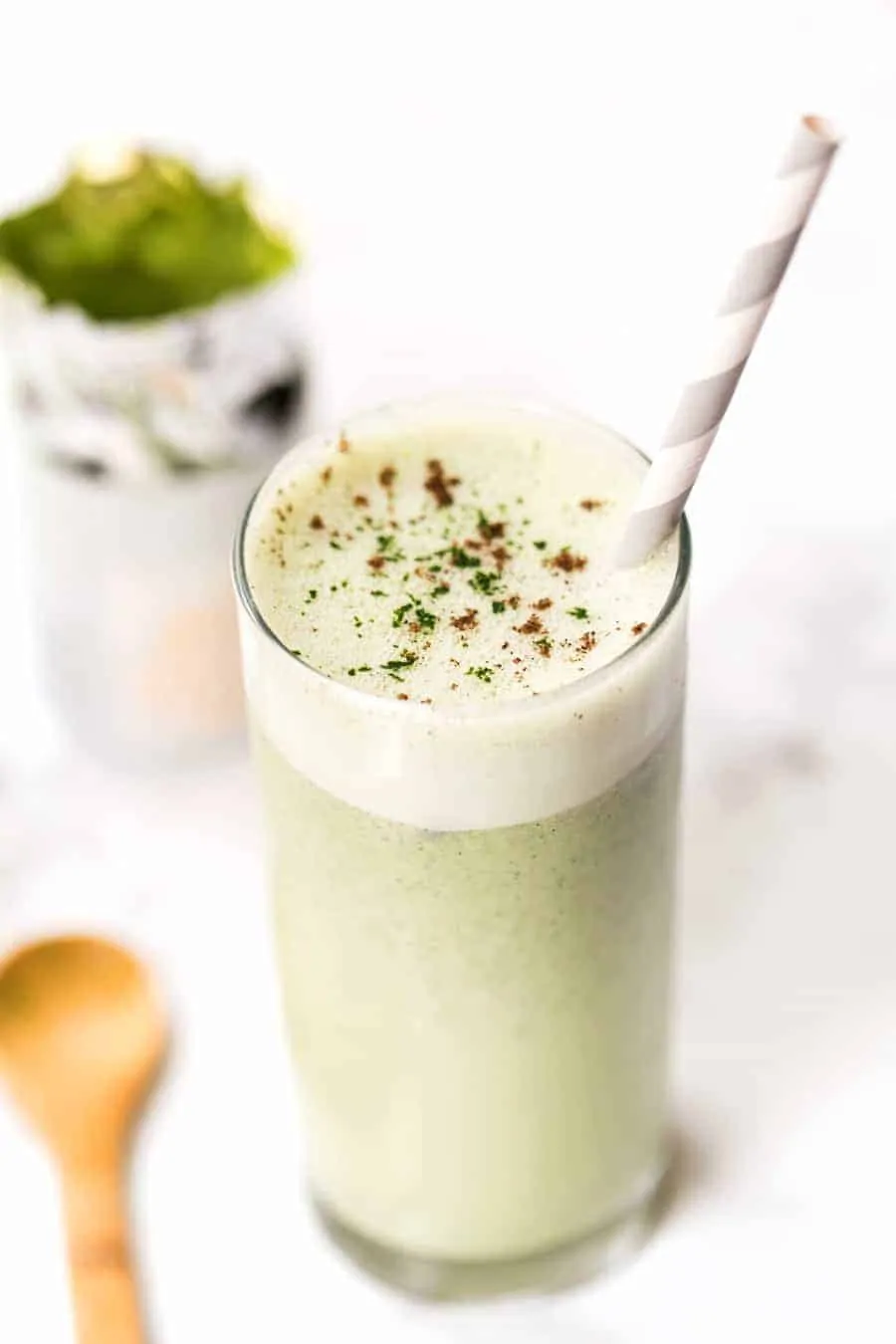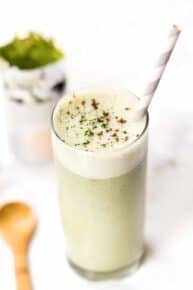 Instructions
In a small bowl, whisk together the matcha and warm water until it forms a thick paste.

Add milk to a blender followed by the remaining ingredients (including matcha paste). Blend on high until smooth and creamy. Pour into a glass over ice and enjoy!
Nutrition
Calories:
222
kcal
|
Carbohydrates:
9
g
|
Protein:
5
g
|
Fat:
20.5
g
|
Saturated Fat:
16
g
|
Sodium:
191
mg
|
Fiber:
8
g
|
Sugar:
1.9
g
Filed Under: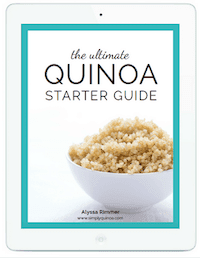 New to cooking quinoa? Grab your FREE Quinoa Starter Guide!
Become part of the Simply Quinoa community and receive weekly emails with exclusive content that I only share in email, as well as my in-depth guide to starting your quinoa journey.