These Strawberry Banana Oatmeal Muffins are made with oat flour, almond flour and sweetened naturally with bananas and coconut sugar! This banana oatmeal muffin recipe is not only healthy but Gluten-Free & Vegan too!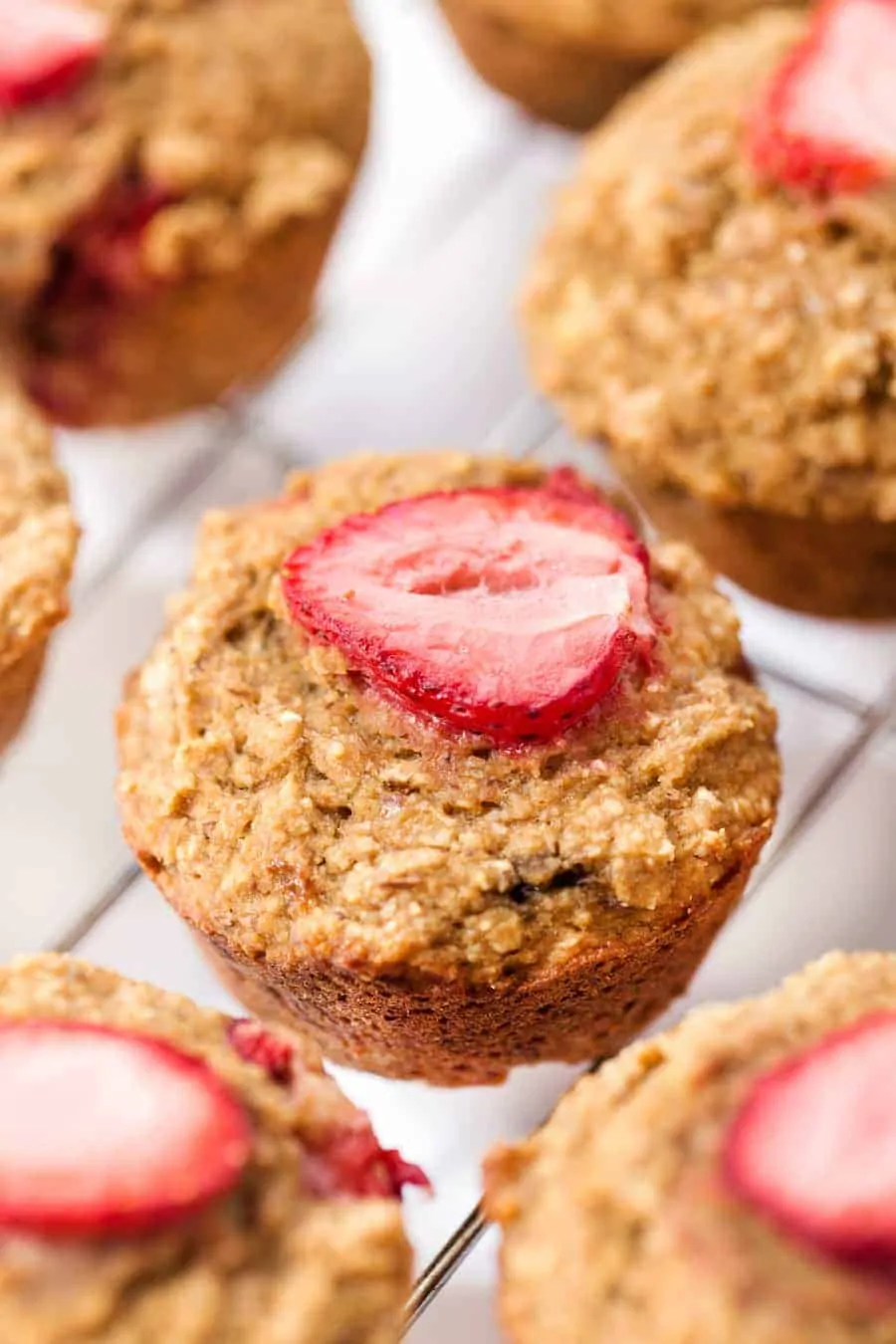 Remember last summer when I was on that strawberry-banana kick? I made those Strawberry Banana Quinoa Breakfast Bars practically every day.
But unfortunately, fresh strawberries are a luxury I can only truly enjoy during the summer. Any other time of year they're just too expensive and the flavor almost isn't worth it. Now that we're moving into summer again, bring on ALL the strawberries.
Already this week I've shared my Triple Berry Quinoa Salad and now it's these super simple, super healthy Strawberry Banana Oatmeal Muffins.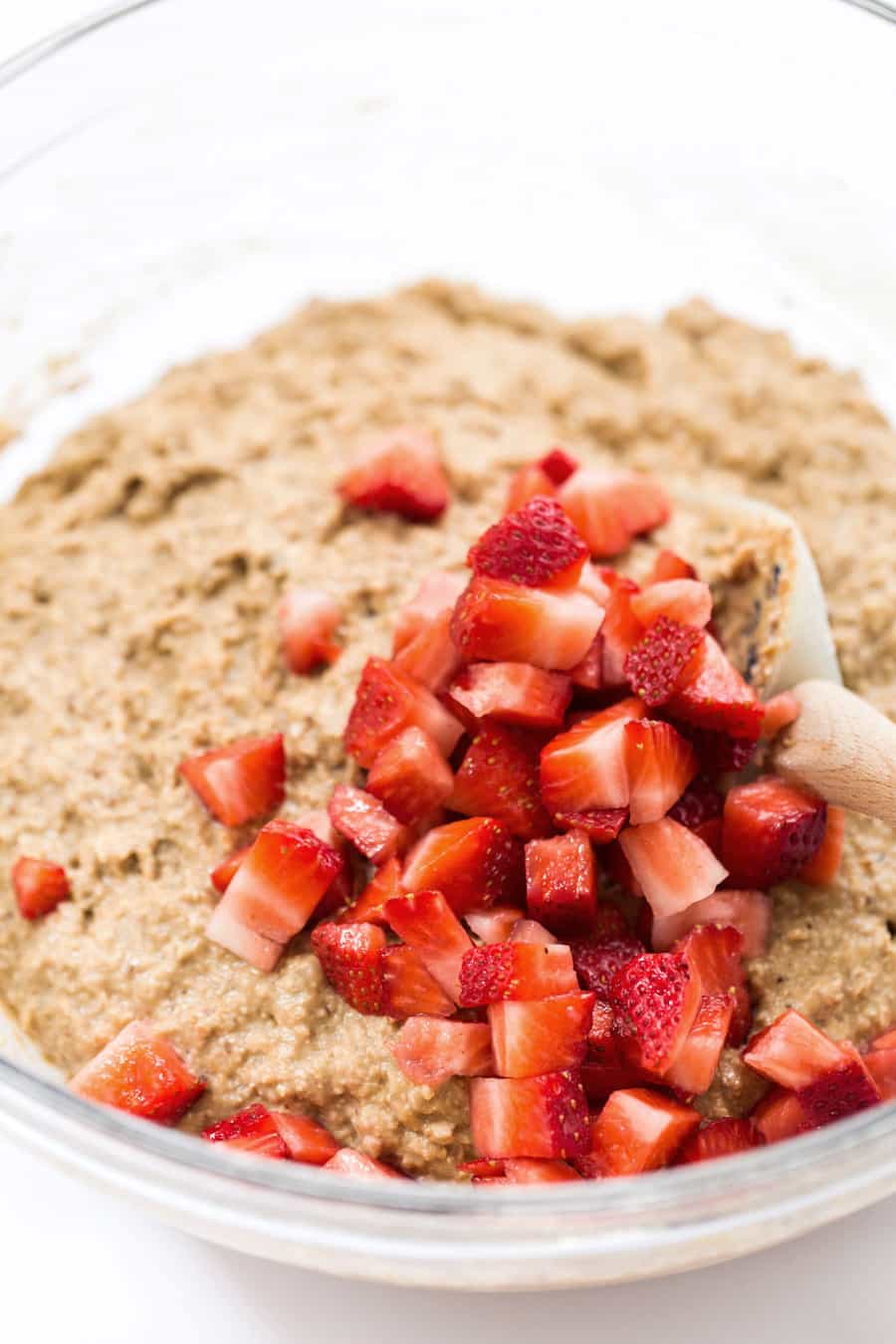 Simple + Healthy Oatmeal Muffins
I've shared a few batches of my "skinny" muffins here on the blog, my faves being the Coconut Yogurt Quinoa Muffins and the Chocolate Chip Zucchini Quinoa Muffins, but for some of you, the ingredient on those muffins are a bit long. So this time around I wanted to try and strip down the ingredients even more.
I took out the quinoa flakes because those can be hard to find, increased the banana so I could take out the yogurt and swapped maple syrup for coconut sugar. Otherwise, these are still the skinny oatmeal muffin base and are every bit as healthy, nourishing and tender.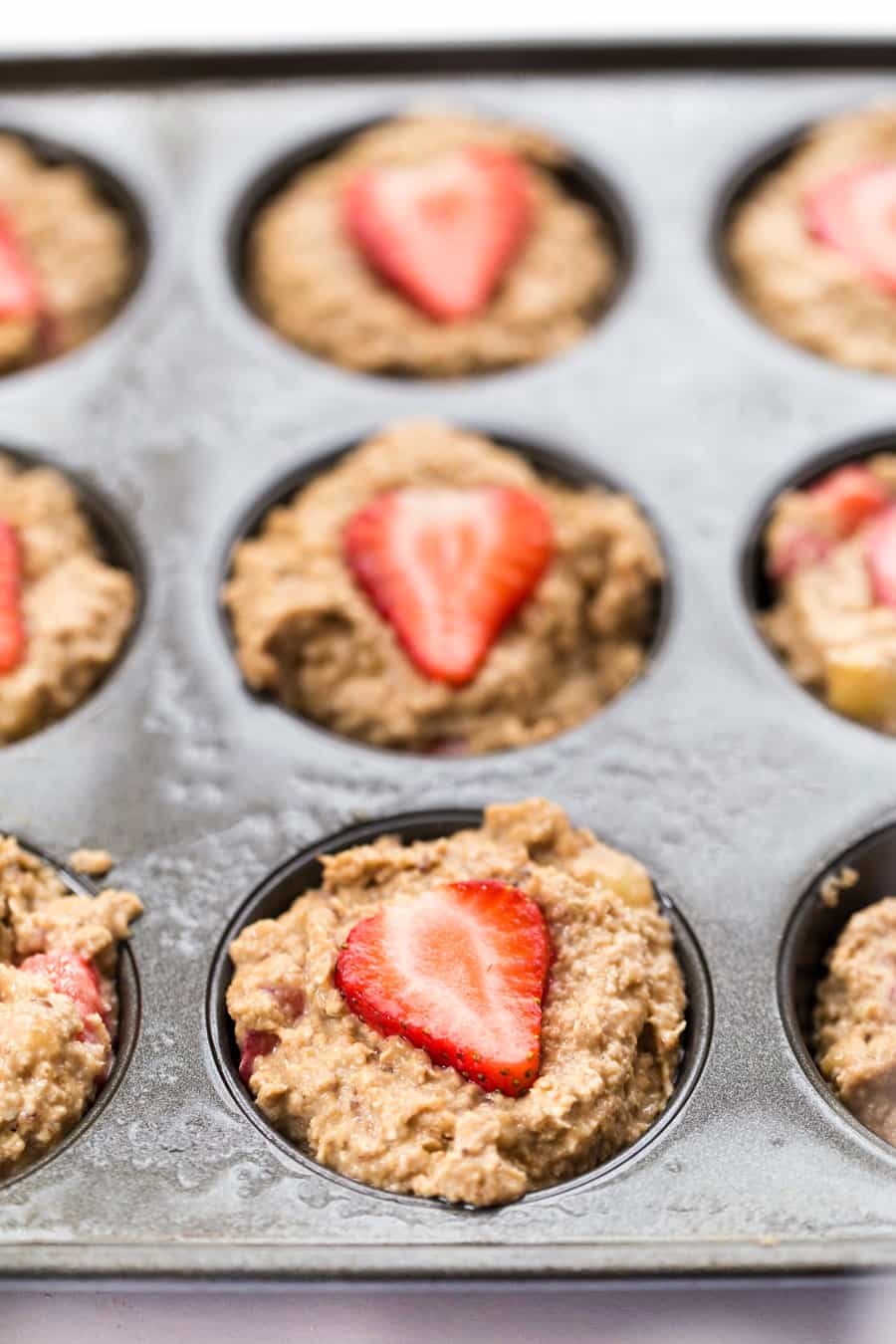 Making Gluten Free Muffins
Just as the title suggests, the primary ingredient in these muffins is oats. We use it both as oat flour, which can be made easily at home in your blender, plus quick oats which help give the muffins a really nice texture.
If you're celiac and oats are tricky for you, I recommend looking online for some certified gluten-free oats. Here are some places to shop:
Bob's Red Mill (my fave)
Vitacost
What I really like about starting my day with oats is that it provides long-lasting and sustaining energy from the combination of complex carbohydrates and fiber. Oats digest more slowly than something refined (like the flours that are used in most bakery-style muffins) and therefore will keep you fuller for much longer.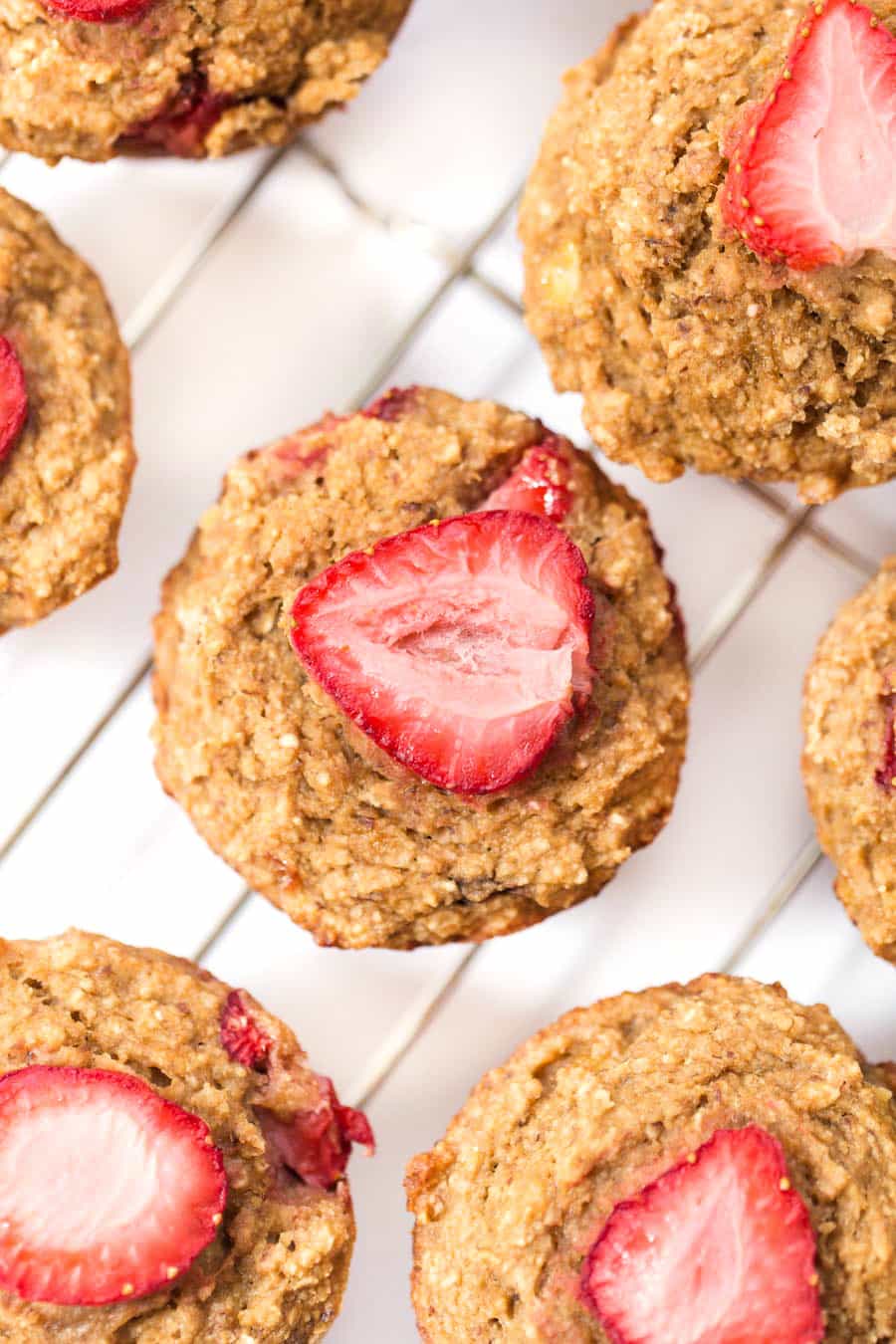 Lightening Up Your Banana Oatmeal Muffins
But oats aren't the only star to this show! I mean since we're making Strawberry Banana Oatmeal Muffins, we've also got lots of banana for sweetness and flavor, plus chopped fresh strawberries for another burst of sweet deliciousness.
I really like using fruit puree in my baking because it not only helps us reduce the amount of sugar we need to add (after all, fruit is nature's candy!), but fruit, and in particular banana, can do wonders for the texture of baked goods.
When a banana is mashed up, it gets this kind of sticky texture which helps bind ingredients together but also makes them moist and springy. Just like these muffins. They're light, tender, not too sweet, and actually quite nutritious.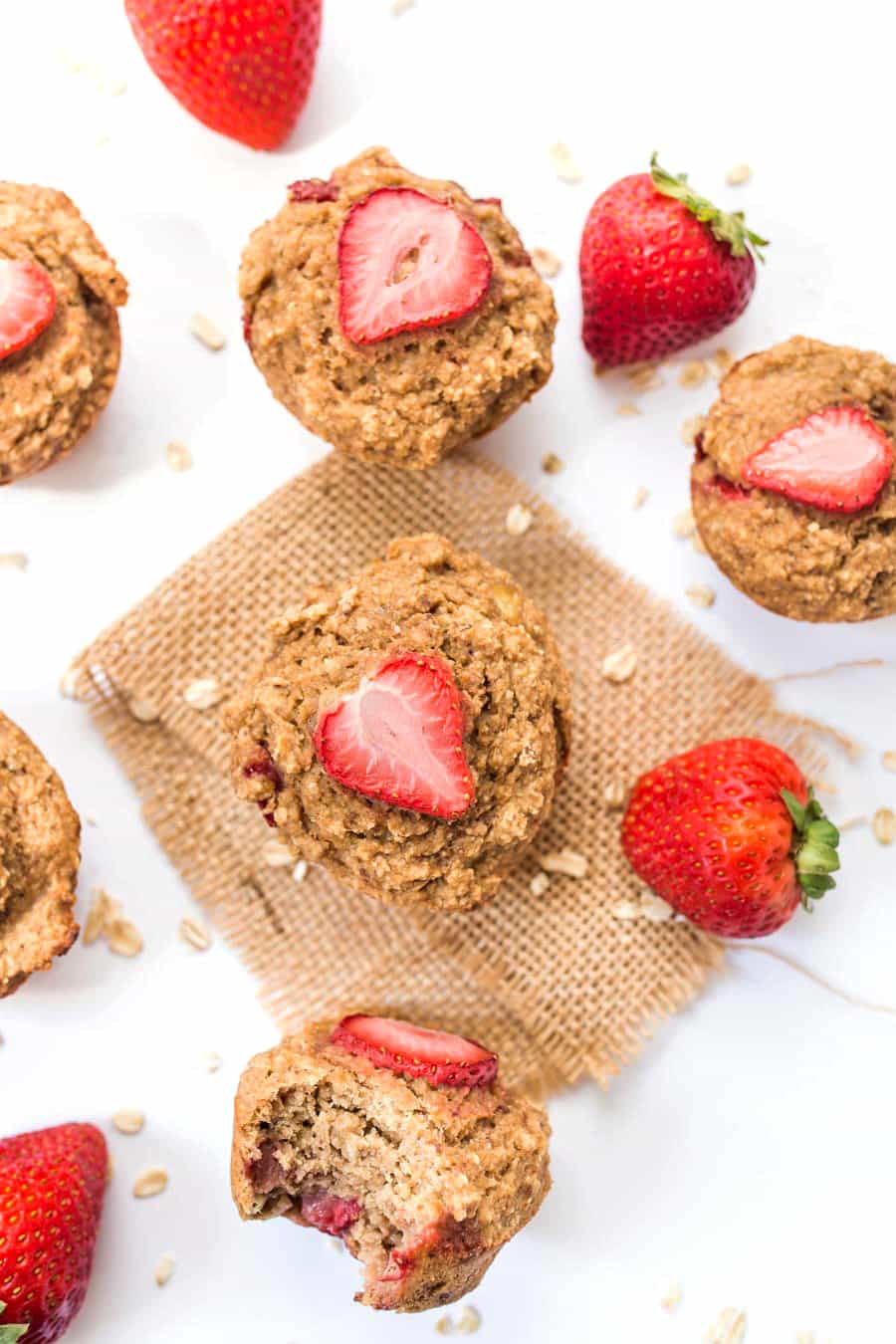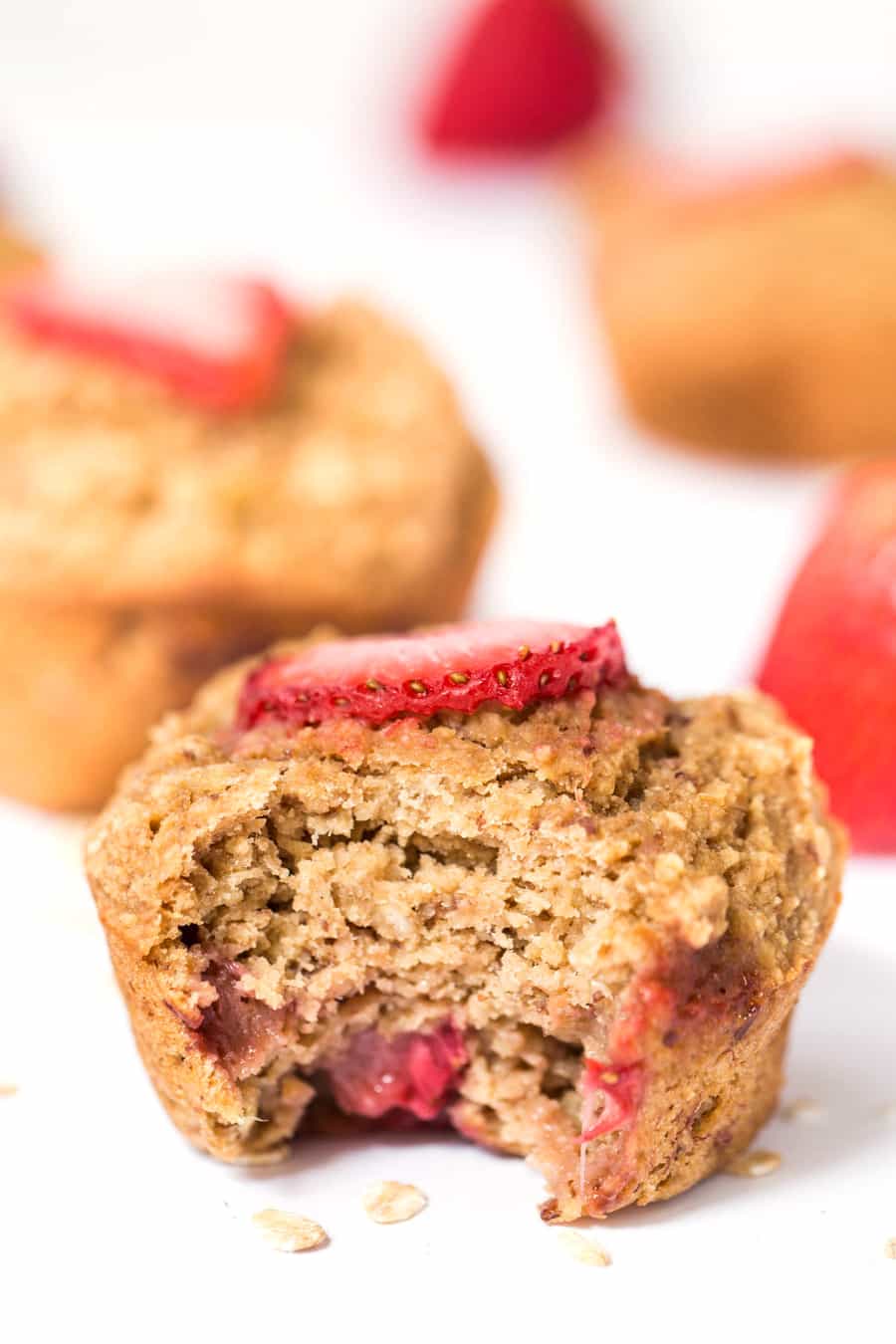 A Healthy Breakfast
When I shared my Skinny Raspberry Chocolate Chip Muffins, I showed you a comparison between the nutrition of a bakery-style muffin from a place like Starbucks, to one of my "skinny" muffins and you're looking at saving on more than 60% of the calories, fat, sugar and carbs.
That will make a HUGE difference for you in the long run, especially if you're a muffin-for-breakfast type of person.
Starting your day with a breakfast with one of these banana oatmeal muffins over one you just pick up on your way to work, will not only keep you more full but will help you stay on track with your health goals!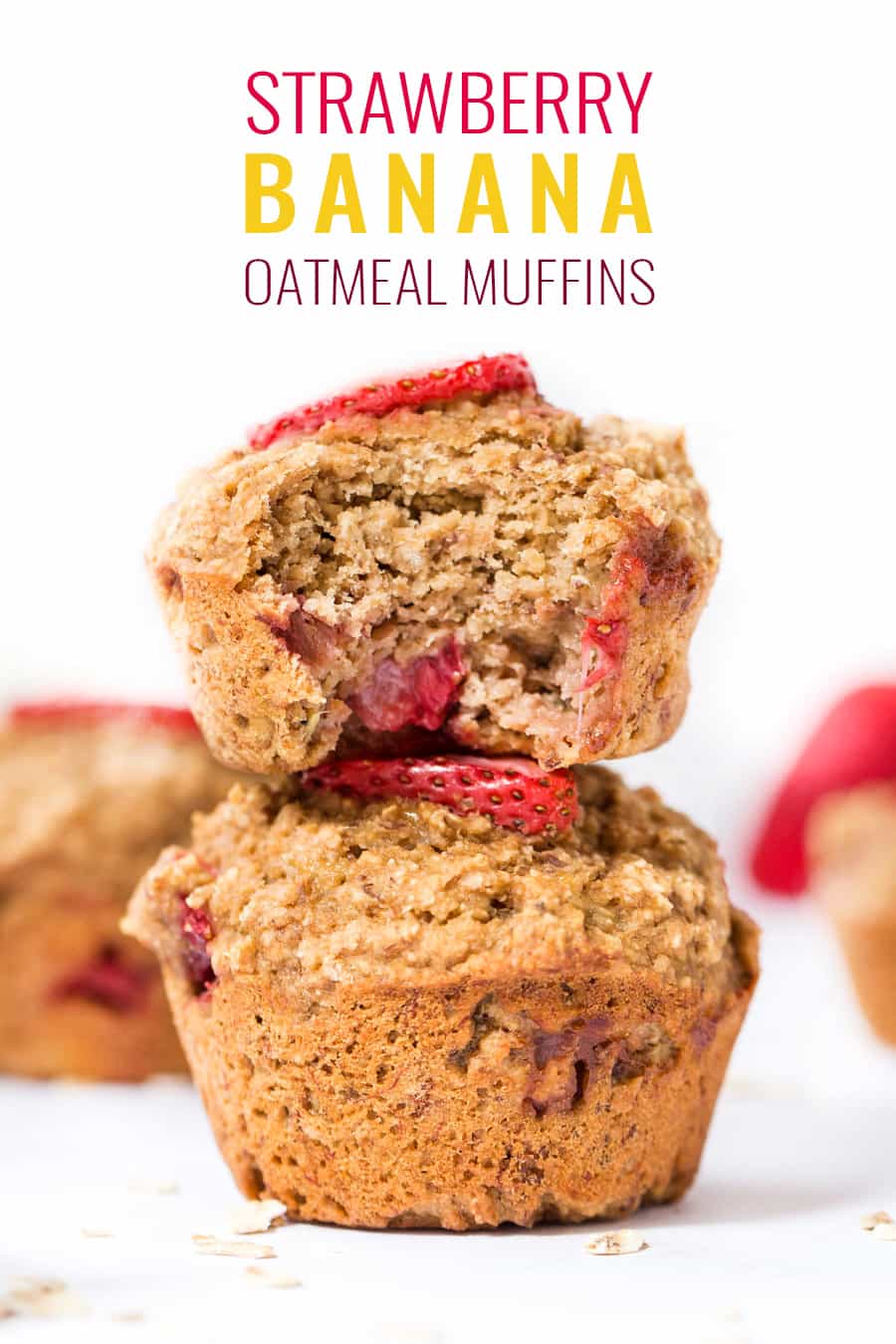 Make-Ahead Muffins (Vegan + GF)
These make a great meal prep option if you're short on time during the week. You can whip up a batch, keep half on the counter for the beginning of the week and freeze the rest. I'd recommend taking two with you to work, heating them up (if you have access to a toaster/microwave) and spreading them with a bit of peanut butter. Honestly, one of the best breakfast combos you could ask for you!
Other Healthy Muffins
If you end up making this recipe, I'd love to see a picture! You can share them with me on Instagram using #simplyquinoa or tagging @simplyquinoa. Love seeing what you create in the kitchen!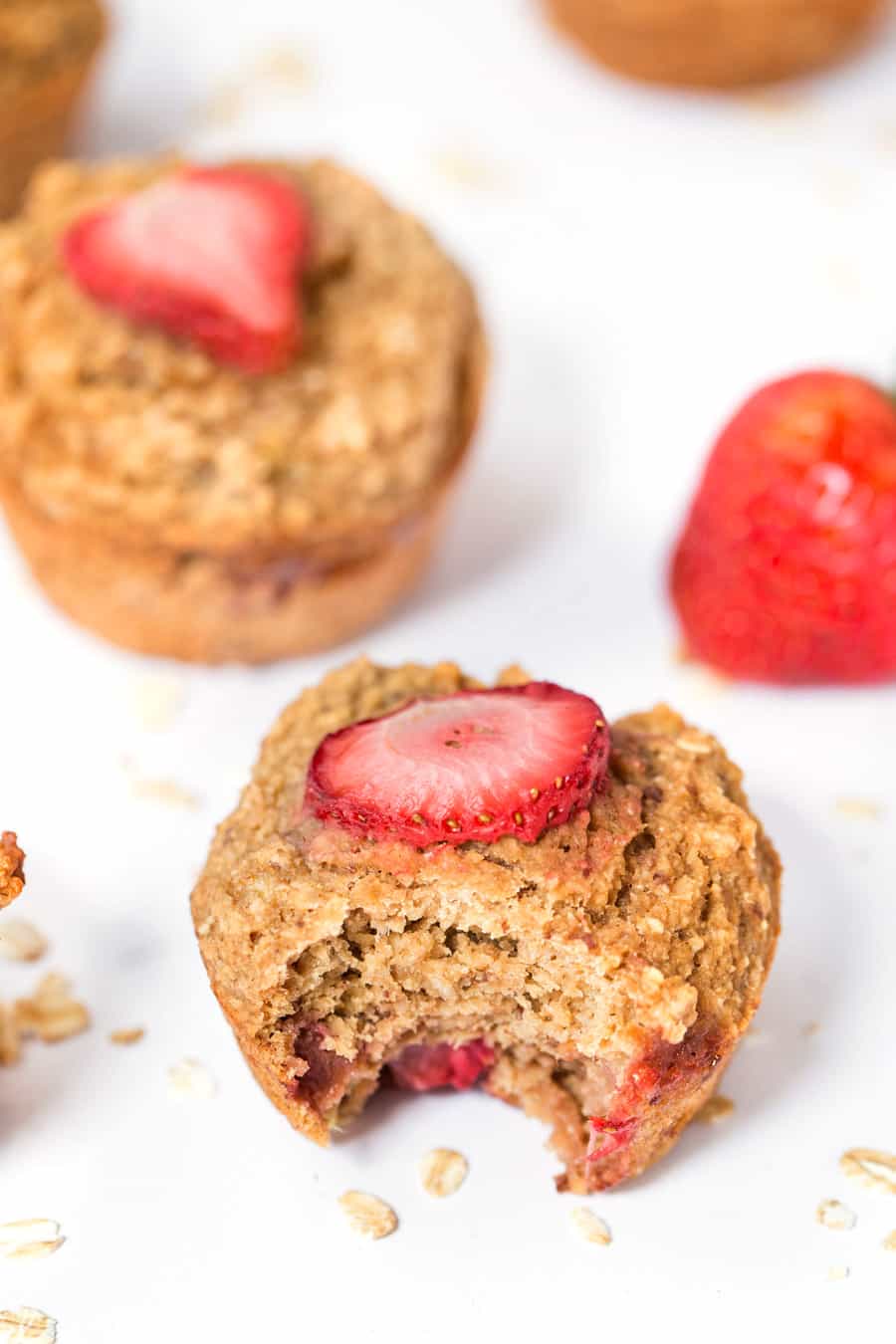 Skinny Strawberry Oatmeal Muffins
These Strawberry Banana Oatmeal Muffins are made with oat flour, almond flour and sweetened naturally with bananas and coconut sugar!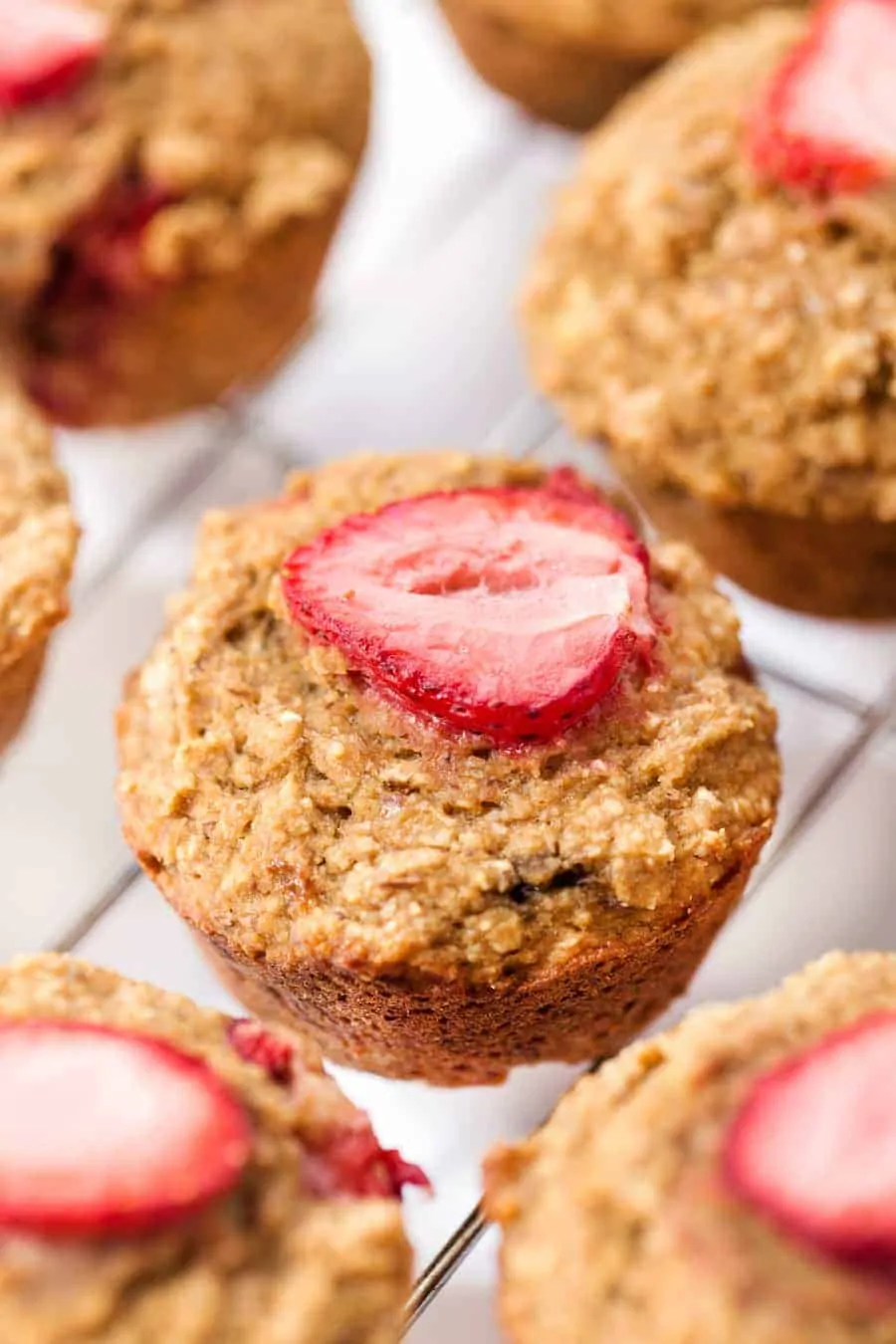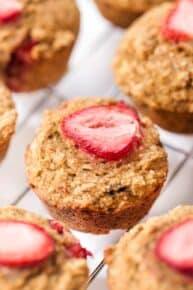 Instructions
Preheat the oven to 375ºF. Line a muffin tin with paper liners (or grease with coconut oil) and set aside.

Beat together wet ingredients in a large mixing bowl and set aside.

In a separate bowl, whisk together the dry (minus the strawberries). Add dry ingredients into wet and stir together until incorporated. Fold in chopped strawberries. Top each muffin with a strawberry slice if desired.

Divide batter among the 12 muffin cups. Bake on the center rack for 16 - 18 minutes until a cake tester inserted into the center comes out clean.

Allow muffins to cool in the pan for 5 minutes then transfer to a wire rack and cool completely.
Nutrition
Calories:
182
kcal
|
Carbohydrates:
30
g
|
Protein:
6
g
|
Fat:
5
g
|
Saturated Fat:
1
g
|
Cholesterol:
14
mg
|
Sodium:
45
mg
|
Fiber:
3
g
|
Sugar:
12
g
Filed Under: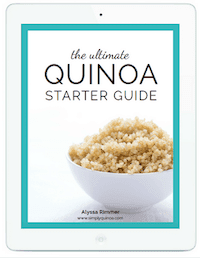 New to cooking quinoa? Grab your FREE Quinoa Starter Guide!
Become part of the Simply Quinoa community and receive weekly emails with exclusive content that I only share in email, as well as my in-depth guide to starting your quinoa journey.