Skinny quinoa muffins made with coconut yogurt and warm spices. They're healthy, filled with fiber, made without eggs, and naturally sweetened.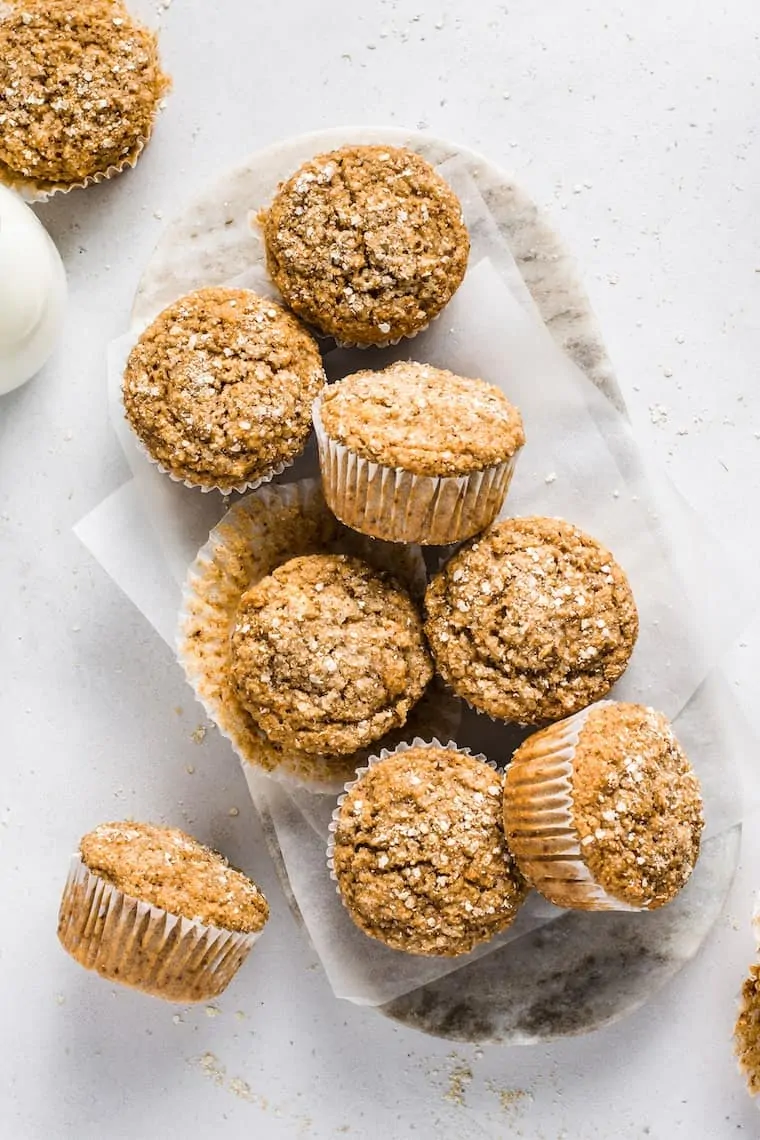 You know when you just have a craving to bake, but you aren't really sure what to actually make?
I usually go for cookies, but this time I wanted muffins. But I wanted something different. Not the classic blueberry muffins, or even chocolate chip. Something unique and delicious.
So I peeked inside my fridge to see what I could whip up. I had coconut yogurt, applesauce, maple syrup, and ripe bananas on my counter. Another version of skinny quinoa muffins is comin' your way!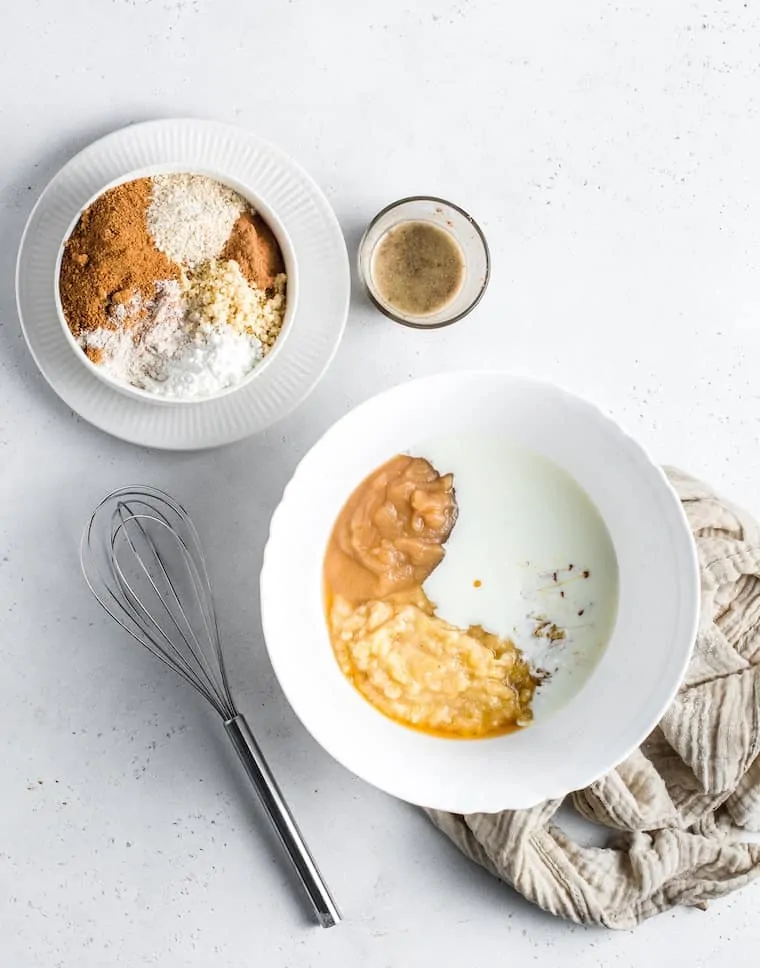 Ingredients for Coconut Yogurt Muffins
Similar to my other muffin recipes, these couldn't be easier to make! We're using many of my standard muffin ingredients including:
Flax Egg: my way of making these quinoa muffins vegan, but they work just as well with a chicken egg – here's how to make a a flax egg if you're unfamiliar!
Banana: I love the texture and sweetness it adds to these quinoa muffins, but if you're allergic you can do more applesauce
Applesauce: an easy way to add fiber, while also a hint of sweetness
Coconut Yogurt: one of my favorite ingredients that adds depth of flavor and moisture at the same time
Maple Syrup: my #1 preference for sweetness
Coconut Sugar: my #2 preference for sweetness 😉
Oat Flour: I love the texture and chewiness that oat flour brings to recipes! Here's how to make oat flour at home if you've never tried!
Almond Flour: another one of my preferred flours for its nutritional profile, but also the texture it adds!
Quinoa Flakes: my quinoa version of oats – they're light and don't affect the flavor at all
And then we're finishing off with: baking powder, cinnamon, vanilla, nutmeg, and salt.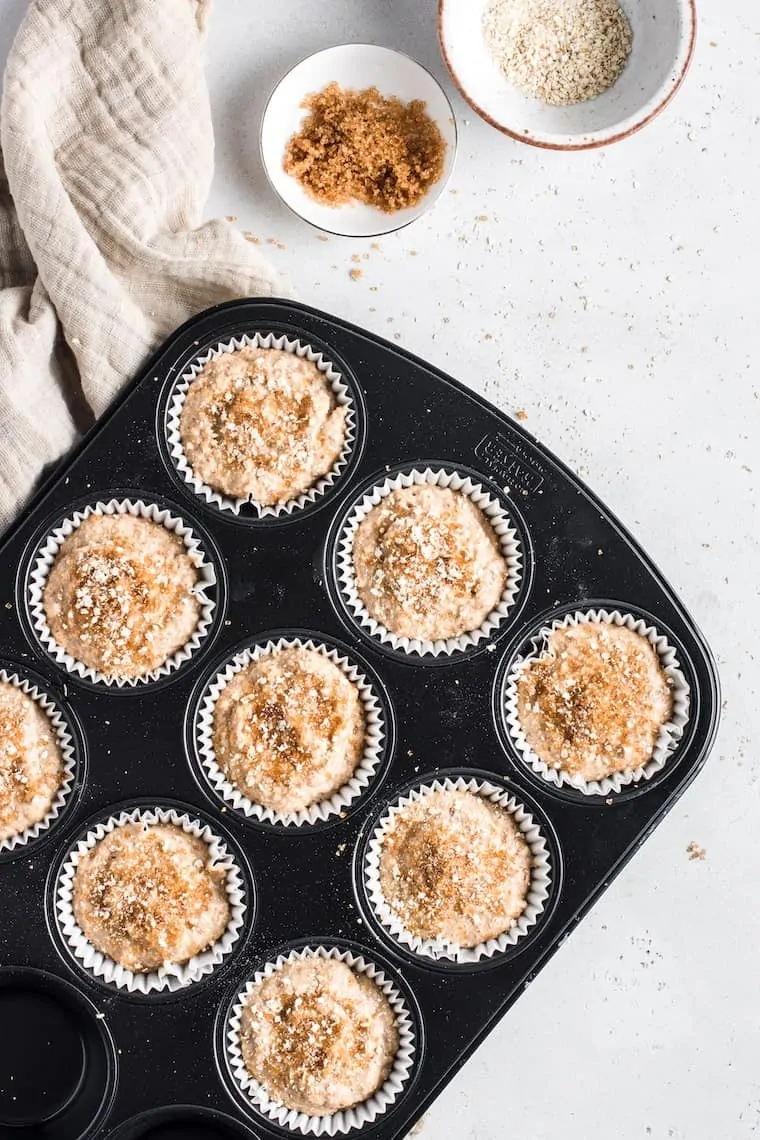 Healthy Swaps to Try in Muffins
Muffins are a surprisingly simple thing to make "skinny". I just subbed out all the oil, eggs, dairy, and gluten and instead packed them with nutritious ingredients without sacrificing the flavor. Woot!
Here are the healthy swaps we made:
banana and applesauce for the oil
maple syrup and coconut sugar for sweetness
oat flour, quinoa flakes and almond flour for our whole grain goodness
unsweetened coconut milk yogurt for our "dairy"
flax eggs for the eggs
They're also ready in just one bowl, taste delicious and are definitely healthified!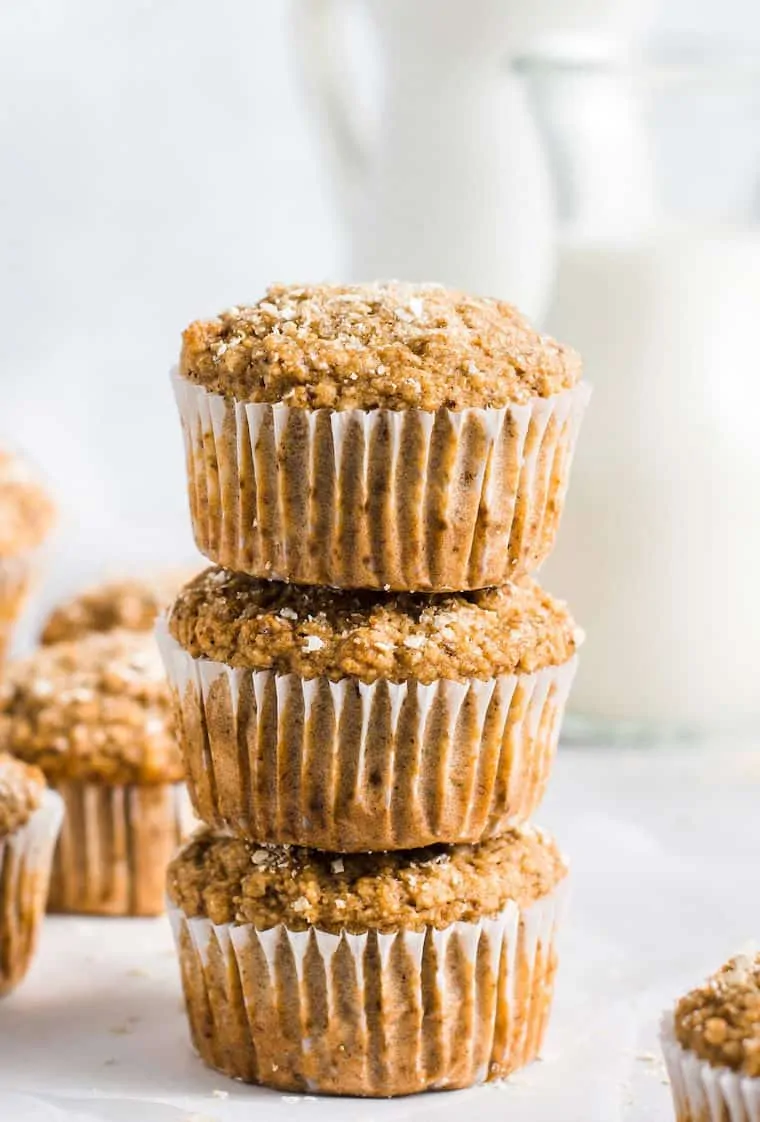 How to Make Vegan & GF Muffins
You're going to love these muffins. You just need one bowl, one pan and about 3o minutes from start to finish.
STEP ONE: Mix
My first step is always to mash all my wet ingredients together. Once they're smooth(ish), I'll add in my dry ingredients. With your batter all mixed, you can either choose to add some ingredients into the batter or get ready to bake them.
STEP TWO: Bake
I like to use a 12-cup muffin tin that I line with white paper liners. Fill the liners about 3/4 of the way full, sprinkle them with some quinoa flakes and a bit of extra sugar, and you're ready to go! Pop them in the oven for about 25 mins.
STEP THREE: Eat
Finally, it's time to dig in!
What to Serve with these Quinoa Muffins
I personally love to serve these muffins slightly warm. From there, the toppings are your choice!
Vegan butter + honey
Almond butter
Chia seed jam (I love the peach with these spices)
Coconut yogurt
And truly, the list goes on and on!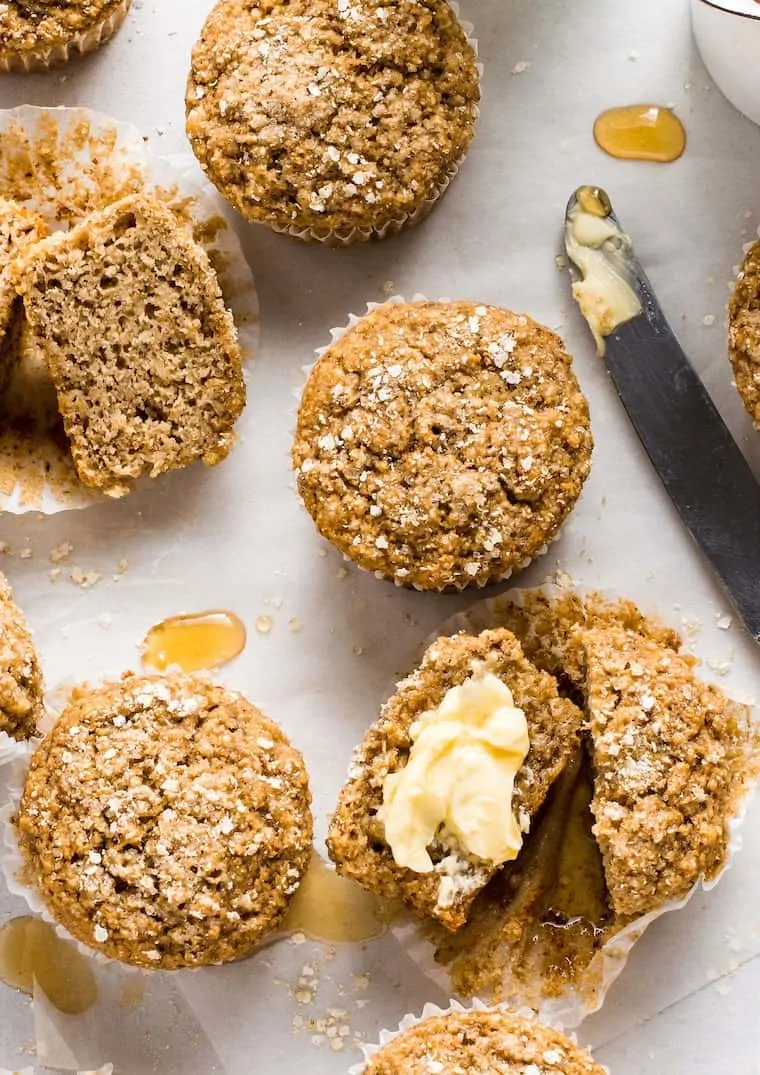 Best Way to Store Muffins
There are three ways you can store these muffins:
Room temp: keep them on the counter in a sealed container for 1 – 2 days
Fridge: they'll keep for at least 3 – 4 days in the fridge in a sealed container
Freezer: wrap them up in aluminum foil, place them in a sealed container or bag – they'll last for at least 2 months
Tools I Use to Make Muffins
Muffin tin – this is my favorite muffin tin! It's non-toxic, but also non stick. I have tons of other pans from this brand and I seriously love their quality.
Paper liners – I actually find that not all muffins work in liners, but these ones do! You can also just give the muffin pan a quick spray with cooking spray.
Mixing bowls – I love this set! I keep them nested in my bakeware cabinet and we use them all the time!
Why You'll Love These Vegan Muffins
They're soft and tender, with a slight sweetness and underlying flavor of apples and bananas. But it's the warm spices that round them out and make them cozy and delicious. Plus they're packed with complex carbohydrates and fiber so they won't skyrocket your blood sugar AND they'll help fill you up.
So basically these make for a great grab-n-go breakfast – or afternoon snack. Oh and yes, they taste even better when smeared with a little nut butter. So dang good!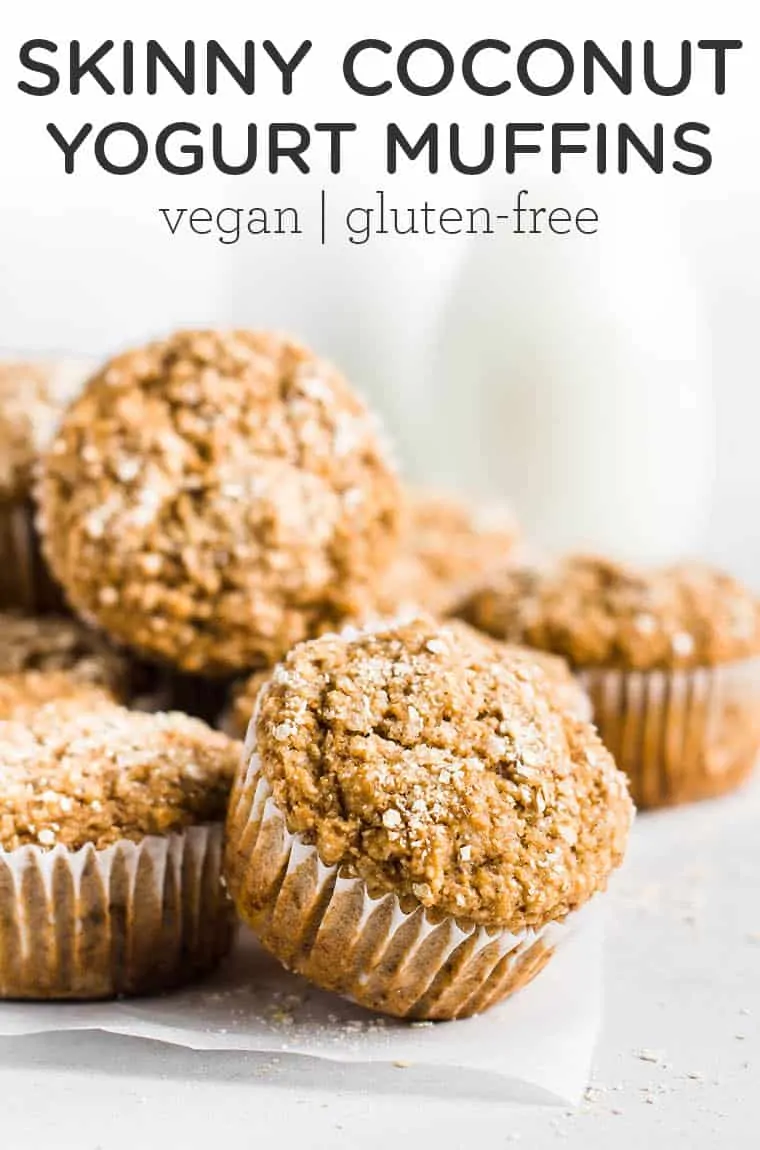 More Amazing Quinoa Muffins to try:
Skinny Spiced Coconut Yogurt Quinoa Muffins
These coconut yogurt muffins are packed with complex carbohydrates and fiber so they won't skyrocket your blood sugar AND they'll help fill you up.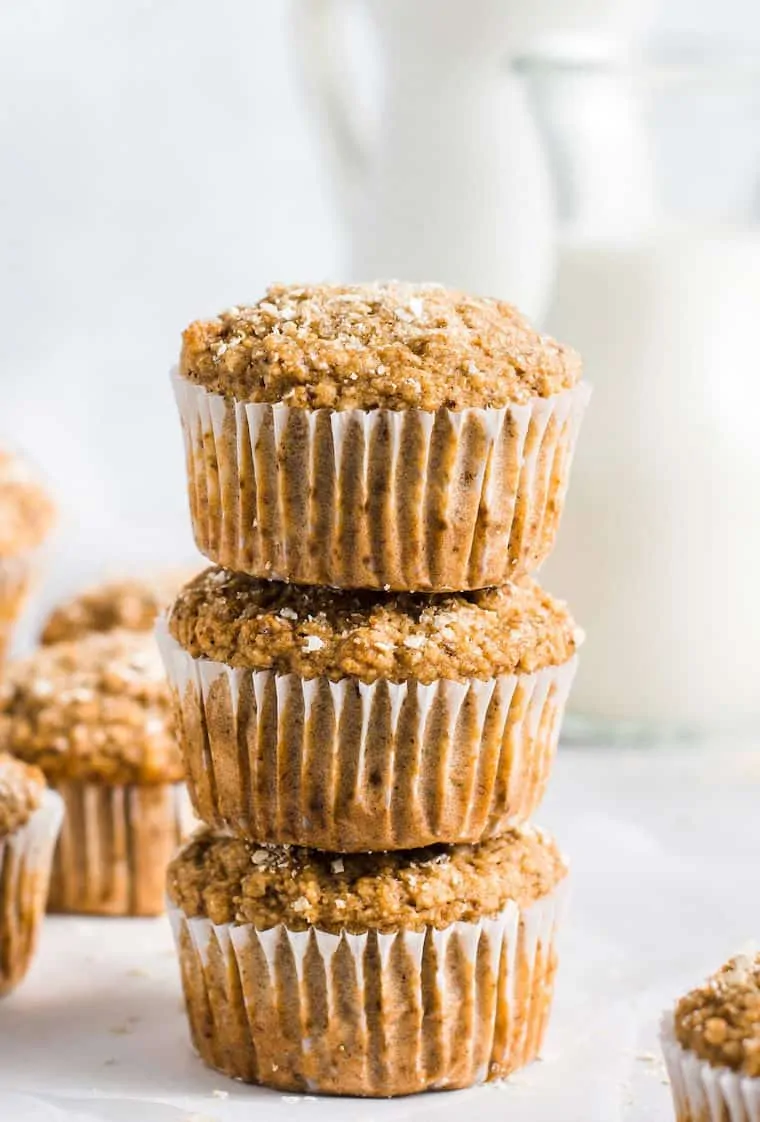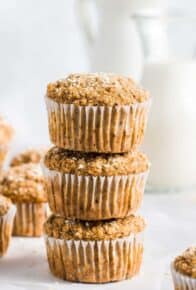 Instructions
Heat the oven to 350ºF. Grease a 12-cup muffin tin and set aside.

Combine the flax and water and set aside to gel while you prepare the remaining ingredients.

In a small bowl, beat together banana, applesauce, yogurt and syrup (add vanilla extract also, if using). Whisk in flax egg and set aside.

Whisk together the dry ingredients in a separate bowl. Add to the wet and then stir to thoroughly combine (the batter will be kind of thick, but still stirable and soft).

Fill each cup 3/4 of the way full. Add water to the ones that are unused. Sprinkle the tops of the muffins with quinoa flakes (and turbinado sugar) if desired. Let rest for 5 minutes before baking.

Bake on the center rack for 24 - 26 minutes until a cake tester inserted into the center comes out clean.

Cool in the pan for 5 minutes, then transfer to a wire rack and cool completely. Resist the urge to not break into them; cooling them will allow everything to set properly. If desired, reheat in the toaster oven or in the microwave.
Nutrition
Calories:
175
kcal
|
Carbohydrates:
29
g
|
Protein:
4
g
|
Fat:
5
g
|
Sodium:
72
mg
|
Potassium:
209
mg
|
Fiber:
2
g
|
Sugar:
11
g
|
Vitamin A:
5
IU
|
Vitamin C:
2.6
mg
|
Calcium:
82
mg
|
Iron:
1.2
mg
Filed Under: