This healthy cherry crumble recipe uses just a few simple ingredients, is naturally gluten-free and also vegan. Serve with your favorite vegan vanilla ice cream for the perfect summer treat!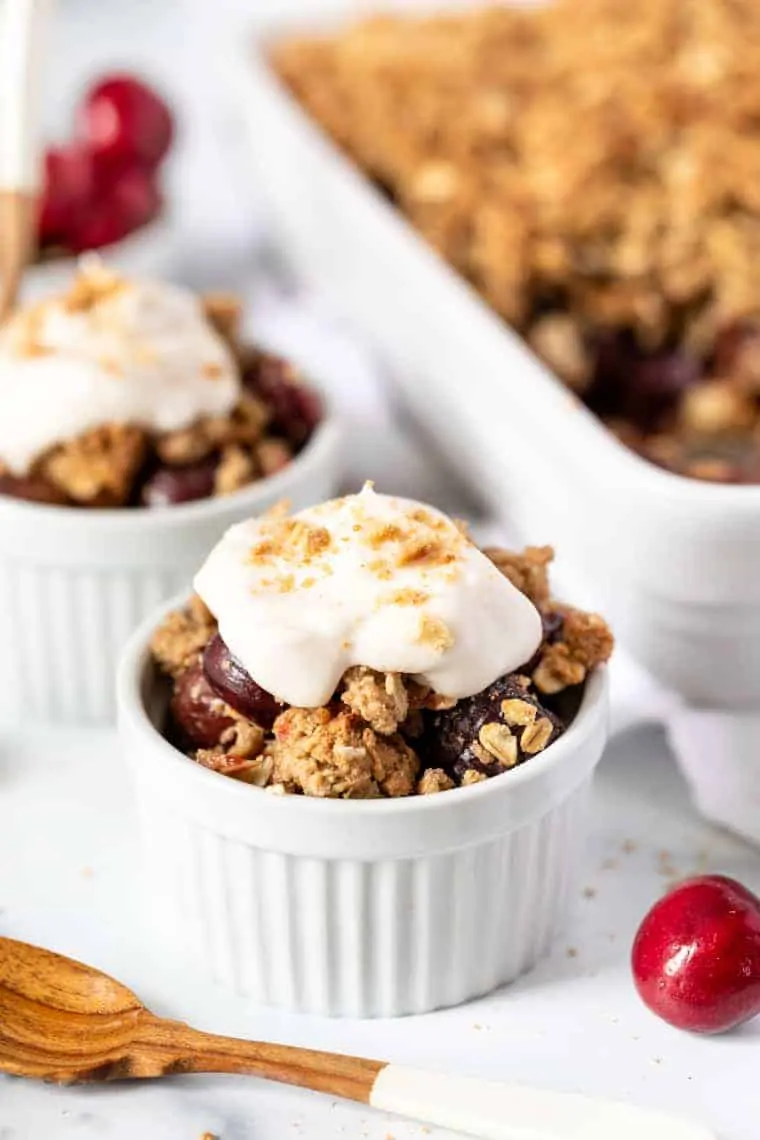 It's starting to finally feel like summer and I'm so excited! Not just that the weather is warming up, but that fruit is BACK! This is my favorite time of year for produce because everything is so flavorful, fresh, and usually fairly local. We're talking peaches, nectarines, strawberries, blueberries and today's star of the show: cherries.
Cherries actually aren't something I use on the blog very much, but there's almost nothing better than a perfectly ripe cherry. Sweet, tart, juicy, succulent, all at the same time.
Minus that darn little pit, and they're pretty much the perfect fruit! Pop one into your mouth and you're good to go.
I snagged a few bags of organic cherries the other day and decided I want to bake something with them. I love fruit crisps and crumbles, so this is what I settled on: a healthy Cherry Crumble that is gluten-free, vegan and absolutely a cinch to make!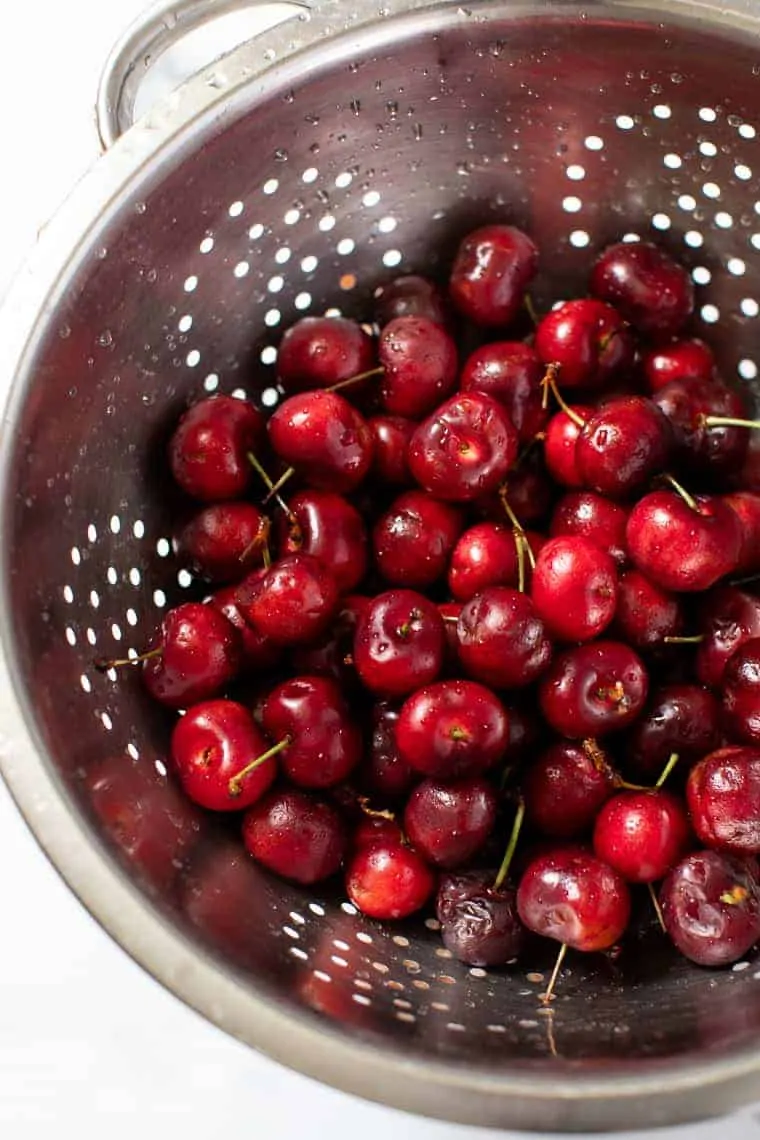 Are Cherries Healthy? Amazing Cherry Health Benefits!
Now before we dive into today's new recipe, let's talk about cherries and how awesome they are! Cherries are packed with nutrients including fiber, vitamin C, and potassium. Cherries have also been shown to help fight inflammation in the body, as well as support heart health and restful sleep (thanks to the melatonin). In addition, cherries are packed with antioxidants that help with aging, energy, and more!
They're an amazing superfruit and one that we should all think about adding into our diet more.
Best Way to Pit Cherries
The only downside of fresh cherries is the pit. And the pit can be a pain in the butt to get rid of! What you need to pit cherries are time and patience. It's slow, but the final result will be a delicious, healthy dessert, so it's worth it.
The three best ways to pit cherries are:
Cherry pitter: a cherry pitter is a little kitchen gadget specifically designed to pit cherries and it makes this process a complete breeze!
Metal straw: this is the method I used and it worked surprisingly well! I took a metal straw in one hand, help the cherry in the other, and pushed the straw through the center of the cherry, pushing the pit out the other side. It's messy, but it works well!
Paring knife: the last method is to use a small paring knife to cut the cherry in half and then remove the pit with your hands. It's the longest method, but it still works!
Those the best ways I've found the pit cherries. If you have any other ways of pitting cherries, let us know in the comments!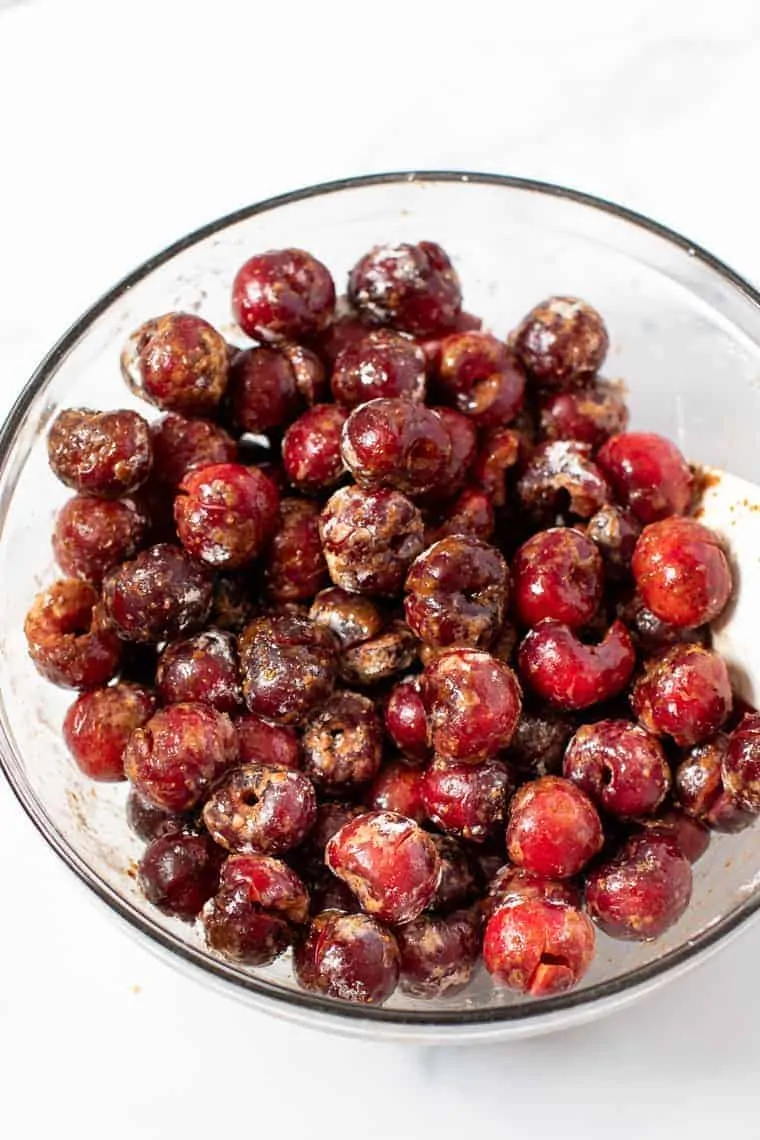 Ingredients for Healthy Cherry Crumble
So aside from the cherries, we're only using a few other ingredients. This recipe has two parts: the cherry filling and the crumble topping. Both are vegan and gluten-free and use things you probably already have in your gluten-free pantry.
For the cherry filling we're using:
Cherries: we've got 2lbs of fresh cherries, preferably organic and mostly dark red
Arrowroot starch: which helps to thicken the filling a little bit and hold in the juices
Coconut sugar: for some sweetness
Cinnamon: for a little warmth and depth of flavor
Almond extract: which adds a really nice undertone in the flavor and is a little unexpected surprise
Lemon juice: brings out the tartness of the cherries and helps with the juiciness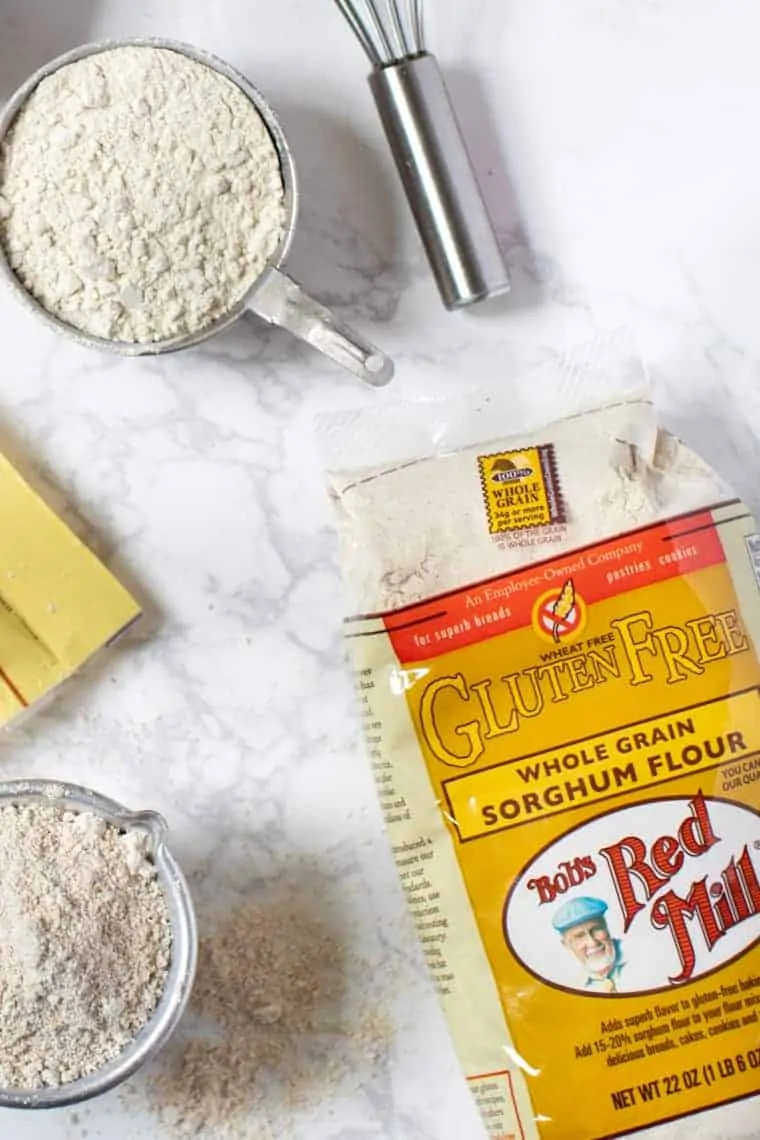 Gluten-Free Crumble Topping Ingredients
And then for our topping, we're actually using some of my favorite Bob's Red Mill products. They are my go-to for all things baking, and are the best suppliers for all my gluten-free baking needs!
For our gluten-free crumble topping, we're using:
Gluten-free rolled oats: I like to use old fashioned rolled oats so you get the crunchy, chewy texture.
Quinoa flour: I'm sure there's no surprise with this one!
Sorgum flour: I wanted to try the topping with this and it really worked, but you could also use more quinoa flour if you want!
Coconut oil: adds a really nice flavor and helps us get our clumpy, crispy texture.
Maple syrup: the BEST sweetener of all time, but you can also use coconut sugar.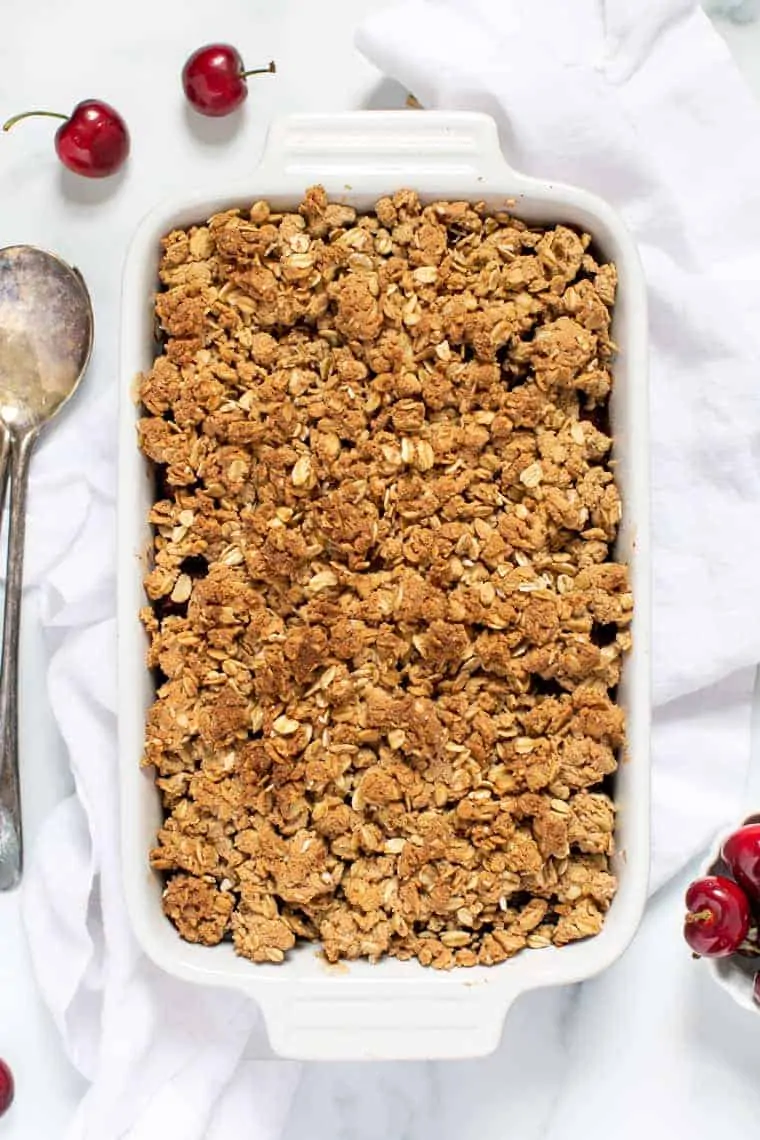 How to Make Cherry Crumble
Once you've gotten past the pitting of your cherries, making the crumble itself is a breeze. We'll combine all the cherry filling ingredients into a bowl, the crumble topping ingredients into another bowl, assemble it into our baking dish and we're good to go.
The cherry filling will be slightly juicy and the crumble topping should have some good clumps to it. Those clumps will crisp up as they bake making a crunchy topping.
What we're looking out for as the crumble bakes are two things: browning and bubbles. You want the top to be golden brown and the cherries to be bubbling. This takes around 50 – 55 minutes, so if the topping starts to brown too quickly, just cover it with some foil to keep it from burning.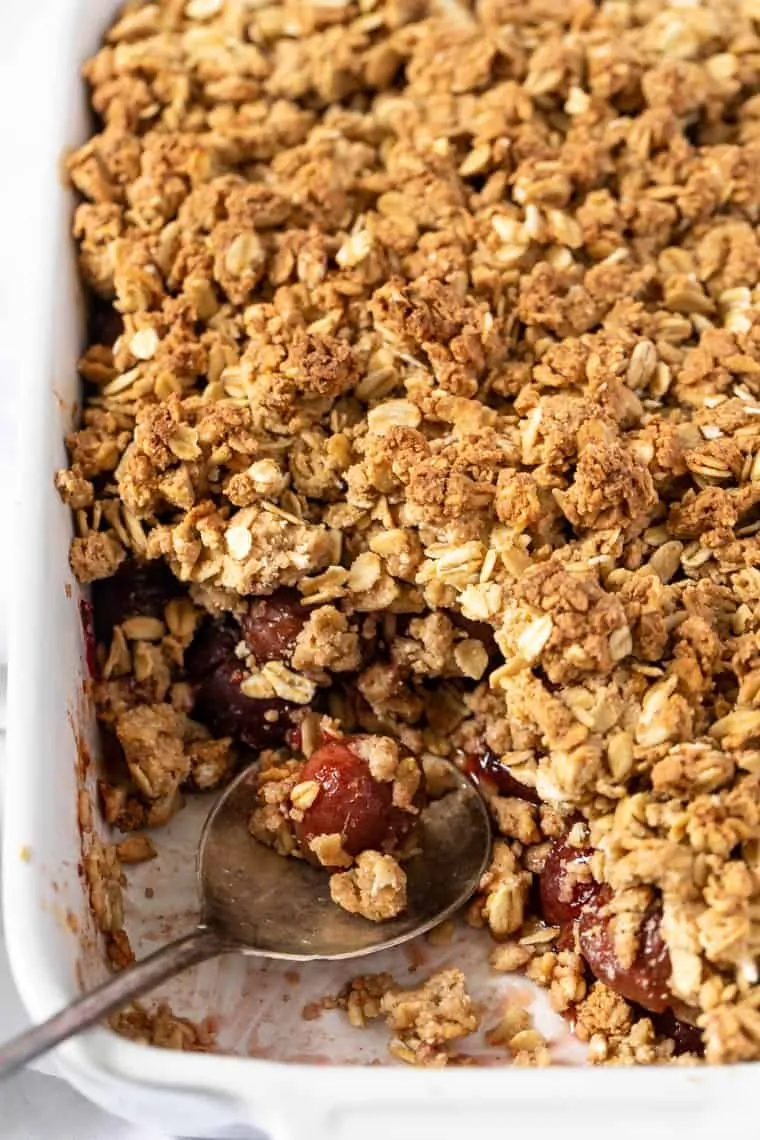 The Easiest Summer Dessert
This truly is the ultimate summer dessert. It's fresh, bright, sweet, and tart all at the same time.
It's also great for a crowd! Got a backyard bbq or get together planned? You can totally bake a tray of this up the day before and just reheat it slightly before serving.
And if you lay out some vanilla ice cream, it'll sure to be kid-approved as well!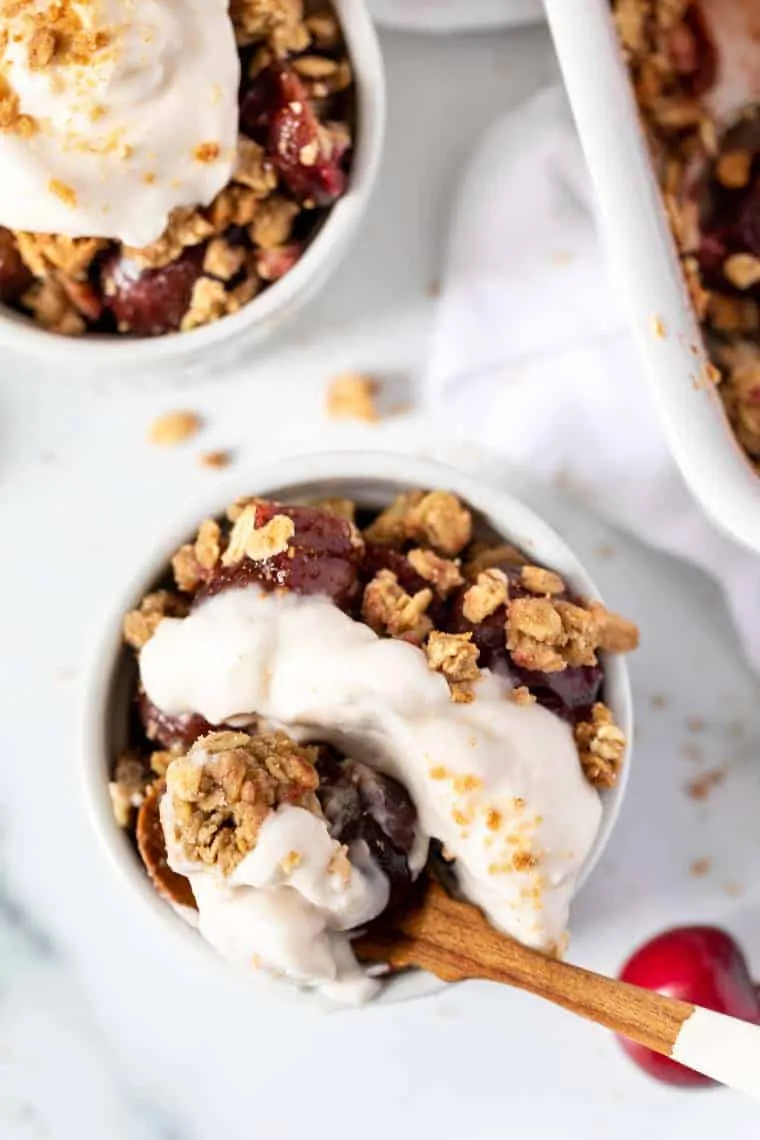 What to Serve with Cherry Crumble
If you are planning on serving this as a dessert, it's best with ice cream. I like to choose a coconut-based vegan vanilla ice cream, but this also works great with chocolate, cherry, pistachio, or even a lemon sorbet. It's flexible that way!
But what's even better about this crumble is that you can enjoy the leftovers for breakfast. I didn't have any vanilla ice cream on hand when I shot this, so I decided to turn it into breakfast. A bowl of warm cherry crumble topped with coconut yogurt is pretty much the perfect summer breakfast in my mind!
I hope you enjoy this recipe as much as I have been – and if you have any more ideas for using cherries, let me know in the comments ❤️happy summer baking!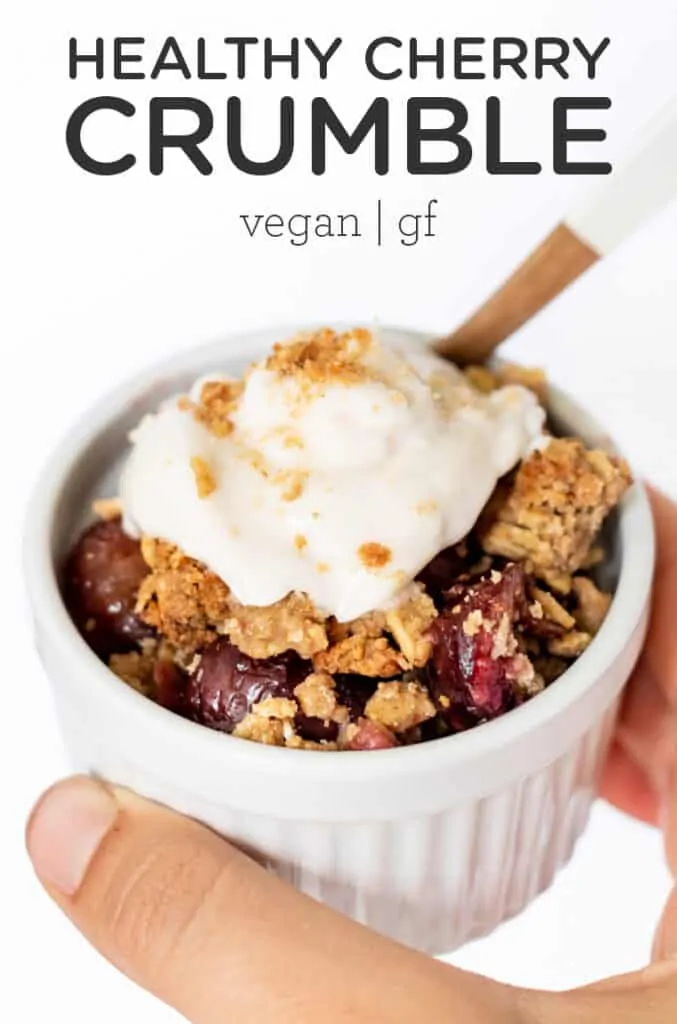 More Fruit Crisp & Crumble Recipes
Healthy Cherry Crumble Recipe
This healthy cherry crumble recipe uses just a few simple ingredients, is naturally gluten-free and also vegan. Serve with your favorite vegan vanilla ice cream for the perfect summer treat!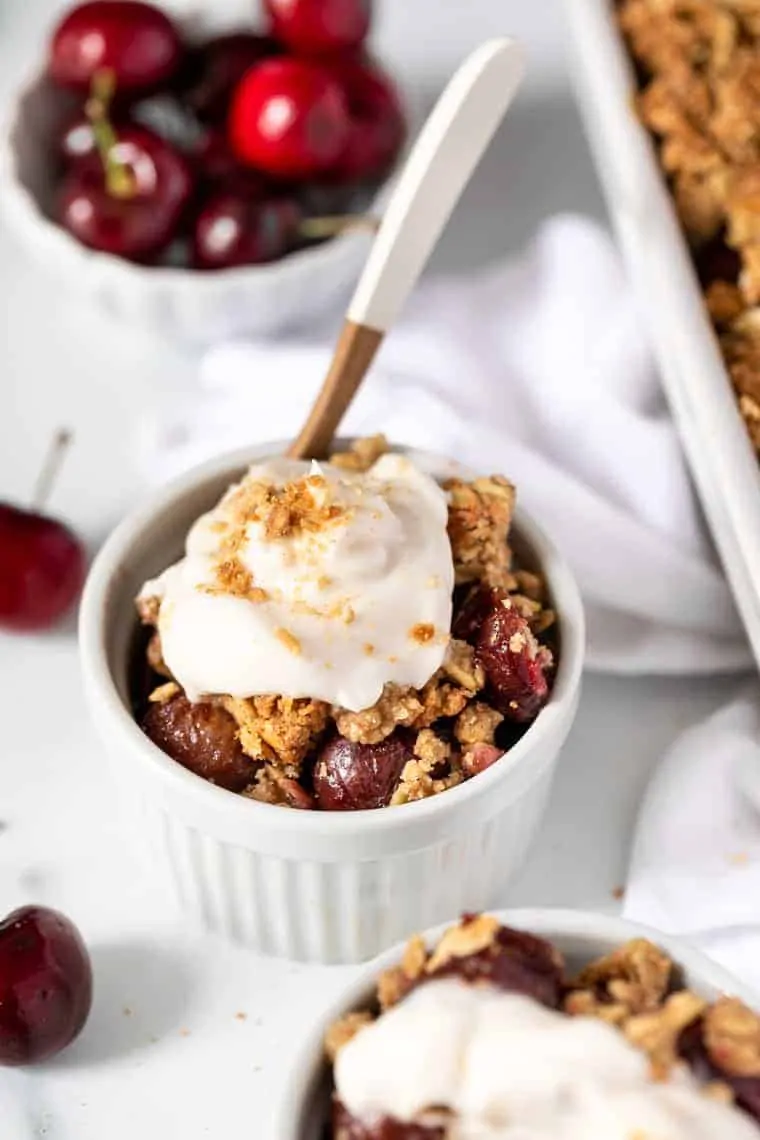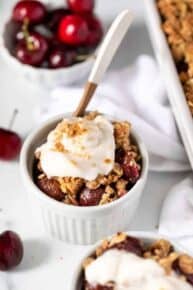 Instructions
Preheat the oven to 350ºF.

Remove the pits from the cherries (reference above for the how-to). Add them to a bowl and top with coconut sugar, arrowroot, lemon, cinnamon, and almond extract. Stir around to coat, then transfer to a 9x13 baking dish.

In a separate mixing bowl, combine all the topping ingredients. Stir together until a sticky(ish) mixture forms. Sprinkle the topping over the cherries.

Bake for 50 - 60 minutes until the topping is golden brown and the cherries are bubbling. Check at 30 minutes and if the topping is getting too brown, cover with foil and continue baking.

Allow crisp to cool for 5 - 10 minutes, then serve with a dollop of your favorite vanilla ice cream (I use vegan coconut yogurt!).
Nutrition
Calories:
289
kcal
|
Carbohydrates:
50
g
|
Protein:
5
g
|
Fat:
9
g
|
Saturated Fat:
6
g
|
Sodium:
10
mg
|
Potassium:
353
mg
|
Fiber:
5
g
|
Sugar:
23
g
|
Vitamin A:
73
IU
|
Vitamin C:
8
mg
|
Calcium:
36
mg
|
Iron:
2
mg
Filed Under:
This recipe is brought to you in partnership with Bob's Red Mill. As always, all opinions are my own. I only share companies I love and trust, so thank you for continuing to support Simply Quinoa!