This healthy peach crisp recipe uses just 10 simple ingredients, is naturally gluten-free and also vegan. Serve with your favorite vegan vanilla ice cream for the perfect summer treat!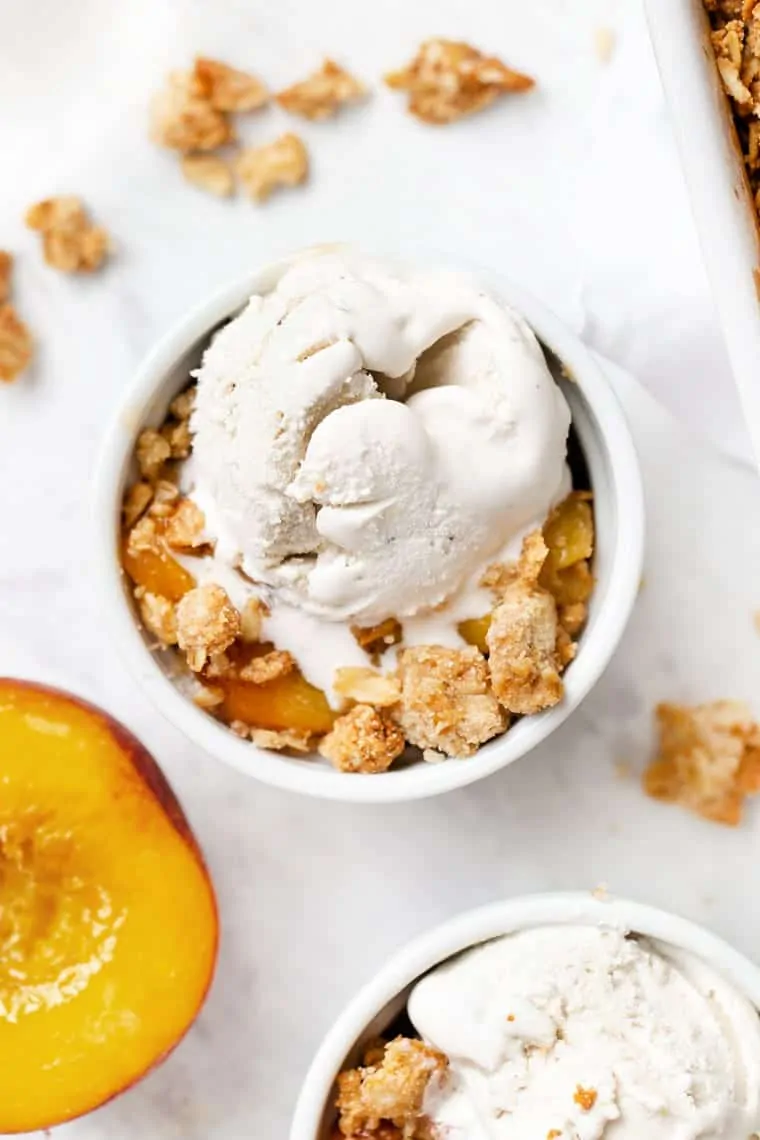 Summer Desserts are just the best, aren't they!? Lately, I've been majorly loving peaches. I mean I love peaches always, but they're something I really look forward to them each year. They're not a fruit I buy out of season (unlike apples and bananas), because they just can't be beaten. There's nothing like a perfectly ripe peach!
So…today I've got something incredible for you. Probably one of the best desserts I've had all year.
A healthy peach crisp with an amazing gluten-free crumble topping! Made without any refined sugar, no dairy, just pure, delicious, nutritious ingredients. Literally life-changing!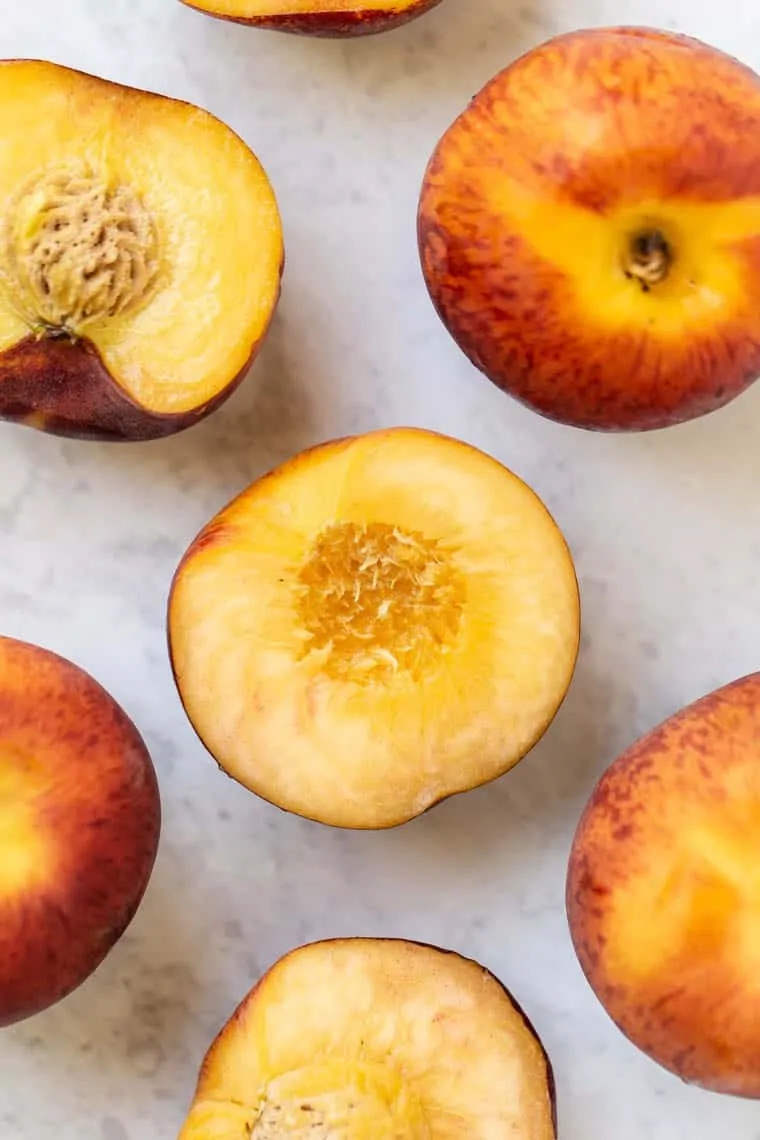 When Are Peaches in Season?
Peaches are one of my all-time favorite fruit. They're juicy, they're sweet and they only come around a few months out of the year.
Peach season ranges from June to August, so now is the perfect time to make this healthy peach crisp. Most of the time, the peaches you'll find in the store aren't quite ripe, so if you do buy them a little firm, just give them a few days on the counter to soften a bit and then use them in this crisp.
You don't want your peaches to be too ripe tough, because they'll end up getting mushy!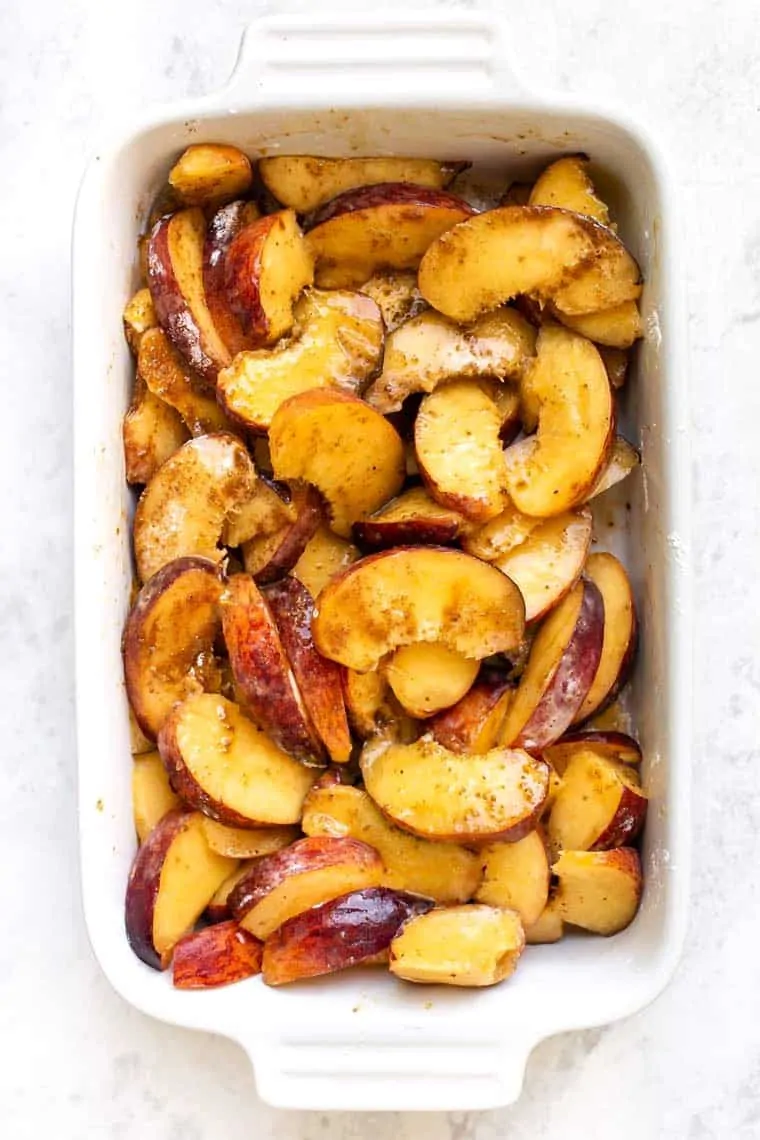 Do You Have to Peel Your Peaches Before Baking?
Some would argue that you do have to peel your peaches first, but I think that is a major pain in the neck, so I skip it. And you know what? It totally works.
The skins on peaches are very thin – not like an apple – and if you don't even really notice them when they're in there.
For this peach crisp, we're using about 7 peaches that are just before their peak of ripeness (easier to cut). Then we just sprinkle them with a little coconut sugar and toss them with some arrowroot powder. The arrowroot helps to thicken up the sauce so the crisp is less soupy. And don't worry, you can't taste it at all!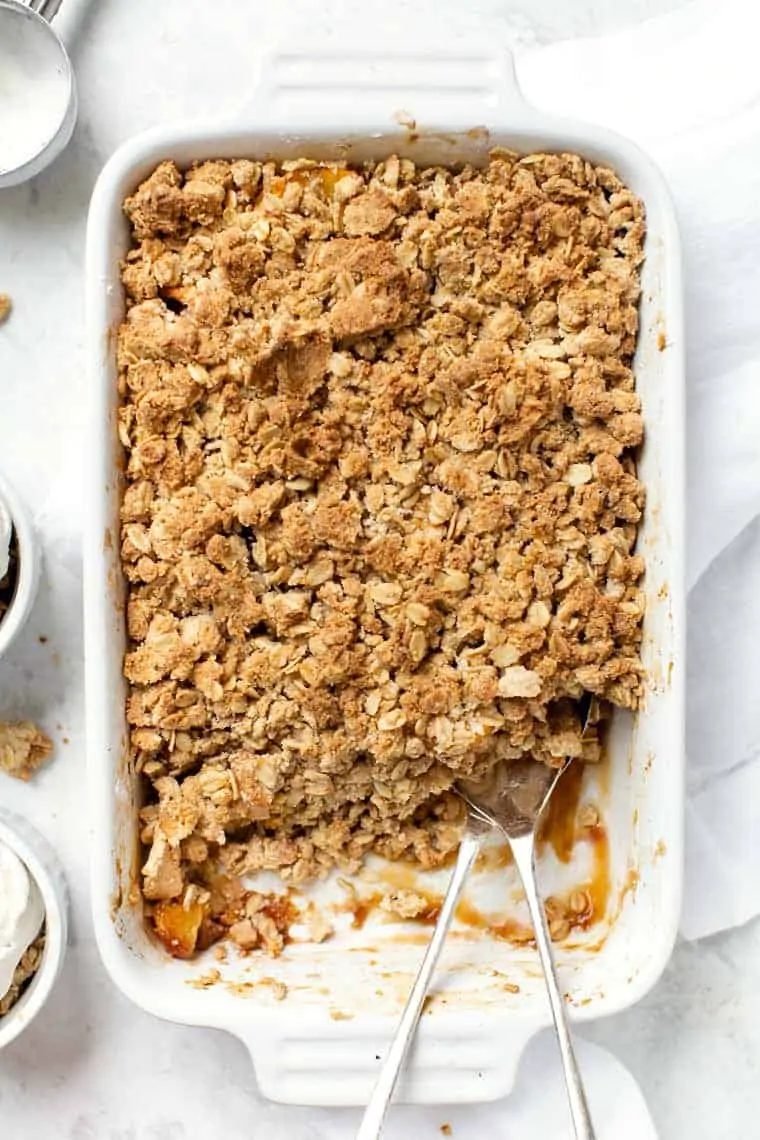 The Difference Between Peach Cobbler and Peach Crisp
When you're searching for peach dessert recipes, the two that probably come up the most are peach cobbler and peach crisp. But what's the difference!?
The main difference between peach cobbler and peach crisp is the topping. Peach cobblers are typically made with a biscuit-like topping. You make a dough/batter, drop it on top of your peaches and then bake it.
Peach crisp, on the other hand, has a more crumble like topping. You can make crumble toppings out of many different things, but I like to do a combo of oats and flour. I find it's the lighter, healthier and doesn't need as much oil since the oats are pretty clumpy.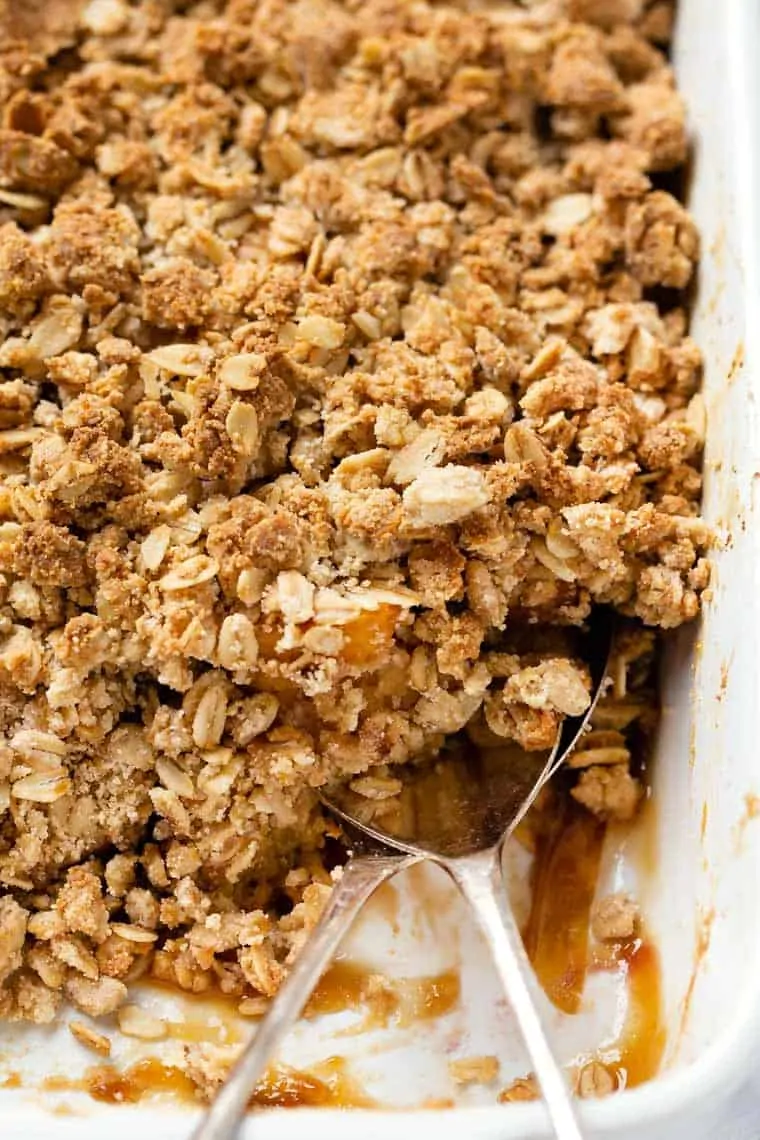 The Healthiest Crumble Topping
For me, the healthiest crumble topping is made without gluten, dairy or refined sugar. It uses a base of oats and flour, then uses a touch of coconut oil and syrup to hold it together.
For the topping for this healthy peach crisp, we're doing a based of rolled oats (which have a heftier texture), almond flour which has a subtle sweetness, and brown rice flour which helps to make it a little sturdier.
Then we simply stir everything together and sprinkle it on top of our peaches!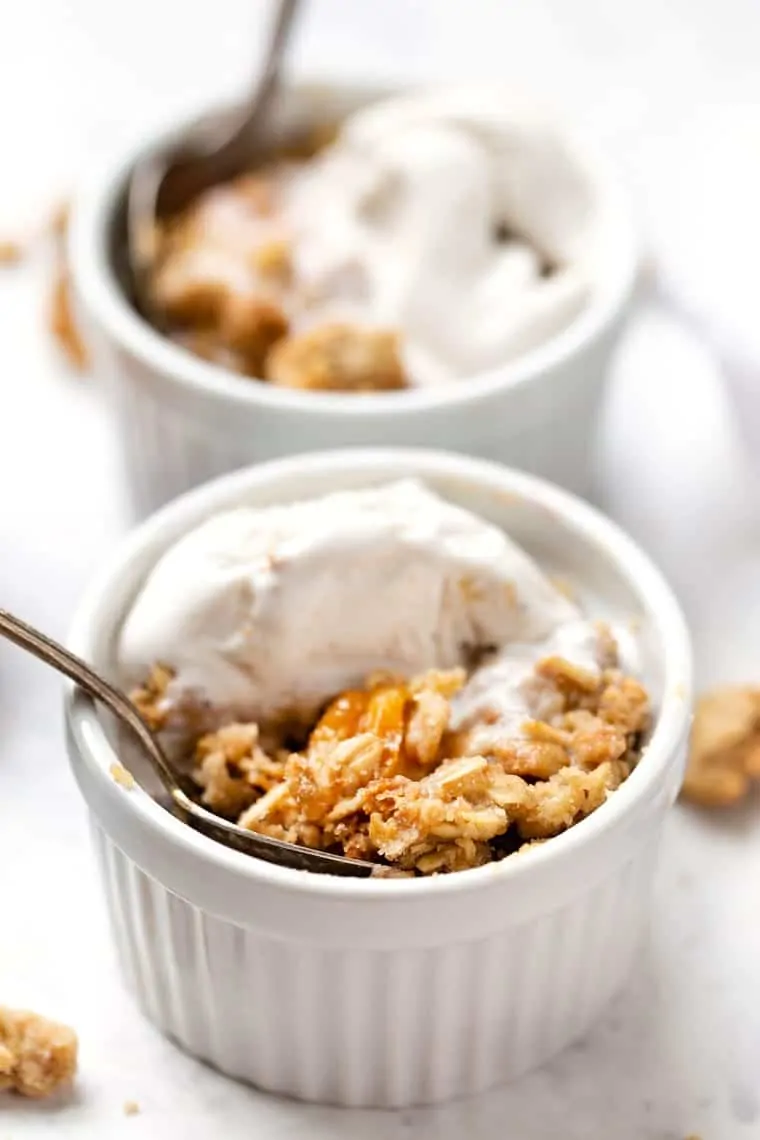 The Ultimate Healthy Peach Crisp Recipe
There are literally so many reasons to fall in the love with this healthy peach crisp. Not only is this recipe just 10 ingredients, but it's also naturally gluten-free, vegan, refined sugar-free and we're only using 1/4 cup of oil in the whole thing.
It's also HEALTHY! Everything I used is nutritious and delicious. Making it the ultimate summertime treat.
I mean honestly though… this might just be one of my favorite summer dessert recipes yet. As soon as I tasted it, it was like a burst of summer. Especially with a generous scoop of vegan vanilla ice cream on top. SO GOOD!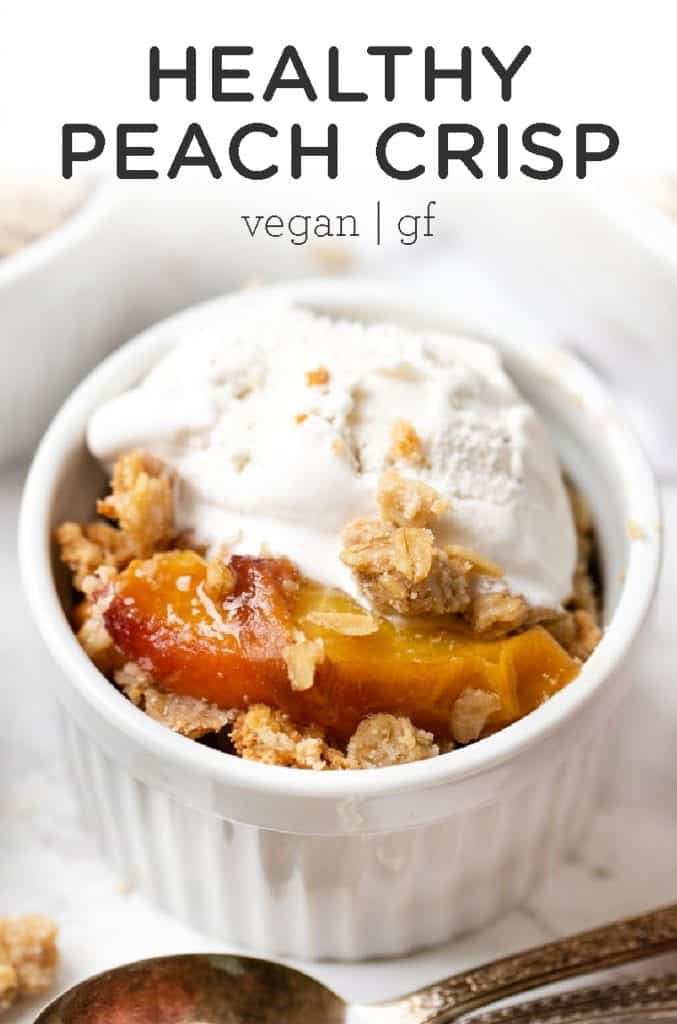 More Healthy Peach Recipes to try
10-Ingredient Healthy Peach Crisp
This healthy peach crisp recipe uses just 10 simple ingredients, is naturally gluten-free and also vegan. Serve with your favorite vegan vanilla ice cream for the perfect summer treat!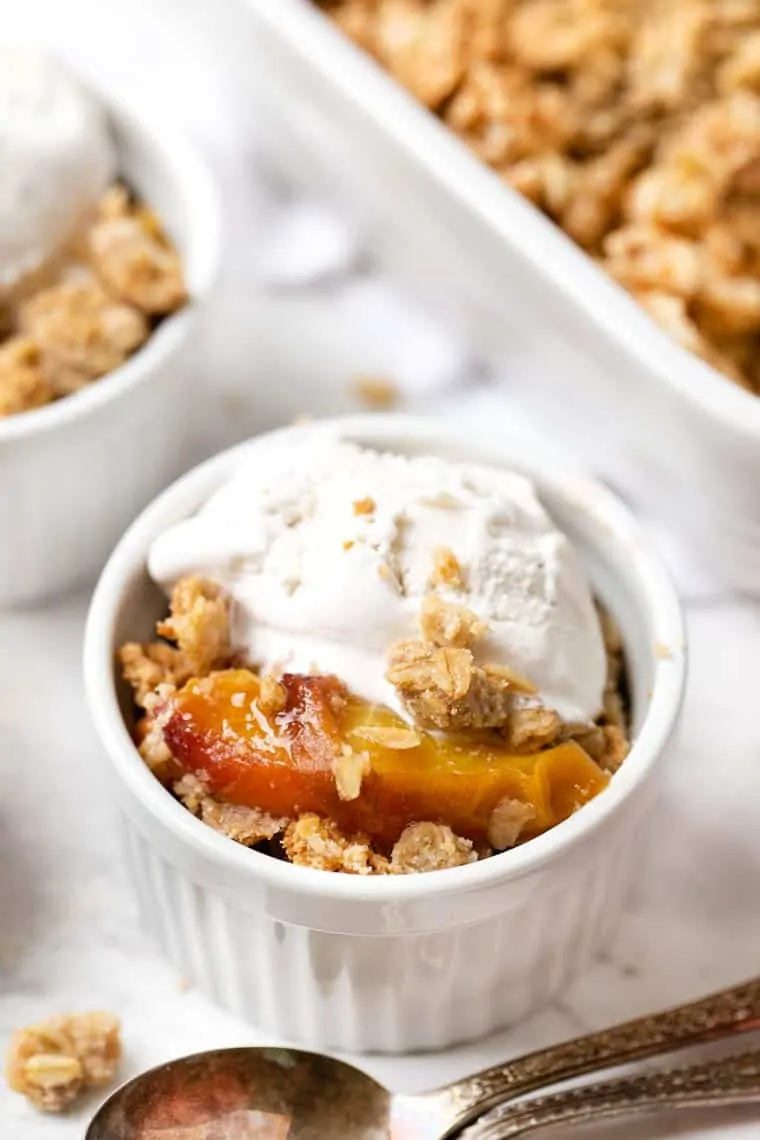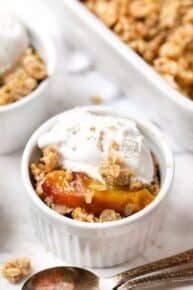 Instructions
Preheat the oven to 350ºF.

Slice the peaches and remove the pits. Add them to a baking dish and top with coconut sugar and arrowroot. Stir around to coat.

In a mixing bowl, combine all the topping ingredients. Stir together until a sticky(ismixture forms. Sprinkle the topping over the peaches.

Bake for 25 - 35 minutes until the topping is golden brown and the peaches are bubbling.

Allow crisp to cool for 5 - 10 minutes, then serve with a dollop of your favorite vanilla ice cream (I use vegaor yogurt!
Nutrition
Calories:
216
kcal
|
Carbohydrates:
27
g
|
Protein:
4
g
|
Fat:
11
g
|
Saturated Fat:
6
g
|
Sodium:
9
mg
|
Potassium:
88
mg
|
Fiber:
2
g
|
Sugar:
9
g
|
Calcium:
31
mg
|
Iron:
0.9
mg
Filed Under: