A delicious grain-free apple crisp recipe that has a crunchy topping made with almond flour and sweet cinnamon apples. It's the ultimate vegan fall dessert!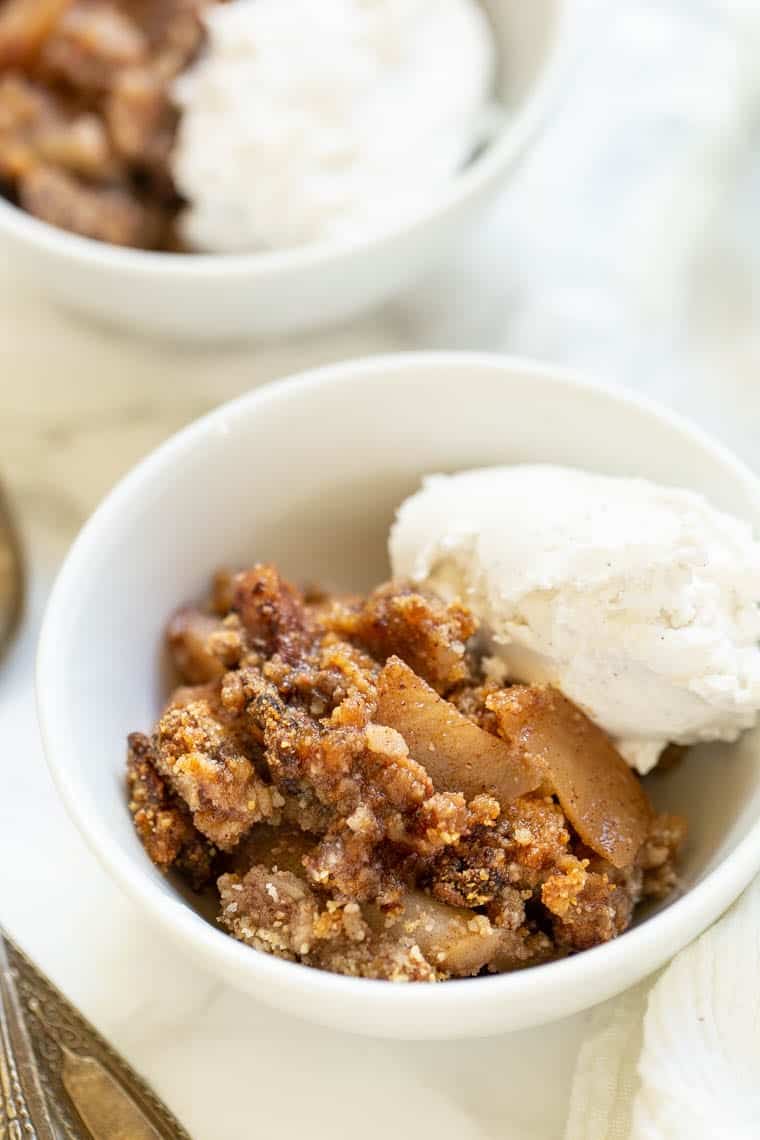 Apple crisp has always been one of my favorite fall treats. I love how easy it is to make, but I also adore the combo of textures. The soft, stewed apples against the crunch topping? It's just perfection.
Typical apple crisp recipes are made with lots of butter, lots of sugar and some flour. It might have apples, but it's certainly not healthy.
I've made my own version of a healthy apple crisp, but today I want to give you a variation that works for people who are on a grain-free (and perhaps also vegan) diet. This grain-free apple crisp has that same perfect balance of textures, but it's far healthier than the traditional!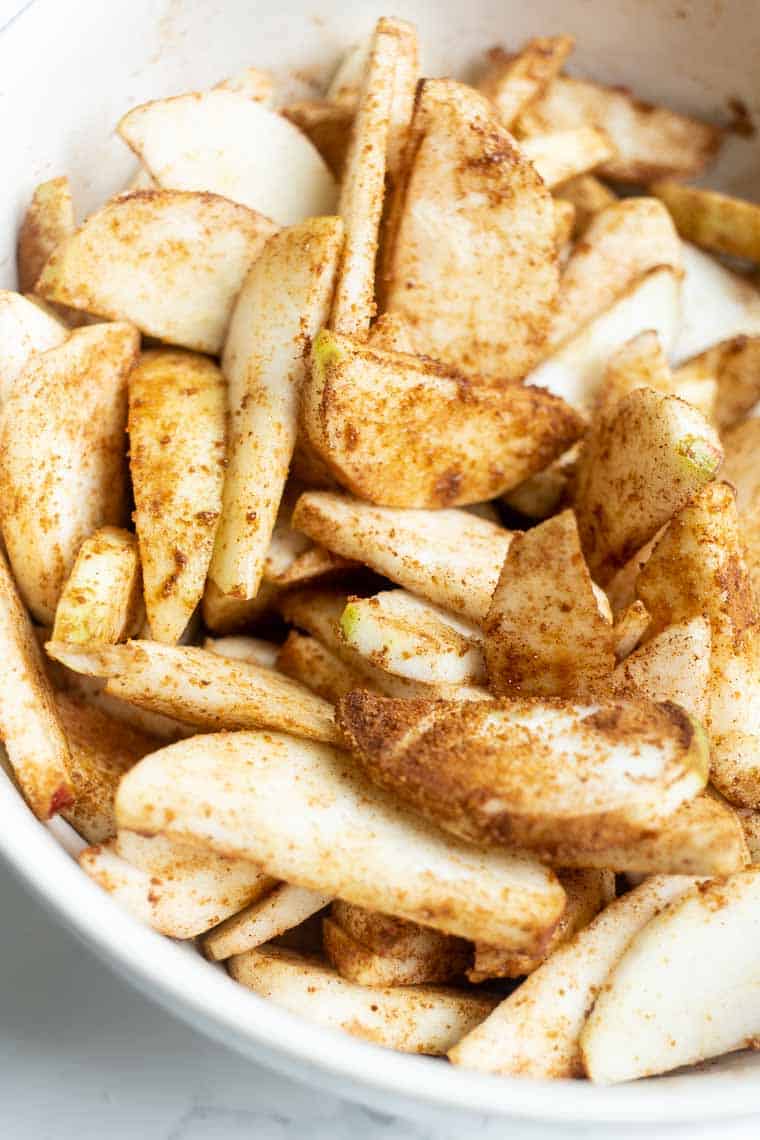 A Healthy Grain-Free Crumble Topping
There are plenty of grain-free crumble topping recipes out there, but I wanted to do something a little different with this recipe. Instead of using a ton of maple syrup or sugar, we're actually using dates.
I first used dates in my grain-free coconut granola and I loved how crunchy they got when they were baked, but also the natural caramel flavor and sweetness they bring. Plus dates are high in iron, packed with fiber and full of magnesium. So while they are high in sugar, I consider dates to be a nutritious sweet treat!
So for our grain-free crumble, we're using dates, pecans, coconut and almond flour. The result is a naturally sweet, fat-filled mixture that pairs so well with our apple crisp.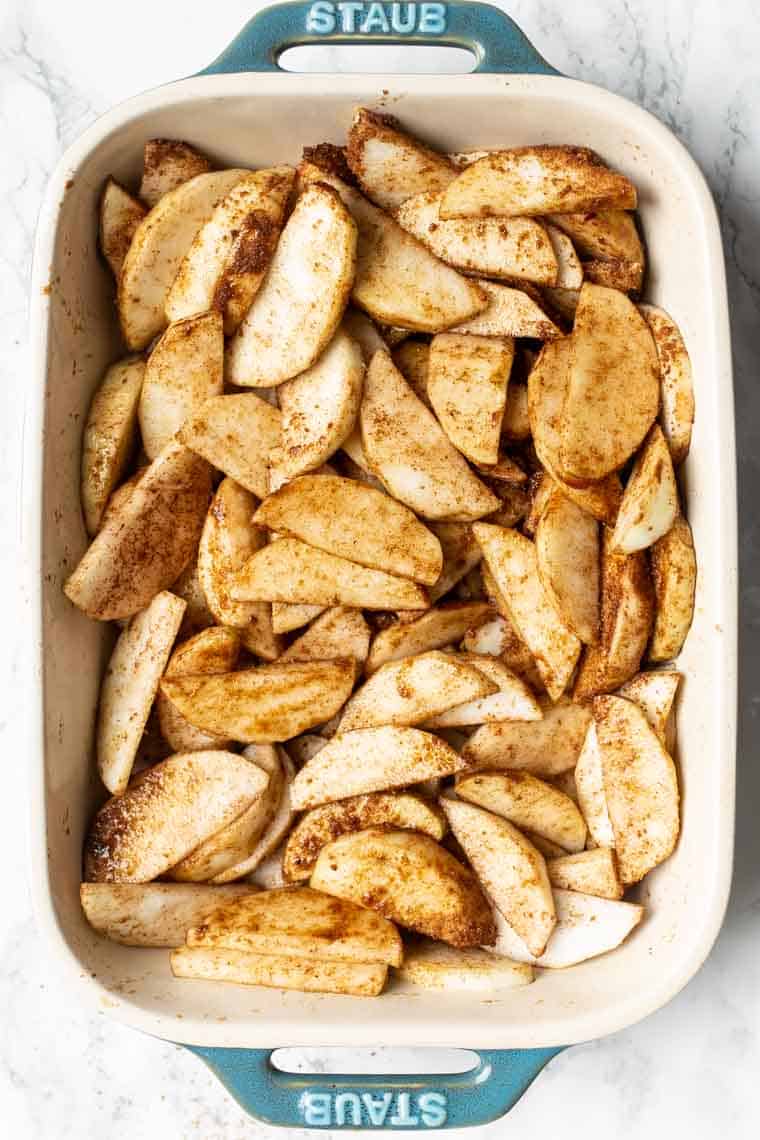 How to make Apple Crisp
If you've never made an apple crisp before, let me tell you this: it's EASY! Like way easier than apple pie.
For the apples, you can honestly use whatever variety you like best. I usually go with something that's a little crispy, but really it all works. Gala, Fuji, Granny Smith, Honey Crisp, etc. The only thing you'll need to make sure you do is peel them first. If you don't peel them, you'll end up getting pieces of skin throughout the crisp and it's not quite as enjoyable 🙂
Once you've got them peeled, just core and slice them up. Then you can toss them with a touch of coconut sugar (or syrup), some cinnamon and pinch of salt. Toss it all together and you're good to go!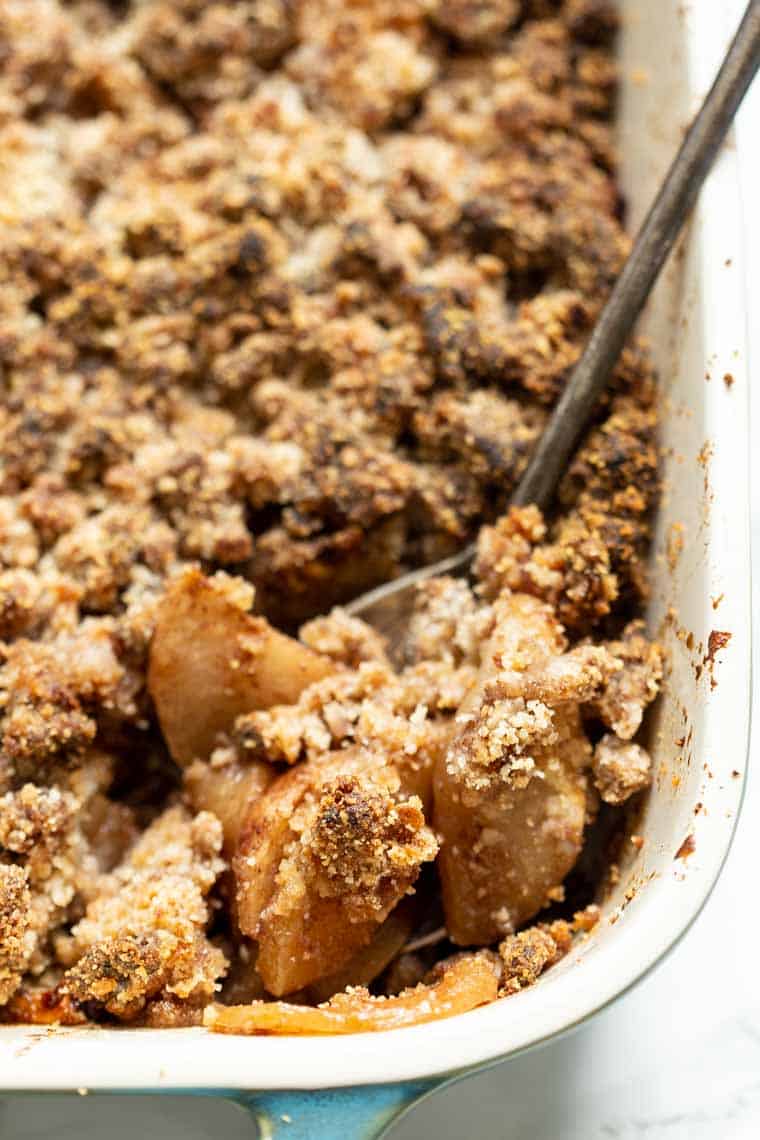 Ways to Serve Grain-Free Apple Crisp
Apple crisps are by far my favorite dessert to make for a crowd. I love how easy it is to scale it up if you've got a lot of a big crowd and since they're served in a baking dish, it feels kind of family style.
When you do serve it up, here are my favorite ways to enjoy it:
With a scoop of vanilla ice cream
With a dollop of coconut yogurt
With homemade coconut whipped cream
With a drizzle of date caramel
With a drizzle of peanut butter
And what's great about this grain-free apple crisp? It's healthy enough for breakfast!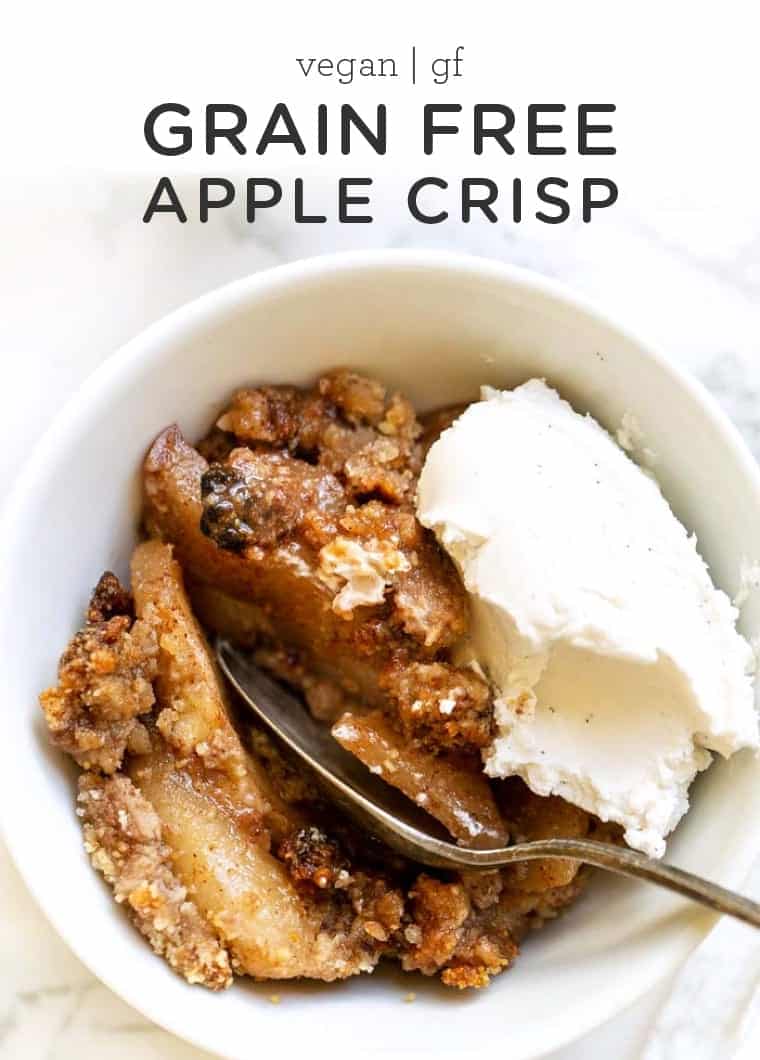 More Healthy Fall Dessert Recipes:
Gluten-Free Apple Crisp
This apple crisp recipe is bursting with fall flavors like apples, cinnamon, and maple syrup, and has a crunch topping. Plus, it's gluten-free and vegan!
Servings 8 servings
Calories 262kcal
Instructions
Preheat the oven to 350ºF. Grease a baking dish (9x9 or 8x11) and set aside.

Peel, core and slice your apples. Add them to a bowl, along with the coconut sugar, cinnamon and a dash of sea salt. Stir to combine. Transfer the apples to the baking dish and set aside.

Prepare the topping by adding the dates, pecans and coconut flakes to the bowl of a food processor. Process until a crumbly texture is formed. Add the almond flour, syrup, coconut oil and sea salt and process again to form the topping.

Sprinkle the topping evenly over the apples. Bake the crispy for 45 - 50 minutes, until the apples are bubbling. Check after 25 minutes and cover with foil if the topping is getting too browned.

Allow crisp to sit for 5 - 10 minutes, then serve warm with ice cream or yogurt.
Notes
Store in an airtight container in the fridge for up to 3 days, or in the freezer for up to 1 month. Reheat in the microwave or the oven. 
Nutrition
Calories: 262kcal | Carbohydrates: 29g | Protein: 4g | Fat: 16g | Saturated Fat: 5g | Sodium: 12mg | Potassium: 207mg | Fiber: 5g | Sugar: 20g | Vitamin A: 55IU | Vitamin C: 3.6mg | Calcium: 53mg | Iron: 1.1mg
share what you make
Tag #simplyquinoa on Instagram with your creations! We love sharing what you make with the community. We can't wait to see!

follow on instagram