This gluten-free apple crisp recipe is packed with the comforting flavors of cinnamon and apples, and has a mouth-watering, crunchy topping. Plus, it's 100% vegan!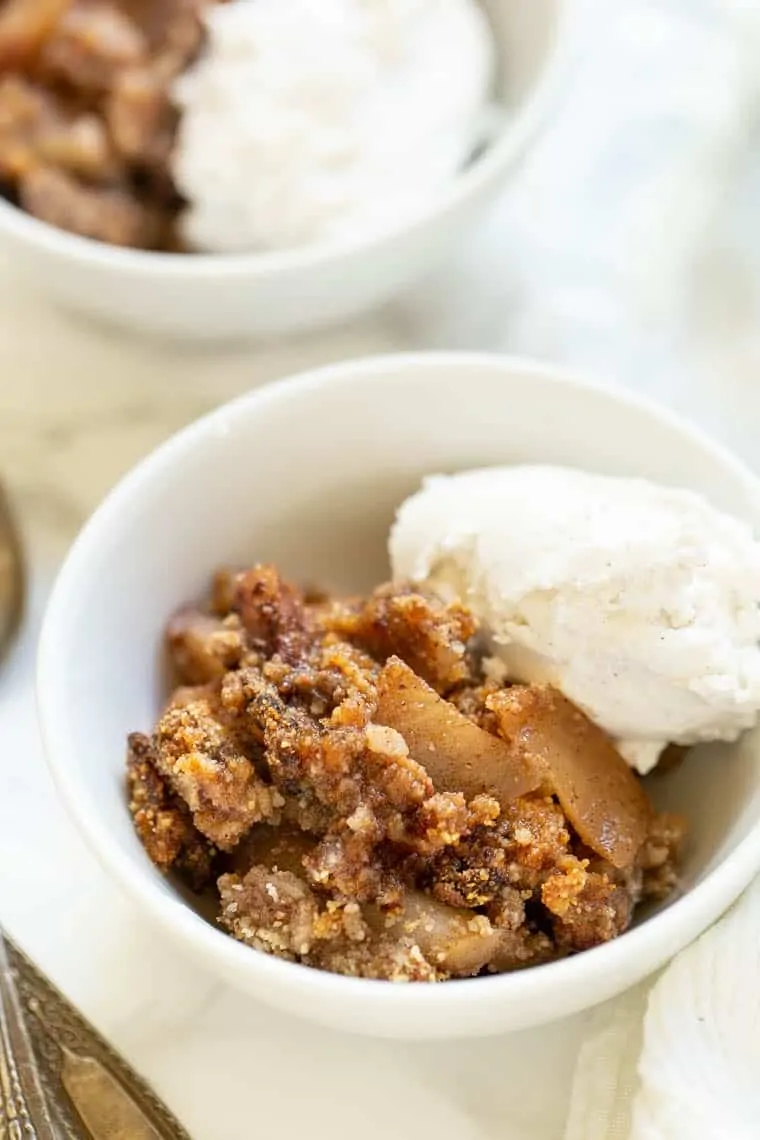 Apple crisp is a fall classic for a reason. The soft, stewed apples that melt in your mouth are beautifully contrasted by the crunchy topping. It's easy to make, warm, and comforting. And the aroma of apples and cinnamon baking in your oven makes your home smell like an autumn candle.
But despite apples being the main ingredient, most crisps are pretty unhealthy. So I came up with this healthier version, which is both vegan and gluten-free. With dates, pecans, coconut, and maple syrup in the crispy topping, this gluten-free apple crisp is not only a healthy dessert, but bursting with fall flavors.
I recommend serving this juicy fall dessert with a scoop of dairy-free black raspberry ice cream, or a dollop of coconut whipped cream on top.
What You'll Need
Make sure to scroll to the gluten-free apple crisp recipe card at the bottom of the page to see the exact amounts for each ingredient.
For the Filling
Sliced Apples
Coconut sugar – You can use other types of sugar if you prefer.
Cinnamon
Sea salt
For the Topping
Medjool dates – These are the best type of dates for this recipe, but you can use other kinds of dates if you don't have Medjool.
Pecans
Coconut flakes
Almond flour
Maple syrup
Coconut oil
Sea salt
What Kind of Apples Are Best for This Recipe?
If possible, you should also use baking apples for this vegan apple crisp. Baking apples are firmer, and hold their texture well in the oven instead of getting mealy or mushy. Granny smith, golden delicious, and honeycrisp apples are all great choices for this recipe.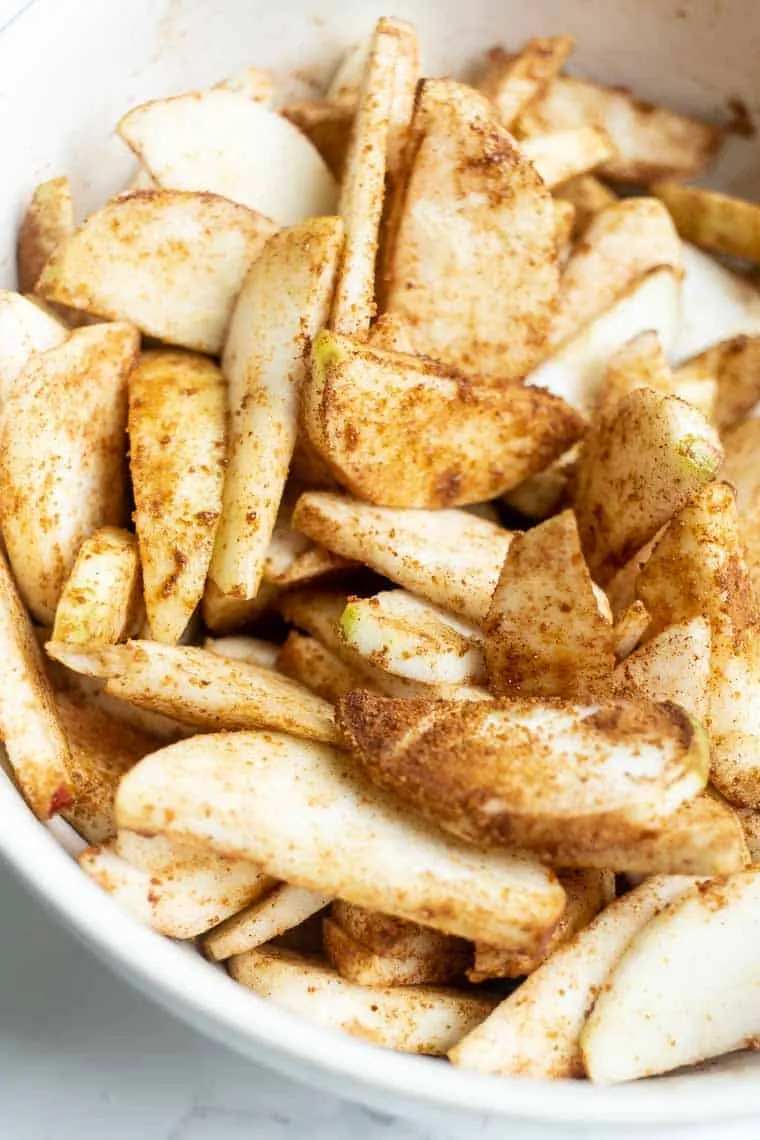 How to Make Gluten-Free Apple Crisp
This is a very straightforward recipe, and only takes 55 minutes to make. Here's how to do it.
Prep. Preheat the oven to 350F and grease a 9"x9" or 8"x11" baking dish.
Prepare the apples. Peel and core the apples, then slice them. Put them in a bowl, and mix them with the coconut sugar, cinnamon, and salt.
Put the apples in the dish. Pour the apple mixture into the prepared baking dish.
Make the topping. Put the dates, pecans, and coconut flakes in a food processor, and pulse until crumbly. Then add the almond flour, maple syrup, coconut oil, and salt, and pulse until combined. Sprinkle the topping over the apple mixture.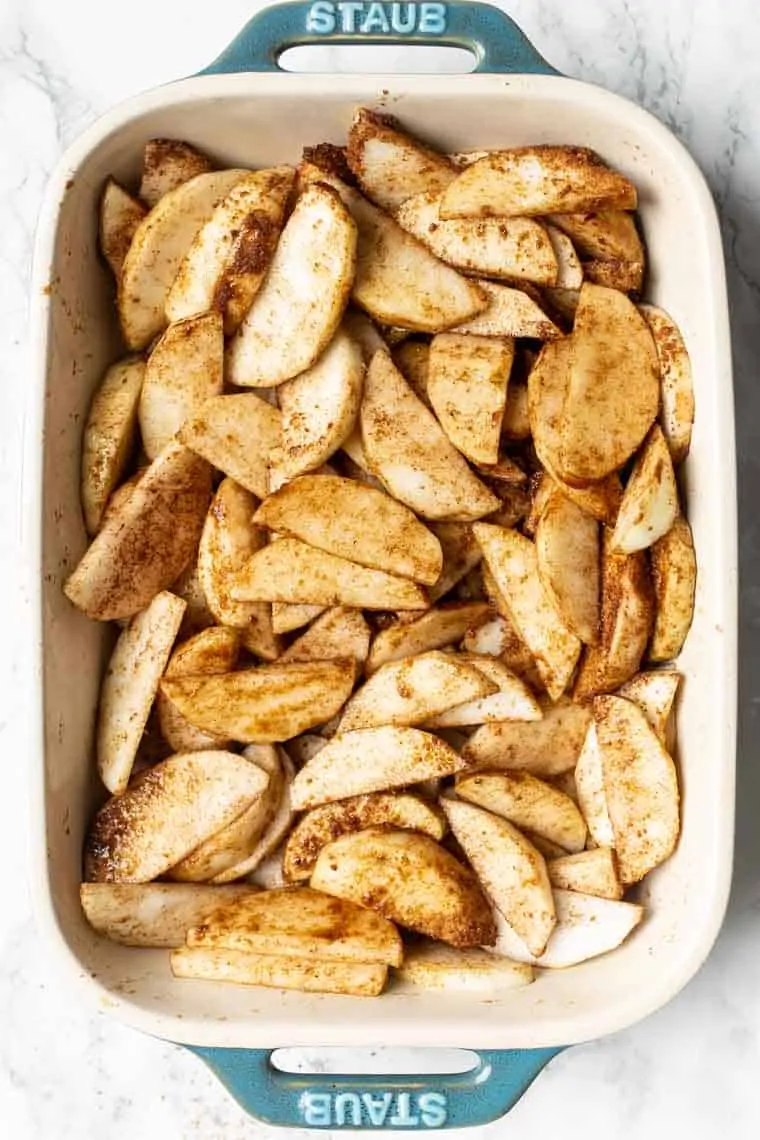 Bake. Put the apple crisp in the oven for about 45 minutes. The apples should be bubbling when the crisp is done.
Cool. Pull the gluten-free apple crisp from the oven and let it cool for 5-10 minutes before serving.
Tips for Success
Here are a few pointers for making this apple crisp.
Cut the apples the same size. Baking this crisp is a great time to work on your knife skills. Try to cut the apple slices so that they're all a similar size. That way each piece will be soft but not mushy, instead of having some slices that are overcooked and some that are undercooked.
Tent it. Check the crisp after about 25 minutes in the oven. If it's starting to brown, place some aluminum foil over it so that it doesn't burn.
Let it cool for a sufficient amount of time. This gluten-free apple crisp is one of the best smelling desserts you'll ever make, so it will be tempting to dive into it when it comes out of the oven. But as the crisp rests, the juices will start to get absorbed by the apples, and the sauce will thicken. After a full 10 minutes, the crisp should be decently firm, which is what you're looking for.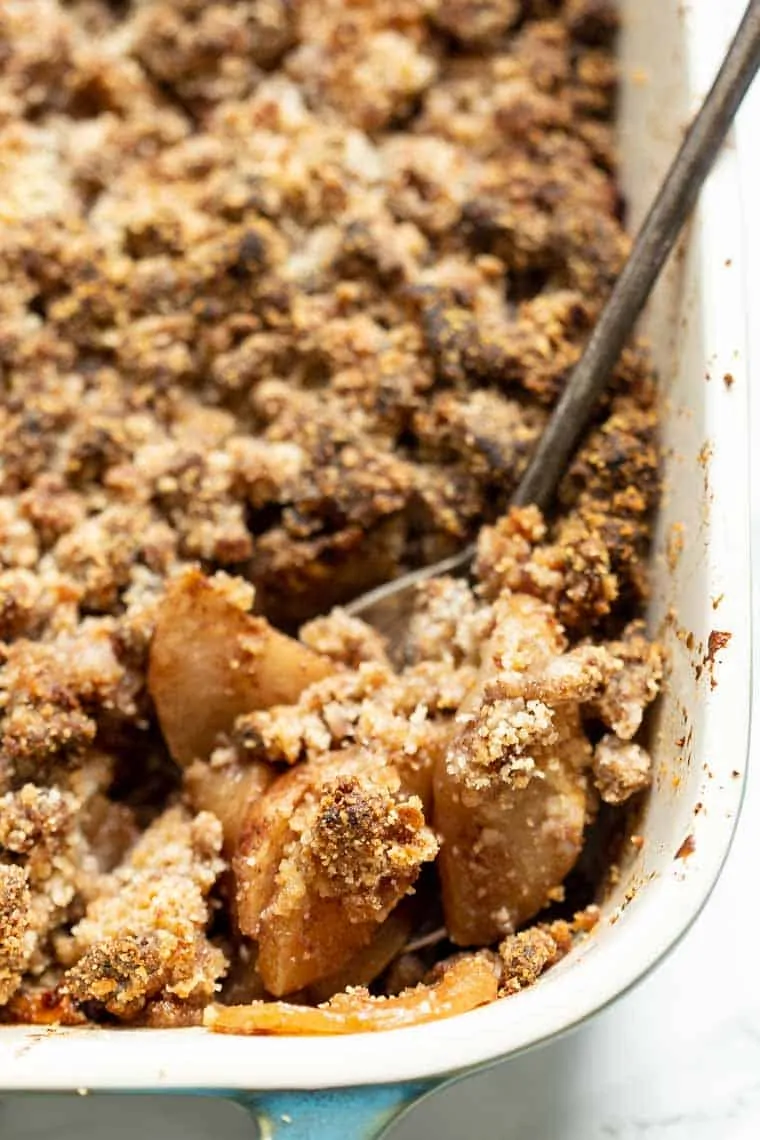 How to Store
This gluten-free apple crisp will last in the fridge for 3 days in an airtight container. You can reheat it in the microwave until it reaches your desired temperature.
Can Gluten-Free Apple Crisp Be Frozen?
Yes! You can freeze this crisp in an airtight container for up to a month. Reheat it directly out of the freezer.
More Healthy Fall Dessert Recipes:
Gluten-Free Apple Crisp
This apple crisp recipe is bursting with fall flavors like apples, cinnamon, and maple syrup, and has a crunch topping. Plus, it's gluten-free and vegan!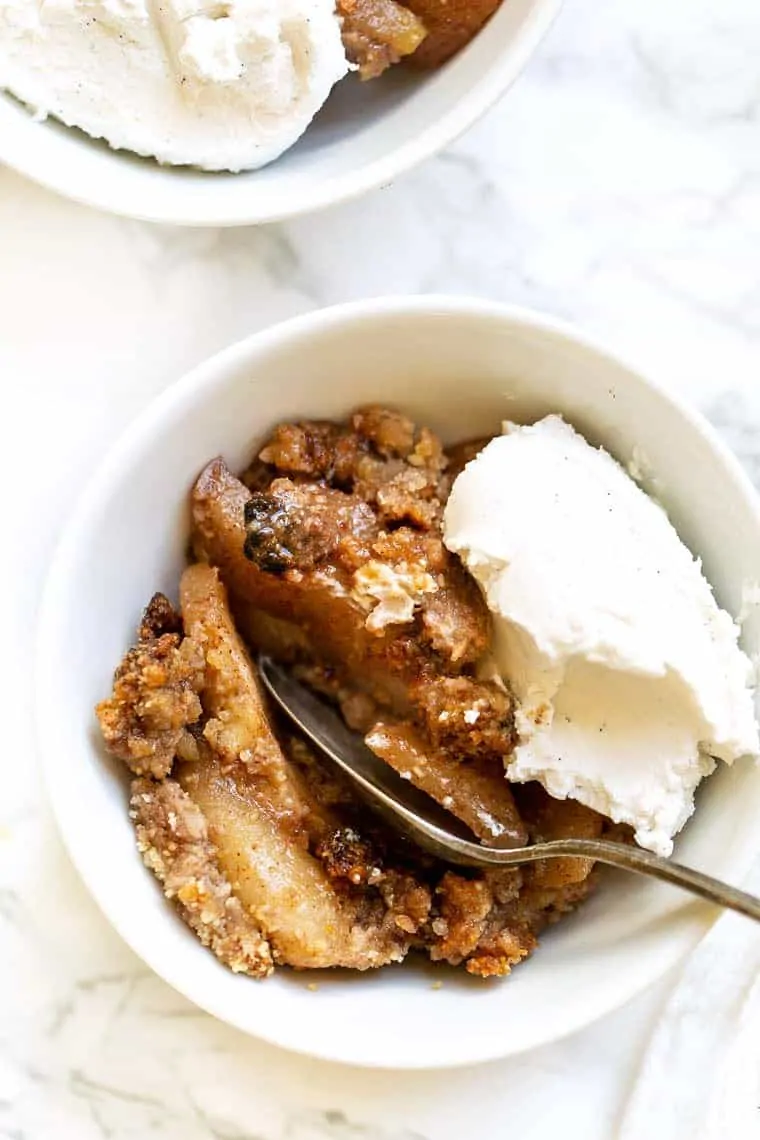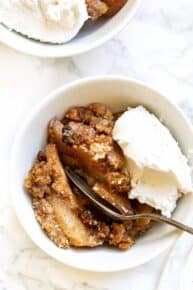 Instructions
Preheat the oven to 350ºF. Grease a baking dish (9×9 or 8×11) and set aside.

Peel, core and slice your apples. Add them to a bowl, along with the coconut sugar, cinnamon and a dash of sea salt. Stir to combine. Transfer the apples to the baking dish and set aside.

Prepare the topping by adding the dates, pecans and coconut flakes to the bowl of a food processor. Process until a crumbly texture is formed. Add the almond flour, syrup, coconut oil and sea salt and process again to form the topping.

Sprinkle the topping evenly over the apples. Bake the crispy for 45 – 50 minutes, until the apples are bubbling. Check after 25 minutes and cover with foil if the topping is getting too browned.

Allow crisp to sit for 5 – 10 minutes, then serve warm with ice cream or yogurt.
Notes
Store in an airtight container in the fridge for up to 3 days, or in the freezer for up to 1 month. Reheat in the microwave or the oven. 
Nutrition
Calories:
262
kcal
|
Carbohydrates:
29
g
|
Protein:
4
g
|
Fat:
16
g
|
Saturated Fat:
5
g
|
Sodium:
12
mg
|
Potassium:
207
mg
|
Fiber:
5
g
|
Sugar:
20
g
|
Vitamin A:
55
IU
|
Vitamin C:
3.6
mg
|
Calcium:
53
mg
|
Iron:
1.1
mg
Filed Under: