This simple Strawberry & Rhubarb Crisp is the ultimate summer dessert. Naturally sweetened, topped with a quick oatmeal topping, it's healthy, vegan and GF!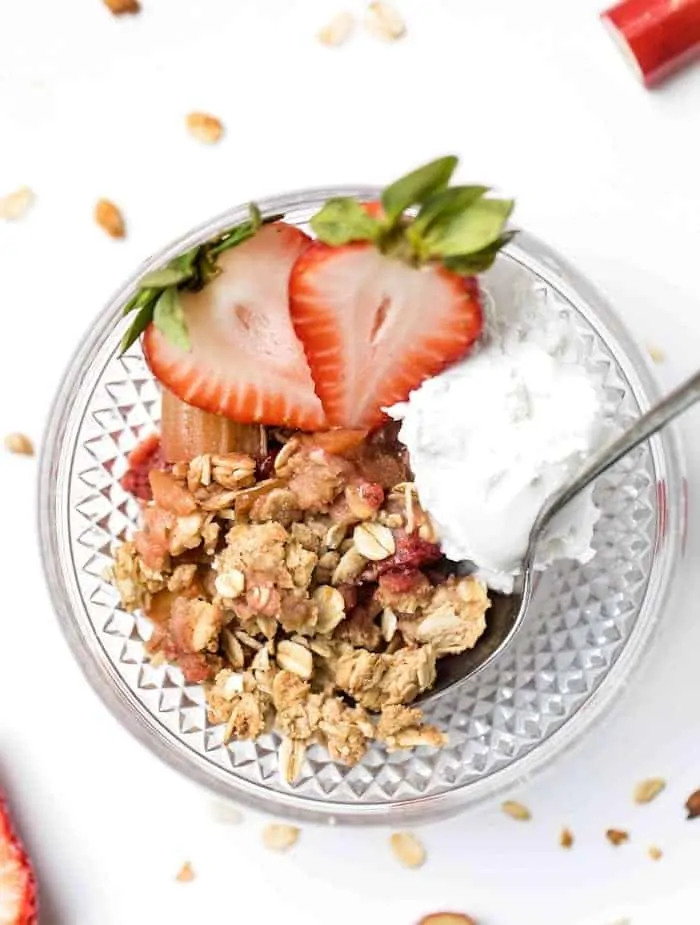 Rhubarb is a tricky ingredient for me. It's not something that I love in everything, but when used the right way, it's pretty darn spectacular.
What I appreciate about it is the tang, but what I don't love so much is the mushy texture when it bakes. Although when you combine rhubarb with something sweet (like fresh strawberries), it's out of this world delicious.
I'm slowly working my way through my older posts, revamping the recipes, retaking the photos and making sure that each recipe is perfect. This Strawberry Rhubarb Crisp is actually one I forgot I even made and I'm so excited to be sharing the new (and improved) version with you!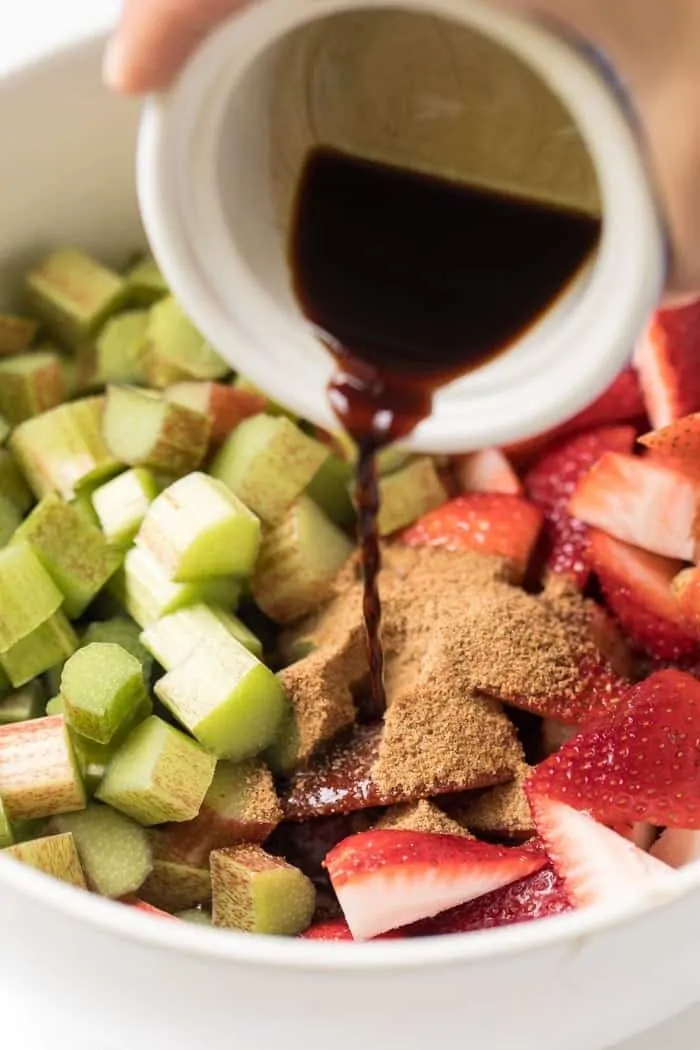 I do most of my shopping at our neighborhood Whole Foods, and I have to say it's amazing. Even though Whole Foods is a huge chain, each store feels different and localized. There's always a plethora of amazing produce, a wide variety of gluten-free and vegan options, foods from local artisans and small companies and an amazing hot bar. It's just one of those places that makes me happy as soon as I walk in.
The best part? You're always greeted with their stunning produce section. And they always display, right in the front, their local, in-season goodies. Kind of like you in-the-moment reminder of what's fresh right now.
Isn't it the best feeling when you start seeing summer produce pop up on the shelves? Things like snap peas, asparagus, local berries and yes, rhubarb!
As soon as I saw it on display it was almost as if summer was telling me, "yes, I have arrived!"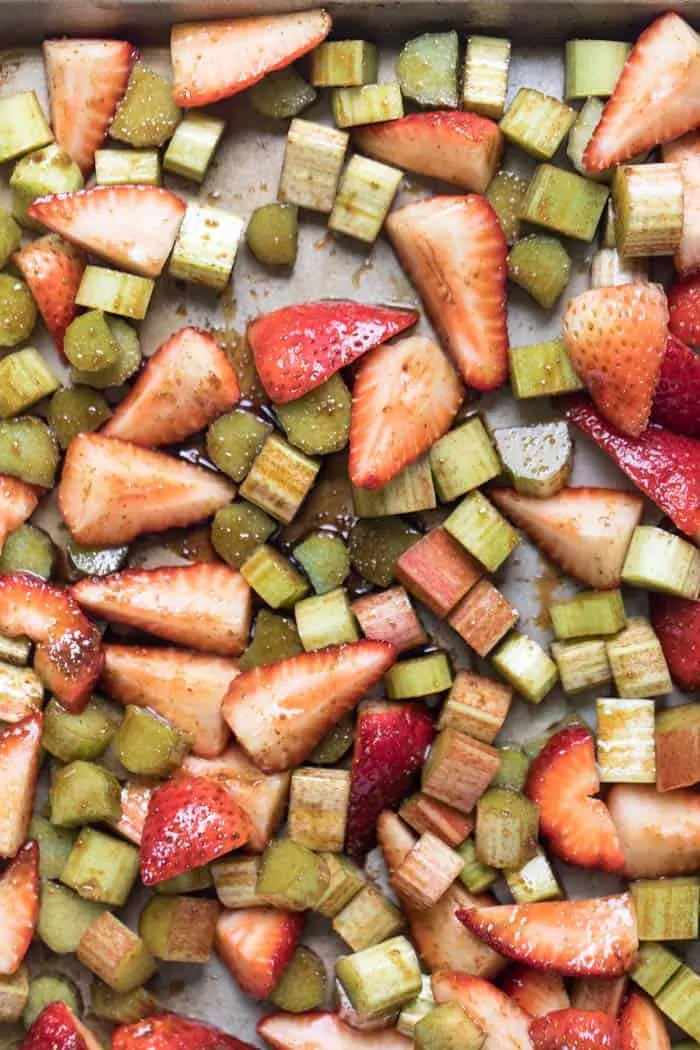 Our perfect Strawberry Rhubarb Crisp
Those first rhubarb stalks only mean one thing:  whipping up a simple (and healthy) Strawberry Rhubarb Crisp!
Truthfully, these flavors are classic for a reason. Strawberries which are insanely, succulently sweet are the perfect contrast to the slightly acidic, mellow sweetness of rhubarb. Even their textures pair well – one soft and juicy, the other crispy and tart.
They're a match made in heaven.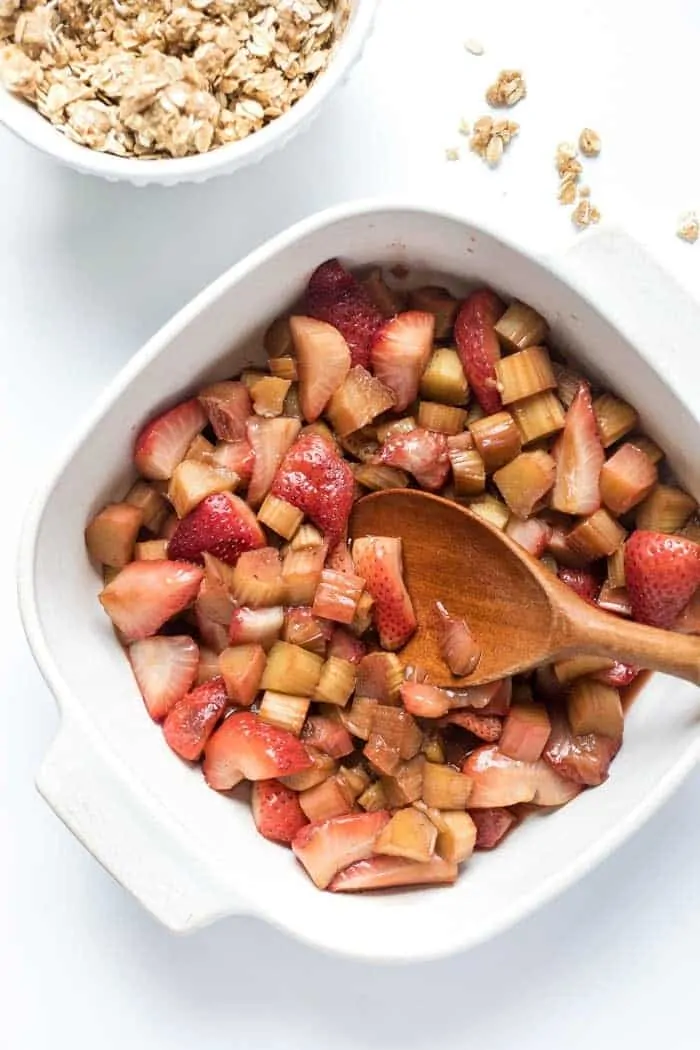 One way we're changing things up with this recipe?
Balsamic vinegar!
I honestly can't remember where this idea came from since this original iteration of the recipe was shared over 5 years ago, but it adds a really nice (and subtle) flavor to the crisp. A little added sweetness, a little more robust, and definitely not vinegary in the slightest!
We're roasting the rhubarb and strawberries with the balsamic and a touch of coconut sugar which helps bring out the flavor of the fruit and begins to caramelize the sugars. It's really amazing!
You'll notice that when you pull the roasted fruit out of the oven, there will be a little juice leftover.  Save that! It's pure gold on top of your weekend pancake and waffles!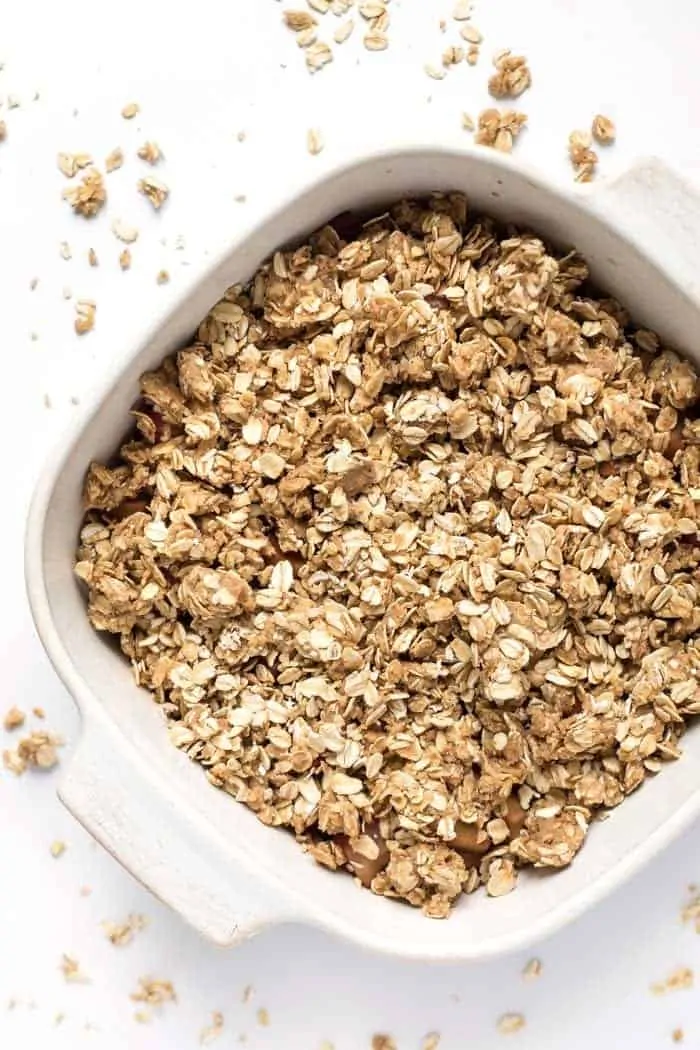 How to make a Healthy Crisp Topping
For me, the crisp topping is equally as important (if not more so) than the fruit combo. And we're sticking with what we know; an oat-based crumble that crisps up as it bakes and has a really lovely flavor.
The crisp topping is super easy and requires just 5 ingredients:
Gluten-Free Rolled Oats
Almond Flour
Quinoa Flour
Maple Syrup
& Coconut Oil
You just mix it all together – it should start to clump up  – and sprinkle it over your fruit. Pop the whole thing in the oven, wait until it gets hot and bubbly, and you're ready to go!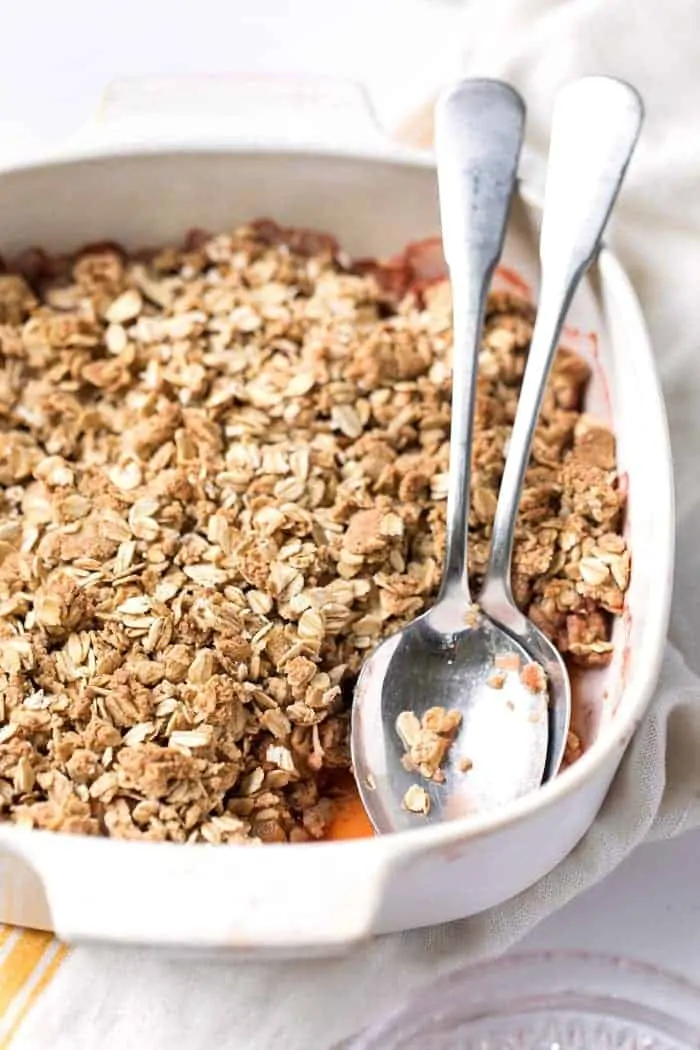 How to serve your Strawberry Rhubarb Crisp
Now…let's talk serving!
This crisp is delicious enough to stand on its own, but it's also awesome with a little touch of something creamy. We served ours with some coconut yogurt and the tang was lovely!
It's also delicious with vanilla ice cream, some coconut sorbet, or even coconut whipped cream! (check out this post to learn how to make that at home)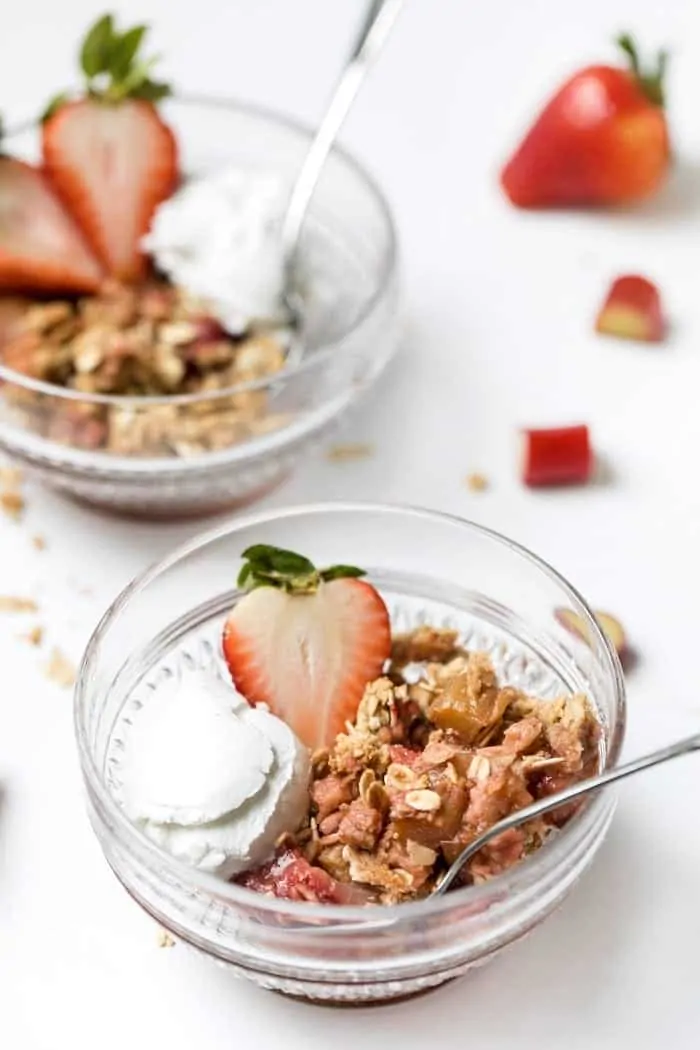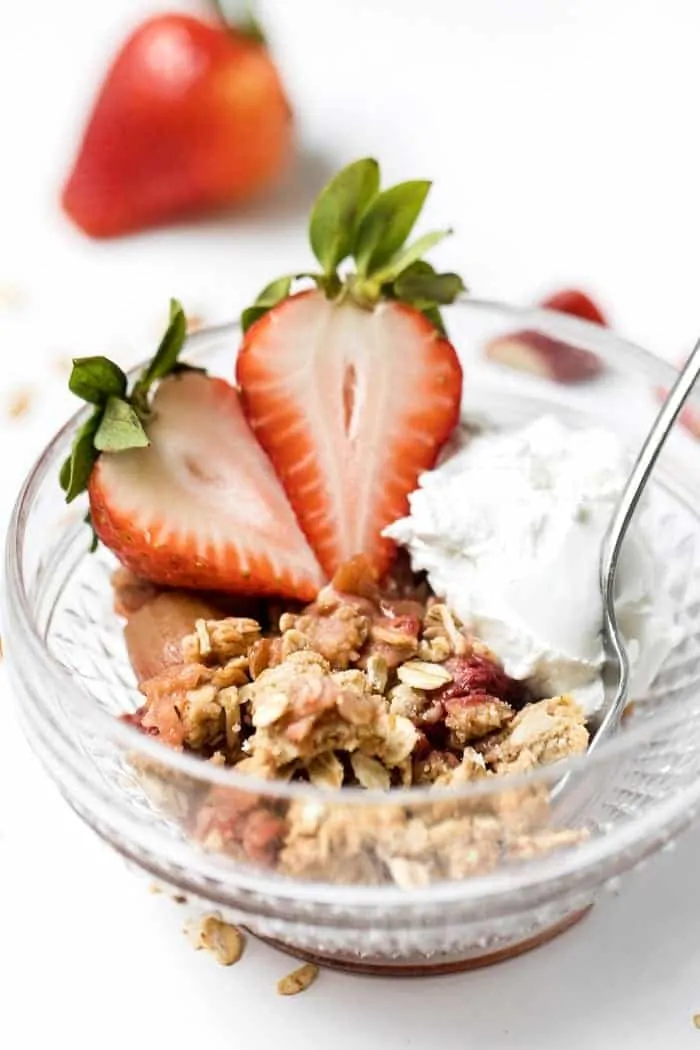 But best of all? This crisp is healthy enough to double as a breakfast! I love having extras to wake up to in the morning. It's such a treat and one I savor as long as I can still find rhubarb in the stores.
I can't wait to see your recreations of this recipe ❤ make sure to share a photo with me on Instagram using @simplyquinoa or #simplyquinoa!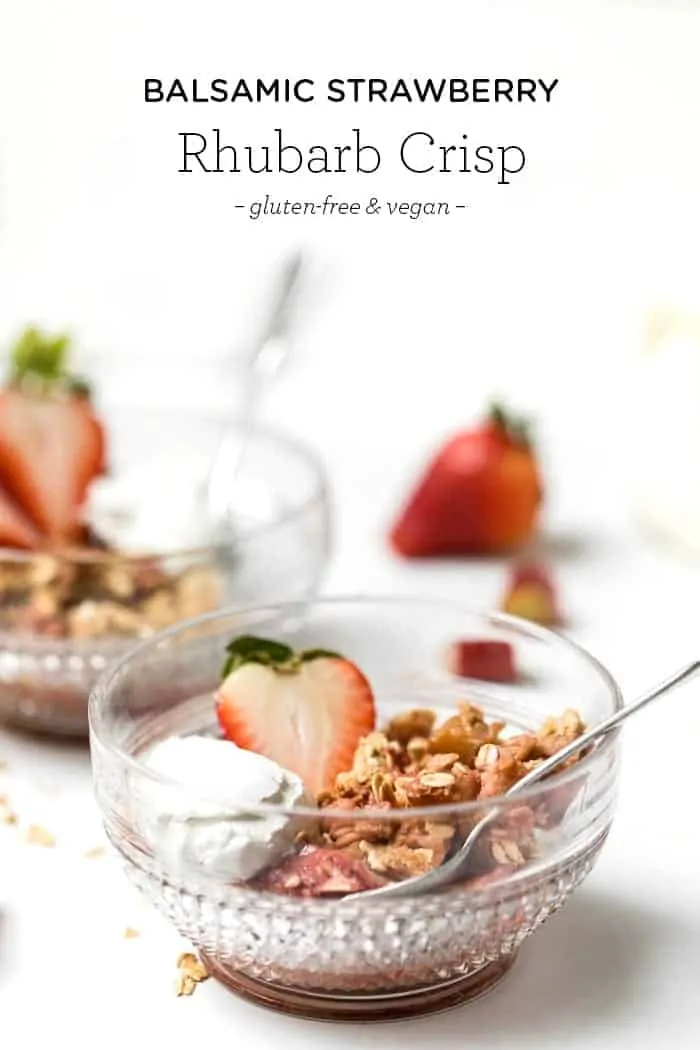 More strawberry recipes to try:
Balsamic Strawberry Rhubarb Crisp
Celebrate the start of summer with this healthy strawberry rhubarb crisp! Tossed with balsamic vinegar, this recipe bursts with sweetness and flavor. And with the perfect crumbly oat topping, it's sure to become a family favorite!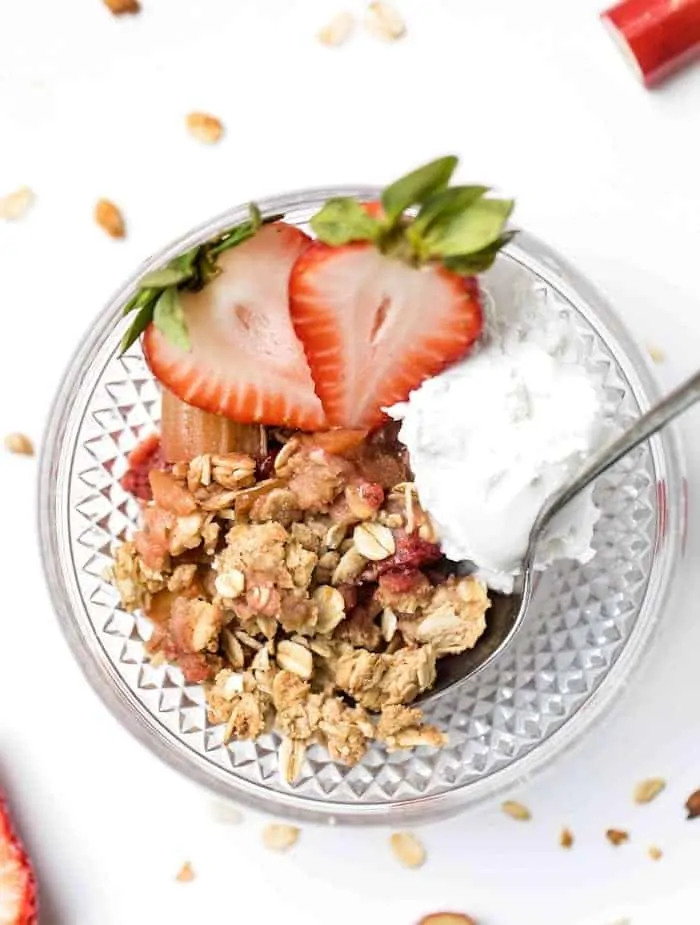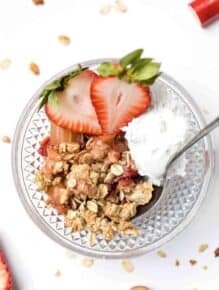 Ingredients
for the fruit:
2

cups

rhubarb

chopped

1

pint

strawberries

quartered

2

tablespoons

balsamic vinegar

2

tablespoons

coconut sugar
Instructions
Preheat the oven to 375º F.

Toss the strawberries and rhubarb in balsamic and coconut sugar. Place on a baking sheet and roast for 10 minutes.

While the fruit is roasting, prepare the topping by combining all the ingredients in a mixing bowl. Stir together until it forms a dough-like consistency.

Remove the fruit from the oven and scoop the strawberries and rhubarb off the pan and into the bottom of an 8x8 baking dish. Be sure to leave the juice behind!*

Spread the crumb topping evenly across the top of the fruit and bake on the center rack for another 15 - 20 minutes until the fruit gets all bubbly and the top is golden brown.

Serve warm with your choice of ice cream, coconut whipped cream or coconut yogurt!
Notes
Save the juice! It makes an amazing syrup for pancakes or waffles 🙂
Nutrition
Calories:
206
kcal
|
Carbohydrates:
30
g
|
Protein:
4
g
|
Fat:
8
g
|
Saturated Fat:
4
g
|
Sodium:
63
mg
|
Potassium:
307
mg
|
Fiber:
4
g
|
Sugar:
12
g
|
Vitamin A:
50
IU
|
Vitamin C:
49.7
mg
|
Calcium:
74
mg
|
Iron:
1.4
mg
Filed Under: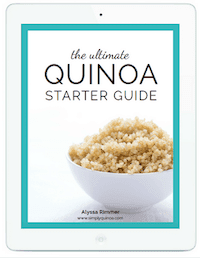 New to cooking quinoa? Grab your FREE Quinoa Starter Guide!
Become part of the Simply Quinoa community and receive weekly emails with exclusive content that I only share in email, as well as my in-depth guide to starting your quinoa journey.