This delicious vanilla almond granola has just a few simple ingredients and a satisfying crunch! Flavorful, easy to make, as well as vegan and gluten-free!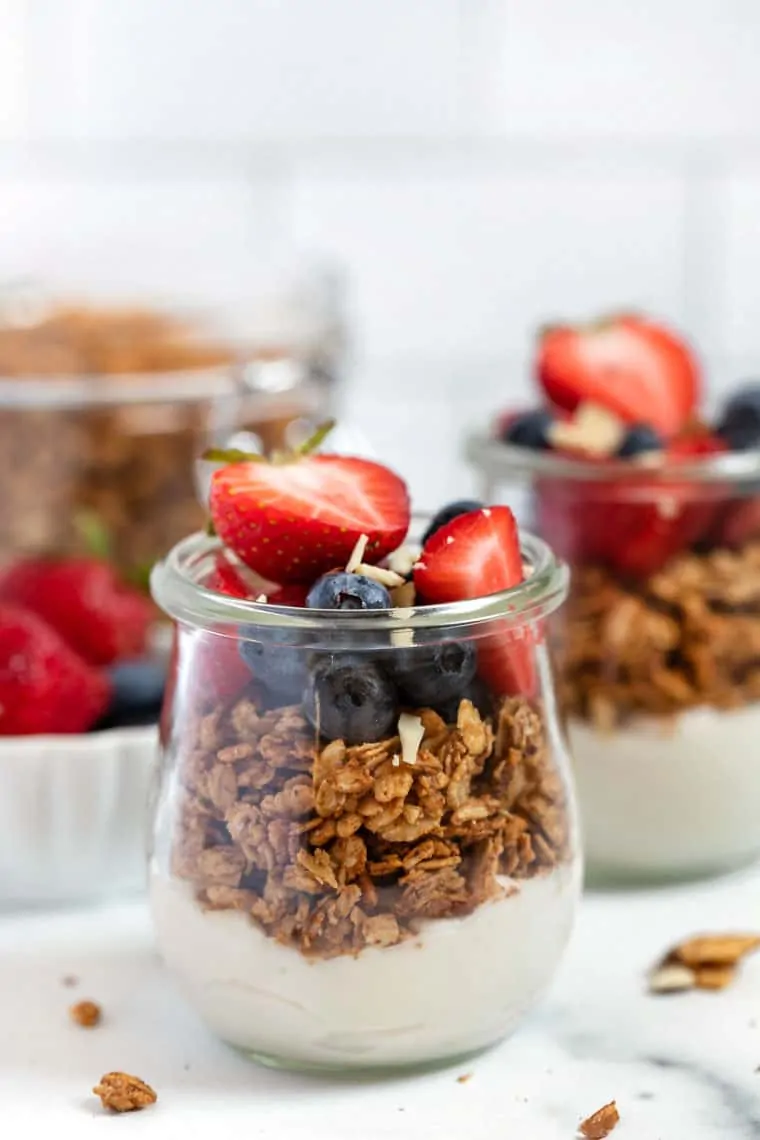 I'm back with another granola recipe! At this point, we have 10+ flavor combos on the blog you'd think we would be tapped out, but oh no. Granola is the most customizable, delicious, fun-to-make, breakfast out there!
And today's new flavor is: vanilla almond!
The inspiration for this recipe is actually a store-bought variety I used to eat as a kid. I remember loving the flavor, but also the crunch. So that's what my goal was here: to make the perfect almond granola recipe that wasn't too sweet, was super crunchy and was easy to make.
Guess what? We freaking nailed it!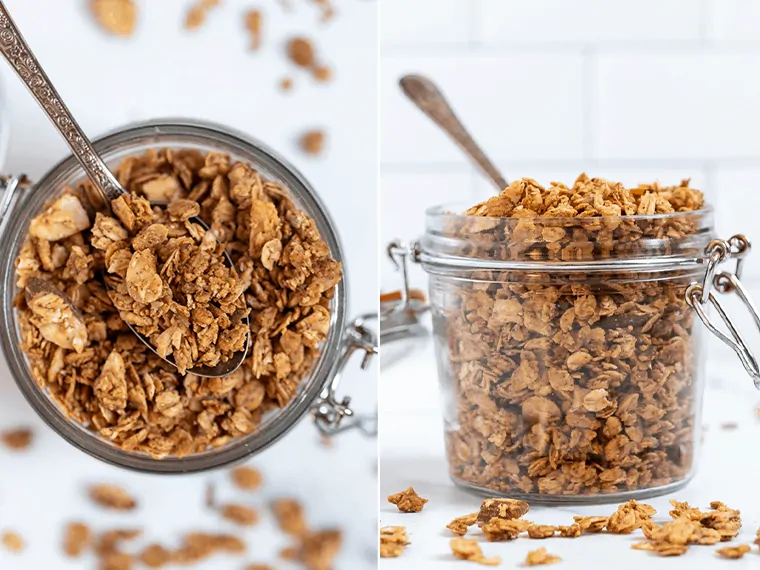 Ingredients for Vanilla Almond Granola
I used to be someone who would add a lot of different fixings to my granola, but lately, I'm feeling like less is more. So we're keeping things super simple today and uses just a few ingredients.
Here's what you'll need to make this almond granola:
Oats: I like to use old fashioned rolled oats, because of their thickness. You could also use quick oats, but I'd recommend cooking for less time! And don't forget: if you're Celiac, buy certified gluten-free ones.
Rice crispy cereal: you can use the standard version or try the sprouted brown rice option.
Sliced almonds: they add a crunch and pair perfectly with the almond flavor.
Maple syrup: my forever and always sweetener of choice. You'll never take the VT out of this girl!
Almond butter: this helps us cut back on the oil, but also adds an even more rich, almond flavor.
Coconut oil: my preferred oil for granola because it tastes good and also helps the granola get crispy!
Vanilla extract: adds that perfect vanilla pop!
Almond extract: the secret weapon in the flavor department. A little goes a long way with this extract, so don't be too heavy-handed!
And that's all you need. Don't you just love that simple ingredient list!?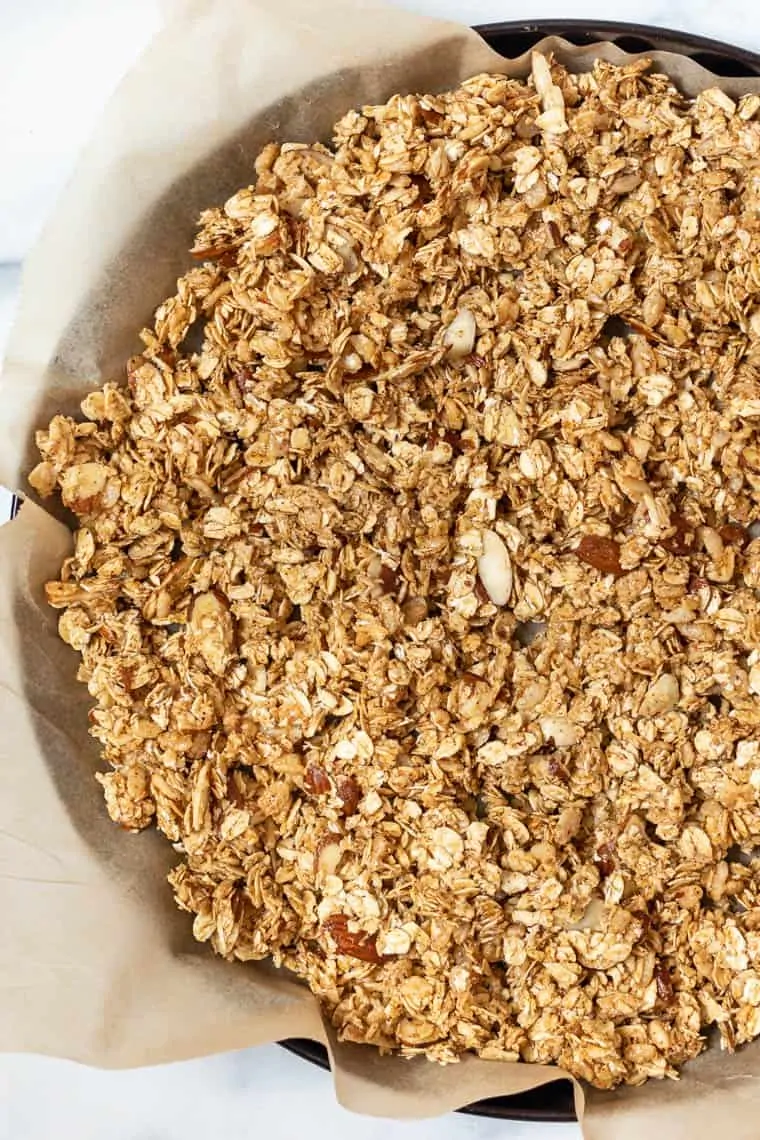 How to make Healthy Homemade Granola
Making this granola recipe couldn't be easier. It's really just three simple steps!
STEP ONE
Melt together the wet ingredients. If it's warm where you are – and your almond butter is pretty liquidy – you might be able to just stir them together until their smooth. But sometimes you need heat to get them to combine. Either put them in a small saucepan on the stove or pop them in the microwave for a few seconds.
STEP TWO
Pour the liquid ingredients over the dry ingredients and stir them together. You want to be sure that the oats are as coated with the almond butter syrup mixture as possible. This will ensure the flavor is even, but also the bake is even.
STEP THREE
Bake this granola on a parchment-lined baking sheet so you can simply pour your finished granola into your jar/container. It will bake for about 30 – 40 minutes and you'll want to stir it every 10 – 15 minutes so it cooks evenly and doesn't burn.
How to Store Homemade Granola
Once you've got your granola cooked and cooled, it's time to store it. Granola should last at least 2 weeks in the cupboard if it's fully cooked (i.e. totally crispy when you put it away). You'll just want to be sure that you keep it in a sealed container.
Here are my favorite granola containers:
A jar this large should store your full batch of granola and keep it nice and fresh!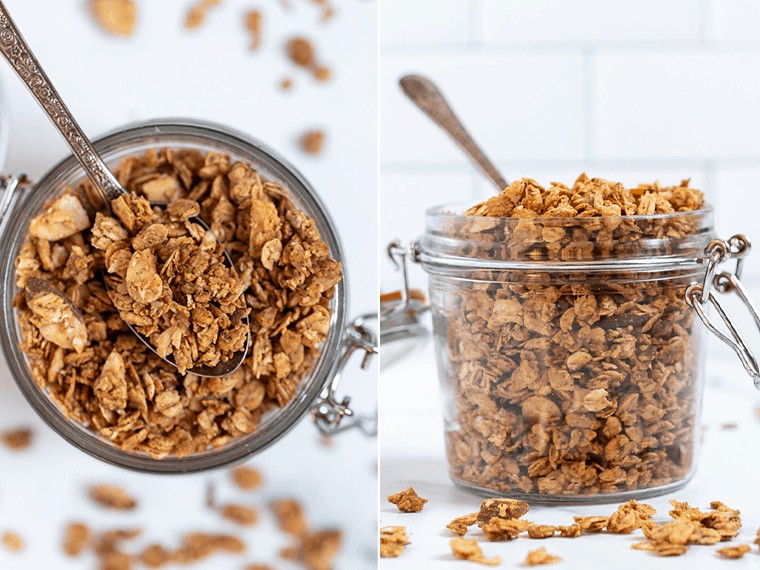 Substitution Ideas for This Recipe
For all those folks reading who are wondering if they can make changes to this almond granola to suit your dietary needs, the answer is YES!
Granola is one of those things that you can totally customize. Here are some ideas:
Nuts: swap the almonds with whatever type of nut/seed you like
Syrup: any other liquid sweetener will work
Almond butter: another nut/seed butter would be great
Oil: I haven't tested, but I think either more nut butter or water should be fine.
Flavors: feel free to skip them or swap with your favorite spices
If you have any more substitution needs, let me know in the comments!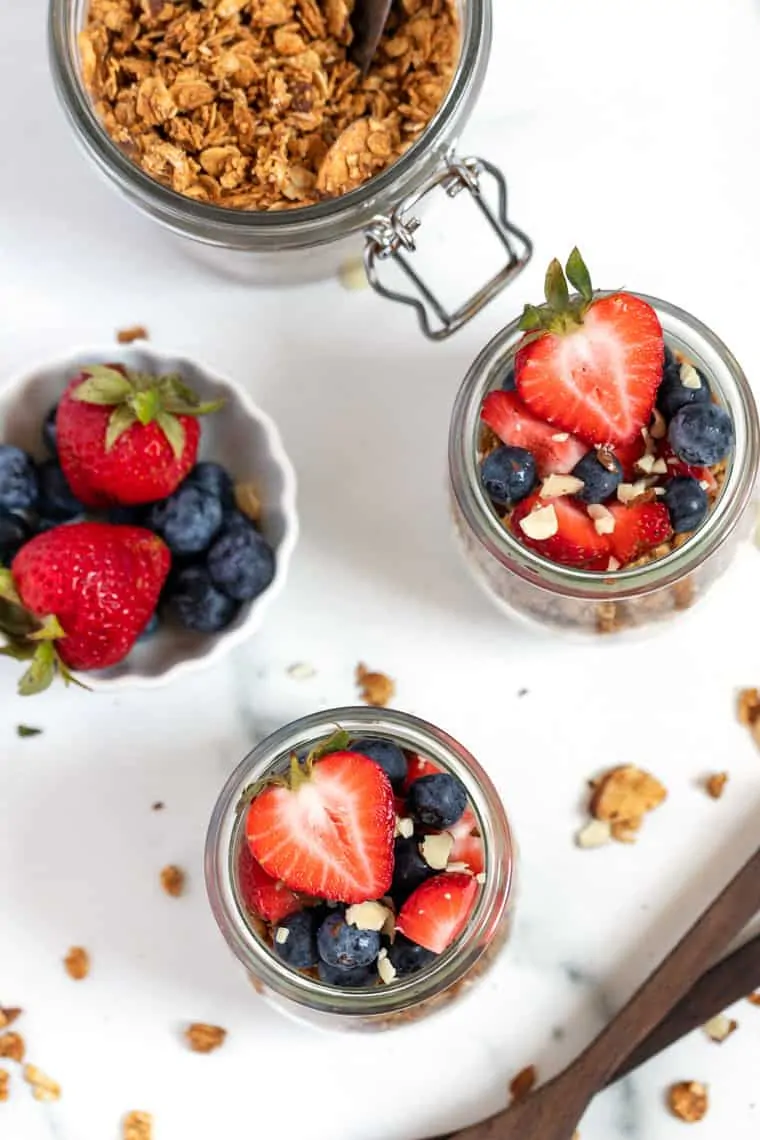 Why You'll Love this Almond Granola
There is so much to love about this recipe, but I think some of the main reasons why you're going to love it are that it's:
vegan & gluten-free
refined sugar-free
easy to make
short ingredient list
not too sweet
keeps for weeks at a time
can be easily customized
…and the list goes on! Truly there's nothing better then a batch of fresh, homemade granola.
Fun Ways to Eat Granola
And while we're on that line of thinking, I'll leave you with this: a few fun ideas for using this granola!
Smoothies/smoothie bowls
With your favorite milk/yogurt
As a topping for your favorite cereal
As a grab-and-go snack
For a crumble topping
Plus pretty much any other way you like to eat granola! Hope you like this one ❤️ be sure to leave a comment and star rating if you make it!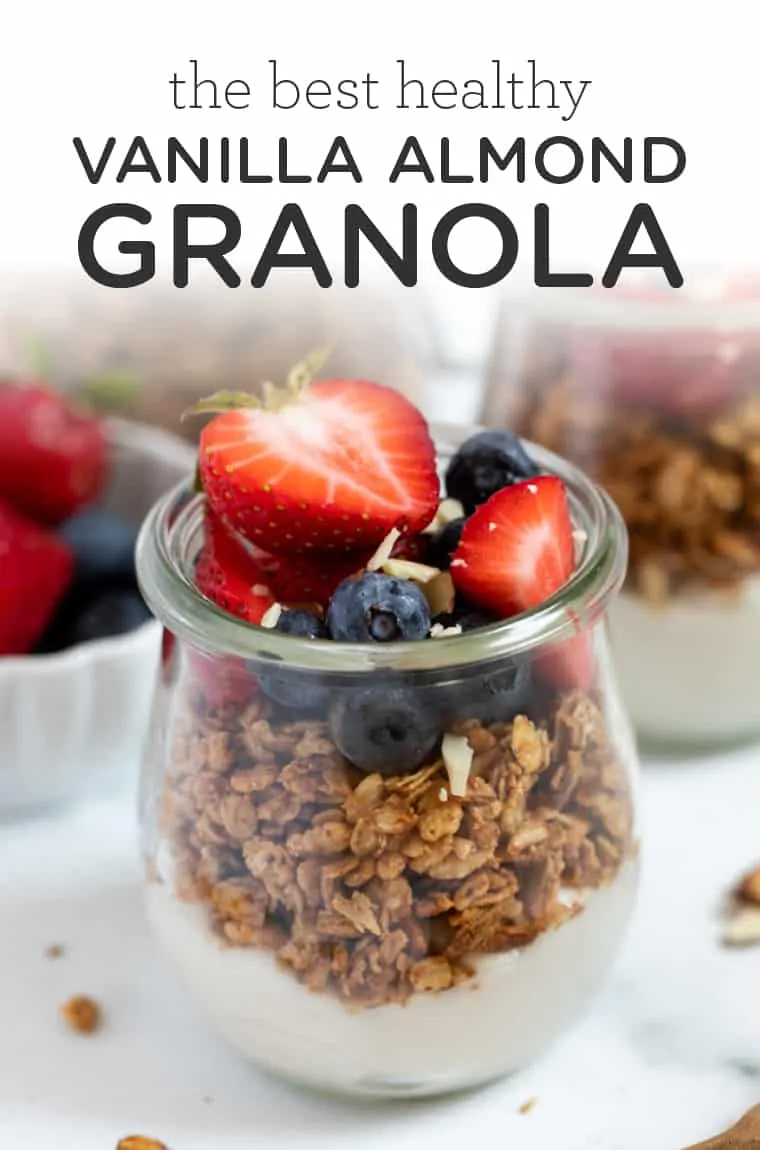 More Healthy Homemade Granola Recipes to try:
Vanilla Almond Granola
This delicious vanilla almond granola has just a few simple ingredients and a satisfying crunch! Flavorful, easy to make, as well as vegan and gluten-free!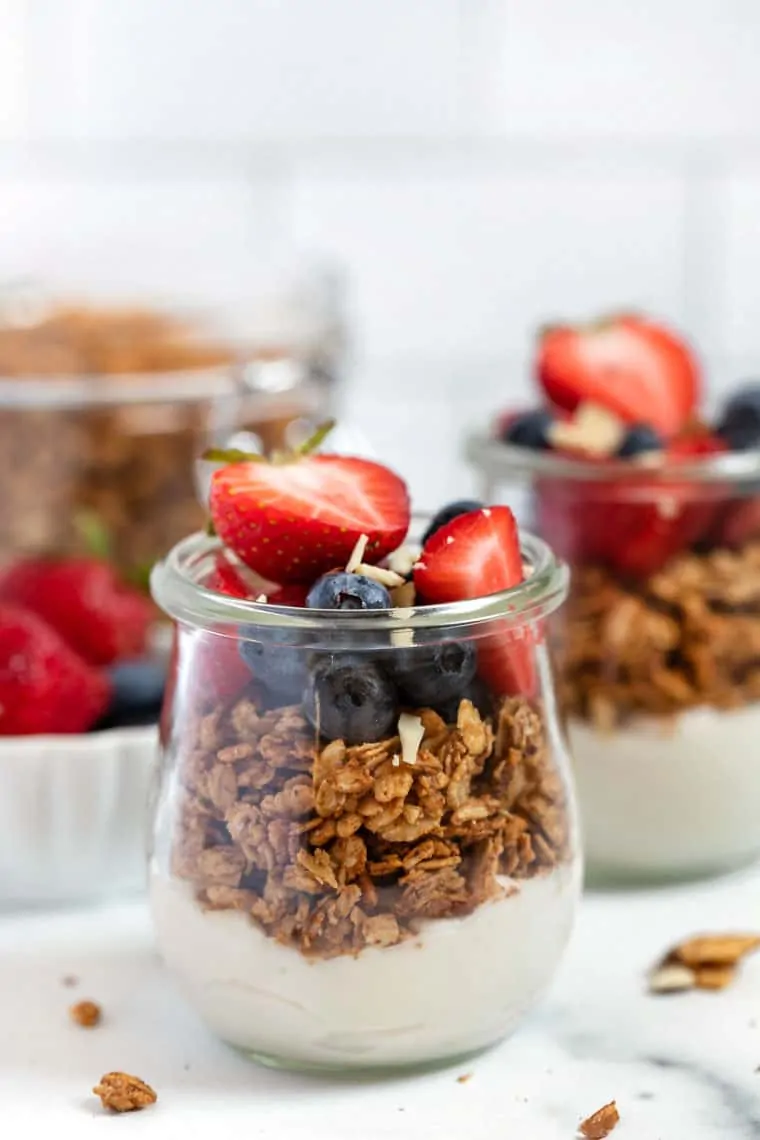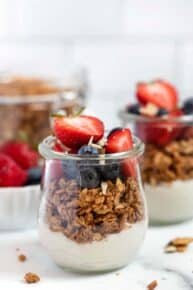 Instructions
Add the oats, cereal, and almonds into a bowl. Stir together and set aside.

Melt together the syrup, almond butter, oil, and extracts either on the stove or in the microwave. Stir together until smooth.

Pour the liquid ingredients over the dry and stir to combine. You want the granola to be as fully coated as possible.

Transfer the granola onto a parchment-lined baking sheet. Bake 325ºF for 35 mins, flipping every 15.

Allow to cool completely before transferring into a sealed container.
Nutrition
Serving:
0.25
cups
|
Calories:
159
kcal
|
Carbohydrates:
17
g
|
Protein:
4
g
|
Fat:
9
g
|
Saturated Fat:
3
g
|
Sodium:
2
mg
|
Potassium:
145
mg
|
Fiber:
3
g
|
Sugar:
5
g
|
Calcium:
48
mg
|
Iron:
1
mg
Filed Under: