These healthy Zucchini Chocolate Chip Pancakes are the ultimate breakfast treat! Made with wholesome flours, packed with fiber and the best fluffy texture!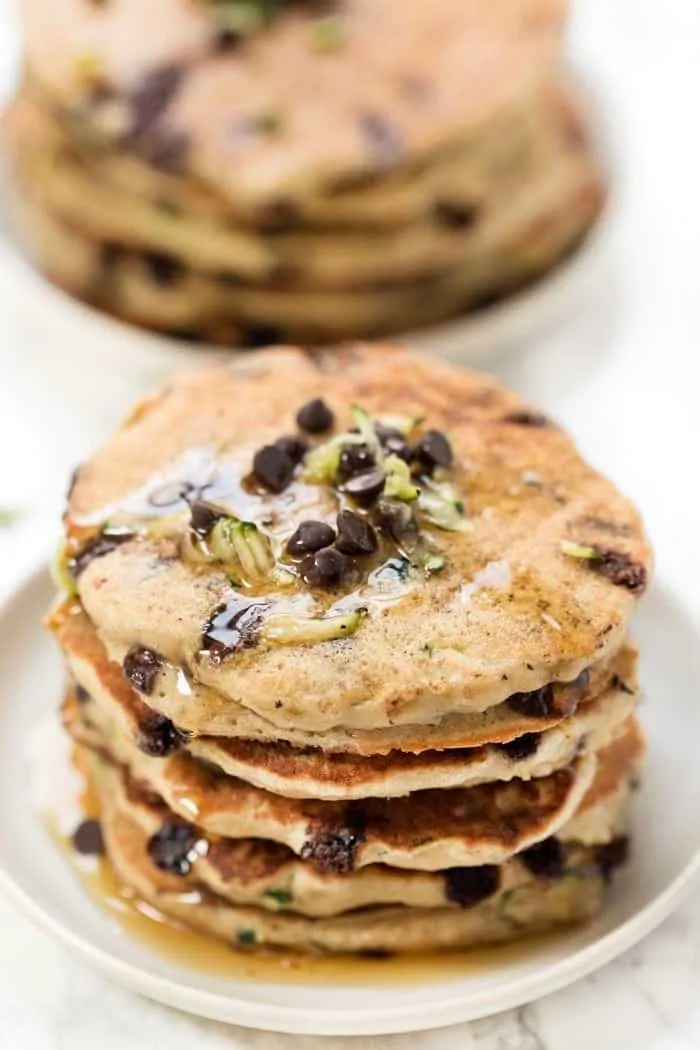 I seriously can't get enough zucchini this summer! I feel like I'm eating it almost every day and finding so many fun ways to make it!
Frist, we have our healthy zucchini fritters. If you haven't tried those yet, you need to. They're amazing and have been on a weekly repeat. I love using them for lunch!
Next, I'm making zucchini noodles non-stop. Whether it's my pad thai zucchini noodles, pesto zucchini noodles or just tossing them into a spring roll, they're so fast and super scrumptious.
And now? Oh now we've found an insanely delicious way to enjoy it…Healthy Zucchini Chocolate Chip Pancakes!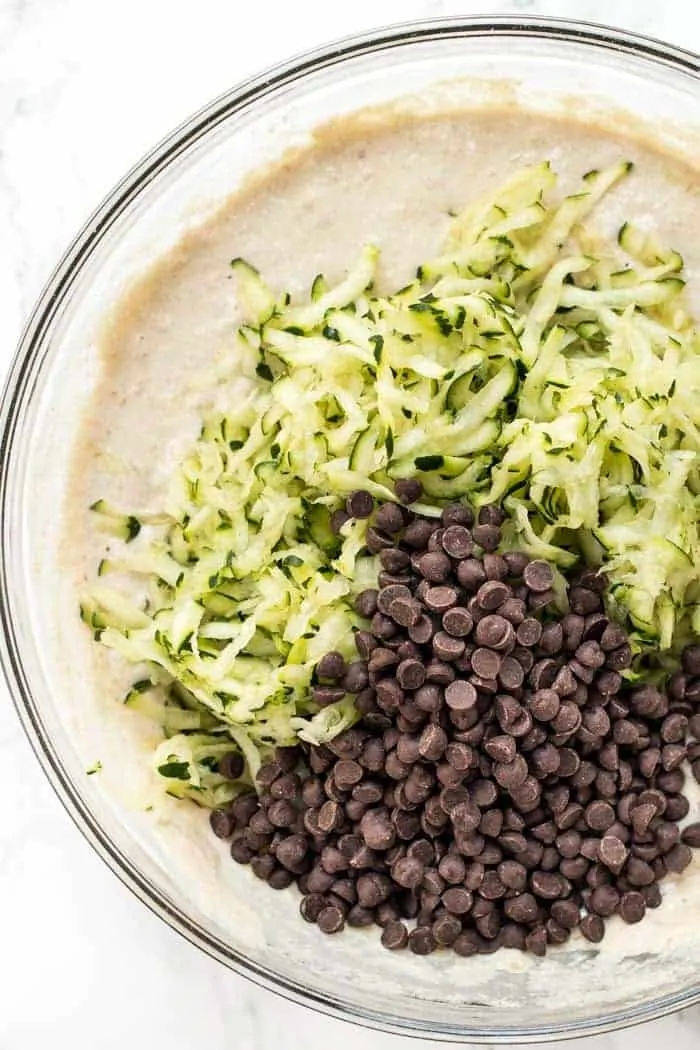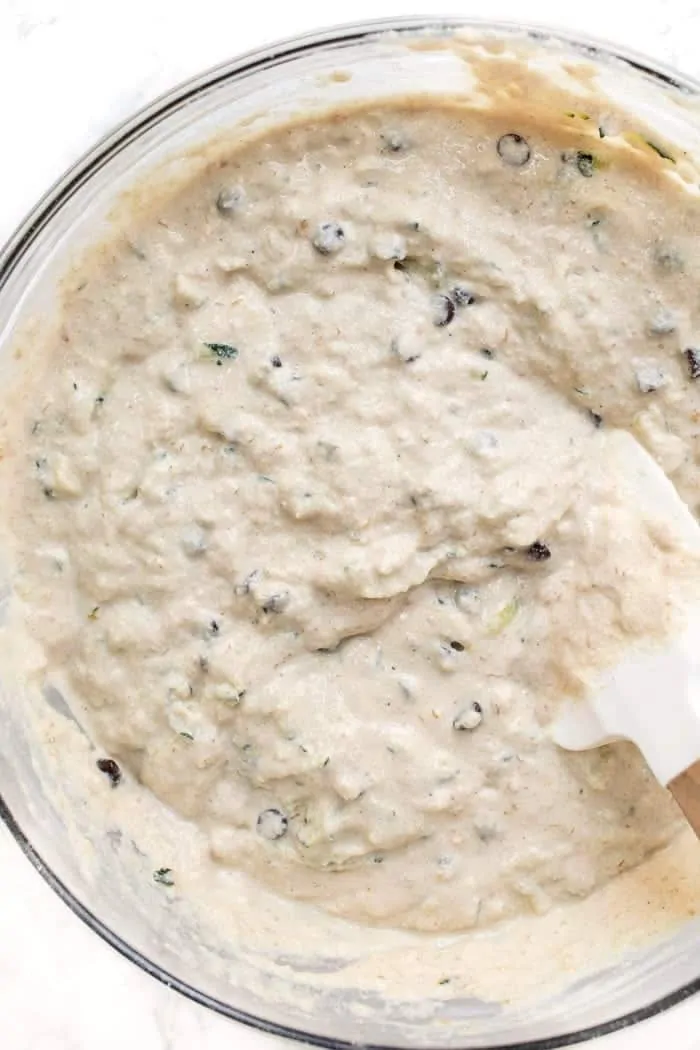 Perfect Vegan Pancakes
Waffles and pancakes have long been a weekend tradition for me and my family. We grew up eating pancakes on Saturday, waffles on Sunday and it's still one of my favorite things to do. And definitely something I plan on doing when I have kids.
With all those years of pancake making in my belt, I've finally nailed the perfect vegan pancake recipe!
These are light and fluffy, not too heavy and actually use less ingredients than my fluffy vegan blueberry pancake recipe!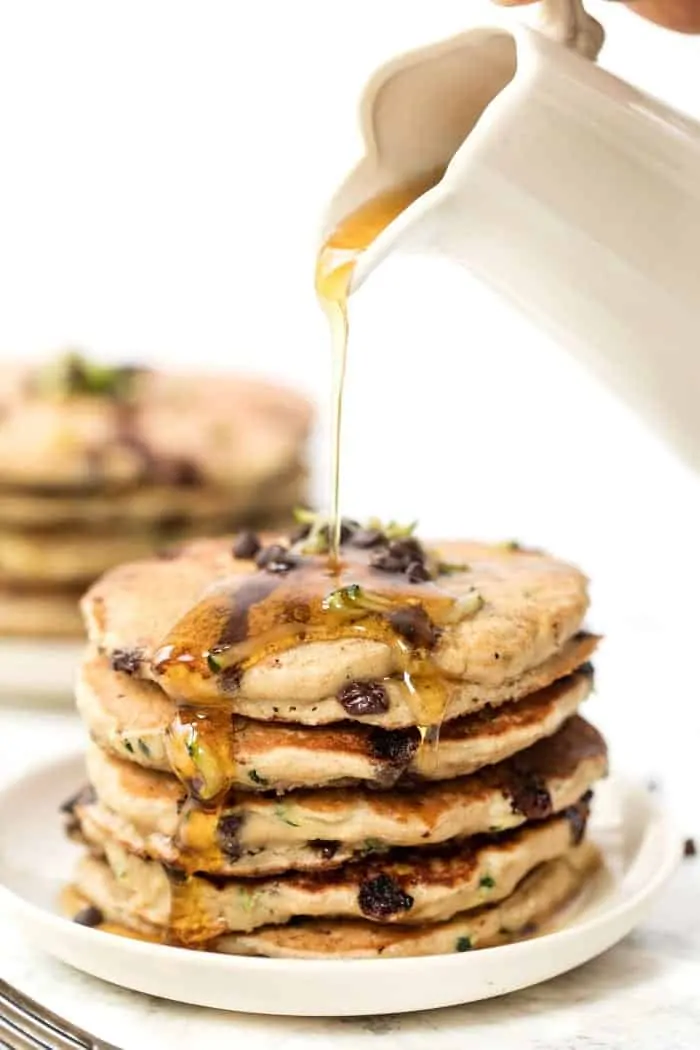 The Key to Gluten-Free Pancakes
Luckily for those of us who are gluten-free, pancakes aren't that hard to make.
Unlike bread and pizza, pancakes are one of those recipes that actually don't want gluten development to happen, so keeping them gluten-free is easy. We don't need any extra gums or binders, we can just use whole grain flours and something like an egg (or in this case flax egg), to help keep them from crumbling.
I've actually found that by not adding a gum,  you actually get a lighter and less dense end result!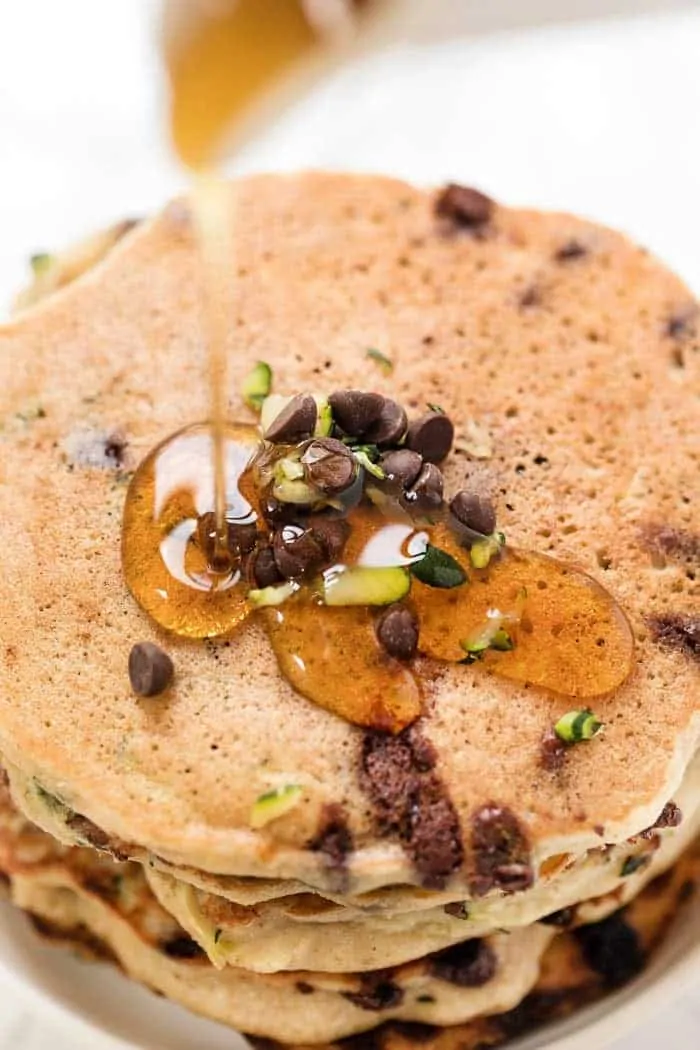 The Ultimate Healthy Pancake Recipe
To me, this really is the ultimate healthy pancake!
We've got high protein, high fiber flours, mixed with non-dairy milk, flax eggs and some maple syrup. Then we stir in some veggies (zucchini!!) and a few chocolate chips and we've got everything we need for a nutritious breakfast!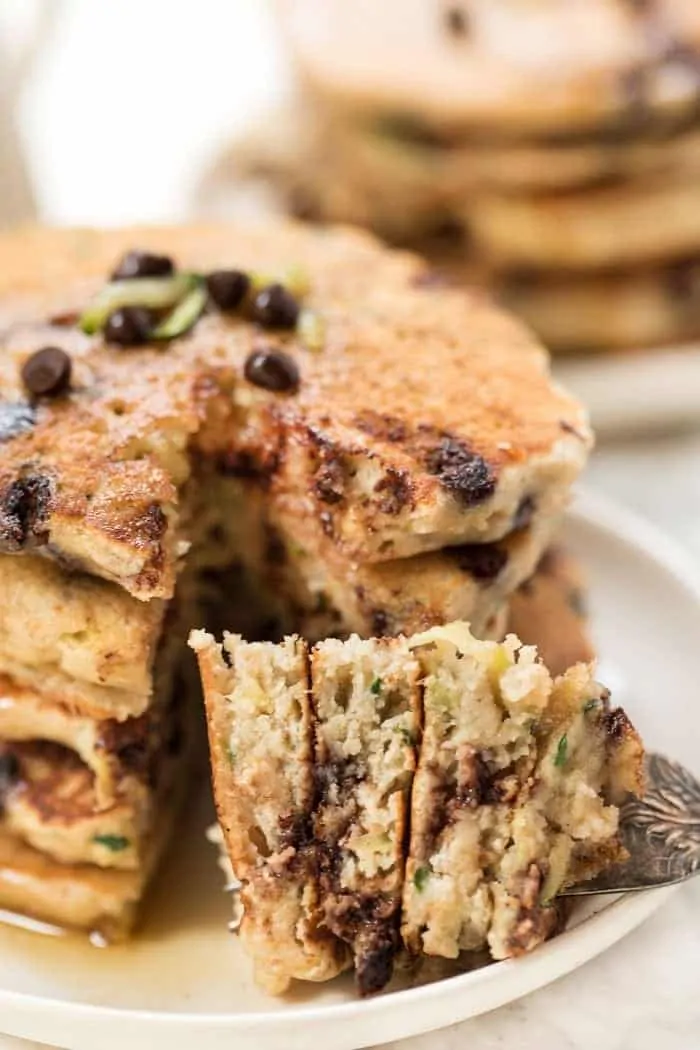 What's great is that these can also be customized – don't want chocolate? Swap in some chopped walnuts. Don't have zucchini? Use some shredded carrot!
But I'll tell you this…
No matter what way you make these healthy chocolate chip pancakes, I promise the texture is going to blow you away!
They are so light, they're super tender, they don't make you feel overly full or heavy and they taste amazing. Not too sweet, not overly decadent, just…
PERFECT!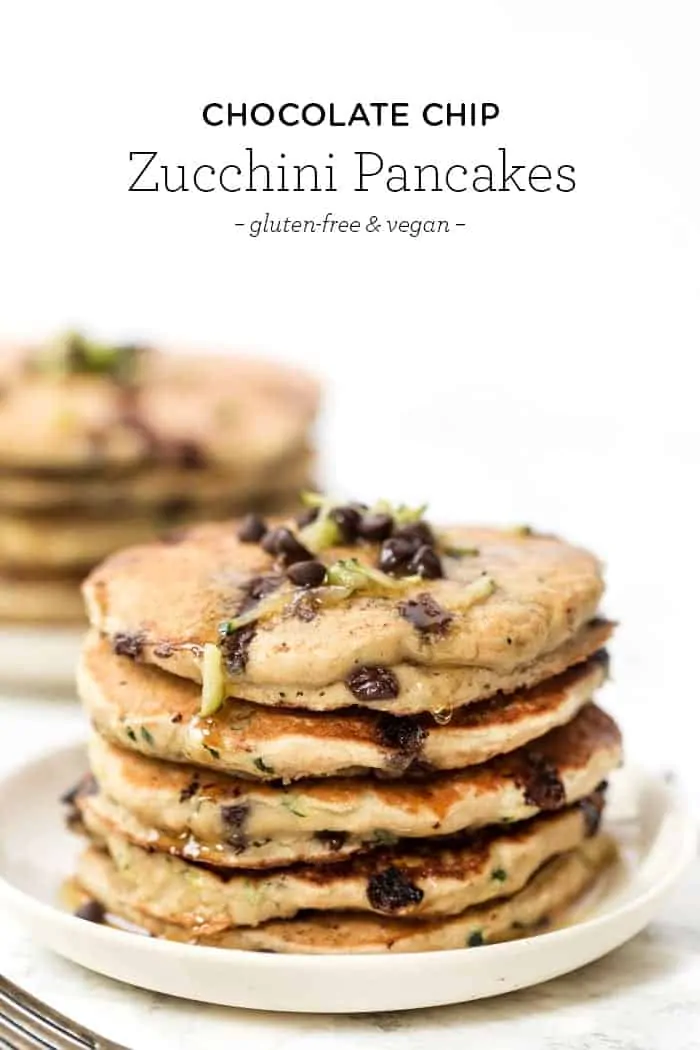 More Healthy Pancake Recipes:
Healthy Zucchini Chocolate Chip Pancakes
These zucchini chocolate chip pancakes are the perfect healthy addition to your breakfast rotation. Quick, easy, flavorful, and naturally gluten-free and vegan too!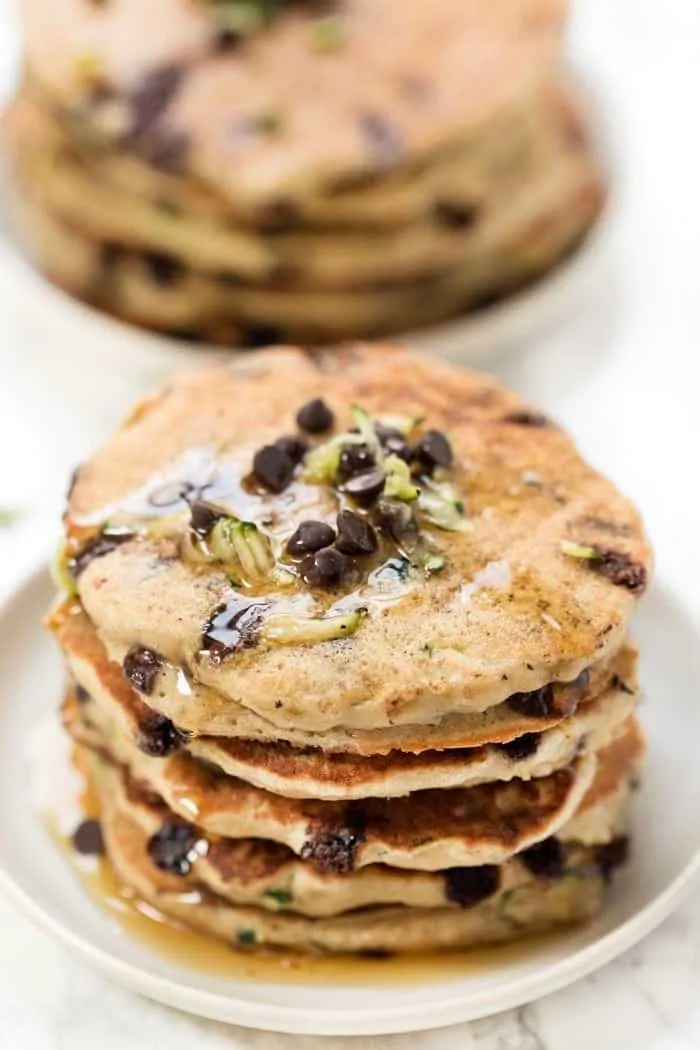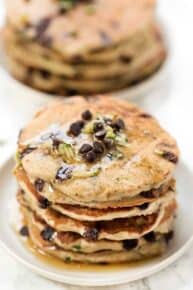 Instructions
Preheat a griddle over medium heat.

Place the shredded zucchini into the center of clean dish towel. Gather the dish towel around the zucchini and squeeze tightly to release any of the liquid (over the sink is best!). Set the pressed zucchini aside.

In a large mixing bowl, whisk together the flours, baking powder, cinnamon and salt.

Add in the eggs, milk, syrup and oil, and mix until a smooth batter forms. Fold in the zucchini and chocolate chips.

Lightly grease your griddle with nonstick cooking spray or coconut oil. Ladle ¼ cup of batter onto the griddle and repeat until you have filled your pan. Cook the pancakes until small bubbles begin to form around the edges, about 2 – 3 minutes. Flip and cook for another 1 – 2 minutes longer until the other sides are golden brown. Repeat until no batter remains.

Serve warm with pure maple syrup (and a dollop of coconut yogurt if you have it) and enjoy!
Notes
To make ONE flax egg, combine 1 tablespoon flaxseed meal with 3 tablespoons of water. Whisk together then set aside to gel for 5 minutes.
Nutrition
Serving:
1
pancake
|
Calories:
107
kcal
|
Carbohydrates:
12
g
|
Protein:
2
g
|
Fat:
5
g
|
Saturated Fat:
1
g
|
Sodium:
37
mg
|
Potassium:
112
mg
|
Fiber:
1
g
|
Sugar:
4
g
|
Vitamin A:
40
IU
|
Vitamin C:
2.5
mg
|
Calcium:
77
mg
|
Iron:
0.7
mg