These healthy oatmeal quinoa pancakes are flavored with lots of cinnamon and are hearty and filing. They're also vegan and gluten-free too!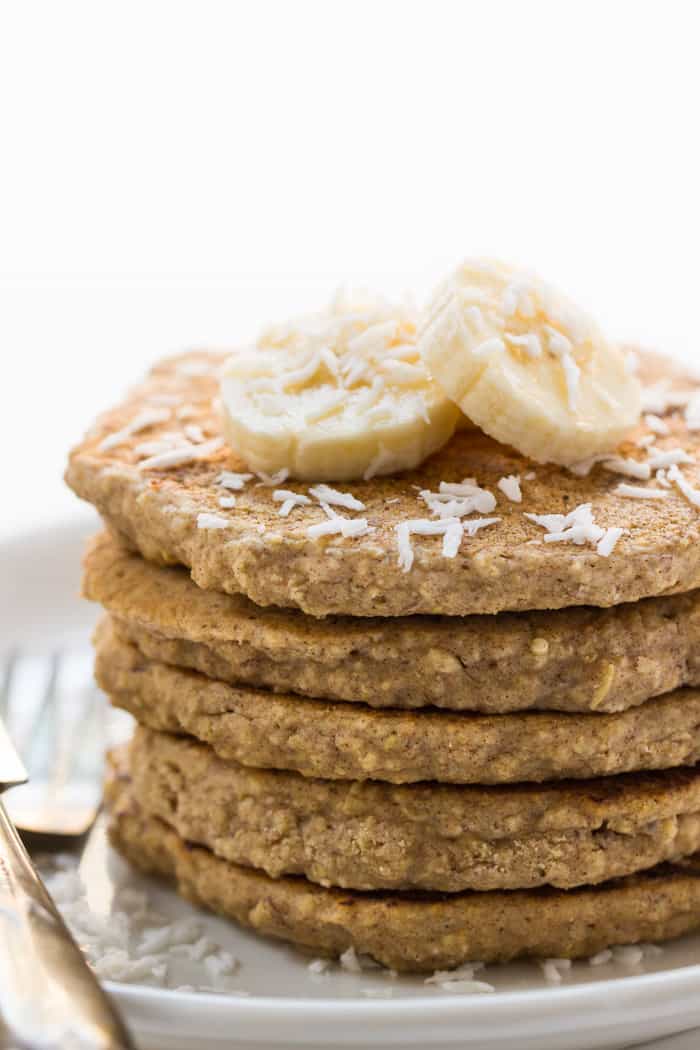 Those pumpkin muffins from Thursday got me thinking…
What other ways can I combine fiber-rich oat flour with protein-rich quinoa flakes to create a fun, tasty and nutritious breakfast?
Since it's the weekend and all, my mind immediately jumped to pancakes. It's my guilty pleasure – nothing beats pancakes on a lazy Saturday morning.
I've been using my vegan quinoa pancake recipe forever, but today I was feeling the need to change things up. Plus I had all that leftover oat flour that needed to be used so…
Vegan Cinnamon Oatmeal Quinoa Pancakes were born.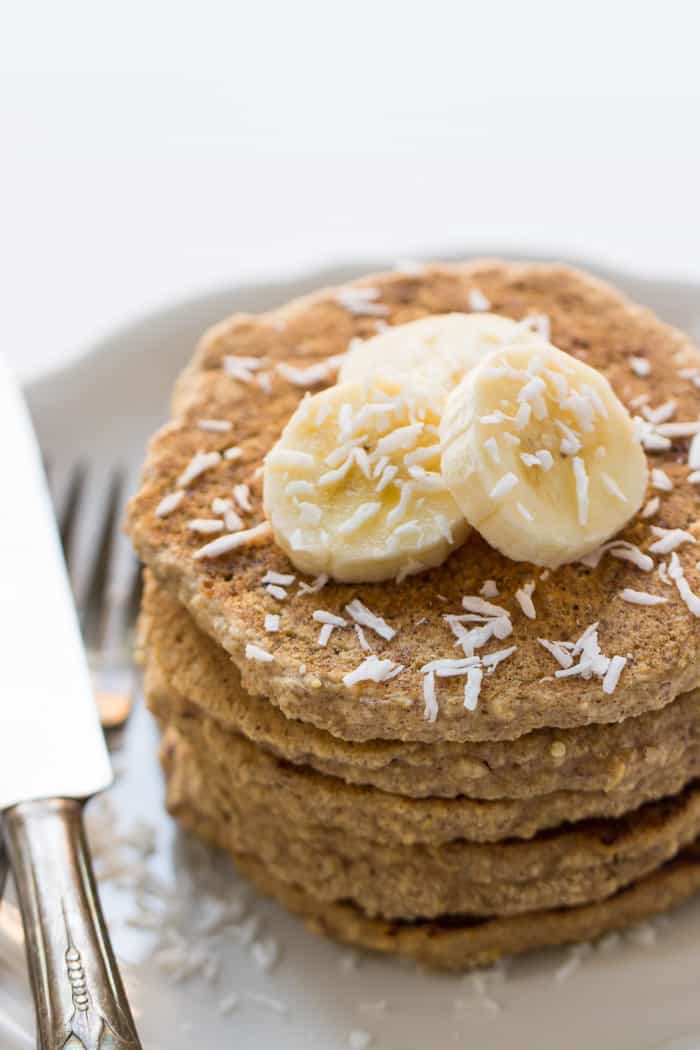 These aren't your traditional pancakes. Like the kind you would find at iHop.
They're not all light and airy. So if that's the kind of pancake you like, you might want to skip over this recipe, because these are not that.
These pancakes are hearty. They're filling and satisfying. They're the kind of pancake that you feel stuffed after eating just two.
But they're healthy! So very healthy.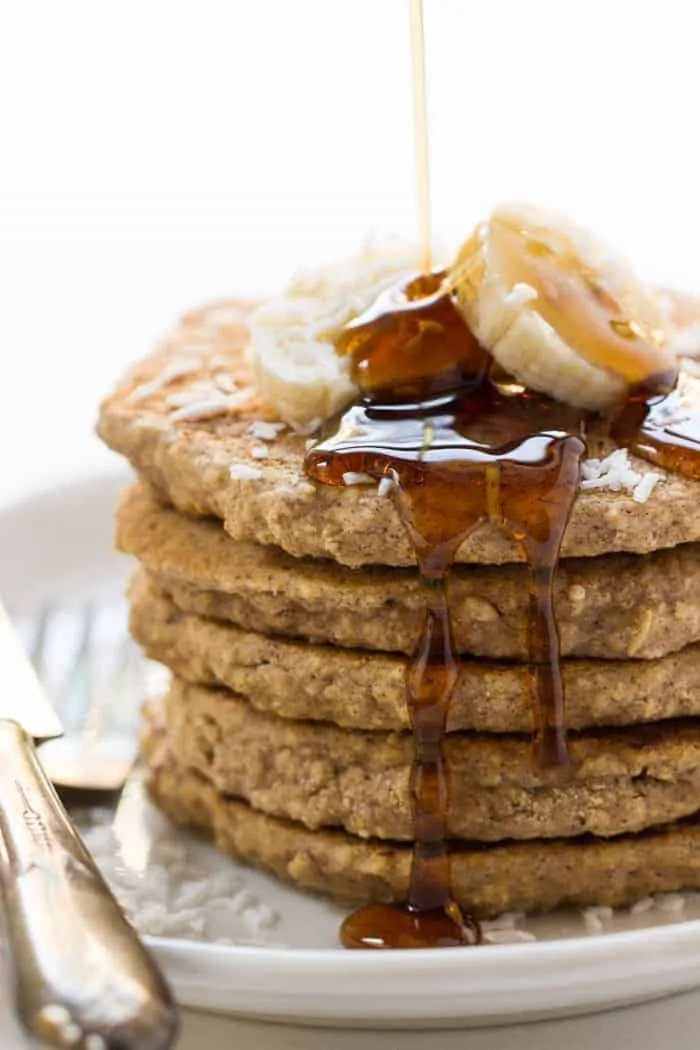 Similar to the muffins, the base is a blend of oat flour and quinoa flakes. But since I know many of you have trouble with nuts, I skipped the nuts this time around and used millet flour instead. (note: for those of you who are sensitive to millet, substitute sorghum or toasted quinoa flour)
I did add just a touch of arrowroot starch to lighten them up because the first batch I made resembled hockey pucks just a little too closely for my liking. Not really what I was going for.
Oh and of course I sprinkled in a generous helping of cinnamon.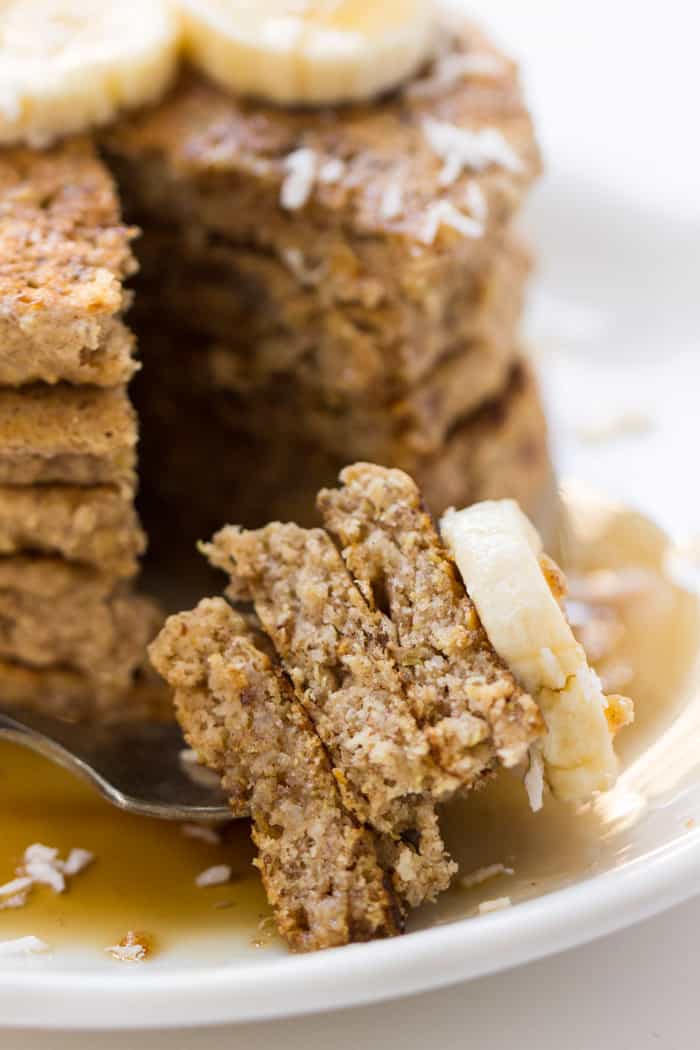 To make these babies vegan, I used plant-based milk and flax eggs.
I seriously love using flax eggs in my pancakes. Not only do they help the flours stick together, but you're also getting all the amazing benefits of the flaxseed meal. Omega 3s, fiber, vitamins and minerals like magnesium. Flax seeds are superstars my friends!
For the milk, go with whatever you like to use. I had coconut on hand, so that's what I did, but you can totally use almond, hemp, rice, cashew, etc. Your choice!
Also, since these pancakes have a pretty mellow flavor – and cinnamon goes with everything – you can have a little fun with the toppings. I chose sliced bananas and coconut, but they'd also be delicious with apple butter, or sliced pear or even chocolate chips (gasp!).
The maple syrup though? A must.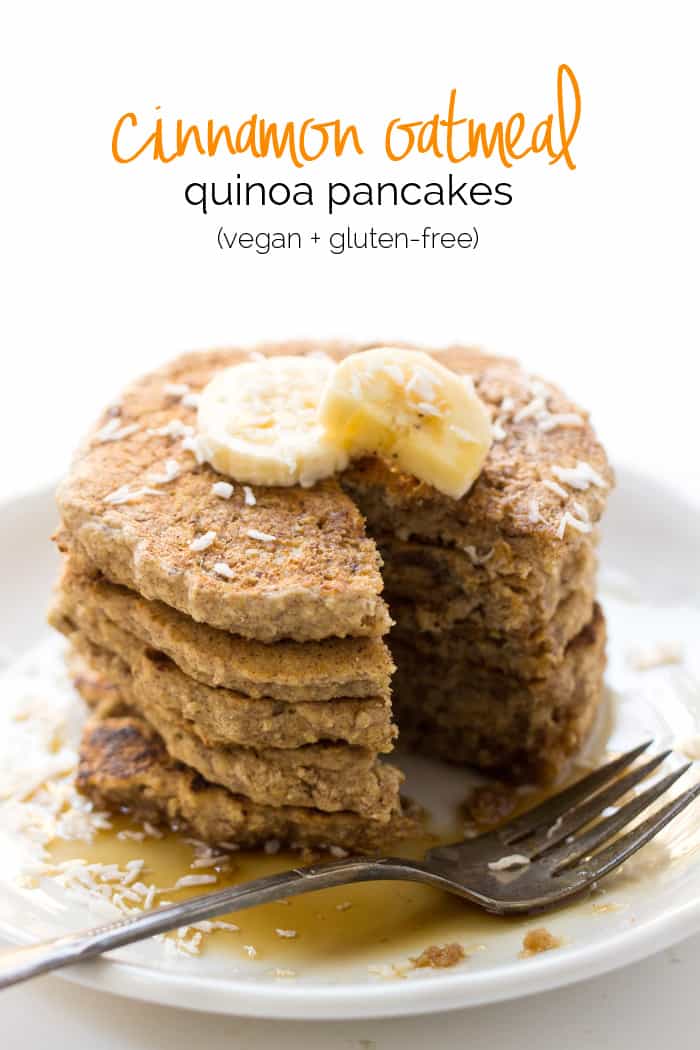 More Healthy Pancake Recipes to try:
Vegan Cinnamon Oatmeal Quinoa Pancakes
These pancakes are hearty. They're filling and satisfying. They're the kind of pancake that you feel stuffed after eating just two.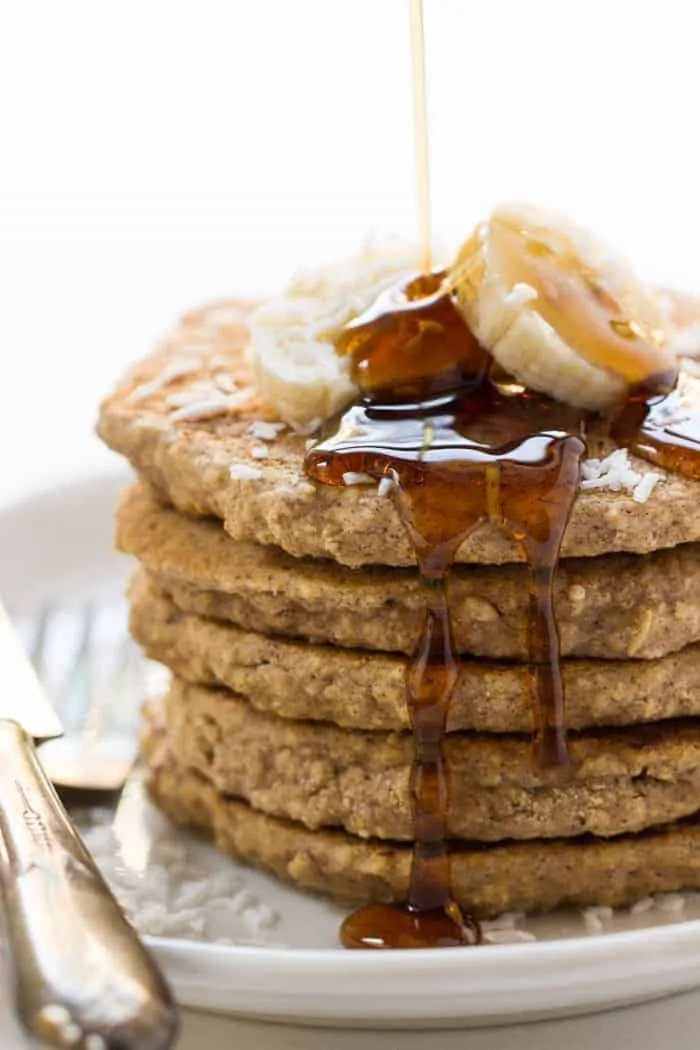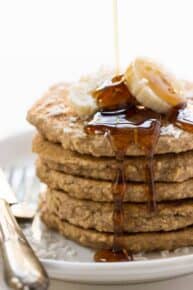 Instructions
Whisk together the flaxseed meal and water. Set aside to gel.

Preheat a griddle over medium low heat.

In a large mixing bowl, whisk together the dry ingredients. Add wet ingredients, including the flax eggs, and mix until a smooth batter forms.

Lightly grease your griddle with nonstick cooking spray or coconut oil. Ladle 1/4 cup of batter onto the griddle and repeat until you have filled your pan. Cook the pancakes until small bubbles begin to form, about 2 - 3 minutes. Flip and cook for another 1 - 2 minutes longer until the other sides are golden brown. Transfer to a wire rack and repeat until no batter remains.

Serve pancakes warm with pure maple syrup and any other toppings you're craving (I went with sliced bananas and coconut).
Nutrition
Serving:
2
g
|
Calories:
119
kcal
|
Carbohydrates:
16
g
|
Protein:
3
g
|
Fat:
4
g
|
Saturated Fat:
2
g
|
Sodium:
37
mg
|
Potassium:
155
mg
|
Fiber:
1
g
|
Sugar:
3
g
|
Vitamin A:
80
IU
|
Vitamin C:
1.5
mg
|
Calcium:
71
mg
|
Iron:
1
mg
Filed Under: