High Protein Carrot Cake Chia Pudding
This carrot cake chia pudding is the perfect way to start your day. Naturally high in protein – 12g per serving – it will keep you energized all morning!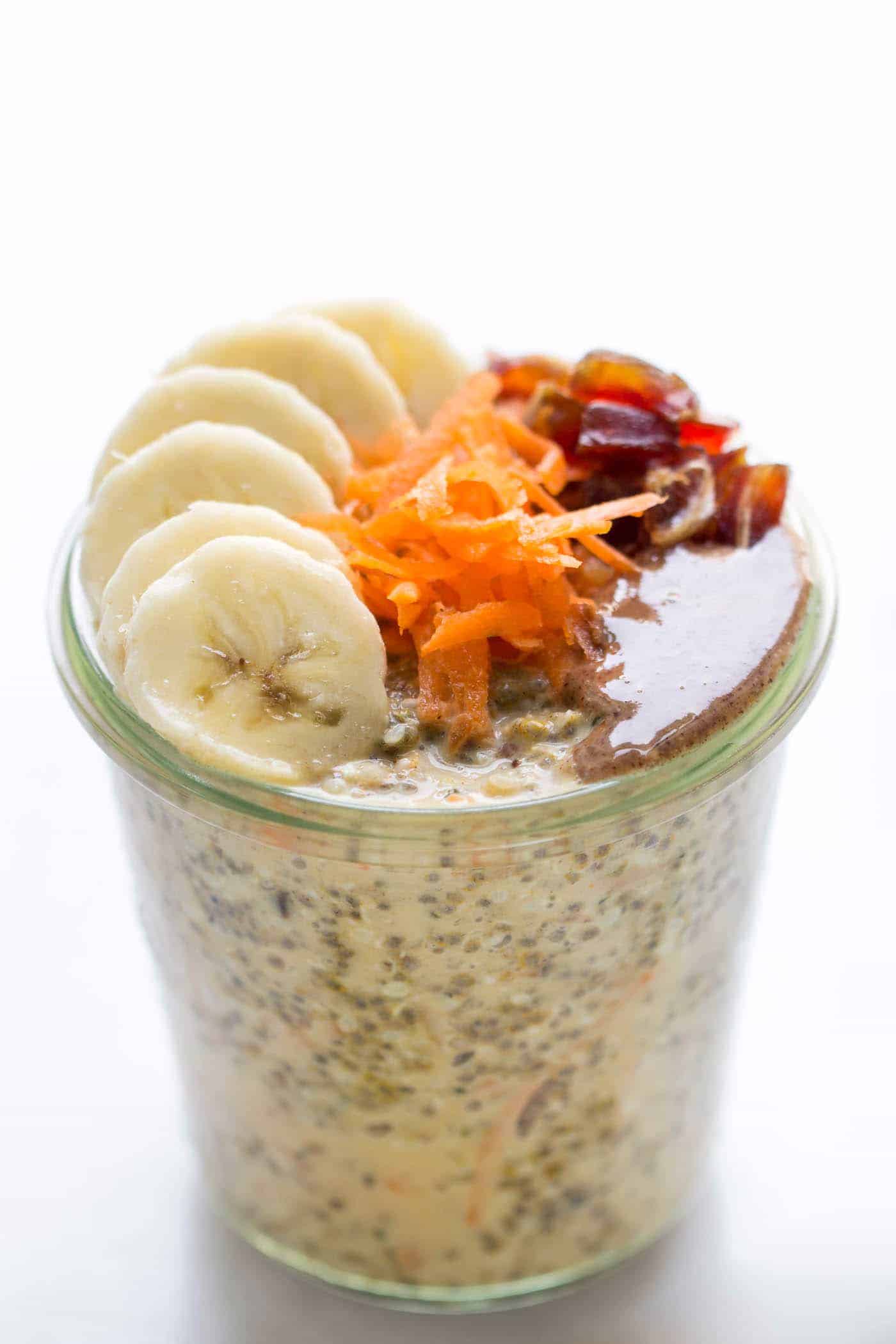 With Easter only a few days away, I'm pretty much obsessing over all the things on Pinterest. How are people so insanely creative?! From cute bunny cupcakes to dirt cakes, to birds nest cookies (oh wait…I made a version of those for you!), to literally the most adorable tablescapes and decorations I've ever seen. Yep, pretty much in DIY heaven here, minus the fact that I could never make anything like this on my own.
We're not doing anything special for Easter this year. Since we were just home in Vermont this past weekend, we're not going to see my parents and Matt's family lives out in Denver, so I think it's going to just be the three of us. Matt and I booked afternoon massages, we'll probably go to brunch somewhere in the neighborhood and most likely spend the evening snuggled up on the couch watching movies. (btw…seen any good movies lately? we'd love some suggestions!)
Even though it won't be a big family affair this year, I've still been dreaming up Easter-themed recipes for you to try. Tuesday it was Birds Nest Cookies, today it's Carrot Cake Chia Pudding and Sunday it's going to be Quinoa + Coconut Crusted French Toast. I realize those are all on the sweeter side of things, so if you're looking for something savory to serve with your meal, you could try my Quinoa Wild Rice Salad or the Garlic + Herb Mushroom Quinoa!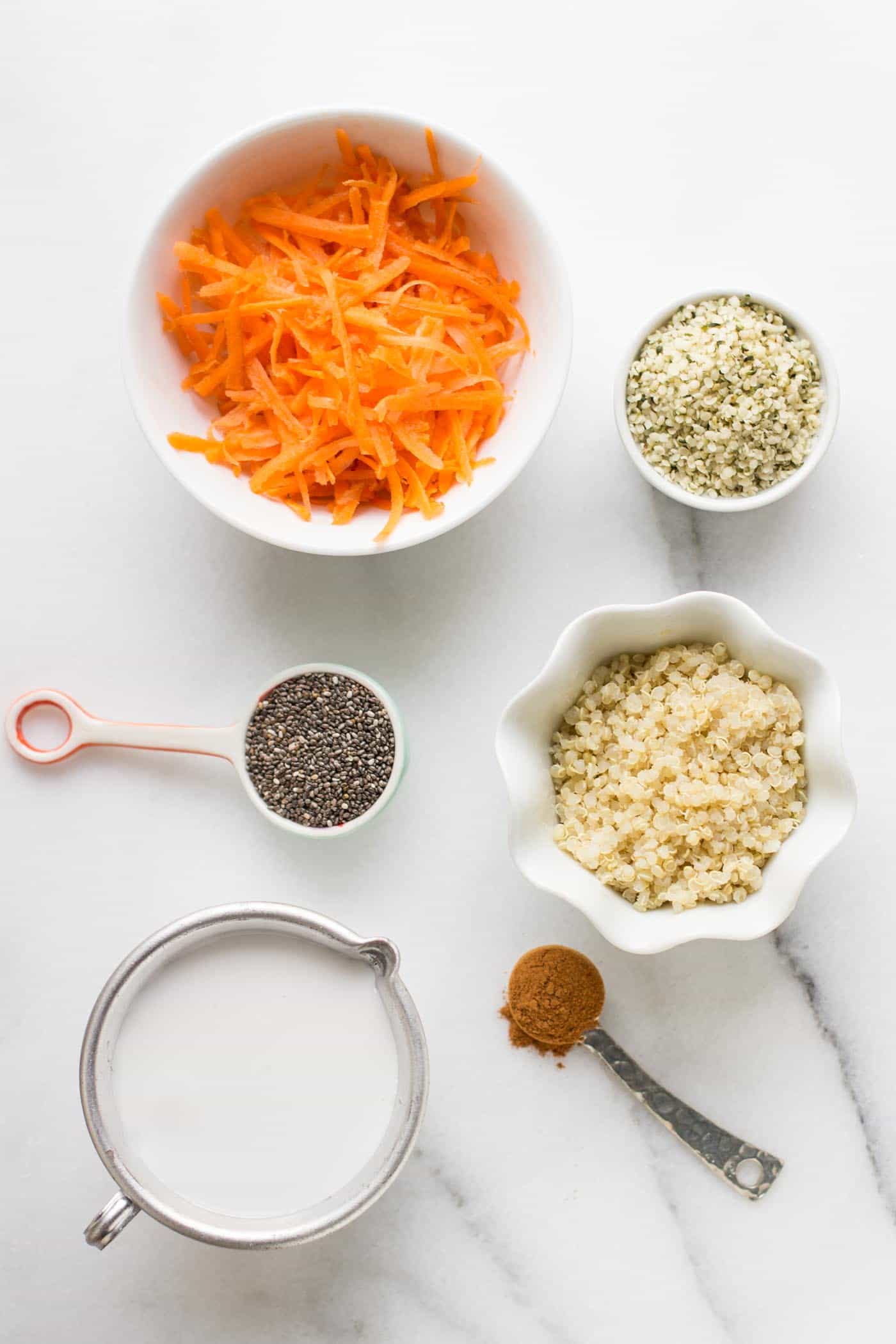 Instead of making you an actual cake (have one of those already if you're interested!), I wanted to make you a healthy breakfast treat that would nourish your body with healthy ingredients, and still give you the sense of eating something sweet and decadent. Enter…this high-protein chia pudding.
Just like my vanilla version, the ingredient list is simple: quinoa, carrots, chia + hemp seeds, cinnamon and coconut milk. And since we all seem to be big fans of the breakfast-disguised-as-dessert recipes, this is yet another one that will make you feel like you're eating something decadent, even "cheating" on your healthy diet, but really you've chosen a meal that is naturally high in protein and fiber, is filled with healthy fats AND even sneaks in some veggies!
(ps I added chopped dates to mine for some sweetness, but that's totally optional)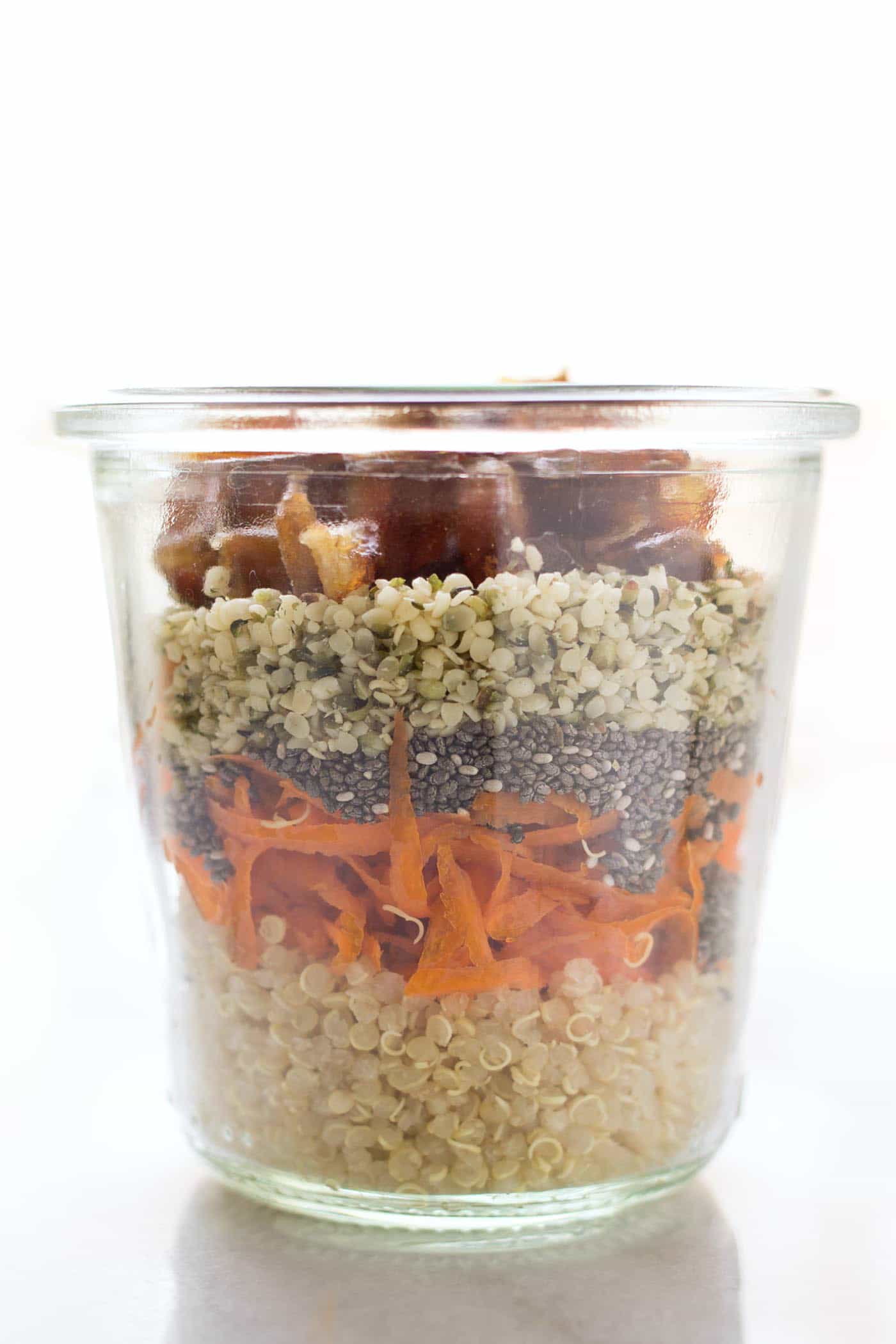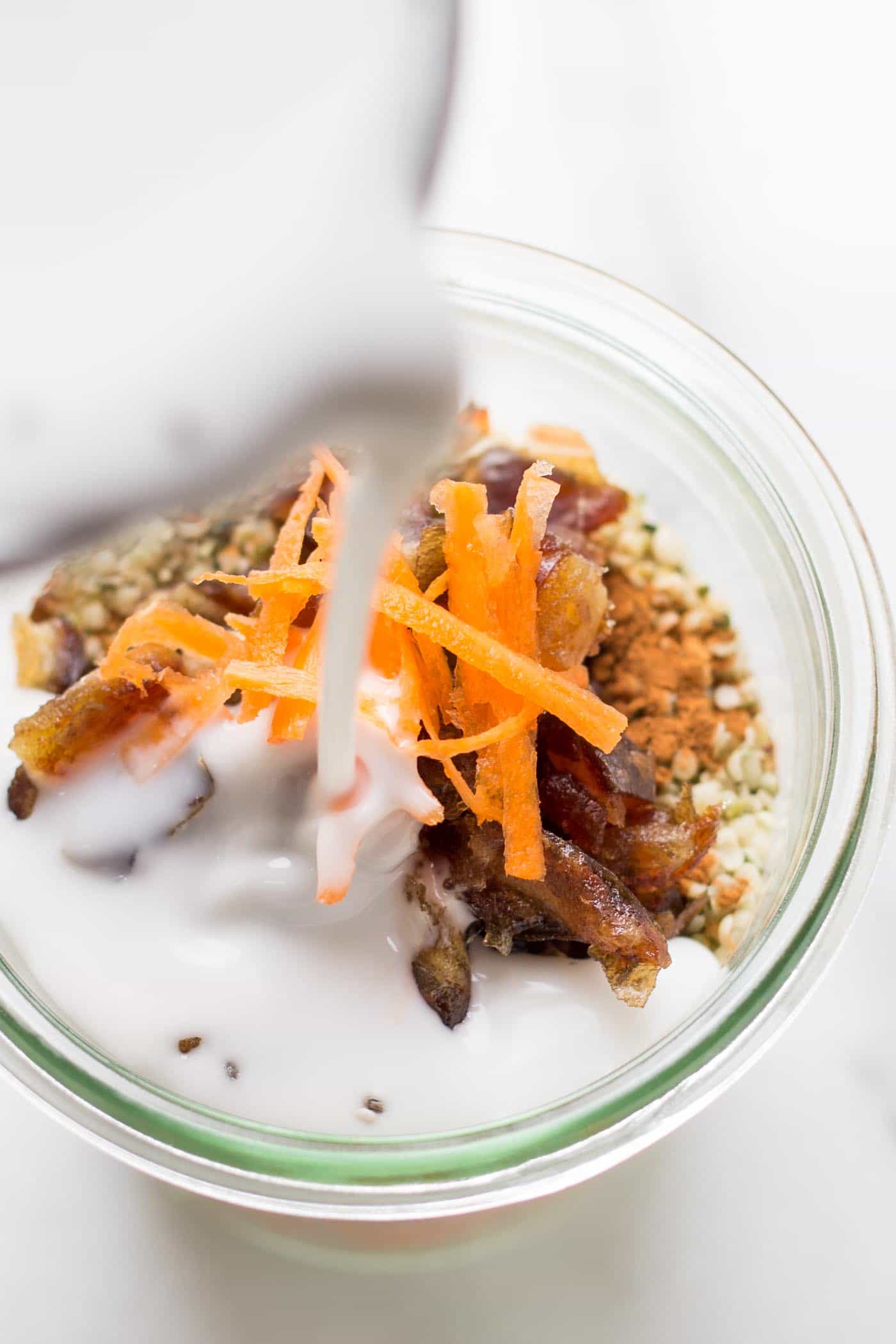 It makes for a delicious and nutritious breakfast with very minimal efforts because I know when it comes to making a healthy breakfast, there are definitely a few areas where we all get stuck:
you have no time
you want something simple
you need protein but don't want to use protein powders (or make eggs)
you want something sweet that won't spike your blood sugar
Luckily, this carrot cake chia pudding hits on all four. You make it the night ahead so you can literally just grab it from the fridge and go. It's less than 10 ingredients, most of which I bet you already have in your pantry. It has 12 grams of vegan, plant-based protein without the addition of any powders. AND the only sweetener comes from chopped dates which could easily be left out if you're going for a no-sugar option.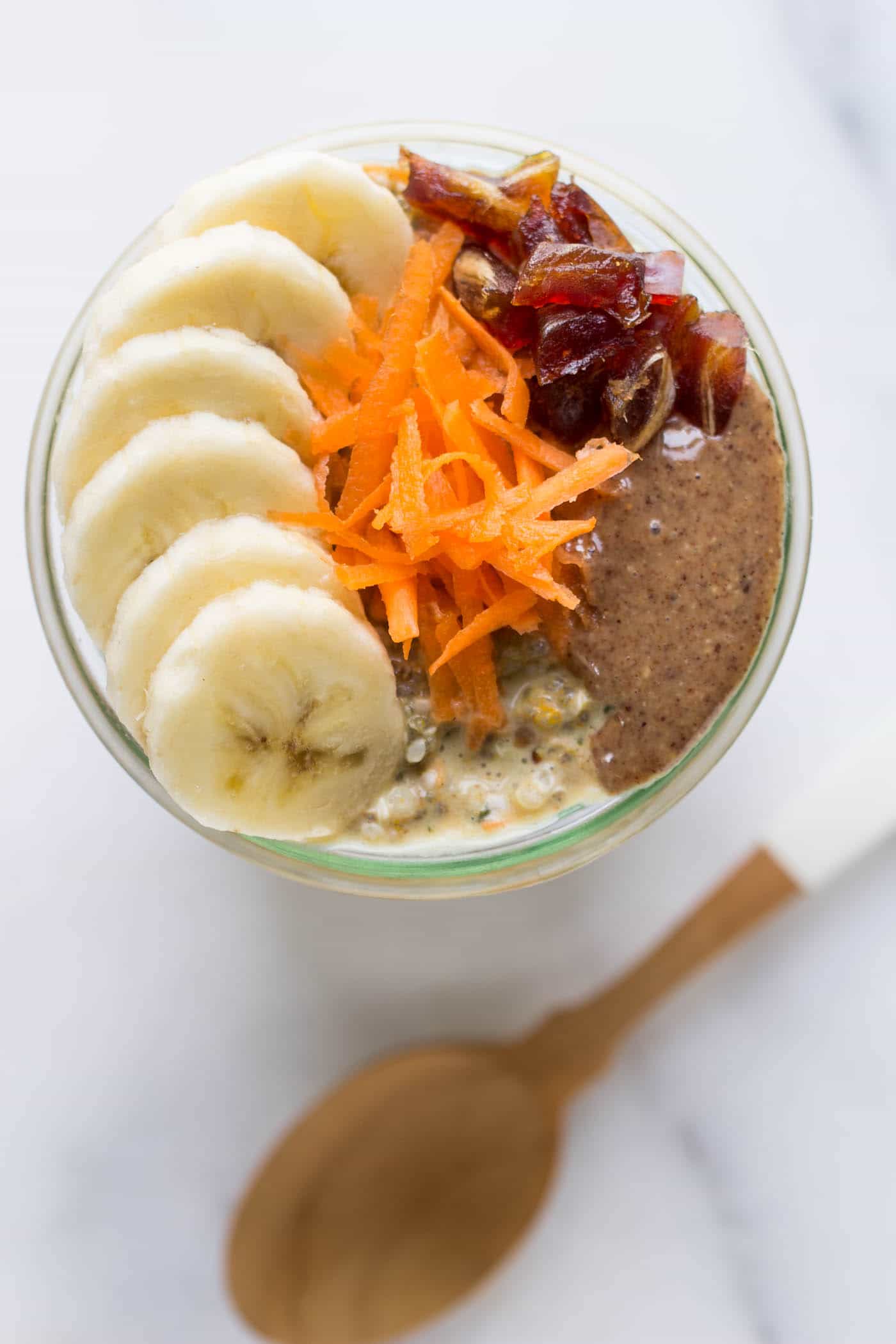 The other issue that I sometimes have with breakfast is that I get hungry only a few hours later. You know that I tend to workout in the mornings, so when I finally sit down for breakfast I'm starving. I usually end up grabbing whatever I can find, which sometimes isn't the right kind of fuel to get me through the morning.
Tips for making a breakfast that will keep you full:
Don't go for 100% carbs (even fruit). Carbs are what your body burns first, so if your breakfast is only carbs, then it will not only spike your blood sugar, but all that energy will be burned super quickly leaving you feeling hungry and tired.
Add whole grains + complex carbs (things like quinoa + oats) because these are not only filled with fiber, but your body digests them more slowly so they will keep you sustained for a longer period of time.
Embrace the fats! Add in some healthy fats (like avocado, nuts, and seeds) which will satisfy your hunger more than carbs. Fats are also brain fuel, so they'll help keep you energized and focused after your morning meal.
Fuel up with protein! Whether that's in the form of a high-quality protein powder or you use ingredients like quinoa, chia seeds, hemp seeds, etc., getting some protein in first thing in the morning is essential. It helps kickstart your metabolism and gives you long-lasting energy.
Luckily, this chia pudding is all. It really is one of the best ways you can start your day; it's only a bonus that it tastes like dessert too!
Your turn…
What's the one thing you struggle most with when it comes to breakfast? Let me know in the comments and I'll work on creating new breakfast recipes that fit your needs. For me it used to be about the time, but now I'm much more focused on keeping things as simple as possible. Excited to hear what you have to say!
xx Alyssa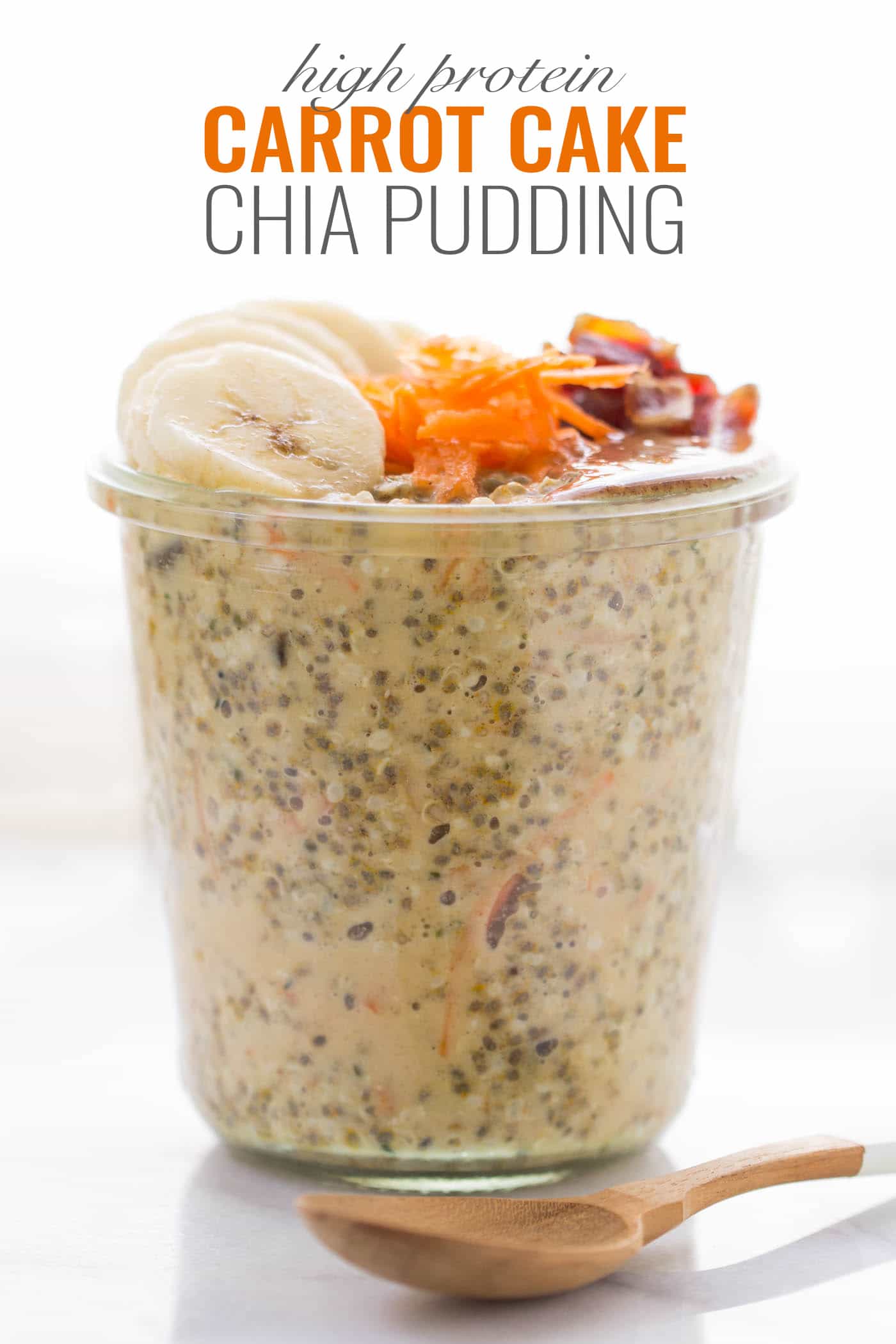 More Incredibly Delicious Chia Pudding Recipes to try:
High Protein Carrot Cake Chia Pudding
A delicious and nutritious breakfast with very minimal efforts because I know when it comes to making a healthy breakfast, there are definitely a few areas where we all get stuck:
Servings 1 Serving
Calories 472kcal
Instructions
Add all ingredients to a jar and stir together (minus toppings). Tighten lid and place chia pudding in the fridge to set, at least 2 hours (or overnight).

Remove and top with desired toppings. Enjoy!
Nutrition
Calories: 472kcal | Carbohydrates: 36g | Protein: 17g | Fat: 28g | Saturated Fat: 8g | Sodium: 116mg | Potassium: 385mg | Fiber: 12g | Sugar: 5g | Vitamin A: 5500IU | Vitamin C: 4.5mg | Calcium: 204mg | Iron: 6.7mg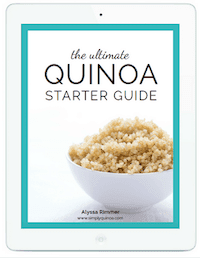 New to cooking quinoa? Grab your FREE Quinoa Starter Guide!
Become part of the Simply Quinoa community and receive weekly emails with exclusive content that I only share in email, as well as my in-depth guide to starting your quinoa journey.
This post was sponsored by Bob's Red Mill in celebration of National Nutrition Month. Bob's is my favorite source of healthy, nutritious ingredients! Stay tuned all month long as we share simple and delicious recipes using the amazing products from Bob's. Thank you for supporting the companies I believe in! xo
share what you make
Tag #simplyquinoa on Instagram with your creations! We love sharing what you make with the community. We can't wait to see!

follow on instagram