These chocolate birds nest cookies are an easy and nutritious treat. Using only 5 ingredients, including almonds and quinoa, they're healthy and decadent.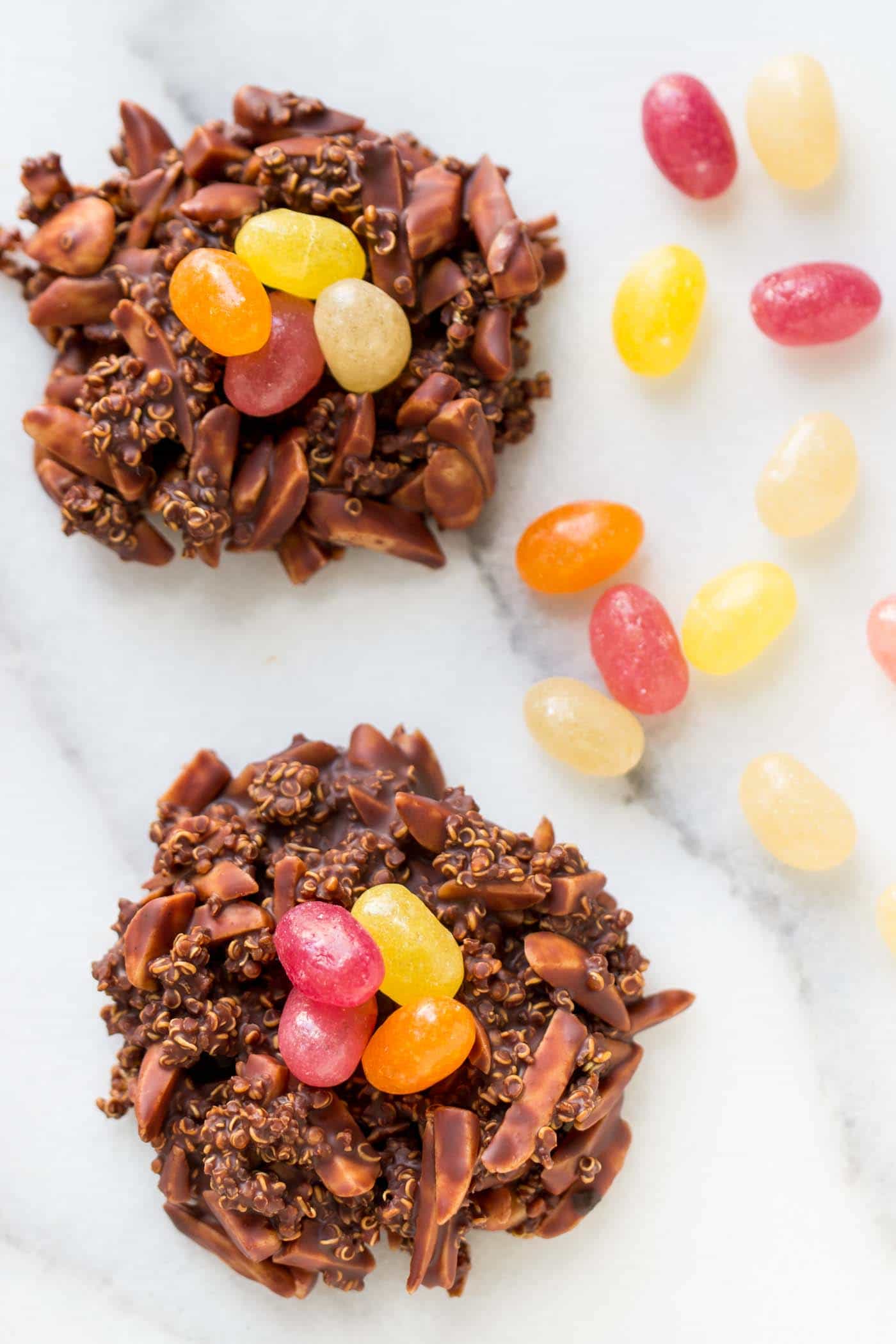 Figuring out that you can make quinoa crispies at home has pretty much changed my life. Not only do I now never waste unused quinoa – if I think it might go bad I just turn it into crispies – but I've discovered that it can be used in so many different ways!
I always add them on top of my morning smoothie bowls or breakfast toast, I toss them into my homemade granola instead of buying brown rice crisps, I add them to my chocolate bars for extra crunch and now…I've turned them into birds nest cookies.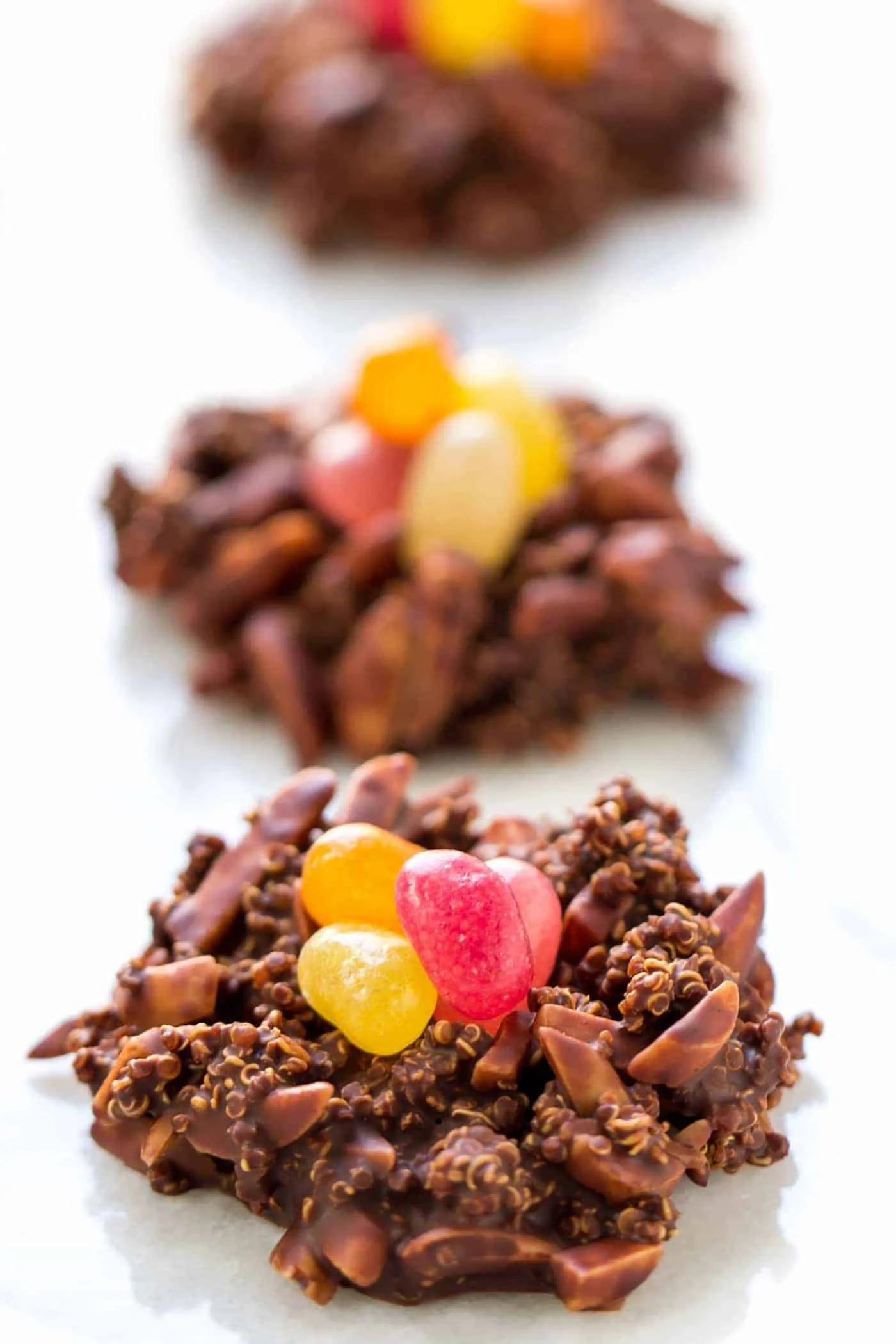 First, just a quick little background on my love for this recipe. I have this thing for birds. Like I really, really love them. Why? Because my dad is an ornithologist, which means he studies birds, and growing up going with him on trips was one of my favorite things. We got to hold little songbirds, I learned the different kinds that are at my feeder and it gave me a deeper appreciation for nature.
Now in my adult life, even though I'm not a bird watcher, I always find myself paying attention to the birds. I watch them out my window just fluttering around in the trees, I listen to them on my daily walks, and I find them almost calming. Might sound a little silly, but birds are kind of awesome.
And so today I'm taking my love for birds and combining it with my love for quinoa and chocolate. Giving you these no-bake chocolate birds nest cookies! They only take 5 ingredients, 5 minutes of hands-on time AND they're such a fun Easter-inspired treat. (and really just perfect for anything Spring)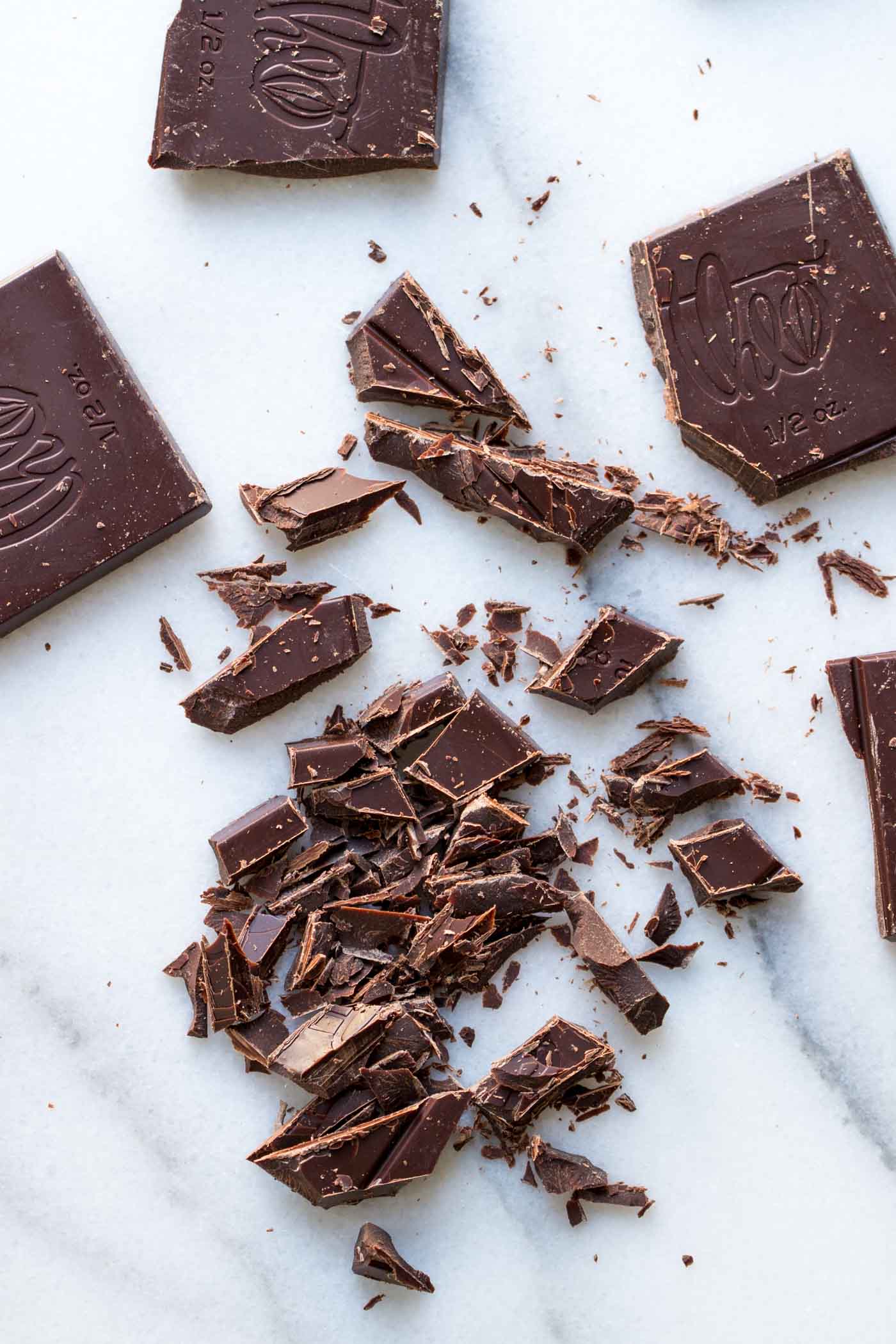 These cookies are so incredibly easy to make. All you need is some high-quality dark chocolate, coconut butter, some slivered almonds, quinoa crispies, and jelly beans. For the chocolate, I used a 70% dark that is organic, soy-free and vegan, but you can feel free to use any chocolate that you'd like.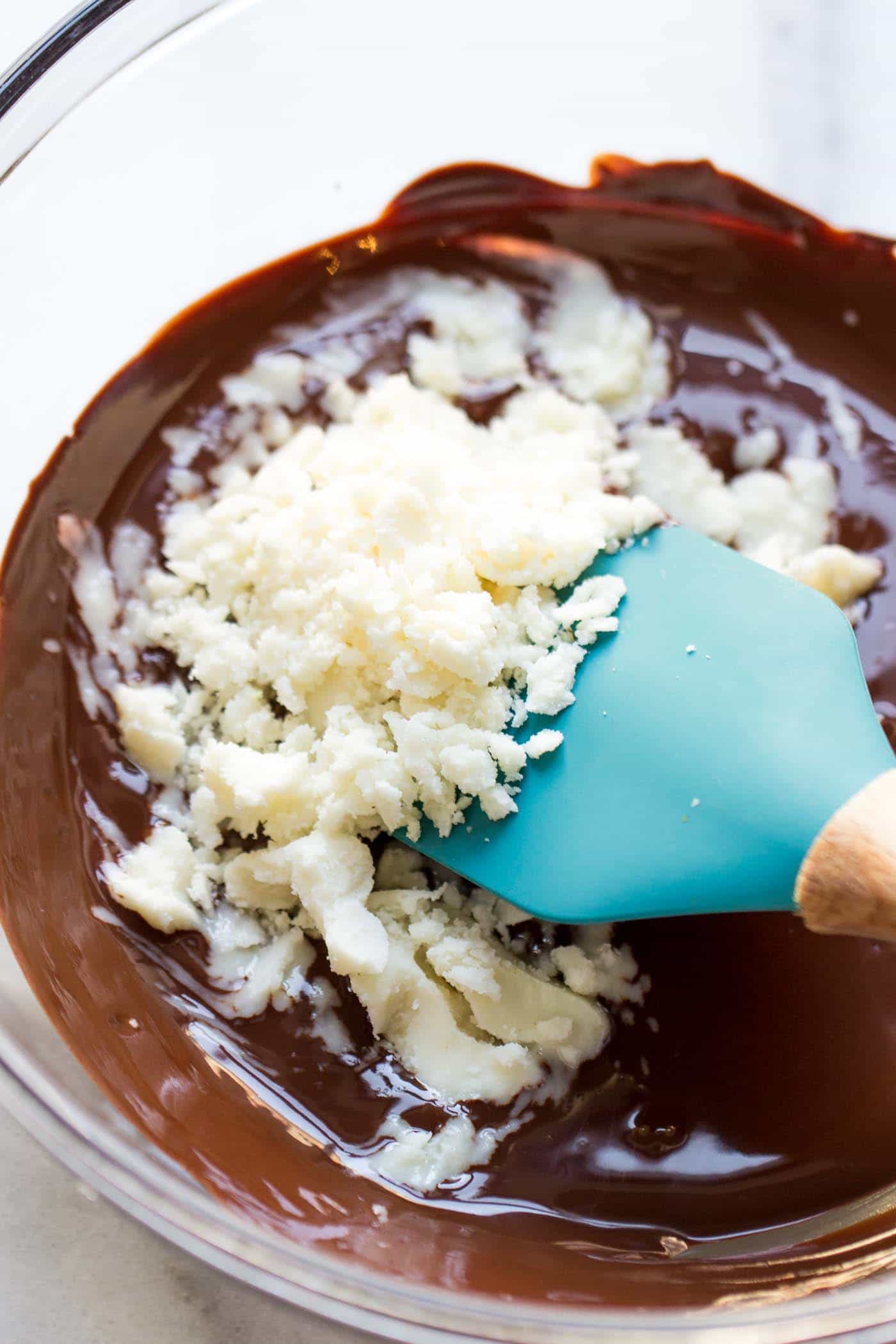 We start by just melting the chocolate in a double-boiler, then stir in our coconut butter which makes it a bit more creamy and gives the chocolate a velvety smooth texture. Once those two are melted, you just stir in the almonds and quinoa.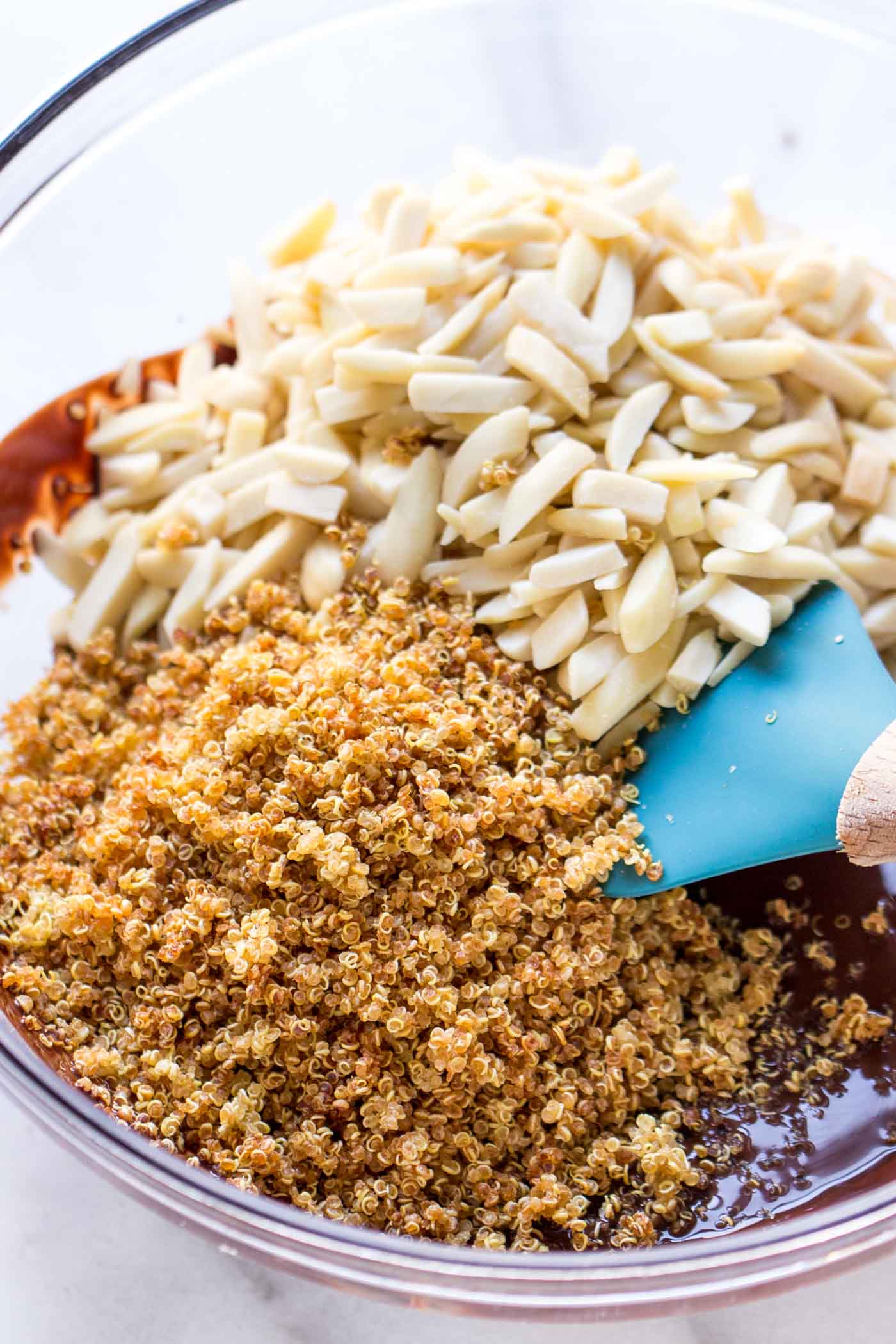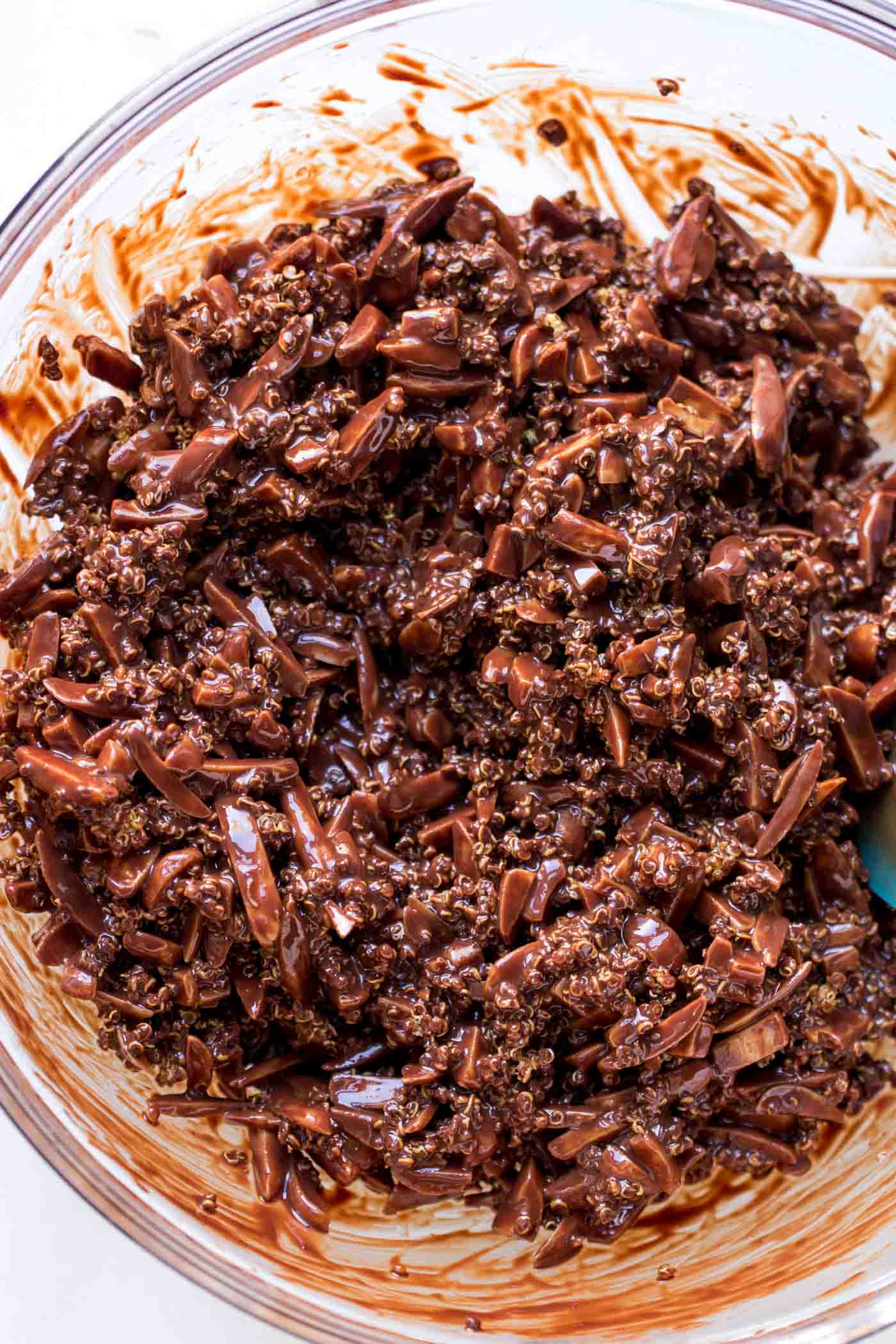 To make the cookies, I lined a baking sheet with parchment paper and then used a tablespoon cookie scoop to portion out the chocolate mixture. I scooped them into mounds and then gently shaped them into little nests with my fingers. It will seem like they aren't going to hold their shape, but once you let them set in the freezer, they'll be perfect.
Then just pop them into the freezer for 20 – 30 minutes and you're done!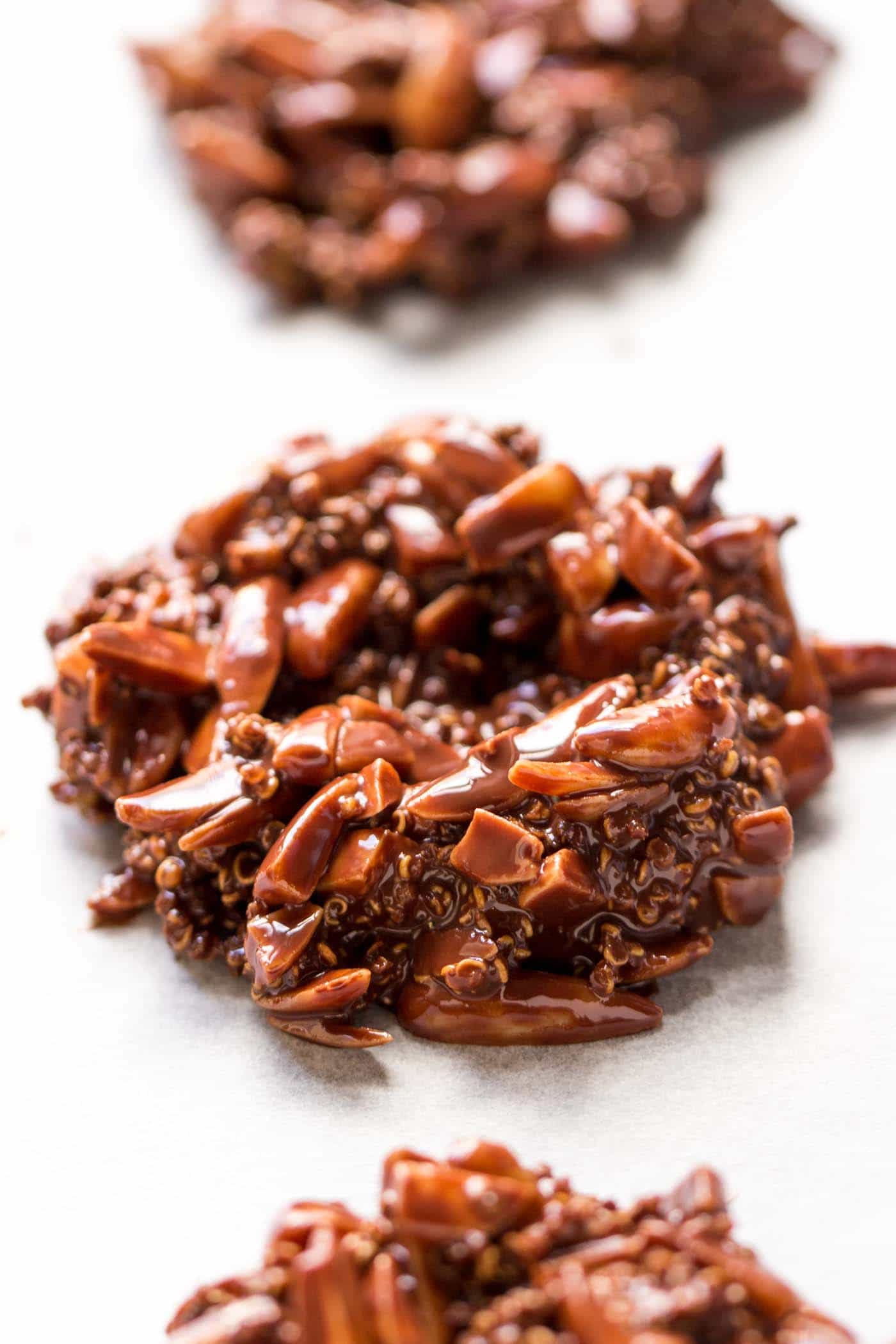 For the "eggs" I used organic jelly beans which I found in the bulk section at whole foods. I have to be honest and tell you that I haven't found a truly "clean" candy, but these were pretty close. They do use cane sugar but don't have any artificial colors or flavors.  Of course, these are totally optional and if you have another candy that you want to add in there, by all means, go for it 🙂
But for me, the jelly beans were just right because they make these little nests the perfect (healthy) treat to make for Easter or another Spring party (baby shower perhaps??). Either way, these are super easy and really fun to make. Plus, no baking required!
You might also try my Chocolate Covered Peanut Butter Balls recipe.
Your turn…
What's your favorite go-to treat? Mine is definitely anything chocolate related, but I'm always looking for ways that I can recreate recipes you love in a more simple and healthy way. If you have any Spring-themed recipes, share them below!
And if you end up making this (or any of my other recipes), I'd love for you to snap a pic and share it with me on Instagram by tagging @SimplyQuinoa or using the #simplyquinoa. Or send me a Snap – that's always fun too! 🙂 (@alyssarimmer)
xo A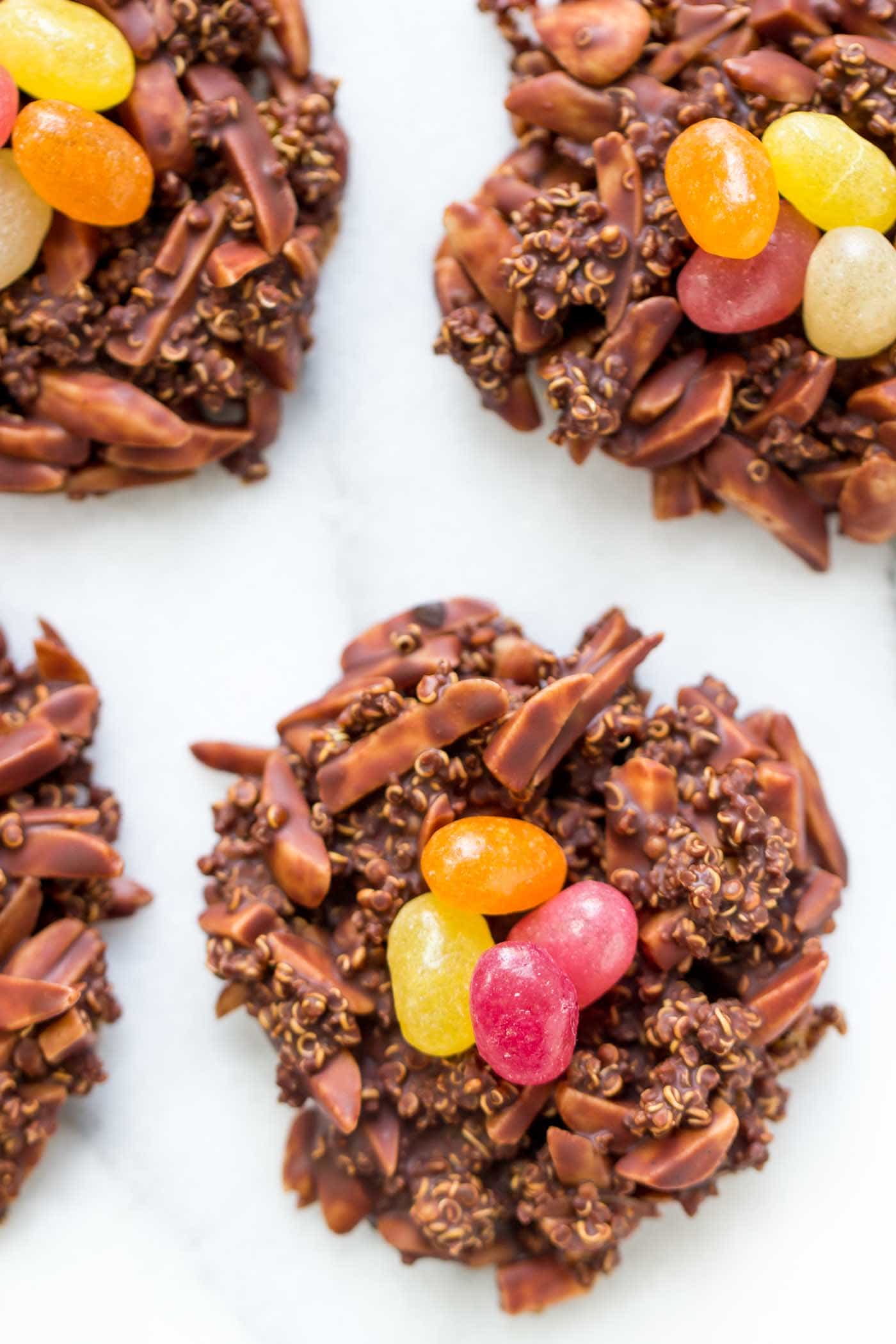 More Delicious Easter Recipes to try:
Dark Chocolate Quinoa Birds Nest Cookies
No-bake chocolate birds nest cookies! They only take 5 ingredients, 5 minutes of hands-on time AND they're such a fun Easter-inspired treat. (and really just perfect for anything Spring)


Instructions
Melt the chocolate over a double boiler, stirring until completely smooth. Whisk in the coconut butter until melted and combined.

Add almonds and quinoa crispies, stirring together until they are evenly coated with the chocolate. Using a cookie scoop (or spoon), scoop 1- 2 tablespoons of the chocolate mixture onto a parchment lined baking sheet, spacing them out about 1" apart.

Using your fingers, gently flatten the mounds and form them into little "nests" making a well in the center of each mound. Pop the baking sheet into the freezer and allow the cookies to set for 20 - 30 minutes.

Remove and add in jelly beans then serve immediately.*
Notes
These are best served chilled, so keep them in the fridge until you're ready to serve.
Nutrition
Calories:
126
kcal
|
Carbohydrates:
10
g
|
Protein:
2
g
|
Fat:
8
g
|
Saturated Fat:
2
g
|
Sodium:
4
mg
|
Potassium:
112
mg
|
Fiber:
2
g
|
Sugar:
5
g
|
Calcium:
26
mg
|
Iron:
1.4
mg
Filed Under: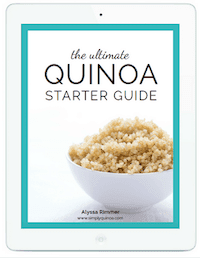 New to cooking quinoa? Grab your FREE Quinoa Starter Guide!
Become part of the Simply Quinoa community and receive weekly emails with exclusive content that I only share in email, as well as my in-depth guide to starting your quinoa journey.
Want more quinoa dessert recipes?
Follow my board on Pinterest!