These simple peach pie breakfast parfaits taste like a decadent dessert, but are nutritious and delicious! Use just 8 ingredients, are gluten-free + vegan!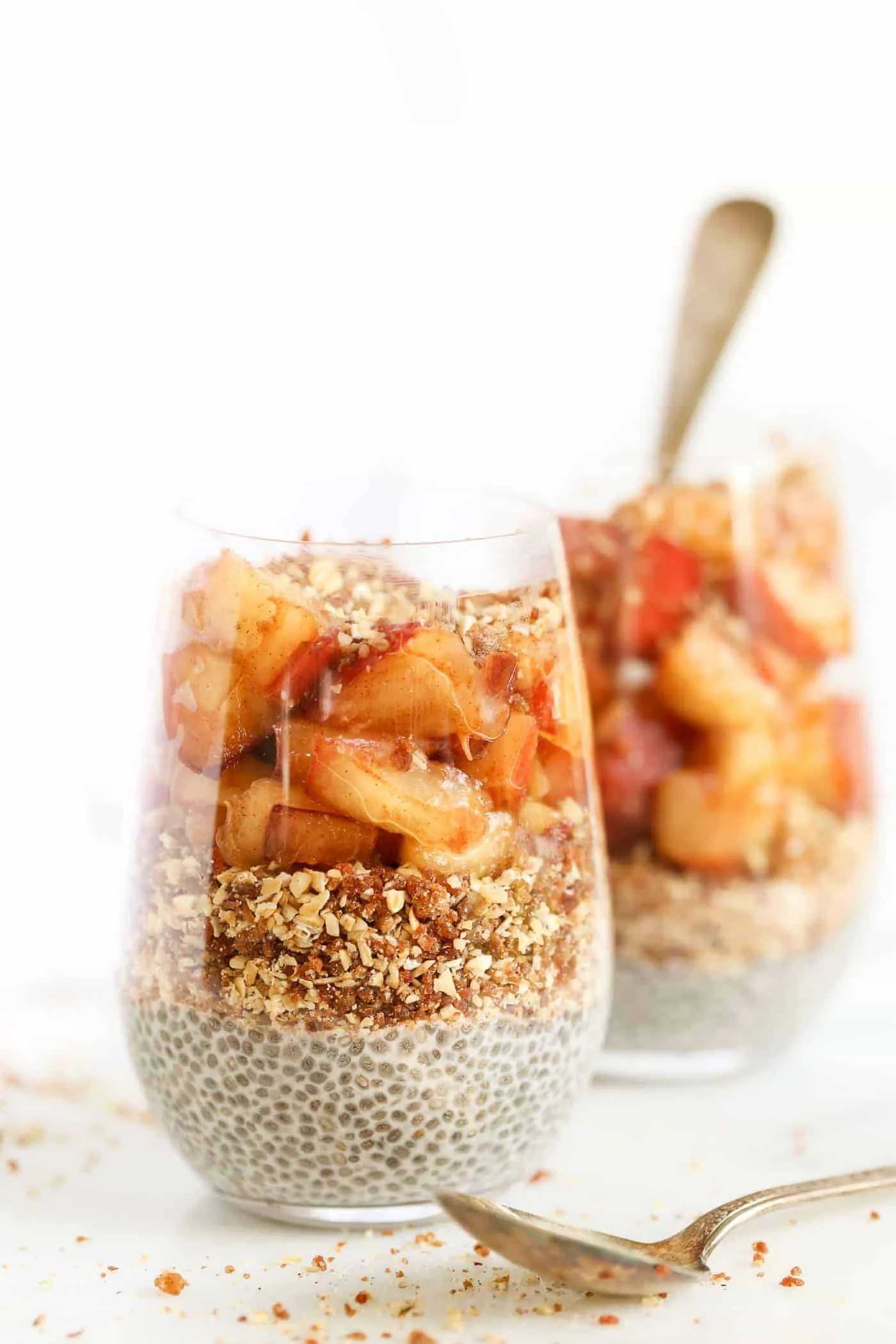 We're in the peak of peach season right now and I have to say this might be one of the best years yet. I probably say that every year, but nothing beats a perfectly ripe peach.
I've been eating at least one peach per day–whether that's in my morning green smoothie bowl, my grilled peach salsa, or my stone fruit crumble for a sweet breakfast–I'm trying to make the most of this season while it lasts. And since I'm sure you're just as enamored with this juicy stone fruit as I am, I wanted to give you a little inspiration while these fruits are cheap and in season.
Today's Peach Pie Breakfast Parfait is a riff on one of my favorite desserts, but with a super healthy twist. We're going with a base of chia pudding, then a oat and date crumble, then cinnamon peaches to finish it off. It's summery, light and the perfect way to start your day.
What I love starting your day with something like this is that a) it feels special with minimal effort, b) it's sweet like a dessert, but won't send your blood sugar on crazy spikes and c) it's filling and provides long-lasting energy throughout the day.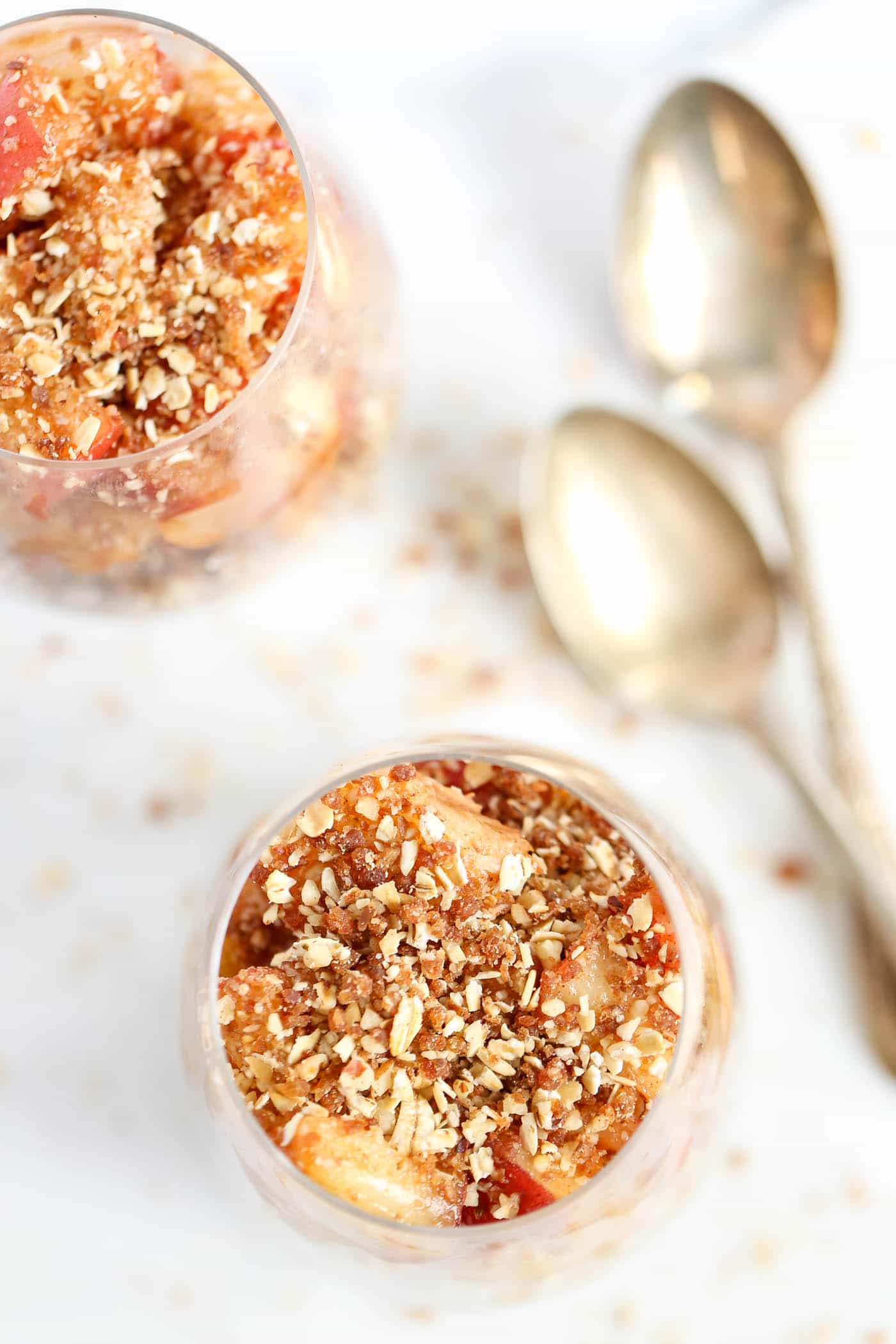 We start with a base of chia pudding, which can be made the night before if you don't want to bother in the morning. I've shown you how to make chia pudding before, but basically you just mix chia seeds, maple syrup and almond milk together, then let it sit for a few hours to thicken.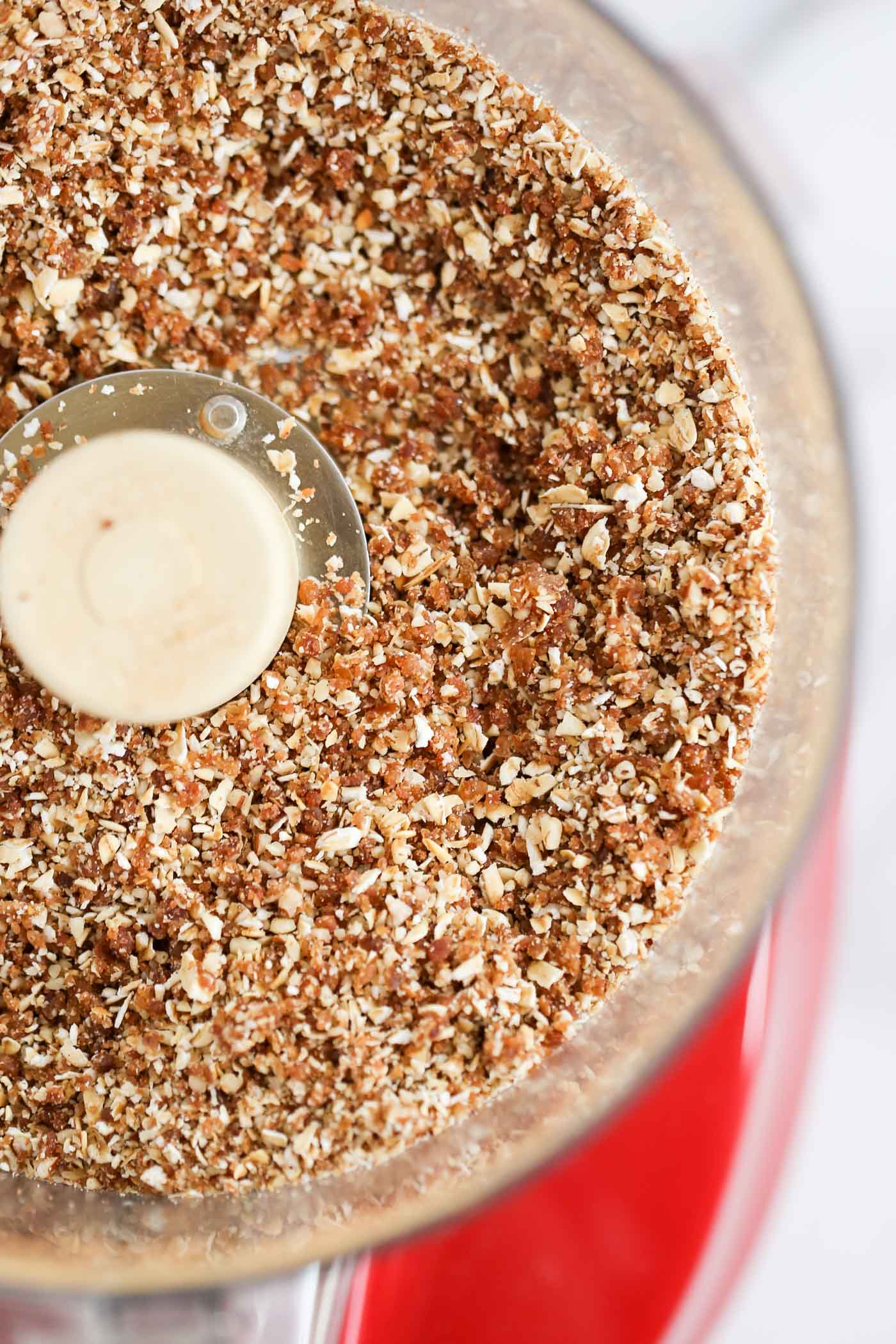 For the "crumble" portion, I wanted to give you something that had texture, some sweetness, but that was also nutritious. And I also didn't want to use oil, flour or any excessive sweeteners.
Instead, we're using just three ingredients: oats, pecans and dates. You whizz them up in your food processor until they're ground into a sandy texture and that's it. You get tons of fiber from the oats, healthy fat and a little protein from the pecans and natural sweetness from the dates. It's the perfect layer between the chia pudding and the peaches!
You'll also probably have a little extra, so I recommend saving it and sprinkling it on your smoothie bowl, morning yogurt or even atop a slice of almond butter toast.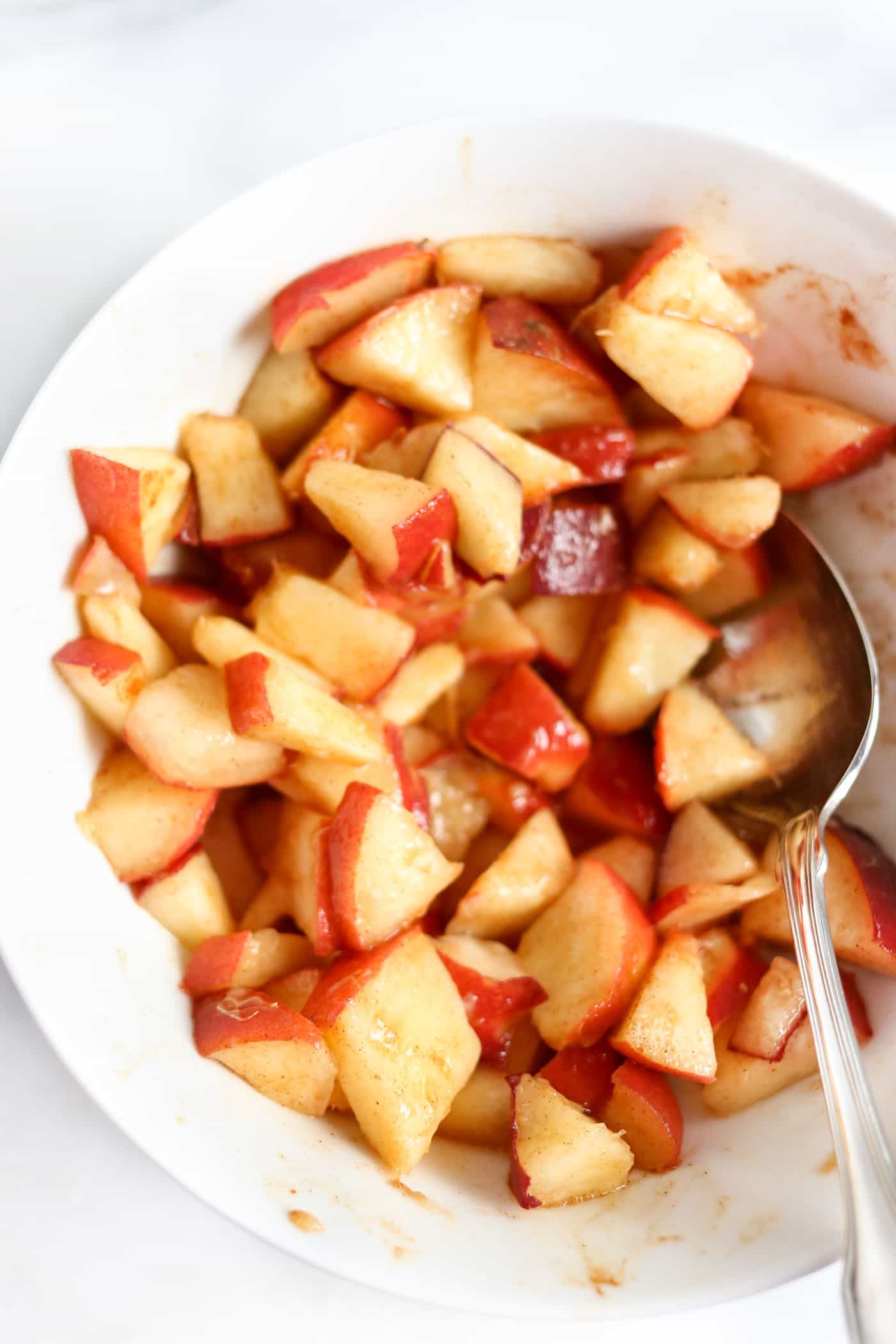 For the peaches? Just chopped peaches and cinnamon!
Because peaches are in season right now, they're totally sweet enough on their own. You don't need to add syrup or anything else. And I found if you let them marinate them for a little while in the fridge (or again overnight), they get even sweeter.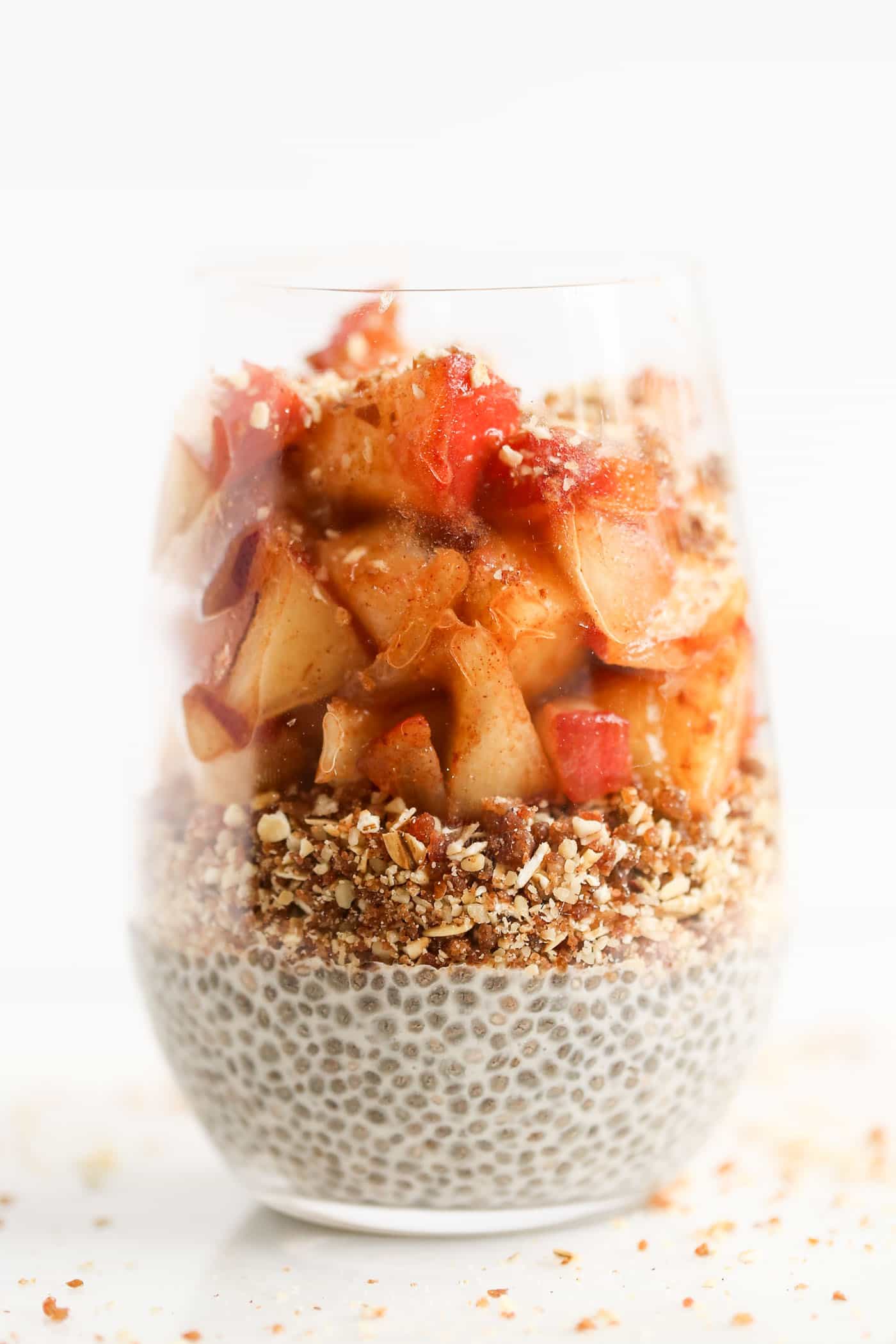 I have to admit, I was a bit worried it would get soggy in the fridge, but I let one of these sit in the fridge overnight (already assembled) and it was perfectly fine! The crumble was still crunchy, the chia pudding was still thick and the peaches were nice and juicy.
If you want to stretch this recipe to last you a few days, here's what I recommend:
Double the amount of chia pudding and keep it in a sealed container
Slice your peaches and toss them with the cinnamon and store them in a separate sealed container, draining any excess juice before assembling your parfaits
Prepare the crumble and store that in a sealed container at room temperature
Assemble the parfait the morning you're ready to eat it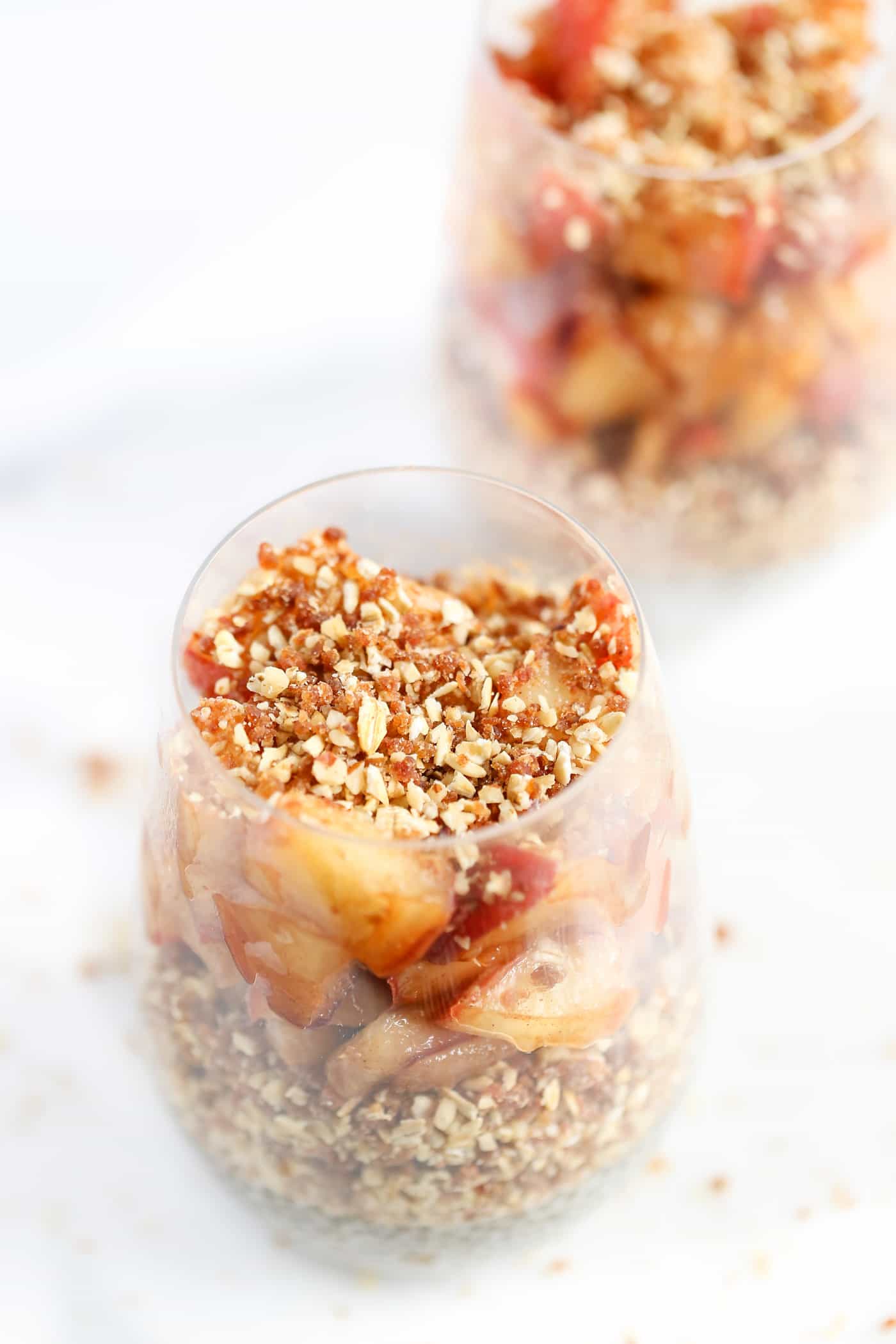 And you certainly don't have to eat it parfait style if that doesn't appeal to you 🙂 It would be just as delicious tossed in a bowl!
So let's recap why these peach pie breakfast parfaits make the perfect breakfast:
High in plant-based protein to help you feel full and satisfied
High in dietary fiber to give you long-lasting energy
Sweetened with low-glycemic ingredients to prevent blood sugar spikes
Filled with cinnamon which helps stabilize your blood sugar even more
Rich in omega-3 fatty acids which our body cannot produce naturally
Contains healthy fats which help to curb sugar cravings later in the day and helps you feel satisfied
Made up of complex carbohydrates which are slower to digest which will keep you fuller longer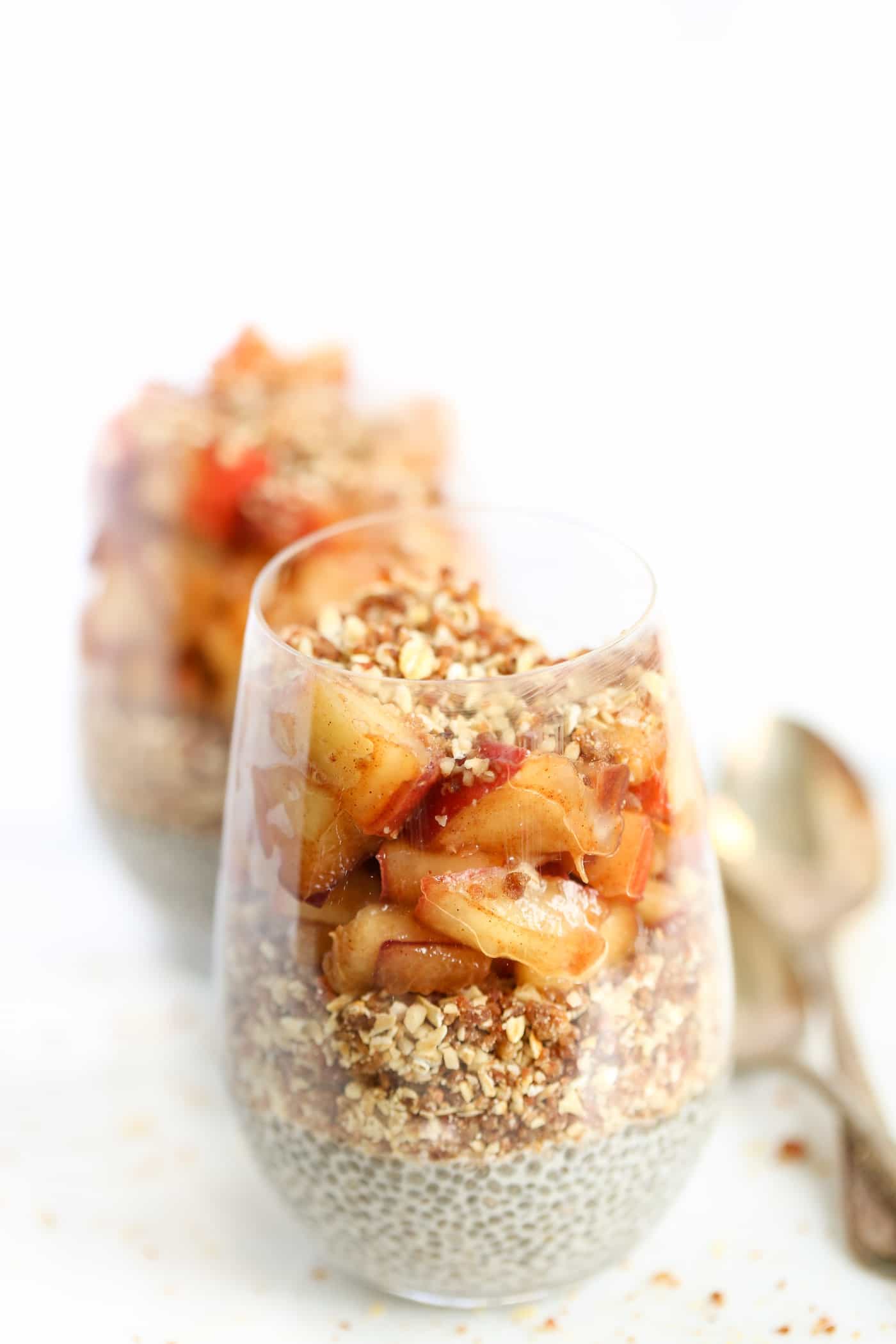 All in all I'd say it's a pretty epic way to kick off your day. You're going to love how easy they are to make and how much the remind you of a dessert. You can't go wrong with a breakfast that tastes like a slice of pie! 🙂
Your turn…
What's your favorite make-ahead breakfast? I'd love to get some ideas for an upcoming series I'm thinking about, so leave your faves in the comments below! And if you end up making this recipe, I'd love for you to share a picture on Instagram and tag @simplyquinoa or use #simplyquinoa so I can find your post and give you some love in return!
XO Alyssa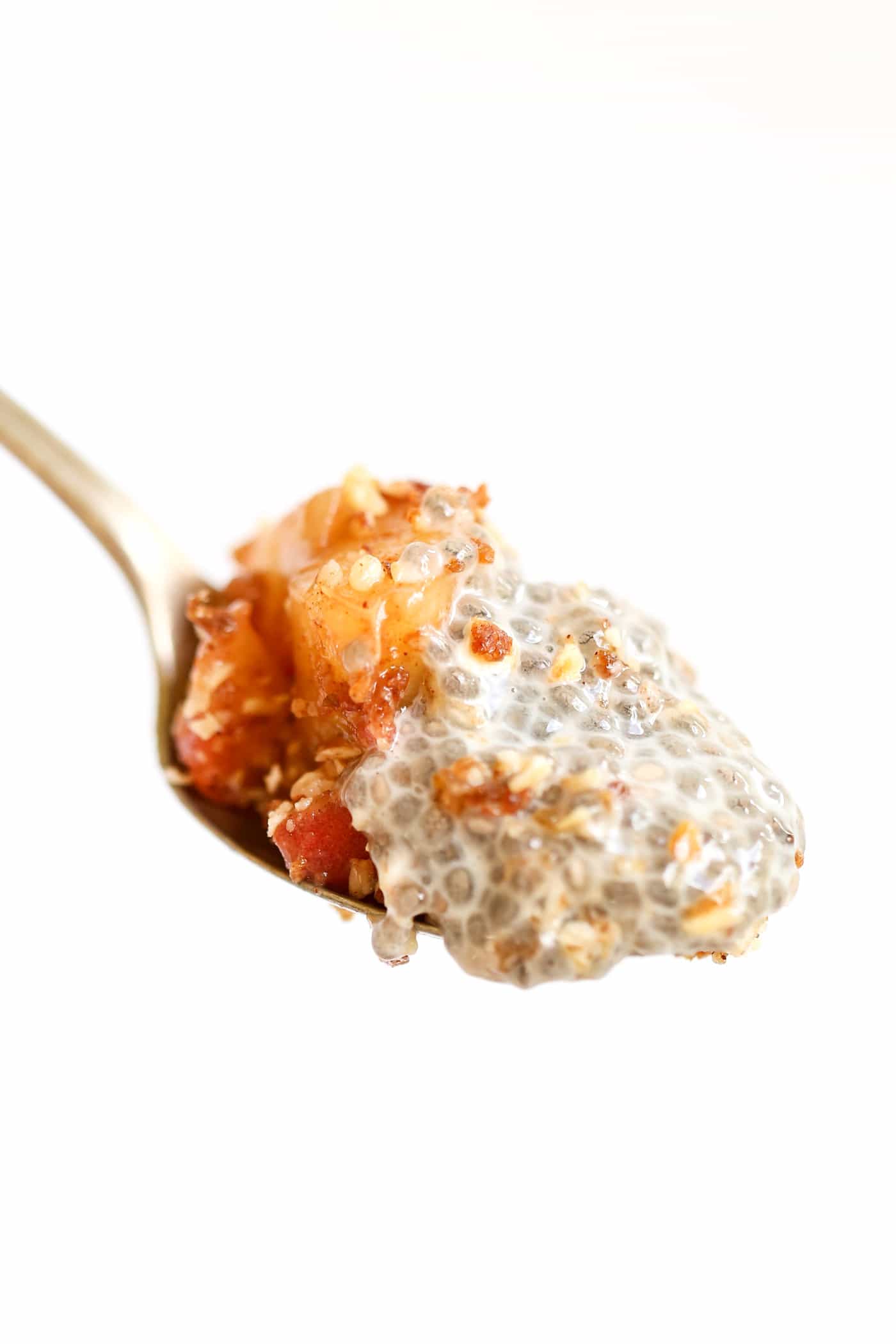 More Chia Pudding Recipes to try:
Peach Pie Breakfast Parfaits
Today's Peach Pie Breakfast Parfait is a riff on one of my favorite desserts, but with a super healthy twist. We're going with a base of chia pudding, then an oat and date crumble, then cinnamon peaches to finish it off. It's summery, light and the perfect way to start your day.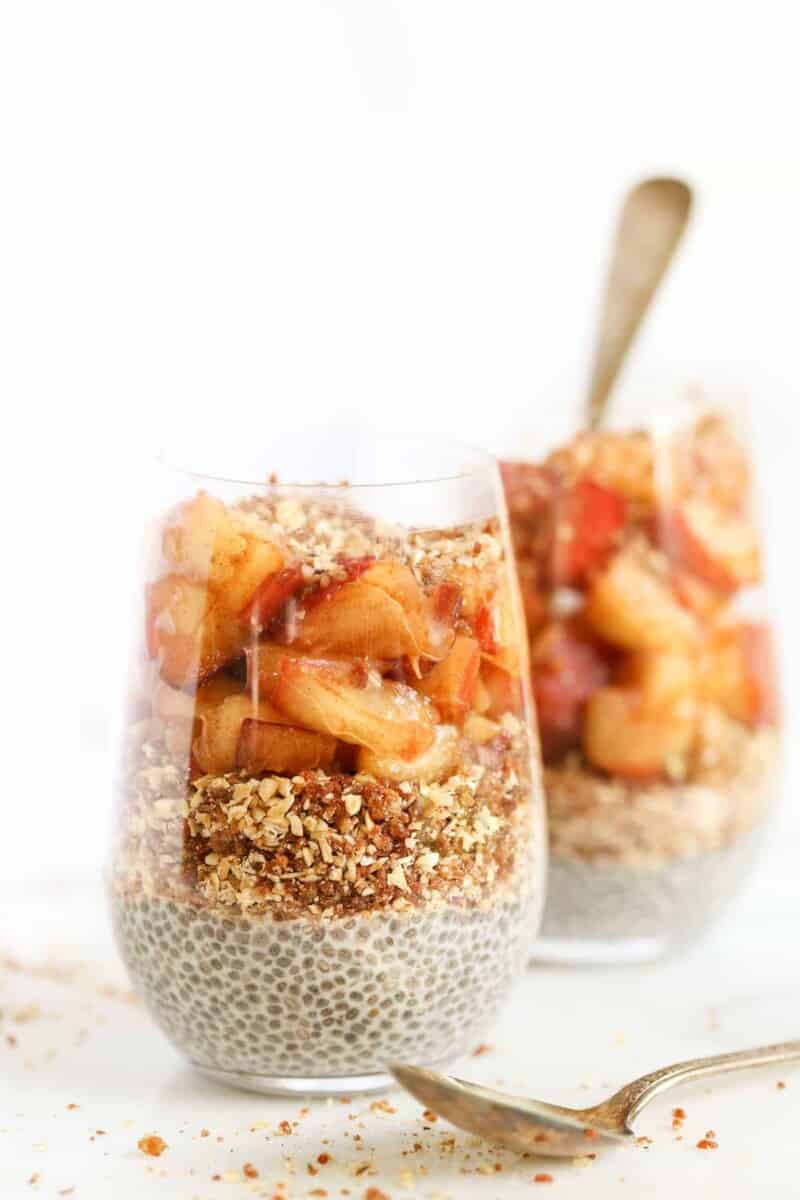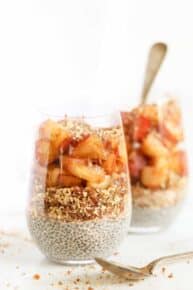 Instructions
Make the chia pudding: combine the chia seeds, syrup and almond milk in a bowl of large mason jar. Mix together until incorporated, then refrigerate to set for at least 2 hours.

Make the crumble: toast oats and pecans in a dry skillet over medium heat until golden brown, about 5 minutes. (alternatively you could also toast them in a toaster oven on the medium setting) Once toasted, transfer to a food processor along with dates and 1 teaspoon of cinnamon. Process to form the texture of coarse sand.

Make the peaches: slice the peaches in half, discarding the pit, and chopping into bite-sized pieces. Add to a bowl with the remaining 1 teaspoon of cinnamon and toss to combine.

Assemble the parfaits: divide the chia pudding evenly among two stemless wine glasses or mason jars. Add a layer of the crumble, then divide peaches evenly and place on top of crumble. Sprinkle with a touch of crumble topping and enjoy!
Nutrition
Calories:
561
kcal
|
Carbohydrates:
89
g
|
Protein:
12
g
|
Fat:
22
g
|
Saturated Fat:
2
g
|
Sodium:
169
mg
|
Potassium:
893
mg
|
Fiber:
19
g
|
Sugar:
52
g
|
Vitamin A:
561
IU
|
Vitamin C:
10
mg
|
Calcium:
380
mg
|
Iron:
4
mg
Filed Under: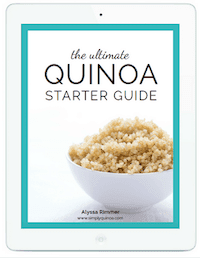 New to cooking quinoa? Grab your FREE Quinoa Starter Guide!
Become part of the Simply Quinoa community and receive weekly emails with exclusive content that I only share in email, as well as my in-depth guide to starting your quinoa journey.