How to cook beans in the Instant Pot. The ultimate guide for cooking beans in the pressure cooker, including different types, soaking vs not soaking & more!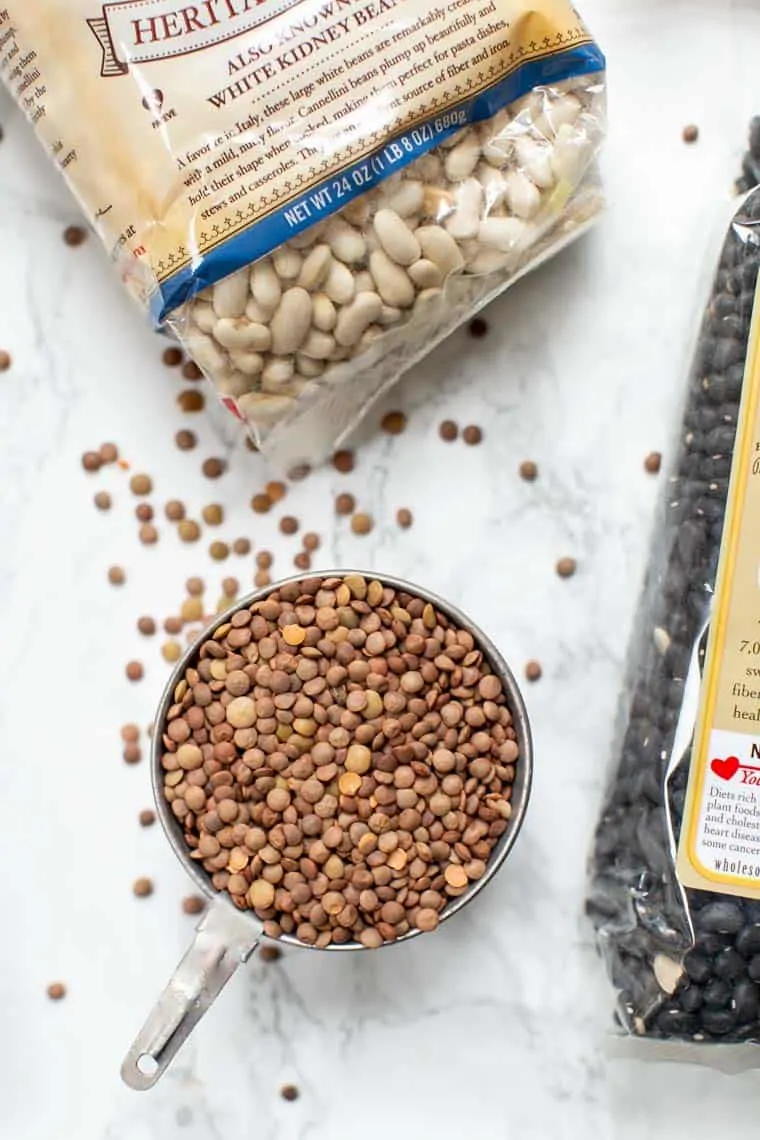 One of the reasons I got my Instant Pot was so that I could start cooking beans from scratch. Even though cooking beans on the stove is actually quite easy, for some reason I just have this mental barrier to it. I have a cupboard full of dried beans that inevitably end up just using the precious space I actually do have in my pantry.
Until I got an Instant Pot!
Now I'm a bean cooking machine and I freaking love it! It's easy, it's fast and I gotta say it's way better all around!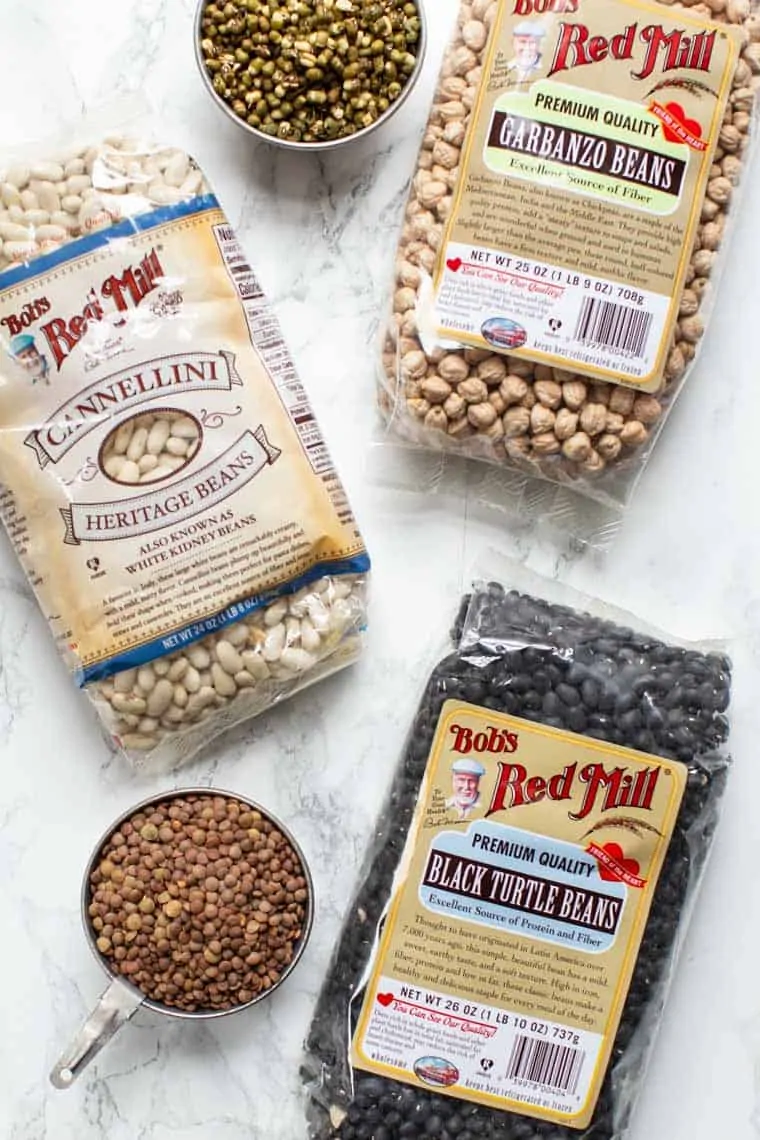 What Types of Beans Can You Cook in an Instant Pot?
That's a great question! And the answer is most. There's really only one type of bean I wouldn't bother cooking in the Instant Pot and that's red lentils. Red lentils are super delicate, cook very quickly on the stove already and you'll end up spending more time cooking them in your pressure cooker.
All other beans are fair game!
If you're wondering where to get dried beans, my friends at Bob's Red Mill are always my go-to! Their beans are super high quality and they have an amazing selection to choose from. Just check out the bean section on their site to see what I'm talking about!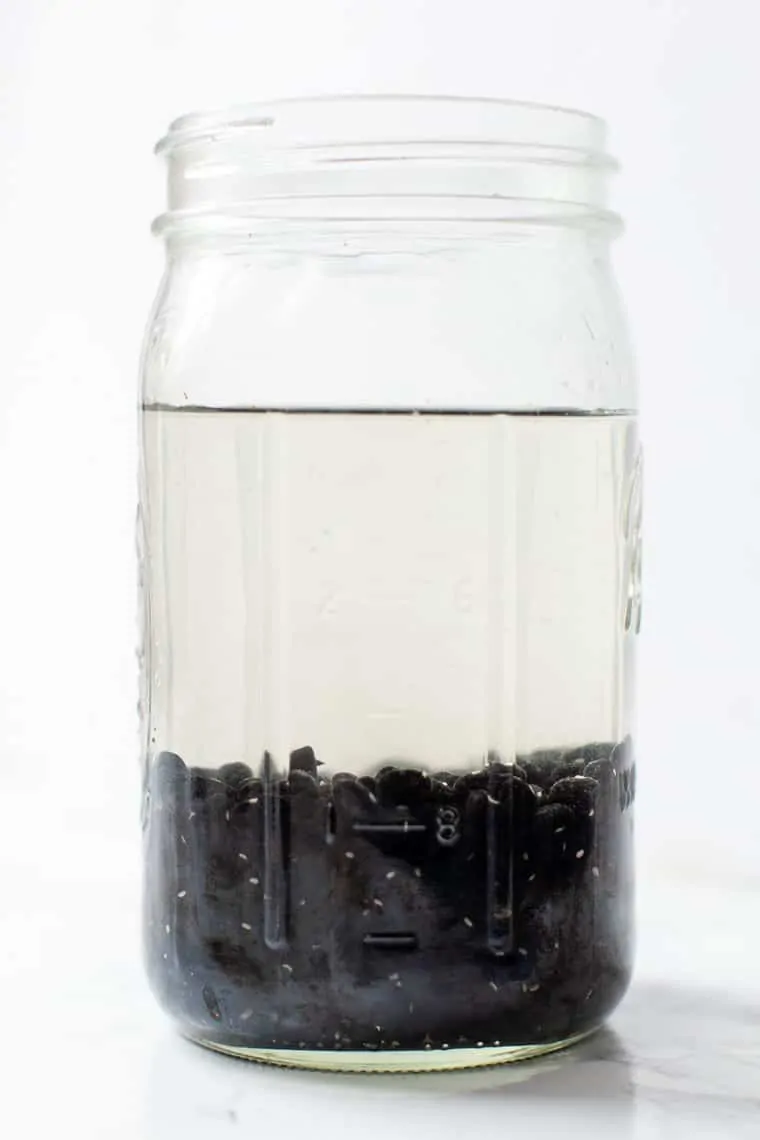 Do You Have to Soak Beans?
Another good question! And my answer is…it depends.
A lot of people say that soaking your beans beforehand will help make them easier to digest. There are studies that show it does, others that say it doesn't make a difference at all. So I guess my point here is that it depends on your body.
If you find that beans are hard to digest, or that they give you gas/cause bloat, then you should probably soak them. If not, then you might be fine not soaking!
HOWEVER… when it comes to cooking, that's where the real benefit of soaking your beans lies. When you soak your beans, your cooking time is cut by at least 75% (if not more). So if you're in a rush, then for sure soak your beans!
note: If you do soak your beans, soak them overnight! (10 – 12 hours)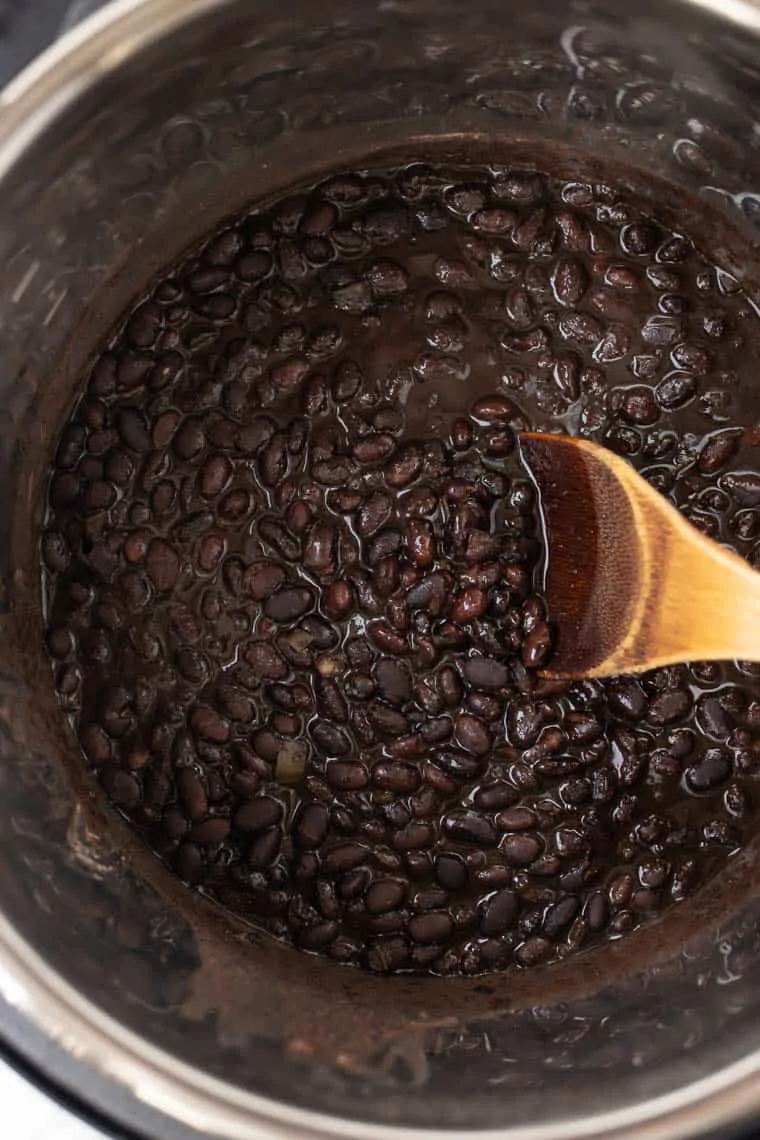 How Long Does It Take To Cook Beans in the Instant Pot?
When it comes to actually cooking your beans in the instant pot, the time varies by bean type. Chickpeas, for example, can take upwards of 40 minutes to cook, whereas lentils take less than 10.
And then there's the soak factor. If you've soaked your chickpeas, they only take about 10, whereas soaked black beans take about 5. So really…it's bean dependent!
To make it easy for you, I've put together a free printable cooking chart that outlines the various cooking times for 11 of the most common beans (and all beans that Bob's Red Mill sells too!). And we've even included the different times for soaking vs. not soaking!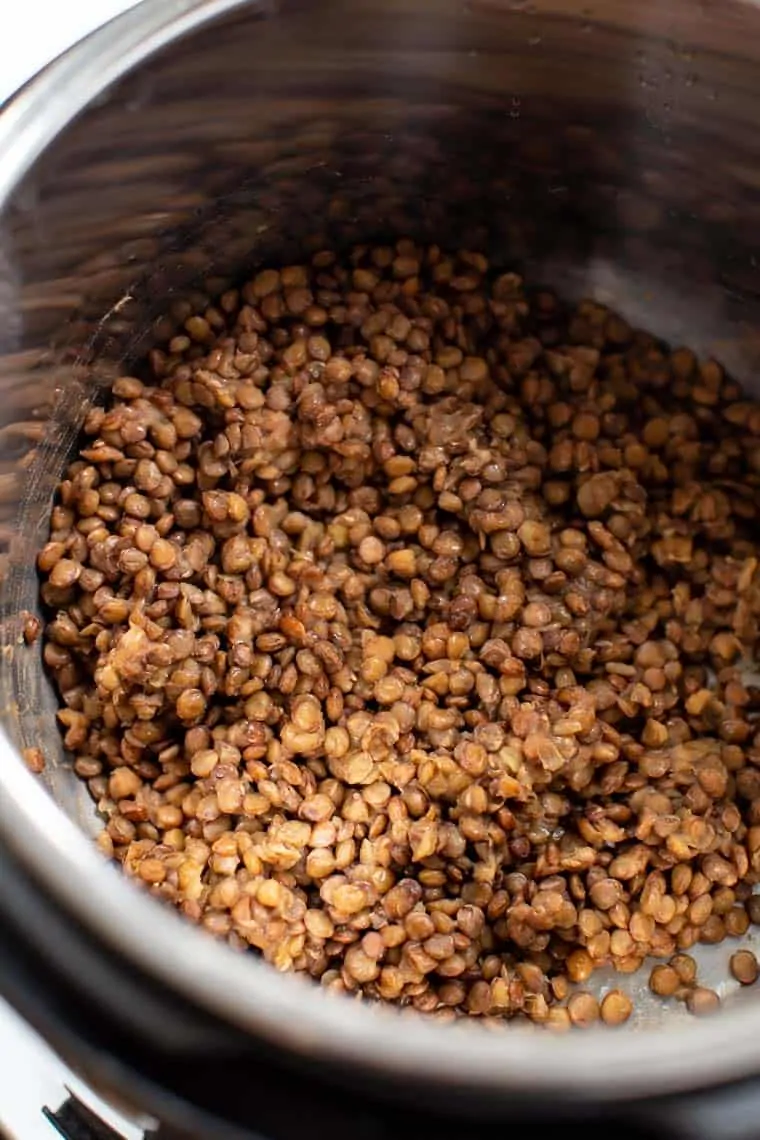 How to Cook Beans in the Instant Pot
Once you've got your timetable picked out and you know how long your bean is going to take, it's time to get cooking.
All you need to do to cook beans in the instant pot is add them into your pot, followed by 2 – 3x that amount of water. So if you're using 1 cup of dried beans (unsoaked), you'd follow that with about 2 – 3 cups of water.
Basically, you want the beans to be fully submerged or else they won't cook evenly.
From there, just pop on your lid, make sure your vent is sealed, choose your time and TURN OFF the keep warm setting! I've found this to be a really helpful trick to avoid mushy beans as the keep warm setting continues to cook them.
Once your Instant Pot has come to pressure, let it do its thing until the timer runs out. Then let the pressure naturally release – we've also included those times in the free guide – and you're done.
See how simple? It's seriously a game-changer!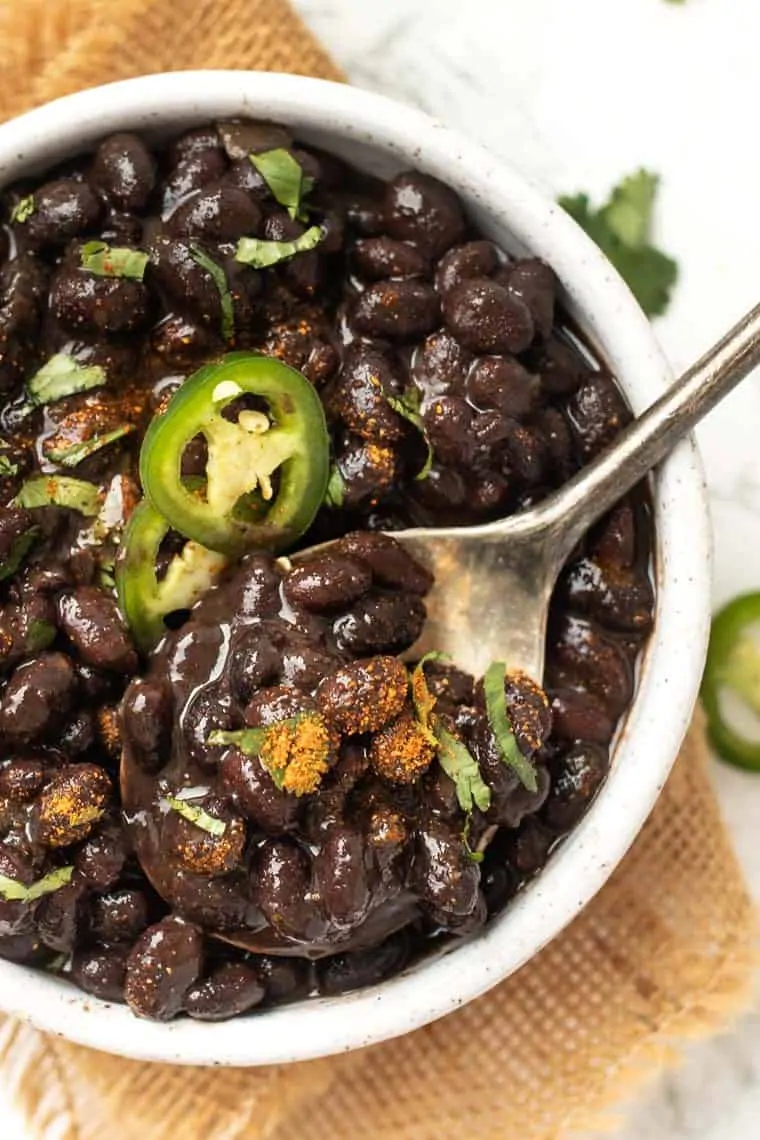 Cooking Times for Beans in the Instant Pot
Now I know not all of you will want to download that guide – even though you should because it's easy to read – so I wanted to include the cooking times or you here. Here are the top 7 most common beans, their cooking times and also a recipe to try!
Adzuki Beans
Black Beans
Cannellini Beans

Chickpeas
Kidney Beans
Lentils (green, brown, black)
Pinto Beans