Tuscan Kale & White Bean Stew
Brought to you in partnership with Thrive Market
This hearty white bean stew combines classic Tuscan spices, kale, butternut squash and quinoa for a delicious and cozy meal. It's vegan and gluten-free too!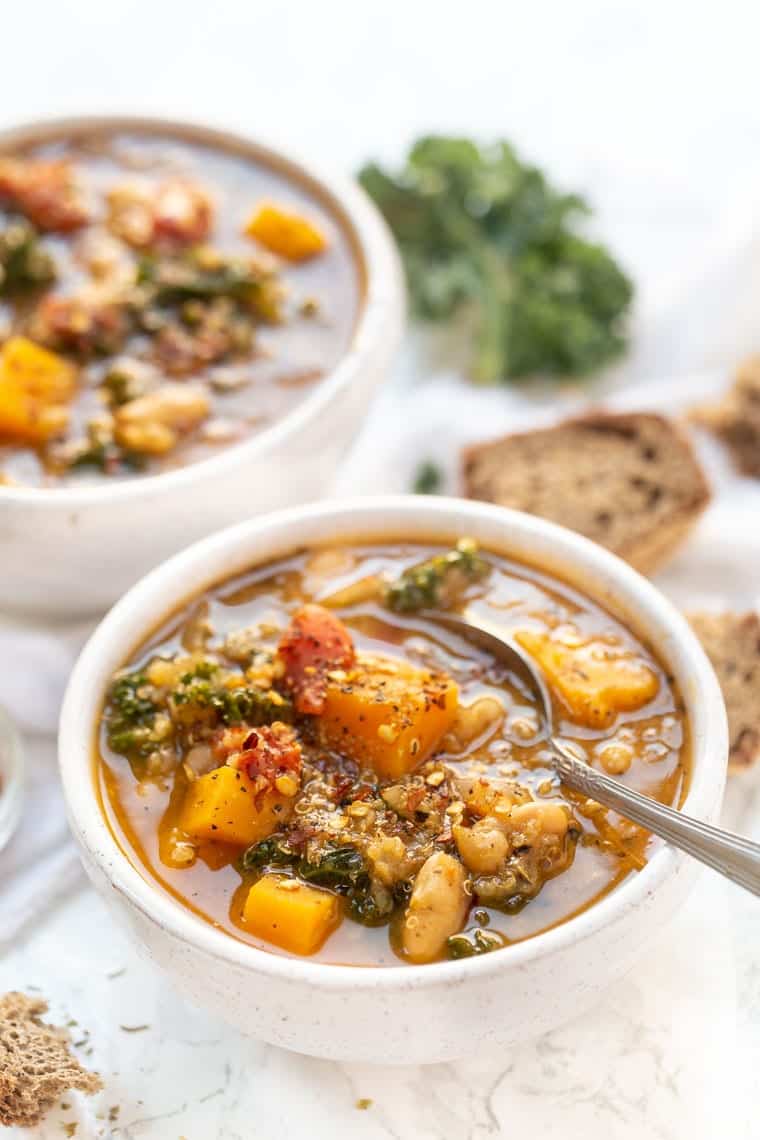 As I'm writing this, it's snowing. And when it snows, there's nothing I crave more than a giant bowl of stew. Especially one that is full of chunky vegetables, beans and served with some gluten-free crusty bread.
I mean truthfully, is there anything cozier?!
For any time you're in the mood for a hearty meal, this Tuscan Kale & White Bean Stew will come to your rescue! It uses just one pot, it packed with flavor and is the perfect thing to snuggle up with during a snowstorm.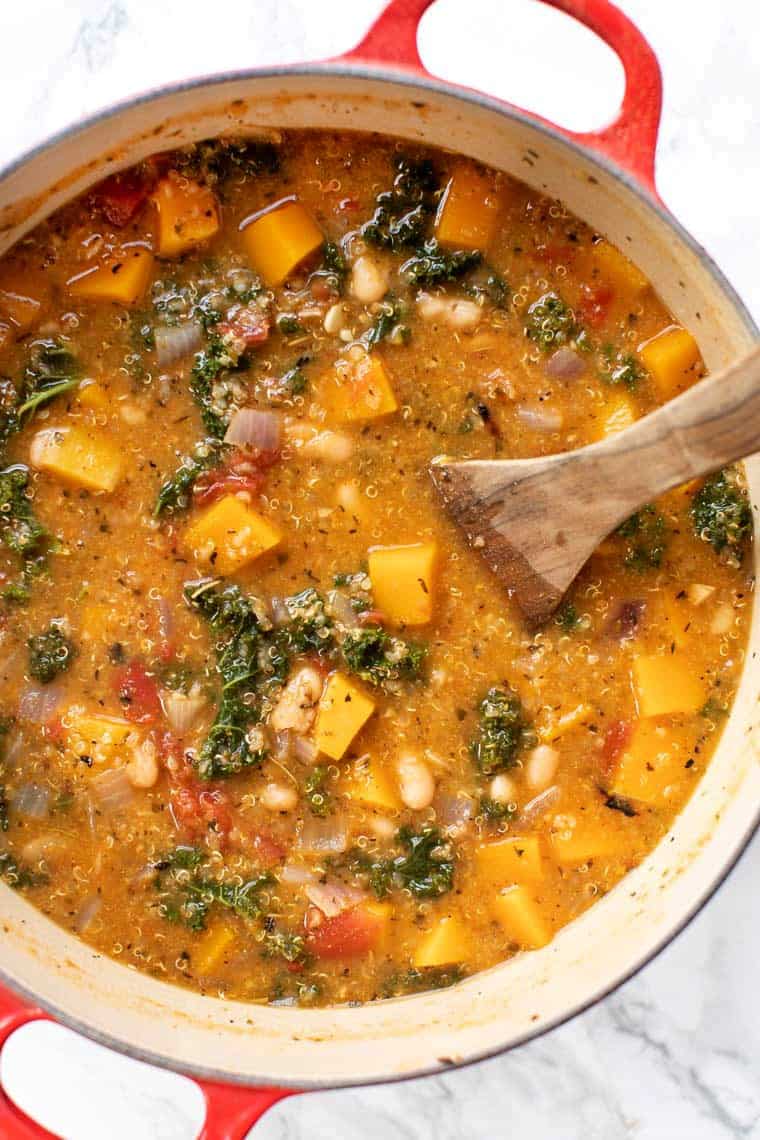 What's The Difference Between Soup & Stew?
Fair question. For me, soup and stews are different mainly in their textures. While I think technically a stew falls into the soup category, soups come in a lot of different forms. Soups generally have more broth and/or are blended.
Stews, on the other hand, are chunky and thick. They're not too brothy. They usually have lots of vegetables, sometimes a can of tomatoes and a protein of some sort. Sometimes that's animal proteins, but you'll also find lots of stews that use beans.
And that's exactly what we have here today:
A thick, chunky kale and white bean stew recipe that has quinoa, tomatoes and flavored with Italian seasonings.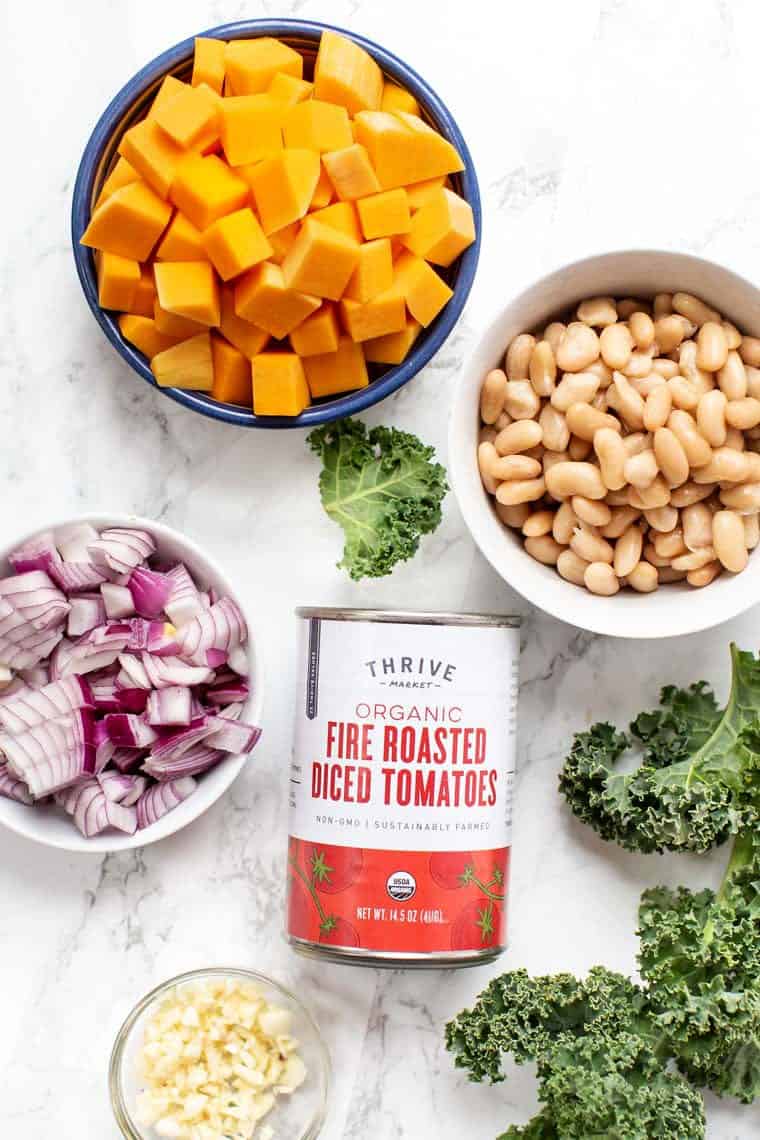 Our Favorite Stew Ingredients
You know I'm a huge fan of Thrive Market and that's where I turn to for recipes like this. I use Thrive Market to refill my pantry. You know things like canned beans, canned tomatoes, coconut milk, veggie broth, lentils, flours, grains, etc.
All the things I typically use in my soups!
And what I love is that Thrive Market also has its own name brand ingredients. Meaning that you're saving on top of the already 25-50% discounted products that you get just from shopping there. It's super high quality, follows all their brand standards (organic, non-GMO, sustainably sourced, ethically farmed etc.), but they're able to sell it at a cheaper price.
Another thing I love about Thrive Market? All of their products are shipped right to my door in post-consumer recycled packaging. So while it's snowing outside, I don't have to worry about leaving the house to get all the pantry staples, cleaning supplies, and beauty items that I need. I'm a proud Thrive Market member for so many reasons, and I love that my membership donates a free membership to a low-income family, military veteran, teacher, or first responder that enables them to shop for the same organic products. I would encourage you to belong to a better market and try out Thrive Market now that we're in the full swing of winter.
Want to try it yourself? Shop through this link & get 25% off your first purchase!

Ribollita: The Classic Tuscan Stew
I was curious about the origins of Tuscan stew, so I did a bit of searching and it turns out what I've created here is pretty classic.
The most common Tuscan stew is called Ribollita which translates as "reboiled". It's a chunky vegetable stew made with leftover bread and white beans, kale, and other inexpensive vegetables like carrots, onions, potatoes, etc.
The beauty of stews like this is they're essentially like a "clean out the fridge" meal. You can basically just chuck whatever vegetables you have on hand, along with some broth, tomatoes, and spices.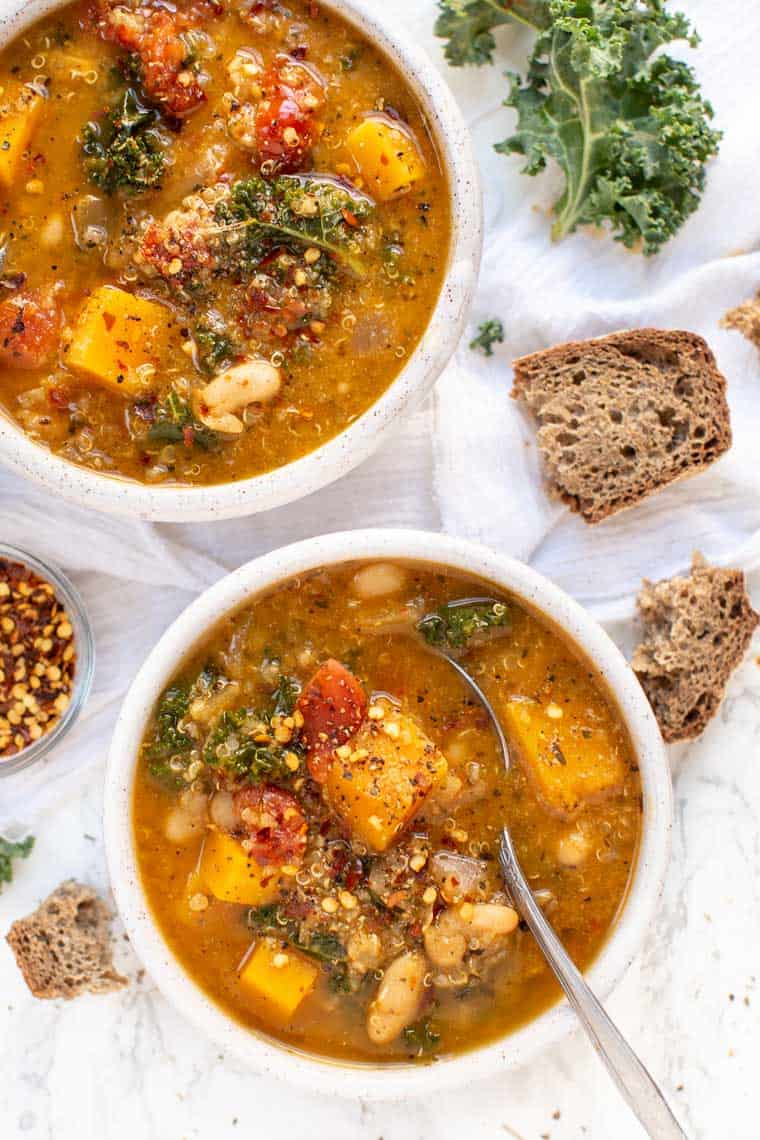 Our White Bean Stew "Formula"
Just like the origins of this soup, I dug through my fridge and found what I had on hand. So what you see in the ingredient list is what I had. While it definitely works, I also want you to be able to use whatever you have on hand.
I kept it as simple as possible and want to empower you to make this stew your own. To do that, let's give you a kind of "formula" for our white bean stew:
Vegetables: I just used garlic & onion, but feel free to add another cup of whatever vegetable you want (carrot, celery, cauliflower, etc.)
Starches: I went with butternut squash, but feel free to swap with 2 – 3 cups of white potatoes, sweet potatoes or another winter squash
Beans: we're using just one can here, but feel free to swap with your favorite bean of choice (lentils & chickpeas would be my pick)
Grains: the classic stew has bread, but I swapped that with some quinoa. It helps thicken the stew and add in some extra fiber. Feel free to swap the quinoa with another grain or some crusty bread!
Greens: completely interchangeable! Kale is traditional, but you could do spinach, collards, chard, or a combo of whatever you want!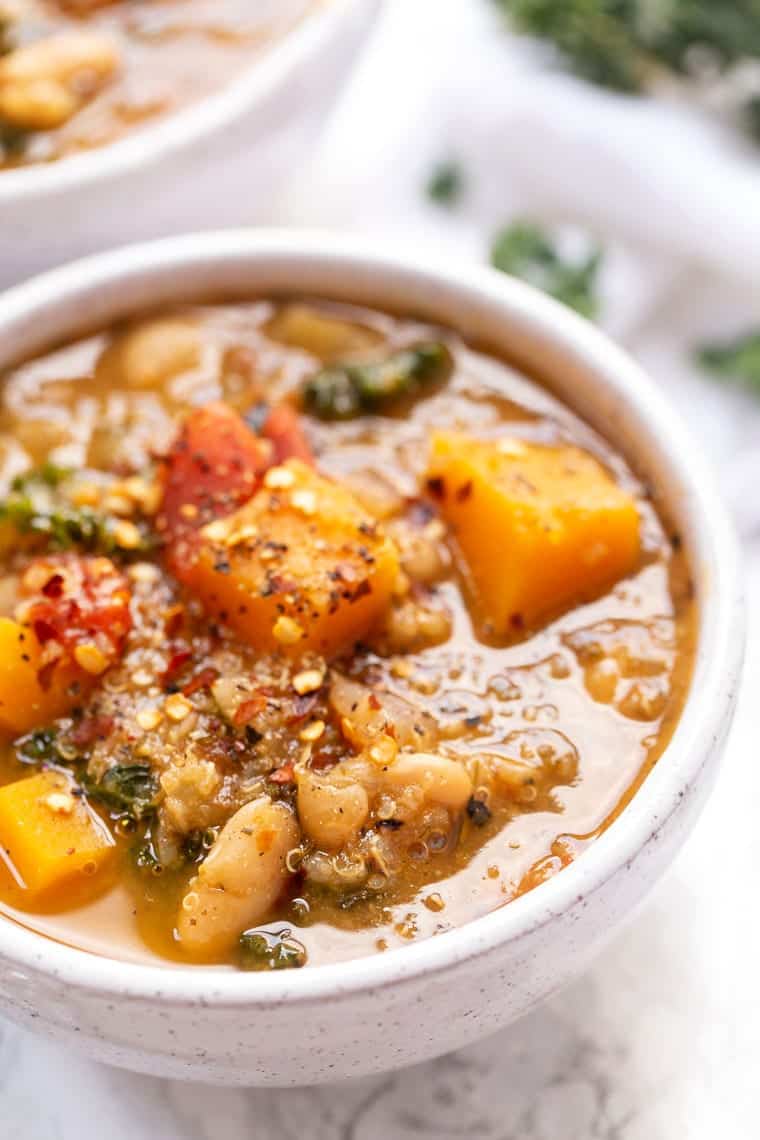 Why We're Crushing on This Tuscan Stew
This white bean stew is such a fabulous recipe to make for an easy weeknight. It cooks in about 40 minutes, most of which is hands off. You could also absolutely make this in a slow cooker or an InstantPot.
The other things that rocks about this white bean stew? It's totally meal-prep friendly!
If you do want to meal prep this baby, simply whip up the whole batch then separate it into your containers. Allow it to cool completely, then seal it up and pop it in the fridge. You can just reheat this in the microwave or on the stove, sprinkle it with some red pepper flakes, serve it up with a slice of toast and you're good to go!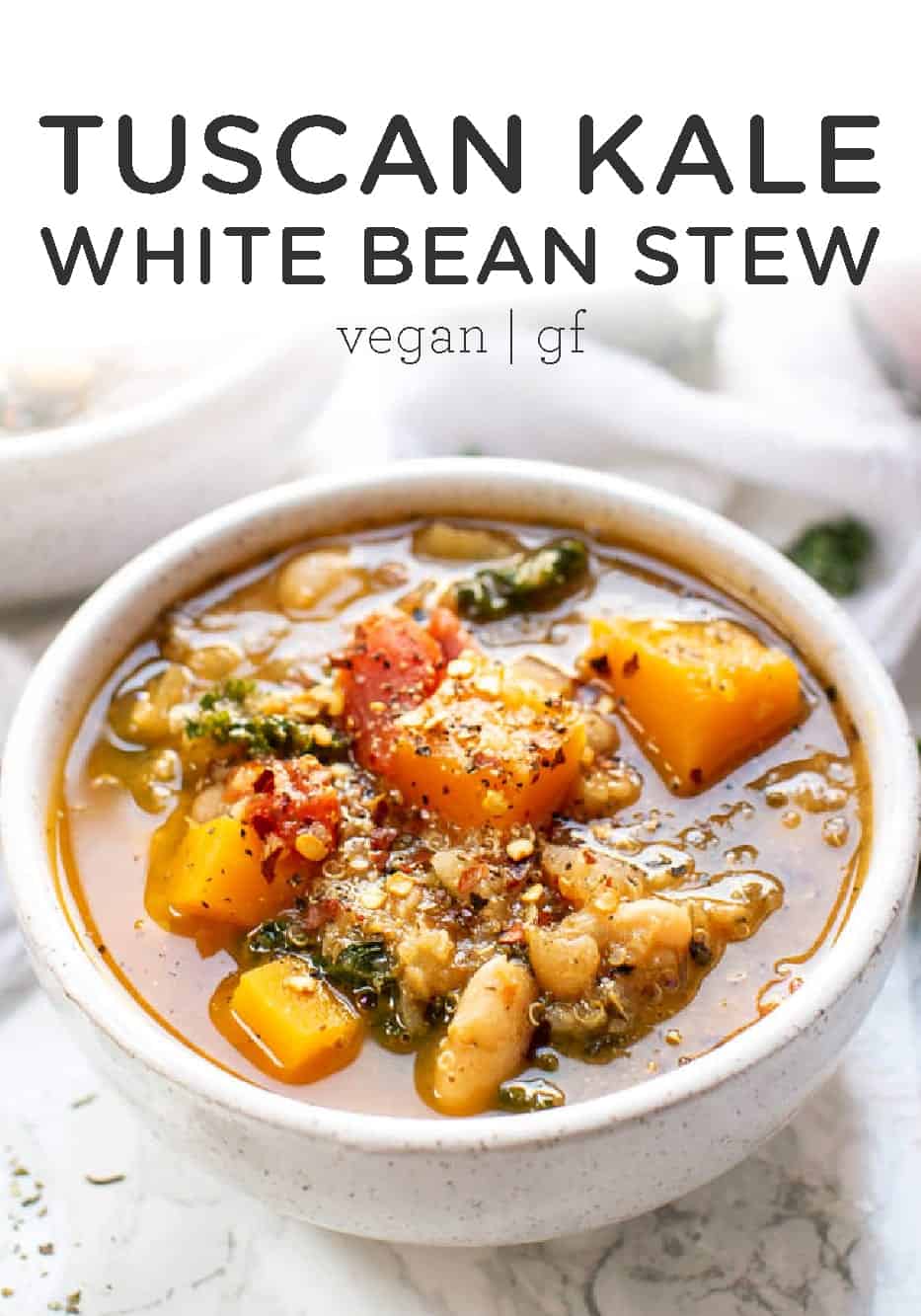 Other Soup/Stew Recipes on Simply Quinoa
Tuscan Kale White Bean Soup
This Tuscan kale white bean soup is hearty, healthy, and comforting. It's vegan, gluten-free, and takes less than an hour to make.
Servings 6 servings
Calories 183kcal
Ingredients
2 tablespoons olive oil
3 - 4 garlic cloves , minced
1 small red onion , chopped
2 tablespoons Italian seasoning mix
1 teaspoon sea salt
1 teaspoon cracked pepper
3 cups butternut squash , cubed (about 1 small)
1/2 cup white quinoa
4 cups vegetable broth
4 cups water
4 cups curly kale , chopped (or green of choice)
1/2 cup nutritional yeast
1 tablespoon lemon juice
Instructions
Heat the oil in a large dutch oven or stockpot over medium heat. Once hot, add the garlic and onions and sauté for 2 - 3 minutes until the onions start to soften. Add the seasonings and squash and cook another 3 - 4 minutes until everything is super fragrant. Deglaze the pan with a splash of water as needed.

Stir in the beans, tomatoes, quinoa, broth, and water. Bring the mixture to a boil, reduce to simmer and cover for 30 minutes. Remove the lid and stir in the kale. Cover again and cook for another 5 - 10 minutes until the squash is tender.

Remove the pan from the heat and stir in the nutritional yeast and lemon juice. Allow to cool slightly, then taste and adjust seasonings as desired.

Serve hot with a sprinkle of red pepper flakes and a piece of crusty bread!
Notes
Store in an airtight container in the fridge for 4 days or in the freezer for 3 months. Reheat over medium heat, or in a microwave on 80% power in 20-second increments. 
Nutrition
Serving: 1.5cups | Calories: 183kcal | Carbohydrates: 27g | Protein: 7g | Fat: 7g | Saturated Fat: 1g | Polyunsaturated Fat: 1g | Monounsaturated Fat: 4g | Sodium: 425mg | Potassium: 625mg | Fiber: 7g | Sugar: 4g | Vitamin A: 11937IU | Vitamin C: 60mg | Calcium: 198mg | Iron: 3mg
share what you make
Tag #simplyquinoa on Instagram with your creations! We love sharing what you make with the community. We can't wait to see!

follow on instagram