Learn the easiest way to make tangy and creamy vegan buttermilk with just two ingredients. This is perfect for dairy-free baking!
If you follow a dairy-free diet, my guess is that anytime you see a recipe that uses buttermilk you think to yourself, "no way I can make that!"
Well, today I'm here to tell you, YES YOU CAN!
You can easily make your own buttermilk at home and the recipe works with any non-dairy milk you'd like. This method of making vegan buttermilk is quick, easy, and will now allow you to make any buttermilk recipe you'd like!
What Vegan Buttermilk is Made Of
You need just two ingredients to make this tangy vegan buttermilk. And chances are high that you already have them both in the kitchen! Here's what you need:
Dairy-free milk. You can use any vegan milk you like. Almond, coconut, soy, or cashew all work great. Choose your favorite flavor!
Apple cider vinegar. This adds the right amount of tang to flavor your buttermilk.
substitution tip!
don't have apple cider vinegar? any acid will work including lemon or white vinegar.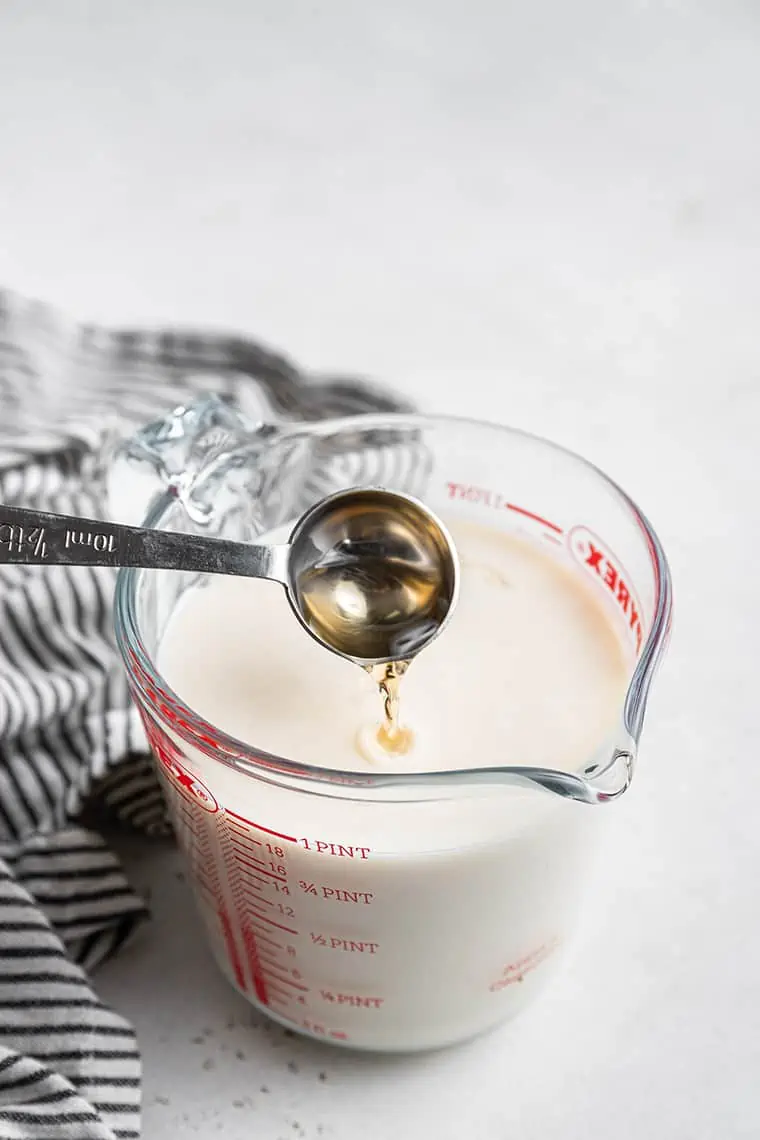 How to Make Vegan Buttermilk
This is the simplest recipe you'll ever find. Just mix together the non-dairy milk and your apple cider vinegar and allow them to rest. Once rested, you have vegan buttermilk!
Commonly Asked Questions
Can buttermilk be made with almond milk?
Yes, you can use almond milk to make buttermilk at home. In fact, you can use any type of milk you'd like!
How long does homemade buttermilk need to rest?
This buttermilk will be ready to use in just about five minutes! It develops flavor quickly. Then you can store leftovers in an airtight container in the fridge for up to four days.
What is a vegan alternative to buttermilk?
You can make vegan buttermilk at home by combining 1 cup of non-dairy milk with 1 tablespoon of acid (apple cider vinegar, lemon or white vinegar)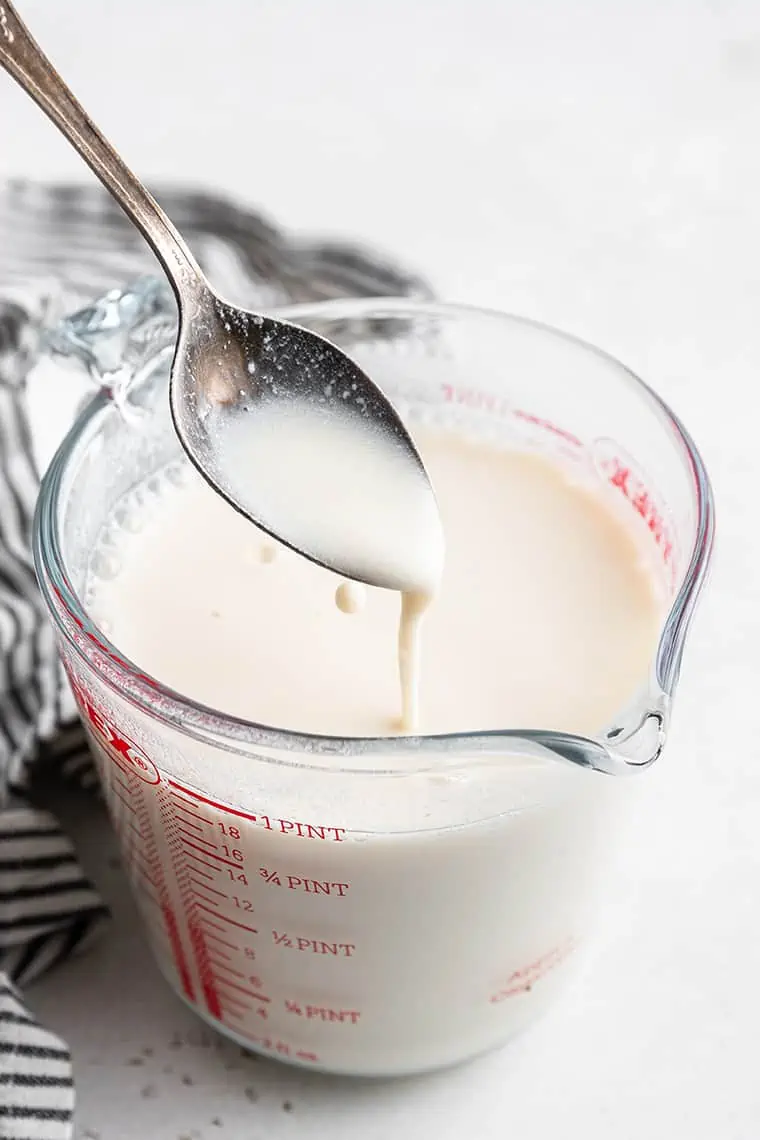 Ways to Use Vegan Buttermilk
You can use your buttermilk in any recipe that calls for regular buttermilk. It's great for baking! Try using it in any of these baked treats:
Even if a recipe calls for regular milk, you can swap in buttermilk for an extra tangy flavor. And if your recipe calls for baking powder, you'll need something acidic, like apple cider vinegar, to help it activate.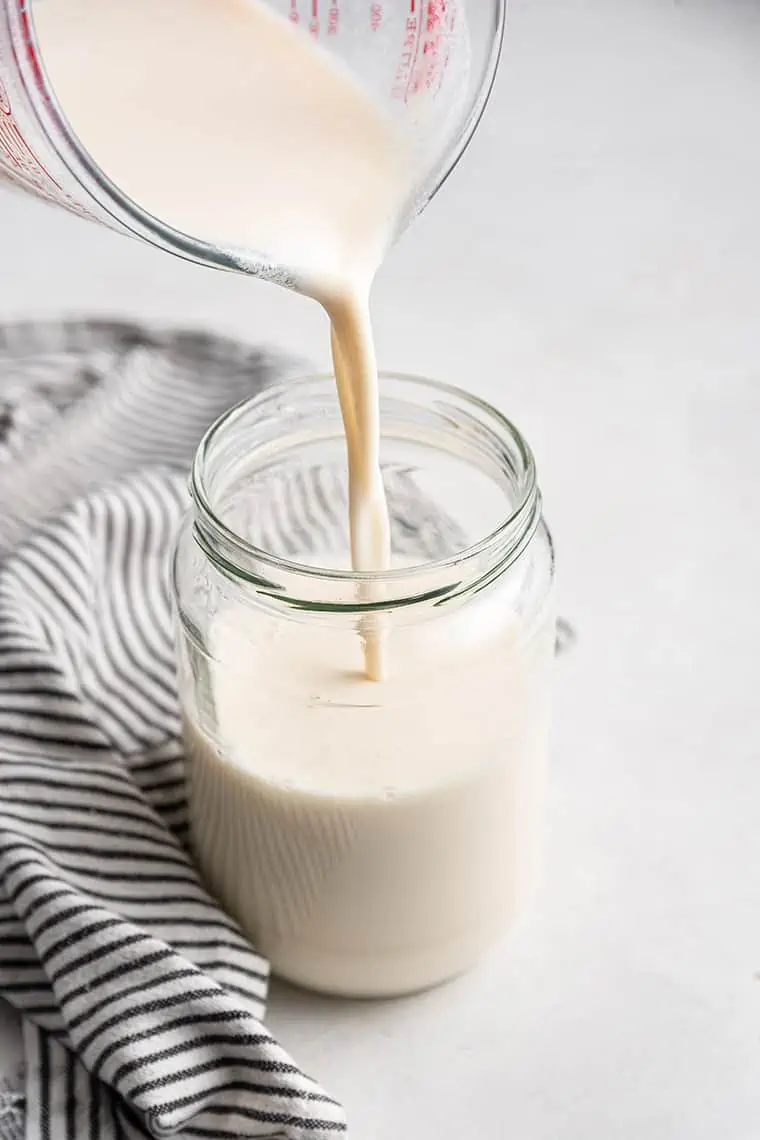 More Vegan Milk Recipes
If you make this Vegan Buttermilk recipe, be sure to let me know what you think with a comment below!
How to make Vegan Buttermilk
Make the best and easiest vegan buttermilk with just two ingredients!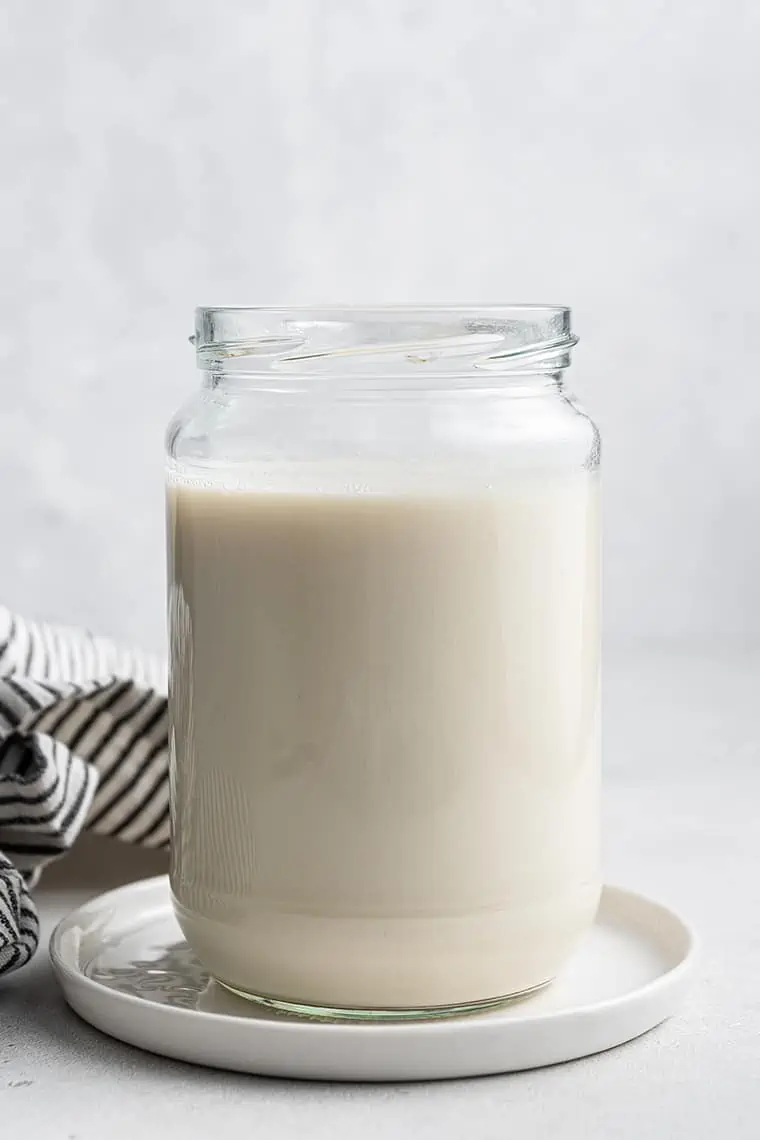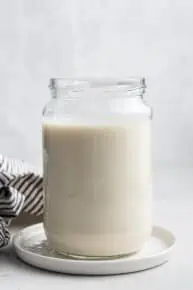 Instructions
Pour the milk into a measuring cup or bowl.

Whisk in the vinegar or lemon.

Allow to sit for 3 – 5 minutes until the milk starts to "curdle".

Use as you would buttermilk in any recipe!
Nutrition
Serving:
2
cups
|
Calories:
37
kcal
|
Carbohydrates:
1
g
|
Protein:
1
g
|
Fat:
3
g
|
Polyunsaturated Fat:
2
g
|
Monounsaturated Fat:
2
g
|
Sodium:
325
mg
|
Potassium:
5
mg
|
Fiber:
1
g
|
Sugar:
1
g
|
Calcium:
301
mg
|
Iron:
1
mg