This delicious Mango Smoothie Bowl is made with fruits, veggies and superfoods to give you fiber, nutrients and a boost of vitamins in the morning!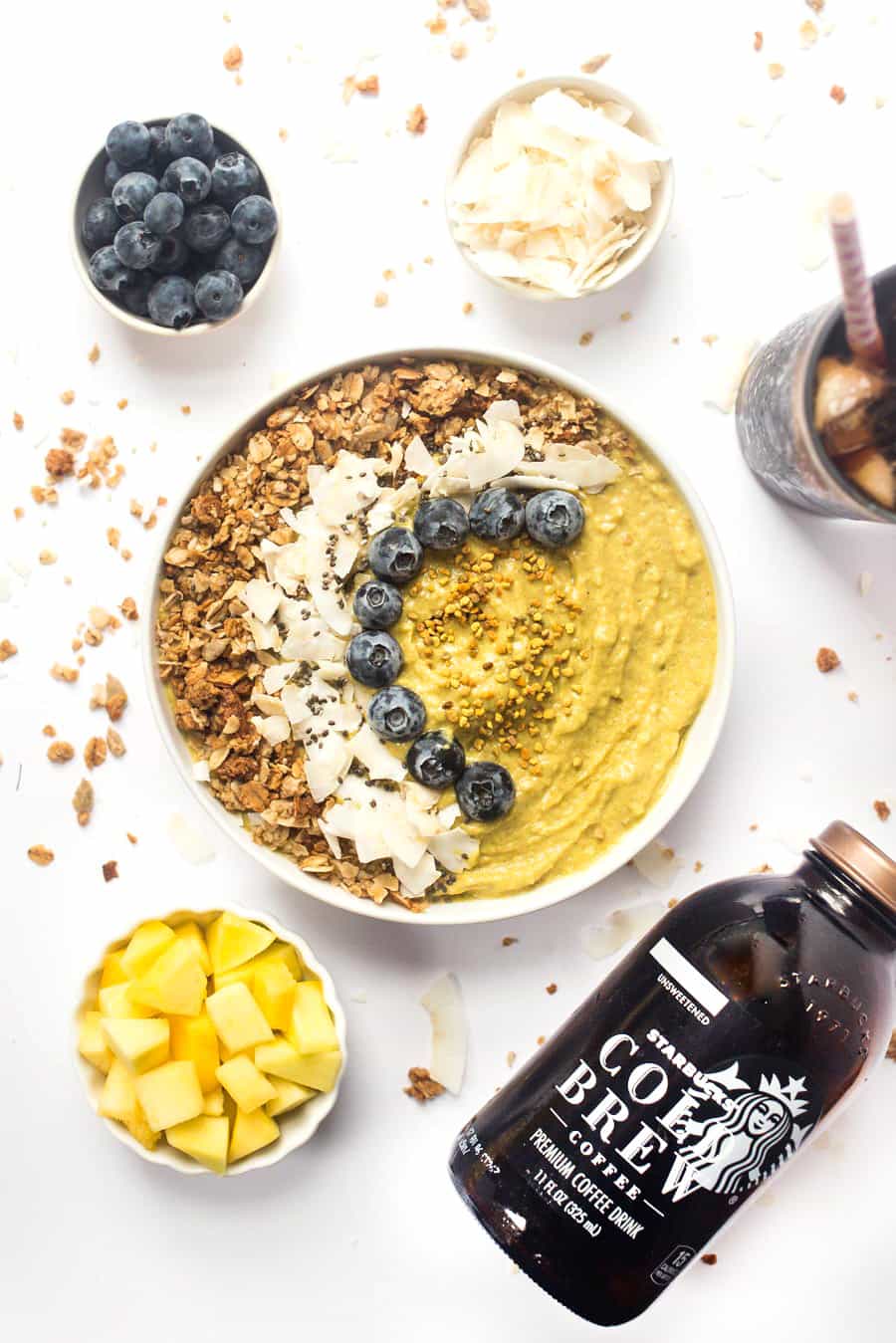 Disclosure: This recipe is brought to you in partnership with Starbucks. I was compensated and given free product to create this post. As always, all opinions are my own. I only share companies I love and trust, so thank you for continuing to support Simply Quinoa!
Wouldn't it be great if we could wake up every morning feeling totally energized and ready to go? For some, I guess that's possible, but for most, let's just be honest and say we'd rather stay in bed for another hour.
But as someone who works full time and runs my own business, sleeping in is often not the norm around here. And I'm sure you're probably in the same boat. There's stuff that needs to get done and even though we'd rather be sleeping, we need to get our booties in gear and the day started.
One of the things that has helped me get the most out of my day and keep me on my A-game, is to have a morning routine. I've talked a little bit about my routine before, but in the last few months it's changed a bit and now I'm feeling more productive than ever!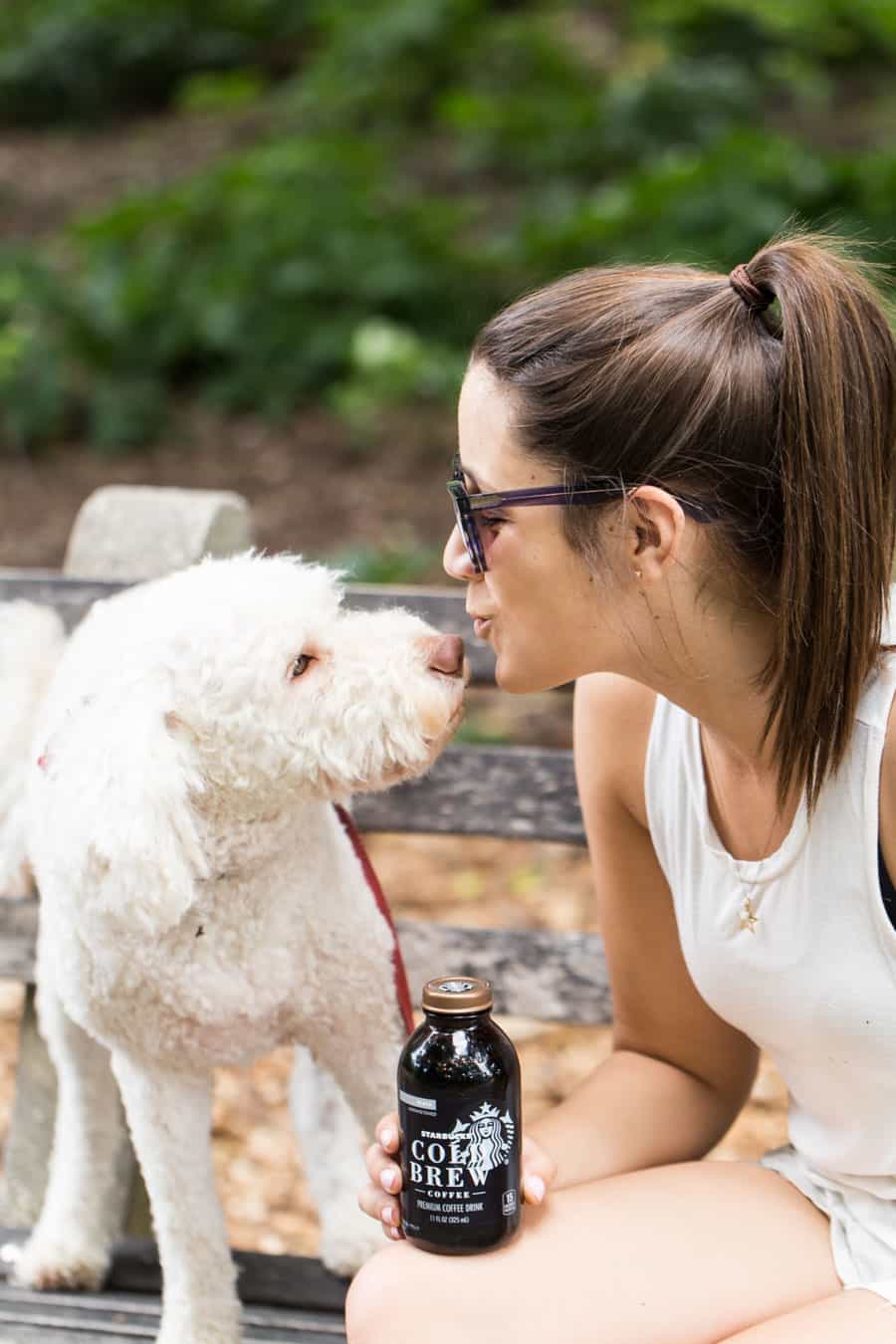 My day always starts with a huge glass of water. This is a great way to rehydrate after a long night's sleep.
From there it's time for my morning walk + morning beverage. In the wintertime, I like to take warm lemon water or matcha with me, but now that we're in the heat of summer, I need something more refreshing.
Enter cold brewed coffee.
If you've followed me for a while, then you know I'm not a huge coffee drinker, but in the last few months, I've been enjoying it as part of my morning routine. As I was starting to add coffee back into my diet, I had a few stipulations:
It had to be ethically sourced
It had to taste good (no bitterness, please)
I needed to be able to enjoy it without adding sugar or cream (both of which aren't in my diet anymore)
What I found that hit all my criteria? Starbucks® Cold Brew Coffee!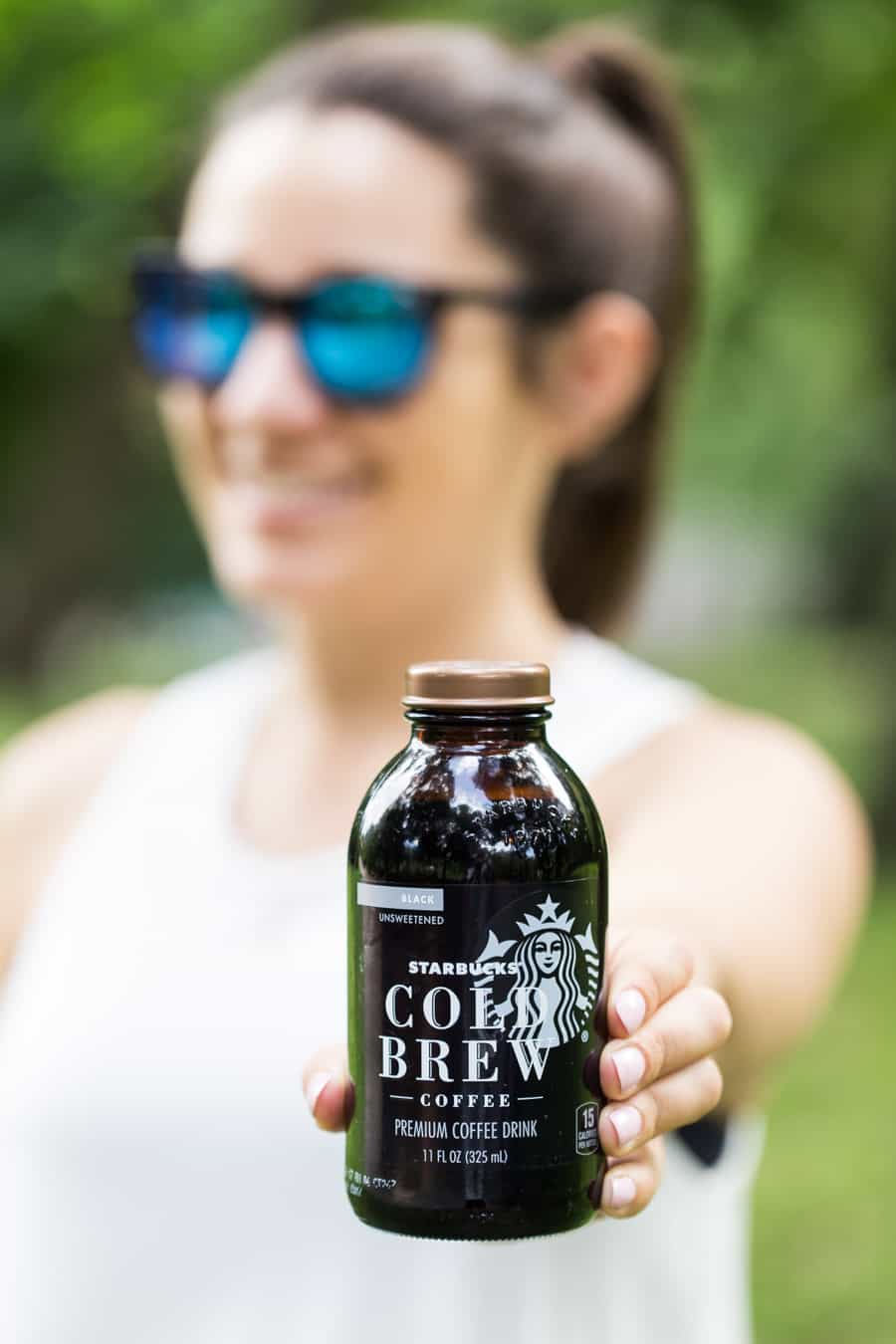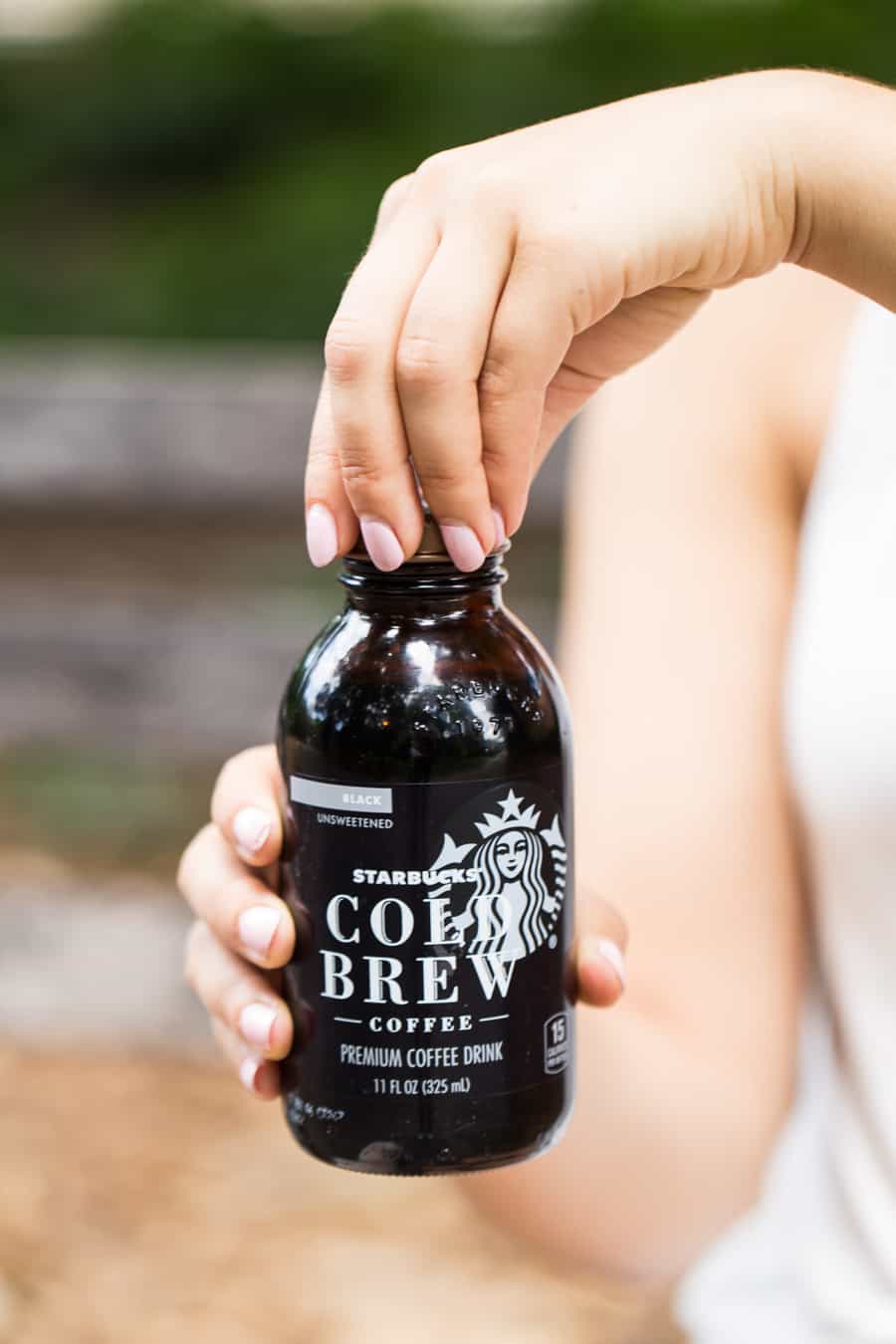 Starbucks has been making cold brew at their retail locations for a while, but since it's been so popular, it's almost always out when I look for it. So when I found out they released a ready-to-drink variety, I was pumped!
This isn't like other bottled cold brews. The Starbucks Cold Brew Coffee comes in convenient 11oz bottles, which is the perfect amount for my morning walk, and it has a really rich, deep flavor. They steep their coffee using cold, filtered water, and this process, coupled with their unique mixture of ethically sourced beans that are chosen specifically for how they brew, the result is a full-bodied cold brew coffee with a hint of natural sweetness, a super smooth finish and just slight undertones of cocoa. A cold brew that is better than anything else I've tasted!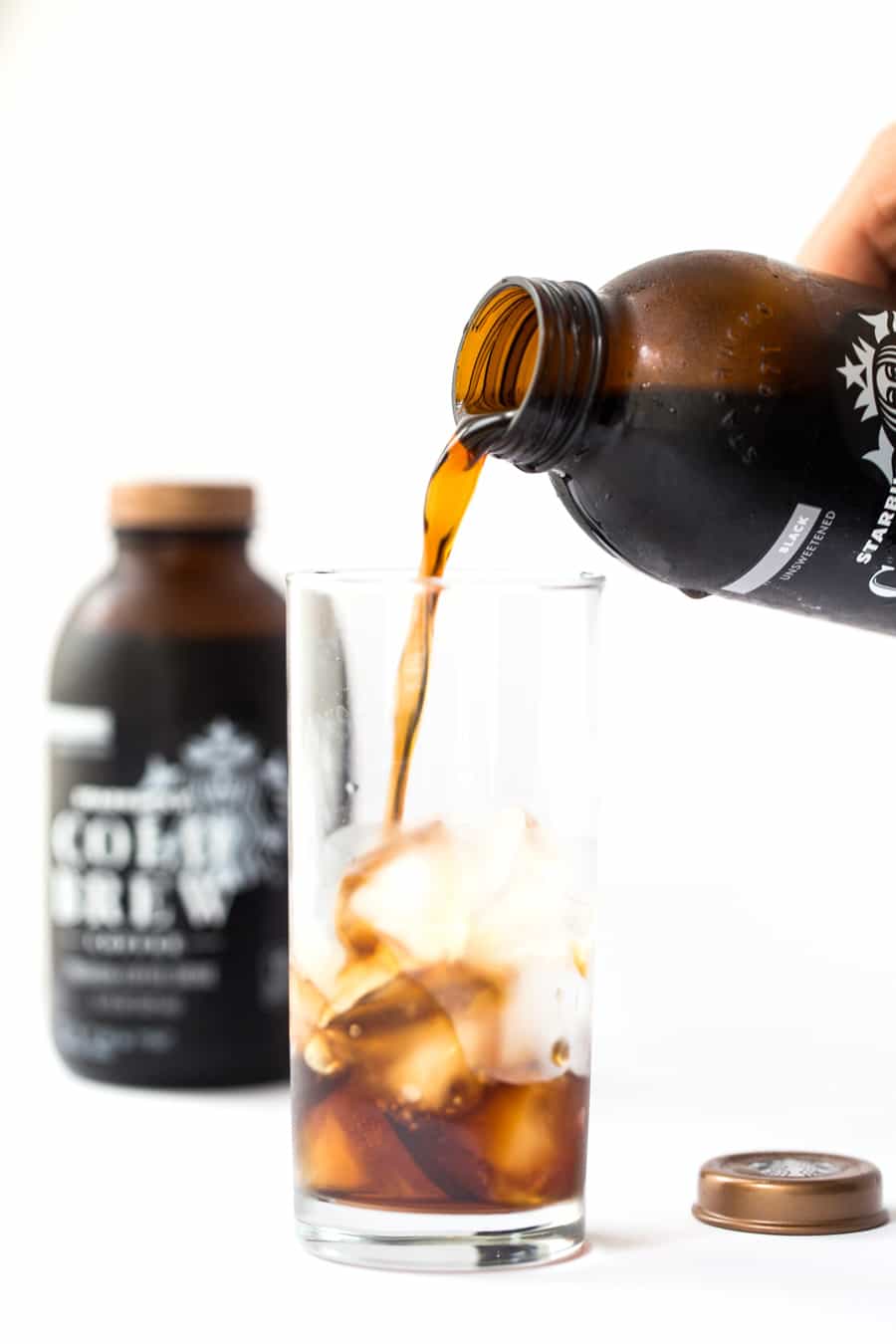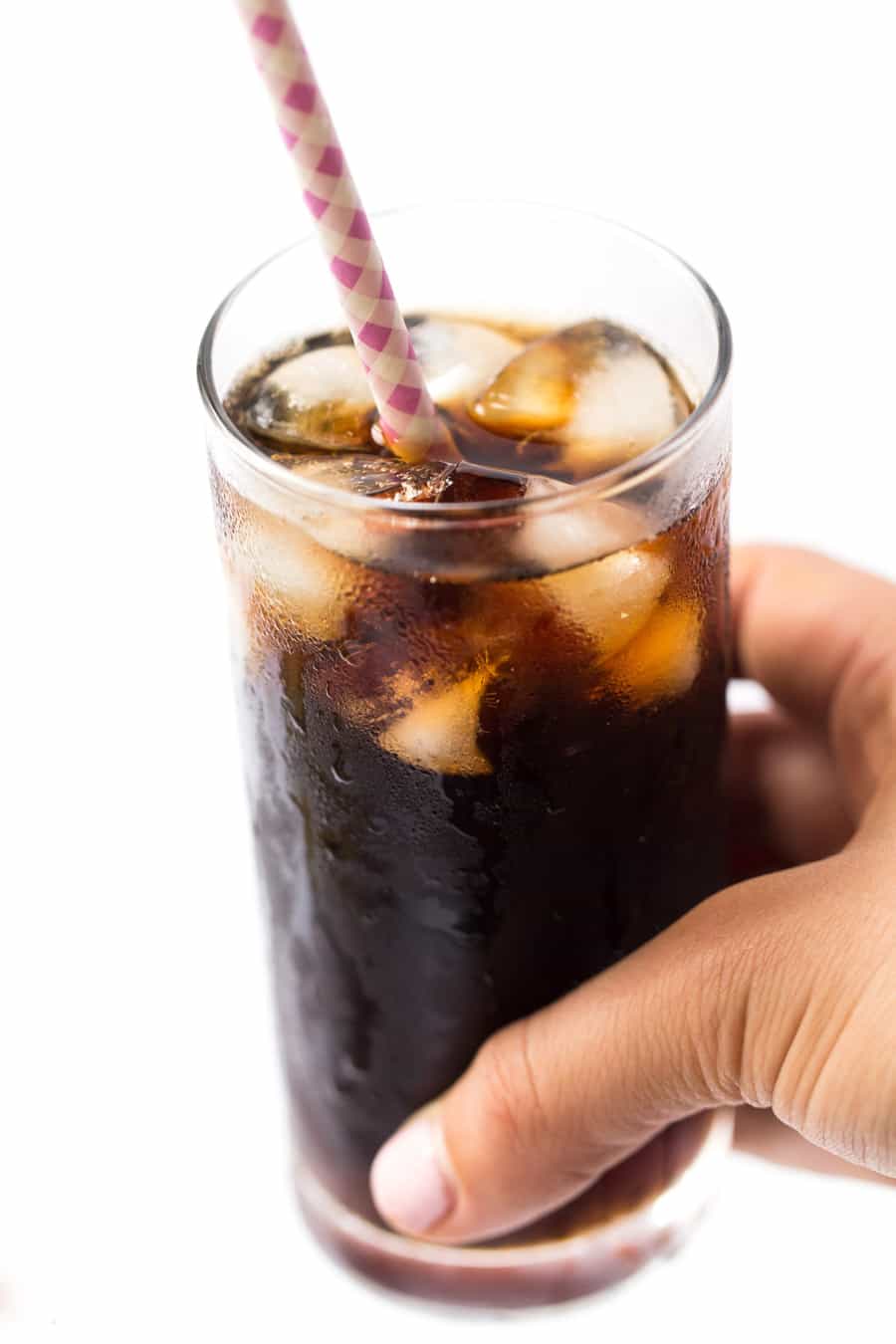 I'm a firm believer that by being deliberate and using high quality, carefully curated ingredients, you can create something that tastes amazing, whether that's a recipe or product.
Starbucks using this same craft/artisan approach with their cold brew, just as I take the same mentality when I'm approaching recipes. I want to show you that by using quality ingredients in your own cooking, you not only end up with a better-tasting dish to enjoy, but you also end up feeling good about how you fuel your body.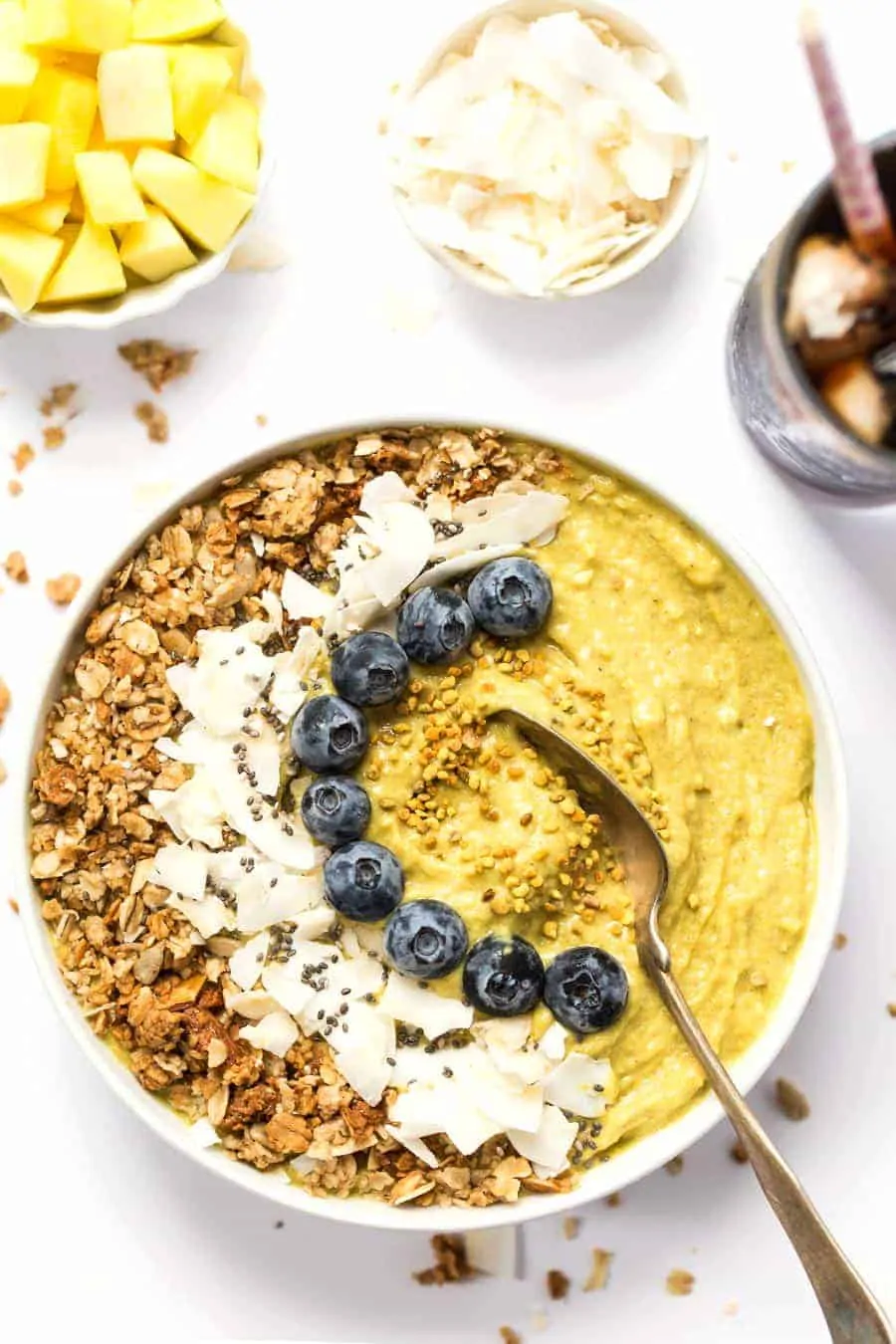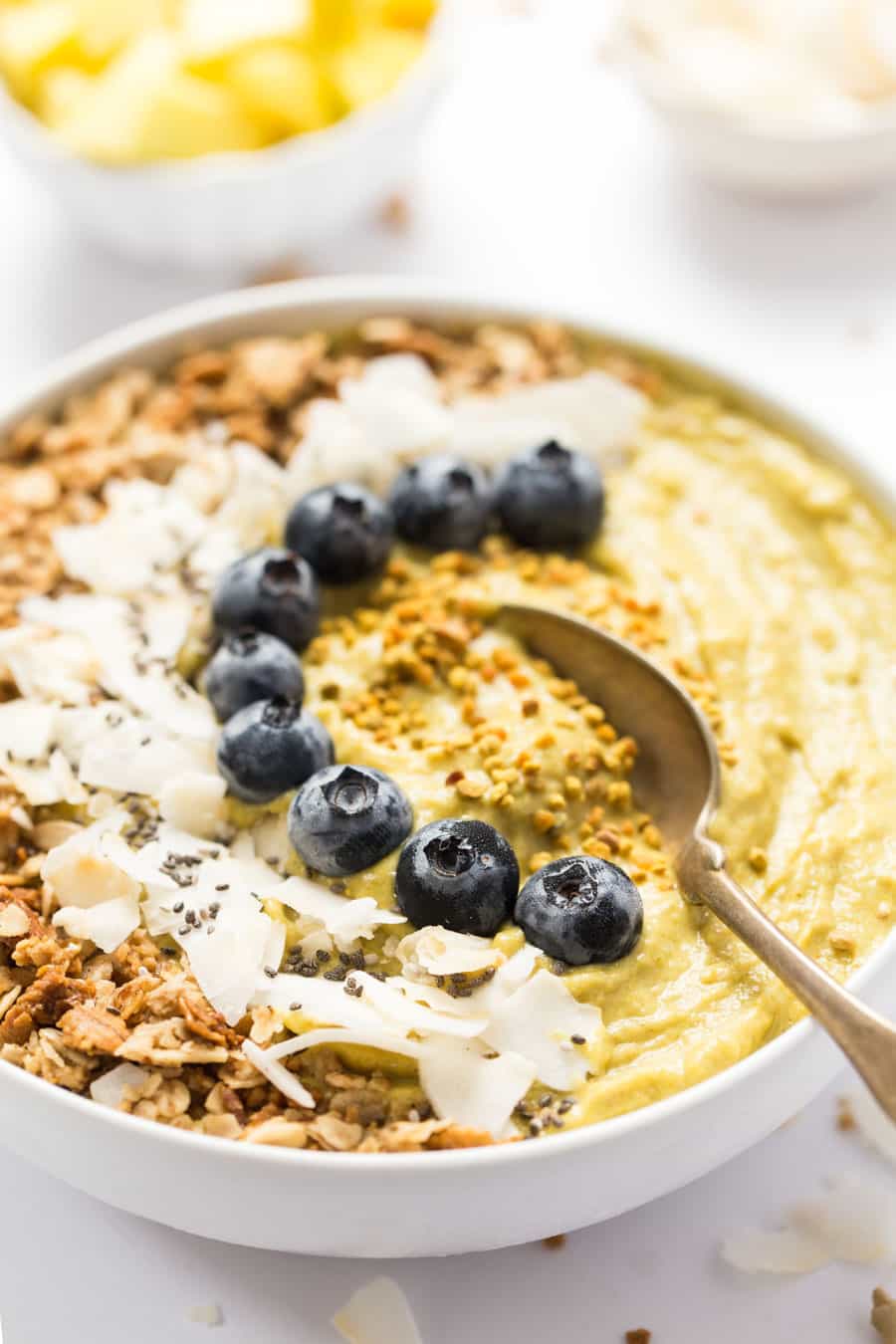 Which is exactly what we're doing with this smoothie bowl. We're using simple ingredients to create something spectacularly delicious and exceptionally nutritious! (like what I did there?)
Smoothie bowls have been my post-walk breakfast of choice for at least the last 6 months. I absolutely adore that you can pack your plate full of fruits and veggies, and yet still feel like you're eating a bowl of ice cream.
Plus, they're easy to make, they're filled with fiber which keeps you fueled all day, are easy to switch up based on what you have on hand, and are nutritious.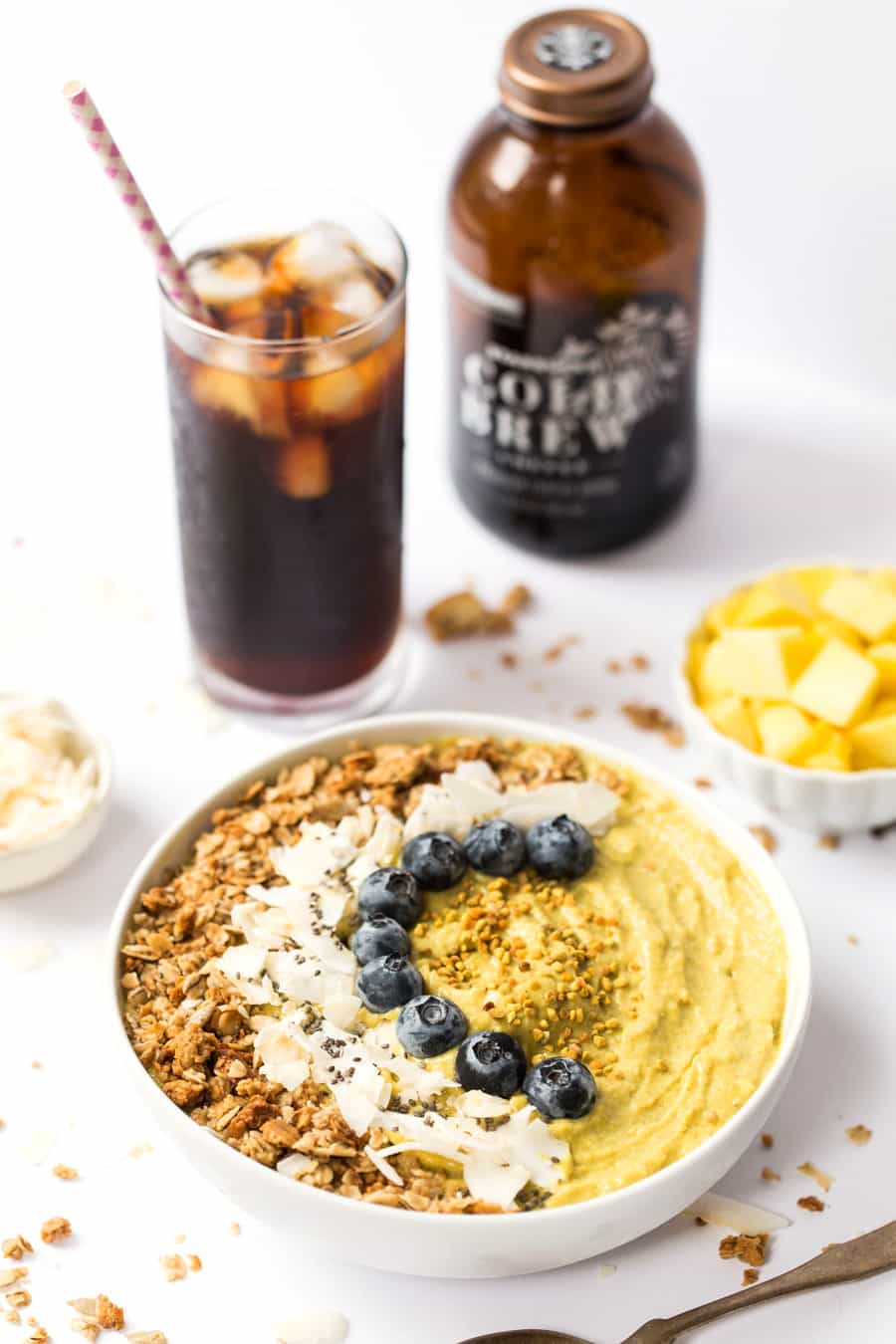 This mango smoothie bowl has everything we need to kickstart our day and keep us productive and motivated.
Here's what we've got:
Avocado for healthy fats and creaminess
Frozen cauliflower for added fiber, essential nutrients and to help lower the sugar content
Frozen mango for sweetness and natural sugars which help give us energy
Maca powder for the flavor and energizing properties
Turmeric powder to help fight inflammation
Cinnamon to help manage our blood sugar spikes
And of course, almond milk to blend it all up and make it nice and creamy!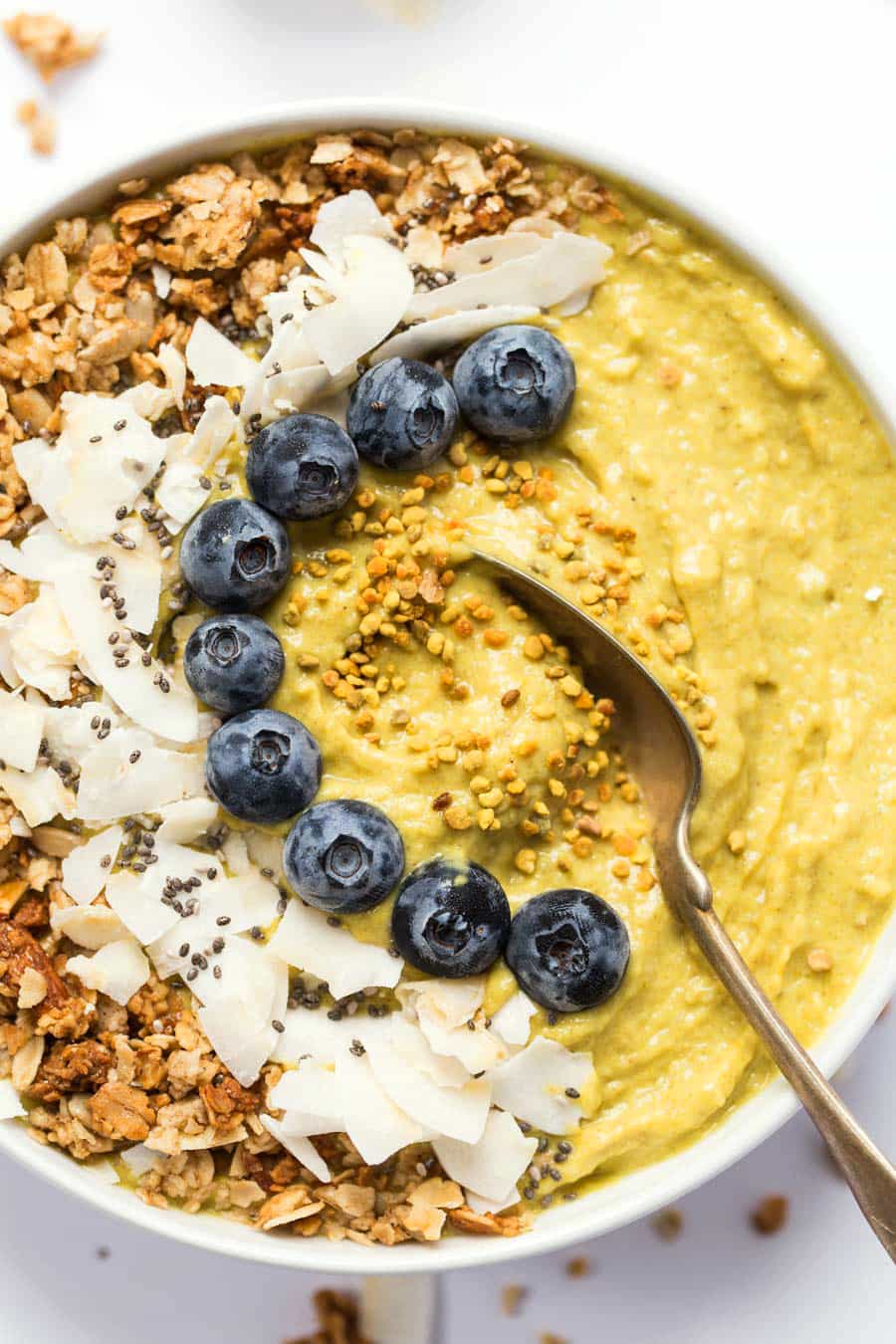 So to circle back to the start of our post, creating a morning routine has been one of the best ways for me to keep myself accountable and help me manage and run a growing business.
But it's not just any morning routine. It's a routine that includes…
Water to kickstart everything
Time spent outside in nature
Movement of my body to get the systems going
High quality, premium Starbucks Cold Brew coffee (sooo good!)
and an energizing, nutrient-dense breakfast
If I have those 5 things, I know it's going to be a good day!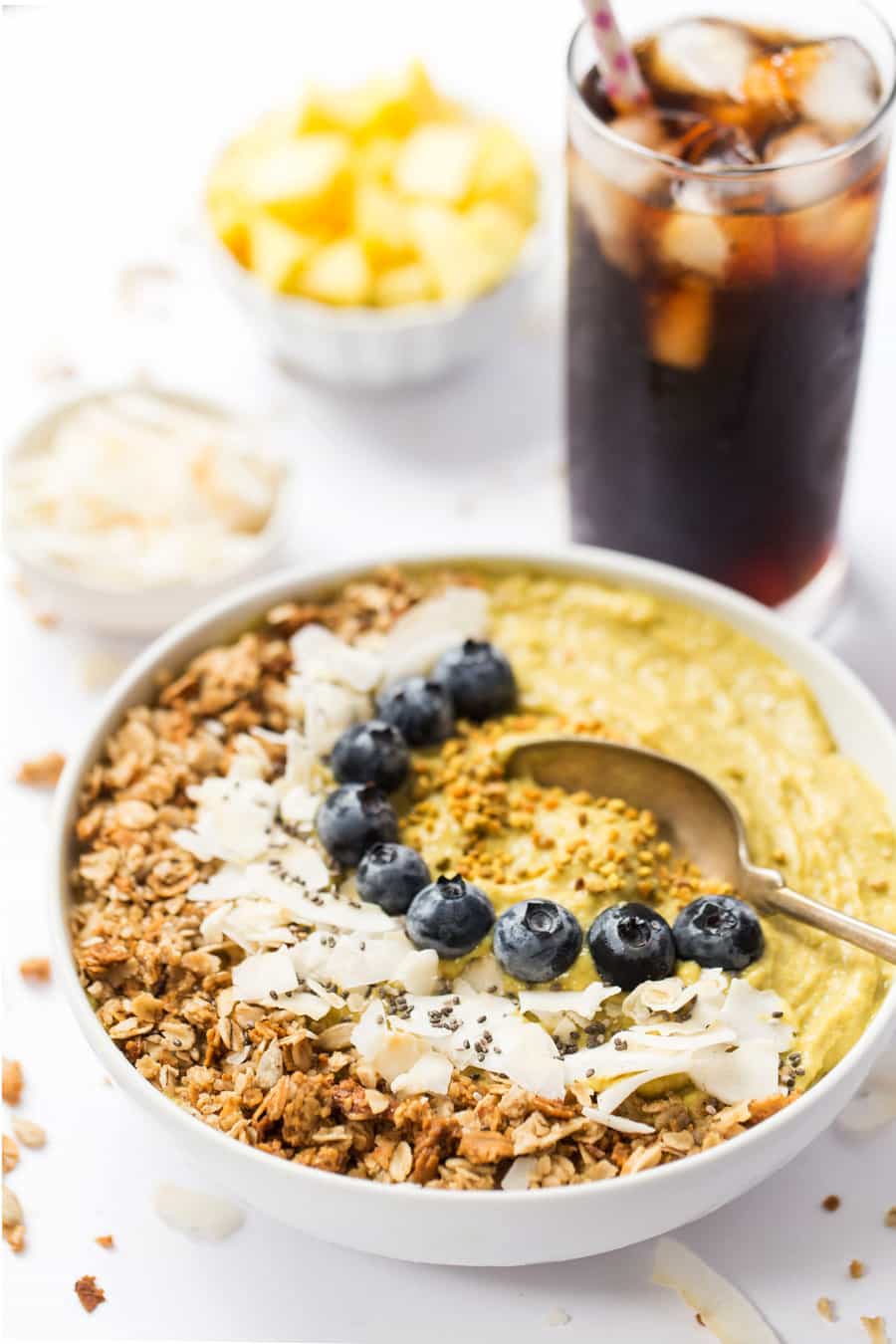 I hope you enjoyed this post and that it gives you some inspiration to start your day by treating yourself and actually dedicating time to your own health. You deserve the best and by fueling your body with the best, you will set yourself up to have an amazing day!
And if you're looking for a new cold brew to try, I highly recommend you go pick up some of the Starbucks Ready-to-Drink Cold Brew coffee – it tastes awesome and is deliberately brewed to give you a smooth taste.
xo Alyssa
More Healthy Smoothie Bowl Recipes To Try
Energizing Mango Smoothie Bowl
This energizing Mango Smoothie Bowl is made with fruits, veggies and superfoods to give you fiber, vitamins and a natural boost of energy in the morning!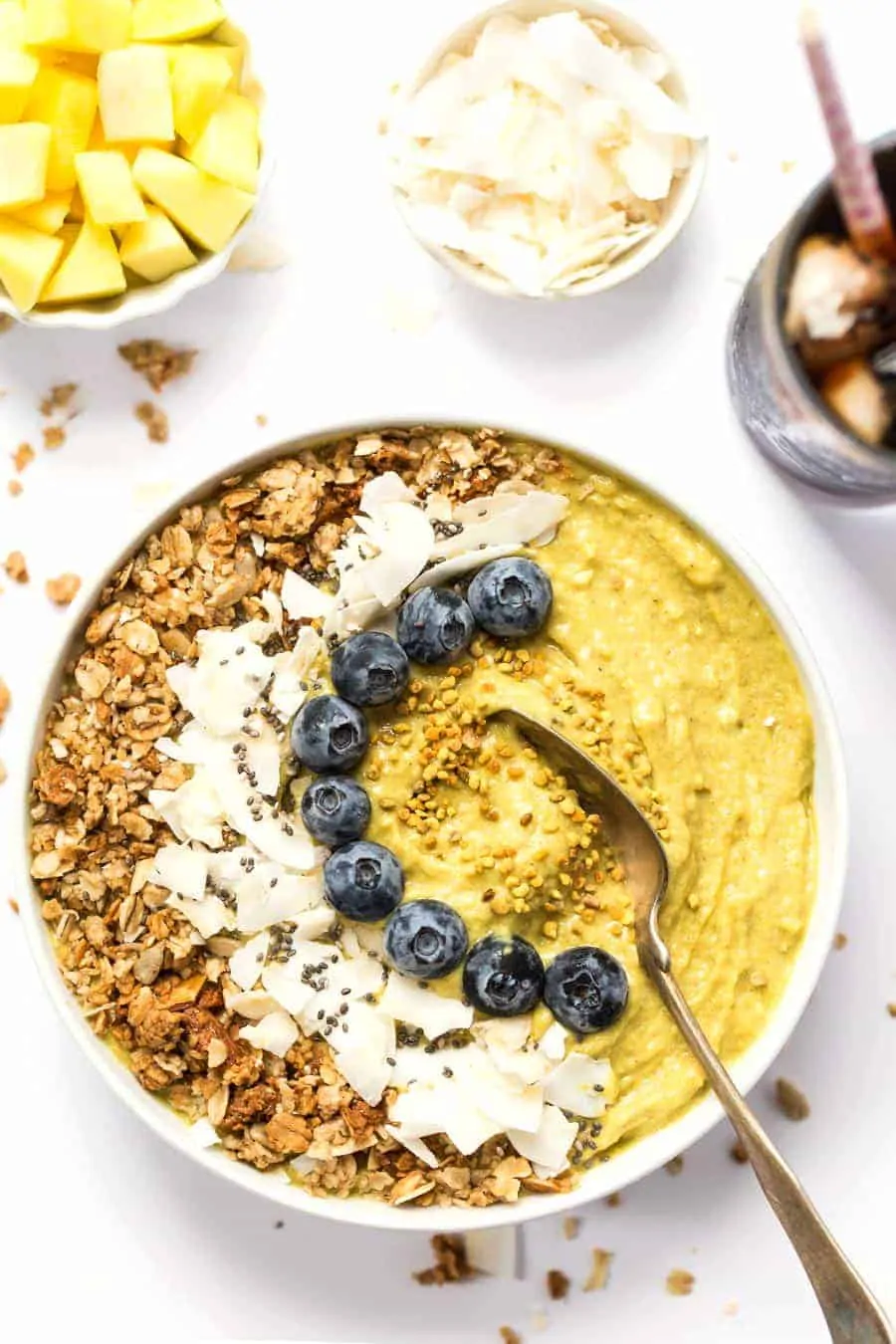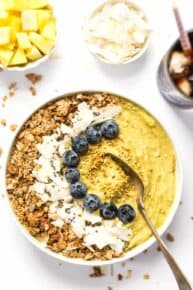 Ingredients
1/4

of an avocado

1/2

cup

frozen cauliflower

1

cup

frozen mango

1

scoop vegan protein powder

optional (or replace with 3 tbsp hemp seeds)

1

teaspoon

maca powder

1/2

teaspoon

ground turmeric

1/2

teaspoon

ground cinnamon

A pinch of black pepper

1/4 - 1/2

cup

almond milk

toppings: granola

coconut flakes, blueberries and bee pollen
Instructions
Add all ingredients to a blender in the order listed. Blend on high until smooth and creamy.

Transfer contents of the blender to a bowl. Smooth over the top and add your toppings.

Dig in and enjoy with a cool glass of Cold Brew!
Nutrition
Calories:
407
kcal
|
Carbohydrates:
51
g
|
Protein:
28
g
|
Fat:
13
g
|
Saturated Fat:
1
g
|
Sodium:
380
mg
|
Potassium:
838
mg
|
Fiber:
11
g
|
Sugar:
29
g
|
Vitamin A:
1860
IU
|
Vitamin C:
92.1
mg
|
Calcium:
190
mg
|
Iron:
6.3
mg
Filed Under: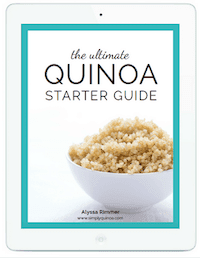 New to cooking quinoa? Grab your FREE Quinoa Starter Guide!
Become part of the Simply Quinoa community and receive weekly emails with exclusive content that I only share in email, as well as my in-depth guide to starting your quinoa journey.