These no-bake gingerbread energy balls are the perfect treat. They're healthy, sweet and packed with nutrients. Like a gingerbread cookie only healthier!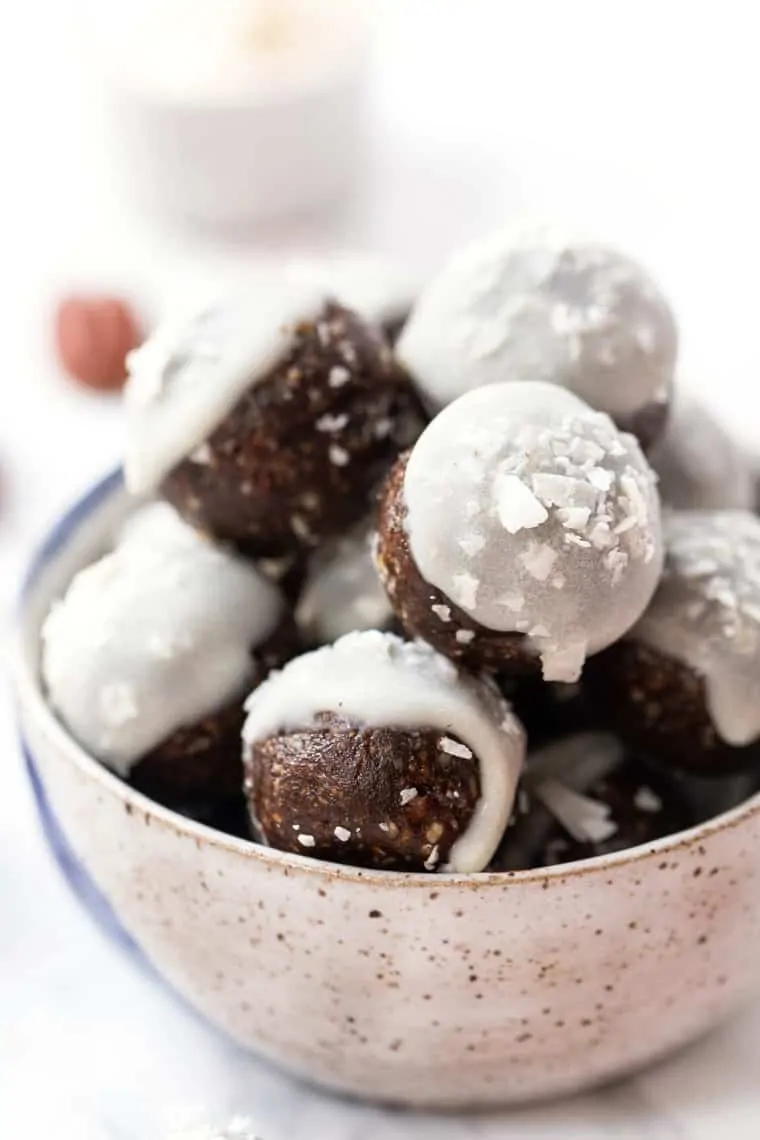 When it comes to snacking, energy balls take the cake for me. Over the years I've shared at least 15 different energy ball recipes (and even put together my ultimate guide to energy balls), and I just keep coming up with new flavors. Honestly, the possibilities are endless which is part of the reason I love making them so much!
With all the cookie baking I'm doing this week, I've obsessed with all things holiday cookie inspired, and I decided to try my hand at no-bake gingerbread. But rather than just give you cookies or something, we're turning them into this healthy little snack. Portable, poppable and delicious.
And yes, we're even adding "frosting" on top too!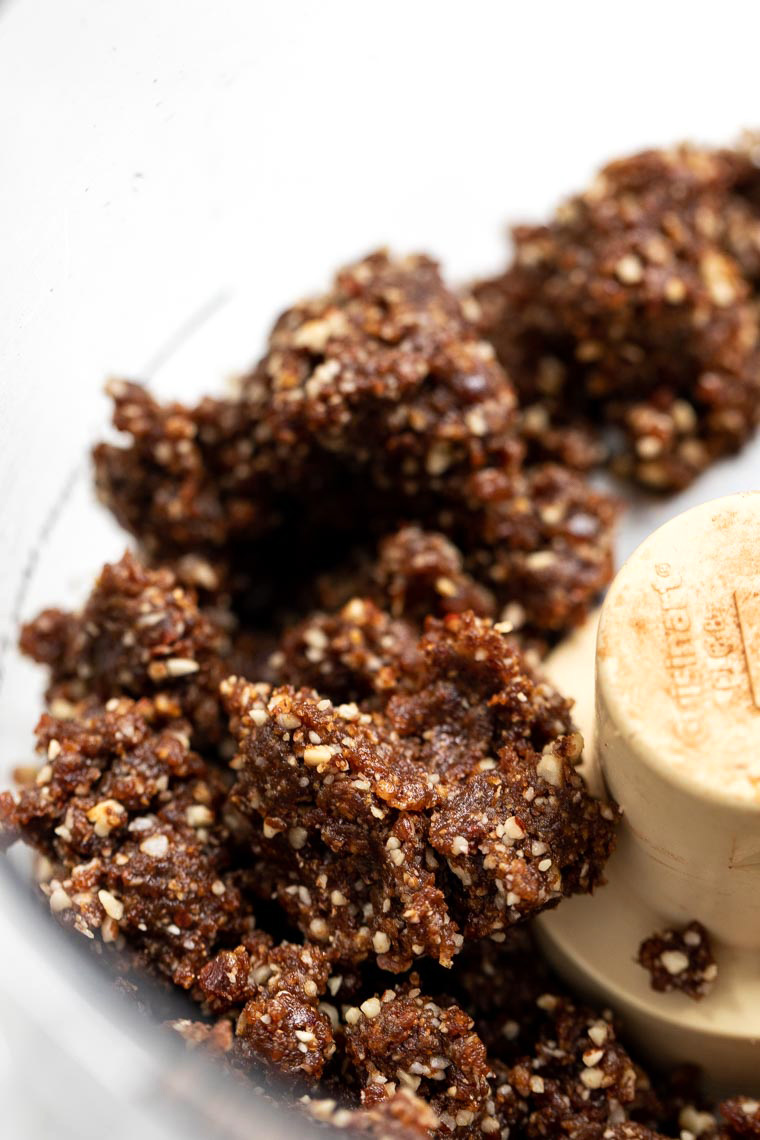 Creating our Gingerbread Energy Bites
The key to all things gingerbread is two ingredients: ginger and molasses.
I think some might argue that it's also cinnamon, nutmeg, and sweetness, but to me, if those two things aren't in there, it's not gingerbread. So when I was planning this recipe, it definitely gave me a good place to start.
The basic energy ball formula goes a little like this:
dried fruit
nuts
liquid sweetener
nut butter
spices
Our base is Medjool dates. Medjool dates are higher in sugar than other dates (which is partly why they're so delicious), but they're also super gooey. That gooeyness is what helps us get our chewy energy balls. For our nuts, we're using pecans because I felt like their natural sweetness and softness would be perfect in this recipe.
Then it's simply molasses, cashew butter, and our spices. Just 7 ingredients, 1 food processor and about 30 minutes.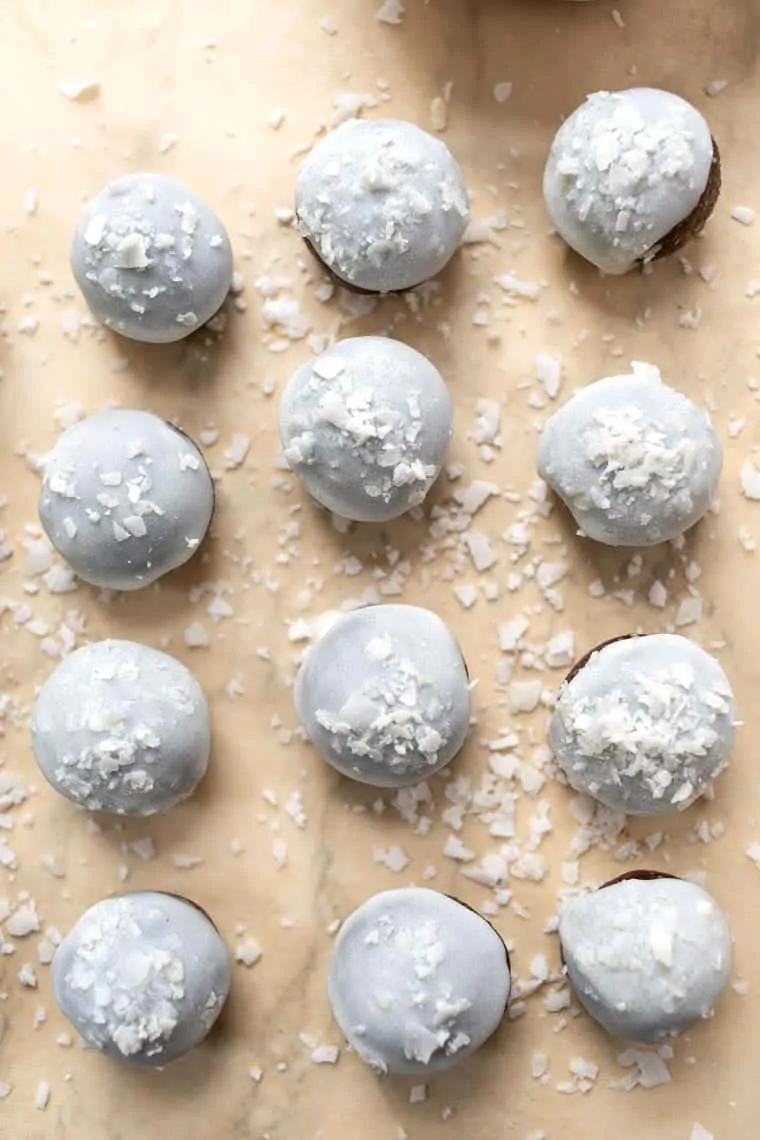 How to make a Healthy Frosting
After I created the base of our gingerbread energy bites, I arrange them to start photographing and realized they kinda looked like little balls of blah. There wasn't much intrigue and they didn't remind me of the holidays.
My instinct was they needed a frosting.
A traditional frosting is made powdered sugar and milk. Our healthy frosting? Melted coconut butter!
The beauty of coconut butter is that it does have some natural sweetness to it, but it also solidifies when it's cold. Plus without doing any real prep, you're able to add even more nutrients (and healthy fats) to these energy balls. Making them even better as a little snack.
More fat = more energy = better snack!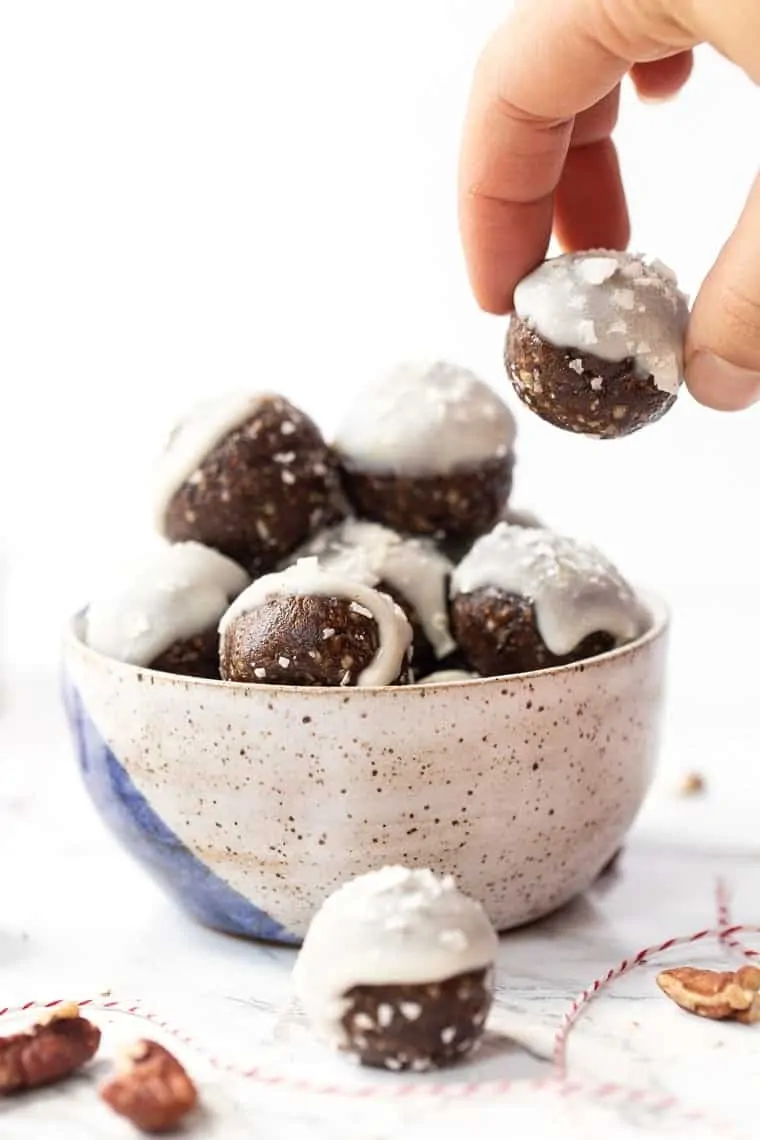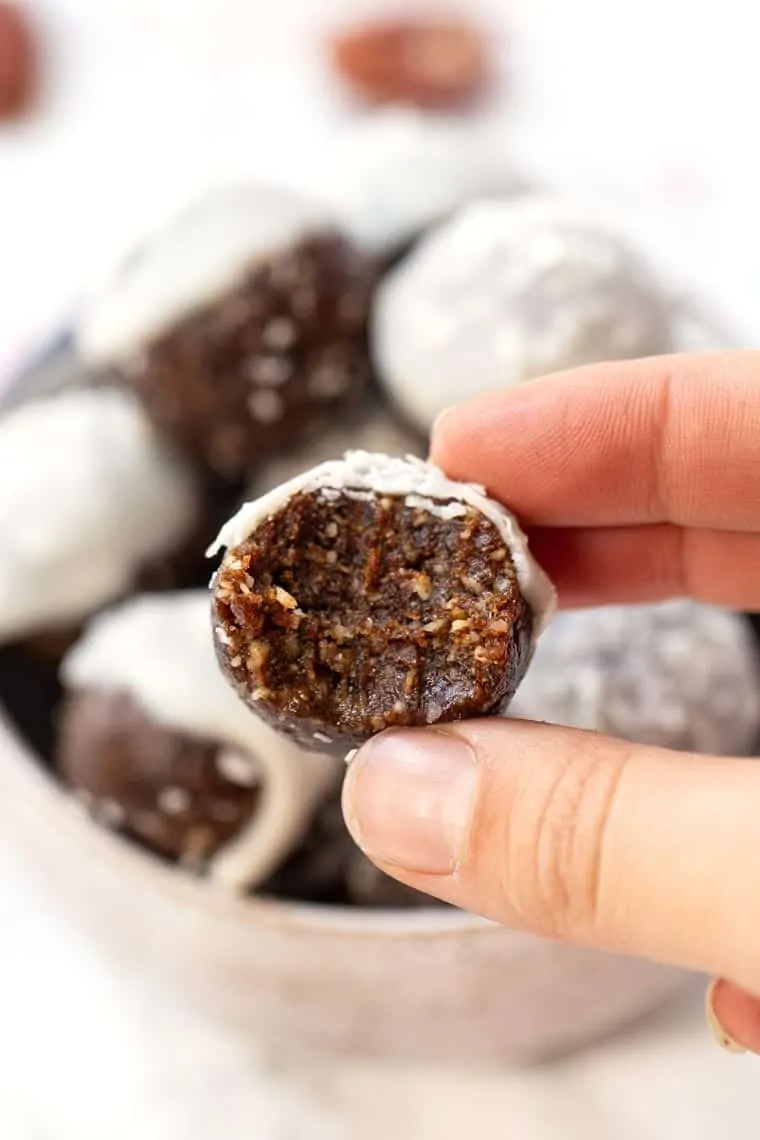 The Perfect No-Bake Snack
Okay so… have you jumped on the energy ball train yet? If not, let me try to convince you ????of course, the flavor of these gingerbread energy balls hit the mark flavor-wise, but there are a few reasons why I personally love energy balls and eat them on a daily basis:
Portability: energy balls can be stored in your bag and enjoyed on the go
Poppability: short on time? pop one of these beauties in your mouth and done
Fillability: yep, we just created a word! energy balls are balanced with all the macros (fats, protein and carbs) so they're energizing and filling
They're also the BEST pre-workout snack!
I'd say it's almost just a bonus that they also taste like dessert. Because I don't know about you but, I'd like to eat cookies for a snack all day every day. Hope you LOVE these!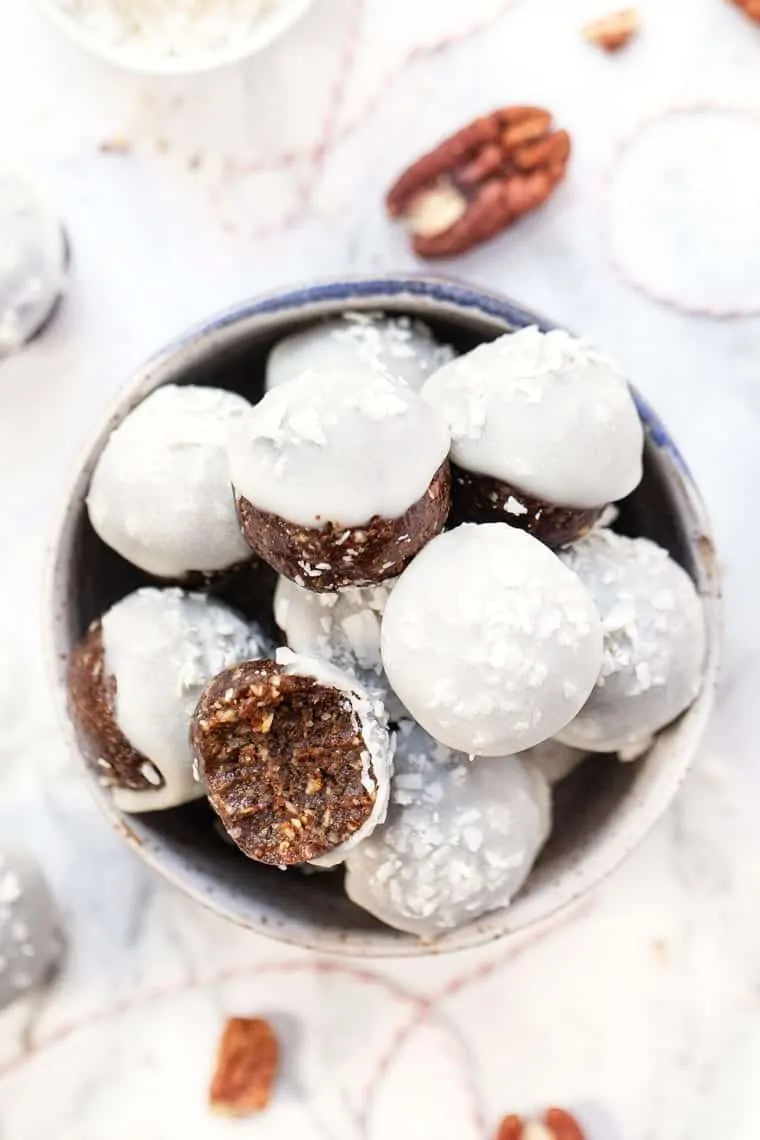 More Awesome Energy Ball Recipes!
No-Bake Gingerbread Energy Balls
These easy gingerbread energy balls are the perfect holiday treat. They're healthy, sweet and don't require any baking. It's like a gingerbread cookie only more convenient!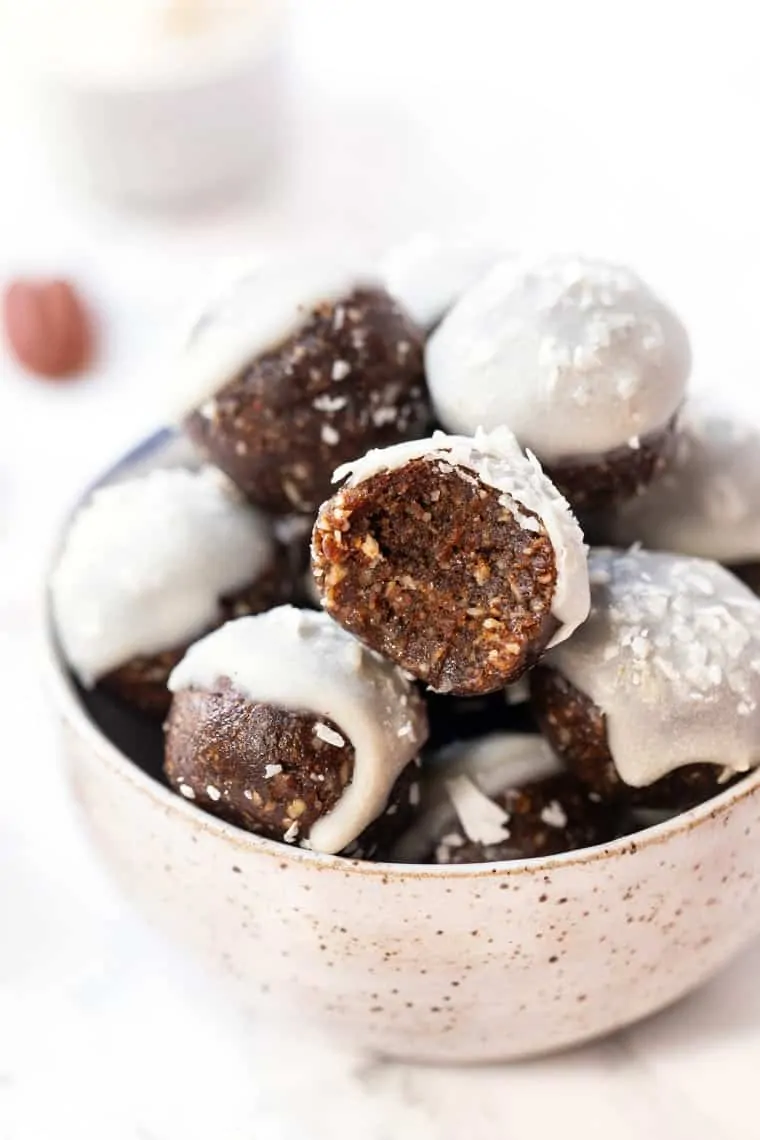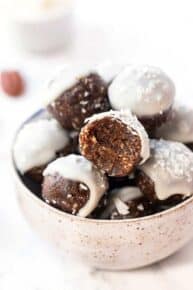 Instructions
Process the dates, pecans, and coconut flakes in a food processor until finely chopped.

Add the cashew butter, molasses and spices and pulse until the dough starts to come together and you can form it into balls with your hands.

Roll the dough into 1-inch balls with your hands and place them in the freezer until set, about 30 minutes.

If decorating, melt the coconut butter and whisk until smooth. Dip each energy ball into the coconut butter, transfer to a plate or flat surface and top with shredded coconut.

Store balls in the freezer for the best texture.
Nutrition
Calories:
124
kcal
|
Carbohydrates:
15
g
|
Protein:
1
g
|
Fat:
7
g
|
Saturated Fat:
1
g
|
Sodium:
4
mg
|
Potassium:
173
mg
|
Fiber:
2
g
|
Sugar:
12
g
|
Vitamin A:
25
IU
|
Vitamin C:
0.1
mg
|
Calcium:
19
mg
|
Iron:
0.6
mg
Filed Under: