These energy balls are jam-packed with not just protein and nutrients, but also flavor. In my ultimate guide to making energy balls, I'll show you how to make these fun, easy, and healthy snacks.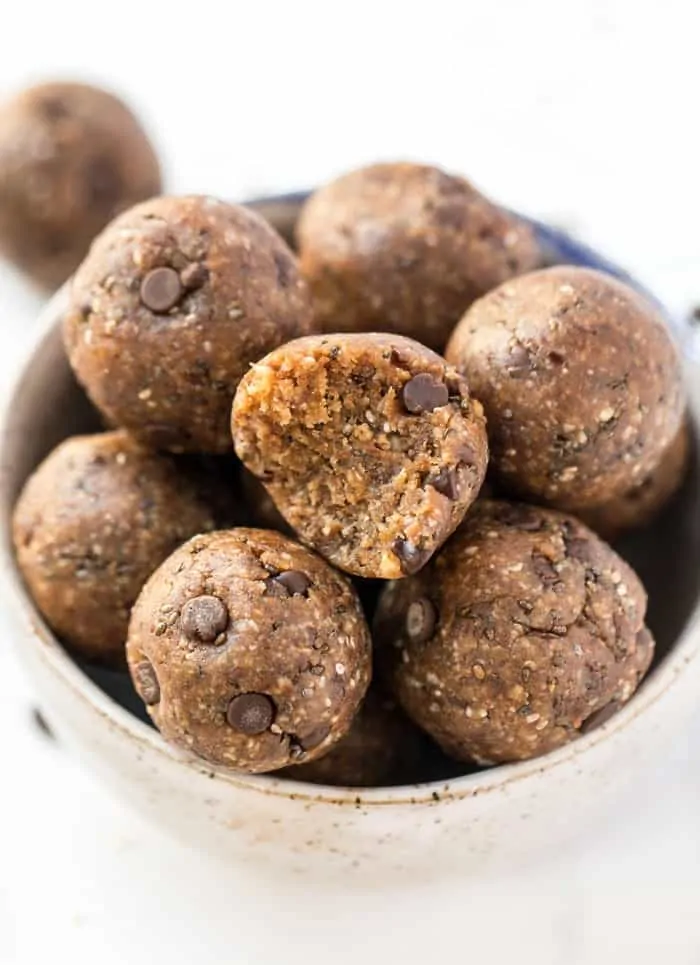 I love energy balls (also known as protein bites), because finding healthy snacks can sometimes be a chore. While protein bars, and carrots and hummus are great options, they can get a little old after a while when you're eating them every day.
Which is why I adore energy balls! They're healthy, bursting with flavor, quick and easy to make, and customizable, so you won't get tired of them. Plus, you can eat them on the go! In other words, they're one of the most well-rounded snacks out there.
Rather than just giving you a roundup of my favorite energy ball recipes, I wanted to give you a complete guide to making them at home. That includes the components and ingredients you need, the equipment you need, and, of course, some amazing recipes.
Let's get to making energy balls!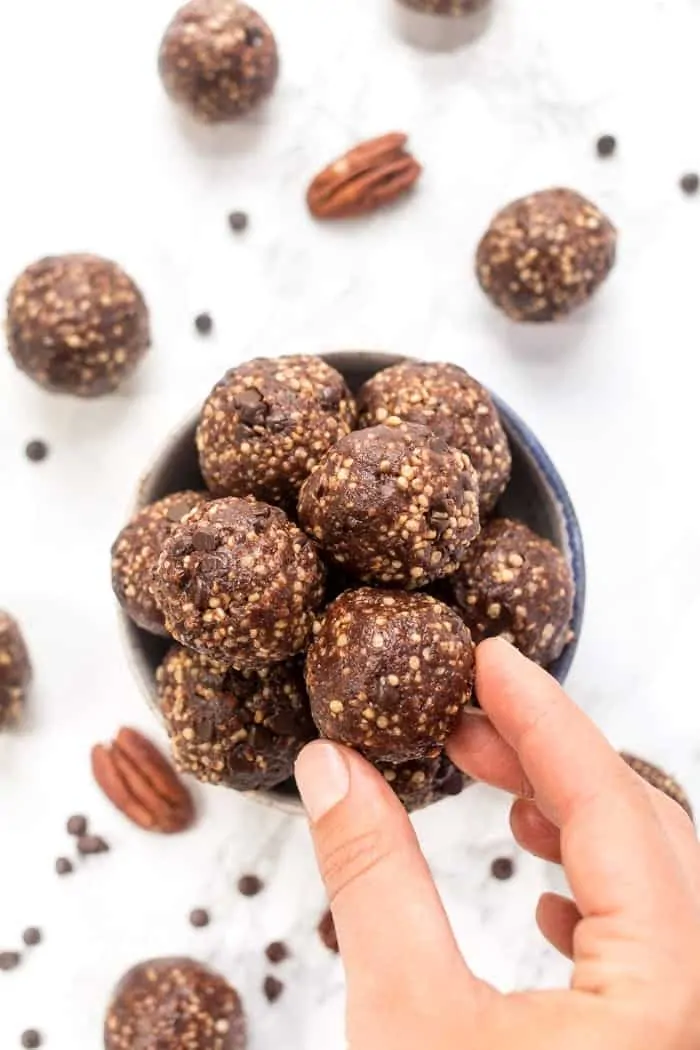 Why Energy Balls and Protein Bites Are a Perfect Snack
We already talked about the fact that these are a healthy snack. But why are they such a good healthy snack? Here are four reasons why protein bites stand out to me.
Portability. The number one thing I want in a snack is for it to be portable. Since so many of us are on the go constantly, we need snacks that are accessible while we're out and about. How often have we all turned to a bag of chips or candy, simply because it was the easy option? Energy balls don't take up much space, can last for a long time out of the fridge, and don't require a plate or utensils. They're the ultimate on-the-go snack.
Balance. I'm always on the lookout for snacks that have a balance of macros: carbs, protein and healthy fats. These healthy snacks are the perfect blend of all three. They have the nutrients and macro profile to give you energy, and keep you sustained for hours.
Convenience. Just like a smoothie or a nut butter, protein bites are pretty darn easy to make. You just throw everything into your food processor, blend it up, and roll it into balls. Snacks don't get much easier than that!
Customizability. Energy balls are totally customizable. That means you can make any type of flavor you're craving, and you can constantly mix it up. Start with the formula that we're about to go over, and then you can swap ingredients in and out as you please.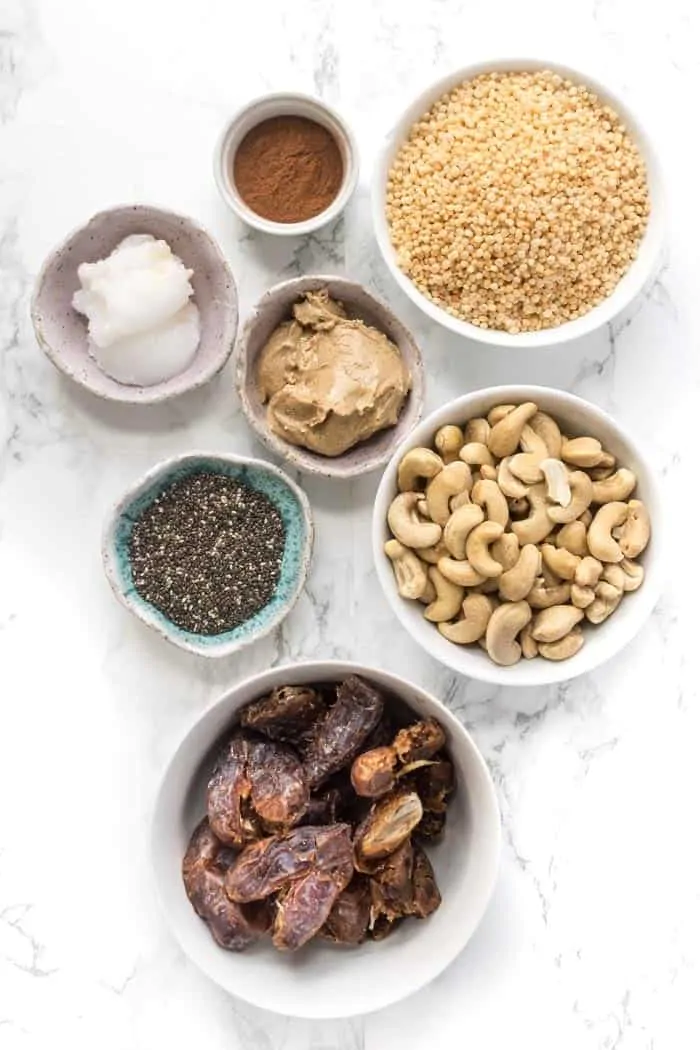 What You'll Need
There are three main components that you need for energy balls. If you have all three, you can make energy bites at any time, even without a recipe. These are the three:
Sticky – Usually dried fruit
Crunchy – Usually nuts and seeds
Creamy – Usually nut butter or coconut oil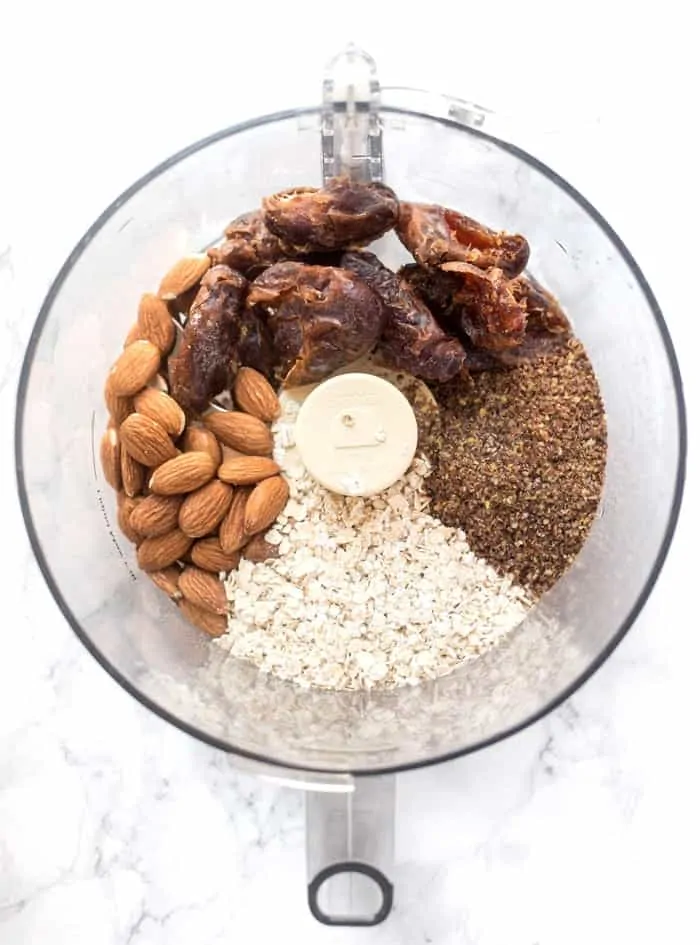 The Equipment You'll Need
Before we get to the formula for making energy balls, let's discuss equipment.
Just as with homemade nut butter, you need a food processor to make energy balls. A blender doesn't really work, because the mixture tends to get stuck in a clump at the bottom. With a food processor, you're able to get the perfect texture for gooey, chewy protein bites.
How to Make Energy Balls
These really are one of the simplest snacks to make. Here's how to make my basic formula that you can work off of.
Prep. Gather one cup each of Medjool dates and the seeds or nuts of your choice, as well as 2-3 tablespoons of your preferred nut butter.
Blend. Add all of the ingredients to a food processor, and blend until everything is well mixed.
Roll. Take the mixture out of the food processor, and roll it into balls. Just like that, you've made tasty, nutritious energy balls!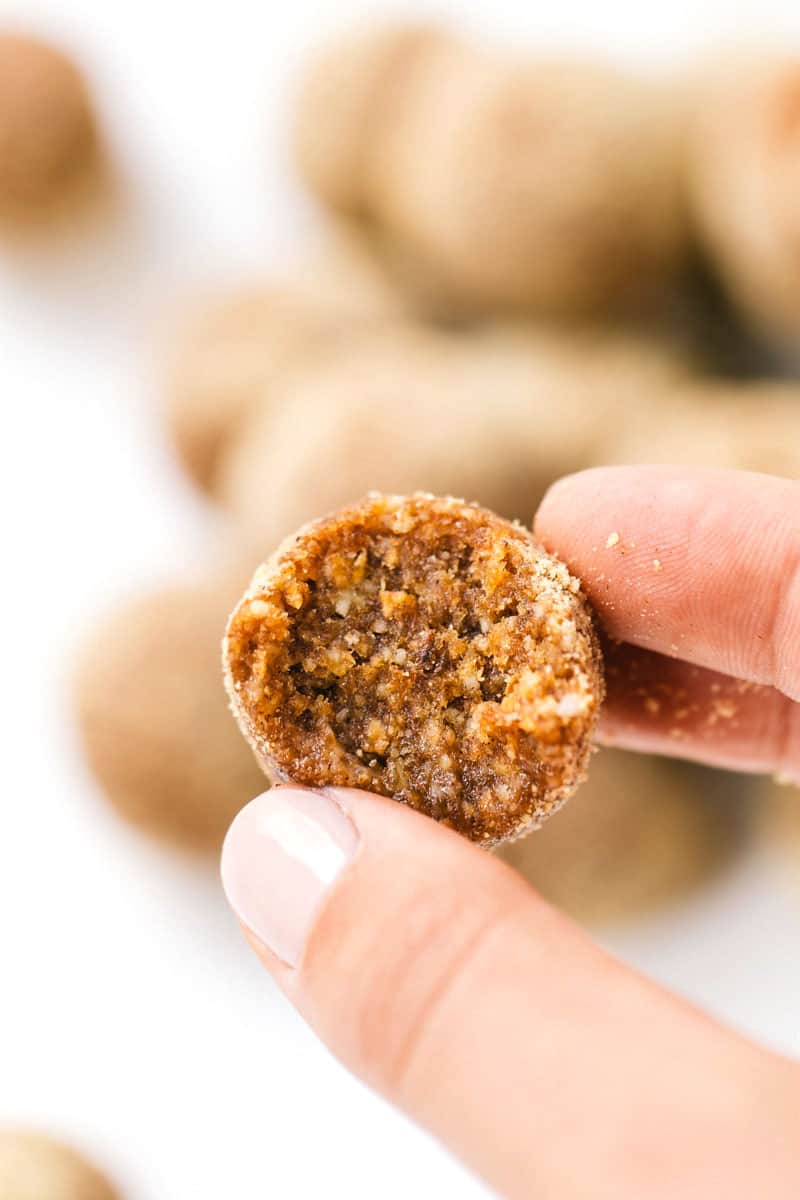 Variations
There's no limit to the flavor combinations that you can make with your energy balls. Here are a few variations that I like to make with my protein bites.
Dried fruit. Dates, figs, dried apples, dried mangoes, and dried berries all add wonderful flavor to energy balls.
Nuts/seeds. You can use any combination of nuts and seeds that you like, depending on your favorite flavors and what you have around.
Flavored powders: Adding ingredients like cacao or protein powder is a great way to change up the flavor, while also using some additional nutrients.
Spices. Just as with any other form of cooking, you can transform this snack by adding some spices. Some of my favorites are cinnamon, nutmeg, turmeric, vanilla, and pumpkin pie spice.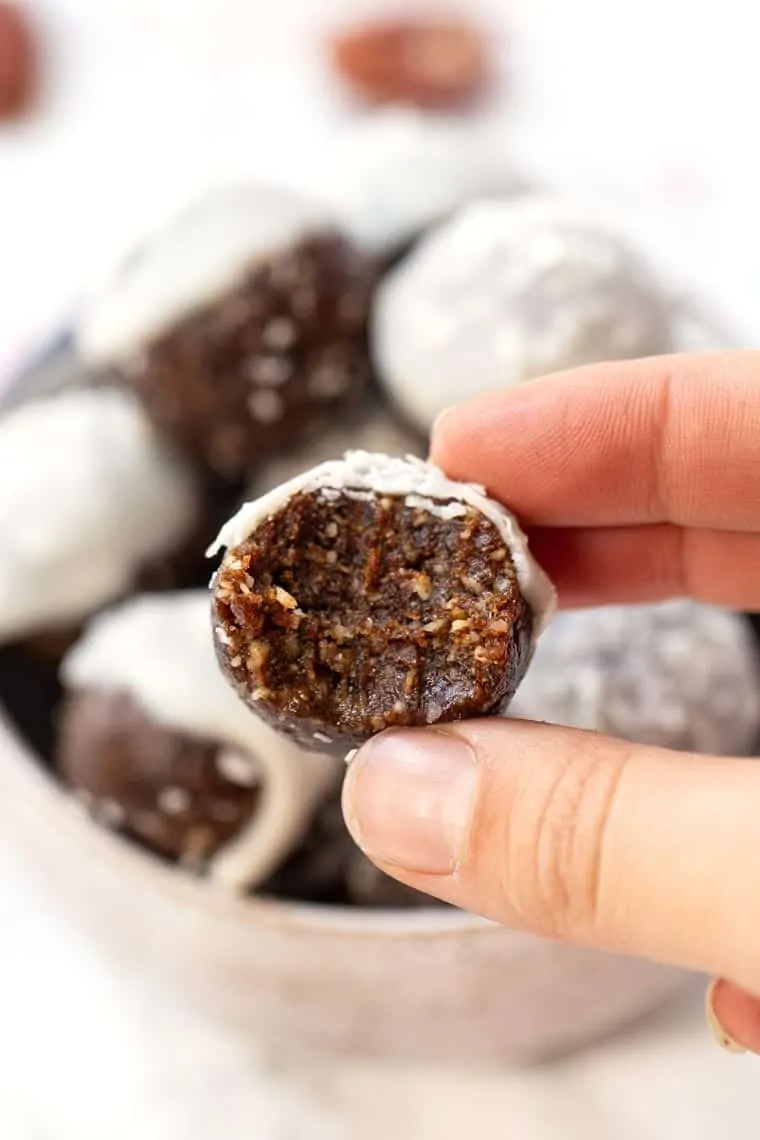 How to Store Energy Balls
Protein bites will last for up to 2 weeks in the fridge, as long as you store them in an airtight container. You can eat them cold straight out of the fridge!
Can I Freeze These?
Sure! These snacks will last in an airtight container in the fridge for up to 6 months. You can thaw them in the fridge, or at room temperature.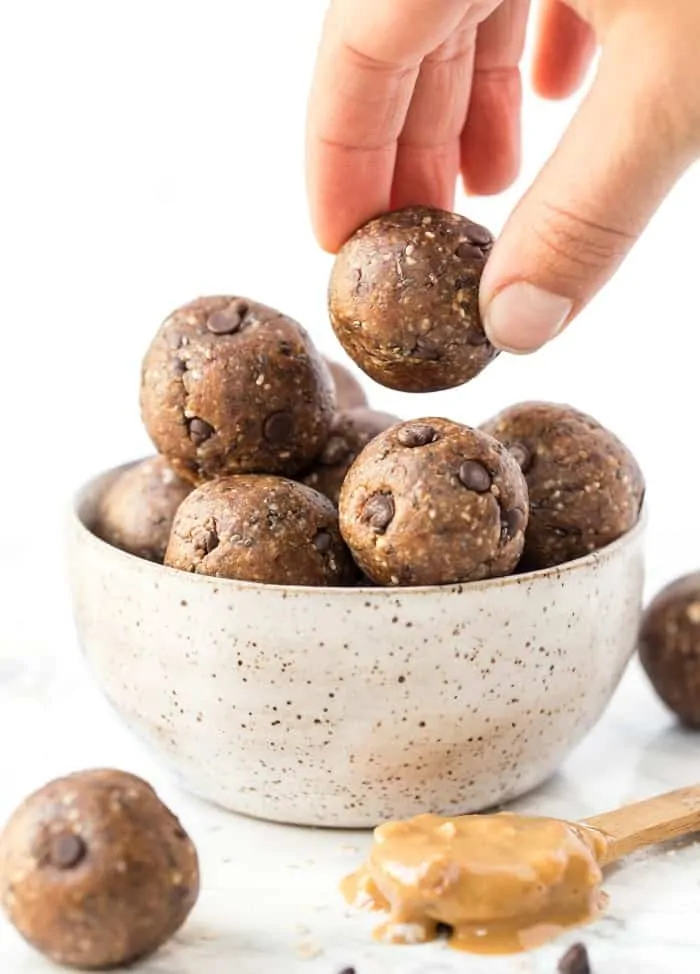 Our 10 BEST Energy Ball Recipes
VIDEO: How To Make Energy Balls
Here's a link to our other energy ball videos!
Basic Energy Ball Recipe
This is our simple and customizable energy ball recipe. It's healthy, full of protein, and tastes great, but you can add to it as you please to make your own variations.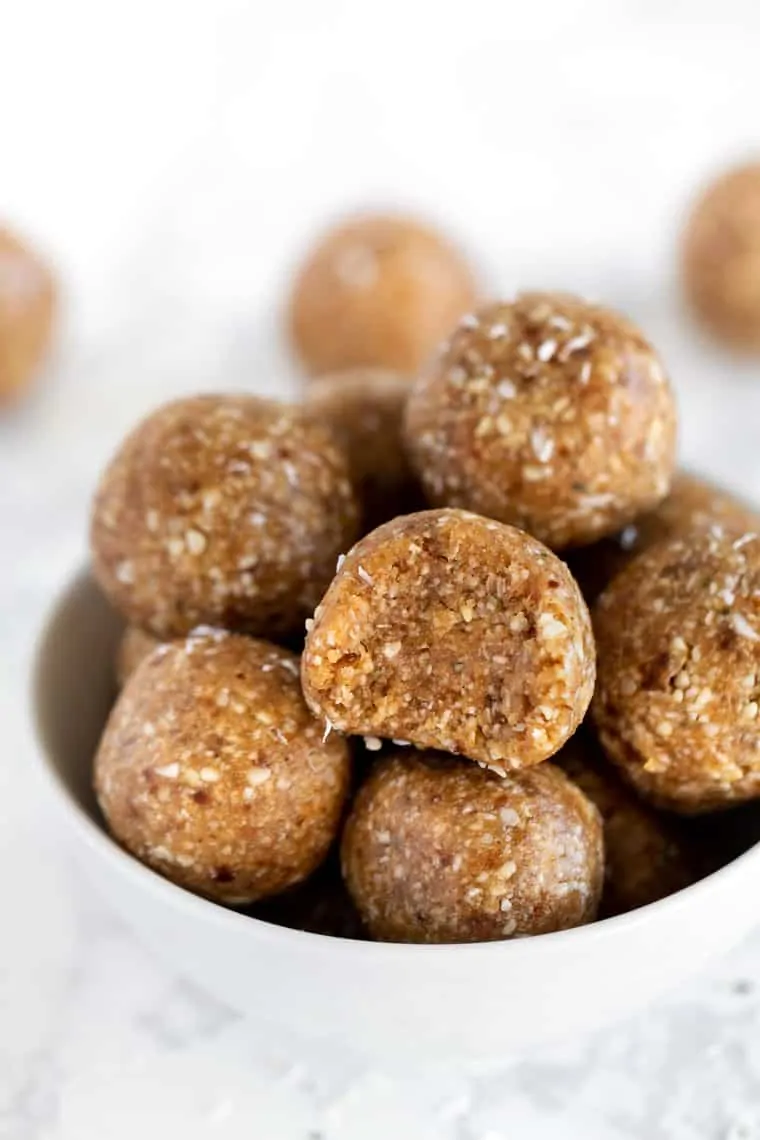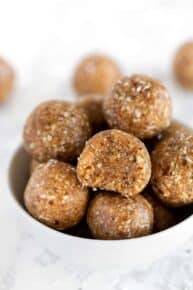 Ingredients
1

cup

medijool dates

1

cup

almonds

(or nuts/seeds of choice)

2 – 3

tablespoons

almond butter

(or nut/seed butter of choice)
Instructions
Add all the ingredients into a food processor, then just blend it up.

Take 1 tablespoon of the mixture and roll them into balls.

Store in the fridge or freezer for best texture!
Nutrition
Serving:
1
ball
|
Calories:
108
kcal
|
Carbohydrates:
10
g
|
Protein:
3
g
|
Fat:
7
g
|
Saturated Fat:
1
g
|
Sodium:
1
mg
|
Potassium:
164
mg
|
Fiber:
2
g
|
Sugar:
7
g
|
Vitamin A:
14
IU
|
Calcium:
47
mg
|
Iron:
1
mg
Filed Under: