These vegan snickerdoodle energy bites taste just like a cookie but are actually healthy and nutritious. They're the perfect snack for anyone on-the-go!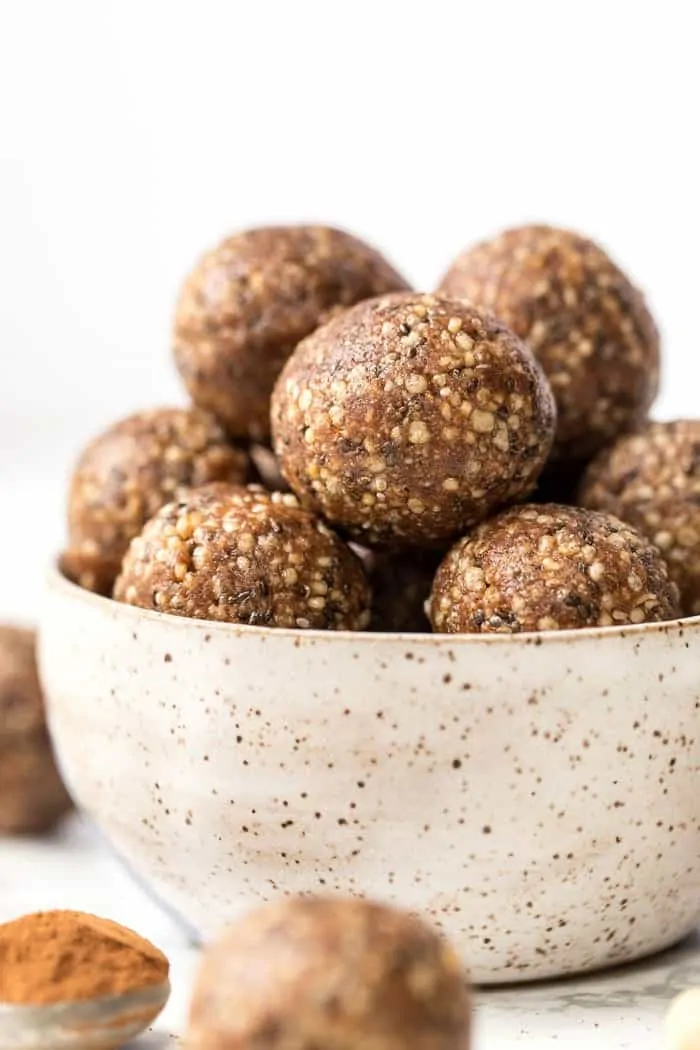 Thank goodness for these Snickerdoodle Energy Bites. Like for REAL.
After the weekend we've been having, I'm needing all the extra energy I can get. Not only has it been a physically draining one, but my emotions are all over the place.
But don't get your hopes up. I mean really, when I tell you why, you'll probably laugh…
My weekend drama? It's about a sofa. *yawn*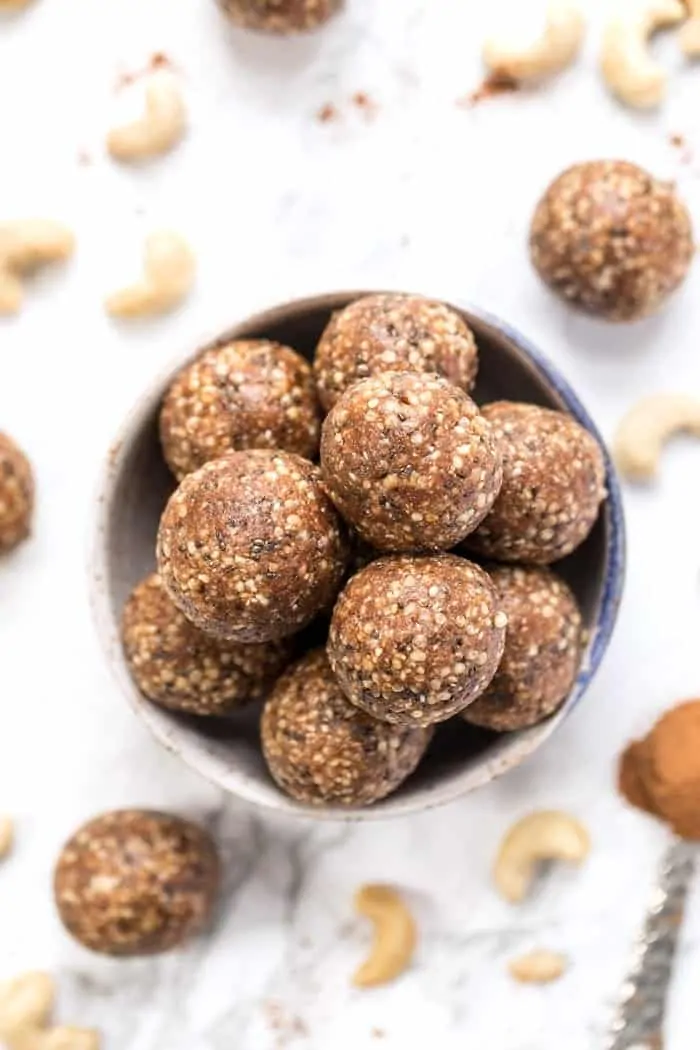 But if you don't mind, indulge me for a moment. I think you'll find some humor somewhere in the debauchery.
So as probably know, we've been living in New York for a little over two years now – same apartment, same neighborhood and we love it. What we don't love? The sofa. We've had it since we got here, and even though two years doesn't sound long, we purchased it from the people who lived here before us and it just never really fit us.
So when we renewed our lease for a third year, we decided that we were going to redecorate (cue the cheers!). I've had my eye on this couch from Pottery Barn for years – it's my dream couch – and so we finally took the plunge and got it. Of course we had to wait 10 weeks for it to be ready, but finally at the end of January we got the call…our couch was ready to be delivered. Woo hoo!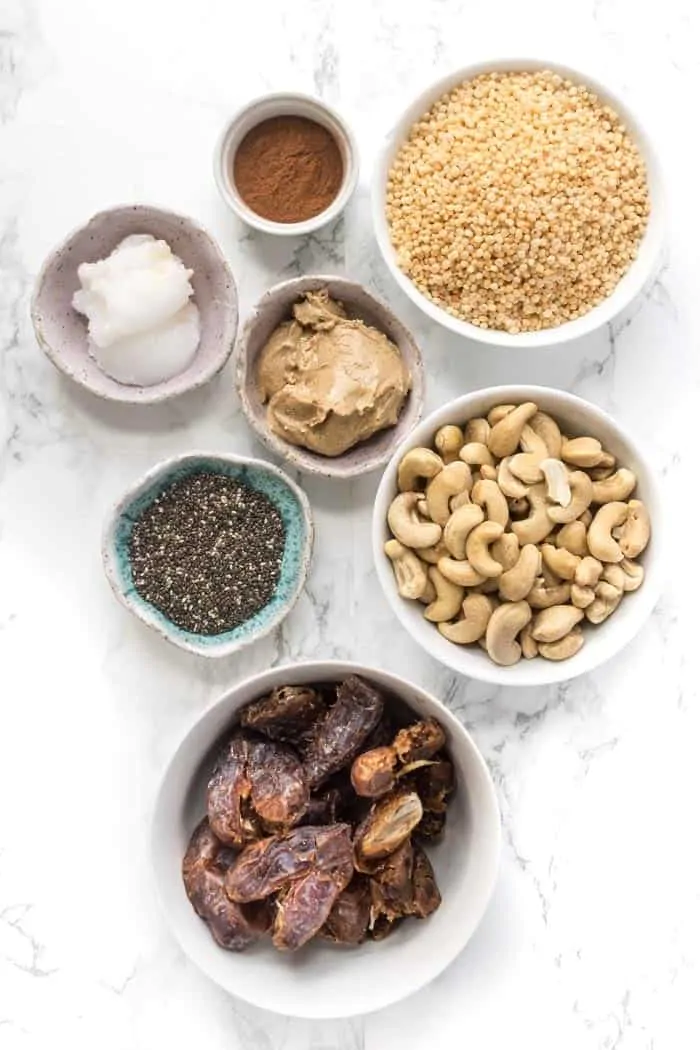 Next up on the docket was getting our old couch out and the new one in – which is precisely where the issues began to arise. If we were living anywhere else, this would probably be a walk in the park, but…it's New York and nothing is ever easy. Instead, Matt and I spent all of Friday morning trying to wiggle our old couch out our skinny doorway, down the skinny hall, into the small elevator and out onto the side of our street where it was promptly picked up by some stranger (who we can only hope is enjoying it!).
With tired arms, burning hands, we said "Good riddance!" and gave ourselves a pat on the back (kidding I was stuffing my face with energy bites…all that lifting left me famished <– drama queen). The new couch was scheduled to be delivered that afternoon, and literally 10 minutes before they were supposed to arrive the elevator in our building broke. Oh and not only did it break, but our neighbor got stuck inside for over an hour.
When the men arrived with our new couch, they looked at the staircase and said, "No way. Not going to fit. We can't get this couch in your apartment."
GREAAAAAAT…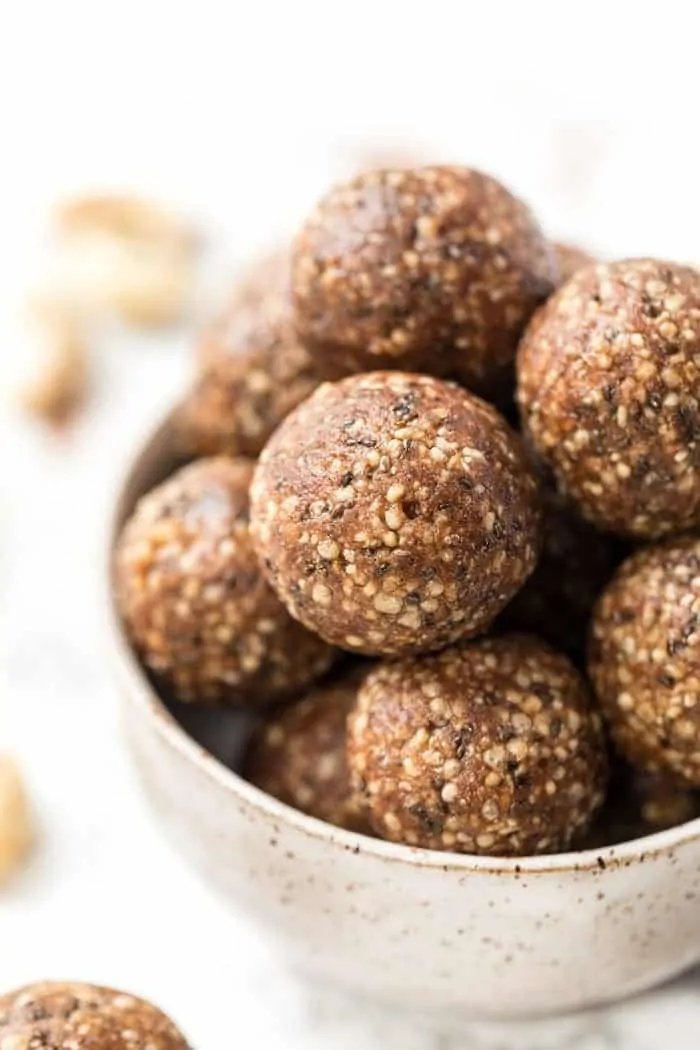 Our old couch is gone, our new couch won't fit and to get another new one will take another 8 – 10 weeks. What the bleepity bleep!
Off to IKEA we went yesterday morning, picked up a new couch, assembled it and I'm just not really loving it.
Uhm…yeah, so I'm just going to go hide under the covers and continue to stuff my face with these snickerdoodle energy bites. Don't mind me!
(I'll just be taking one of those, thank you!)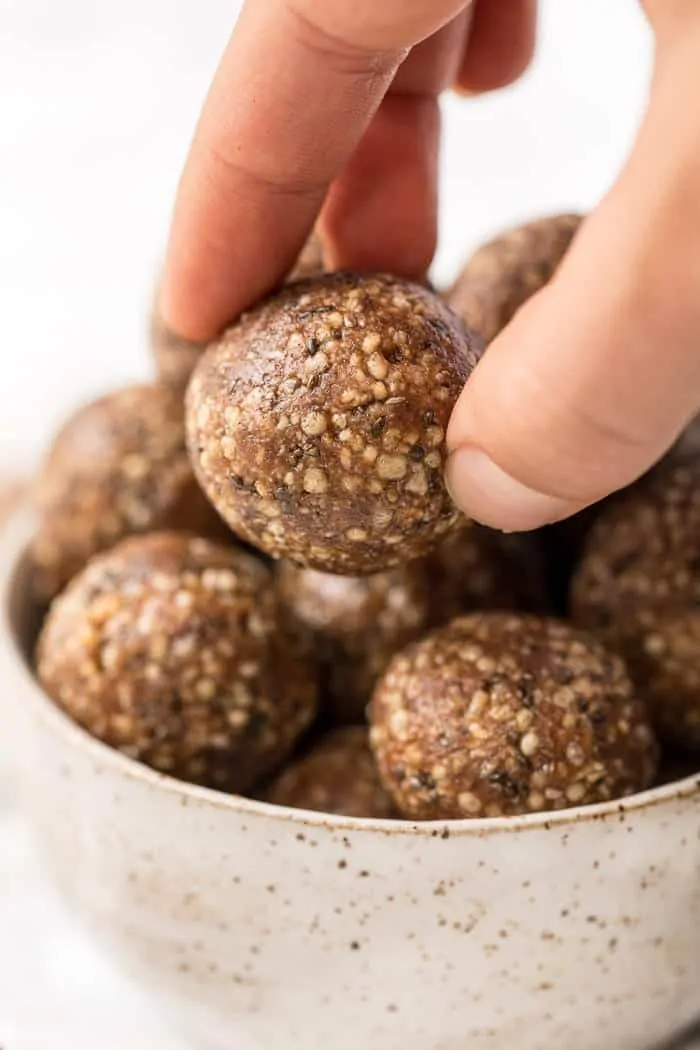 I hope you don't mind another cookie-themed goody around here. Cookies are just too damn good not to try and recreate into healthy, guilt-free treats. Am I right?
Snickerdoodles, which are really just a cinnamon flavored sugar cookie, have quickly risen to my top 5 list. Even though my vegan chocolate chip cookies will always reign supreme, all that sweet, cinnamon-y goodness is seriously captivating my taste buds.
And what I know you'll love about these energy bites, is that they really do taste just like a snickerdoodle cookie – as in sweet, dreamy and decadent – but they're actually healthy. And not in the breakfast cookie kind of way. Oh yeah, and they're NO-BAKE!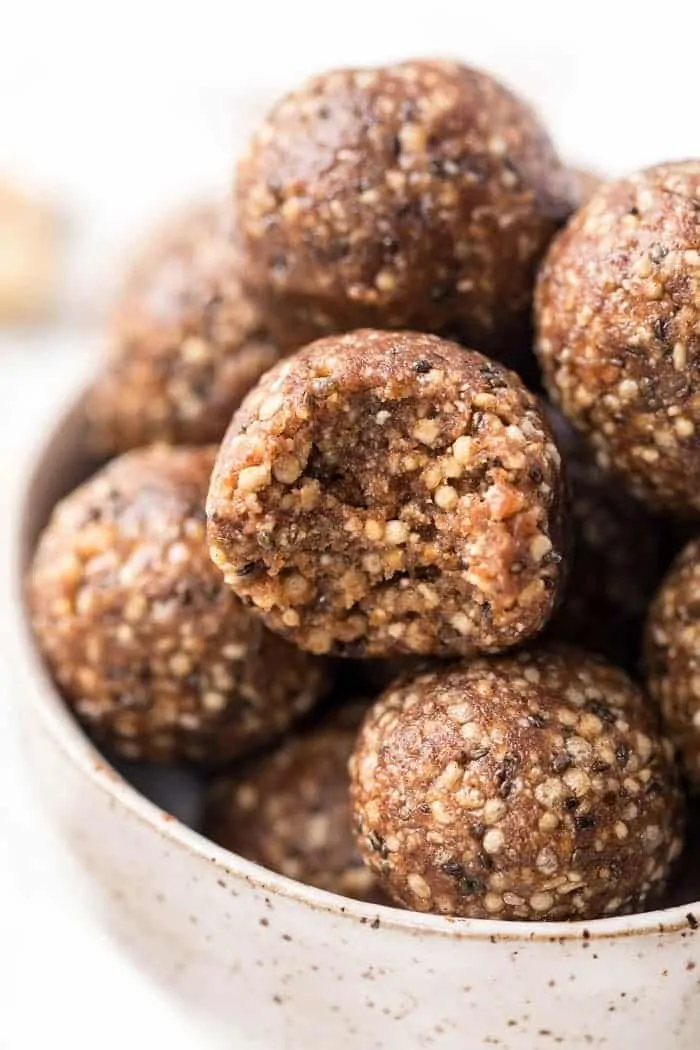 They have all the nutritional benefits that any clean eating snack should have – healthy fats, protein, carbs and low-glycemic sweeteners – without all the added junk like gluten, dairy, and our other main allergens. So instead of stocking your pantry with packaged snacks, sipping caffeine or energy drinks, or hoping you'll get that mood lift from your afternoon snack, pack your freezer with a batch of these and you'll always have something nutritious (and delicious) on hand.
So next time that cookie craving hits – which if you're like me is all. the. time. – reach for an energy bite. Your body and mind will thank you!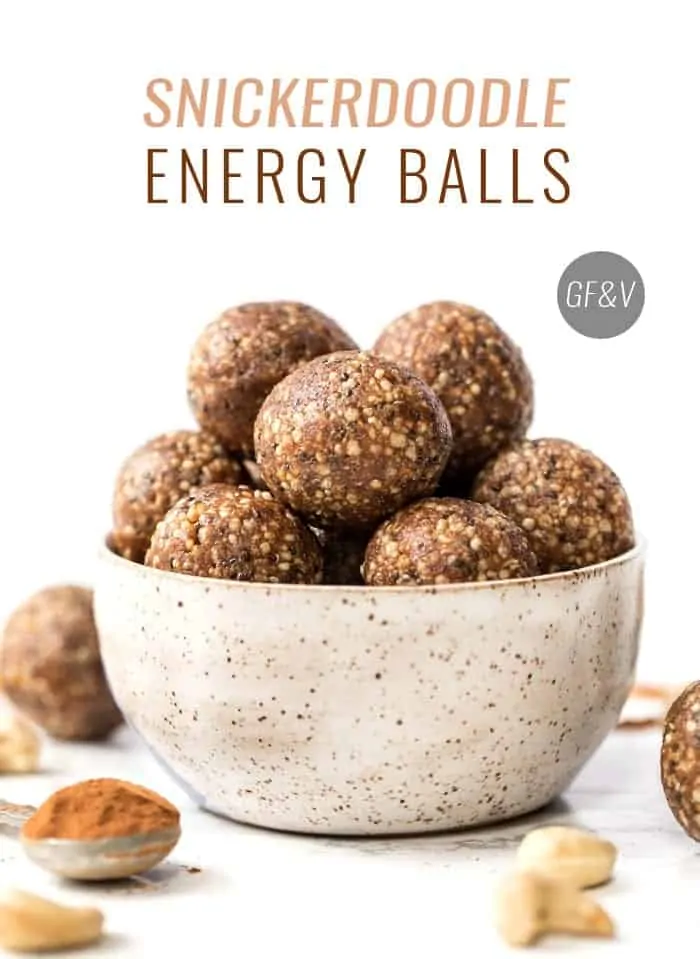 More Delicious & Healthy Energy Bites to try:
Vegan Snickerdoodle Energy Bites
These vegan snickerdoodle energy bites taste just like a cookie but are actually healthy and nutritious. They're the perfect snack for anyone on-the-go!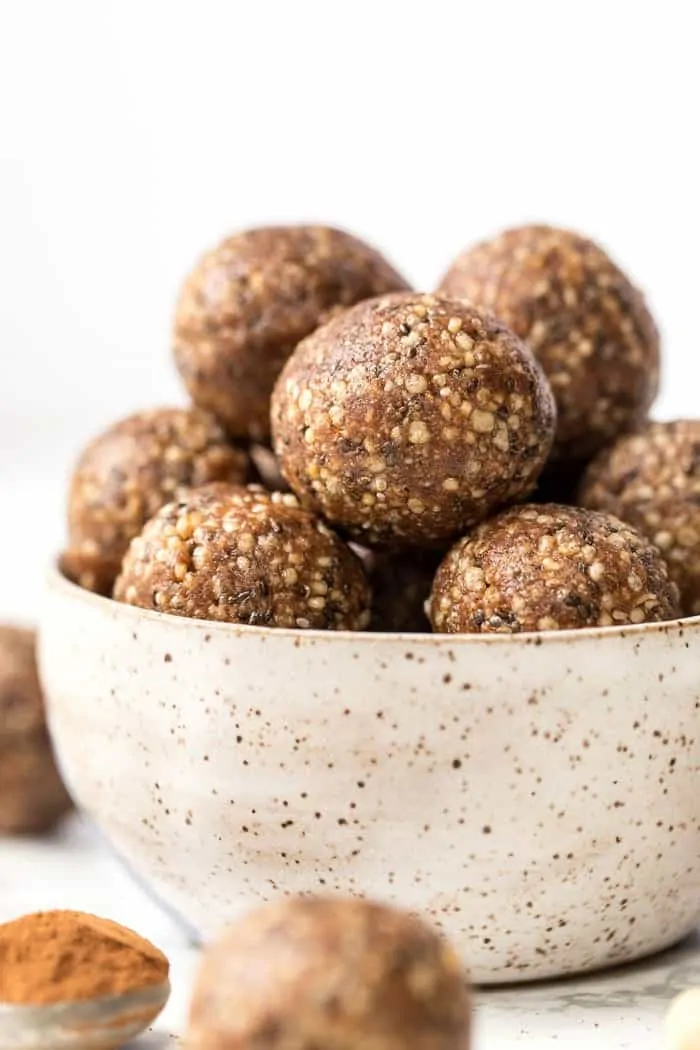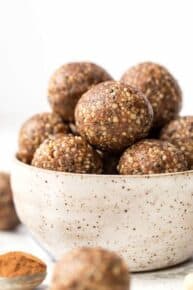 Instructions
In the bowl of a food processor combine the dates and cashews. Process until they resemble a coarse sand.

Add oil, nut butter, syrup (if using) and cinnamon, and process until a dough forms. If the dough does not come together, add some water, 1 tablespoon at a time until the dough sticks together when you press it between your fingers.

Pulse in the quinoa puffs.

Form 1" balls with your hands and place on a parchment lined plate. Freeze for at least 60 minutes and then enjoy.

Keep in a covered container in the freezer for best results, but they will also keep in the fridge.
Nutrition
Calories:
111
kcal
|
Carbohydrates:
13
g
|
Protein:
2
g
|
Fat:
5
g
|
Saturated Fat:
1
g
|
Sodium:
1
mg
|
Potassium:
148
mg
|
Fiber:
2
g
|
Sugar:
5
g
|
Calcium:
21
mg
|
Iron:
1.1
mg
Filed Under: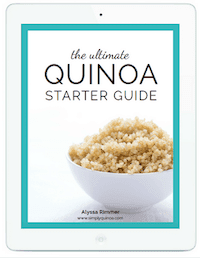 New to cooking quinoa? Grab your FREE Quinoa Starter Guide!
Become part of the Simply Quinoa community and receive weekly emails with exclusive content that I only share in email, as well as my in-depth guide to starting your quinoa journey.