These chewy Peanut Butter Oat and Quinoa Cookies are the perfect healthy dessert that can be enjoyed any time of day. Naturally gluten-free & vegan too!
You know the classic peanut butter cookie, right? The one that uses like three ingredients and is chewy and crispy at the same time? Those used to be one of my favorite cookies of all time! Partly because I'm peanut butter obsessed and partly because the texture is perfection.
I didn't want to just recreate that same cookie because it's fairly simple. So instead, we're making a batch of peanut butter oat & quinoa cookies that check all those same boxes of our traditional PB cookie, but are simply…healthier!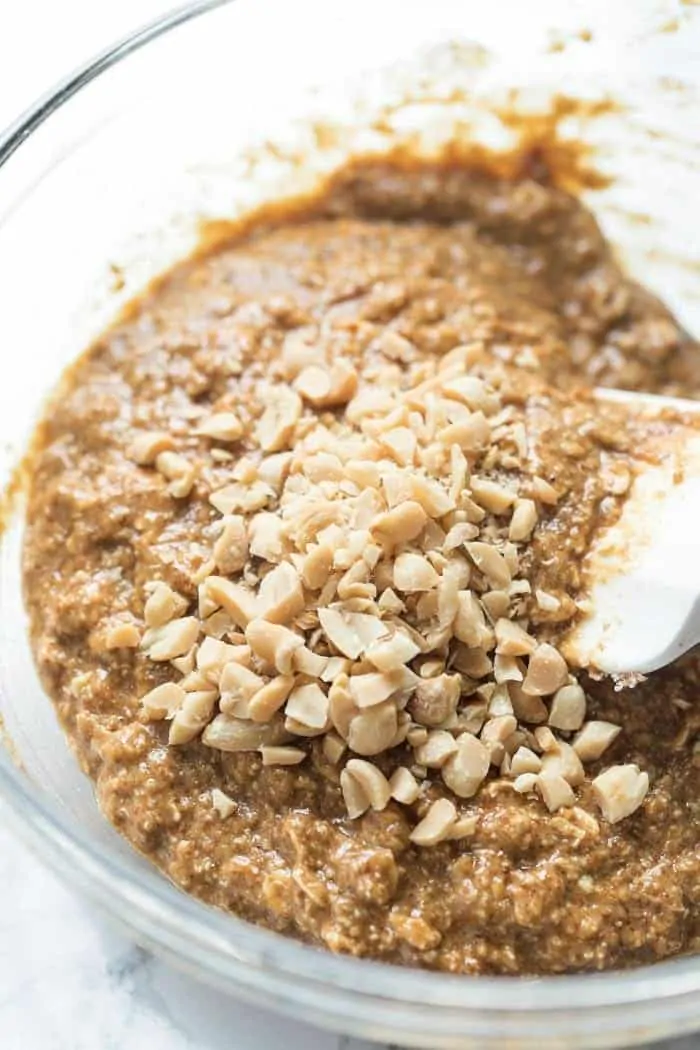 How to Make Peanut Butter Cookies
I've talked about this before, but my secret weapon in much of my baking is oat flour.
Oat flour has an amazing texture – it's chewy, it's soft, it's absorbent, but it's not too dense. It makes really amazing muffins, but as I discovered with this recipe, also amazing cookies.
I wanted to give these cookies some umph so we also stirred in some thick rolled oats, quinoa flakes and tossed in some chopped peanuts at the end. It helps make them a bit more interesting while amping up the fiber and protein content even more!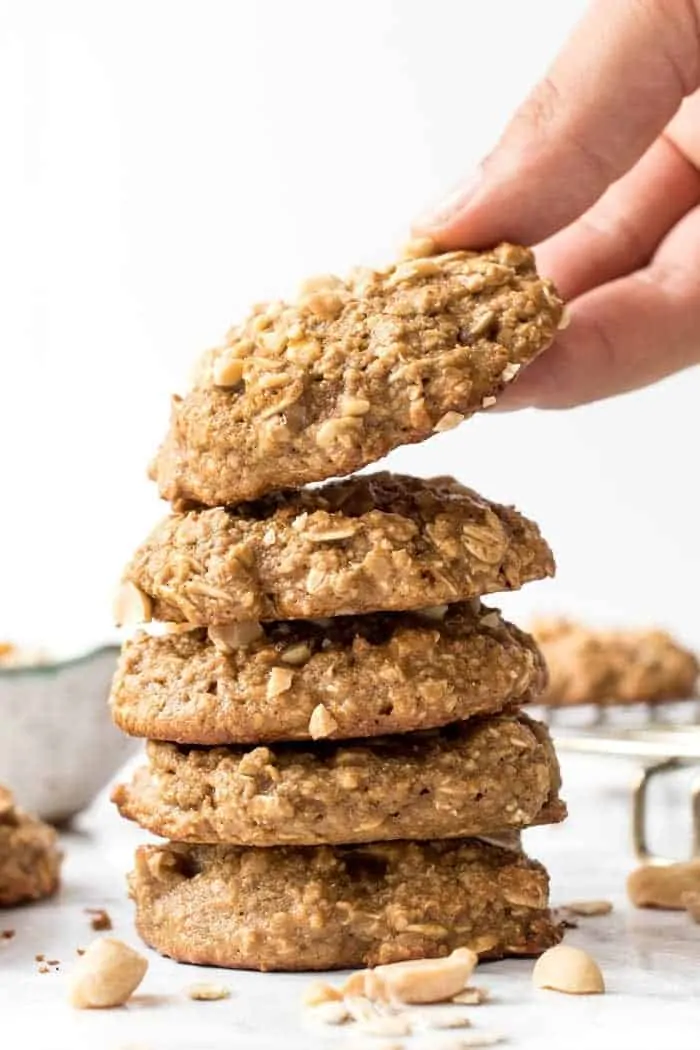 A Healthy & Banana-Free Cookie
The other thing you're going to love about these cookies is that they don't use any banana!
I've created many a breakfast cookie in my day, but almost all of those cookies have banana. Since I know a lot of you are sensitive to banana, I really wanted to make sure that this one was banana-free. The secret? Unsweetened applesauce!
Similar to banana, applesauce can be used to replace eggs and oil in baking. Since apples also have some natural sugars in them (as do bananas), adding in the applesauce helps us give the cookies more sweetness without actually adding a ton of sugar.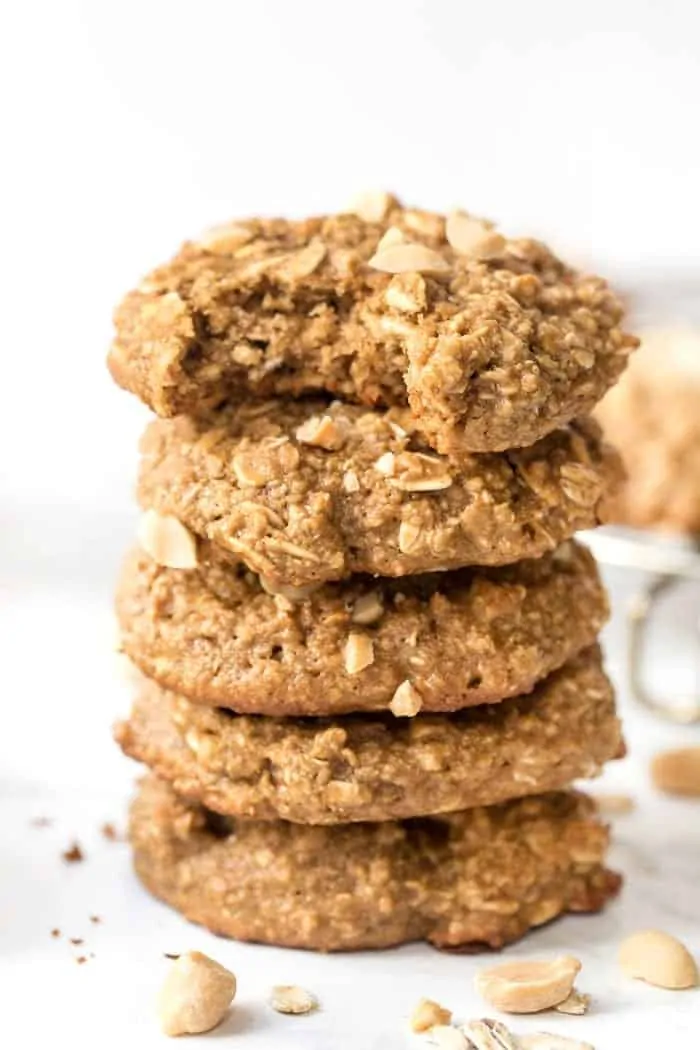 The Ultimate Healthy Peanut Butter Cookies
Like most nights, I was dying for something sweet to curl up on the couch with, and my energy balls just we're going to cut it. I wanted a classic dessert. Something special.
So I settled on these quinoa cookies.
I was craving peanut butter, but I didn't want that class recipe. I wanted a cookie that tasted like a million bucks but wouldn't blow my day of healthy eating out of the water. A cookie that I could eat three of and not feel guilty about it. Oh, and the cookie also had to be breakfast-worthy so I could eat more the next day.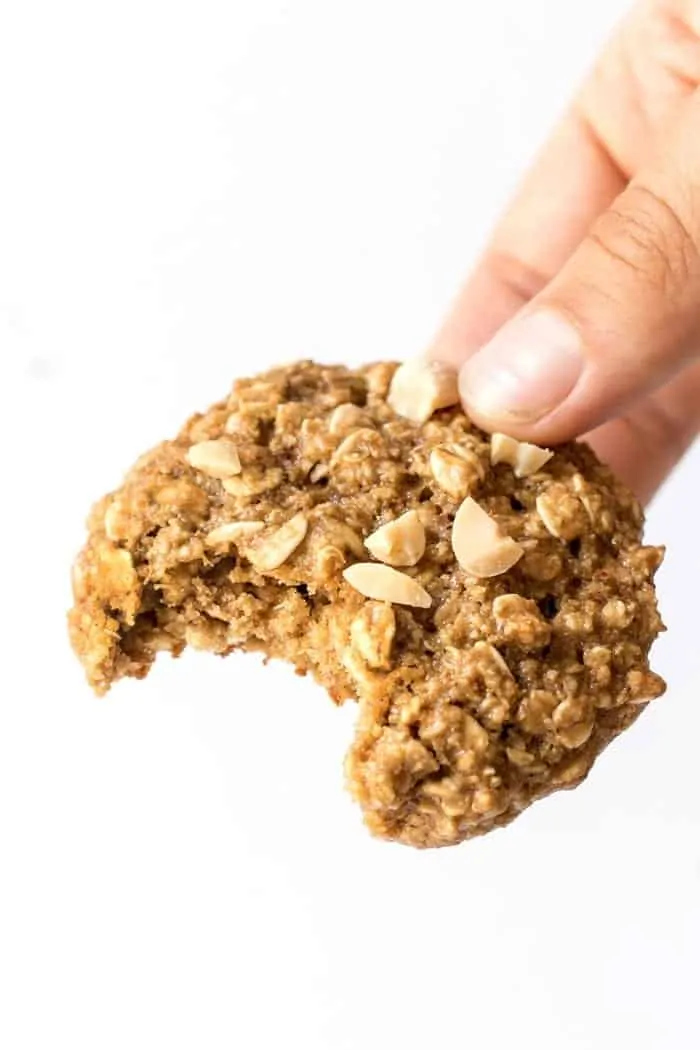 Basically? Cookies just like these.
Sweet, chewy, nutty and delicious. These peanut butter oat and quinoa cookies are just what you would imagine them to be. Full of rich peanut buttery flavor, soft but with a slight crunch from the oats, and totally full of nutrients all at the same time.
Dunked in a glass of almond milk? I was in heaven.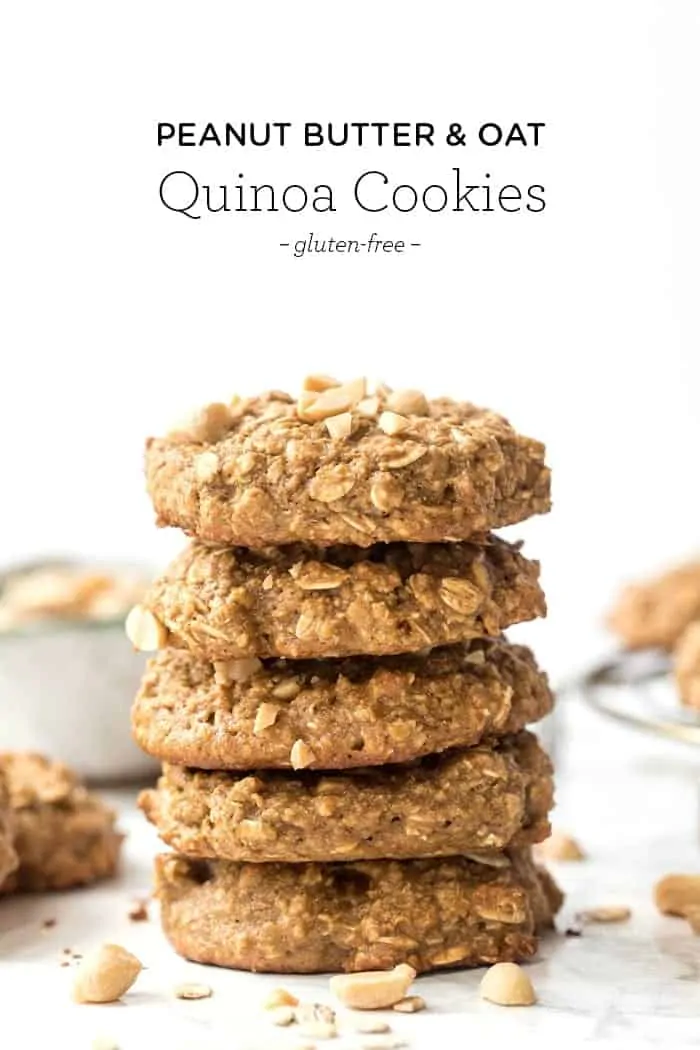 More Healthy Quinoa Cookies to try:
Peanut Butter Oat & Quinoa Cookies
Sweet, chewy, nutty and delicious, these peanut butter oat and quinoa cookies are just what the thing to satisfy your cookie craving!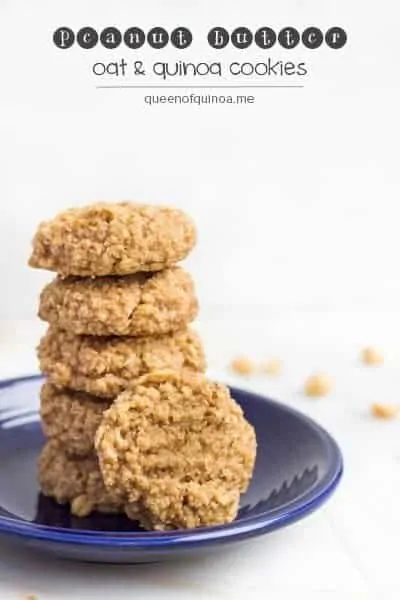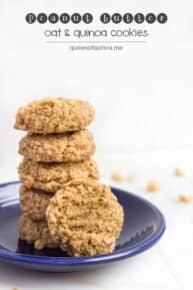 Instructions
Preheat the oven to 350 degrees F. Line a baking sheet with parchment paper and set aside.

In a large mixing bowl, combine the dry ingredients and mix until incorporated. In a separate mixing bowl, beat all the wet ingredients until combined and smooth. Add the wet ingredients to the dry ingredients and mix until a dough forms.

Scoop the dough onto the cookie sheets (I use an ice cream scoop to do this). Flatten with the back of a wet fork and bake in the center of the oven for 13 - 15 minutes, until the cookies have started to brown and are a little crispy to the touch.

Cool on the cookie sheet for a few minutes, then transfer to a wire rack and cool for another 5 or 10 minutes.
Notes
If you don't follow a gluten-free diet, feel free to substitute regular rolled oats and oat bran - there will be no change in texture or flavor!
Nutrition
Serving:
1
g
|
Calories:
110
kcal
|
Carbohydrates:
13
g
|
Protein:
3
g
|
Fat:
5
g
|
Cholesterol:
13
mg
|
Sodium:
104
mg
|
Potassium:
94
mg
|
Fiber:
1
g
|
Sugar:
5
g
|
Vitamin A:
40
IU
|
Vitamin C:
0.2
mg
|
Calcium:
17
mg
|
Iron:
0.9
mg
Filed Under: