These easy crispy Gluten-Free Pizzelle Cookies are a classic Italian Christmas time treat made with quinoa flour, maple syrup and coconut oil for a healthy twist.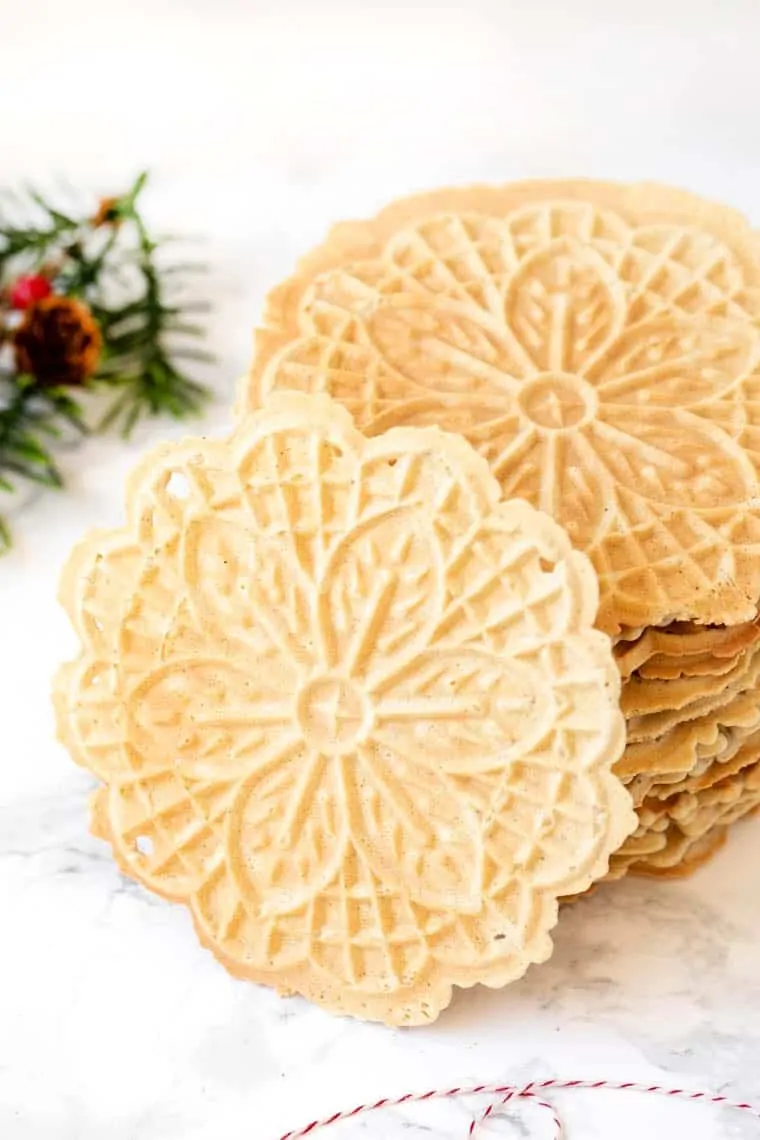 Pizzelle cookies are my absolute favorite kind of Christmas cookie. Partly because they're delicious. Partly because they're a family tradition. Kind of like our Sunday morning waffle tradition (started by my dad),  he's been making pizzelles every Christmas for years.
Since I try to stick to gluten-free eating, I had to turn my family's favorite cookies into a gluten-free version. These gluten-free pizzelle cookies even rival the ones my parents make at home. Just like theirs, my gluten-free pizzelles are light and flavorful, just sans the gluten and butter!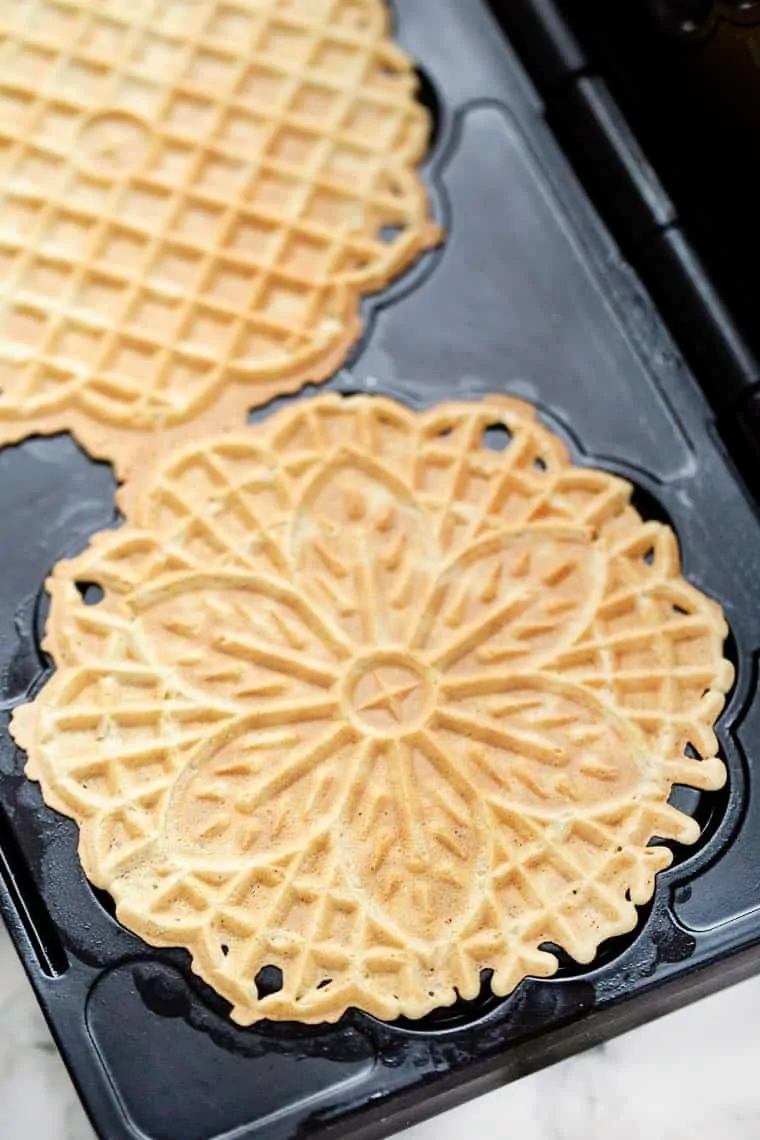 What are Pizzelle Cookies?
Pizzelles are a traditional Italian cookie that originally comes from the Abruzzo region in Southern Italy. They look like tiny, thin and crispy waffles. You make them with a pizzelle iron, which is just like a waffle iron. Pizzelles are typically thin and crispy, but can also be molded into different shapes when they're warm, including the shape of cannolis.
Pizzelles are also believed to be one of the oldest cookies in the world! They're thought to have been developed from the ancient Roman crustulum (the Latin word for a small cake or pastry/cookie)!
To me, pizzelles remind me of waffle cones, but in circular cookie form. They're thin and crispy, and I think it would be entirely possible for me to sit down and eat an entire batch. One of those cookies that you don't realize how many you've eaten until they're all gone. They're that good!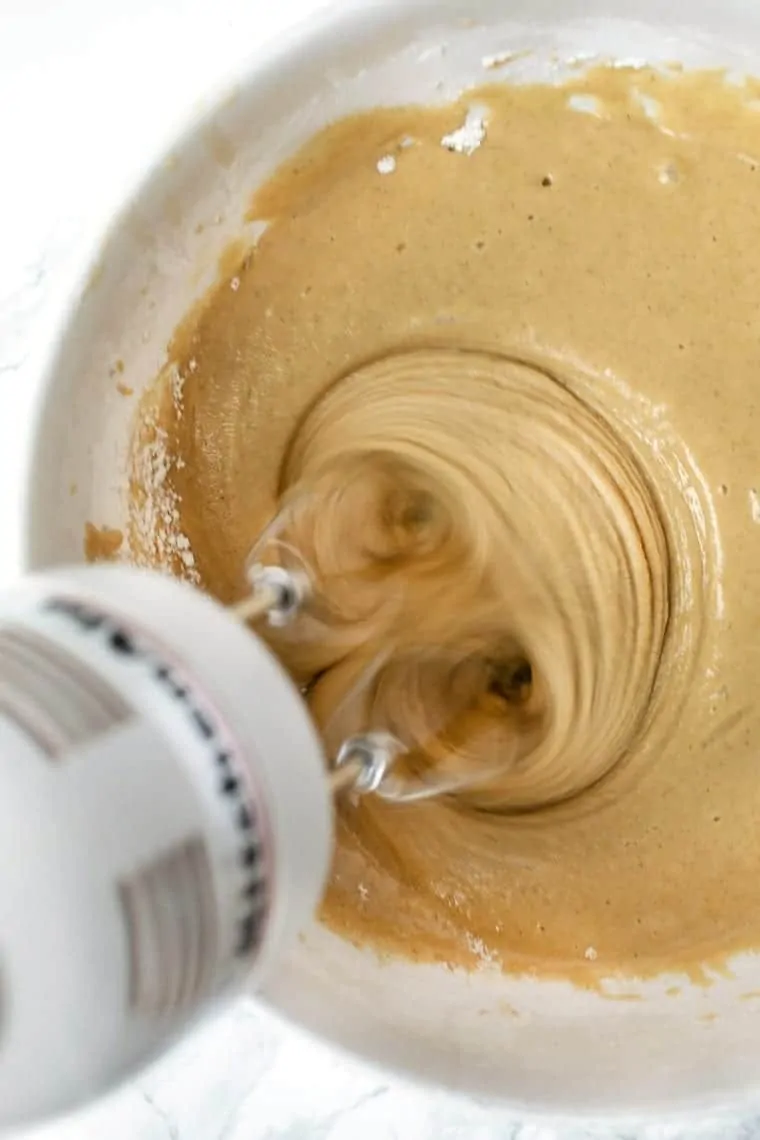 Ingredients for Gluten-Free Pizzelles
Much like many other Italian recipes, the ingredient list for pizzelles is pretty darn simple. They're usually made from flour, sugar, eggs, butter, and flavoring.
Since I wanted to make my gluten-free pizzelles healthy, I swapped most of the traditional ingredients for my preferred ones. Here's what I used for the base of my pizzelles:
Sorghum flour. You can find this at Whole Foods and other well-stocked health food stores.
Quinoa flour, which adds a nice nutty and toasty flavor to the cookies.
Tapioca starch, a gluten-free thickener to hold the cookies in shape.
Eggs to give your cookies a rich flavor and sturdy texture.
Maple syrup: This is a delicious (and unrefined) replacement for cane sugar.
Coconut oil to replace butter for dairy-free cookies.
And then for flavorings, you can really use whatever you'd like! I went with vanilla, almond extract and anise extract, but it would also be lovely with orange or lemon!
Vegan Pizelles
I haven't tested a vegan version of these cookies yet, but they might work with Bob's Red Mill egg replacer! Otherwise, the ingredients are fully dairy-free, gluten-free and nut-free.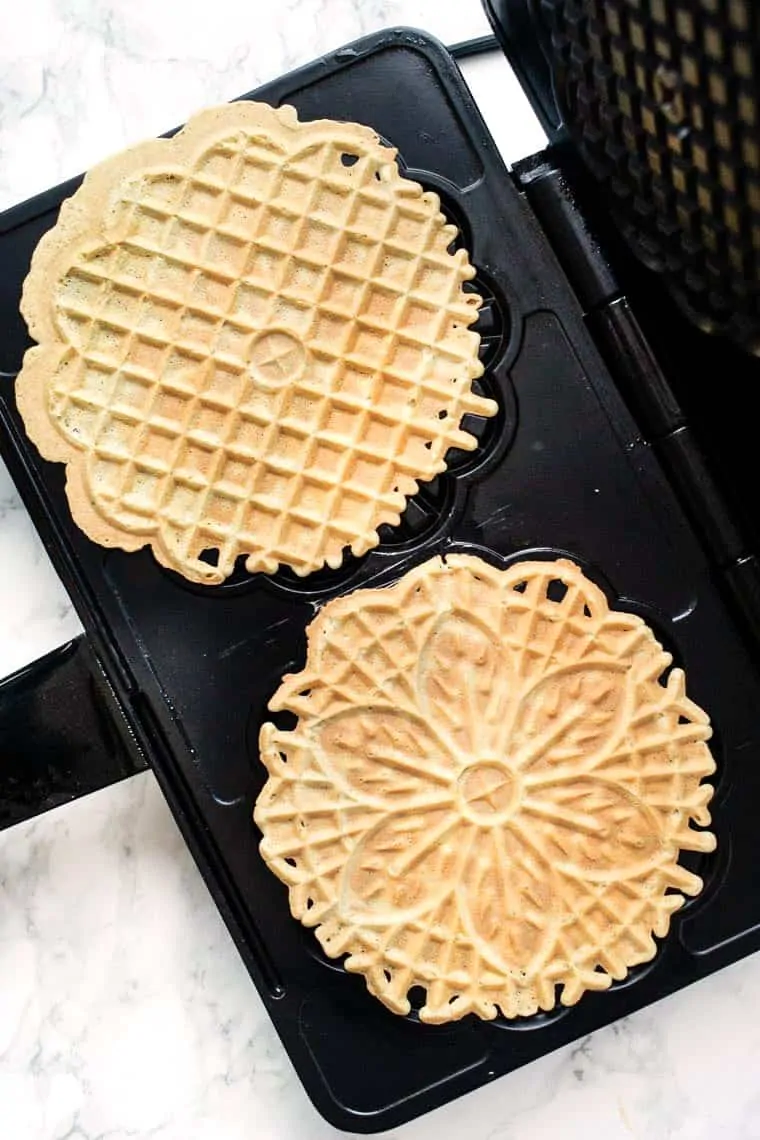 What is a Pizzelle Maker?
The next piece of our pizzelle puzzle is to choose your iron. Similar to waffles, you do need an iron to make pizzelles and it really should be a standard pizzelle maker.
You won't be able to use a waffle iron, but you might be able to use a waffle cone maker (but I haven't tested so can't be sure). Basically, your goal is that you need to have something that will press the dough really thin, but doesn't have too deep of a design that the cookie won't hold together.
There are two types of pizzelle makers:
The Classic: is a standard metal "iron" that you put on the stove and flip over. Kind of like a traditional waffle maker! Here's what that looks like!
The Electric: I personally think these are better since they're faster and are easier to use. Here's the one we use!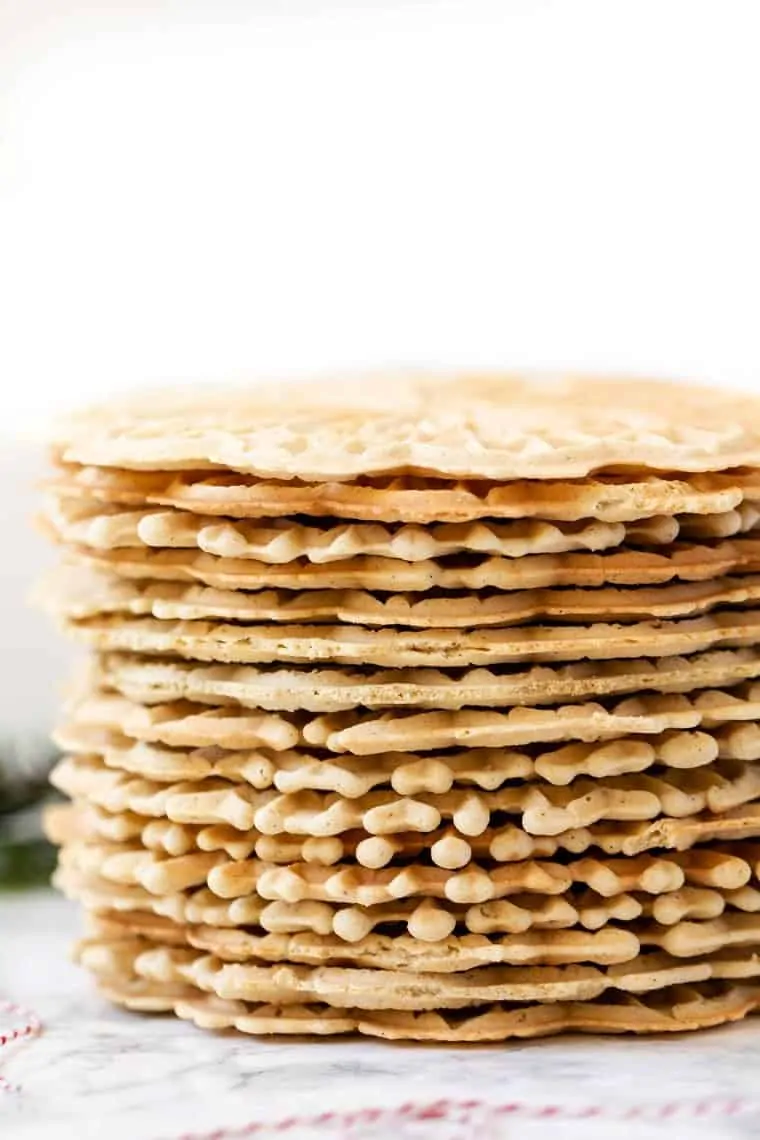 How to Make Gluten-Free Pizzelles
What's great about pizzelles is you can make them in one bowl! I usually start with my wet ingredients, beat them together and then beat in my dry. So simple.
The best method for making pizzelles is to use an electric hand mixer or stand mixer. Since this is more like batter rather than 0traditional cookie dough, it's helpful to use one of these to get a super smooth consistency. They'll also help you get the batter a little by lighter.
Once you have your batter mixed together, you simply drop a small dollop of batter into the center of each circle on your iron, close the lid and let them cook for about 70 – 90 seconds. The timing will depend on your maker, so it might take a few rounds to get the exact timing down to a tee. Once they're done though, quickly remove them, pop them on a cooling rack to let them crisp up. Then just repeat until you've used all the batter!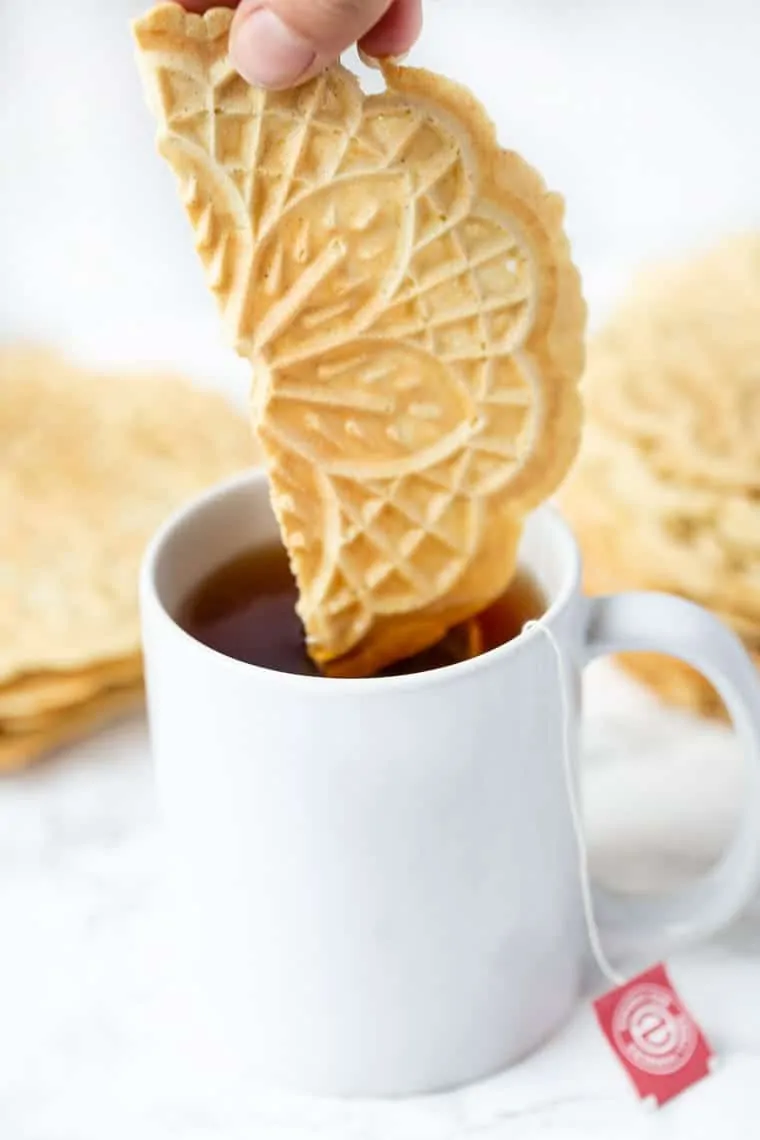 Best Way to Store Pizzelles
Pizzelles are very delicate, so you'll need to be careful when you're storing them. We like to keep them in a plastic container that has a lid to keep them airtight and fresh. We like this large round one and also this shallow rectangular one.
The two best ways to store pizzelles are:
Airtight container: similar to how I just described. You can leave these on the counter for at least 3 – 4 days.
Freezer: We keep them in the same container and freeze them. Simply allow them to thaw at room temperature and you should be good to go!
Now, if you've never tried making pizzelles before, I hope this post has inspired you. They're really easy, they're absolutely delicious and I know you and your family will love them. Happy baking and Happy Holidays!!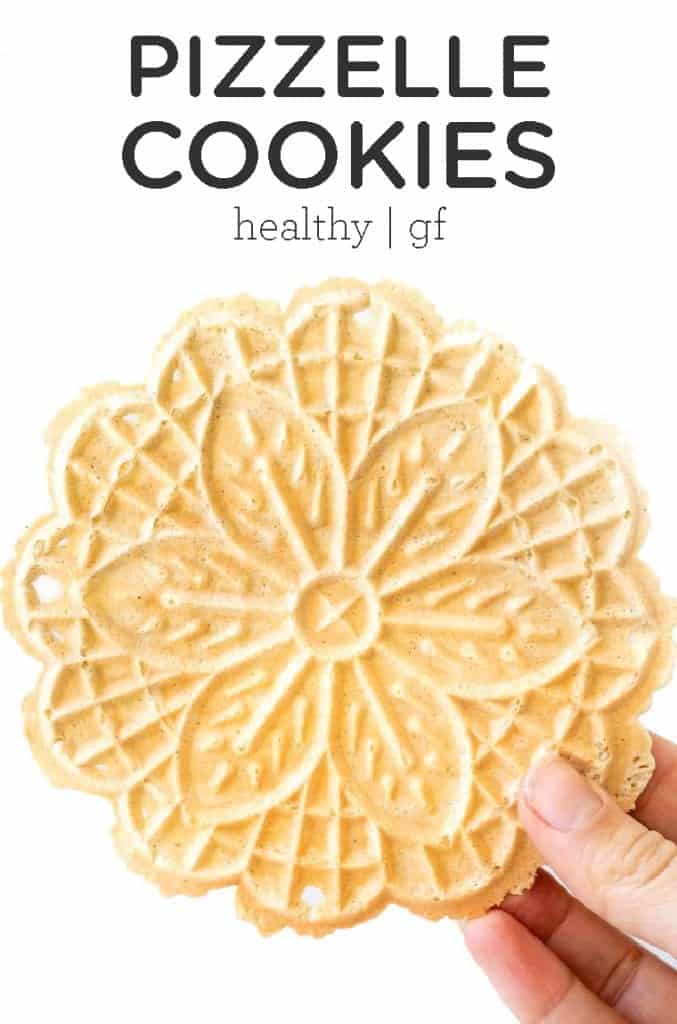 More Gluten-Free Christmas Cookie Recipes
If you make these dairy-free and gluten-free Pizzelle cookies, be sure to let me know what you think with a comment below
Gluten-Free Pizzelles
Healthy gluten-free pizzelle cookies with a little twist! These are the ultimate Christmas cookie and taste just like the "real thing"!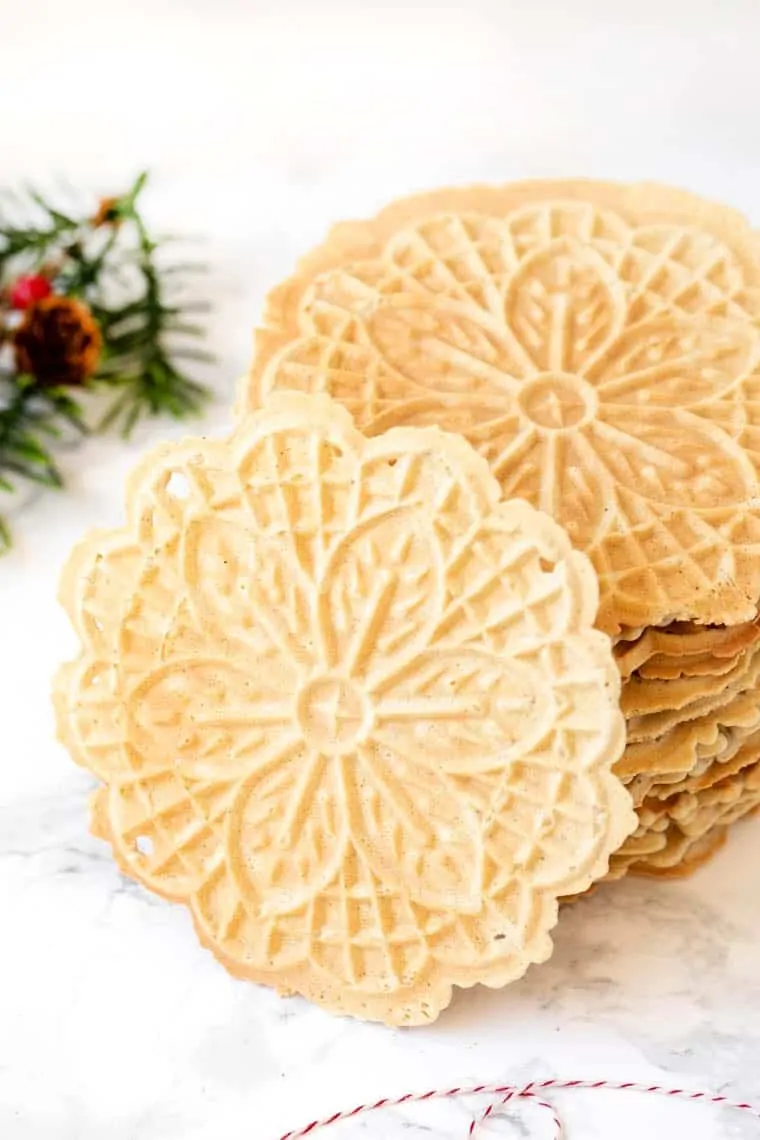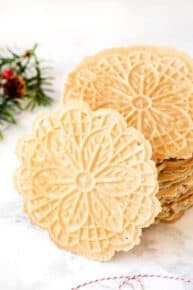 Instructions
Preheat a pizzelle cookie iron and spray with non-stick cooking spray.

Sift dry ingredients together in medium mixing bowl and set aside.

Beat the eggs in a large mixing bowl until smooth and creamy. Gradually whisk in oil and flavoring. Add the syrup slowly as you continue to whisk until everything is incorporated.

Beat in dry ingredients until a smooth batter forms.

Spoon about a tablespoon of dough onto the hot pizzelle iron, close the lid and cook according to the instructions. Mine were about 1 minute per cookie. Repeat with the remaining batter.

Let cookies cool completely on a wire rack. Store in a cool dry place.
Notes
gluten-free | dairy-free | refined sugar-free
Nutrition
Calories:
95
kcal
|
Carbohydrates:
13
g
|
Protein:
1
g
|
Fat:
3
g
|
Saturated Fat:
2
g
|
Cholesterol:
20
mg
|
Sodium:
11
mg
|
Potassium:
116
mg
|
Sugar:
4
g
|
Vitamin A:
30
IU
|
Vitamin C:
0.2
mg
|
Calcium:
28
mg
|
Iron:
0.4
mg
Filed Under: