This quinoa greek salad is the perfect blend of savory ingredients tossed with protein-packed quinoa and chickpeas. It's flavorful, easy and just delicious!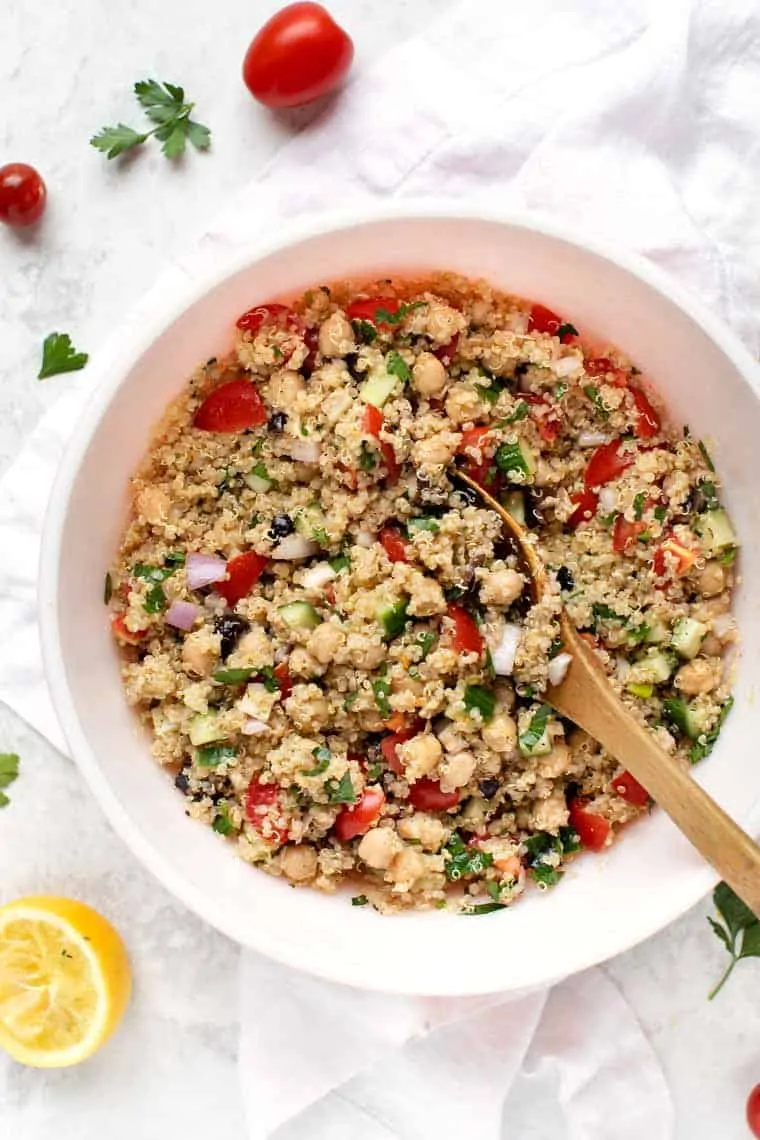 Whenever I go to a party in the summer, I'm the one who brings a salad. Call me boring, but it's just what I do. I seriously love salads and I find that at most warm-weather gatherings, the options aren't always the healthiest.
There tend to be big bowls of chips and dip, usually some sort of mayo-covered concoction (which is labeled as a "salad"), accompanied by burgers and dogs. The menu for me? Typically limited.
Which is why salads like this are so epic. This green quinoa greek salad is healthy, but it's also full of protein and healthy fats which makes it perfect for the plant-based eaters. And guess what? It's always one of the first to disappear!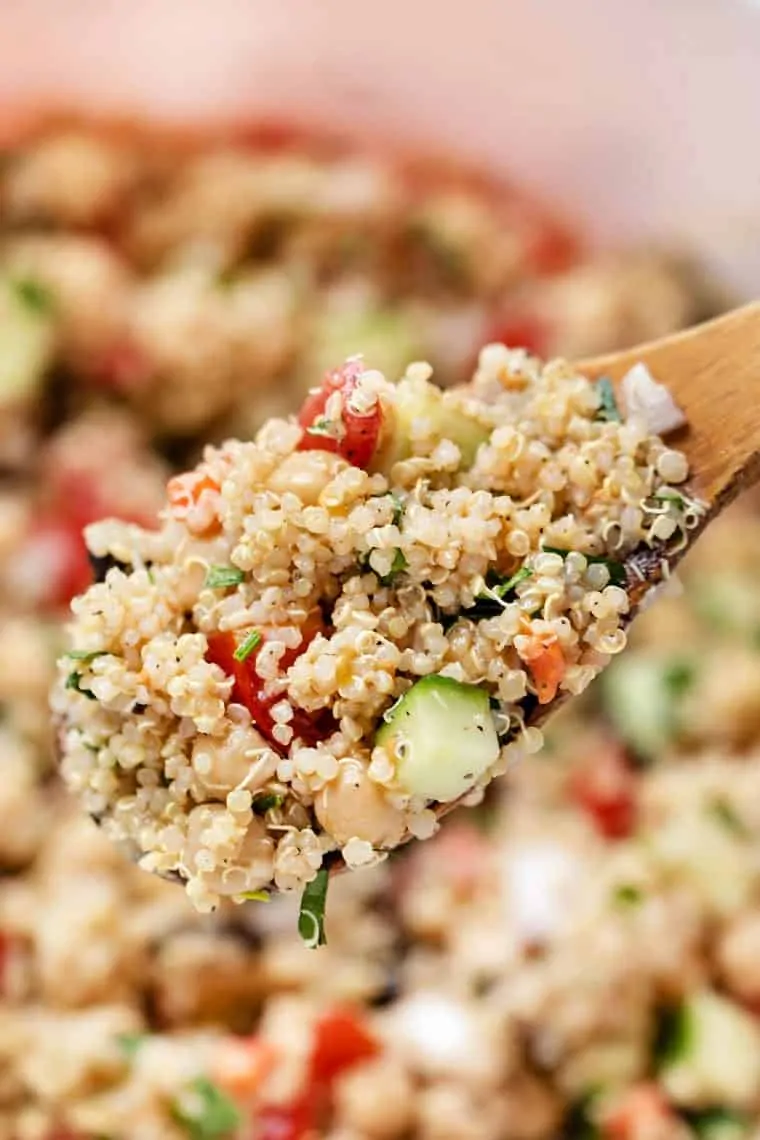 What is This Quinoa Salad Made Of?
I am a sucker for salty, briny things, so when I traveled to Greece a few years ago, I literally ate all the olives every single day. For today's Quinoa Greek Salad, we're keeping it pretty straightforward, but also making it plant-based. That means we're skipping the feta and using chickpeas instead.
Here's what you'll find inside our quinoa salad:
Cucumbers. They're crunchy, fresh and always delicious. Just yum.
Tomatoes. They're juicy, sweet and always make a dish better. Obsessed.
Onions. I usually hate raw onions. Not only do they make your breath rank, I just really don't think they taste that good. Unless they're in a Greek salad, then, bad breath aside, they totally rock.
Olives. Salty, salty and even saltier. My taste buds are singing.
Chickpeas. Takes place of the feta, adds more protein and helps the salad be
Parsley. Fresh herbs elevate dishes to a place their dried counterparts just can't reach. Yes.
And of course…QUINOA!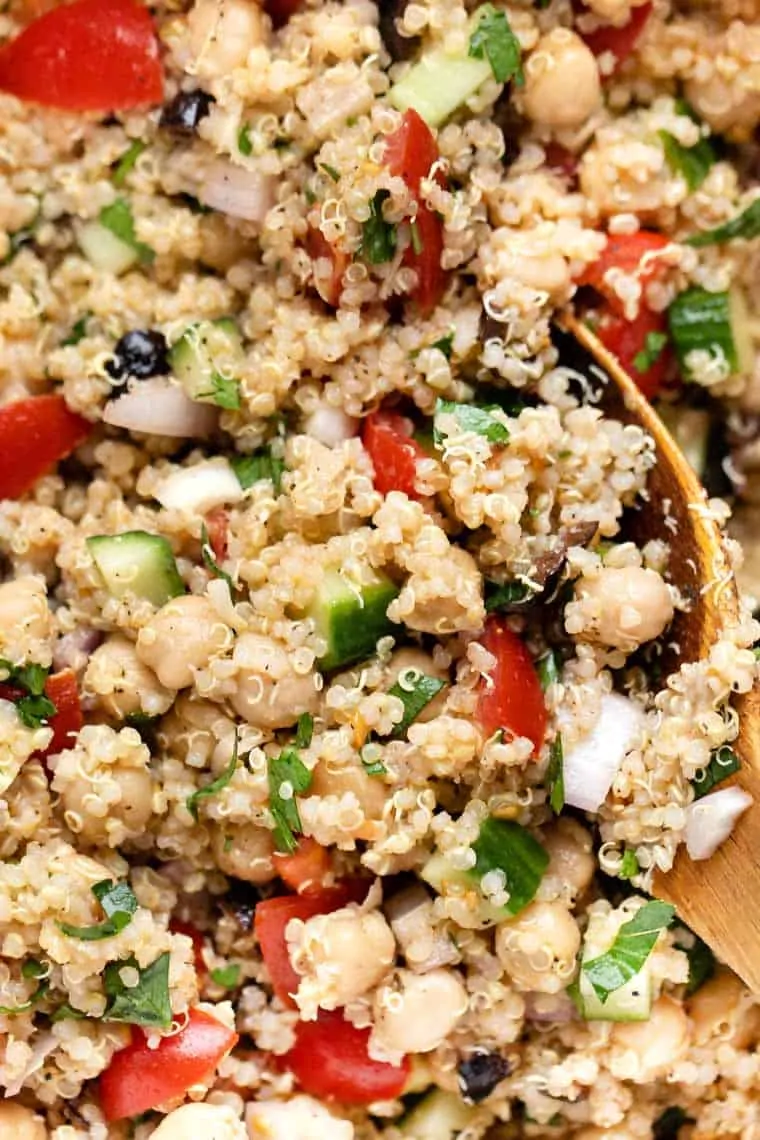 How Long Does Quinoa Salad Last in the Fridge?
Since we're talking about whipping up this gorgeous little salad for a party, you're probably curious to know if it can be made ahead, right? Fabulous! And the answer to that question is…YES!
Quinoa salads will last at least 4 – 5 days in the fridge. As long as you don't have any delicate greens in there (like spinach, arugula, mixed greens, romaine, etc.), it will stay nice and fresh. This Greek quinoa salad for example? It actually gets better the longer it sits because the flavors have more time to meld together.
So by all means, meal prep the heck out of this salad! Whip it up a day or two in advance and save yourself some time in the process.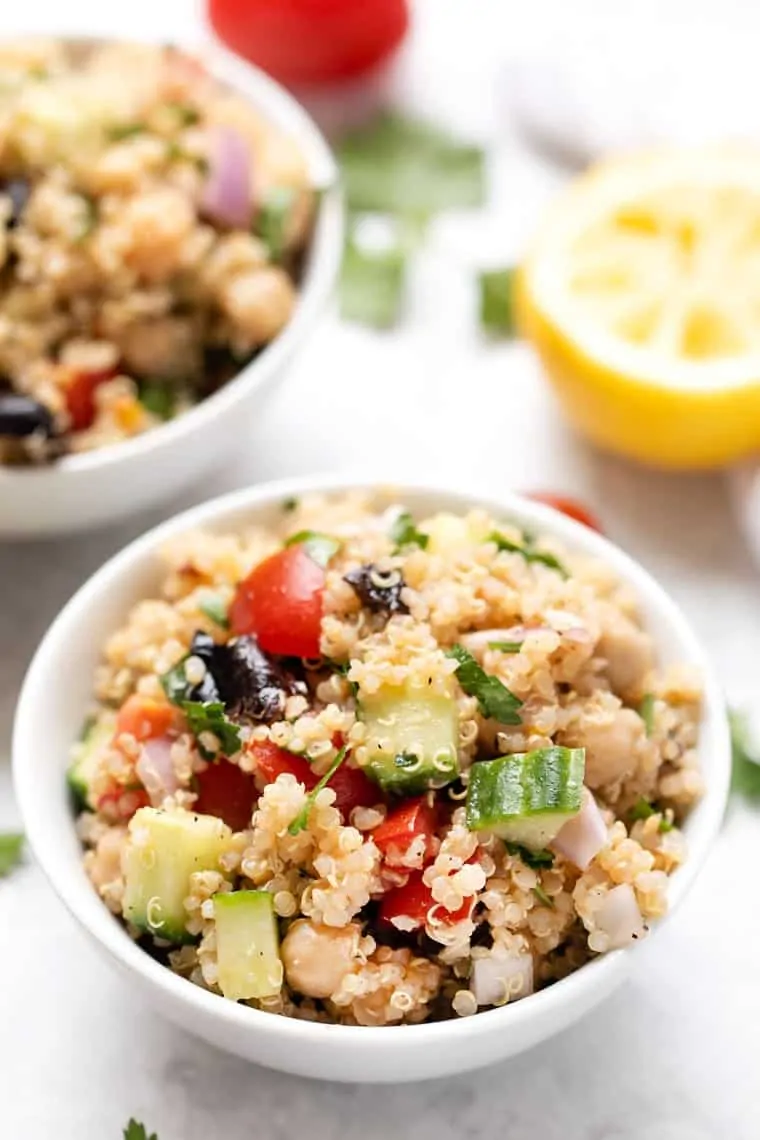 Tricks for How to Make Quinoa Salad Taste Good
Okay, so I know some people are quinoa averse. I get it! It's got a weird name and when people are new to it, quinoa can be a little unappetizing. I actually made this for Easter and served it to my family and one of my cousins said it was the first time he had ever tasted quinoa. Like WOAH!
But anyway…back to making quinoa salad tasting good.
I've found a few tricks along the way to make your quinoa salad taste incredible:
Toast and/or rinse your quinoa: this can remove the bitterness and make the quinoa flavor be a bit more mellow
Acid: adding something acidic – like lemon, vinegar, etc. – helps to add some brightness and zing to the recipe
Amp up your veggies: if you're not a big fan of the flavor of quinoa itself, add as many extra veggies you want!
Let it sit: the longer the quinoa salad sits, typically the more flavor it will develop (especially when you're using something briny like olives!)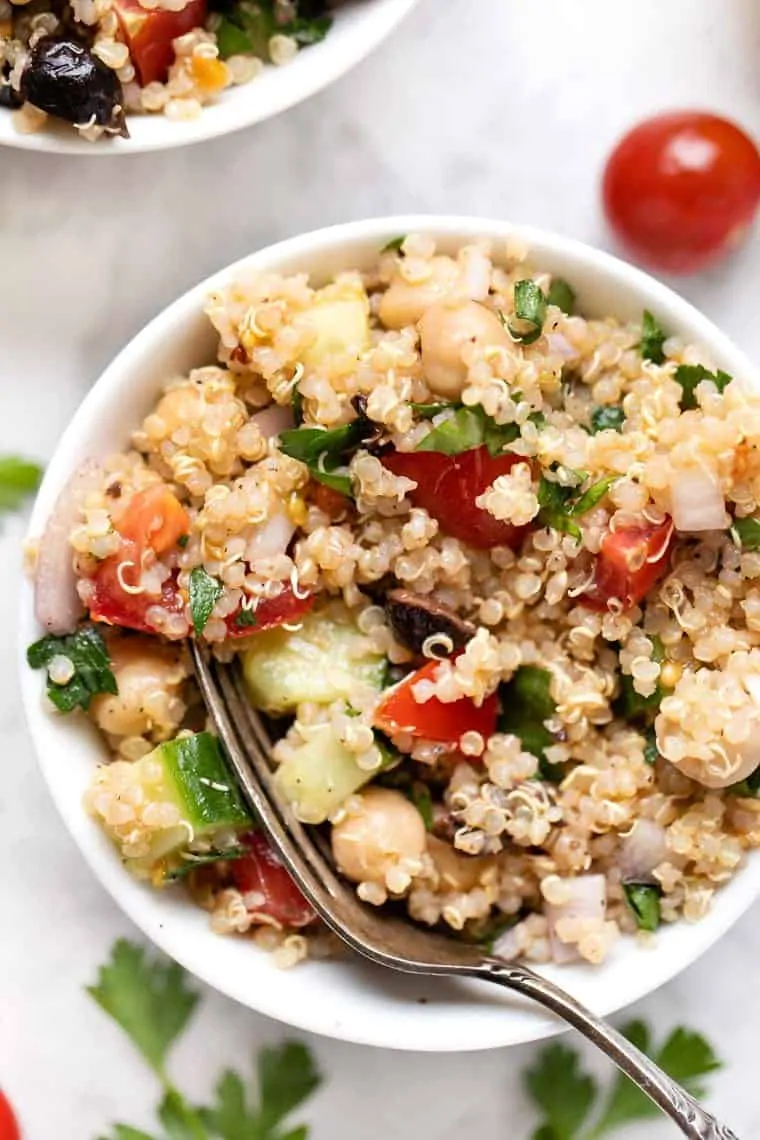 The Best Quinoa Greek Salad
Honestly, this has been one of my go-to quinoa salad recipes for years. Yes, years!
I first made this back in 2013, when my photos were not so great, and I've been coming back to it over and over again. It's just one of those staples that is a total crowd pleaser, is a cinch to make AND can be made ahead of time.
So basically, it's the ultimate salad for spring and summer. It'll be a hit at your next party and the leftovers will make a fabulous lunch or dinner for you the next day!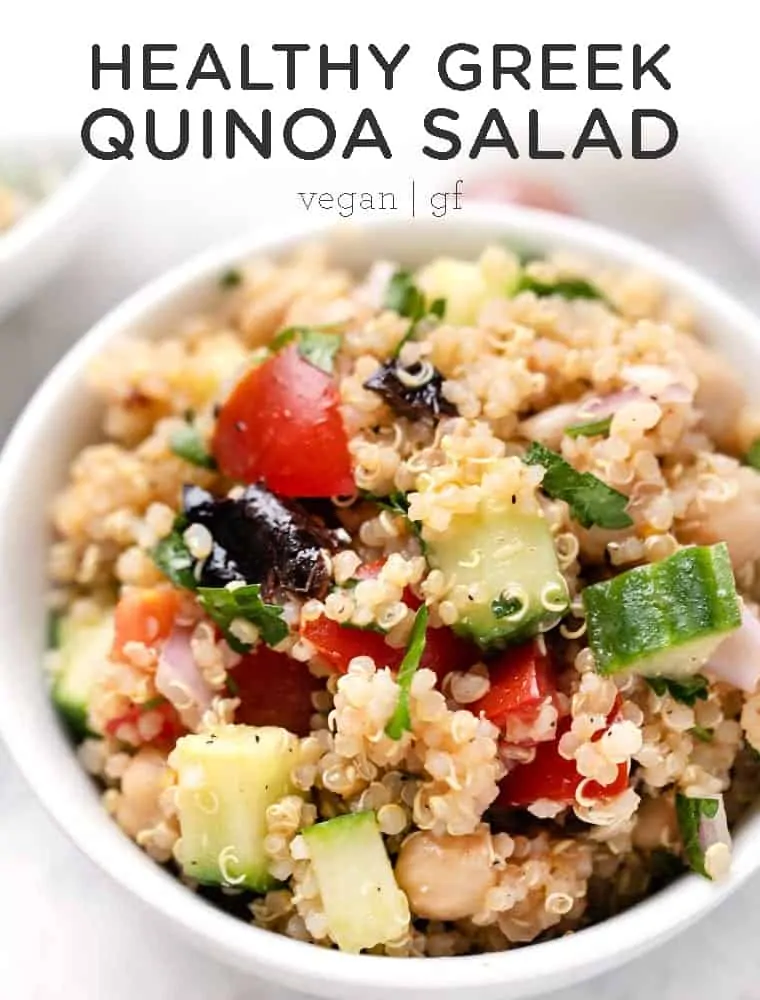 More Summery Quinoa Salad Recipes to try:
Quinoa Greek Salad with Chickpeas
You'll love this healthy Quinoa Greek Salad recipe! Easy to make, loaded with healthy vegan ingredients like cucumber and chickpeas, plus includes a quick dressing recipe!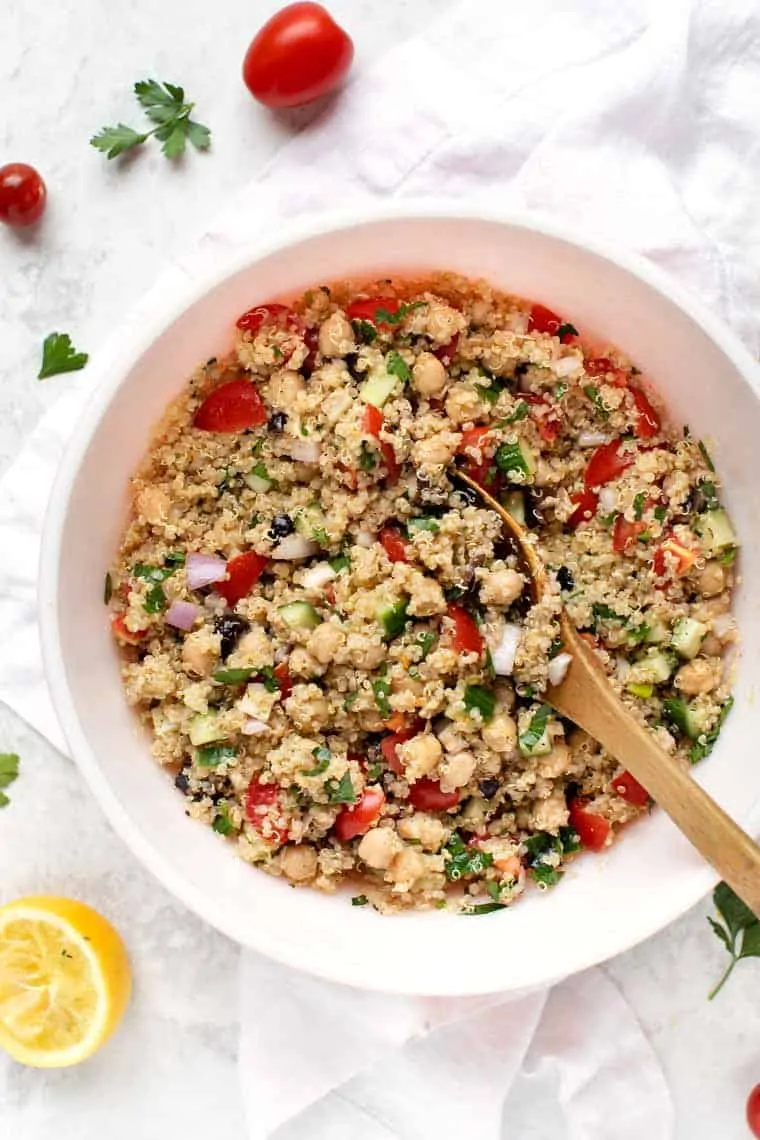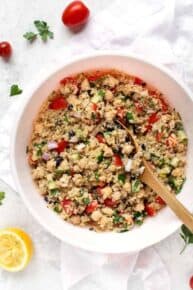 Ingredients
3

cups

cooked quinoa

cooled completely

1

medium cucumber

quartered and chopped

1

red onion

diced

1

cup

cherry tomatoes

quartered

1/2

cup

kalamata olives

pitted & diced

1/2

cup

flat-leaf parsley

chopped

Juice of 2 lemons

2

tablespoons

olive oil

2

tablespoons

dijon mustard

Salt & pepper to taste
Instructions
Toss the quinoa, chickpeas and veggies together in a large bowl. Add the parsley toss to combine.

Whisk together the lemon, olive oil, dijon mustard, salt and pepper until smooth. Pour over the salad and toss together. Taste and adjust salt and pepper if needed.

Chill in the fridge for at least 30 minutes, preferably for an hour, then serve.
Nutrition
Serving:
1.5
cups
|
Calories:
253
kcal
|
Carbohydrates:
34
g
|
Protein:
8
g
|
Fat:
9
g
|
Saturated Fat:
1
g
|
Sodium:
442
mg
|
Potassium:
444
mg
|
Fiber:
7
g
|
Sugar:
3
g
|
Vitamin A:
635
IU
|
Vitamin C:
15.3
mg
|
Calcium:
70
mg
|
Iron:
3
mg
Filed Under: