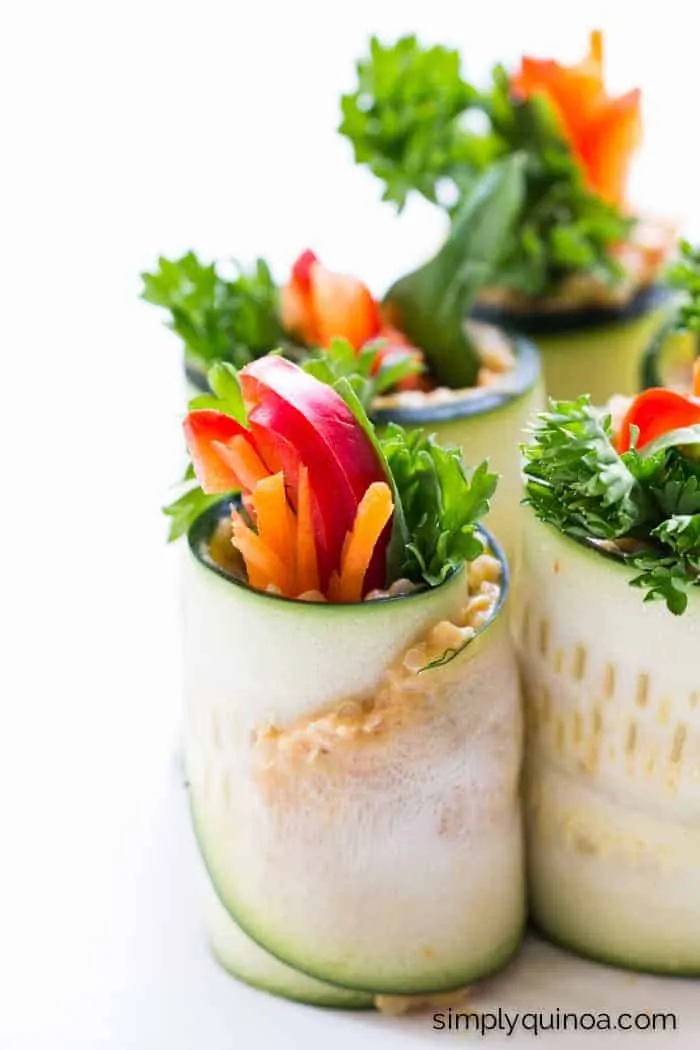 Zucchini. It's back!
Initially I was planning on making baked zucchini boats with hummus for you. But a) it's way too hot to bake anything and b) someone already thought of the idea.
So instead we're going in the no-bake, super simple, mega flavor-packed, high protein direction.
With zucchini roll ups!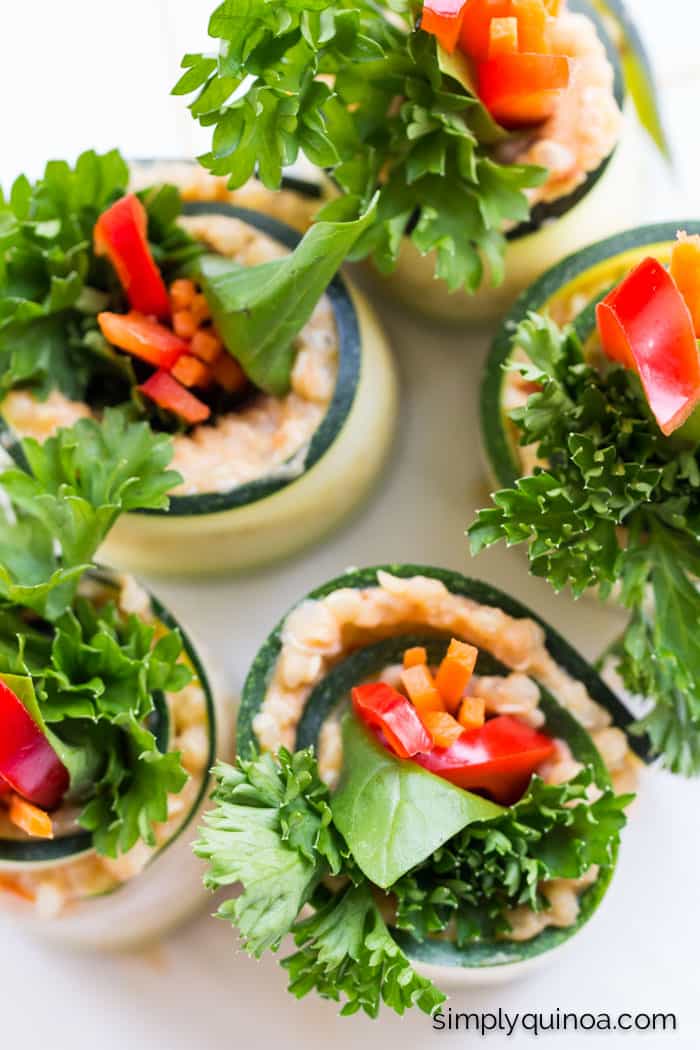 This recipe couldn't be any easier, my friends. It's just 5 ingredients, requires no major chopping and can be made in less than 20 minutes.
All you need is some hummus, some quinoa, a zucchini, some herbs, some veggies and a mandoline slicer (<– love that one!).
And the beauty of these little roll ups is that you can really go in whatever flavor direction you want, depending on what hummus you choose. Since my zucchini boats were going to be Italian-inspired, that's where we're going with our roll ups.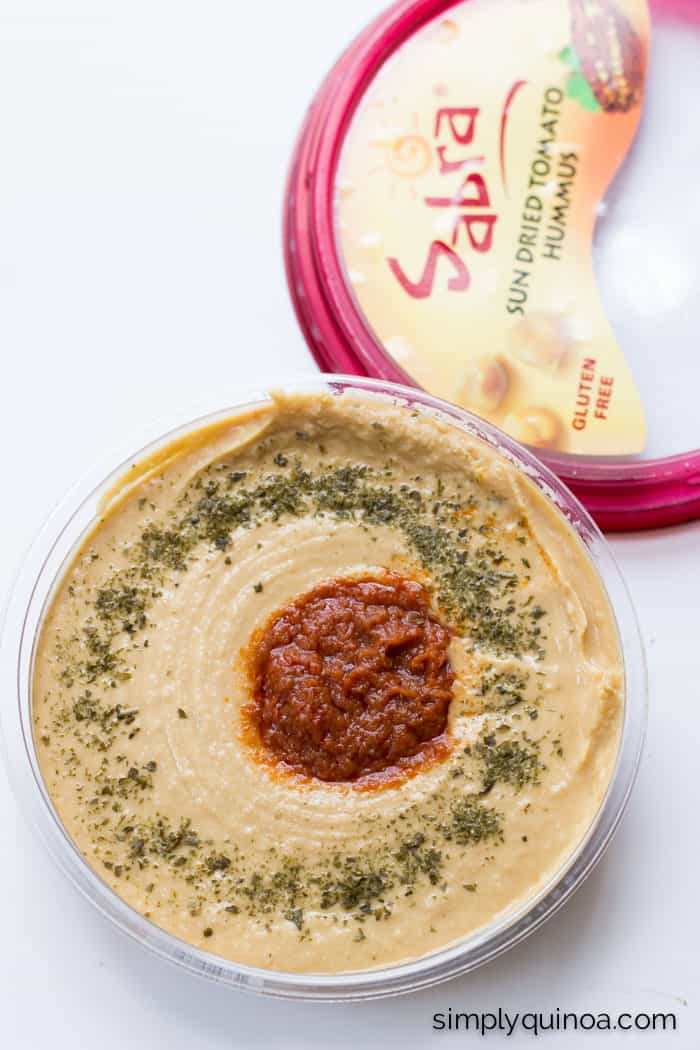 I used a base of Sabra's Sun-Dried Tomato Hummus, which is so dreamy. The hummus itself is peppered with finely chopped sun-dried tomatoes, but it's the gorgeous garnish that makes me really excited. That's the beauty of Sabra. Before you even take a bite, they've made the dip look so delicious that you simply can't resist.
My appreciation for Sabra and their delectable hummus only strengthened when I visited their headquarters and factory in Virginia last month. We had a fabulous two days of learning more about hummus, seeing how it's made and snacking to our heart's content.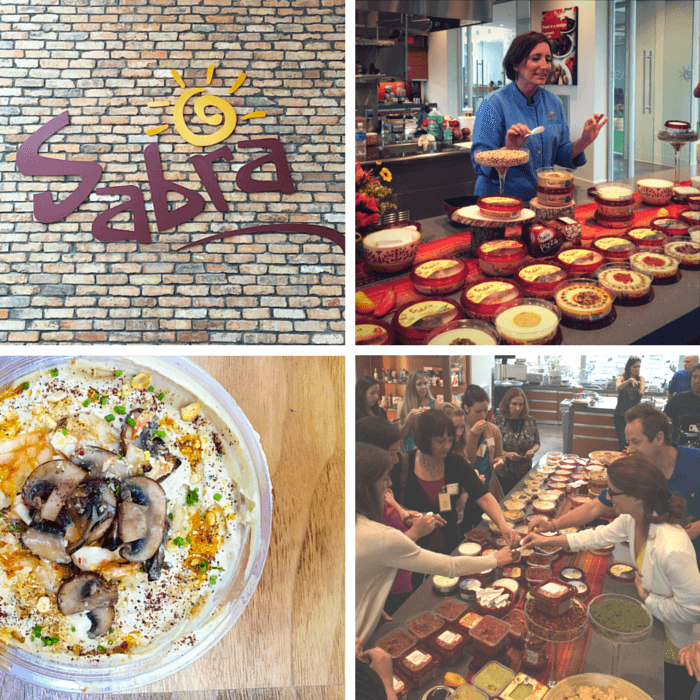 This was my first time ever visiting a food factory before and what really stuck out to me about how Sabra makes their hummus, was how fresh they're able to make it. From the time the raw chickpeas enter their doors to the time that little container is sealed and packaged, it takes only 5 hours. It would take me longer than that to simply make a batch of hummus all the way from scratch!
And the volume at which they do it was astounding. They're able to churn out hundreds of thousands of tubs of hummus EVERY. DAY. So crazy insane (but totally awesome at the same time <– more hummus for me!)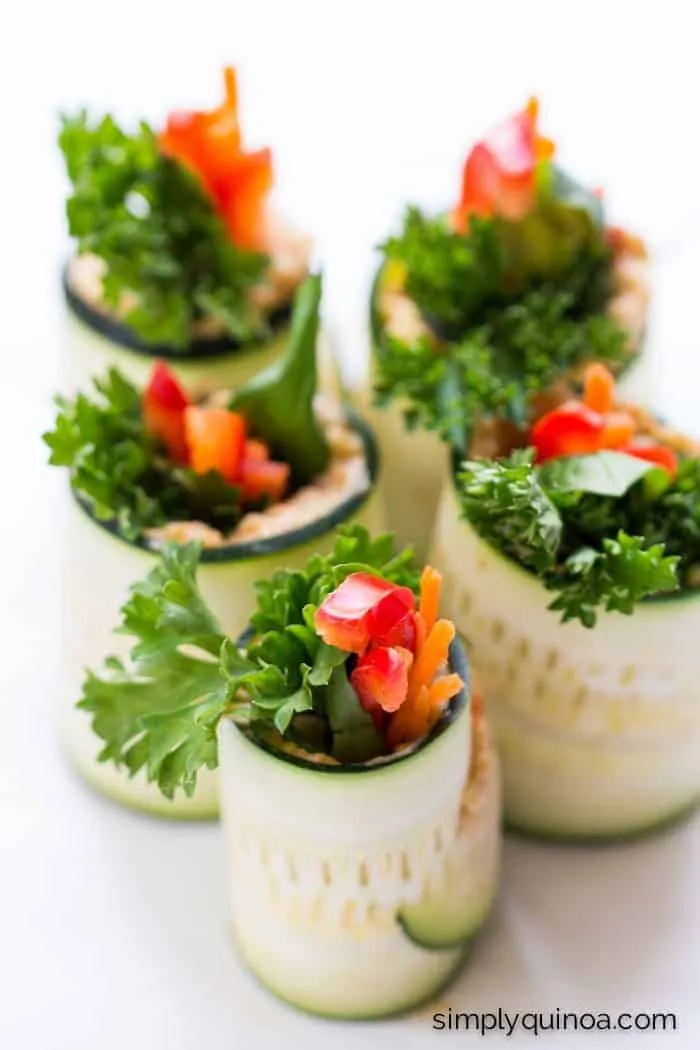 Hummus is something that I eat pretty much on a daily basis. It's usually my afternoon snack with some homemade crackers or veggie sticks, but lately, I've loved adding it in other areas of my cooking. I throw a dollop on top of my salads, add it to my salad dressing to make them creamy and protein-packed and now these zucchini roll-ups.
These are going to be a standby in our house!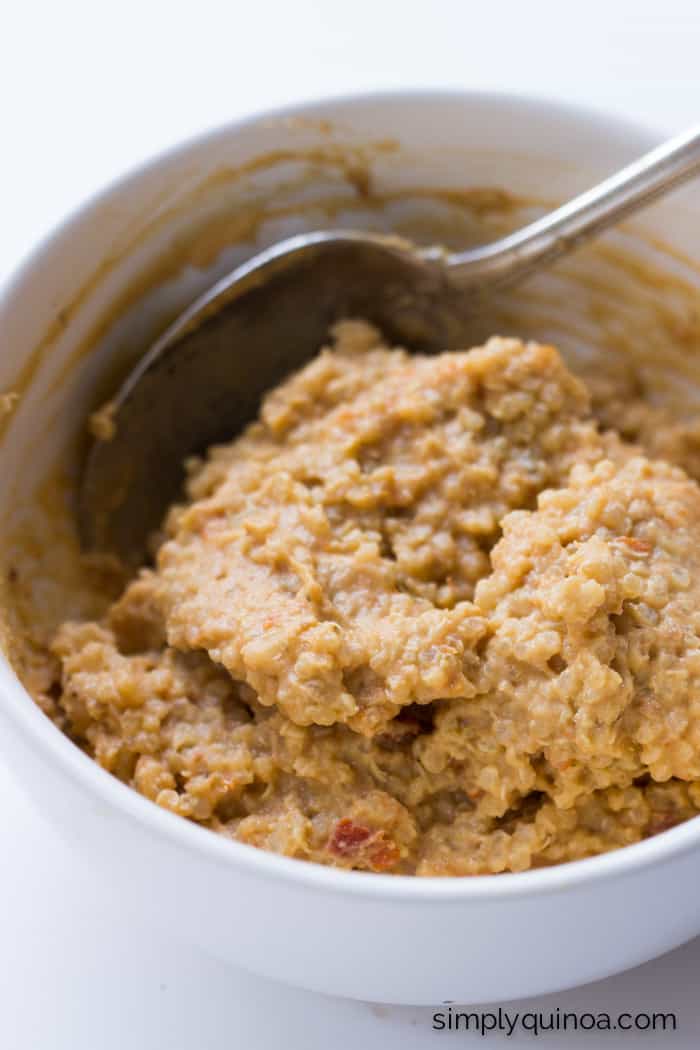 When I envisioned this recipe, I knew I wanted to add quinoa to the filling, but when I initially tested it, I first did a layer of hummus and then a layer of quinoa and it totally didn't work. They quinoa went everywhere, they were hard to eat and super messy. So I took inspiration from my quinoa pesto and decided to just mix the two together!
The result was thick, creamy and sticky, perfect for clinging to my vegetables and holding the roll-ups together!
I simply spread a layer of the quinoa-hummus mixture down on the zucchini, added my herbs, then topped it with red peppers and carrot slices for some crunch. Rolled 'em up, cinched them with a toothpick (if necessary) and they were ready to be devoured.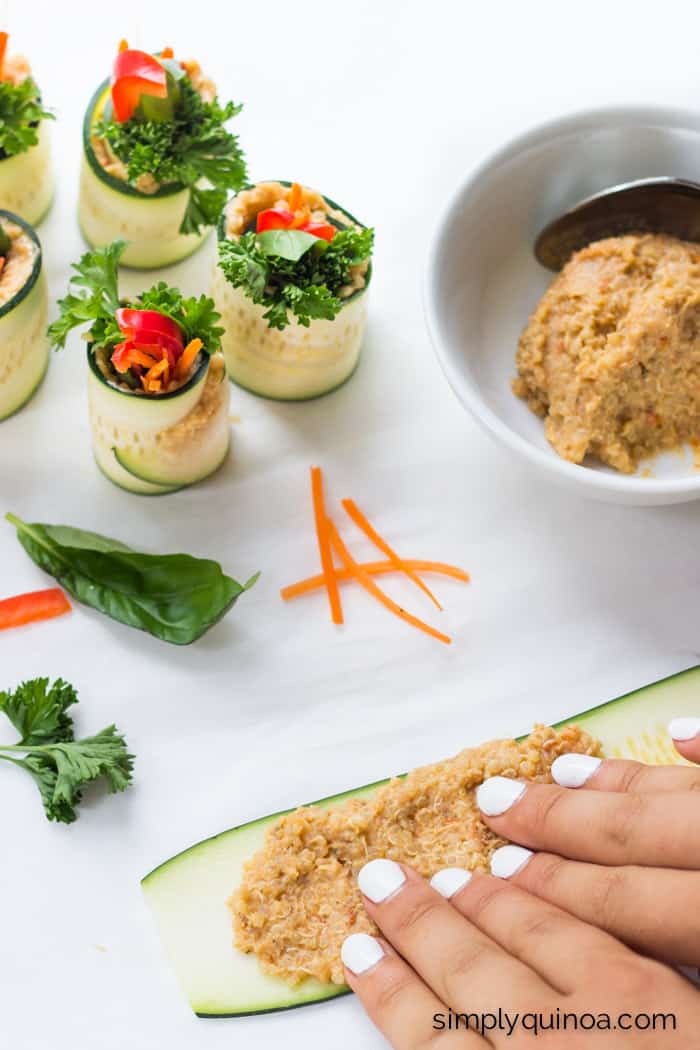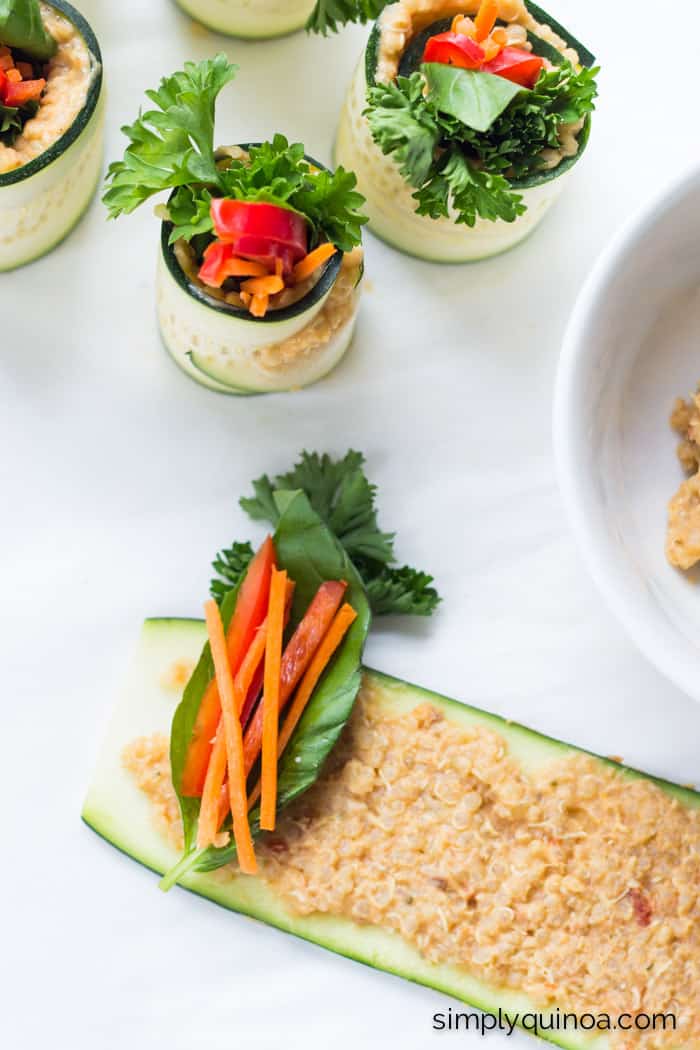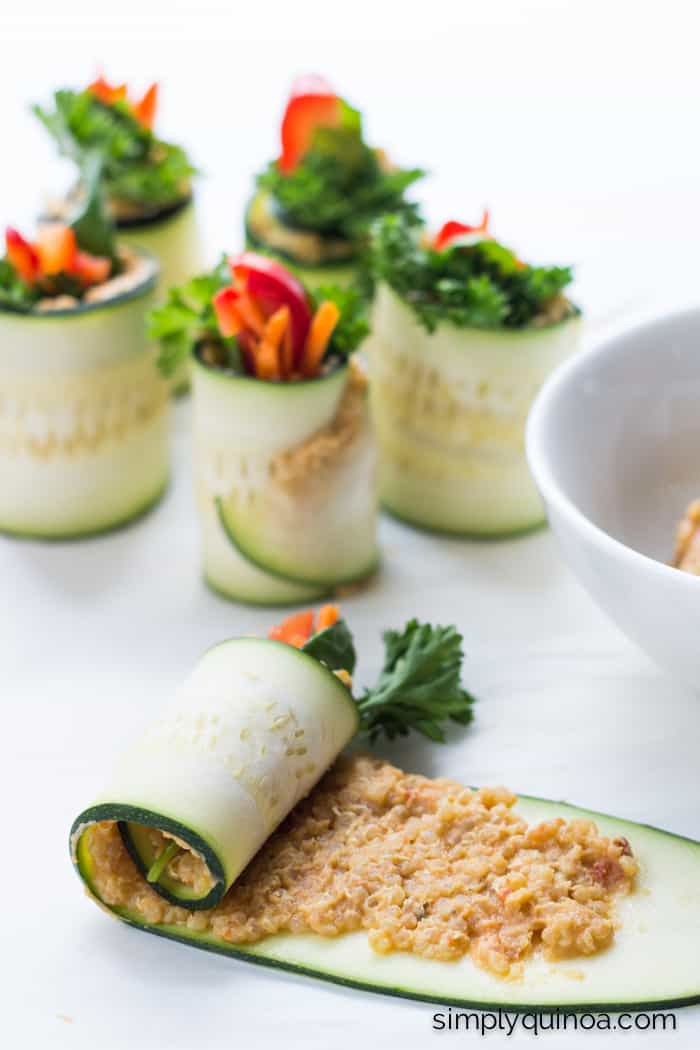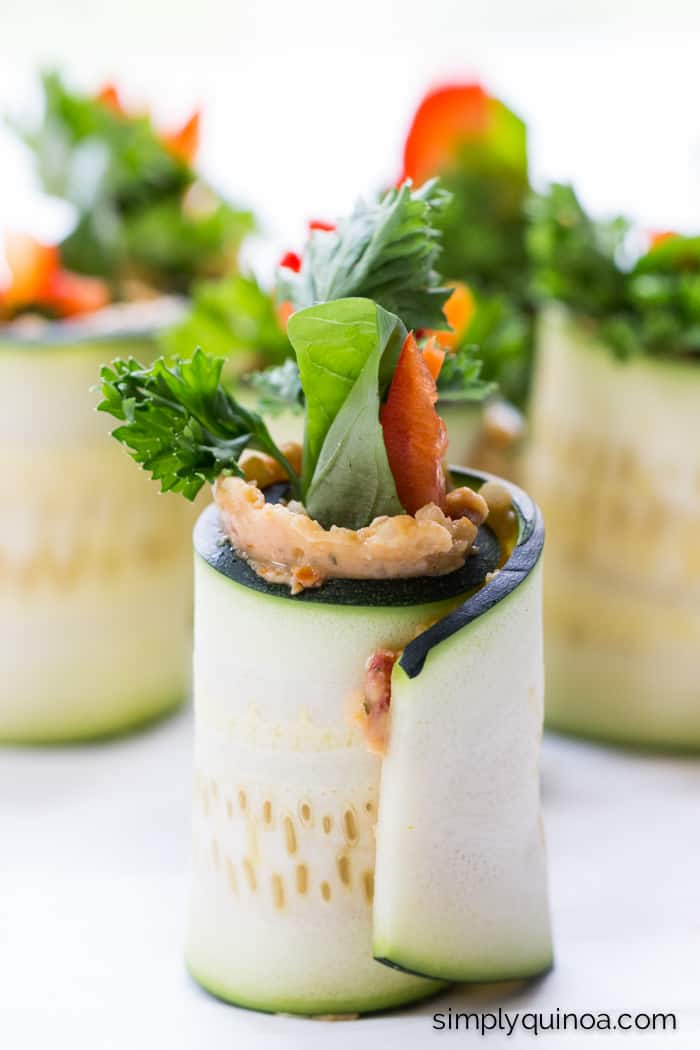 These might be one of the most fun recipes I've made in a while and I hope that you give them a try! I will say, if you have a mandolin slicer, it will make this a whole lot easier since you can quickly make uniform slices of zucchini. If not, just slice my hand and try to get them thin enough to roll.
And also, don't forget that you can use whatever flavored hummus you like! I'm dreaming of this with pesto, roasted garlic and even the jalapeño (thinkin' cilantro, avocado, tomato…yum!).

PS: if you make this recipe (or any others!) make sure to snap a pic and share it on Instagram using hashtag #SIMPLYQUINOA – I want to see your creations!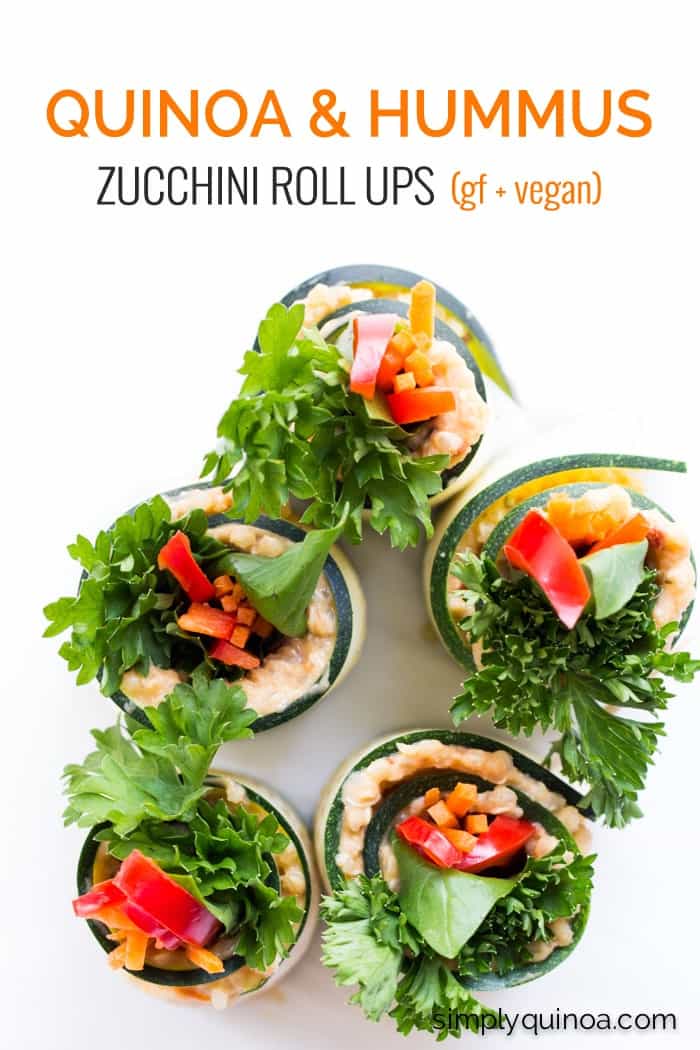 More Hummus Recipes To Try!
Quinoa + Hummus Zucchini Roll Ups
This recipe couldn't be any easier, my friends. It's just 5 ingredients, requires no major chopping and can be made in less than 20 minutes.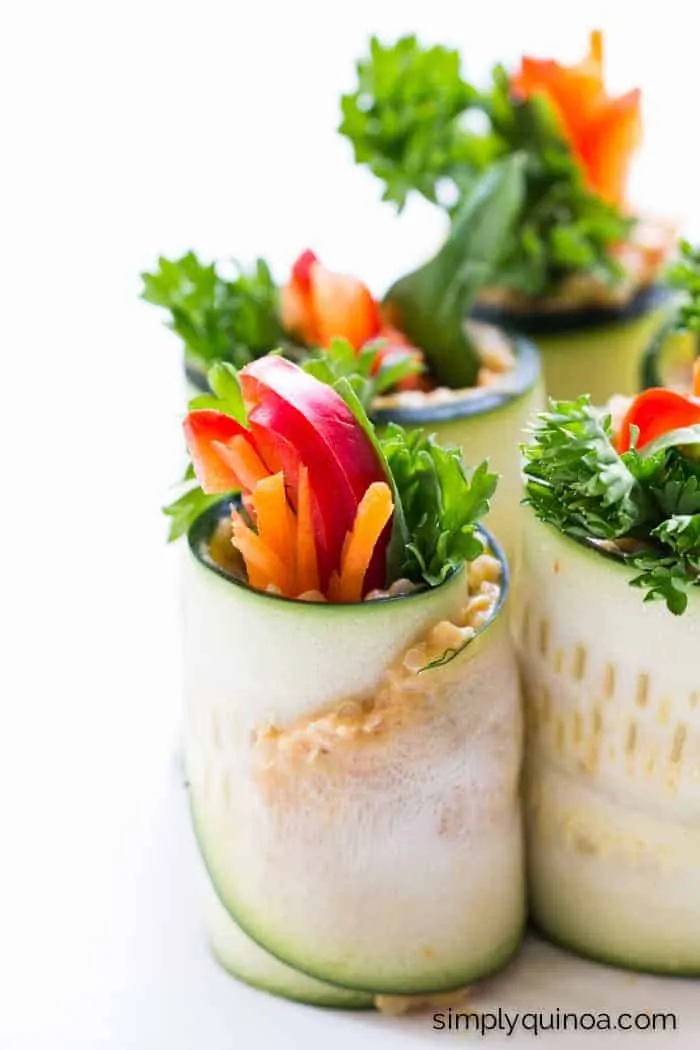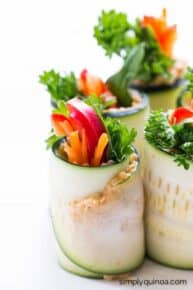 Ingredients
1

medium zucchini

1/2

cup

Sabra Sun Dried Tomato Hummus

1/2

cup

quinoa

1/4

cup

fresh parsley

8 - 10

leaves

of fresh basil

1/4

cup

finely sliced red pepper*

1/4

cup

finely sliced carrot*
Instructions
Using a mandoline slicer, slice the zucchini lengthwise into thin strips (you'll only need about 1/2 of the zucchini or 8 - 10 slices; save the rest for a saute or my

Farmer's Market Quinoa Salad

!).

In a small bowl, mix together the hummus and quinoa. Spread about 1 tablespoon of the filling onto the a zucchini and spread it out evenly with your fingers (or a spoon).

Arrange the herbs down on one end, top with veggies and then roll the zucchini up like sushi. Secure the end with toothpicks if necessary.

Repeat until all ingredients are used.

Serve immediately and enjoy!
Notes
*Feel free to use whatever vegetables you'd like!
Nutrition
Serving:
4
g
|
Calories:
58
kcal
|
Carbohydrates:
8
g
|
Protein:
2
g
|
Fat:
1
g
|
Sodium:
51
mg
|
Potassium:
153
mg
|
Fiber:
1
g
|
Vitamin A:
840
IU
|
Vitamin C:
10.5
mg
|
Calcium:
15
mg
|
Iron:
0.8
mg
Filed Under: