These beet + quinoa veggie burgers are the perfect addition to your weekly meal rotation. They're easy, healthy and totally delicious!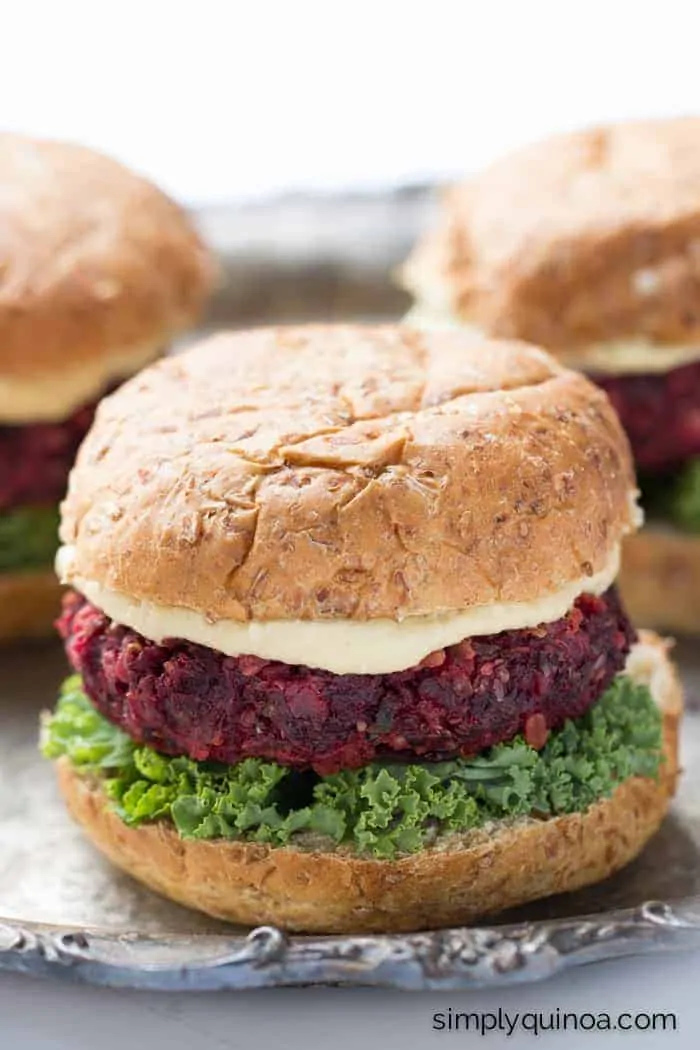 I'm feeling like it's about time that we brought back the quinoa veggie burgers.
It seems like ages ago since I shared my last recipe. Last August in fact. Remember the Tex-Mex Quinoa Burgers? So good! And since quinoa burgers, in general, are definitely one of our favorite meals, and we're starting to get a few glimpses of summer, I felt we were a tad overdue.
You know, I'm not sure why but I really only associate burgers with summer. It's probably because I'm used to having meat burgers on the grill. That and burgers are also the perfect picnic food. And summer = picnics (preferably on the beach). But waiting for 8 months? That's just plain crazy talk.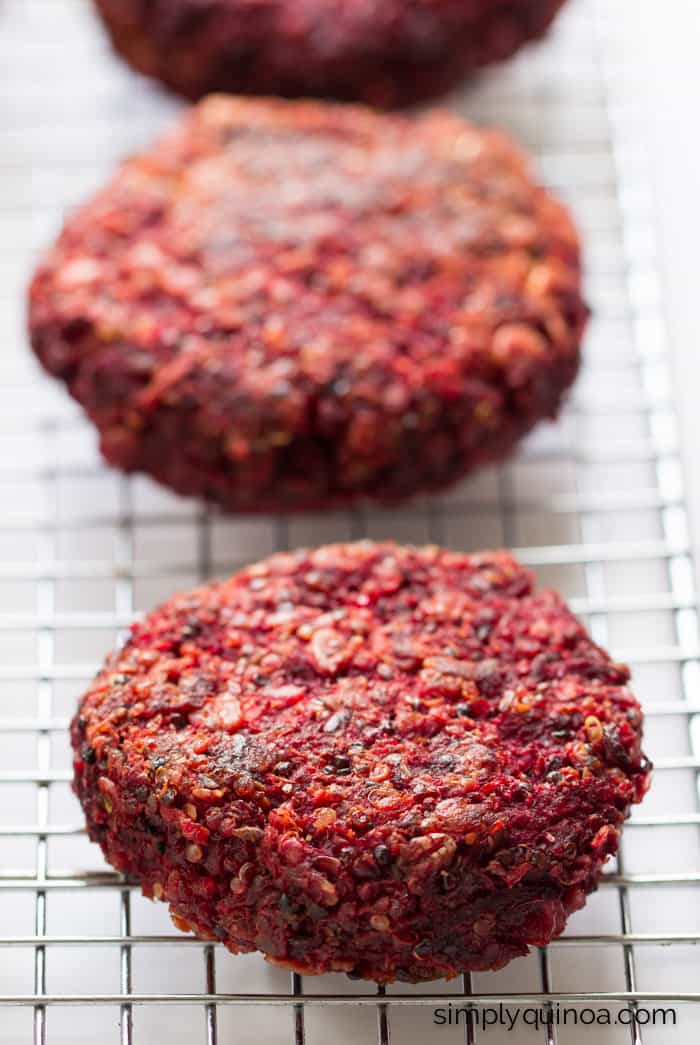 These are a new-to-me kind of burger that I've seen floating around on Pinterest and other food blogs and I knew I had to give them my own spin. I wouldn't have thought of adding beets to a burger but I have to admit it's kind of genius. Not only are they simply gorgeous, with that vibrant reddish-purple shining through, but they also have a slightly meaty texture making them excellent additions to your favorite veggie burger rotation. (please tell me you also have a veggie burger rotation…?) 
Surprisingly, the beets are uncooked when you make the burgers. But since we sear them, they get nice and soft without being too mushy. I think if you pre-cooked them, your burgers would end up a little soggy. That or you'd have to add so many dry ingredients that it would take away from the wonderful nature of the beats.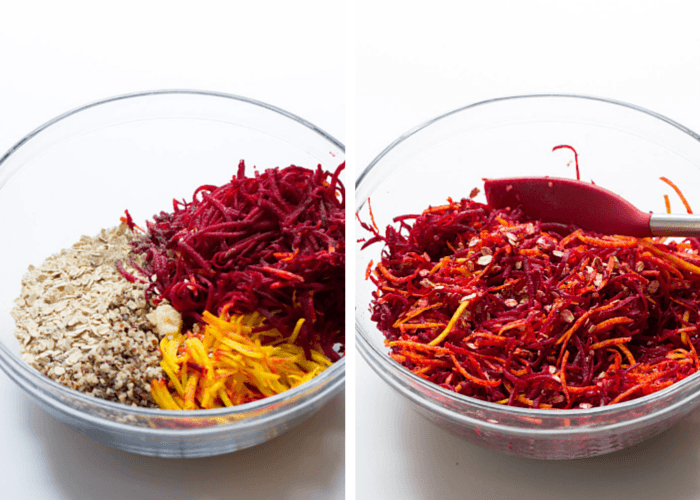 You'll see here that I used a mixture of red and golden beets, but you can really use whatever you want. Heck, you could even make them with the candy cane beets if you can find them! Along with the beets, the base of these burgers is just quinoa, oats, some flaxseed meal, a touch of garlic and some salt and pepper. Mix it all together, transfer it to a food processor and add your wet ingredients.
Now the wet ingredients are where I had some fun. Some recipes I've read use beans to bind the burgers together, but I wasn't feelin' that so I went with a blend of pureed eggplant and hummus. I know the eggplant sounds a little strange, but all I did was steam some chopped up eggplant and gave it a quick whirl in my food processor. And if that feels like too much work, you could easily substitute a store-bought baba ganoush or just substitute it with more hummus. But the eggplant is kind of awesome, so I say go for it.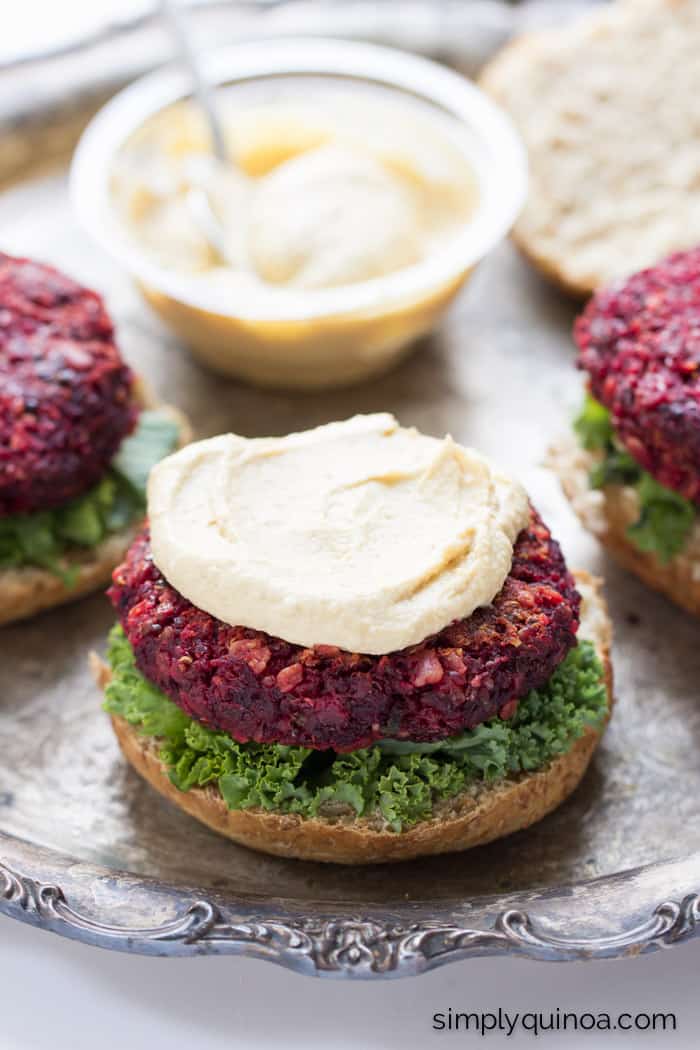 Also, I think we need to address a major issue when it comes to making veggie burgers: they fall apart.
Are you with me? I mean really, I can't even tell you how many times I've made a batch of healthy veggie burgers that I was SUPER excited to eat, only to have them crumble into pieces, stick to the grill, or turn into a huge mess right in front of me. Case in point: this photo.
But I think I've finally figured out the key to making veggie burgers stick. Well, two keys actually.
Don't go overboard with the "wet" ingredients (even if they feel dry). Just keep mixing, keep mixing and keep on mixing. And if that doesn't help, give them a quick pulse in the food processor to combine the ingredients (like I did here).
Let them chill. Honestly, I'm not really sure why this works but it totally does. If you let your veggies burgers sit in the fridge for a little while, they hold together soooo much better. They won't fall apart and you'll even be able to brown them in a skillet! Perfection.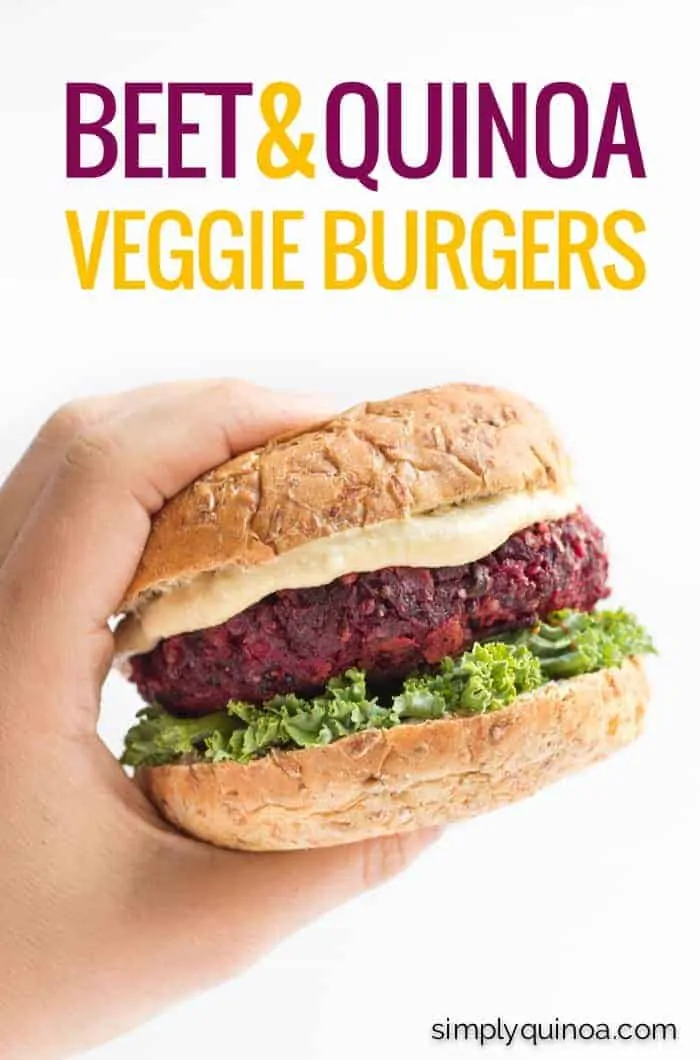 And talk about perfection, these burgers are it. They're easy, healthy and delicious, loaded with veggies, but with an ever so gentle sweetness. They're sturdy, hold up well to toppings and as you can see make for a pretty epic veggie burger.
Plus, it doesn't hurt that they're pretty to look at, right?
Try These Amazing Veggie Quinoa Burgers:
Beet + Quinoa Veggie Burgers
I'm feeling like it's about time that we brought back the quinoa veggie burgers.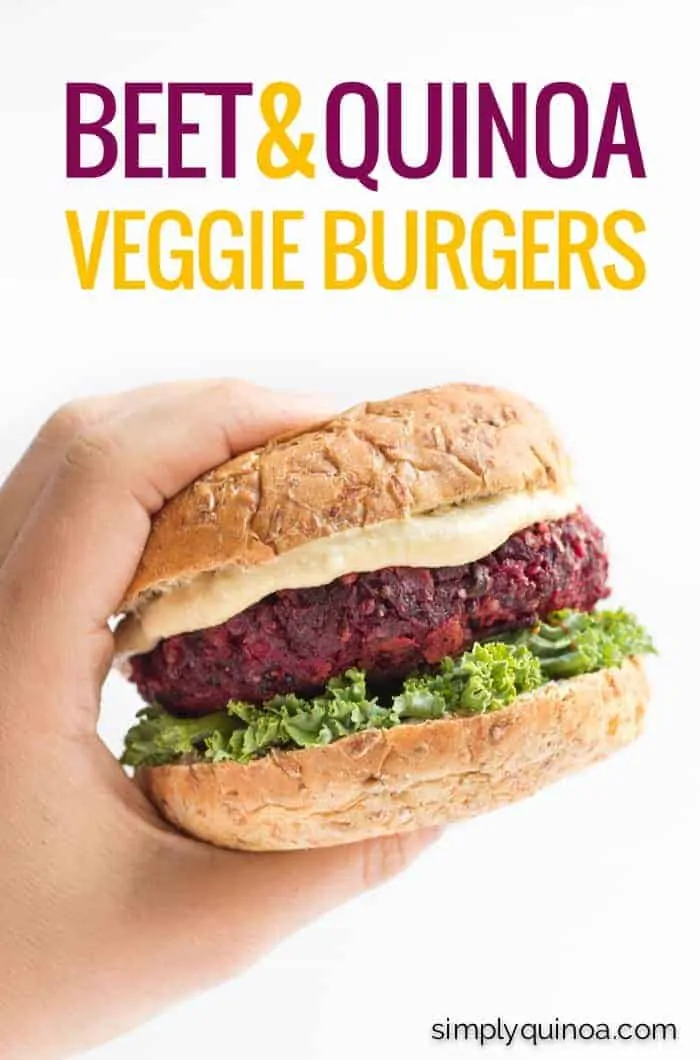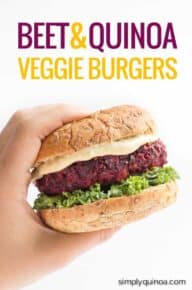 Ingredients
1 1/2

cups

chopped eggplant

or 1/2 cup baba ganoush

5

tablespoons

flaxseed meal

divided (+ more as needed)

6

tablespoons

warm water

4

cups

shredded beets

about 3 medium beets

1

cup

cooked quinoa

1

cup

gluten-free rolled oats

2

garlic cloves

minced

1/2

cup

hummus

Salt + pepper to taste

Oil for cooking

For serving: gluten-free buns

lettuce/kale, hummus
Instructions
If using fresh eggplant, add to a steaming basket and steam until fork tender, about 5 minutes. Transfer to a food processor and process on high until smooth. Transfer to a mixing bowl and set aside. If using baba ganoush, simply skip this step.

In a small bowl, add remaining 2 tablespoons of flaxseed meal and water. Quickly stir and set aside.

Add beets, quinoa, oats, 3 tablespoons of flaxseed meal and garlic into a large mixing bowl (or directly into the bowl of a food processor) and mix to combine. Transfer to a food processor and pulse to combine the ingredients. Transfer back to the bowl.

Add flax eggs (flax and water mixture) along with the pureed eggplant and hummus into the bowl. Mix until the dough comes together and you can shape it into patties. Season with salt and pepper. [note: if it seems too wet, let it sit for 10 - 15 minutes until you add more flax to let the oats and flax soak up some of the liquid. You want to be able to shape them into patties]

Once ready, line a baking sheet with parchment paper and shape the dough into 8 patties. Transfer baking sheet to the fridge and let chill for at least 60 minutes and up to overnight.

To cook the burgers, heat up a little oil in a large skillet over medium heat (I think coconut oil would be really good here). Once hot, sear the burgers until brown on either side, about 3 - 4 minutes. Transfer to a wire rack and repeat until all burgers are done.

Serve them with your gluten-free buns and top them with greens and a smear of hummus. Enjoy!
Nutrition
Serving:
1
g
|
Calories:
167
kcal
|
Carbohydrates:
23
g
|
Protein:
5
g
|
Fat:
6
g
|
Sodium:
157
mg
|
Potassium:
403
mg
|
Fiber:
6
g
|
Sugar:
5
g
|
Vitamin A:
20
IU
|
Vitamin C:
3.9
mg
|
Calcium:
40
mg
|
Iron:
2
mg
Filed Under: