Grapefruit Margarita Green Smoothie
This Grapefruit Margarita Green Smoothie is a healthy green smoothie that tastes like a margarita! With lime, grapefruit, mango, and quinoa it's nutritious and tasty!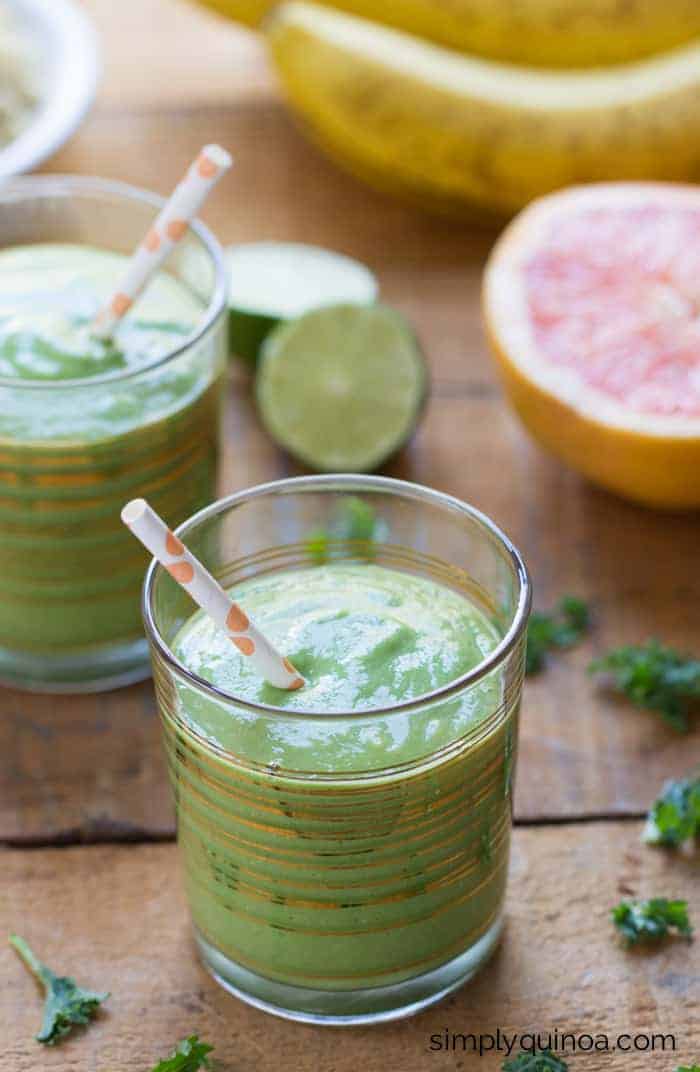 Happy Cindo de Mayo! 
Wouldn't it be great if this fabulous holiday was on a Saturday instead of a Tuesday? I mean honestly, if you're anything like me, then a typical Tuesday night involves a cup of tea, Netflix and snuggles with your pup on the couch. Not necessarily the life of the party…
But that's okay, because instead of heading out on the town and drinking margaritas all night, only to wake up the next day feeling like you've been hit by a truck, why don't we start the drinking early and just have a margarita for breakfast!?
It's the ultimate way to kickstart your day.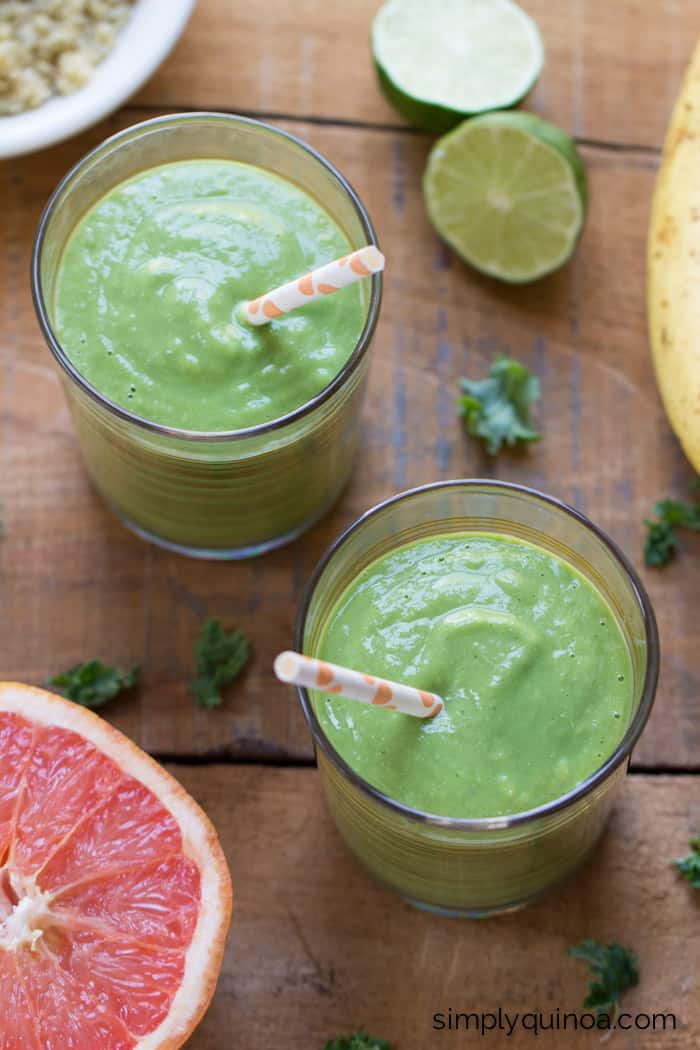 KIDDING! You didn't really think I'd be promoting fueling your body with tequila when you first wake up, did you? I hope you know me better than that 😉
I'd have to say…the only scenario where having a margarita for breakfast is acceptable would be if that margarita came in the form of a nourishing green smoothie.
Just like this.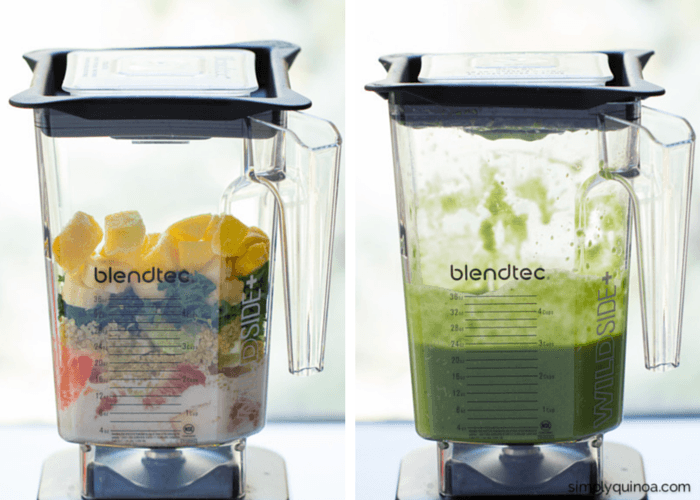 I've never really been a fan of overly sweet drinks, but since the base of a good margarita is fresh lime juice, they do need a little bit of sugar to counterbalance the tartness from the limes. [my mouth is puckering just thinking about all that sourness] My problem is…I try to avoid refined sugar as much as possible and most margaritas you'll find in restaurants are full of it. 
Sure you can get the "skinny" versions which are made primarily with lime juice (not a mix), but those still have some simple syrup which, in my opinion, is something I'd rather skip. The solution? FRUIT! 
I've figured out the key to a perfectly sweet (and almost healthy) margarita is to just add some fruit. We've made them with watermelon, with mango, with pineapple, and my all-time favorite…grapefruit.
Which made me realize, if you take away the alcohol…you're basically left with a great base for a smoothie.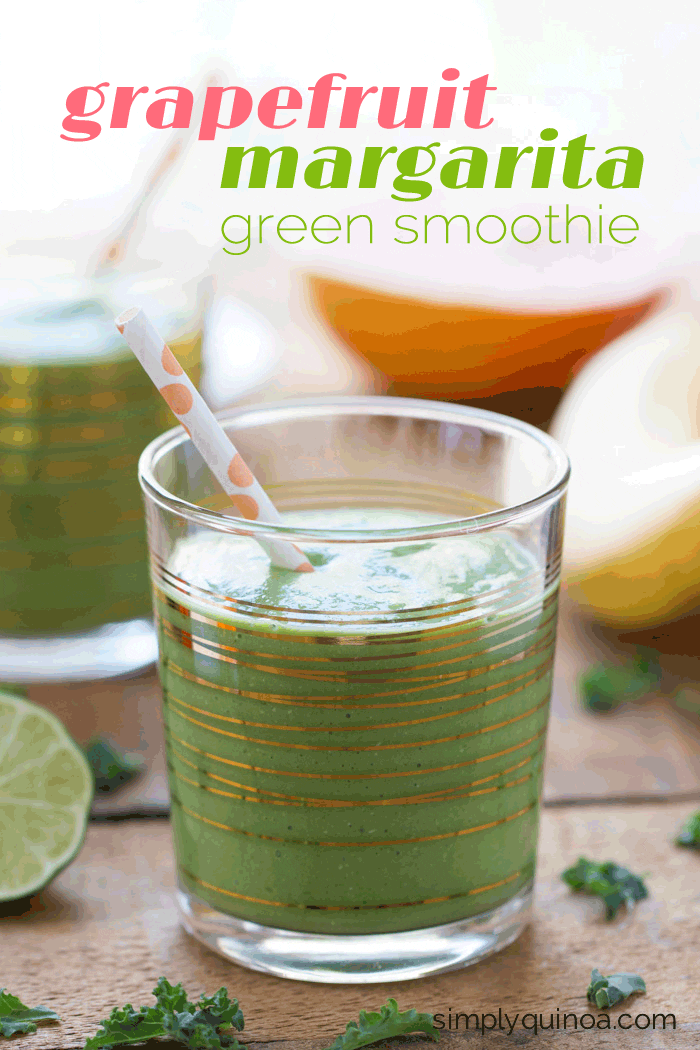 So that's what I'll be having today my friends. Instead of drinking those sugar-filled margaritas, I'm going to keep it clean and healthy with my grapefruit margarita green smoothie. It's refreshing, it's packed full of nutrients, and if you close your eyes…you can totally picture yourself lounging on the beach, sipping your way to pure bliss.
Enjoy!
More Incredible Smoothie Recipes to try:
Margarita Green Smoothie
It's refreshing, it's packed full of nutrients, and if you close your eyes...you can totally picture yourself lounging on the beach, sipping your way to pure bliss.
Servings 1 serving
Calories 490kcal
Ingredients
1/2 cup plant-based milk of choice
1/2 cup water or coconut water
1/2 grapefruit peeled and chopped
2 limes peeled
1/4 cup quinoa
1 cup kale
1 frozen banana
1/2 cup frozen mango
Ice as needed
Stevia or sweetener of choice optional
Instructions
Add all ingredients into a blender in the order listed. Blend on high until smooth and creamy. Pour into glasses and enjoy immediately.
Nutrition
Calories: 490kcal | Carbohydrates: 103g | Protein: 16g | Fat: 6g | Sodium: 99mg | Potassium: 1603mg | Fiber: 13g | Sugar: 39g | Vitamin A: 9620IU | Vitamin C: 206.8mg | Calcium: 362mg | Iron: 4.6mg
share what you make
Tag #simplyquinoa on Instagram with your creations! We love sharing what you make with the community. We can't wait to see!

follow on instagram