This healthy Mango Matcha Smoothie is made with two types of greens, avocado, superfood powders and almond milk! Naturally energizing, nourishing and tasty!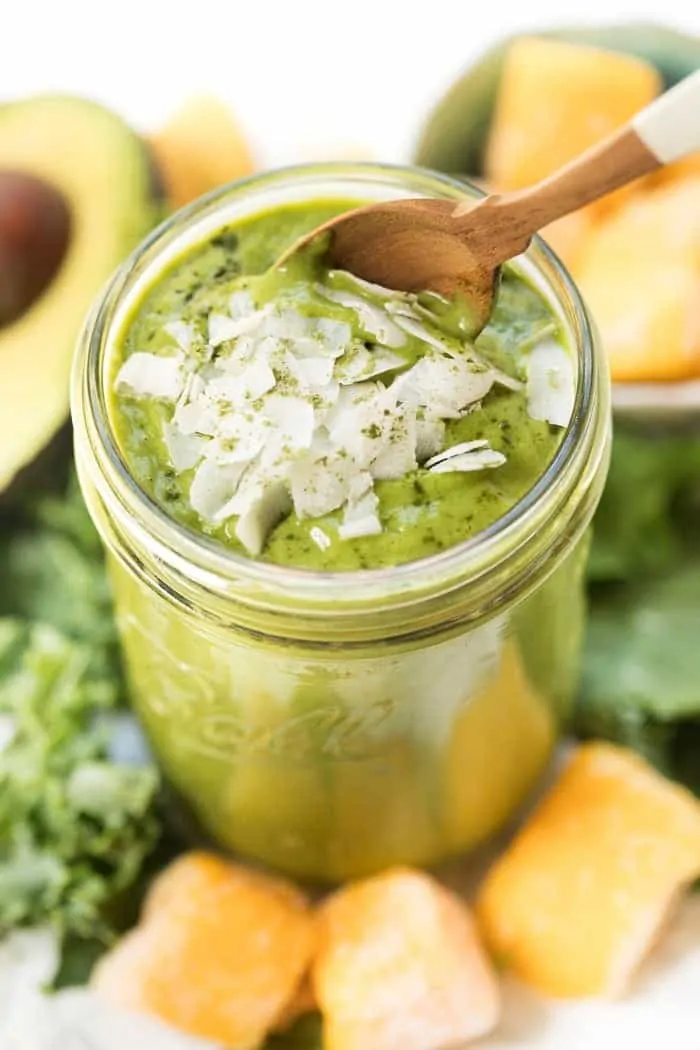 I'm combining two of my favorite things in the world: matcha and green smoothies!
Why I haven't created this combo is beyond me, but I am so excited for you to finally have it. I know a lot of you are starting to dip your toes in the matcha water, this is the perfect recipe. It's got all the magic that green powder provides, but the flavor, which can sometimes be off-putting, is somewhat masked by the sweetness from the mango.
Plus it's got that silky smooth texture you get from adding avocados to your smoothies!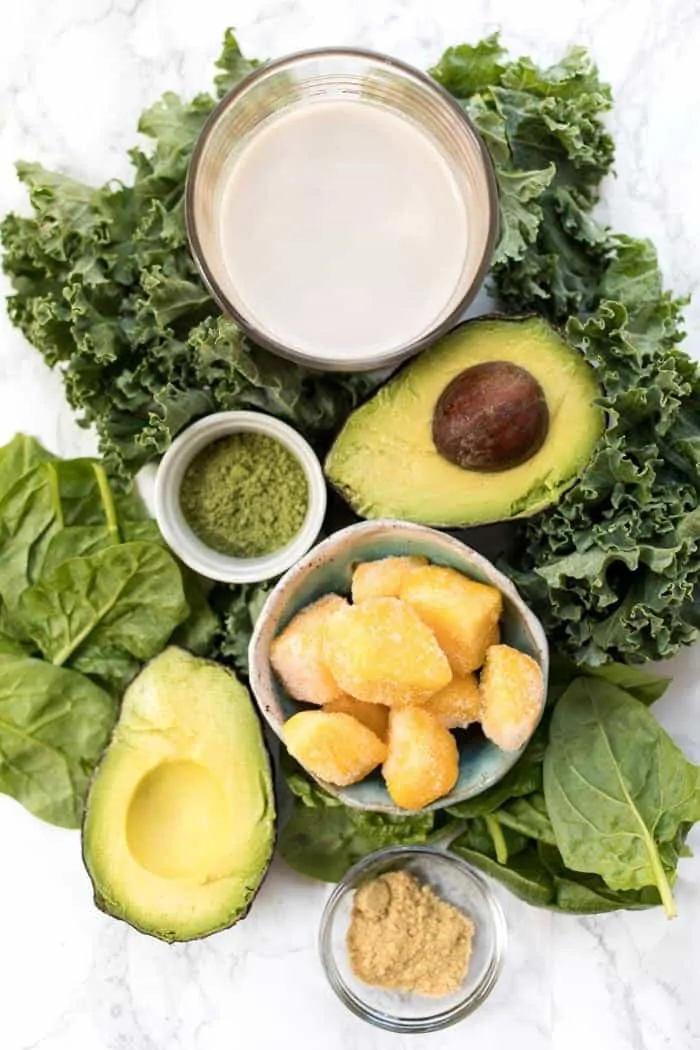 Superfood Ingredients, Super Green Smoothie
I'm all about packing my morning smoothies with as much goodies as possible, so I tried my best to make sure that every ingredient in this recipe is not only helping with flavor and/or texture, but also the nutrition.
Spinach & Kale: both are incredibly high in fiber, vitamins and minerals
Mango: full of complex carbohydrates for a pure form of energy
Matcha: antioxidant-rich, high in chlorophyll and a touch of caffeine for an energy boost
Maca Powder: naturally energizing and hormone balancing with a slight caramel flavor
Avocado: full of fiber and healthy fats to help keep you full and satisfied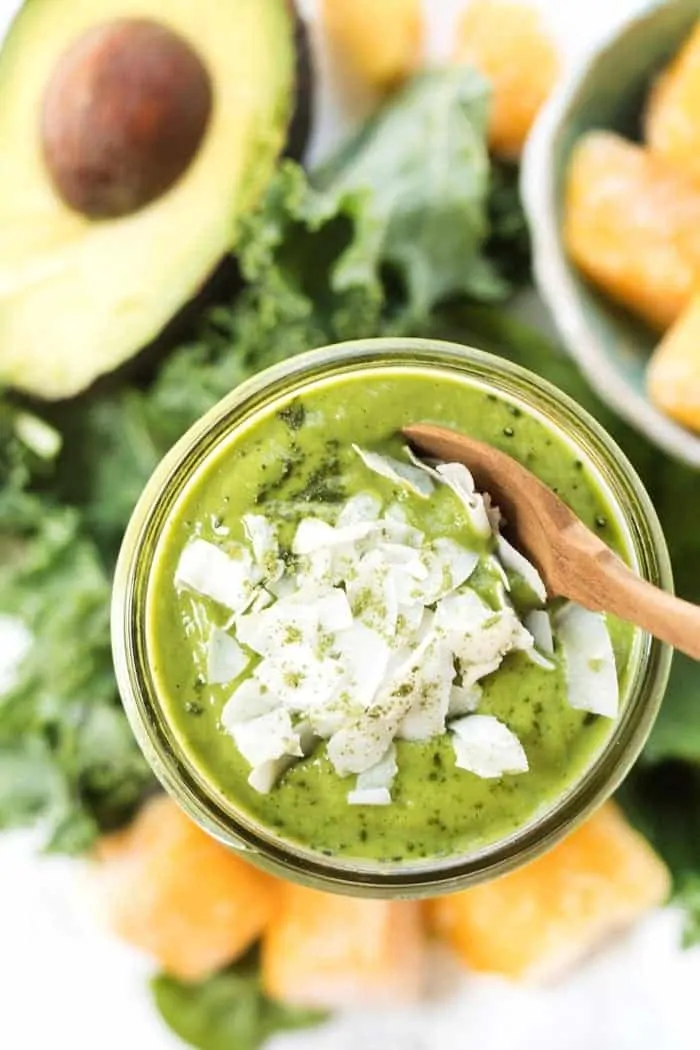 The Perfect Green Smoothie
Combine all those ingredients into one and you have the ultimate morning drink!
Nourishing, flavorful, energizing and full of fiber and fat so it won't go right through your system, leaving you hungry two hours later.
Because our goal with breakfast smoothies – ya know the ones that are your meal – is to not just fill it up with fruit (i.e. carbs). When you have a carb-heavy smoothie, you're going to feel satisfied and energized right away, but that won't last long. You need your other macros (protein & fat), to help you actually feel satisfied until lunch time!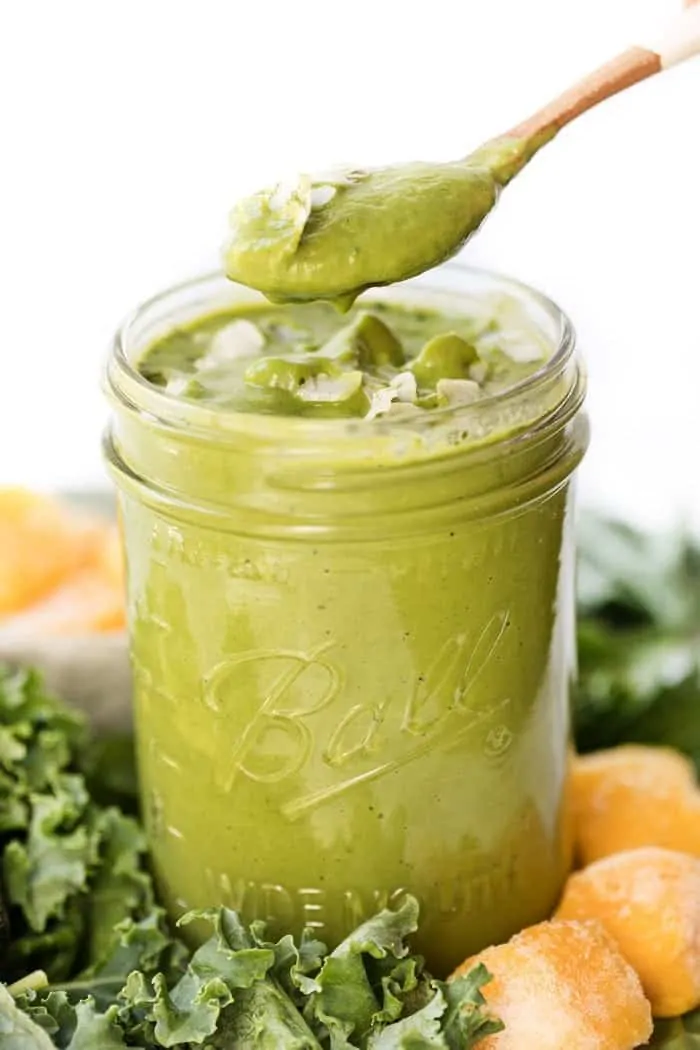 How to Make a Matcha Smoothie
Not that you really need directions for making a smoothie, but let me just quickly give you my tips. For the perfect smooth texture, you want to make sure that you layer your ingredients properly in your blender:
Greens
Powders
Fresh Ingredients
Frozen Ingredients
Liquid
That way I have found to provide that velvety smooth texture without having to continually removing the lid and stirring it together. Your greens blend first, while your frozen ingredients weight it all down and the end result is well…
PERFECTION!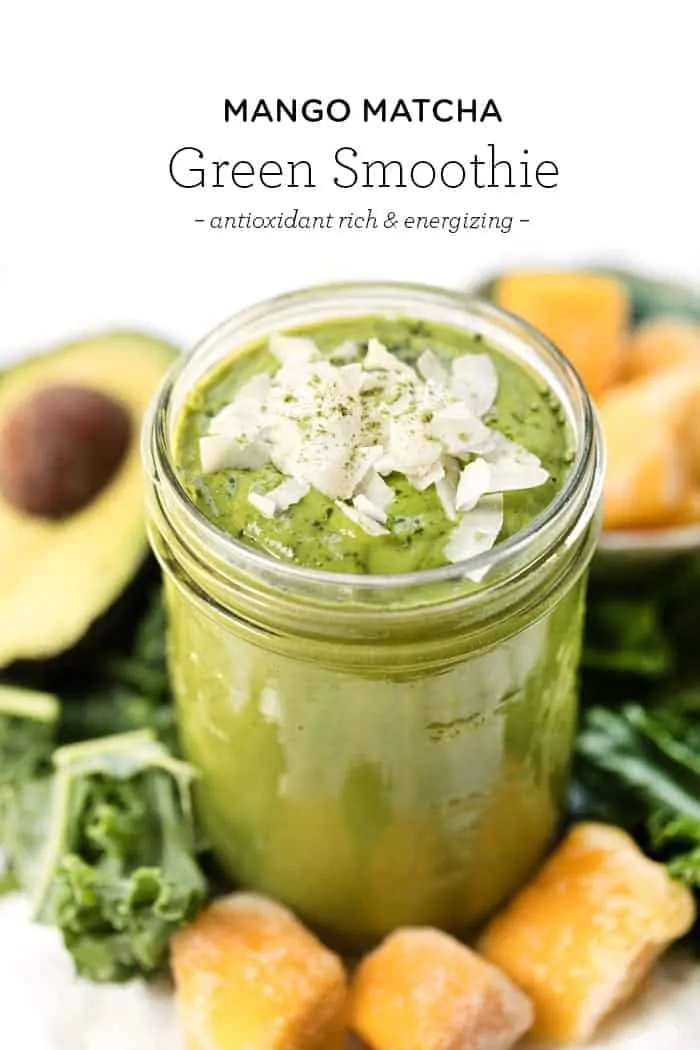 More Green Smoothie Recipes to Try:
Mango Matcha Smoothie
This healthy mango matcha smoothie is made with 2 types of greens, avocado, superfood powders and almond milk!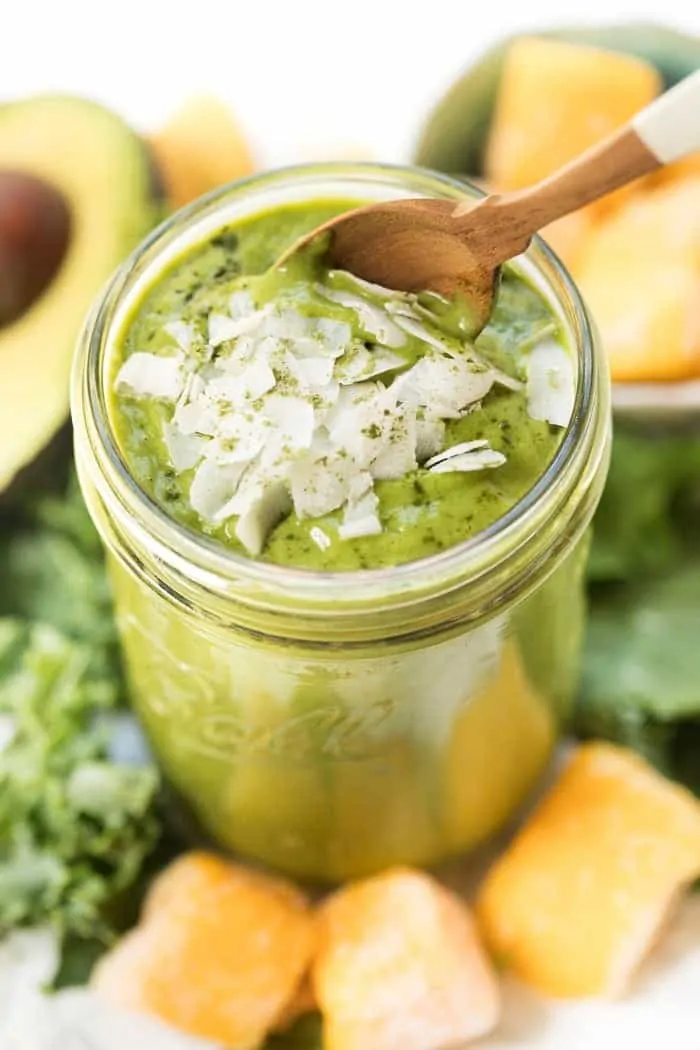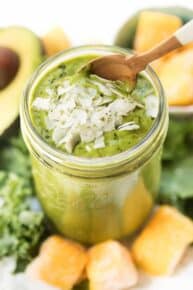 Instructions
Add all the ingredients to a blender in the order listed. Blend on high until smooth and creamy.

Pour into a glass, top with coconut flakes if using, and enjoy!
Nutrition
Calories:
361
kcal
|
Carbohydrates:
44
g
|
Protein:
11
g
|
Fat:
19
g
|
Saturated Fat:
2
g
|
Sodium:
382
mg
|
Potassium:
1341
mg
|
Fiber:
11
g
|
Sugar:
24
g
|
Vitamin A:
11640
IU
|
Vitamin C:
160.1
mg
|
Calcium:
480
mg
|
Iron:
3.7
mg
Filed Under: