My Simply Quinoa Lunch Bowl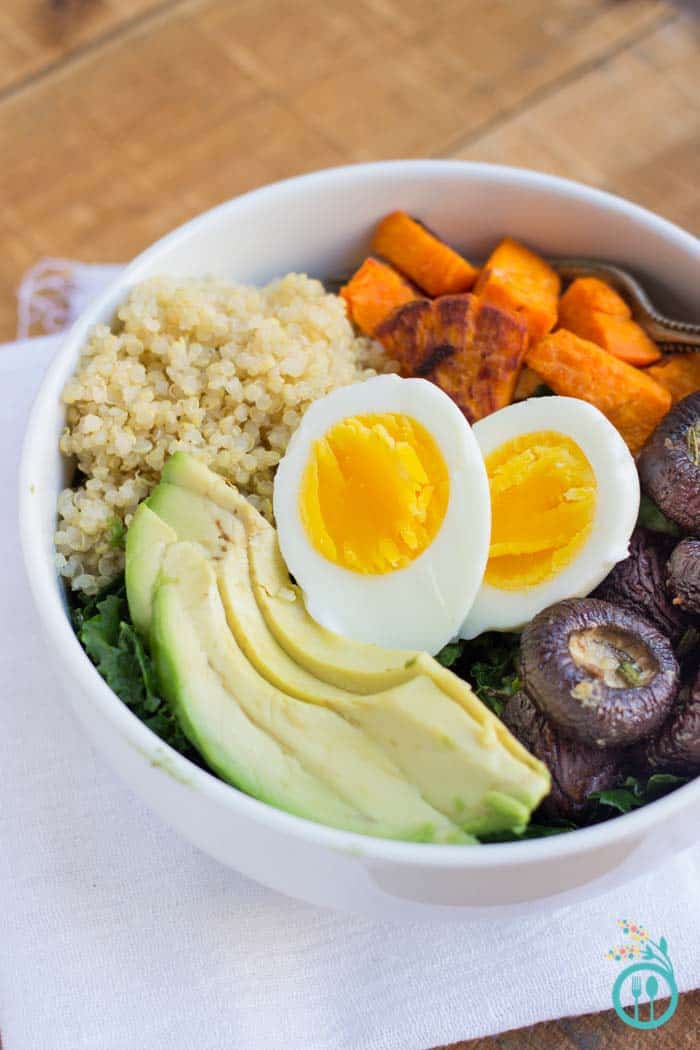 Even though I've been working from home for two years now, and you would think that means I have all the time in the world to prepare a fabulous lunch, I still feel pressed for time.
Lately, I have been spending my days recipe testing and my to do list is usually a mile long, so I don't really have the energy to fix up something that takes real effort in the kitchen. I'm so much more about quick, simple and easy.
It's all about convenience.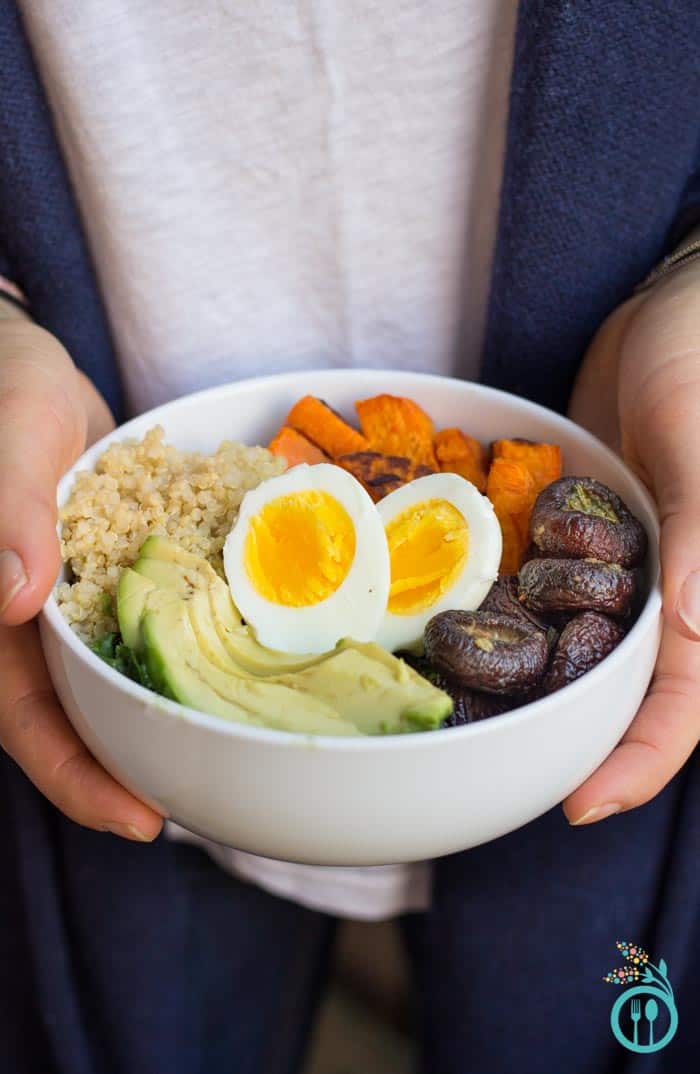 And I'm sure many of you can relate.
You either have to go into the office each day and wake up with barely enough time to eat breakfast and squeeze a workout in, or you're working at home and still wake up with barely enough time to eat breakfast and squeeze in a workout.
Lunch is the last thing from your mind, and you either wind up having leftovers from the night before or you throw together a quick salad (or smoothie) which gets pretty old and boring after a while.
Well, I hear ya! So today, I'm sharing withy you my Simply Quinoa Lunch Bowl.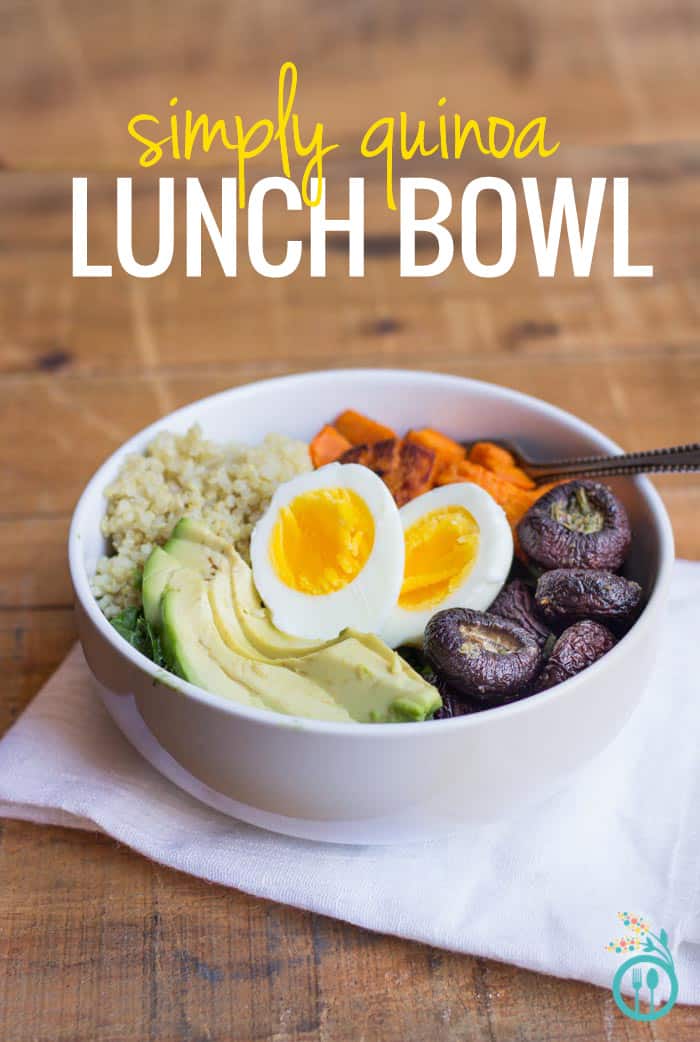 When I created this recipe, I had no intention of actually sharing it, because in truth it's less of an actual "recipe" and more of a "what-the-heck-do-I-have-in-my-fridge" type of meal. Something that I threw together, timed myself making it, and realized this is something you would enjoy too!
Why? Because it's easy. It's simple. It's fast. And it's totally customizable. Meaning, it's a whatever YOU have in YOUR fridge type of lunch!
And that's how I settled on the title for today's post. I used "my" not because this is my recipe and I want you to make it exactly as it is, but because this is my personal lunch bowl and it's what I had on hand. You might not have these exact ingredients on hand, and that's okay!
Because I want to show you how to make YOUR own quinoa lunch bowl.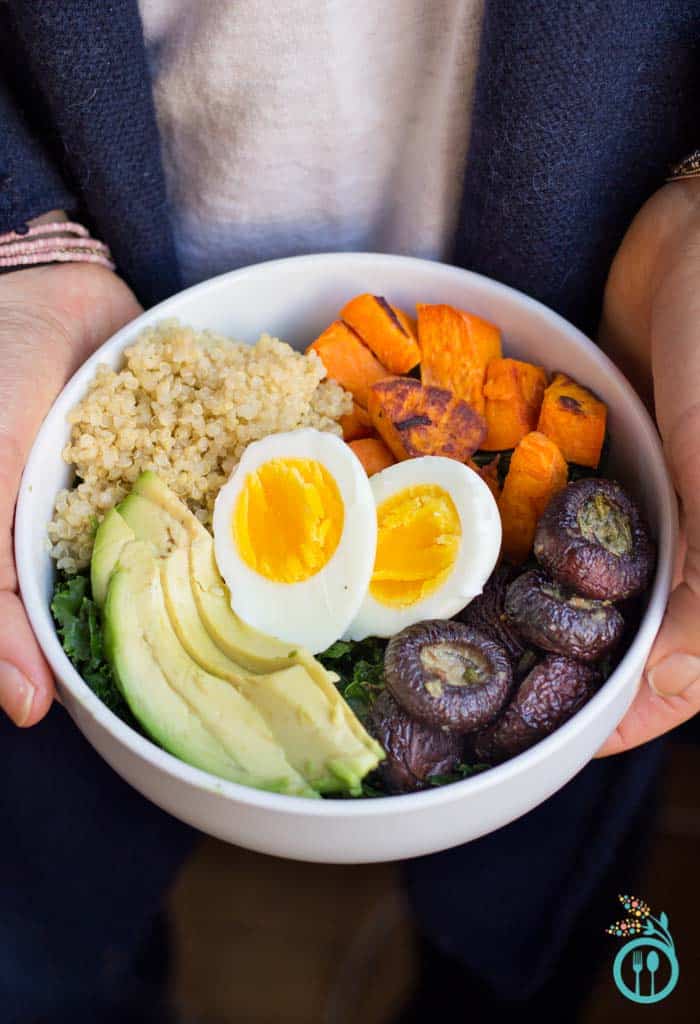 I have a few basic rules when I'm creating my lunch bowls:
It needs to contain a green
There needs to be at least two forms of protein
There has to be one starch
There needs to be at least one other vegetable
There needs to be some healthy fats
I then use that "formula" to create a nourishing, nutrient-dense meal that is PERFECT for lunch and takes less than 5 minutes to put together.
So, let's look at today's bowl. In my bowl I have:
Greens: a massaged kale salad on the bottom (other options might be spinach or salad greens)
Protein: quinoa + a hard boiled egg (other options might be grilled chicken, hummus, beans, tempeh, etc.)
Starch: roasted sweet potato (other options might include squash, fingerling potatoes, etc.)
Veggie: roasted herb + garlic mushrooms (other options might include broccoli, eggplant or zucchini)
Fat: sliced avocado (other options might include a tahini dressing, nuts or seeds)
And the only thing I had to actually prepare was the kale salad and slice the avocado. Everything else I had in my fridge from cooking throughout the week. (Don't worry, I'll still tell you all about how to make these roasted herb + garlic mushrooms below – soooo good!)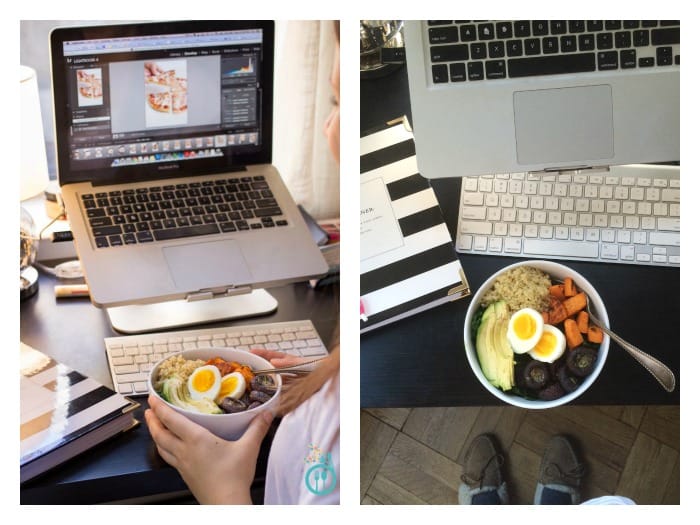 And here I am (!!) enjoying my Simply Quinoa Lunch Bowl while sitting at my desk. Yes, I eat in front of my computer. Yes, I wear slippers all day long. And yes, if you look closely in the photo on the left, you can see what recipe is coming on Sunday!
Now, you've seen my lunch bowl, I want to see yours!

Snap a pic of YOUR quinoa lunch bowl, share it on Facebook, Twitter or Instagram and use the hashtag #mySQlunchbowl
I'll be following along and sharing your creations on my own social channels so we can all get inspired and share the quinoa bowl love! Excited to see what you come up with 🙂
xx Alyssa
My Simply Quinoa Lunch Bowl
Why? Because it's easy. It's simple. It's fast. And it's totally customizable. Meaning, it's a whatever YOU have in YOUR fridge type of lunch!
Servings 1 serving
Calories 984kcal
Ingredients
for my bowl:
2 cups massaged kale salad recipe follows
1 cup roasted sweet potato
1 cup roasted herb + garlic mushrooms recipe follows
1 cup cooked quinoa
1 hard boiled egg
Sliced avocado


for the kale salad:
for the mushrooms
1 lb button mushrooms stems removed
2 - 3 tablespoons olive oil
3 garlic cloves crushed
1/4 cup freshly chopped rosemary
Dash of salt & pepper
Instructions
For the kale salad: Tear the kale into bite sized pieces and add it to a large mixing bowl. In a separate bowl, whisk together dressing ingredients. Pour dressing over the kale and massage the salad with your hands until the kale begins to soften and is evenly coated with the dressing.

For the mushrooms: Preheat the oven to 375 degrees F. Lightly grease a baking sheet and set aside. In a small bowl, combine the oil, garlic, herbs and spices. Mix together until combined. Place mushrooms in a mixing bowl, then pour dressing over the mushrooms and toss to evenly coat. (I used my hands here to make sure that every mushroom had some flavoring on it). Place them on the baking sheet, stem side up and roast for 15 minutes until tender.

For the quinoa bowl: Layer the ingredients into a bowl, starting with kale on the bottom, followed by the remaining ingredients. Serve as is or drizzle with your favorite salad dressing.
Nutrition
Calories: 984kcal | Carbohydrates: 145g | Protein: 56g | Fat: 73g | Saturated Fat: 11g | Cholesterol: 186mg | Sodium: 788mg | Potassium: 5619mg | Fiber: 30g | Sugar: 20g | Vitamin A: 59770IU | Vitamin C: 529.5mg | Calcium: 830mg | Iron: 15.7mg
share what you make
Tag #simplyquinoa on Instagram with your creations! We love sharing what you make with the community. We can't wait to see!

follow on instagram