A healthy quinoa apple crisp that is made in the slow cooker! All you need are a few simple ingredients for this absolutely delicious and simple dessert.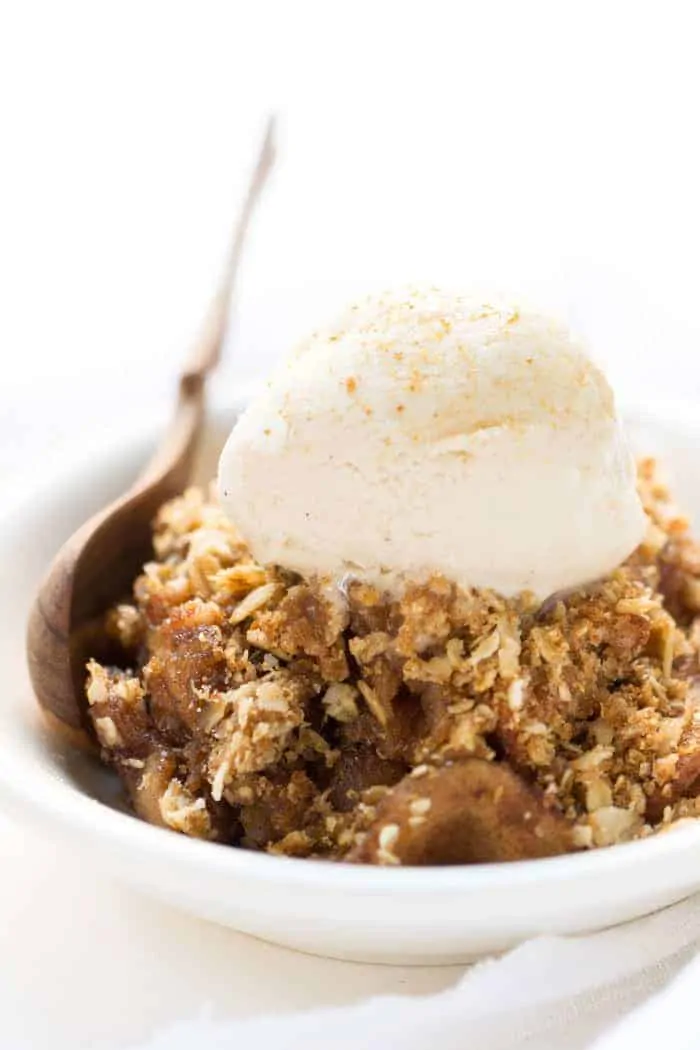 Okay, so it feels like we've made a major breakthrough today. Because we're making dessert in the crockpot.
Like who even knew this was possible? I definitely did not.
But guys, it's kind of life-changing. I don't think there's anything easier than making apple crisp in your slow cooker. You start it like you would a traditional crisp – apples, sugar, and lemon – then layer on your crumble topping (with quinoa of course) and let the machine do its thing. It's perfect for entertaining. Perfect for the holidays. And a perfect way to use up leftover apples.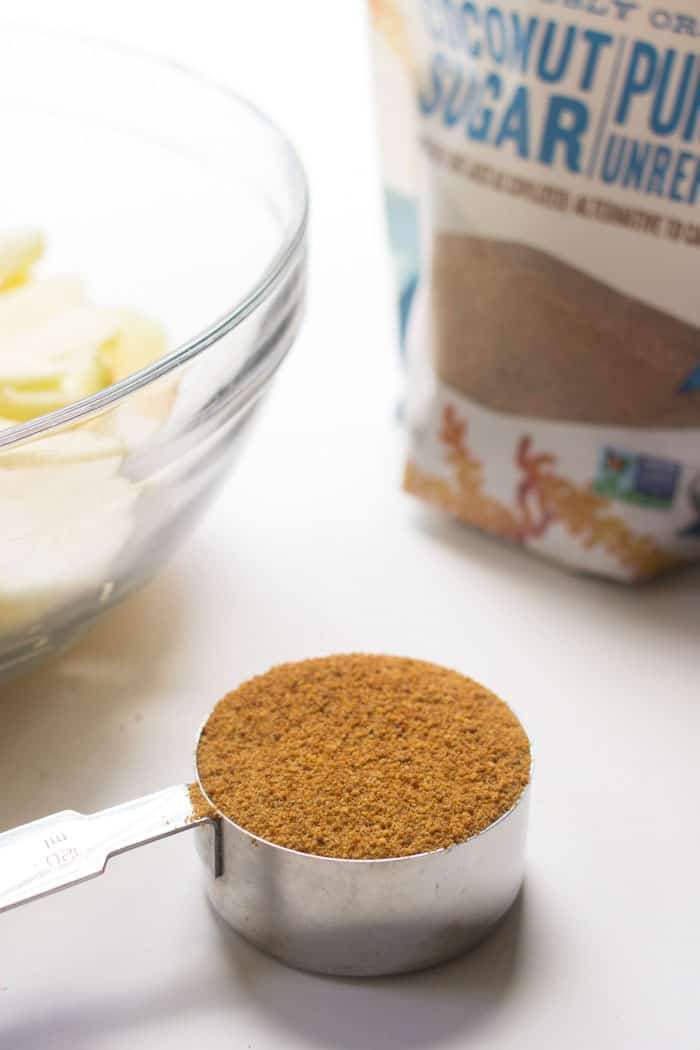 First things first. SUGAR.
Personally, I don't think it's possible to have an apple crisp without adding some sort of sweetener. I've done it with maple syrup before, but sometimes the liquid sweeteners can slightly mess up the texture and make it too runny. The perfect addition? COCONUT SUGAR.
Coconut sugar is definitely one of my go-to sweeteners. Especially when apples are involved. Because coconut sugar is similar to brown sugar, it has a soft caramel flavor that goes perfectly in this crisp. And it doesn't make things too sweet which I really love. It's more there to bring the natural sweetness out of the apples rather than just transforming the whole thing into a blood-sugar catastrophe.
For this recipe, I used the organic coconut sugar from Madhava Sweeteners. You guys know how much I adore their products and their coconut sugar is every bit as great as their other sweeteners. What I really like is that theirs is not only organic, but it's also non-GMO AND it's sustainable. Plus it's got nutrients like magnesium, potassium, zinc, iron, B vitamins and amino acids. Pretty perfect for me!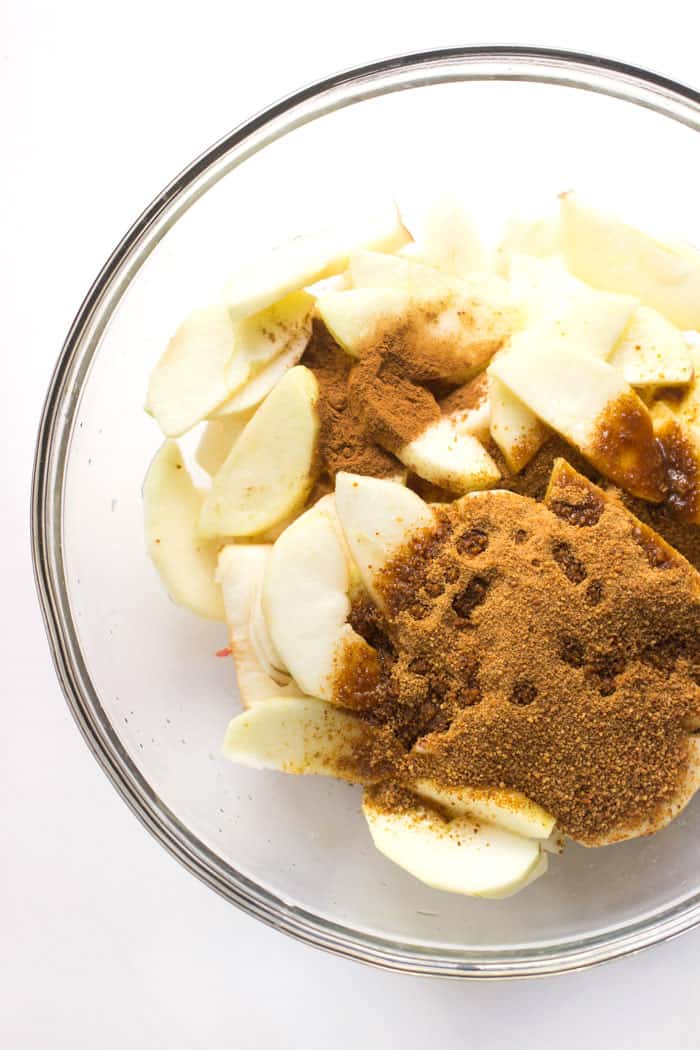 Any great apple crisp must start with great apples. If possible, try to get a variety that is grown locally as those will have traveled less and been picked closer to their peak of ripeness.
For this crisp, I went with a blend of cortland, empire, and macintosh. They are on the medium-sweet side and have varying textures that end up making the cooked crisp just a bit more interesting.
To start with the filling, I keep it as pure and simple as possible. Sliced apples. Coconut sugar. Lemon juice. That's really all you need.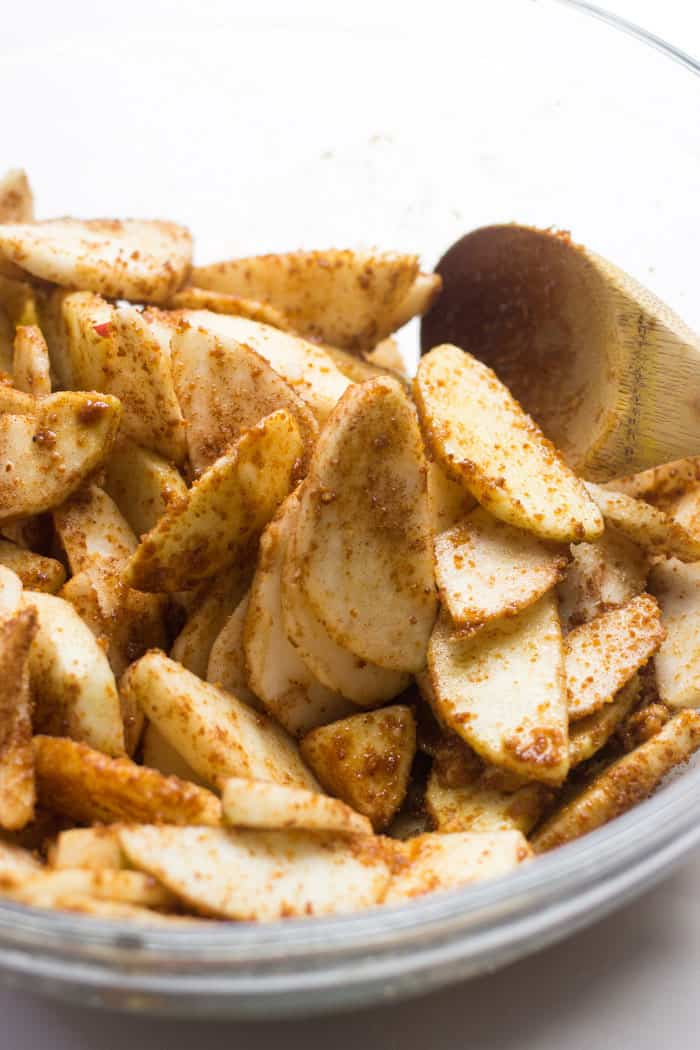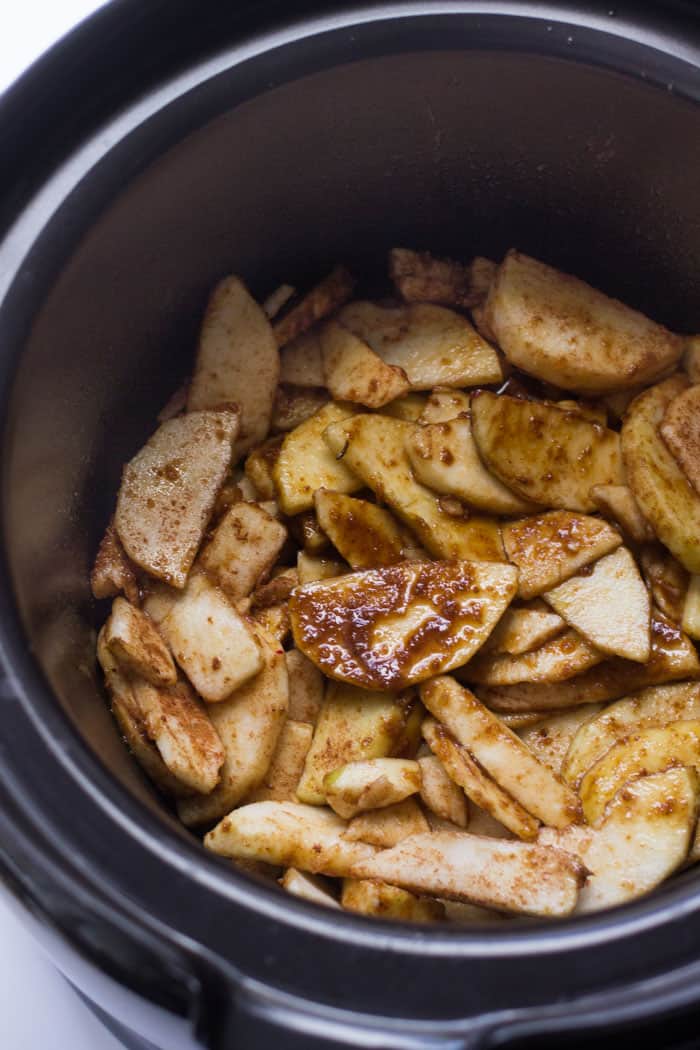 From there, you just toss the apples together and add them to the slow cooker.
I like the grease the bottom of my slow cooker with some coconut oil first, just so the apples don't stick when you're ready to serve it, but that's totally optional.
Once you've got your filling in the pot, it's time to work on the crumble topping.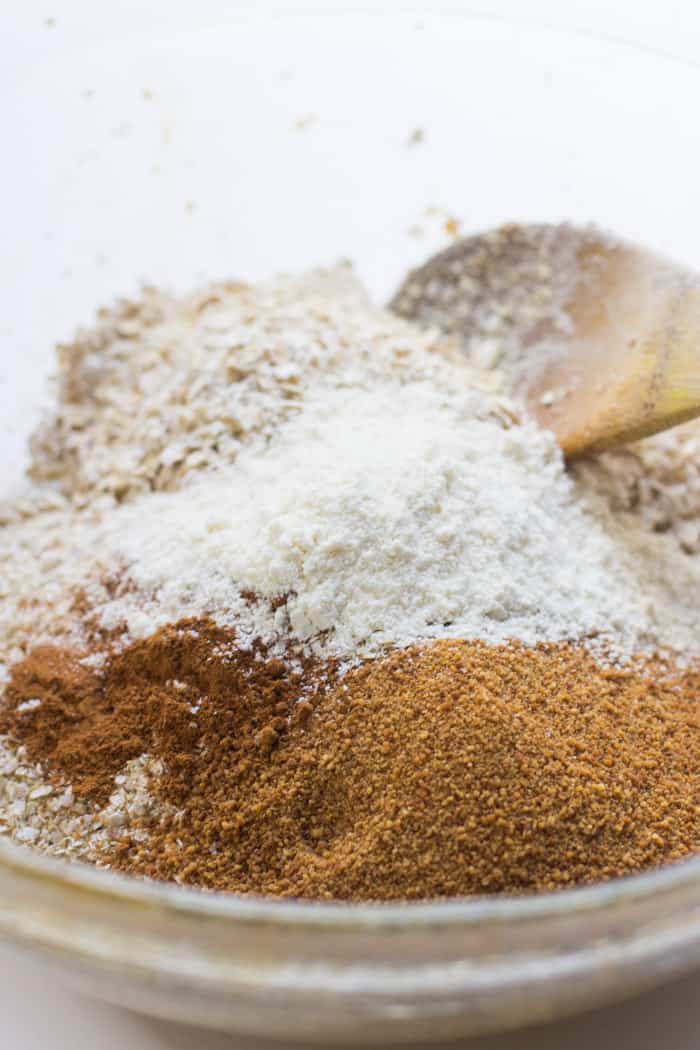 My crumble topping is a bit unconventional. Or I guess I could just say it's healthier. Unconventional implies that it's strange. It's not strange, it's actually quite delicious, I've only swapped in my healthy stand-bys for a traditionally not so healthy recipes.
I don't use butter. I don't use flour. And I don't use refined sugar.
Instead, I opt for healthy ingredients. We've got a blend of oats, quinoa flakes, coconut flour, coconut sugar, cinnamon and just a dash of salt.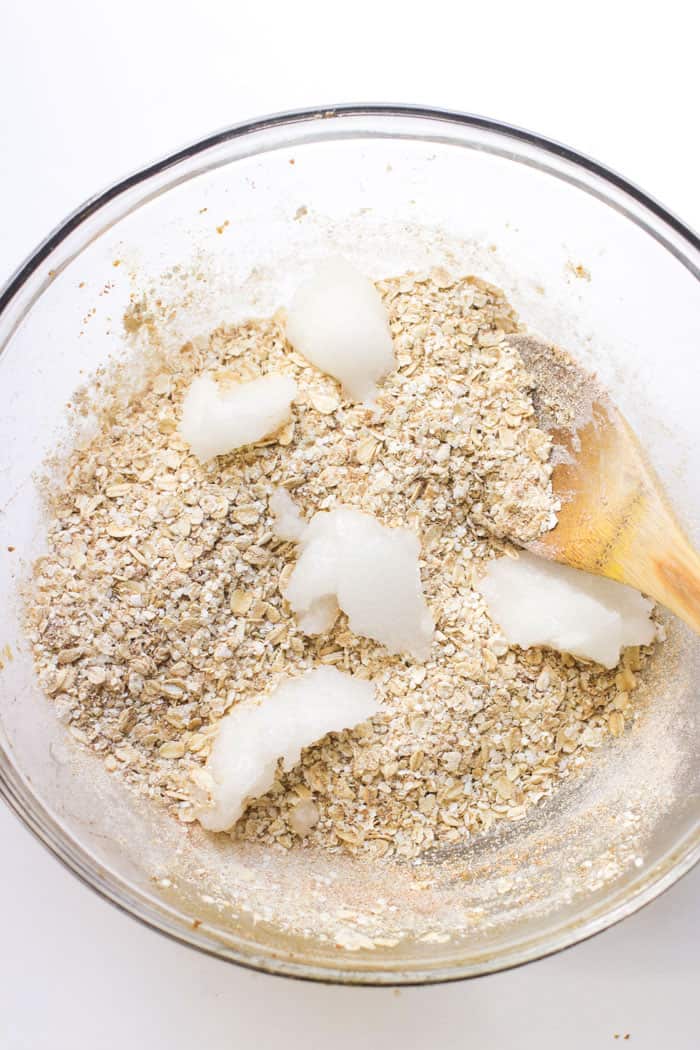 The fat I use is coconut oil. I always opt for the unrefined version because it not only has more flavor but also has more nutrition. It will add a touch of coconut flavor, but since we're using coconut flour and coconut sugar, it totally works.
Also, just a quick tip: it helps if your coconut oil is soft, but not liquified. This will help you get some nice clusters in your crumble topping.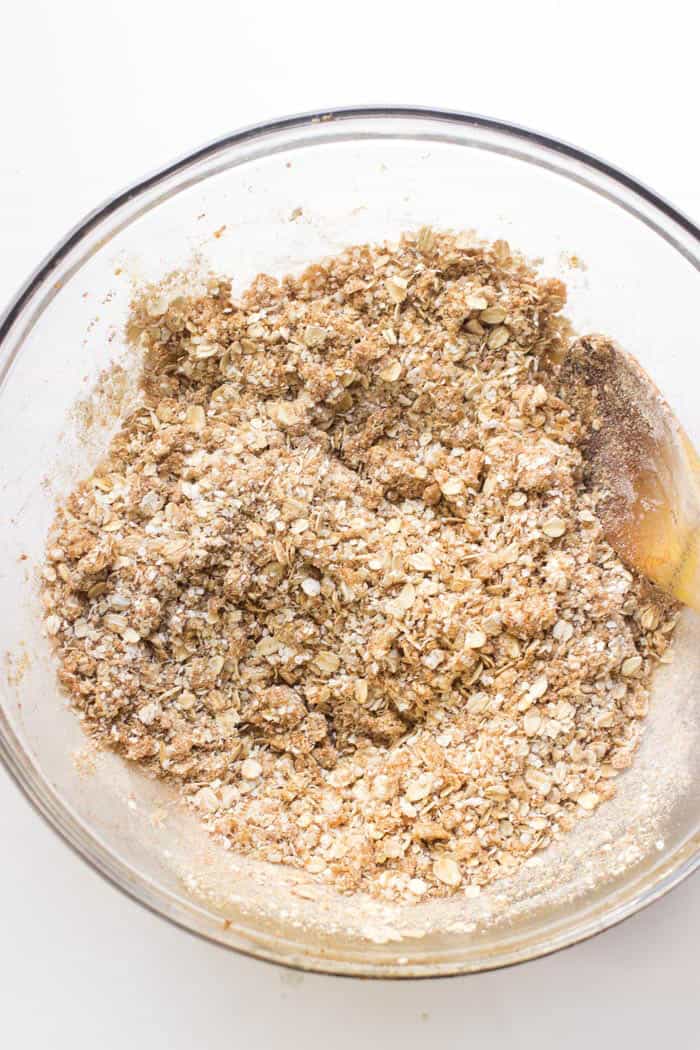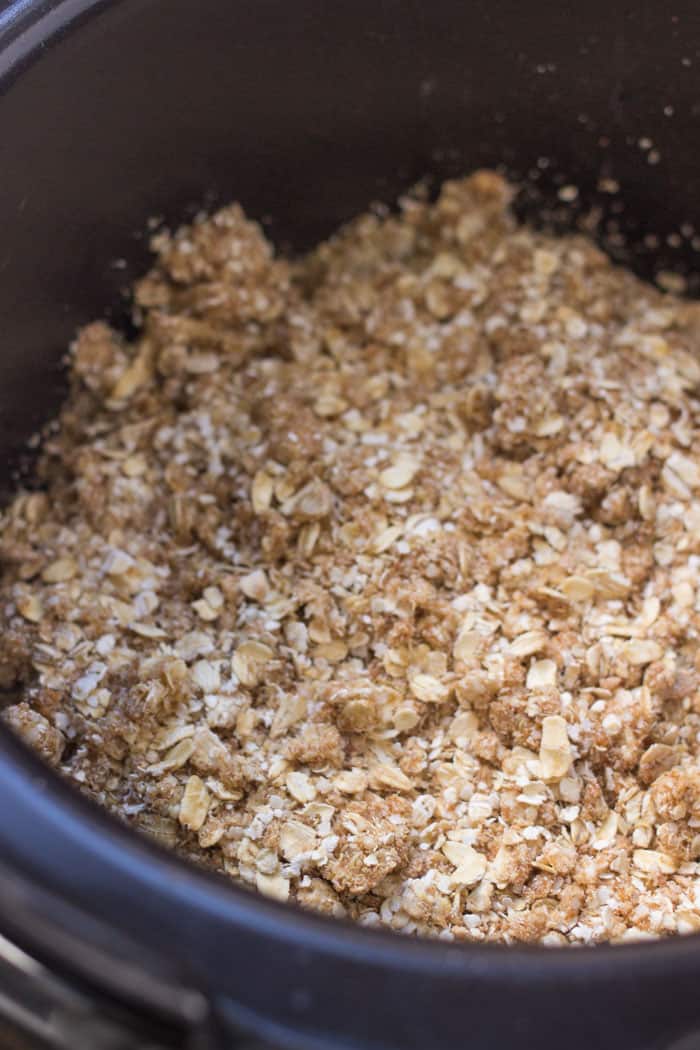 Once you mix all the ingredients together, just sprinkle the crumbles on top of the apples and you're ready to go.
For cooking the crisp, I found the optimal time was two hours on high with the cover on and then one hour on high with the cover off. I removed the cover for that final hour because it help the topping get a little crispy. With the cover on, you're trapping in all the moisture and I think you would probably end up with a kind of soggy crisp.
We can all agree, not ideal…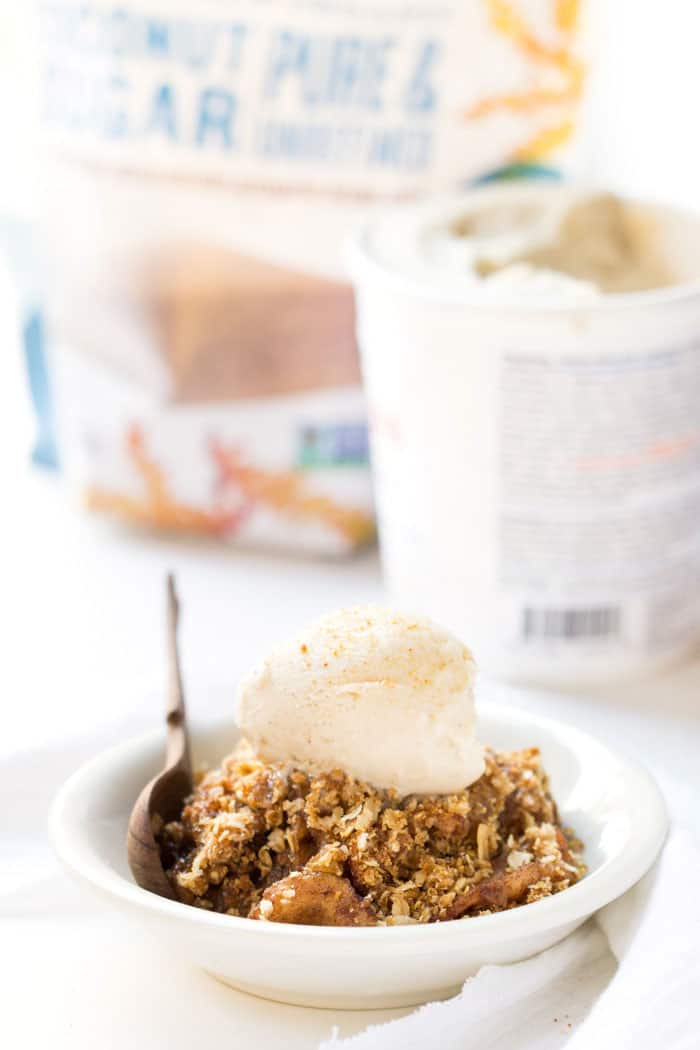 BUT, this quinoa apple crisp is totally ideal.
The apples are perfectly soft and sweet. The topping is a little crunchy and adds the right textural balance with the stewed apples.
And the coconut sugar flavoring is just divine!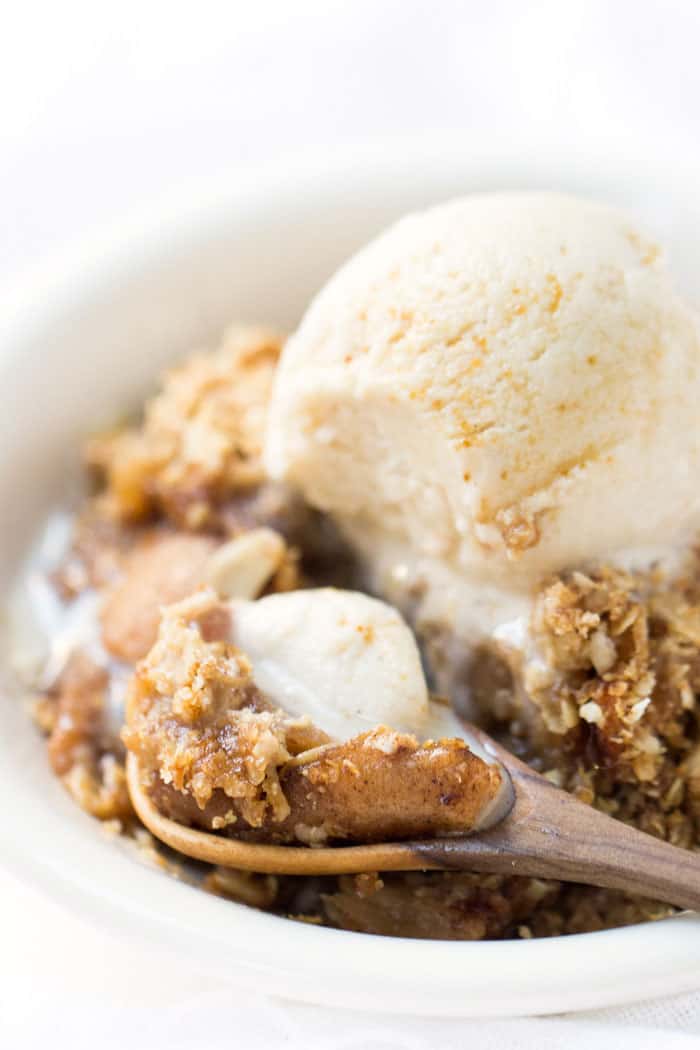 Now to serve? Ice cream is a must.
I went plain jane over here with vegan cashew-based ice cream, but I'm thinking next time around I'm going to spring for the salted caramel. Just imagine….melty caramel ice cream over caramelized apples and a cinnamon streusel topping? Okay yep, it's happening. Probably tomorrow.
For now, let's just all take a moment and thank our mighty slow cookers. Not only are these wonderful contraptions the best chili makers on the planet, but they also yield insanely delicious desserts. Slow cooker, I bow to you. 😉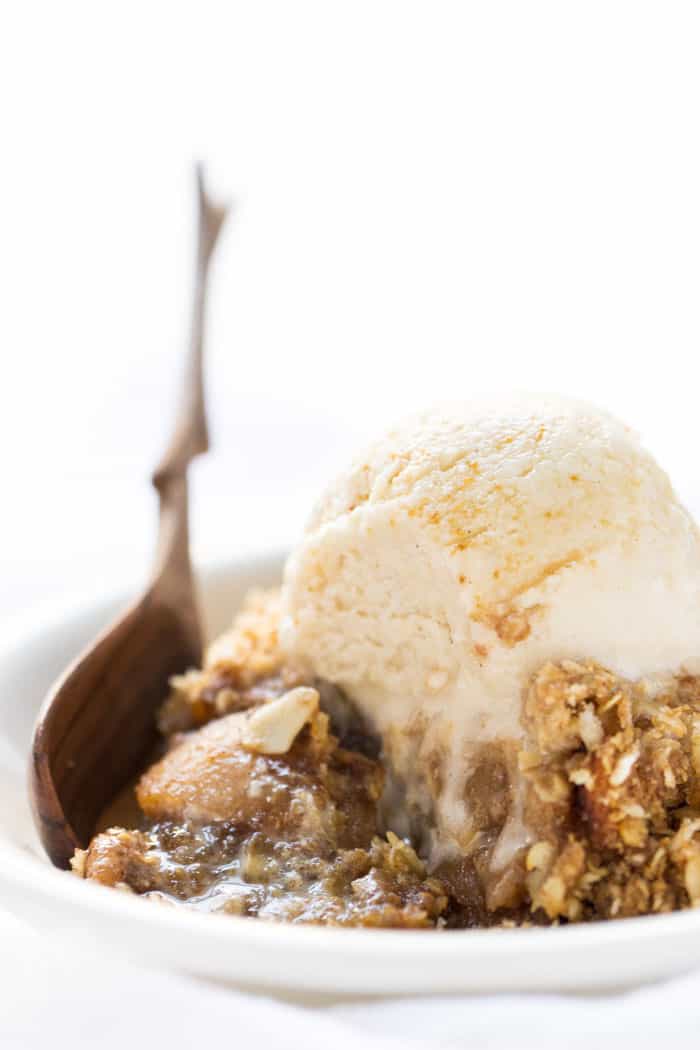 More Delicious Quinoa Treat to try:
Slow Cooker Quinoa Apple Crisp
The apples are perfectly soft and sweet. The topping is a little crunchy and adds the right textural balance with the stewed apples.
And the coconut sugar flavoring is just divine!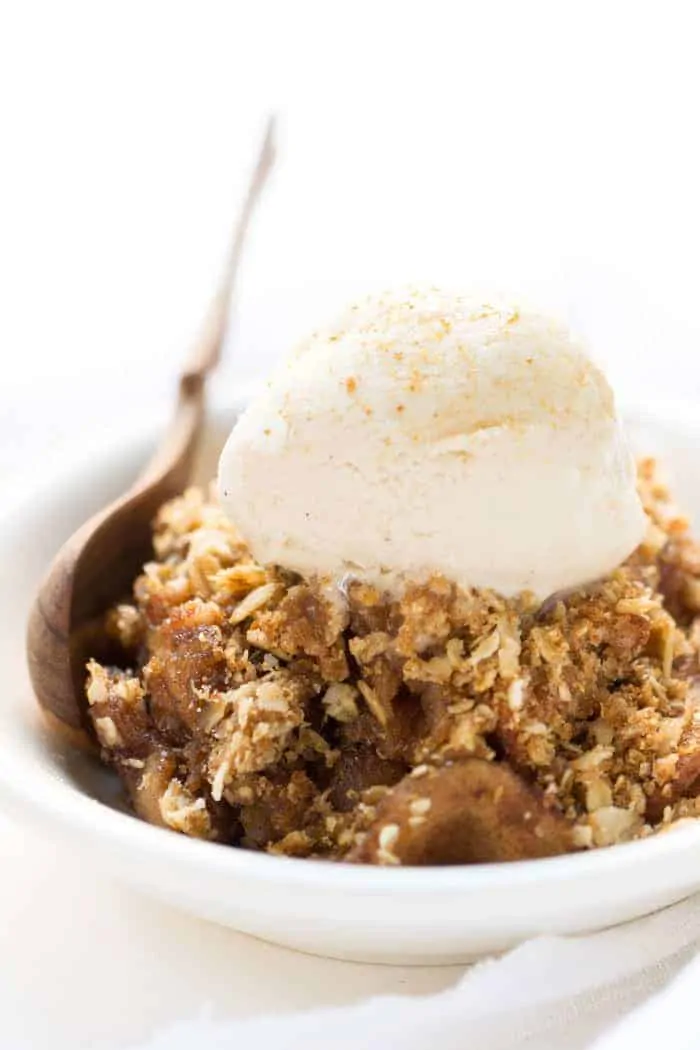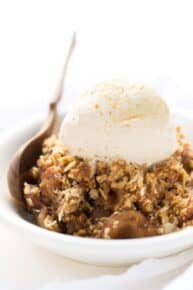 Instructions
Core and slice the apples then place them into a large bowl. Top with 1/2 cup of sugar, 1 teaspoon of cinnamon and the lemon juice, and toss to combine. Transfer the apples to the bottom of you slow cooker.

In the same large bowl, combine the oats, quinoa flakes, coconut flour, remaining coconut sugar and cinnamon, and the salt. Whisk to combine.

Add the coconut oil into the bowl the stir together to form a sand texture - you still want there to be small chunks of coconut oil there. Sprinkle the topping on top of the apples.

Turn the slow cooker on high and cook for 2 hours with the cover on. After two hours, remove the cover and continue to cook for one hour.

Serve with a dollop of ice cream and a sprinkle more sugar.
Nutrition
Calories:
583
kcal
|
Carbohydrates:
97
g
|
Protein:
6
g
|
Fat:
21
g
|
Saturated Fat:
15
g
|
Sodium:
144
mg
|
Potassium:
365
mg
|
Fiber:
11
g
|
Sugar:
49
g
|
Vitamin A:
145
IU
|
Vitamin C:
13
mg
|
Calcium:
37
mg
|
Iron:
2.4
mg
Filed Under:
This post was sponsored on behalf of Madhava Sweeteners. Thank you so much for supporting the brands that I love; it helps makes SQ possible!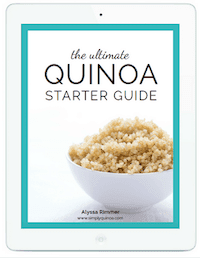 New to cooking quinoa? Grab your FREE Quinoa Starter Guide!
Become part of the Simply Quinoa community and receive weekly emails with exclusive content that I only share in email, as well as my in-depth guide to starting your quinoa journey.