This amazing detox green smoothie is full of superfood ingredients! Everything from kale, avocado, chia, ginger, lemon and more. It's healthy AND delicious!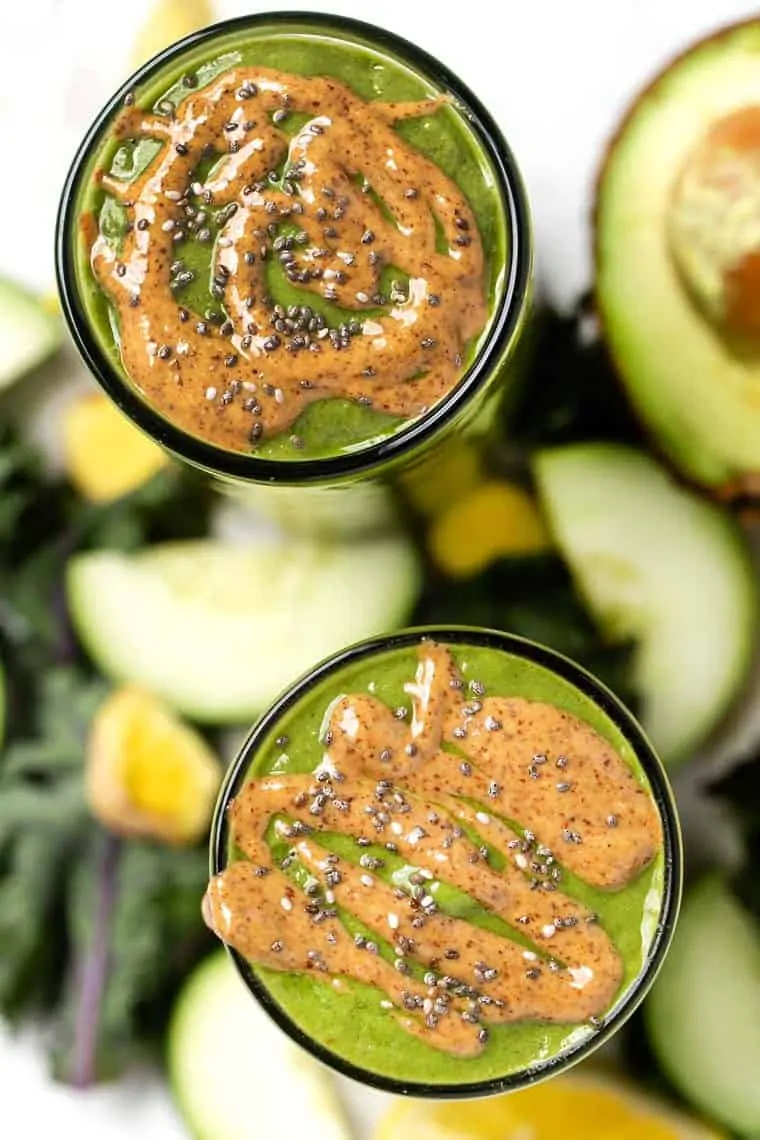 I first got into green smoothies when I did the Clean Program cleanse about 7 years ago. I wasn't a big smoothie drinker before then, but the plan has you eat two liquid meals a day and smoothies quickly became a staple in my diet. And honestly, they have been ever since.
There are a million reasons why smoothies are so great, but for me, it comes down to these three things:
they're quick and easy
they're portable
you can pack in a TON of nutrients into one glass
Over the years my smoothies have gotten healthier and healthier. I've started reducing the sugar, upping the veg and sneaking in as many good-for-me ingredients as possible. And today's smoothie might just take the cake of it all! Today we're making a detox green smoothie and we're jamming – I mean jamming – a ton of incredible ingredients in. This smoothie is filling, it's healthy, it's nourishing and it's also naturally detoxifying!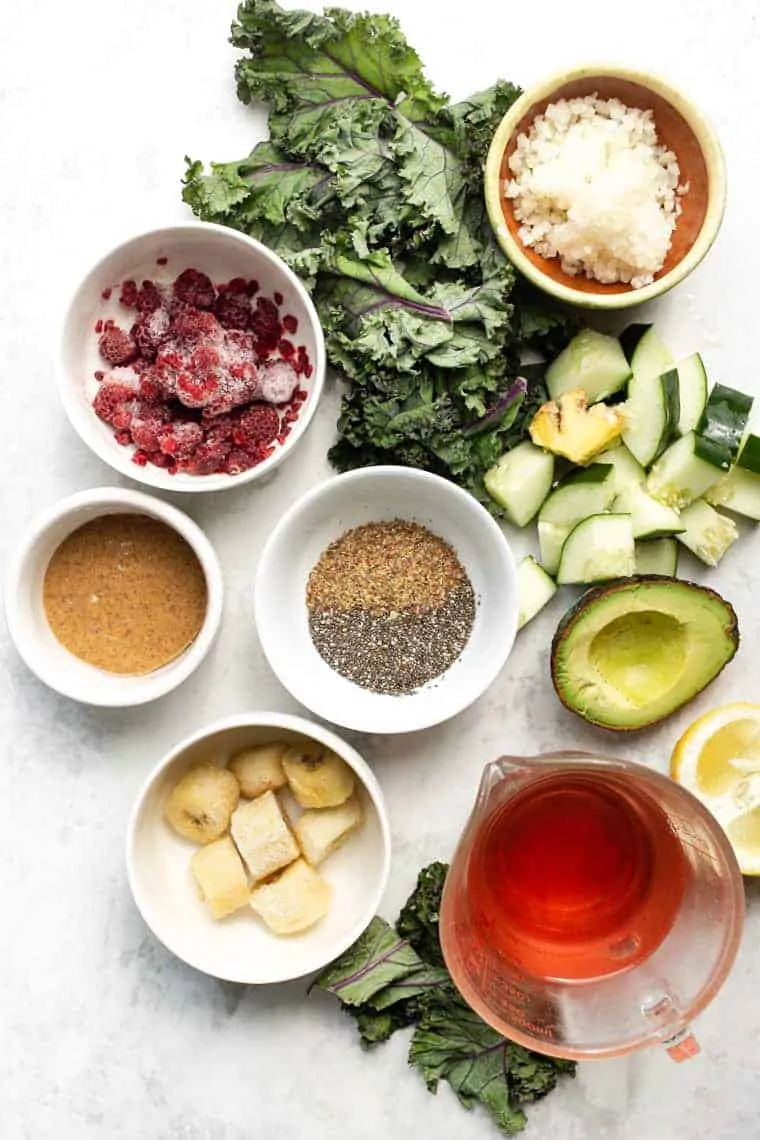 What Does "Detox" Really Mean?
Now before we talk about the ingredients, I feel like it's important to talk about the word "detox". Detox is a word that you'll see on my site here and there, as well as many other health and wellness websites. But what does it actually mean?!
Detoxification is a process that our body naturally does to rid our system of toxins. The detoxification happens mainly in our liver and our digestive system, and typically works pretty well on its own.
So when I use the term "detox", it means the recipe uses ingredients that naturally support your body's detoxification system. And uses ingredients that are supporting both your liver and your digestive system. This detox smoothie? As I said, jam-packed with goodies that do just that!
Detox Ingredients for This Green Smoothie
I'm not going to highlight every single ingredient inside this smoothie, but I do want to share some of the ingredients that are specifically helpful in promoting detoxification in the body.
Kale/Dark Leafy Greens: kale (and other dark leafy greens) is high in anti-cancer chemicals and antioxidants, both of which help cleanse the body of harmful toxins. Kale is also packed with tons of other vitamins and minerals that help promote detoxification.
Avocado: the superstar nutrient in avocados is glutathione; a nutrient that blocks different carcinogens while helping the liver detoxify synthetic chemicals. Avocados are also high in cancer-fighting antioxidants.
Lemon: this little fruit stimulates the release of enzymes and helps convert toxins into a water-soluble form that can be easily excreted from the body. Lemon water is wonderful in the mornings as it contains alkaline-forming compounds which help to balance our pH.
Ginger: ginger has been used for centuries as a healing agent and medicine. Ginger not only helps the liver function, but it also flushes out toxins, increases your metabolism and also fights disease.
Almonds: not only are almonds high in fiber, protein, calcium and healthy fats, they're also the highest nut source of vitamin-E. Almonds help stabilize blood sugar and remove impurities in the bowel.
And if you want even more info on naturally detoxifying smoothies, I have a Detox Smoothie ebook – click here to check it out!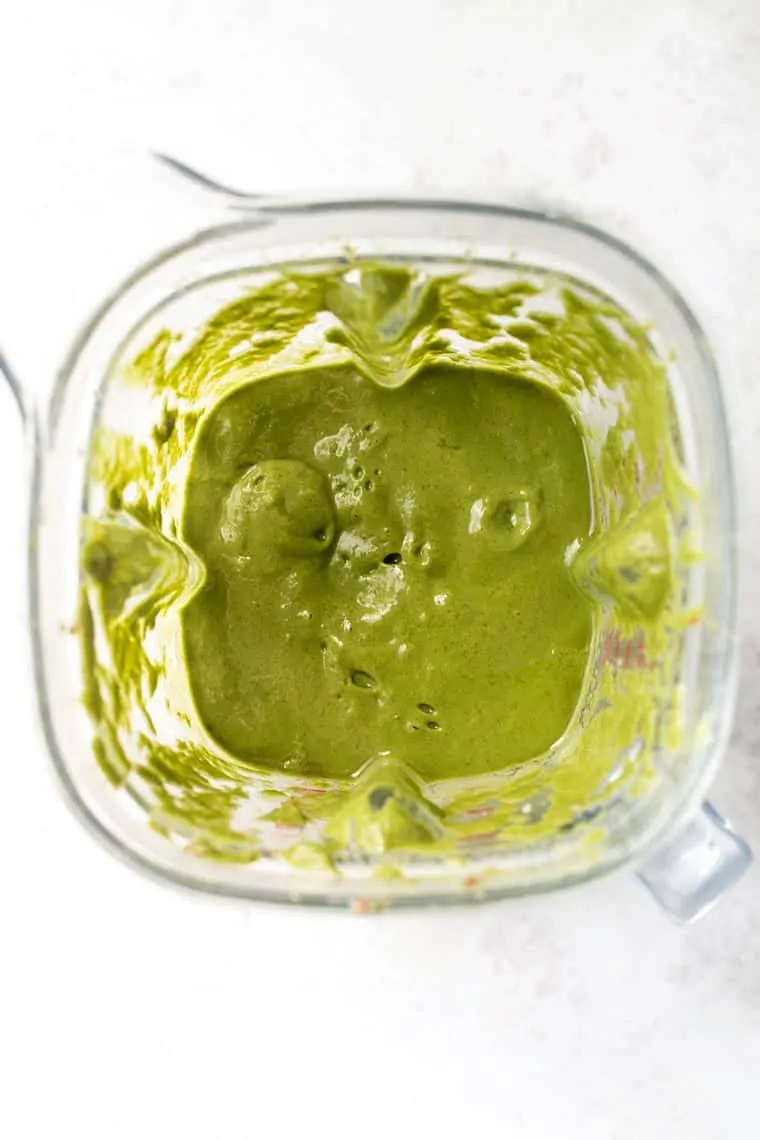 How to Make a Green Smoothie Taste Good
Let's be honest, sometimes green smoothies just taste like dirt. They're either too green or the combination of green and fruit just doesn't work. BUT, I feel like I've found a few tricks to making green smoothies taste really freaking good every single time:
use a sweet fruit (but not too much): I like to have something sweet in my smoothies to balance the bitterness of greens, BUT I also don't go overboard on the sugar. For me, it's about 1/2 a banana or 1/2 cup of a sweet fruit like mango or pineapple. Using these three fruits (especially if you're new to green smoothies), is a great way to mask the greenness ????
chocolate: when it doubt add chocolate! I find that adding raw cacao powder to my smoothies totally takes away the flavor of green. All I taste is chocolate and it feels like I'm eating a chocolate sundae for breakfast!
peanut butter: if chocolate isn't your thing, add another strong-flavored ingredient like peanut butter. Peanut butter again is one of those things that will "overpower" the flavor and will help mask the greens.
coconut water: instead of using almond milk or water in your smoothie, try mixing in some coconut water. It's got natural sugars to help sweeten things up a little, but also adds health benefits like electrolytes!
Do you have any favorite ways of making green smoothies taste good? Let me know in the comments!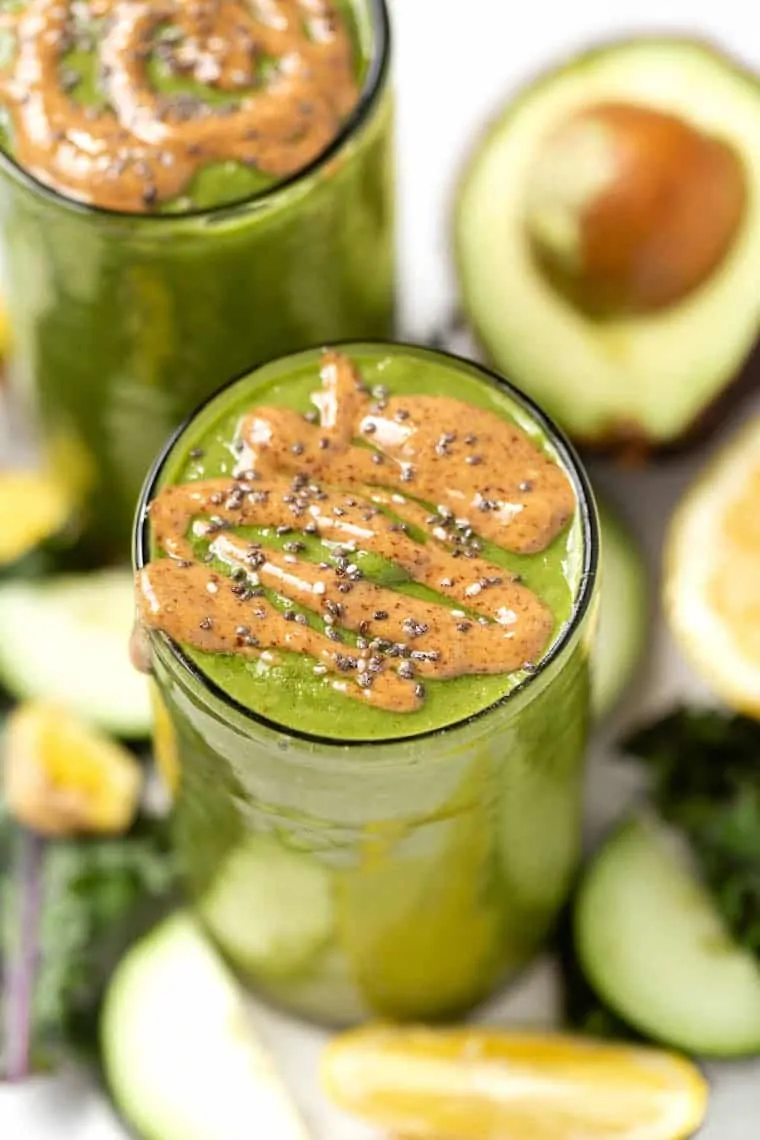 The Best Blender for Green Smoothies
I know this post is getting long, but I have so many things to say about making green smoothies! Before we talk about why I love this particular detox green smoothie so much, let's talk BLENDERS!
The best blender for green smoothies is definitely a high powered blender. I've used four different high powered blenders in my smoothie making and think they rank as follows:
Personally, I think a high powered blender is the best investment you can make in your kitchen appliances. It's one of those things that will be scary at first, but you will see how much of a game-changer it is long-term!
If you don't have the budget to buy a high powered blender right now, no worries – there are loads of options out there that work great. Here's what I recommend: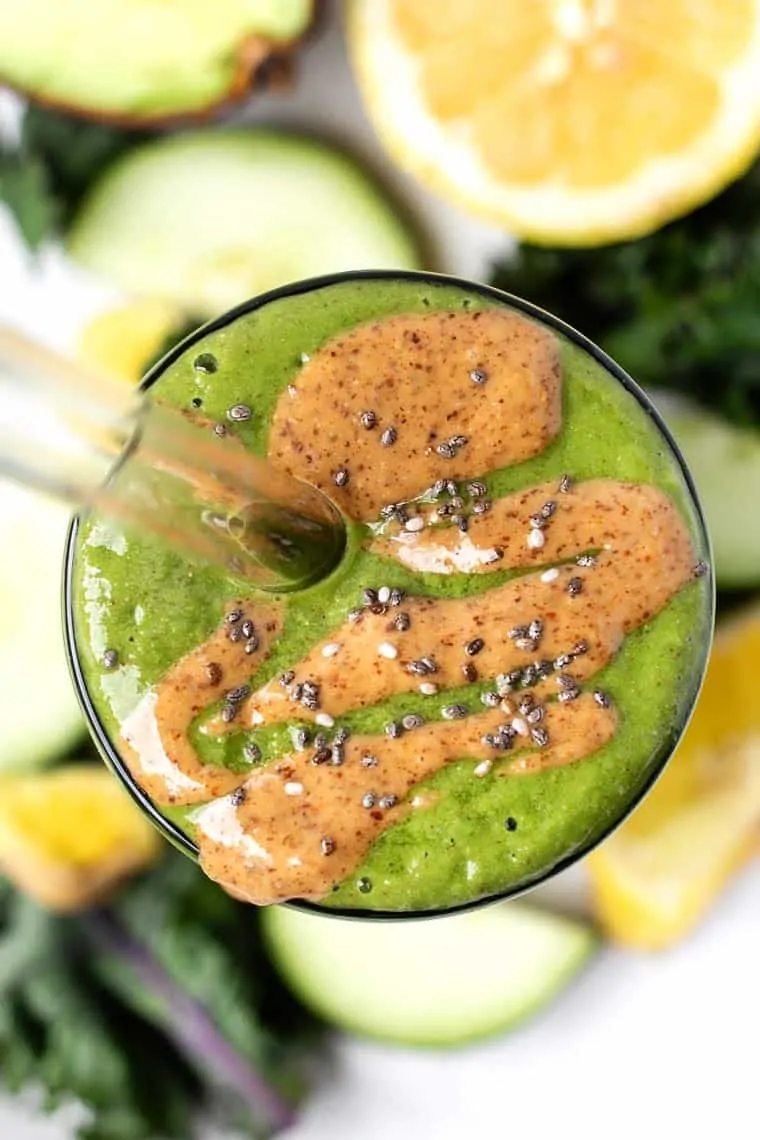 Why I Love This Detox Green Smoothie Recipe
Now that you're basically an expert on all things green smoothies, let's get back to this detox green smoothie and why it's so great. Here are just some of the many reasons why I love this recipe:
super creamy
perfectly sweet (raspberries are the only fruit)
sneaking in veggies (yes, cauliflower rice!)
super high in fiber (hell0, 12g per glass)
naturally full of protein (8g per glass)
packed with trace minerals (like potassium, calcium & vitamin A)
easy on digestion
And I could keep going. Basically this smoothie is not only good for you, but it's also delicious. And it's good for you in so many ways  – from easing stress in the morning, filling you up, energizing you, supporting your digestion and tasting really F-ing good. It's a smoothie you NEED and I know will love! ❤️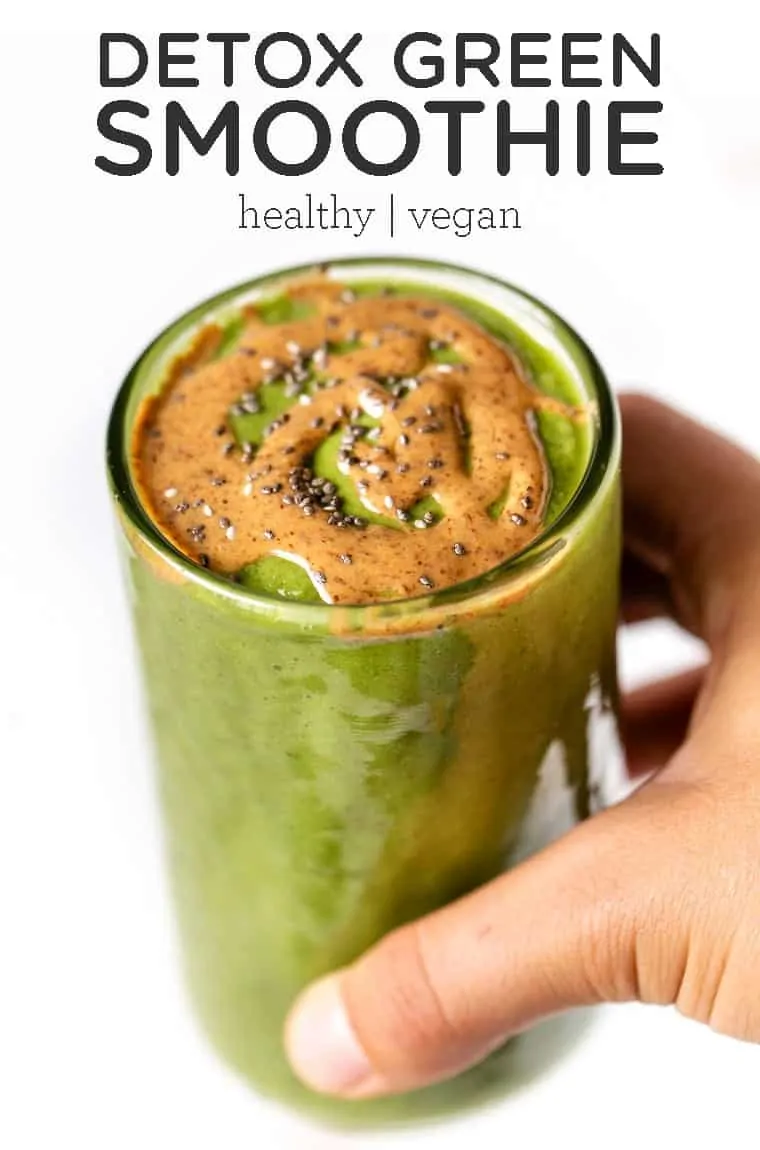 More Green Smoothies That Actually Taste Good!
The Best Detox Green Smoothie
This amazing detox green smoothie is supercharged with healthy ingredients! Everything from kale, to avocado, chia, ginger, coconut water and more. It's healthy AND delicious!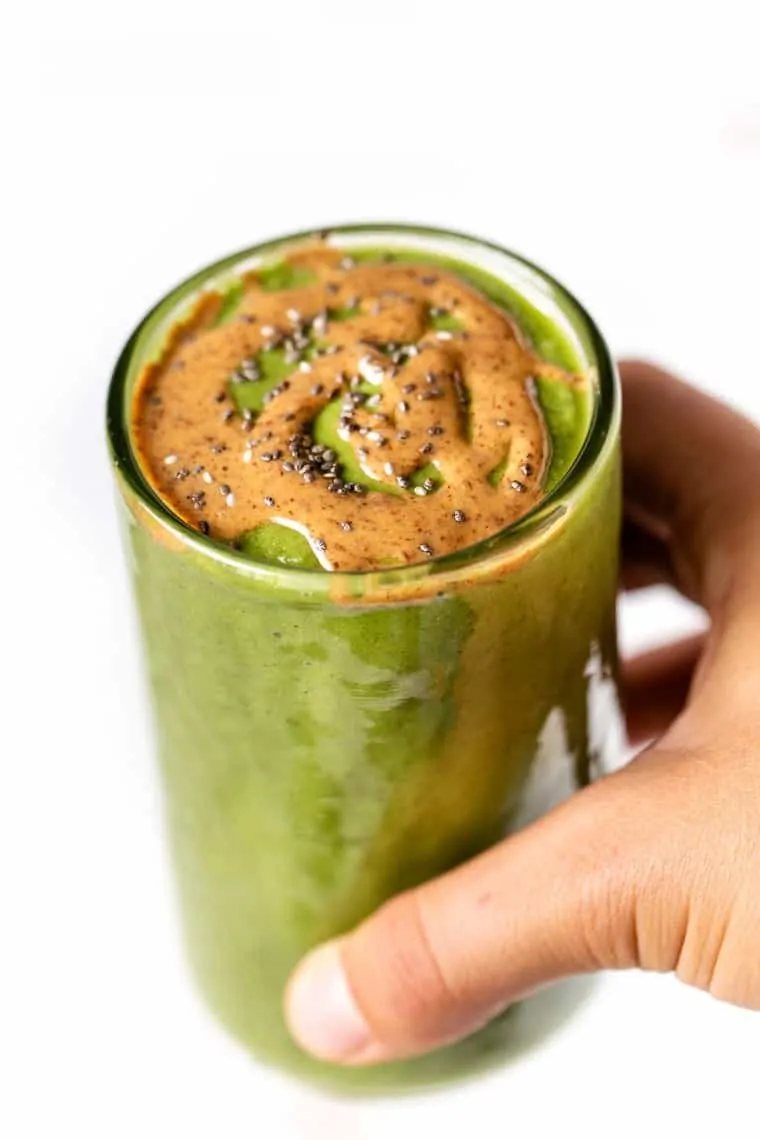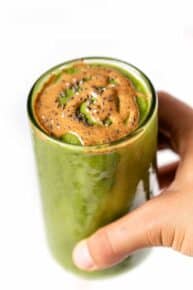 Ingredients
4

cups

greens

(kale, spinach, etc.)

1

cup

chopped cucumber

1/2

cup

frozen cauliflower rice

1

frozen banana

1/4

cup

frozen raspberries

1/2

an avocado

1

tablespoon

chia seeds

1

tablespoon

flaxseed meal

1

tablespoon

almond butter

1

" piece of fresh ginger

Juice of 1/2 a lemon

1

cup

coconut water

1

cup

water

(or almond milk)
Instructions
Add everything into your blender and blend on high until smooth. Pour into a class, top with toppings (if you like to!) and enjoy!
Nutrition
Serving:
1
smoothie
|
Calories:
294
kcal
|
Carbohydrates:
36
g
|
Protein:
8
g
|
Fat:
16
g
|
Saturated Fat:
2
g
|
Sodium:
174
mg
|
Potassium:
1238
mg
|
Fiber:
12
g
|
Sugar:
13
g
|
Vitamin A:
1068
IU
|
Vitamin C:
57
mg
|
Calcium:
138
mg
|
Iron:
3
mg
Filed Under: