These are hands down the BEST vegan oatmeal chocolate chip cookies I've ever tasted! They're chewy, with crispy edges, full of oats and chocolate, and also healthy!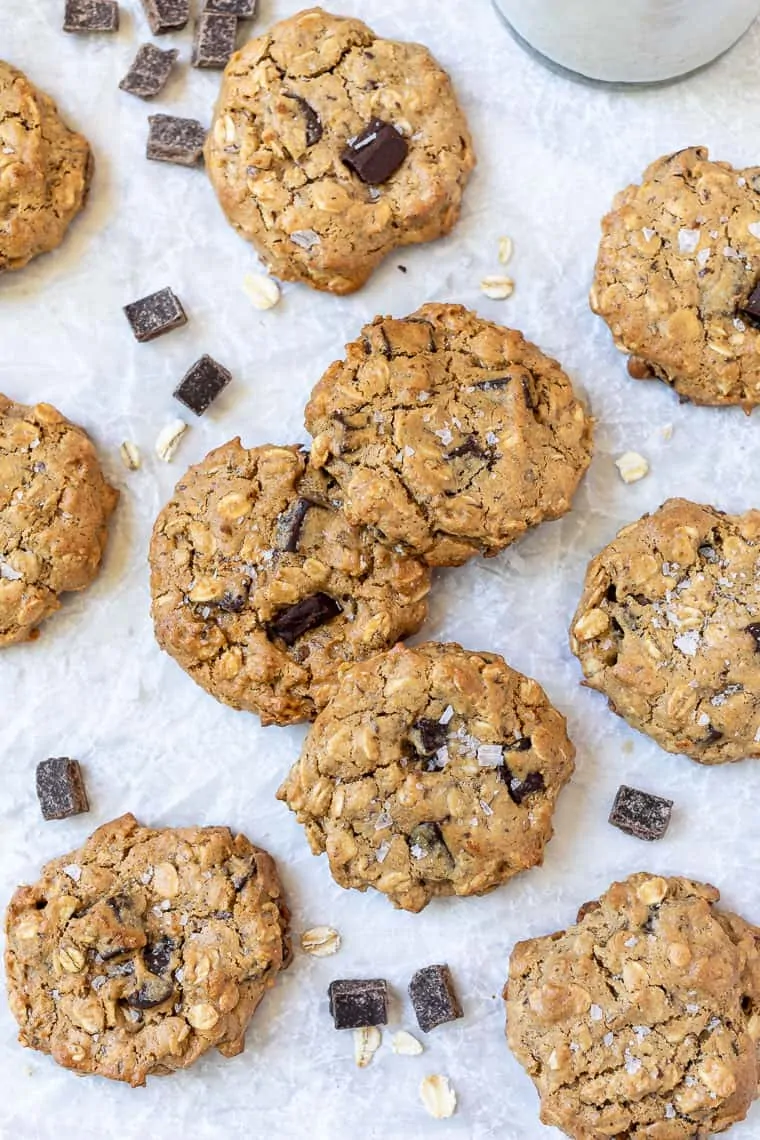 Chocolate chip cookies have always been my favorite. My dad used to make them when we were little and they'll forever be the best cookie on the planet.
But sometimes you want something a little bit jazzier. A bit more adult if you will. And perhaps a bit healthier?
That's where these bad boys come in. They're the ultimate, absolutely scrumptious, and seriously most delicious vegan chocolate chip cookies EVER. And I can't wait to show you how to make them!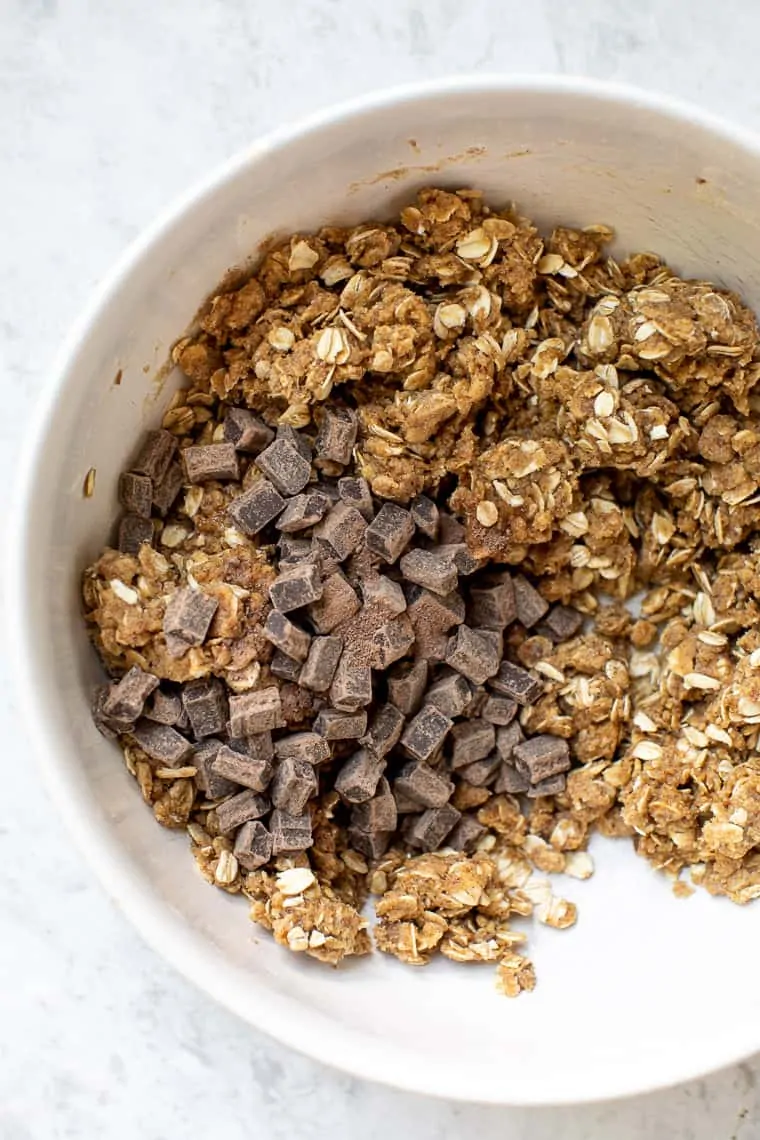 What You'll Need for This Recipe
We're keeping the ingredient list fairly simple with this recipe and using only healthy, wholesome ingredients. But don't worry – these are still every bit as delicious as their traditional counterparts!
Here's what we'll be using in our cookies today:
Cashew butter: I love using cashew butter in cookies (remember these gluten-free raspberry thumbprint ones?!) because it provides a lovely chewy texture, but also a really nice flavor – kind of sweet, kind of caramel. If you can't do/find cashew butter, any other nut/seed butter will work in its place.
Maple syrup: my favorite sweetener on the face of the earth! Feel free to swap honey or double the amount of coconut sugar.
Flax egg: to replace our regular eggs (here's how to make a flax egg) – but you can also use a regular egg
Coconut sugar: just a touch here to help with the texture of the cookies – makes them chewier rather than fluffy
Vanilla: I love the flavor it adds, but this is totally optional
Quinoa flour: my flour of choice for pretty much everything – feel free to swap with another grain-based flour if need be
Oats: make sure to use old fashioned if you want a good oat texture
Dark chocolate: chopped up dark chocolate is my favorite thing to add to cookies, but of course, chips work as well!
And then some baking soda and sea salt to finish it all off!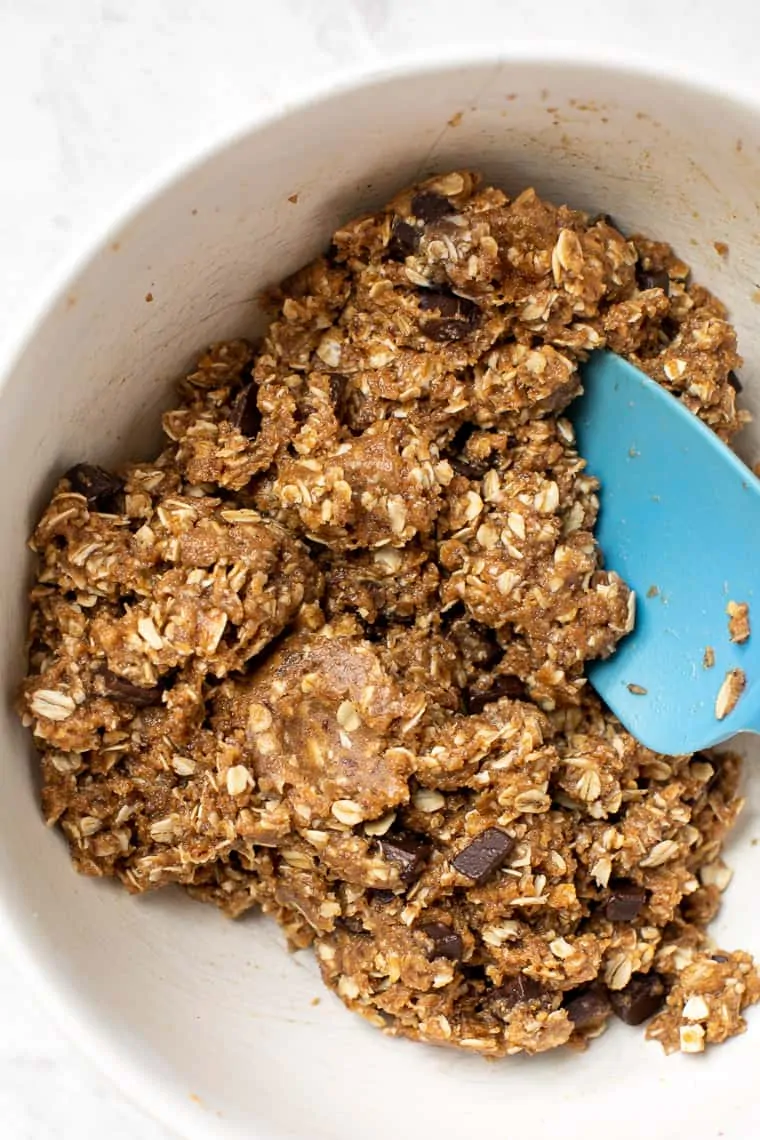 How to Make These Heavenly Cookies
If I had to choose one thing to bake it would be cookies. Mostly because they're so darn easy to make. Just one bowl, like 15 minutes and boom you're done.
STEP 1: Wet Ingredients
I like to start by beating together all the wet ingredients. Since we're not using butter or granulated sugar, we don't have to worry about the creaming process. Just beat them together until smooth and you're good.
STEP 2: Dry Ingredients
Then just dump in the dry ingredients. I usually fold the chocolate chips in at the end, but this one you can do it all at once if you're feeling lazy. Then you'll have your cookie dough.
STEP 3: Bake
Lastly, we bake! These will bake at 350ºF for about 10 – 12 minutes. You'll know they're done when they're golden brown and slightly crispy on the outside.
Oh and I guess we have one final step: EAT. Enjoy a *slightly* warm vegan oatmeal chocolate chip cookie dipped in a glass of almond milk. Now we're talking about true heaven!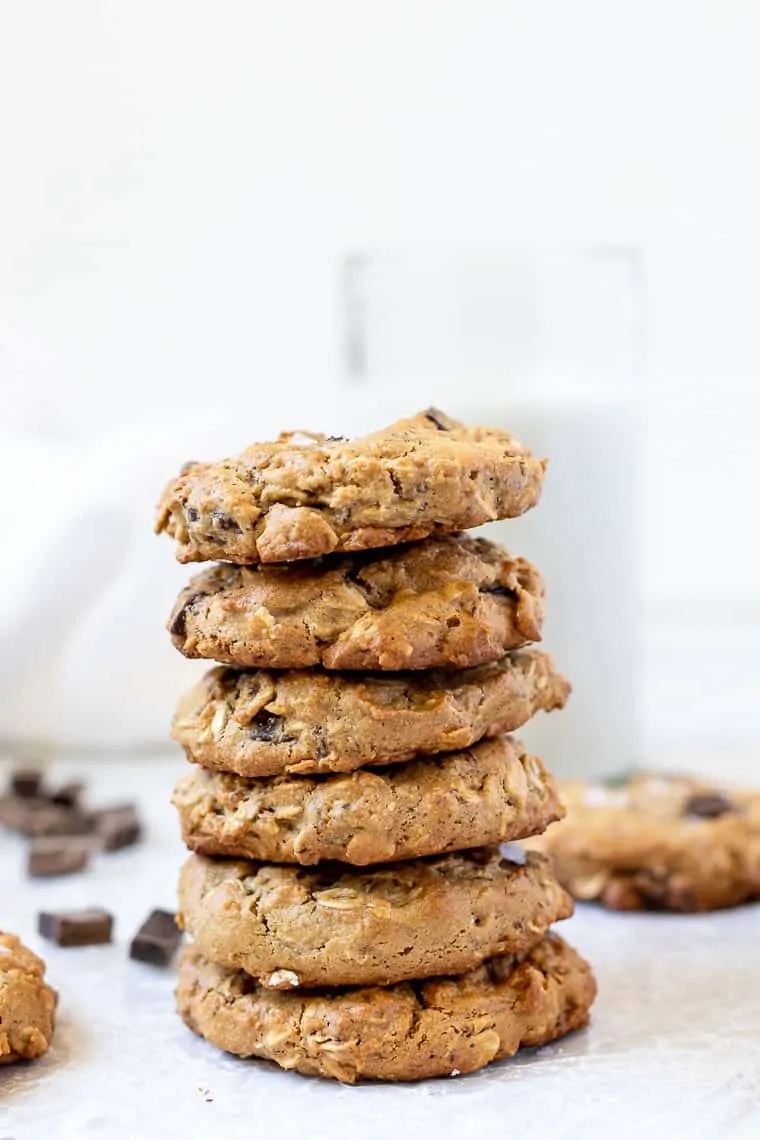 How We're Making these Cookies Healthier
We've got a few tricks to make these cookies healthier. Basically, we're swapping all the traditional cookie ingredients and using more wholesome, nutrient-dense ingredients in their place.
Here are the swaps we're making:
Butter: instead of butter or oil we're using nut butter. This will provide the fat the cookies need, but also provides protein and flavor
Sugar: rather than refined white sugar – or even brown sugar – we're using maple syrup as well as just a touch of coconut sugar
Eggs: not that eggs are unhealthy because I eat them all the time, but since we're making them vegan, we're swapping eggs with flax eggs
Flour: rather than all-purpose flour, we're using quinoa flour (surprise, surprise!), which provides a great texture and protein!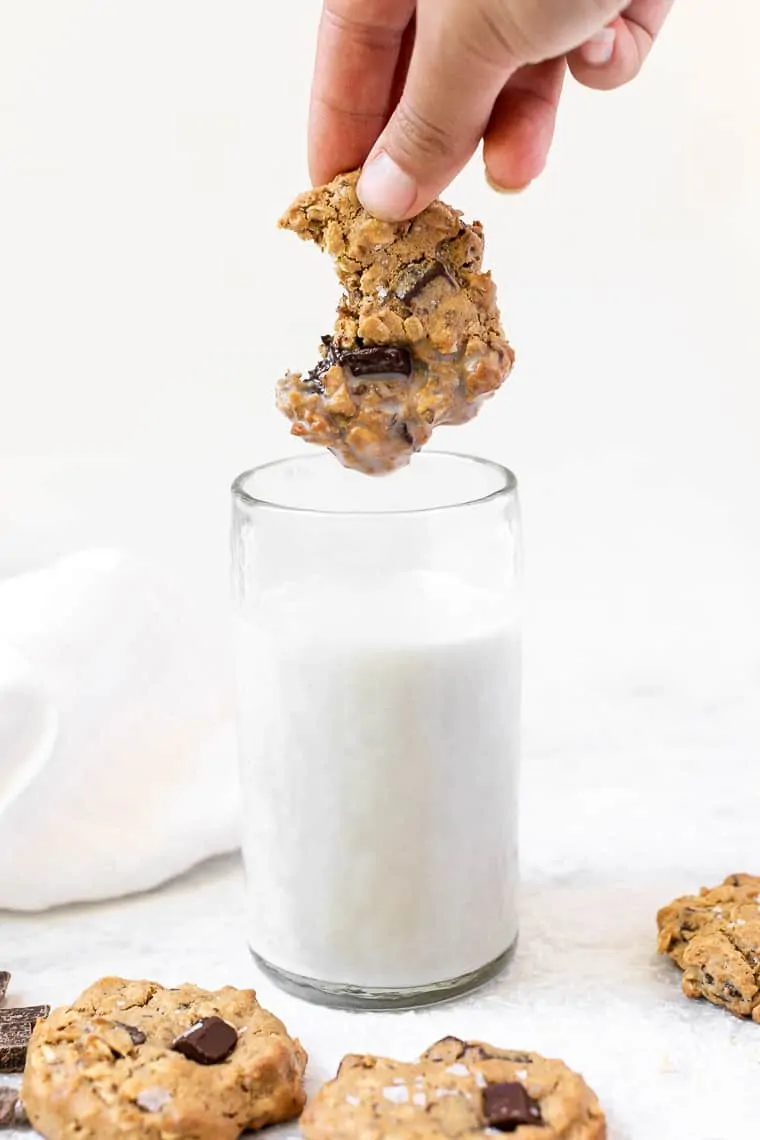 The Perfect Vegan Oatmeal Chocolate Chip Cookies
I don't think I could dream a more perfect cookie if I tried. They're everything that I love about oatmeal chocolate chip cookies, just better for you.
Here's why you'll love them too! They're…
chewy
crispy on the outside
gluten-free
generous amount of chocolate
full of oats
vegan
refined sugar-free
And just like the dreamiest dessert ever! I can't wait to see your recreations. Make sure to tag me @simplyquinoa when you do!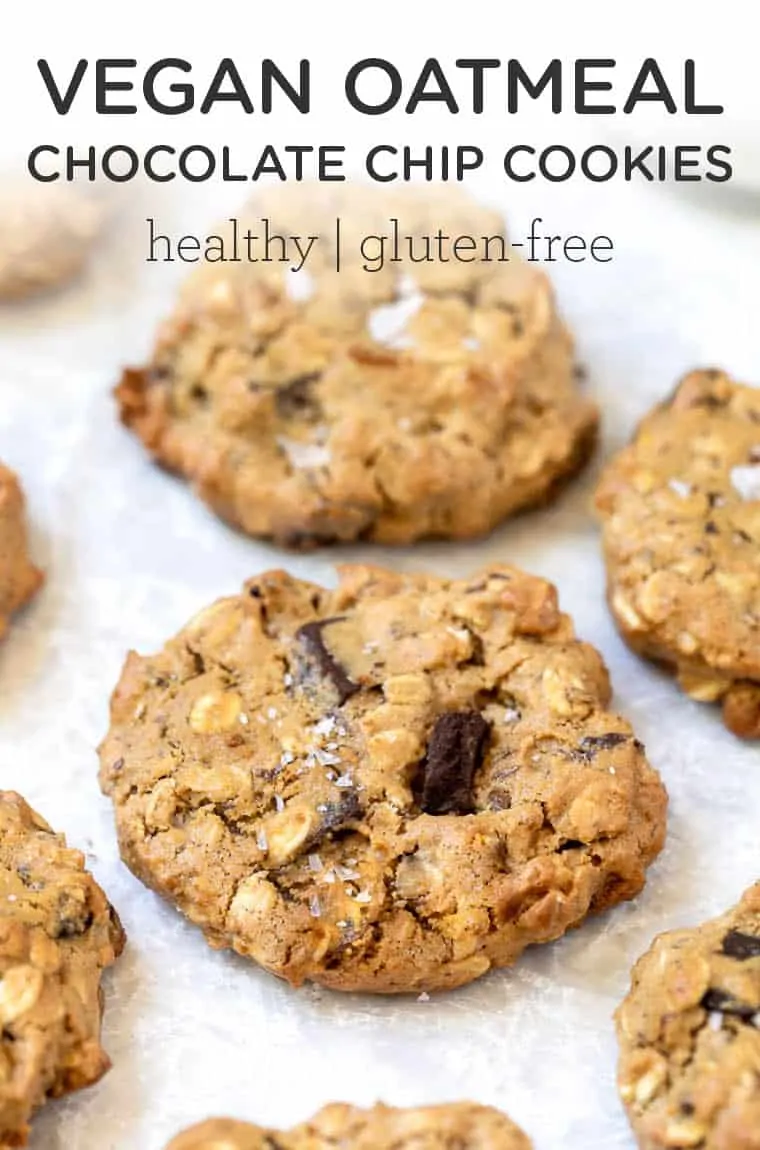 More Vegan Chocolate Chip Cookies to try:
Best Vegan Oatmeal Chocolate Chip Cookies
These are hands down the BEST vegan oatmeal chocolate chip cookies I've ever tasted! They're chewy, with crispy edges, full of oats and chocolate, and also healthy!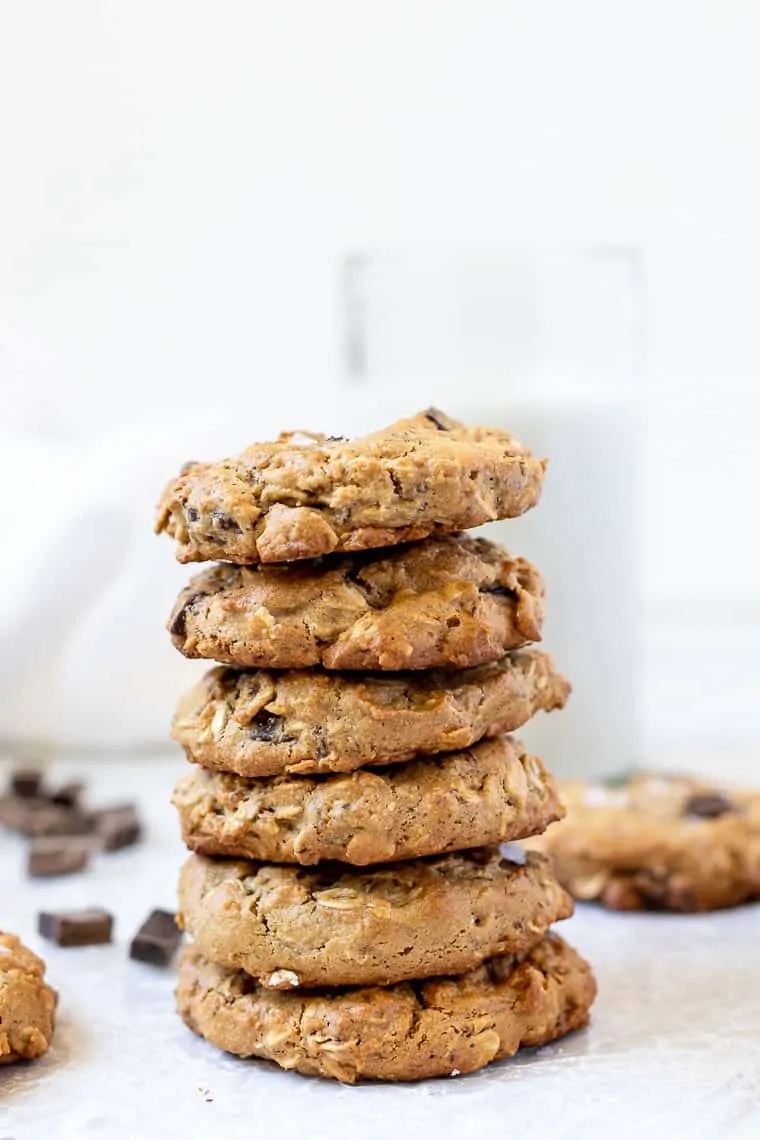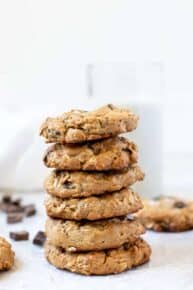 Instructions
Preheat the oven to 350ºF. Line a baking sheet with parchment paper.

In a bowl, beat together the nut butter, syrup, flax egg, sugar, and vanilla. Once smooth, stir in the flour, oats, chocolate chips, baking soda, and salt.

Scoop the dough onto the baking sheet. Gently flatten and place in the oven. Bake for 10 - 12 minutes until golden brown. Remove from the oven and sprinkle with flaked salt if desired. Allow the cookies to cool for a few minutes before transferring them to a cooling rack.
Nutrition
Serving:
1
cookie
|
Calories:
126
kcal
|
Carbohydrates:
15
g
|
Protein:
3
g
|
Fat:
6
g
|
Saturated Fat:
2
g
|
Cholesterol:
1
mg
|
Sodium:
51
mg
|
Potassium:
114
mg
|
Fiber:
1
g
|
Sugar:
6
g
|
Calcium:
31
mg
|
Iron:
1
mg
Filed Under: