These amazing vegan tahini chocolate chip cookies might just be the best chocolate chip cookies you'll ever taste! They're healthy, gluten-free and tasty!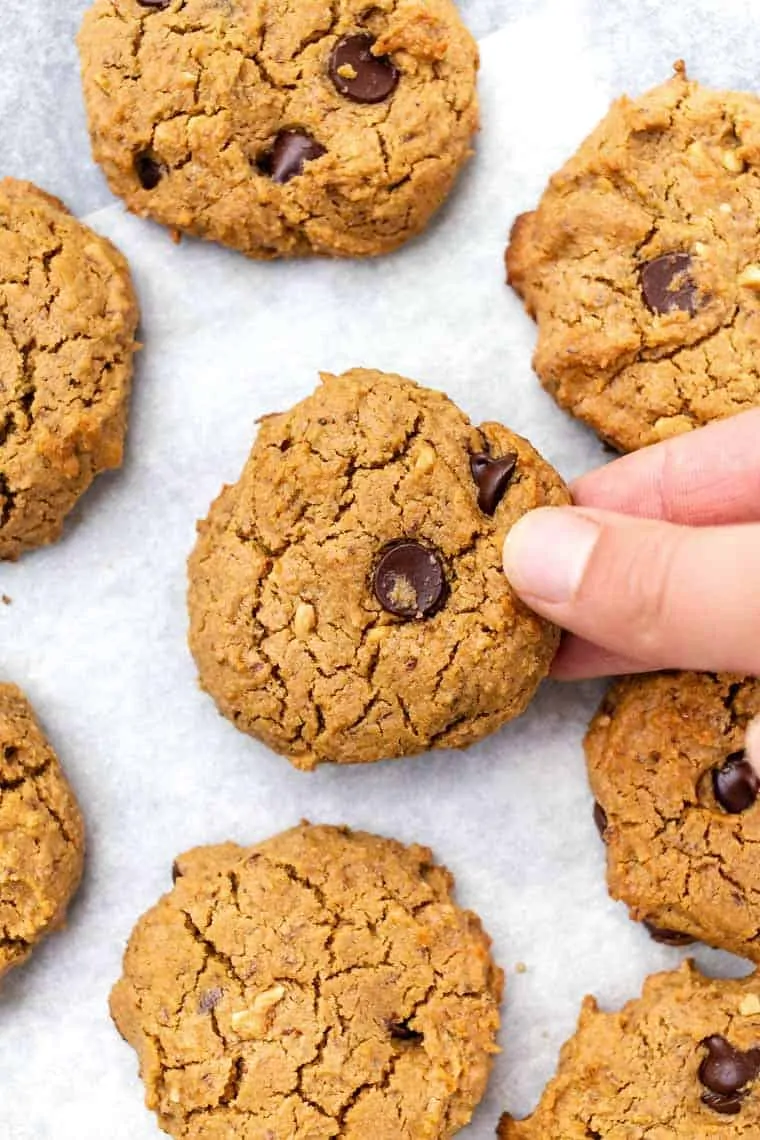 I think I've cracked the code on the best gluten-free and vegan chocolate chip cookie of all time. All-time you say? Yes, ALL TIME.
I know that might sound like an aggressive or overly confident statement, BUT it's true. Everything I look for in a cookie, these Vegan Tahini Chocolate Chip Cookies have. And if that isn't enough to sway you, they're even a requested dessert from my family of non-gluten-free and vegan eaters. They all say they're one of (if not the) best chocolate chip cookie they've ever had.
And I seriously can't wait for you to try them! Because it's my opinion that if you need one thing in your baking arsenal it's a "knock it out of the park" chocolate chip cookie. And these my friends are exactly that!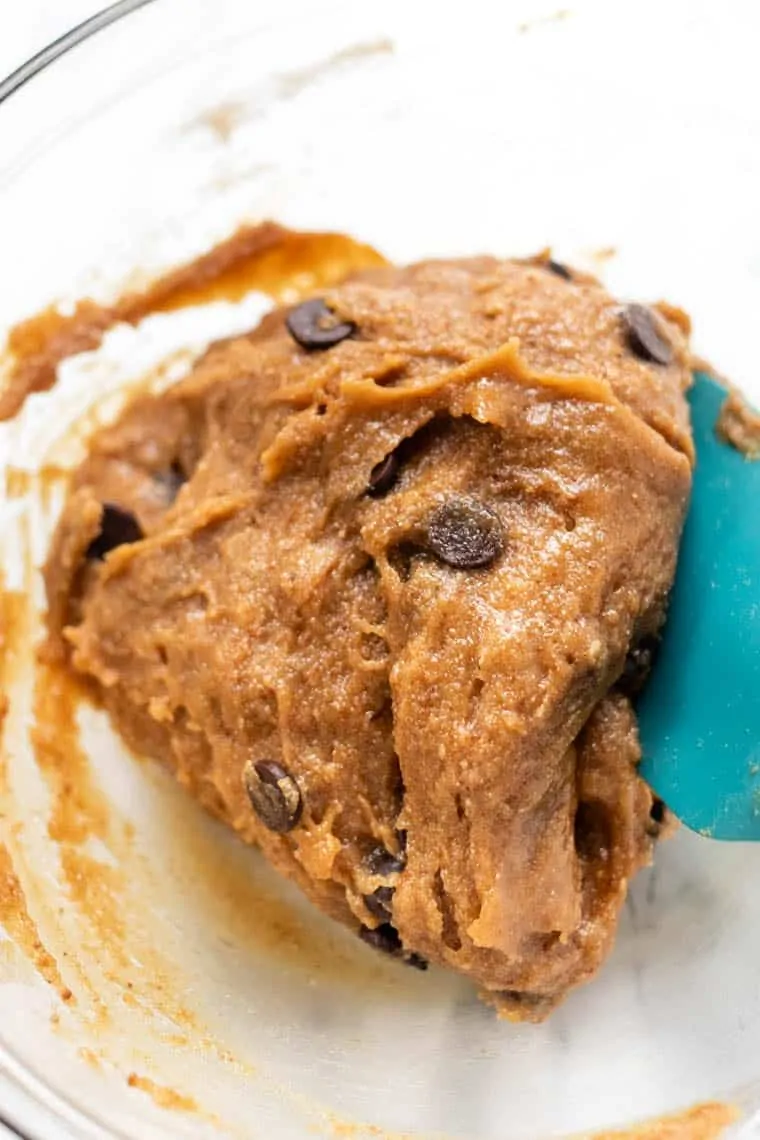 Ingredients in Vegan Tahini Chocolate Chip Cookies
When it comes to cookies, I feel like there's really no end to possibilities of ways to make them. I've tried them with oats, I've made banana-based cookies, I've even made flourless chocolate chip cookies.
But these vegan tahini chocolate chip cookies use a unique blend of flours which I absolutely love: quinoa and coconut. The quinoa flour is our grain flour which can help hold things together as well as add some protein. The coconut flour is there to absorb some liquid and make the cookies uber chewy.
For our liquid ingredients we're using:
tahini
maple syrup
a flax egg
The tahini makes them nutty and moist, while the maple syrup is our sweetener. The flax egg is how we're keeping them vegan, but if you are okay eating eggs, you can totally use a regular egg in this recipe.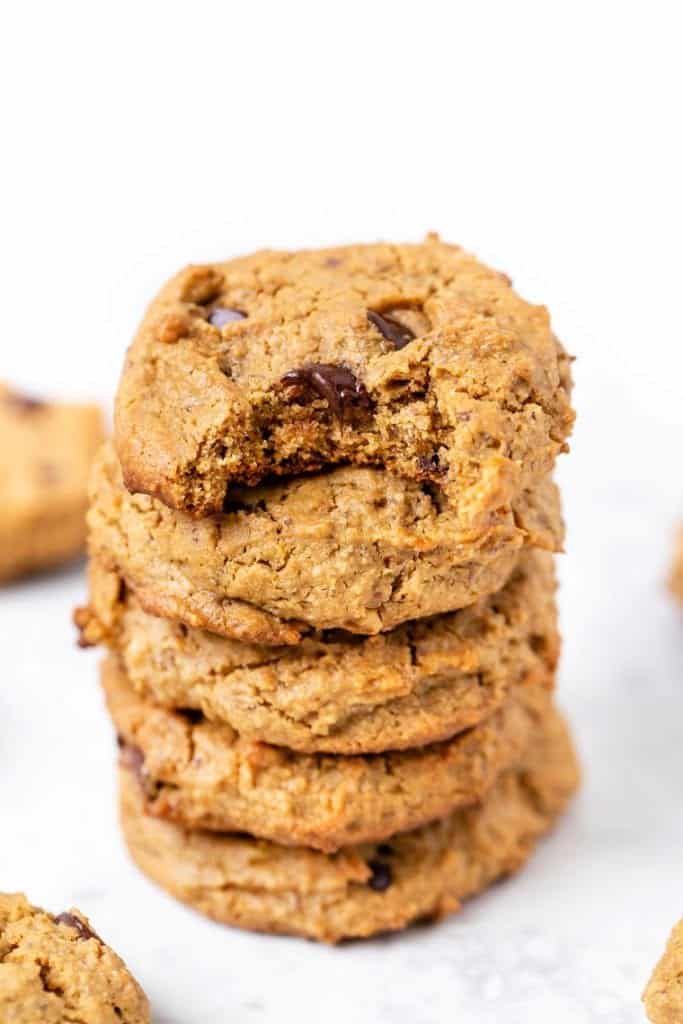 How to make Healthy Chocolate Chip Cookies
By now I'm sure you know that I love taking classic recipes and giving them a healthy twist. With these vegan tahini chocolate chip cookies, we're doing a few things to add more nutrients while not taking away and flavor or taste.
Removing the oil. This recipe is completely oil-free and we do that by using tahini as our alternative. Tahini helps with the flavor and the texture of the cookies!
Using less sugar. We're using two types of unrefined sugars: maple syrup and coocnut sugar. In fact, this entire batch of cookies using less than 1/2 cup of sugar. Isn't that crazy!? And awesome at the same time.
Adding healthy fats. I love adding healthy fats to my baked goods because it helps make them a little more filling but also helps control blood sugar spikes. Since tahini is the base of these cookies, we're getting lots of healthy fat with each one!
Adding protein. Lastly, we've got protein. Yes, protein in our cookies without adding protein powder. Our trick? Tahini and quinoa flour. Tahini is actually quite high in protein, so each cookie 3g of protein!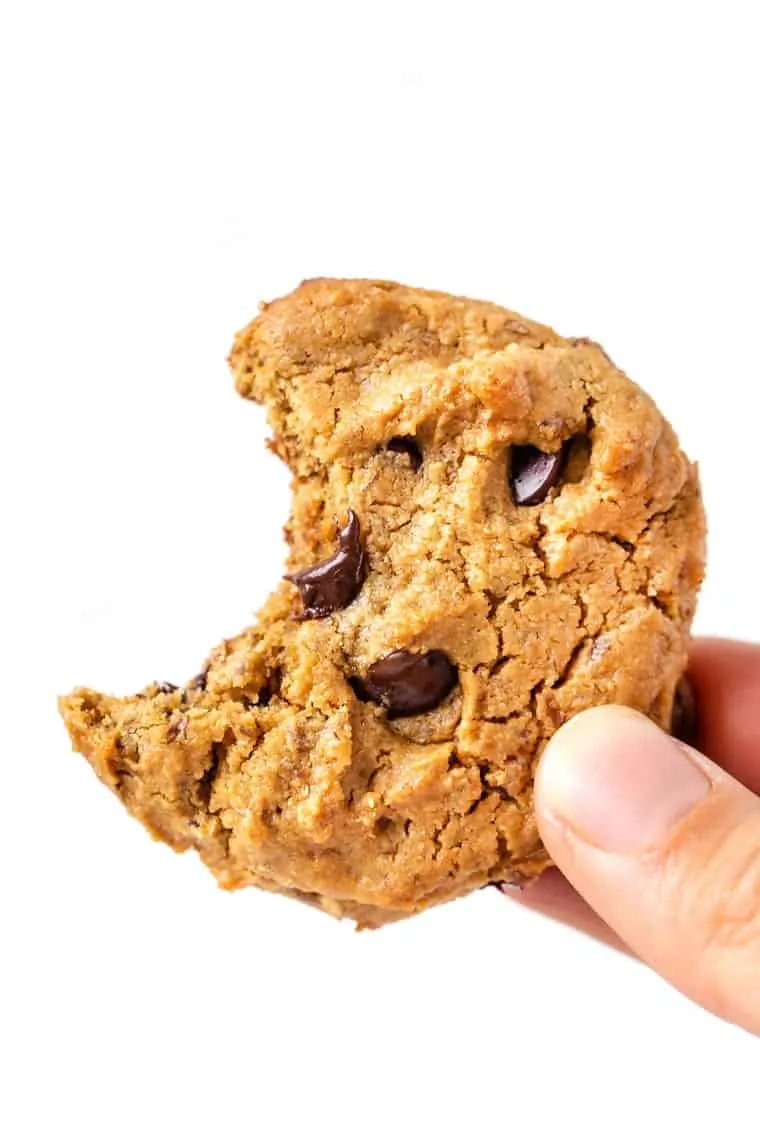 The Best Vegan & Gluten-Free Chocolate Chip Cookie
Truthfully, these are the best chocolate chip cookies I've ever made. I have some others on the site already, but if you're craving like a classic chocolate chip cookie – you know crispy edge and chewy middle – these vegan chocolate chip cookies are for you.
They're a cinch to make too! We use just one bowl, 10 ingredients and they're ready in under 20 minutes. And the result is healthy, vegan, gluten-free, oil-free chocolate chip cookies that are sure to satisfy all chocolate chip cookie lovers. I can't wait to see you make them and love them as much as me!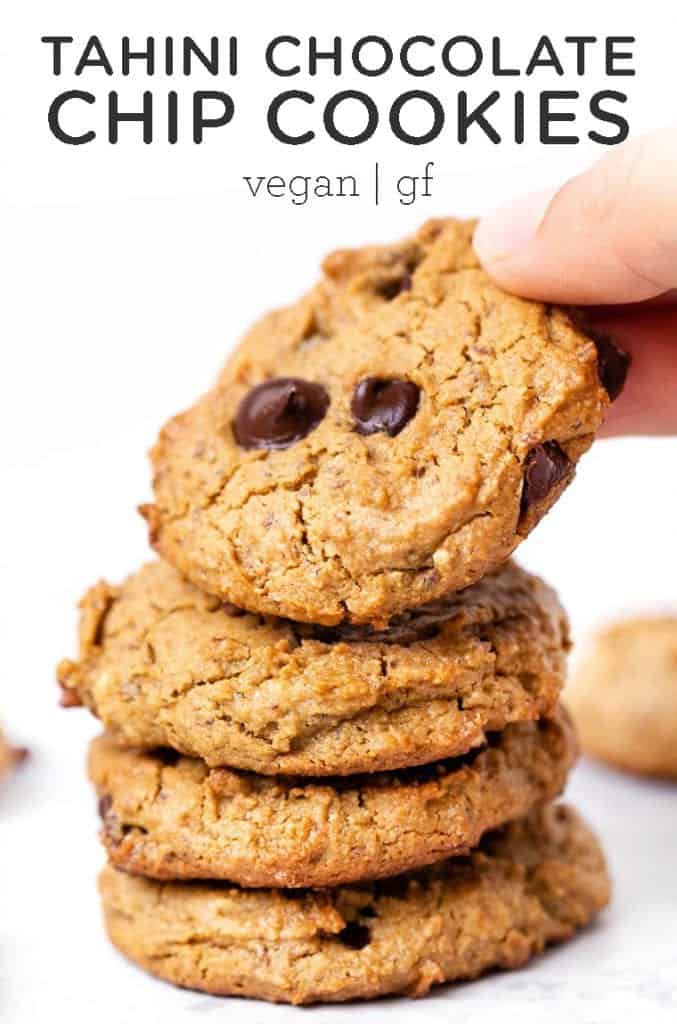 More Gluten-Free & Vegan Cookies
Tahini Chocolate Chip Cookies
These might just be the best chocolate chip cookies ever! Tahini chocolate chip cookies made with quinoa flour, coconut flour and dark chocolate chips.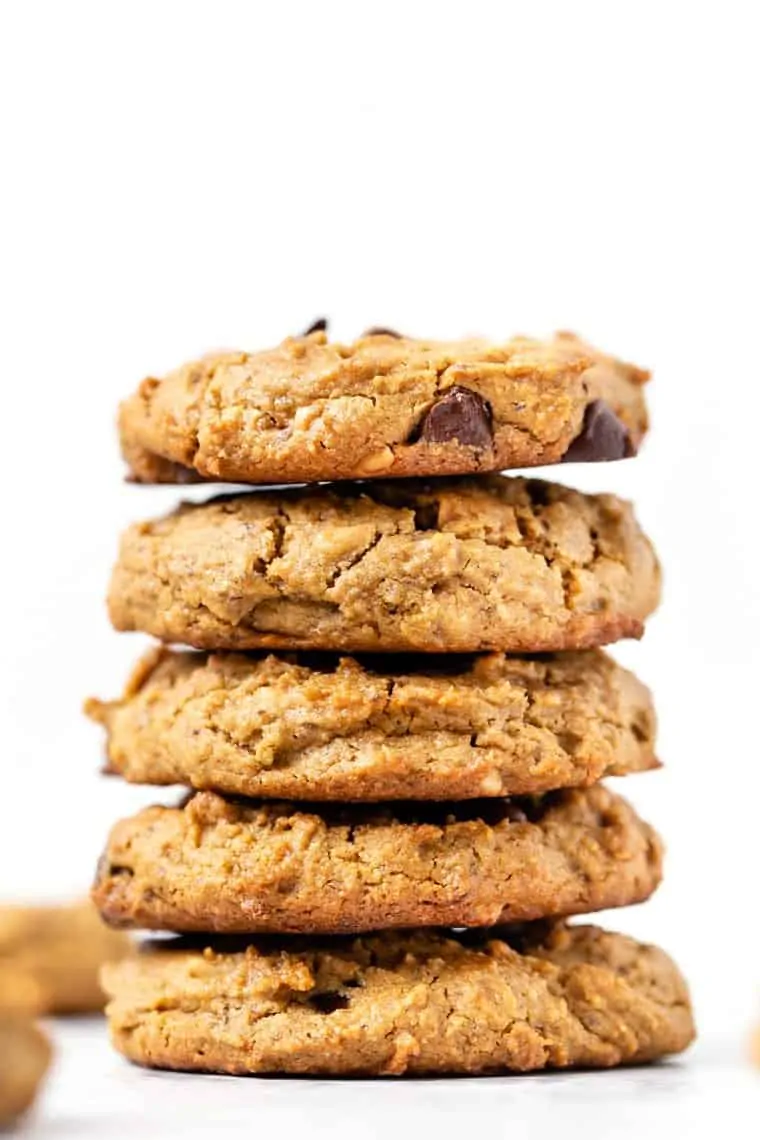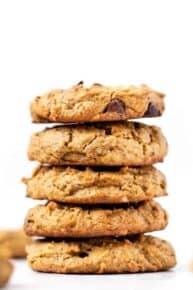 Instructions
Preheat the oven to 350ºF. Line a baking sheet with parchment and set aside.

Beat together the tahini, syrup and sugar until smooth. Then stir in egg and vanilla. Add the dry ingredients and stir to form a dough. Fold in the chocolate chips.

Scoop the dough onto the baking sheet and gently flatten with your hands.

Bake for 10 - 12 minutes until the cookies are golden brown. Remove from the oven and allow to cool completely.

Dunk in a glass of almond milk and enjoy!
Nutrition
Serving:
1
cookie
|
Calories:
129
kcal
|
Carbohydrates:
13
g
|
Protein:
3
g
|
Fat:
7
g
|
Saturated Fat:
2
g
|
Cholesterol:
14
mg
|
Sodium:
163
mg
|
Potassium:
98
mg
|
Fiber:
1
g
|
Sugar:
7
g
|
Vitamin A:
25
IU
|
Vitamin C:
0.4
mg
|
Calcium:
40
mg
|
Iron:
0.7
mg
Filed Under: