These vegan snickerdoodles use one bowl and 8 ingredients. This healthy snickerdoodle recipe is also gluten-free, grain-free, and paleo too! Perfect for the holidays, easy to make, and can be made nut-free as well!
It's the holidays and that means we're baking. Lots and lots of baking! And if you love baking as much as I do – especially holiday cookies – there are so many yummy holiday cookies to choose from. Today we're making gluten free snickerdoodles, but I think you'd also love my healthy raspberry thumbprint cookies or my classic vegan gluten free sugar cookies. Holiday cookies here we come!!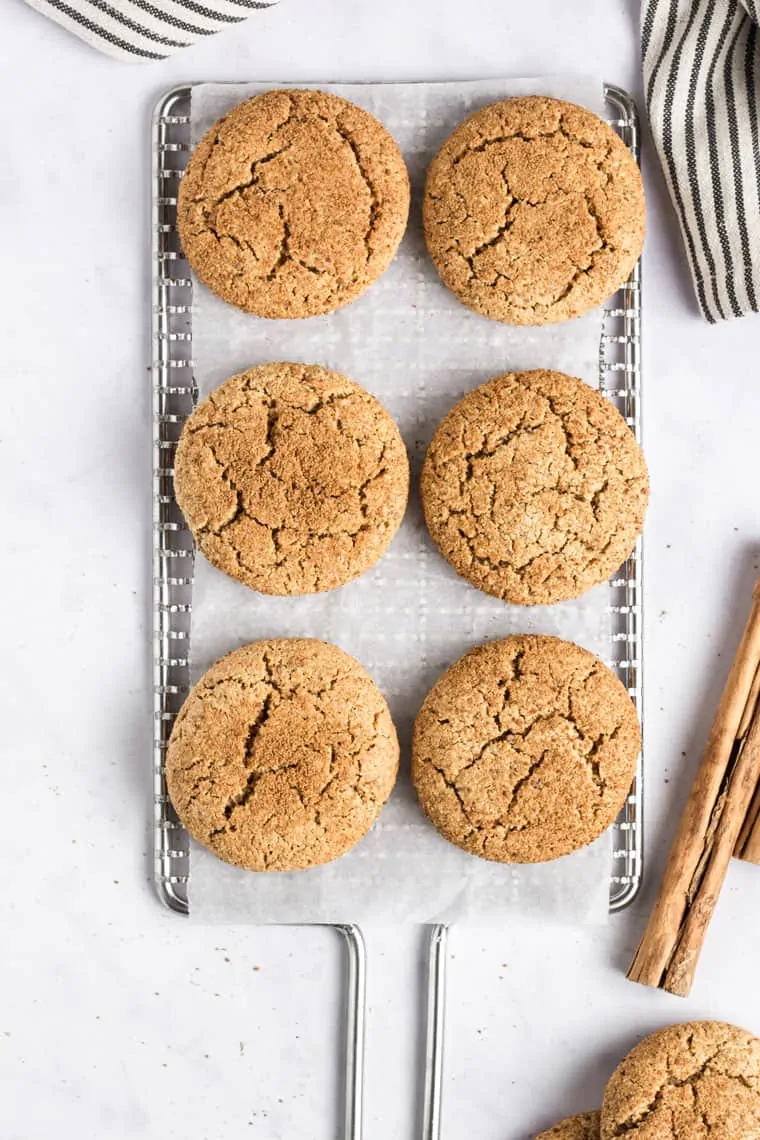 Today though, it's about snickerdoodles. And I'm going to show you how to make the most perfect, most delicious, most healthy snickerdoodle recipe you've ever seen.
I know that's a bold statement, but it's true. These cookies are not only soft and chewy, but they're perfectly sweet and made with only wholesome ingredients.
Do you know what else you'll love about these cookies?
use just one bowl
only have 8 ingredients
are made without gluten, grains, refined sugar, eggs, oil OR dairy
You might be thinking… "are they even good!?" The answer is YES. They're 100% delicious!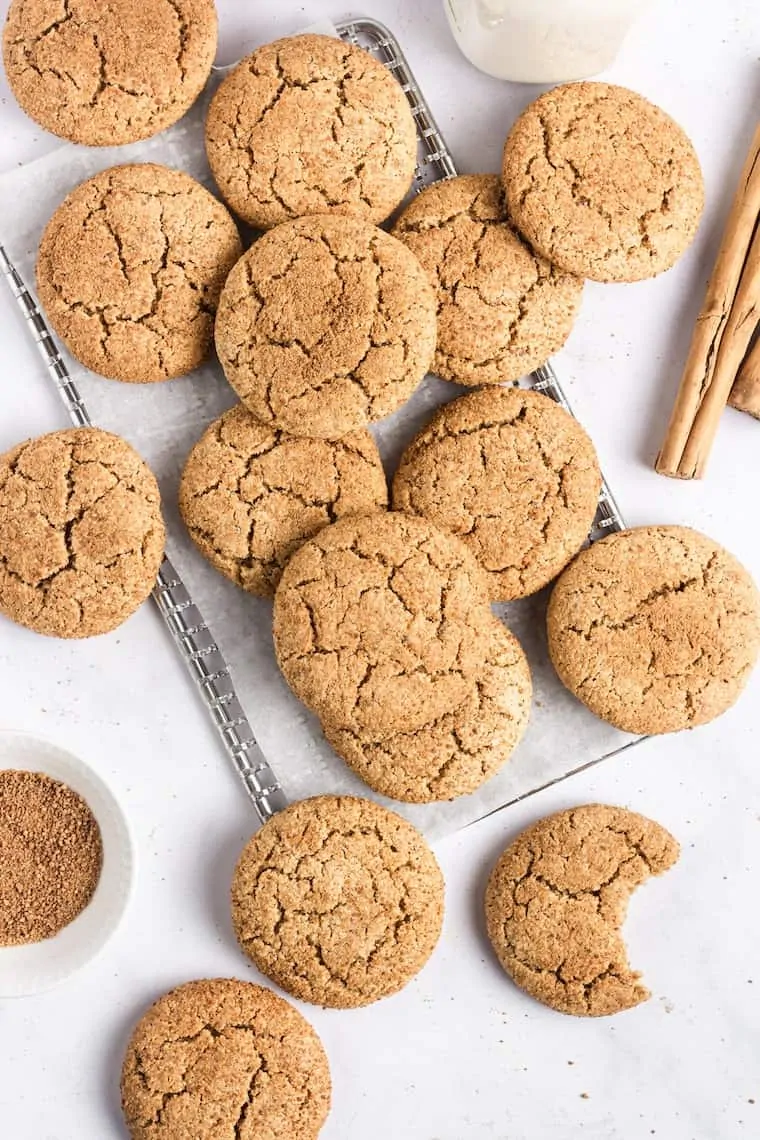 What is a Snickerdoodle?
A traditional snickerdoodle is a cookie made from a simple blend of butter, sugar, flour, and sometimes eggs. The dough then gets rolled in cinnamon sugar and baked. Imagine them as a kind of soft sugar cookie dipped in cinnamon. Crackly on top, soft, and chewy center. They're absolutely delicious and a highly underrated holiday cookie in my opinion!
Since I don't personally eat butter, white sugar, or flour, we basically had to reimagine how to make these cookies. I've had a few cookie successes in the past that I thought could be a good base, so I set of testing. What we ended up with is a batch of the ultimate vegan snickerdoodles! They've got the perfect texture, amazing flavor and they even crack on top like the traditional ones. But my healthy snickerdoodle cookies? They're vegan, gluten-free, grain-free, paleo, and oh so soft!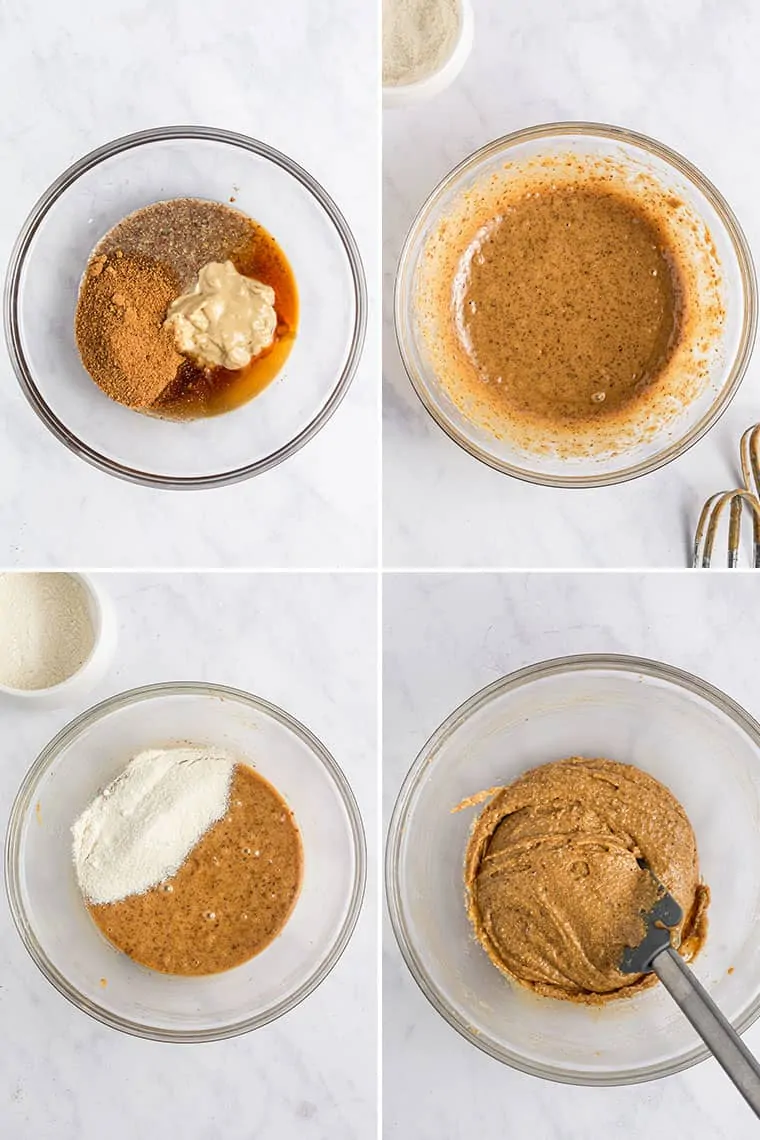 How to Make Gluten Free Snickerdoodles
Just like other traditional cookies, we're using the regular method of creaming your fat with your sugar, but with our healthy snickerdoodle recipe, we're changing up the ingredients. Inside you'll find:
Cashew butter: this is taking place of traditional butter. It's got an amazing flavor, a soft texture and it makes these snickerdoodles taste amazing!
Coconut sugar: for my granulated sugar, I opted for coconut sugar which can be used as a 1:1 substitute for white sugar. I find that it's still perfectly sweet, your cookies just might have a *slightly* darker color.
Maple syrup: I often combine coconut sugar and maple syrup together because I love both flavors – the maple imparts some caramel undertones and also helps give the cookies some fluff
Flax egg: to make our vegan snickerdoodle cookies we had to swap out the egg for a vegan alternative. I love flax eggs and they're also super easy to make at home!
Coconut flour: you won't usually find coconut flour in vegan baking because it typically relies heavily on eggs, but for this recipe, it works perfectly! It's also how we're making them gluten-free and grain-free!
And then to finish off our healthy snickerdoodles, we've got baking soda and vanilla extract! In total, they're just 8 ingredients!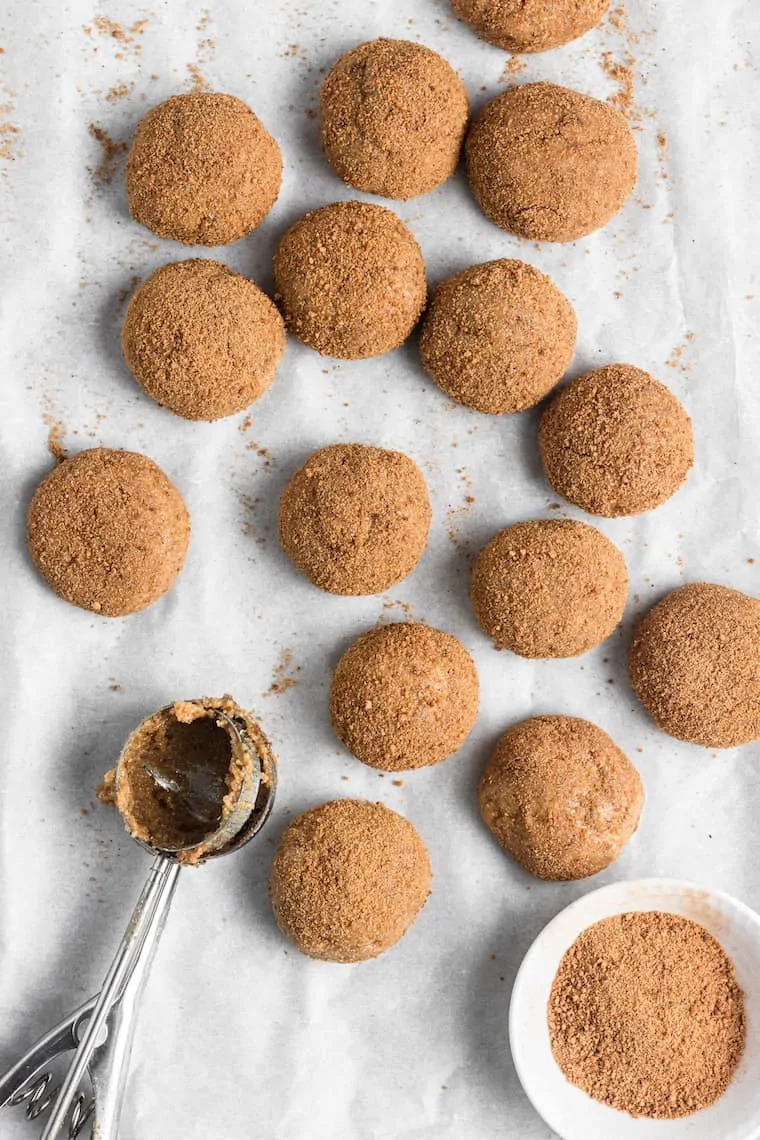 How to Make Vegan Snickerdoodles without Cream of Tartar
You might notice that traditional snickerdoodle recipes call for cream of tartar.
Cream of tartar is used for three things:
stabilizing eggs/egg whites
to help activate the baking soda
to add some chew
But I've found when making my own cookies, you don't really need it. Especially for this recipe. Since we're using cashew butter as our base, these snickerdoodles are already super soft and chewy, so you can skip the cream of tartar all together.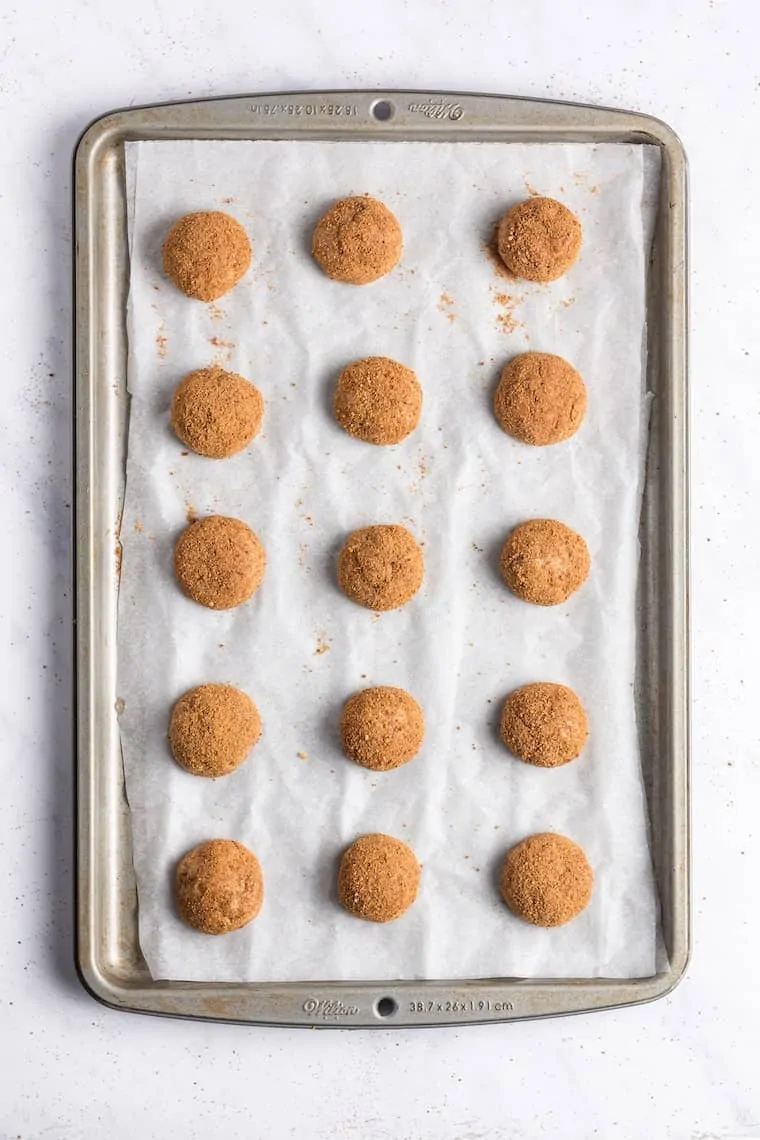 Swaps for Vegan Snickerdoodle Cookies
One of my goals is always to share ways you can make changes to my recipes to suit your dietary needs. Here are some tips for making perfectly soft snickerdoodles using whatever you might have on hand:
Nut butter: instead of cashew butter, feel free to swap it with any nut or seed butter. Tahini or sunflower seed butter would be my recommendation! If you do use sunflower seed butter though, swap the baking soda with baking powder as it will turn the cookies green!
Sugar: if you'd rather use another granulated sugar, go for it! White or brown sugar is totally fine.
Liquid sweetener: if you're not a maple fan, honey, date syrup, agave, etc. can all be used to replace the maple syrup.
Eggs: if you aren't trying to make vegan snickerdoodles, feel free to swap the flax egg with a regular chicken egg! The texture might change slightly, but they should still be delicious!
Flour: the one sticking point with this recipe is the flour. You can't swap the coconut flour for anything else in a 1:1 match. You'll have to do some research into making the swap, but baking with coconut flour is tricky!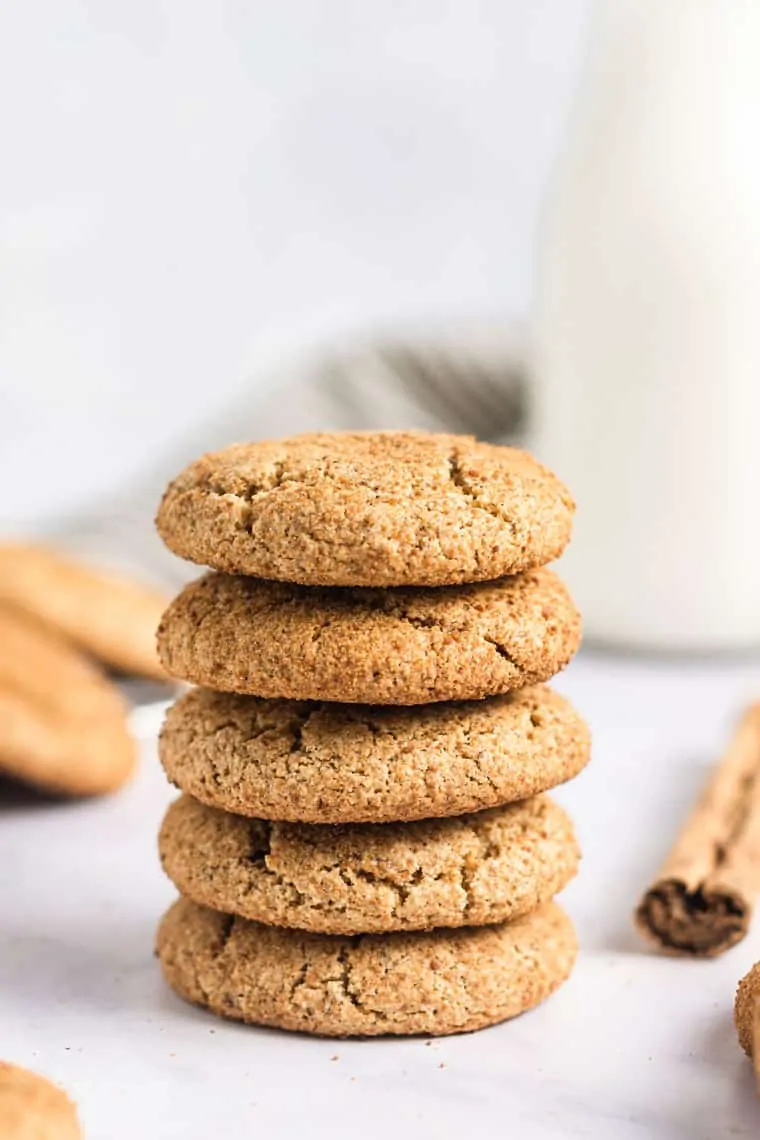 Make-Ahead Healthy Snickerdoodle Cookies
Cookies are one of those things you can absolutely make ahead. In fact, I even recommend it! These snickerdoodles are even better the next day.
How to freeze snickerdoodles: there are two ways you can freeze these cookies. You could either freeze the dough, or you could freeze them once they're baked. I'd recommend the former because I think they yield a better cookie, but it's up to you.
If you do freeze them before you bake them, scoop all the dough onto a parchment-lined baking sheet (follow the recipe through step 4) and freeze the baking sheet. Here are some great tips about how to bake frozen cookie dough!
If you want to freeze your baked cookies, just pop them in the freezer once they've cooled and reheat them in the microwave for about 30 seconds.
How to store snickerdoodles: I recommend storing these cookies in a sealed container on the counter. I find they last a good 2 – 3 days if they're kept sealed!
And that's pretty much it. I feel like you know everything you need to know about these vegan snickerdoodles and I can't wait to hear what you think ❤️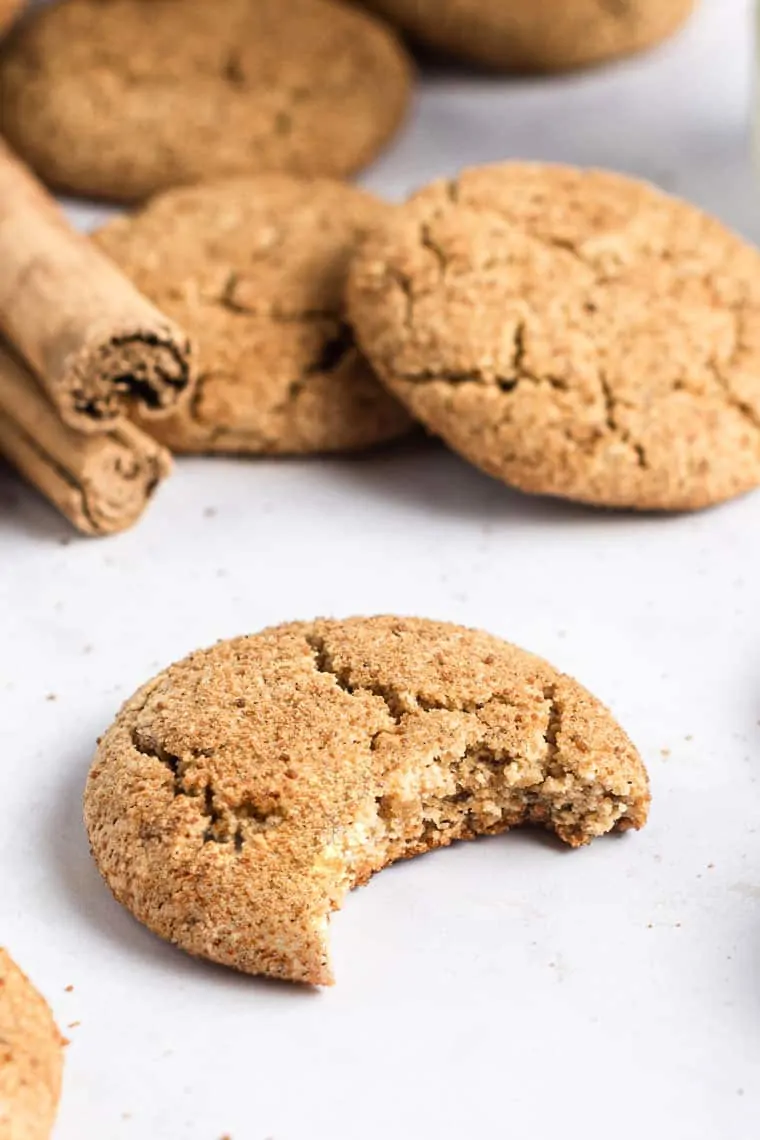 More Healthy Cookie Recipes
Vegan Snickerdoodles
These vegan snickerdoodles use one bowl and 8 ingredients. This healthy snickerdoodle recipe is also gluten-free, grain-free, and paleo too! Perfect for the holidays, easy to make, and can be made nut-free as well!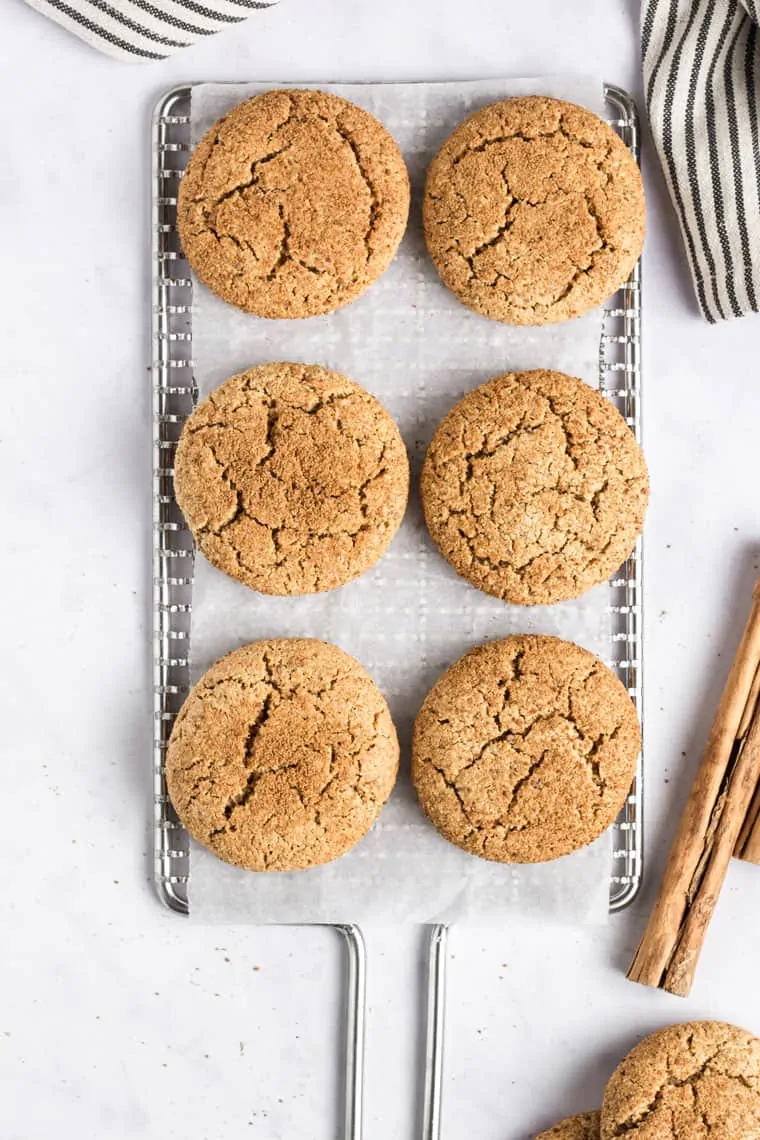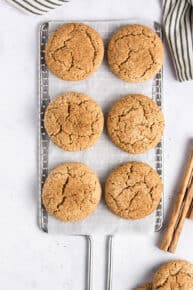 Instructions
Preheat the oven to 350ºF.

Beat together the cashew butter, flax egg, syrup, vanilla, and sugar until smooth and creamy. Add half the coconut flour, along with the vanilla and baking soda, and mix until combined. Beat in the remaining coconut flour.

In a separate bowl, mix together the sugar and cinnamon.

Scoop 1 tablespoon of dough into your hands and roll into balls. Roll the balls in the coconut sugar. Place on a baking sheet and flatten with your hands. Repeat until no dough remains. Bake for 9 - 10 minutes.

Remove from the oven and allow to cool for 10 - 15 minutes then enjoy!
Nutrition
Serving:
1
cookie
|
Calories:
129
kcal
|
Carbohydrates:
16
g
|
Protein:
3
g
|
Fat:
6
g
|
Saturated Fat:
2
g
|
Sodium:
49
mg
|
Potassium:
80
mg
|
Fiber:
2
g
|
Sugar:
9
g
|
Calcium:
16
mg
|
Iron:
1
mg
Filed Under: