This kale Caesar salad is a new twist on an old classic. With crispy chickpeas instead of croutons, and a creamy tahini dressing, it's a vegan and gluten-free salad that everyone will love.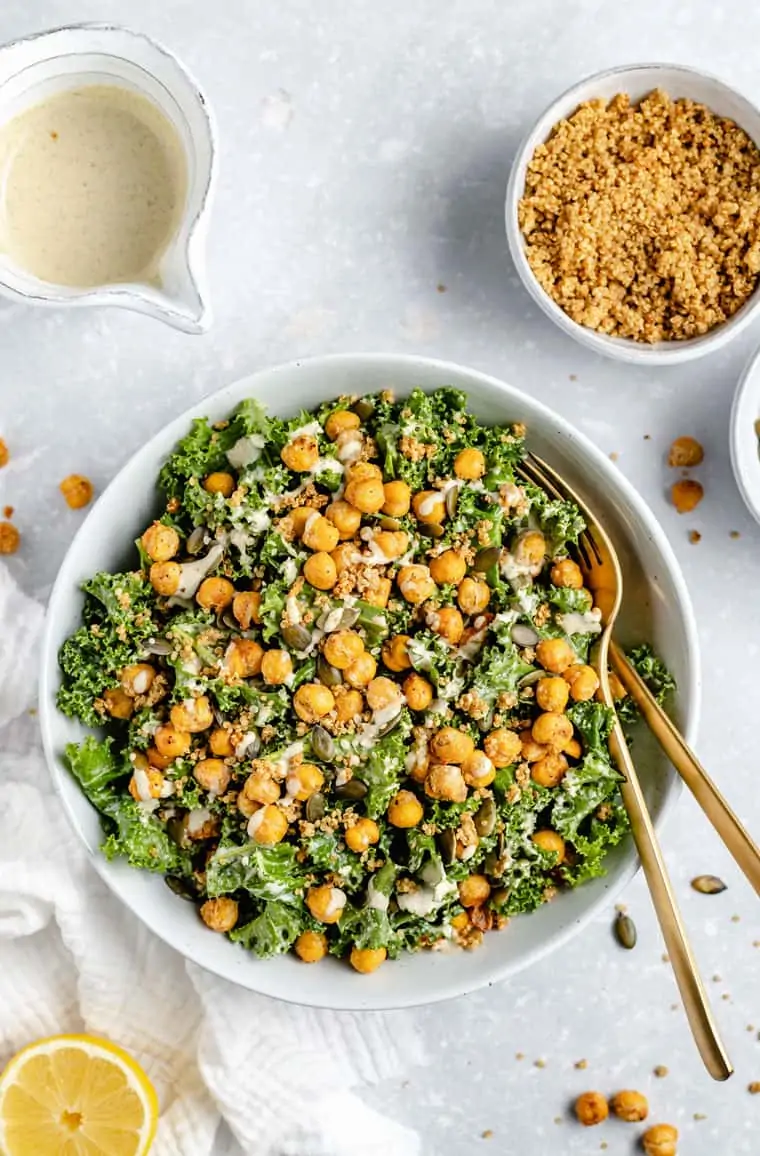 Caesar salads are timeless for a reason. There's something so perfect about the tangy, salty dressing, the crisp lettuce, and the crunch of the croutons. Unfortunately, a traditional Caesar salad is packed with eggs, cheese, anchovies, bread, and lettuce that doesn't have much nutritional value. So I decided to come up with a recipe for a kale Caesar salad that's vegan, gluten-free, and healthy. And it ended up being even more delicious than the original salad!
The crispy chickpea croutons are the star of this recipe. They're as crunchy as normal croutons, super healthy, and packed with garlic. But the tahini dressing is also fantastic. Capers and caper juice give the dressing the briny, salty flavor of anchovies while nutritional yeast makes it rich, hearty, and cheesy. With kale in place of romaine and some pumpkin seeds for extra crunch, this salad is as healthy as it is delicious. So if you're craving a Caesar salad but want it to be vegan and gluten-free, this is the salad for you.
What You'll Need
Here are all the ingredients that you'll need to make this healthy salad. Head to the recipe card at the bottom of the page to see the exact amounts for each of the ingredients.
For the Chickpea Croutons:
Chickpeas
Coconut oil
Garlic powder
Salt
Pepper – For best results, always use freshly cracked pepper.
For the Dressing:
Tahini
Hemp seeds
Nutritional yeast
Capers
Caper juice
Dijon mustard
Lemon juice – Make sure to use freshly squeezed lemon juice.
Garlic
Water
Salt
Pepper
For the Salad:
Kale – Curly green kale is best for this recipe.
Pumpkin seeds – Use raw pumpkin seeds.
Quinoa crispies – This is an optional ingredient.
How to Make Kale Caesar Salad
Here's how to make this easy and healthy salad in under an hour.
Preheat. Turn your oven on to 375F.
Season the chickpeas. Drain the chickpeas and rinse them. Put them in a mixing bowl and add coconut oil, garlic powder, salt, and pepper. Stir to combine.
Bake. Place the chickpeas on a baking sheet and put them in the oven. Bake until they're golden brown and crispy, which should take 40-45 minutes.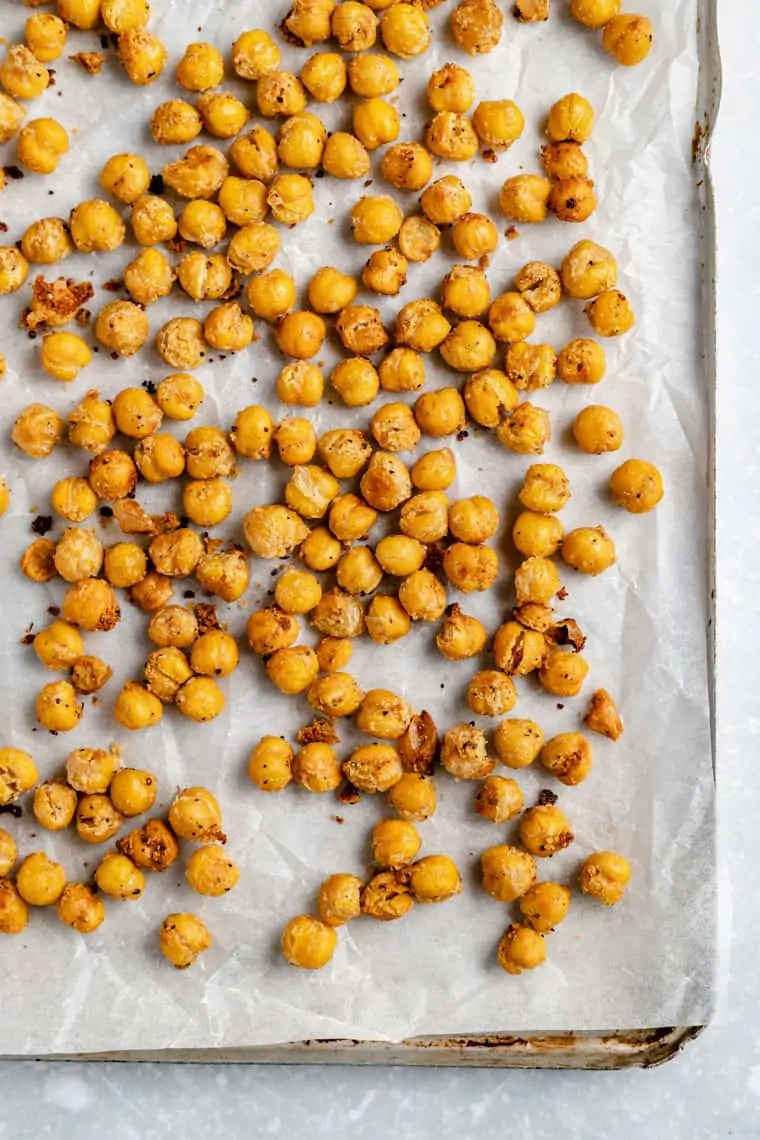 Make the dressing. While the chickpeas bake, add all of the dressing ingredients to a blender. Blend until the dressing is smooth.
Prepare the kale. Wash the kale and remove the stems. Tear the greens into bite-size pieces, and put them in a salad bowl.
Assemble. Pour the dressing over the kale, and massage it into the greens until the kale gets soft. Top with chickpeas, pumpkin seeds, and the optional quinoa crispies.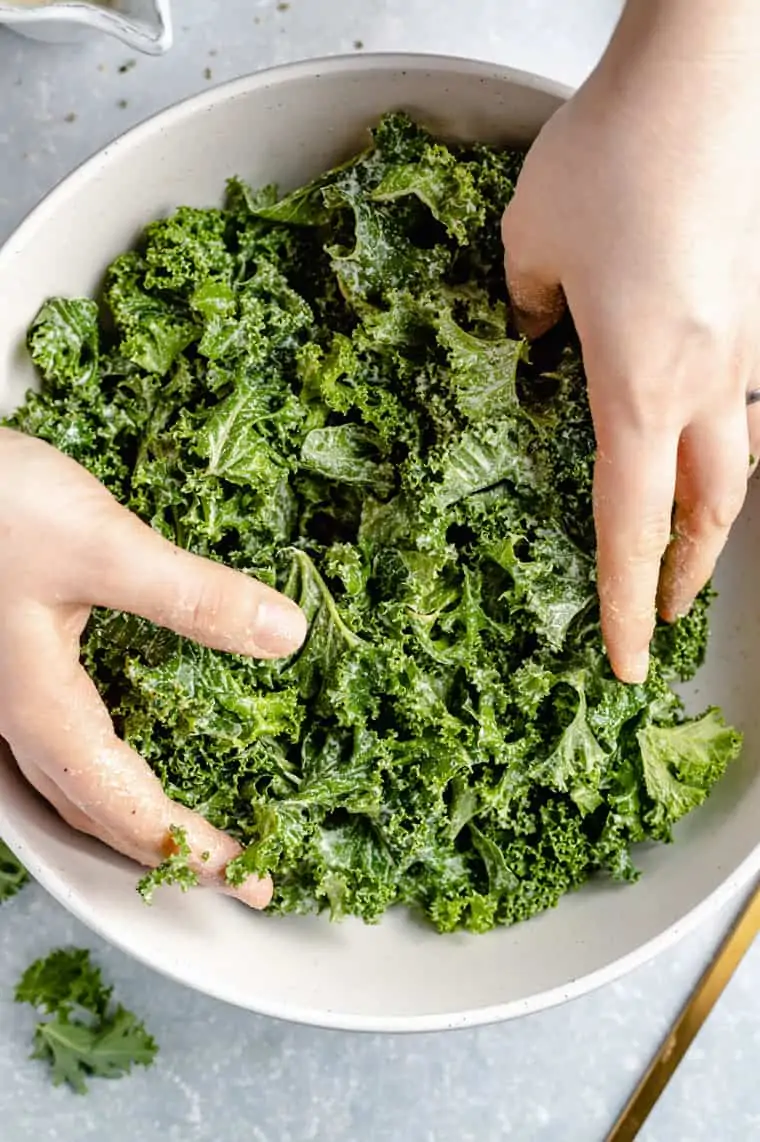 Tips for Success
Here are a few of my favorite tricks and tips for making this vegan kale Caesar salad.
Don't burn the chickpeas. You want to get a good crisp on the chickpeas, but it's important not to burn them. To keep from burning the garbanzo beans, shake the pan every 10 minutes or so while they cook. Keep a close eye on the chickpeas, and remove from the oven right before they would start burning.
Add a protein. If you want to turn this kale salad into a complete meal, you can top it with the protein of your choice. I recommend topping the Caesar salad with crispy tofu, but it's also great with tempeh or a lean meat, if you eat meat.
Thoroughly massage. It's really important to massage the kale in this Caesar salad. You're not just trying to coat the greens, you're trying to actually massage them until they break down. Give the kale leaves a thorough massage until you really feel them soften and almost wilt.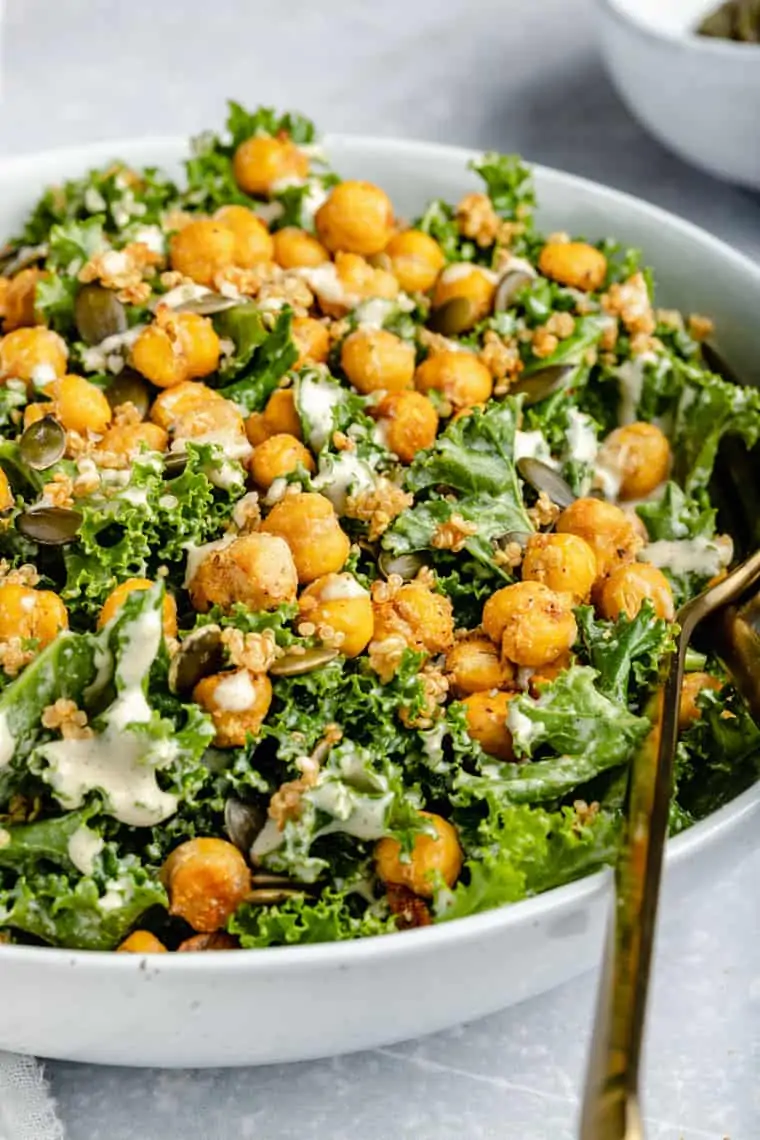 What to Serve It With
Sometimes I eat this salad all by itself as a whole meal. But I think it's best served on the side with a delicious vegan entree. Here are a few of my favorites.
How to Store Leftovers
Leftover Caesar salad can be stored in the fridge for up to 4 days. However, the texture of the salad won't be as good after the first day. The chickpeas will lose some of their crispiness, and the kale will get a little more wilted.
Can I Freeze This Recipe?
I don't recommend freezing this recipe. Salads do not freeze well, and the kale will be a very odd texture after it thaws.
More Healthy Kale Salads to Make
Kale salads are one of my favorite things to eat. They're so delicious, and super healthy. Here are a few more recipes for you to try.
Kale Caesar Salad with Crispy Chickpea Croutons
This kale Caesar salad is a fresh take on a classic dish. It's rich, healthy, vegan, and gluten-free!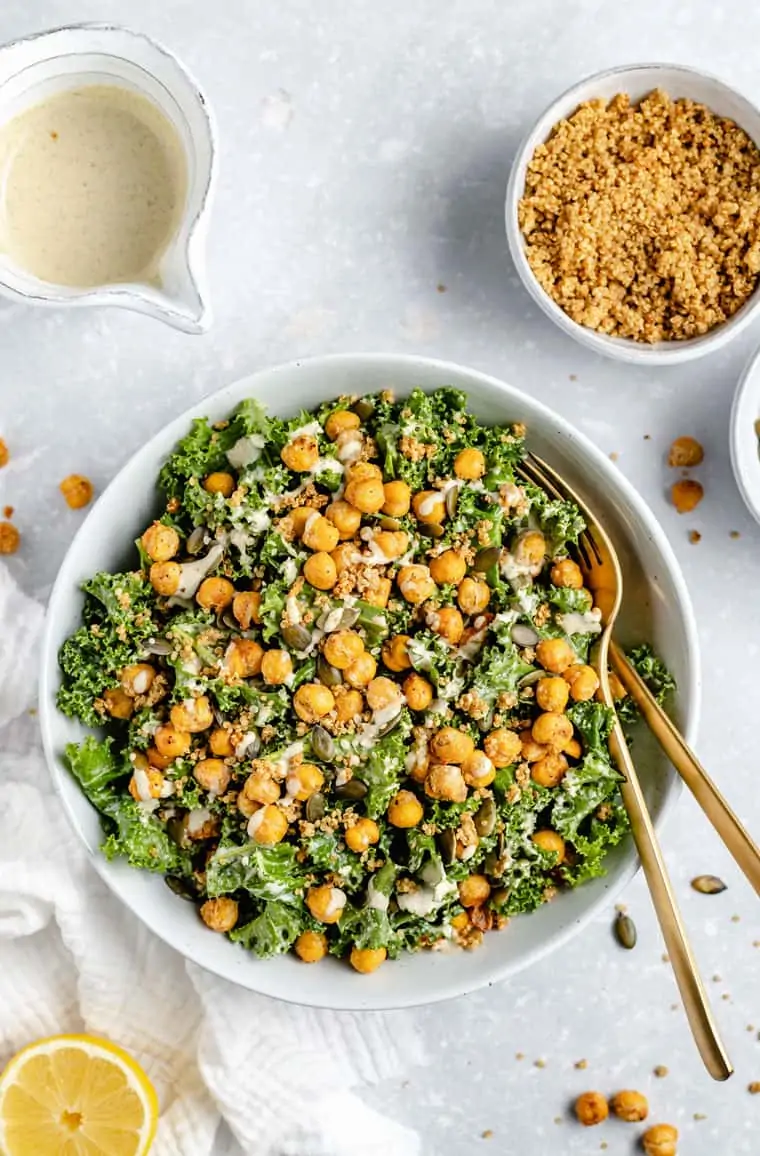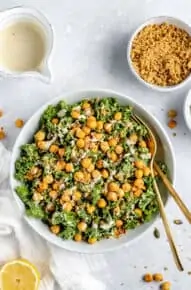 Ingredients
For the Crispy Chickpeas:
1

15-ounce can

organic chickpeas

1

tablespoon

coconut oil

1

heaping teaspoon

garlic powder,

more or less to taste

Salt + pepper to taste
For the Vegan Caesar Dressing:
Instructions
Preheat the oven to 375ºF.

Drain and rinse the chickpeas, then transfer them to a large bowl. Top with oil, garlic, salt, and pepper, and stir to combine. Transfer the chickpeas to a baking sheet and roast for 40-45 minutes, until golden brown and crispy, shaking the pan a few times to avoid burning.

While the chickpeas are cooking, prepare the dressing. Add all the dressing ingredients into a high-powered blender and blend on high until smooth and creamy. Transfer to a container and set aside.

For the salad, wash the kale leaves thoroughly, then remove the stems. Tear the leaves into smaller pieces and put them in a large salad bowl.

When you're ready to assemble the salad, pour the dressing over the kale and begin to massage it with your hands until the leaves begin to soften. Transfer to serving dishes and top with chickpeas, pumpkin seeds, and the optional quinoa crispies.
Notes
If the chickpeas don't fully crisp up, leave them in the warm oven with the door propped open for 30-60 minutes.
Leftovers can be stored in an airtight container in the fridge for up to 4 days, though it won't be as good after the first day.
You can top the salad with the protein of your choice to create a complete meal.
Nutrition
Calories:
257
kcal
|
Carbohydrates:
21
g
|
Protein:
12
g
|
Fat:
15
g
|
Saturated Fat:
4
g
|
Sodium:
517
mg
|
Potassium:
355
mg
|
Fiber:
6
g
|
Vitamin A:
1480
IU
|
Vitamin C:
24.8
mg
|
Calcium:
83
mg
|
Iron:
3.4
mg
Filed Under: