This is the BEST massaged kale salad because it's super easy to make and full of flavor from a simple dressing nutritional yeast, lemon juice, and olive oil. A perfect vegan and gluten-free side dish for every meal.
I love a simple, satisfying, and healthy veggie-packed dish. And this massaged kale salad has been one of my go-to's for years. It makes a great quick and easy lunch for one. But it's also sophisticated enough to serve for entertaining. Truly, you can't go wrong is a classic kale salad dressed in a light and refreshing lemon-olive oil dressing.
And once I make a recipe that much, I know you need it too. So that's what I'm giving you today – what I'm calling the best-ever massaged kale salad. Because it's honestly, the best EVER.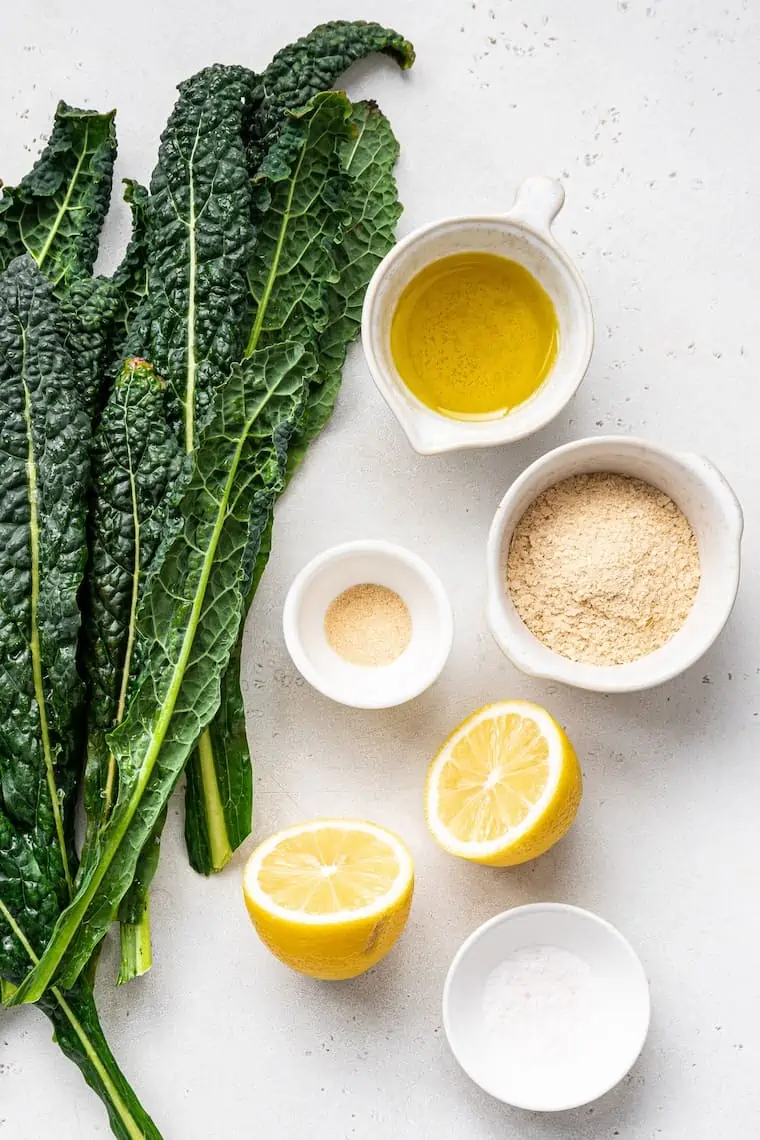 Ingredients for Massaged Kale Salad
What you're going to love about this salad is the short ingredient list. It's only 5 main ingredients, with an optional 6 for flavor!
Here's what we're using:
Kale: I like to use curly kale, but any variety will work. I've also used thinly sliced lacinato kale and that was delish.
Oil: I recommend a high-quality olive oil just because it has a nice flavor, but avocado is another option. Skip the super-refined oils like sunflower or vegetable!
Lemon juice: This adds brightness and acidity and helps to soften the kale's texture.
Salt: Because every salad needs a little flavor boost from salt! I recommend pink Himalayan sea salt.
Nutritional yeast: The main flavor booster of this salad – it's cheesy, it's high protein and it's SO good!
Substitution Tip!
Not a fan of nutritional yeast? Parmesan or pecorino can be used if you're not vegan/dairy-free!
And then the 6th optional ingredient is garlic powder. If you want to use it to boost flavor, go for it. If not, skipping it is still totally fine!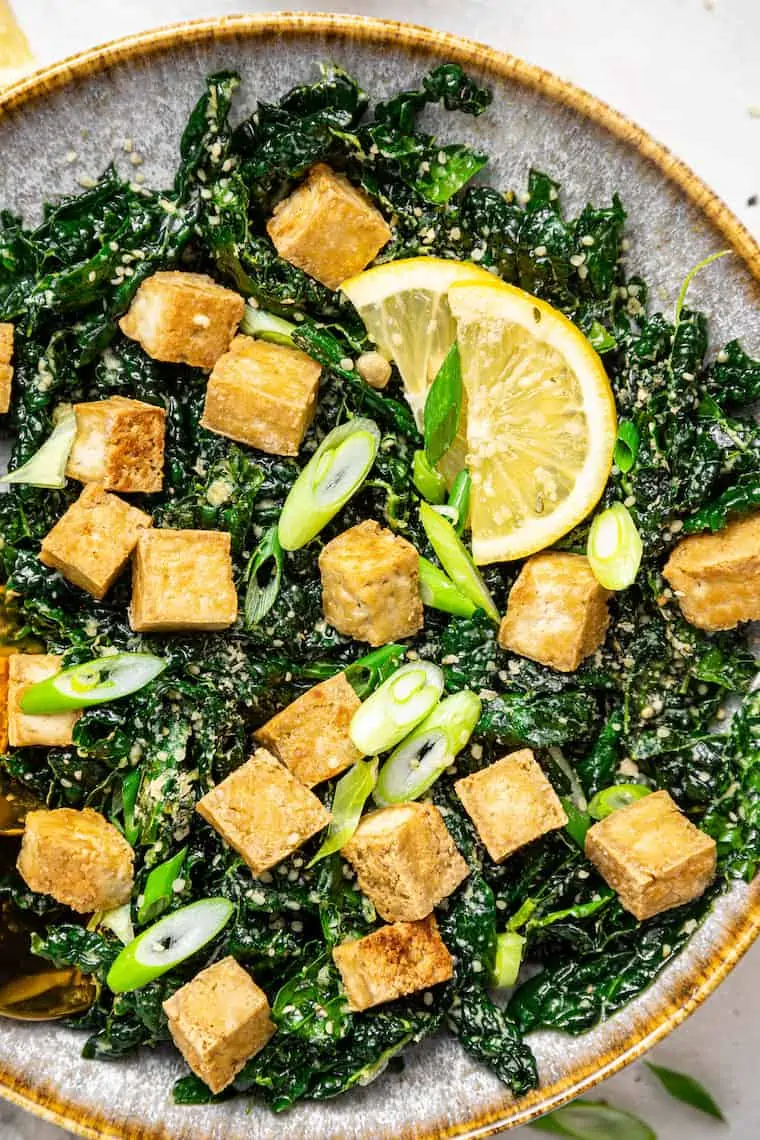 Why Do You Need to Massage Kale?
Before we talk about how to massage your kale let's talk about why you should do it. You've probably heard of a massaged kale salad before – or seen them on a menu before – but what's the point of massaging kale leaves?
The simple answer is: kale is tough.
Unlike some other greens, kale is pretty fibrous and hearty. So in order to make the kale more palatable, you need to soften it. And that's where massaging comes in.
There are two main benefits of massaging kale:
It breaks down the cell walls in the leaves and softens them
It makes the kale easier to chew and ultimately digest
How to Massage Kale for Salad
And what's even better, massaging kale is so easy.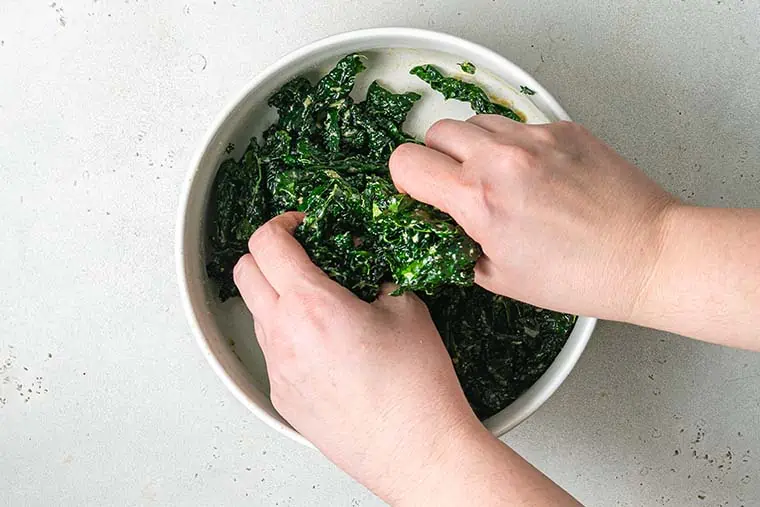 All you need to do is add your kale into a bowl. Add your oil and an acid (in this case lemon) and get in there with your hands. And literally, massage it.
You're basically squeezing it between your palms, rubbing the leaves, etc. And after about a minute or two, the kale will be beautifully soft and tender!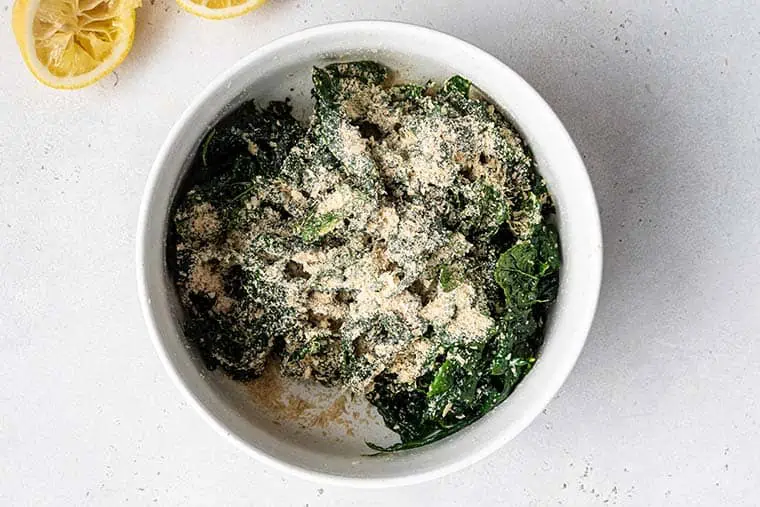 Once your kale leaves are soft and tender, you can add your flavorings. For this salad, we're going with our nutritional yeast and salt.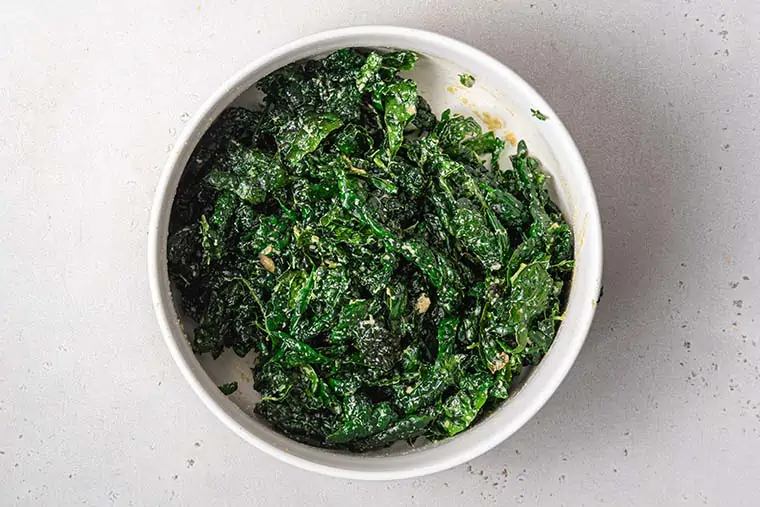 From there, just mix it all together and you're ready to serve it up!
Make Your Massaged Kale Salad a Meal!
I like to think of this recipe as either a base salad or as a side dish. We've been eating it a lot as a side dish, but it can totally be turned into a heartier meal by adding in more toppings.
Here's what I would focus on:
Protein: this is great with pretty much any protein type! For a vegetarian topping, add crispy baked tofu or crispy chickpeas. If you're not vegetarian or vegan, add salmon, chicken, or Grilled Pork Chops.
Fat: add in some avocado, nuts, or seeds to amp up the fat content a bit.
Veggies: tossing on some extra veggies also helps fill it out. I love adding in shredded cabbage, roasted broccoli, scallions and cucumber.
Carbohydrates: and the last thing to consider adding is a starch. We love putting roasted sweet potato or roasted potatoes on top of our salads (like in my Healthy Salmon Salad), and this works really well for that!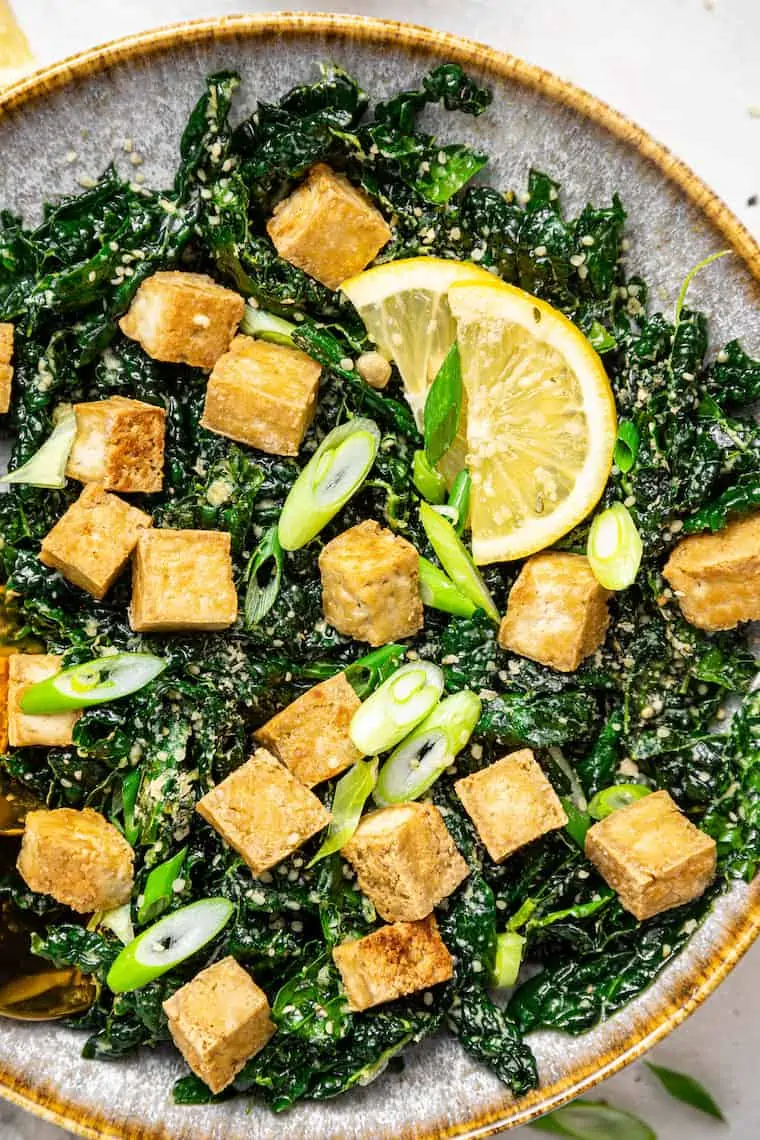 Essentially, this is the salad to end all salads. This is a salad that you'll make for dinner parties or your lunch, or if you're feeling lazy and want a quick dinner.
Kind of like a lifesaver salad. Because honestly…sometimes we all need a salad to carry us through.
Massaging Kale FAQ
How long does it take to massage kale?
It only takes about a minute of massaging to soften up the leaves nicely.
Can you make kale salad ahead of time?
You can dress kale salad ahead of time. Unlike delicate lettuce, kale is hearty enough to stay dressed for a while before you enjoy it. In fact, the leaves will become even more flavorful and tender the longer they're dressed. Think about it like marinating your salad.
Do you have to massage kale?
You don't have to massage kale, but it definitely makes it more enjoyable to eat. If you don't massage your kale, the leaves will be tough and hard to chew.
Is massaged kale good for you?
Yes! Kale in general is a very nutritional vegetable, but massaging it makes it even more so. The reason is that it's easier to digest. The easier something is for your body to digest, the more nutrients you are able to absorb. So by massaging your kale, you're making it more tender and easier for your system to soak up all the good micronutrients it contains.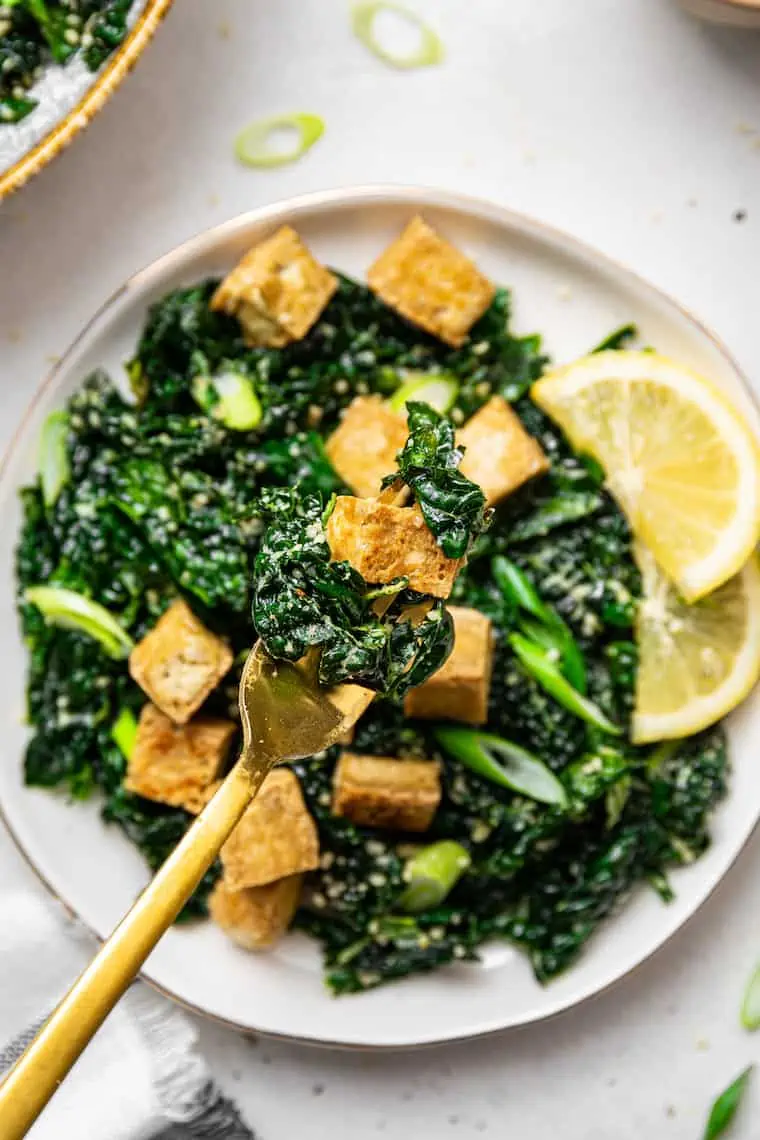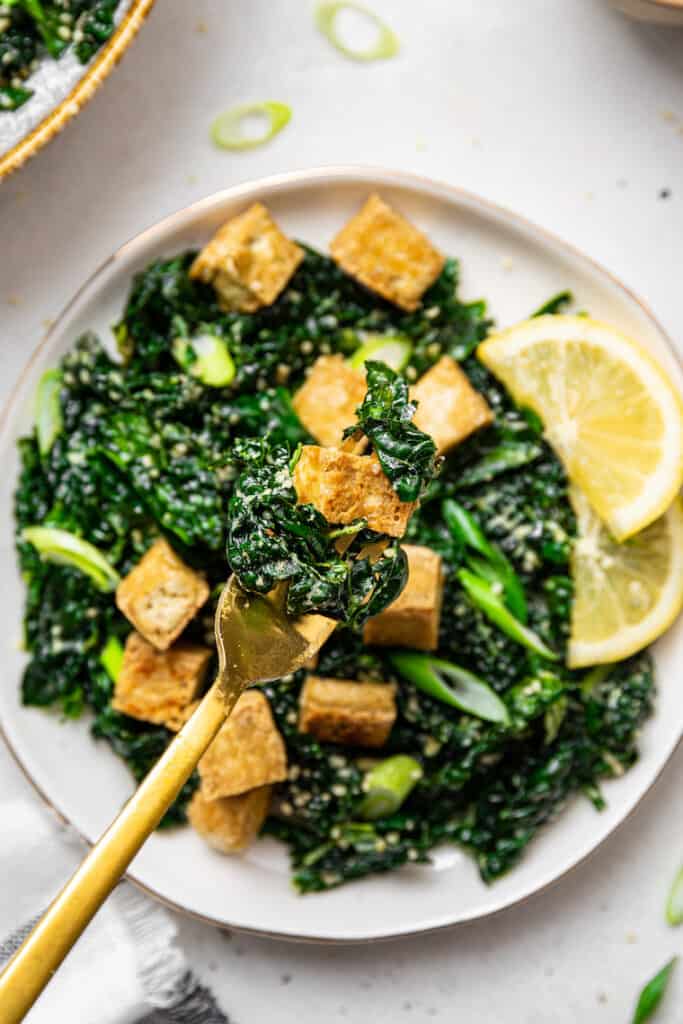 If you make this easy Massaged Kale Salad, be sure to let me know with a comment below!
Massaged Kale Salad
This simple massaged kale salad is so easy to make and absolutely delicious! Great on its own, but can also be used for a healthy lunch or dinner idea as well.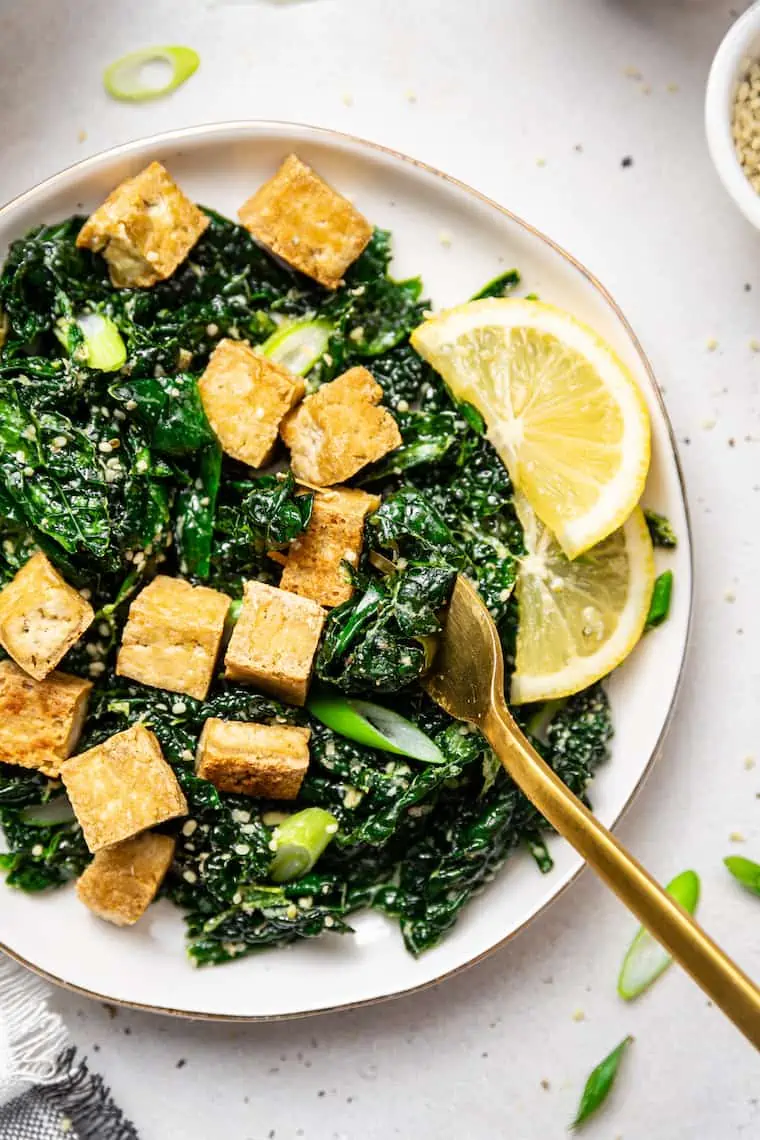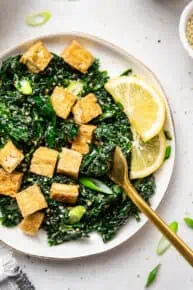 Instructions
If your kale is not prechopped, you'll need to first remove it from the stem. Start at the bottom of the leaf and place your fingers gently around the stem. With a quick motion up, tear the leaves off the stem. Then tear that larger piece into smaller pieces and add them to your bowl.

To the bowl with the kale add the olive oil, lemon juice, sea salt and garlic powder. Massage with your hands for about 1 minute until the kale is wilted and soft.

Add the nutritional yeast and massage to combine (about 10 times).

Serve immediately or top with your desired toppings!
Nutrition
Serving:
1.5
cups
|
Calories:
216
kcal
|
Carbohydrates:
16
g
|
Protein:
9
g
|
Fat:
16
g
|
Saturated Fat:
2
g
|
Sodium:
342
mg
|
Potassium:
768
mg
|
Fiber:
1
g
|
Sugar:
1
g
|
Vitamin A:
13387
IU
|
Vitamin C:
167
mg
|
Calcium:
201
mg
|
Iron:
2
mg
Filed Under: