This easy matcha latte only has 4 ingredients! Learn how to make matcha in the traditional way, then pair it with steamed milk and sweetener for a comforting warm drink.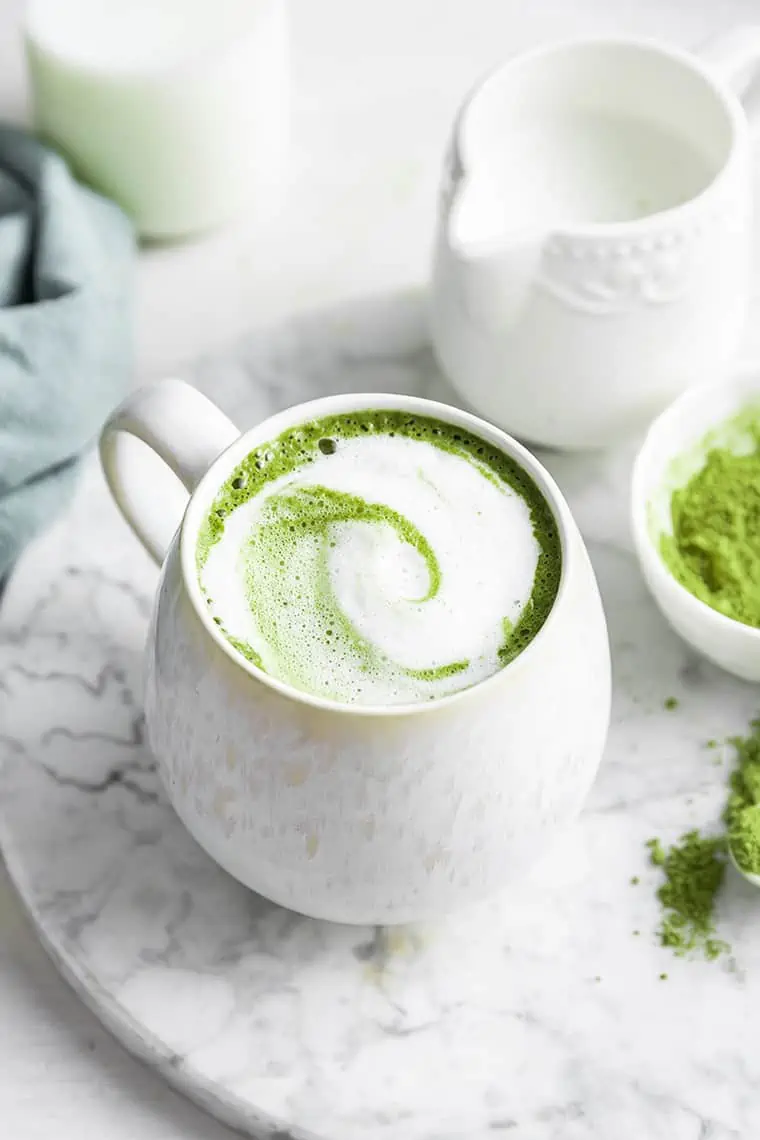 Are you looking for an easy and healthy way to start your morning? This simple matcha latte recipe might be just the thing. This cozy drink lets you enjoy a warm, sippable caffeinated beverage without the amped-up feeling can sometimes go with coffee if you are sensitive to caffeine.
What is Matcha?
Matcha is a high-grade green tea that has been ground into powdered form. Matcha dates back to ancient China where the custom was to grind tea leaves into a powder, then whip or beat them in a bowl with hot water.
Drinking matcha later became popular in Japan. The ritual of making and enjoying a good cup of matcha became known as "the way of tea." Fun fact: Samurai warriors drank a lot of matcha tea!
Does Matcha Have Caffeine?
Matcha has less caffeine in it than coffee, but it still packs a caffeinated punch because it's made with whole ground tea leaves. While everyone is different, generally speaking, matcha doesn't cause that jittery feeling you can get from coffee. This is because matcha contains a high amount of an amino acid called L-theanine.
L-theanine alters the stimulating effects of caffeine, helping you feel energized and focused without the jitters. Most people find that matcha makes them feel mentally alert and awake.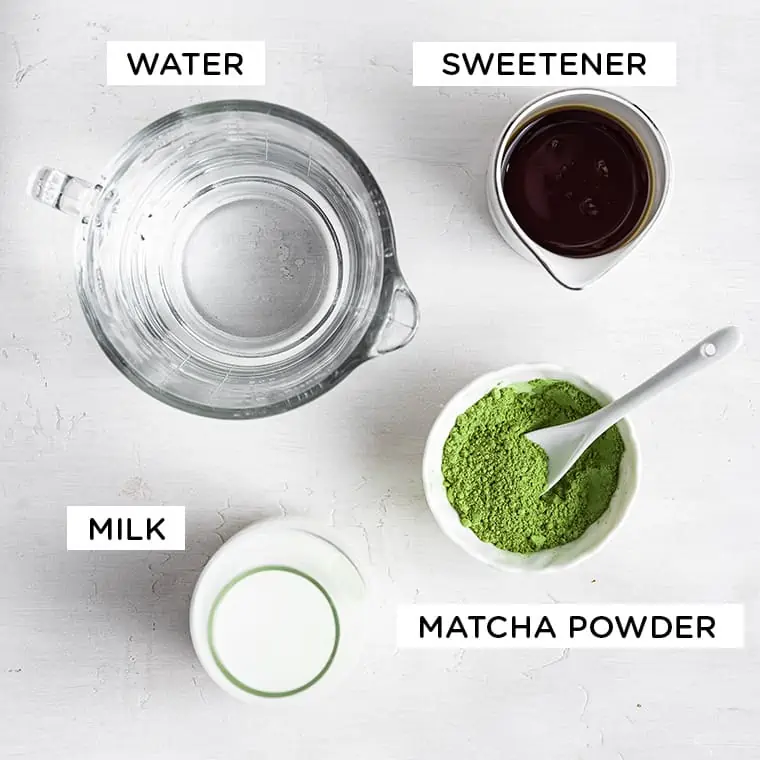 What You'll Need
Equipment for Making Matcha
These items are all optional, but if you find yourself making matcha lattes often, you might want to invest in them.
A bamboo matcha whisk, or chasen – This specialized whisk is made from a single cut of bamboo and it's designed to produce a nice, frothy consistency.
A matcha bowl
A tea strainer – This is used to sift the matcha powder before preparing it.
Ingredients
Scroll down to the recipe card below this post for ingredient quantities and full instructions.
Ceremonial grade matcha powder
Hot water
Steamed milk – Use your choice of dairy or plant-based milk.
Sweetener of choice – Honey is quite nice with a matcha latte, but you can prepare your latte unsweetened if you prefer.
What Is Ceremonial Grade Matcha?
Ceremonial grade matcha is the highest quality grade of matcha powder, made with young tea leaves that have a higher concentration of chlorophyll. It has a delicate flavor that's best enjoyed in a drink where it can be savored. In contrast, culinary matcha is formulated for cooking and baking, and it's made with older tea leaves.
What Does Matcha Taste Like?
Matcha tea has a complex flavor profile with mellow grassy notes, a touch of bitterness, and a hint of sweetness.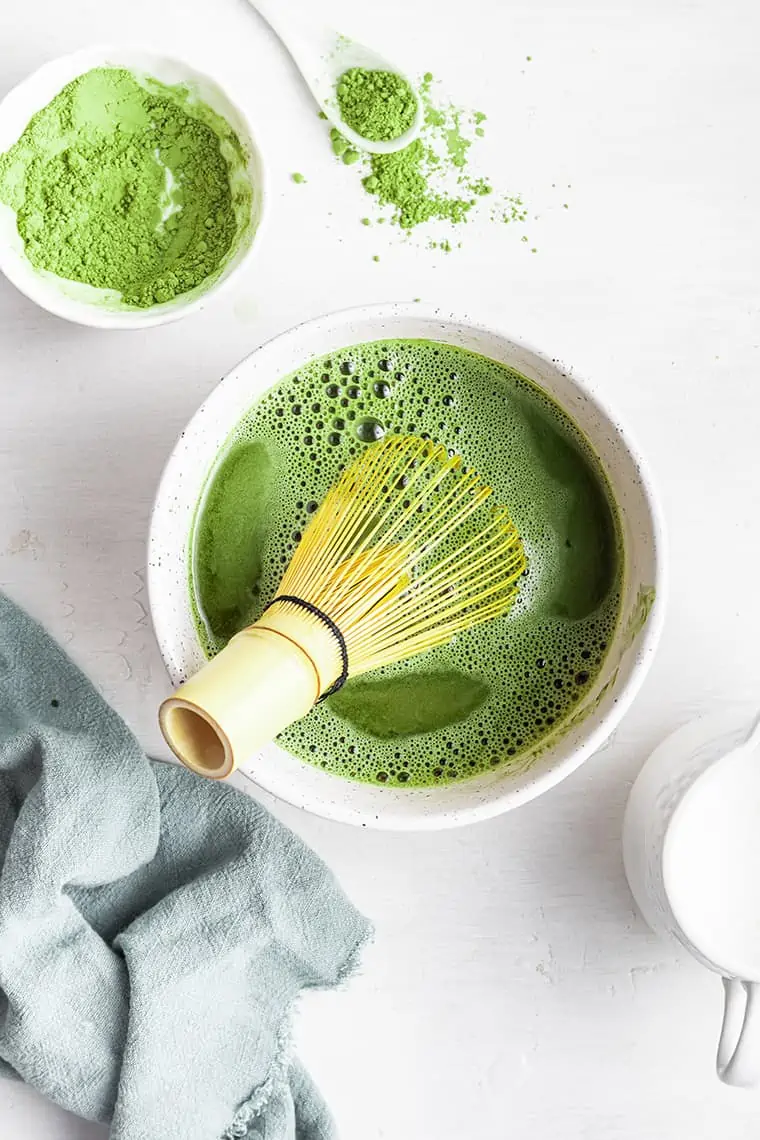 How to Make a Matcha Latte
Ok, are you ready to make a matcha latte at home? Here's how to make a coffeehouse-style matcha latte right in your kitchen:
Combine the matcha and water. In a large mug or small ceramic bowl, combine the matcha powder and a splash of hot water. Use a small whisk to beat the powder and water until there are no lumps and the mixture is frothy. This should take about 30 seconds; the traditional method used to whisk matcha is to move the whisk in a W pattern.
Add the rest of the water. Pour the remaining water into the matcha mixture.
Finish. At this point, you can add your sweetener of choice. Add the steamed milk and serve.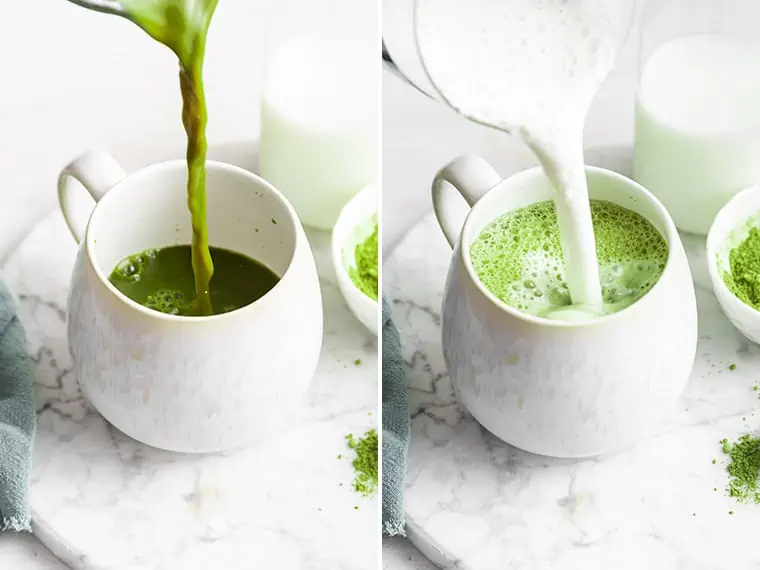 Tips For Success
Making a matcha latte is easy, but these simple tips will help you make it perfect:
Remove any clumps. If your matcha powder seems coarse or lumpy, sift it or use a fork to break up any clumps before you add the water.
Don't overdo it on the water. When whisking the matcha and water together, it's important to use just enough water to make a paste and no more. This will help you get a smooth consistency.
Use a handheld milk frother. If you don't have a small whisk or bamboo whisk, you can use a handheld battery-operated milk frother to make your matcha. It's not traditional at all, but it does work!
Sweeten to taste. I recommend sweetening your matcha latte with agave or honey. How much you use will depend upon your tastebuds. Start with a little, stir and taste, then add more if needed.
Is Matcha Good For You?
Matcha is very healthy as long as you don't load up your latte with too much sugar.
What's so wonderful about matcha is its nutritional properties. Unlike other brewed green teas, matcha powder is made from the entire leaf. So you're ingesting the leaves themselves, which gives you a boost of chlorophyll and other phytonutrients.
Matcha is high in antioxidants, boosts brain function, and promotes heart health. It may also help support your liver and prevent cancer.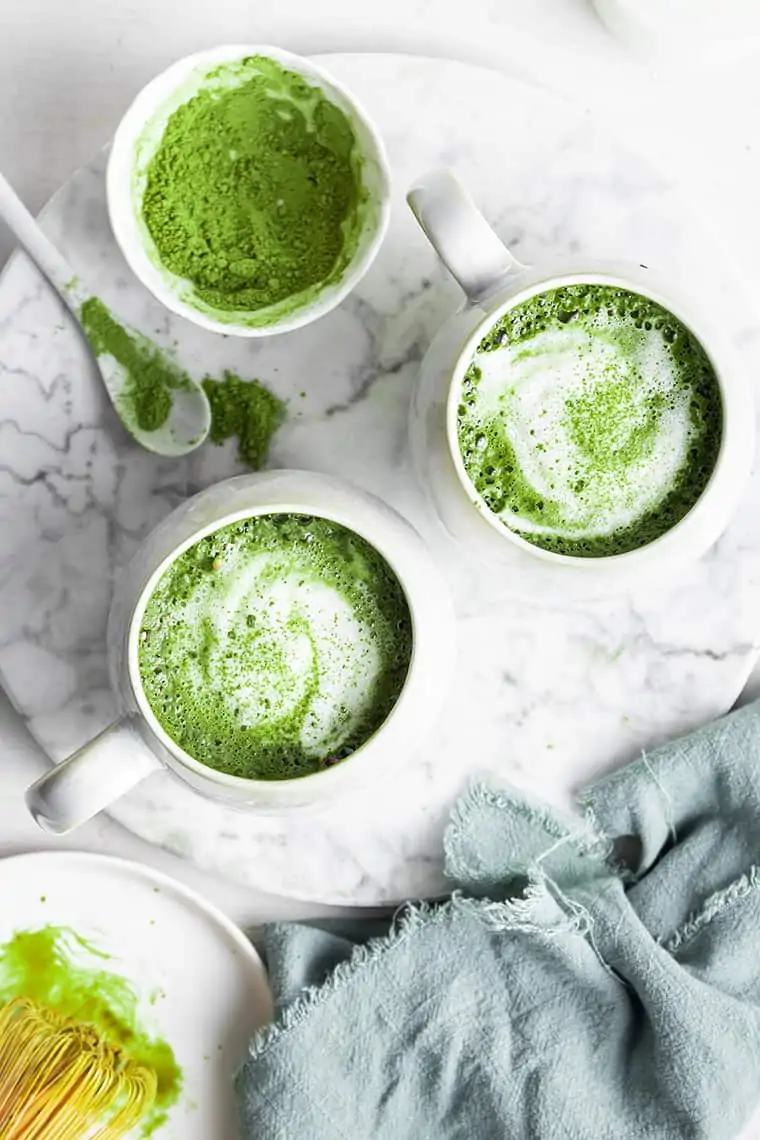 Variations
I like matcha lattes a lot, so I've posted a bunch of matcha recipes over the years. If you love this basic matcha latte, try one of these next:
How to Store
Extra matcha latte: If you have any leftovers, you can pop them in the fridge and enjoy them later as an iced matcha latte!
Storing matcha powder: Store your matcha powder in an airtight container on the counter.
Matcha Latte Recipe
This easy matcha latte recipe is creamy and cozy. The perfect warm drink to start your day.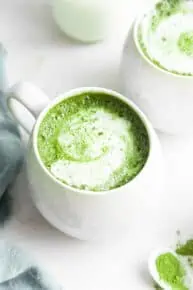 Ingredients
1

cup

hot water

1/2

cup

steamed milk

Sweetener of choice

(optional)
Instructions
Add the matcha powder and a splash of hot water into a mug or ceramic bowl. Using a small whisk – preferably a bamboo matcha whisk – beat together the powder and water until smooth and frothy.

Pour in the rest of the hot water.

Stir in any desired sweetener and top with steamed milk.
Nutrition
Serving:
1
latte
|
Calories:
30
kcal
|
Carbohydrates:
1
g
|
Protein:
3
g
|
Fat:
2
g
|
Polyunsaturated Fat:
1
g
|
Monounsaturated Fat:
1
g
|
Sodium:
174
mg
|
Fiber:
0.4
g
|
Sugar:
0.1
g
|
Vitamin A:
200
IU
|
Calcium:
157
mg
|
Iron:
1
mg
Filed Under: