These creamy coconut matcha oatmeal bowls are a warm, comforting, and cozy vegan breakfast recipe that keeps you warm and full all morning long.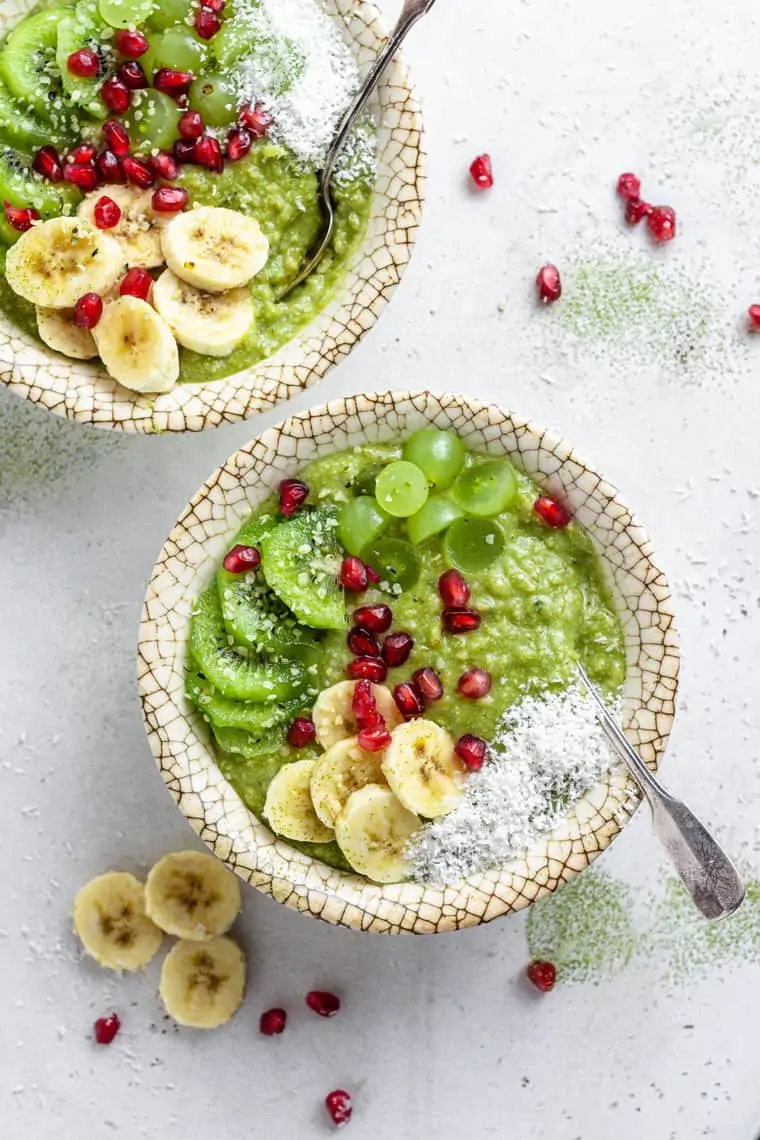 In the wintertime, I swap my usual green smoothie bowl for a warm bowl of oatmeal for breakfast. Is there anything better than waking up on a cold winter morning and snuggling up with a cup of tea and a bowl of creamy oatmeal? To me, that's morning perfection right there.
This recipe combines my favorite tea (matcha) with coconut. The result is a green breakfast that's just as satisfying and healthy as a veggie-packed smoothie bowl, but perfect for winter. If you're looking for the best healthy plant-based breakfast recipe with health benefits, this is the recipe for you.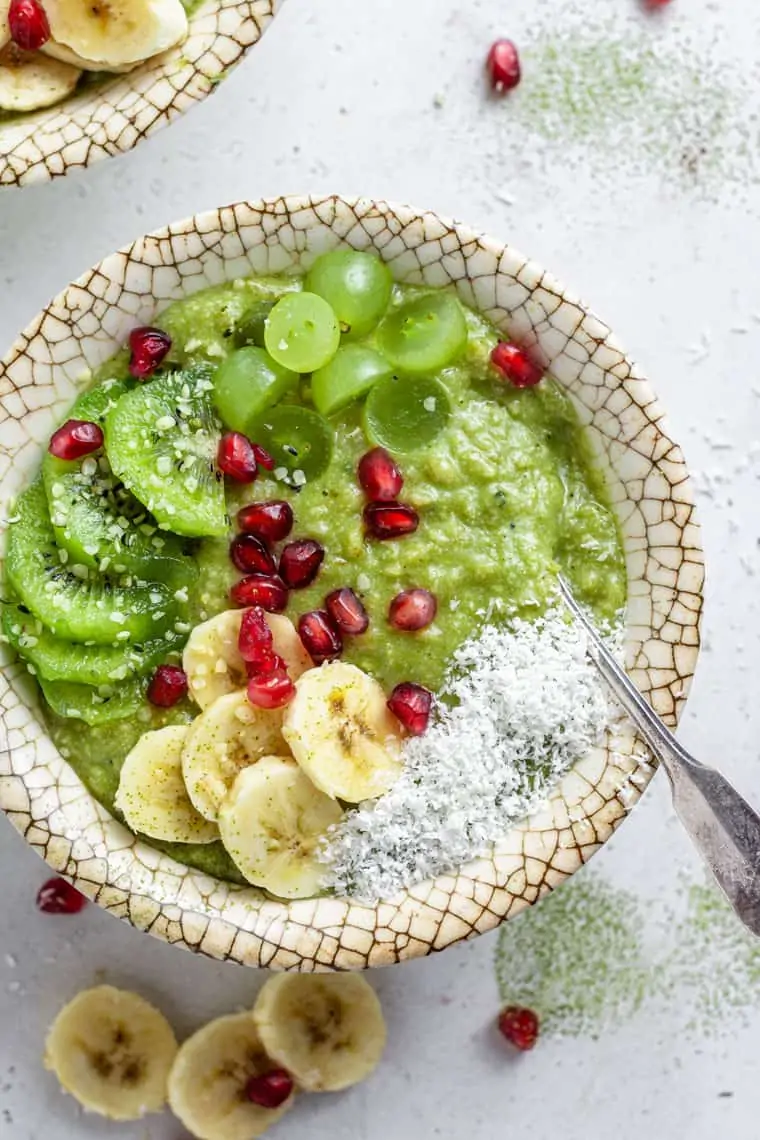 The Secret to the Creamiest Oatmeal without Dairy
I shared my secret to super creamy dairy-free oatmeal a few years ago with my Maple Pecan Quinoa Breakfast Bowls. And these matcha-coconut oats rely on the same secret ingredient: coconut flour.
The coconut flour helps thicken the oatmeal. In addition, it also makes every bite ultra creamy without. And you don't need any milk (even dairy-free milk!) to make these oats. It's sort of magical and totally delicious.
Not to mention the extra coconut flavor which is one of my favorite pairings with matcha green tea.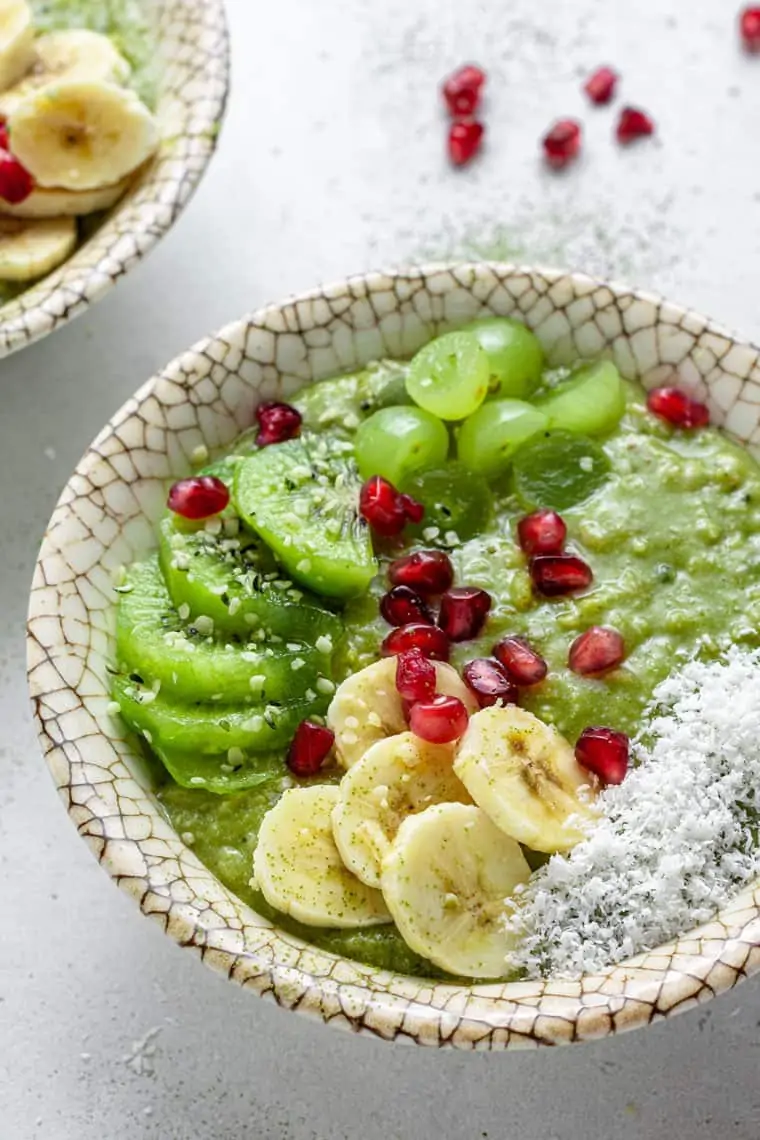 How to Make Creamy Coconut Matcha Oatmeal
This recipe actually uses coconut in three different ways:
Coconut water in the base
Coconut flour to thicken
Shredded coconut for a little crunch at the end
In total, this recipe needs just 7 ingredients. It's naturally sweetened with just one tablespoon of maple syrup, fully vegan, and packed with fiber and antioxidants. It even has a little kick of caffeine from the matcha!

Ingredients
Here's what you need to bring this creamy bowl of green tea oats together:
Coconut water. This adds to the rich coconut flavor and is incredibly hydrating. The oats easily absorb coconut water as they cook.
Rolled oats. I use old-fashioned rolled oats from Bob's Red Mill for all of my oatmeal recipes. They have more fiber than quick-cooking oats and are just as easy to make on the stove.
Coconut flour. I also love the coconut flour from Bob's Red Mill. If you haven't cooked with this before, it's a total game-changer for adding creaminess to dairy-free recipes.
Maple syrup. Just a dash of pure maple syrup adds the right amount of sweetness without refined sugars. If you're not vegan, you can also use honey.
Matcha. Choose high-quality matcha powder that you love the flavor of. This is my favorite brand.
Shredded coconut. A sprinkle on top of every bowl adds crunch and the final coconut factor.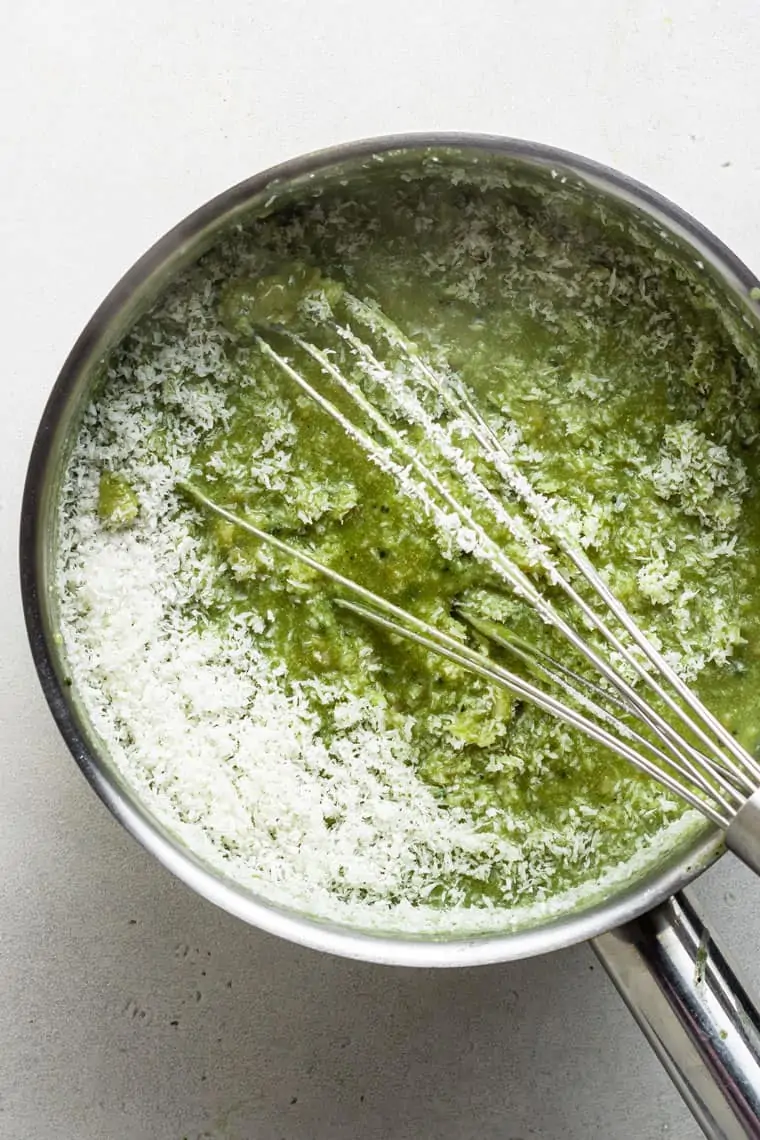 Topping Ideas for Matcha Coconut Oats
For toppings, you can go totally wild and crazy!
I like to keep things classic with this matcha oatmeal because the coconut and matcha flavors are so bold. I usually top my breakfast bowls with sliced banana, shredded coconut, and pomegranate seeds for a bit of color.
However, you could also use toasted coconut butter, more maple syrup, hemp seeds, chia seeds, coconut yogurt, and more. The customization is what's so great about bowls like this!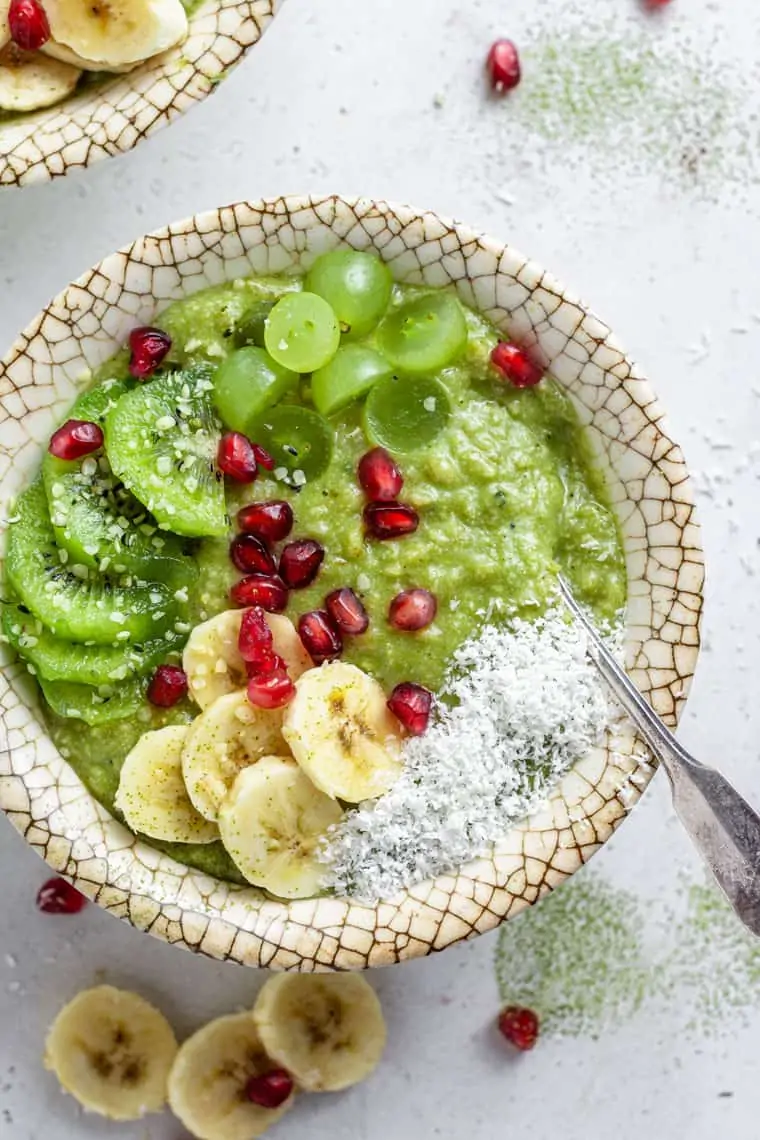 Can I Make Matcha Oatmeal in the Microwave?
I don't recommend making this recipe in the microwave. However, it's very quick and easy to make on the stove. It literally takes five minutes from start to finish!
Make-Ahead Oatmeal
If you're in a rush, you can even make these creamy oats ahead of time. Store them in an airtight container in the fridge. Then, when you're ready to dig in, you can eat the oats cold with your favorite toppings or warm them on the stove or in the microwave. You may need to add a splash more coconut water when reheating the oats if they're thicker than you like.
More Delicious Matcha Recipes to try:
Creamy Coconut Matcha Oatmeal
These creamy coconut matcha oatmeal bowls are a warm, comforting, and cozy breakfast recipe that sticks to your ribs and keeps you fueled all day long.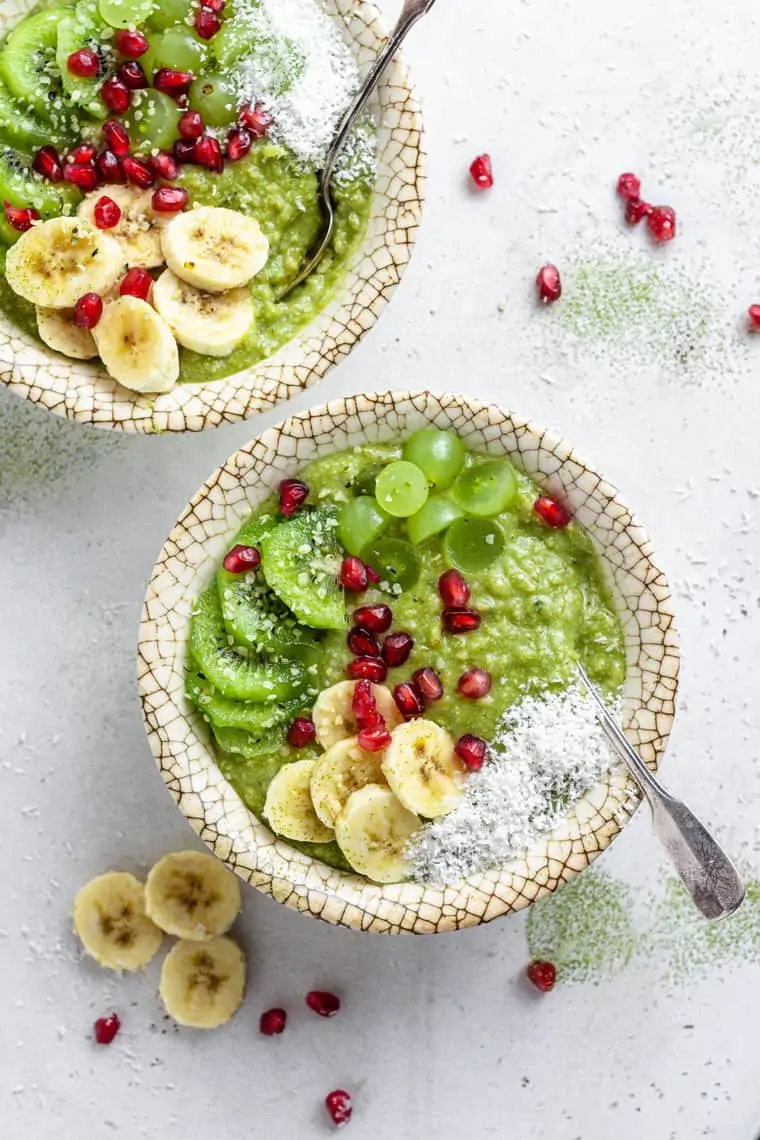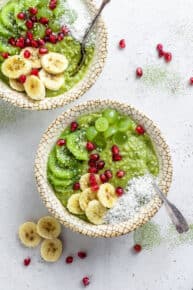 Instructions
Add water, coconut water and oats into a small saucepan. Bring the waters to boil, reduce to simmer and continue to stir until the mixture begins to thicken, about 1 minute.

Stir in coconut flour, syrup and matcha. Continue to cook and stir until the mixture has reached your desired consistency. Fold in the shredded coconut.

Divide equally between two bowls. Top with your toppings of choice!
Nutrition
Calories:
339
kcal
|
Carbohydrates:
56
g
|
Protein:
9
g
|
Fat:
7
g
|
Saturated Fat:
5
g
|
Sodium:
246
mg
|
Potassium:
679
mg
|
Fiber:
9
g
|
Sugar:
22
g
|
Vitamin A:
200
IU
|
Vitamin C:
4.3
mg
|
Calcium:
92
mg
|
Iron:
3.4
mg
Filed Under: