Ever tried bone broth? This vegan bone broth recipe is made in the instant pot and has tons of health benefits! It's also gluten-free and good for your gut.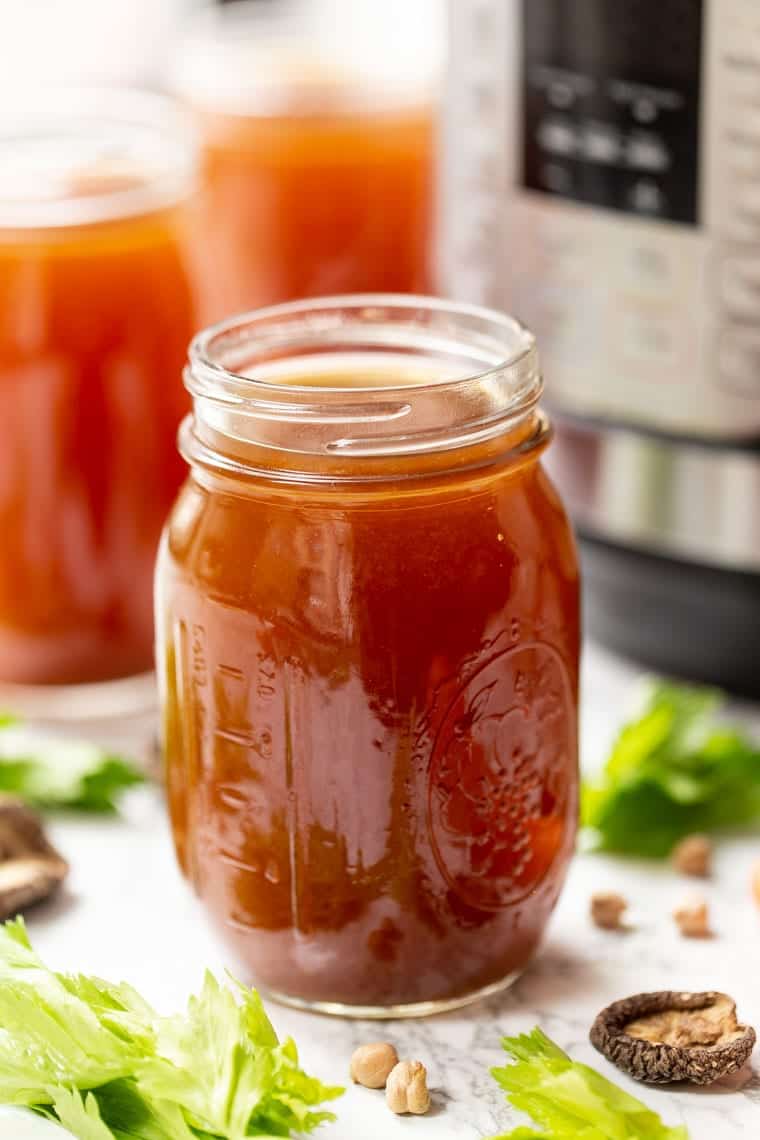 I've been on a major gut healing kick lately and this is my newest obsession. I've been hearing about the benefits of bone broth for years, but as someone who is plant-based, I've never tried it.
While we might not be able to get the exact same nutrients with plants, I knew there had to be a way to create a healing "bone" broth that didn't have any actual bones!
So that's what we have here today: a vegan bone broth that is nourishing, delicious and also easy to make. We're chucking everything into the Instant Pot and cooking it up until it's super flavorful.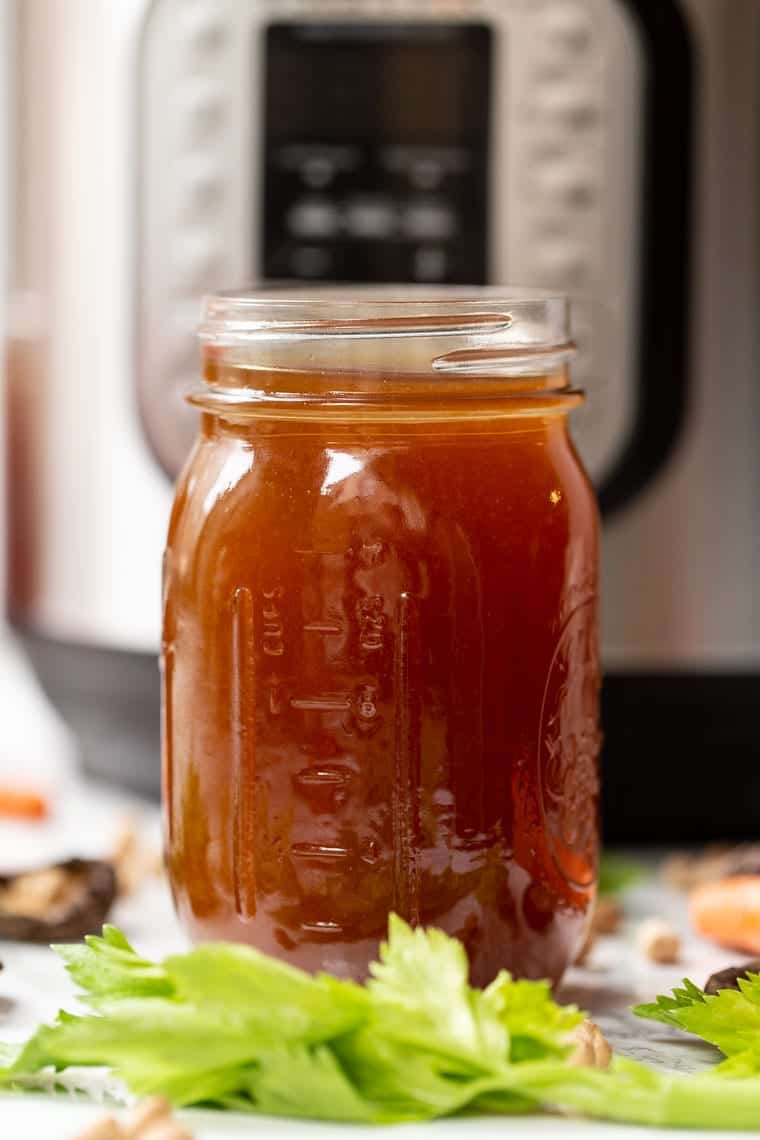 Where we Discovered Vegan Bone Broth
I actually happened upon a broth like this at a local place here in New York City. I'd heard the company (Brodo) had a few bone broth shops downtown, but when we were walking back home from errands the other weekend, we noticed that had a shop near our house.
I wanted to check it out for Matt's sake but was thrilled to see they had a vegan option on the menu. The vegan broth was made with mushrooms and seaweed and it tasted delicious. Only problem? It was about $7 for a cup. So definitely not something we could enjoy regularly (or even semi-regularly).
After doing a bit of searching online, I found what ingredients they used and decided to make my own at home. For way less money and also way less sodium (there's was quite salty).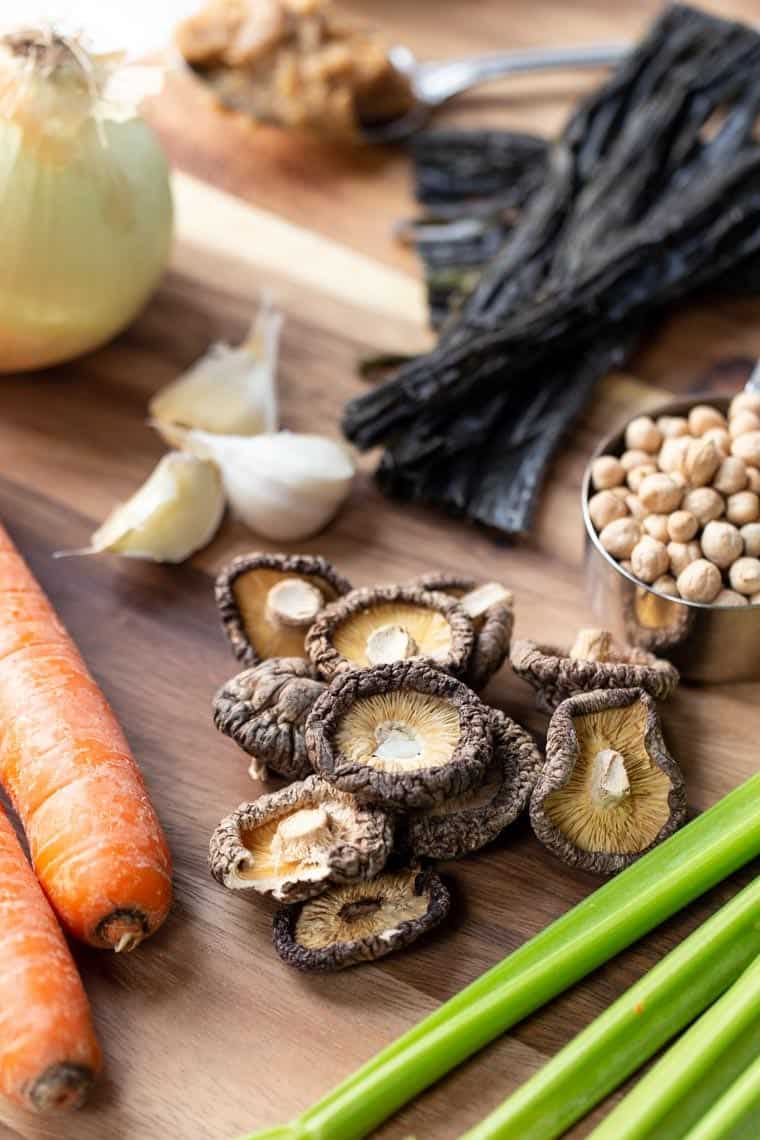 Ingredients for Our Vegan Bone Broth
There are a few things that make this bone broth unique. First, we're using dried shiitake mushrooms which are probably one of the most flavorful things ever. Hopefully, you like mushrooms! It definitely has a mushroom flavor.
And second, we're using a seaweed called wakame.
Wakame is an edible seaweed from Japan that you've probably eaten before without knowing it. Ever ordered a seaweed salad at your local sushi place? That's wakame! (more on wakame in a sec…)
For the rest of the ingredients, we're making a pretty standard veggie stock. Carrots, celery, onions, garlic tomato, and some chickpeas.
Oh, and one final thing. Remember I said the one from Brodo was super salty? I nixed the salt completely and added a tablespoon of miso paste. Miso is definitely salty, but for the amount of liquid we're using, it's not that much 🙂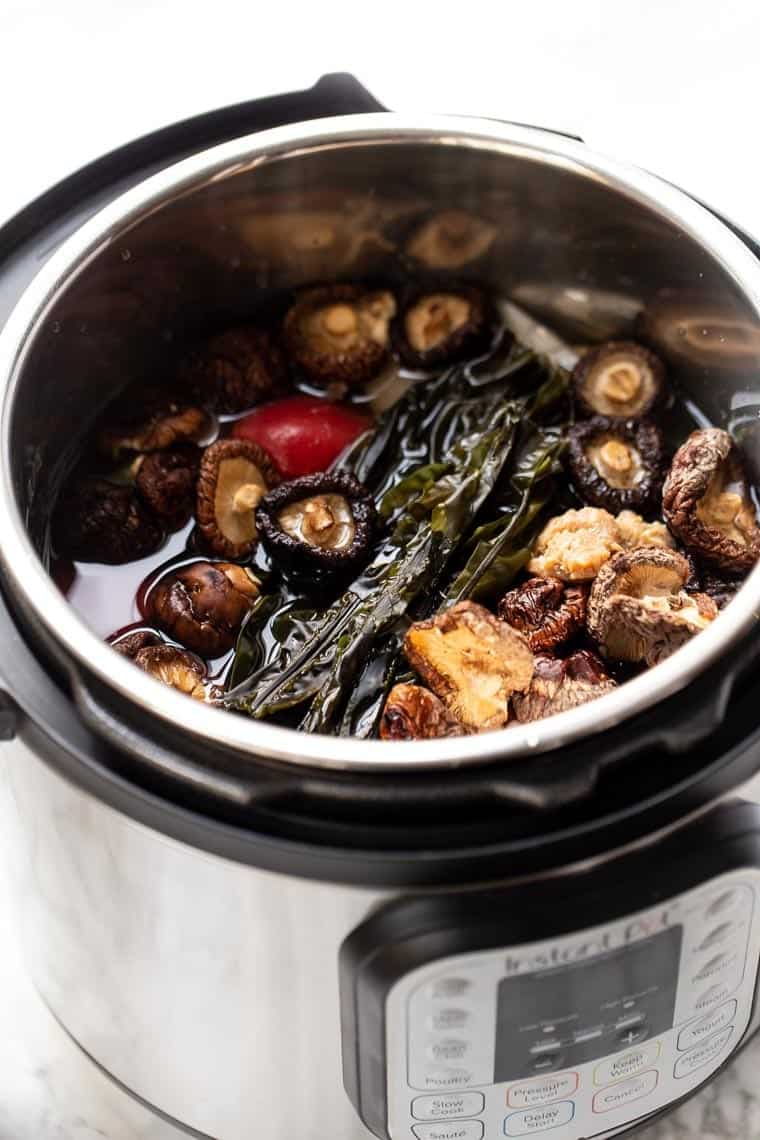 Benefits of Wakame Seaweed
In our post on the best foods for gut health, we talked about the benefits that sea vegetables have on your gut, but they're also incredibly nutritious!
Wakame has been touted as one of the most nutrient-dense seaweeds out there. It's packed with minerals like manganese, magnesium, and calcium, but also lots of vitamins like A, C, E, K, and some B vitamins. Sea vegetables are also high in antioxidants so they can be supporting for your liver as well as potentially lowering the risk for cardiovascular disease and cancer.
And again, since it's good for our gut, it's a great addition to our vegan bone broth!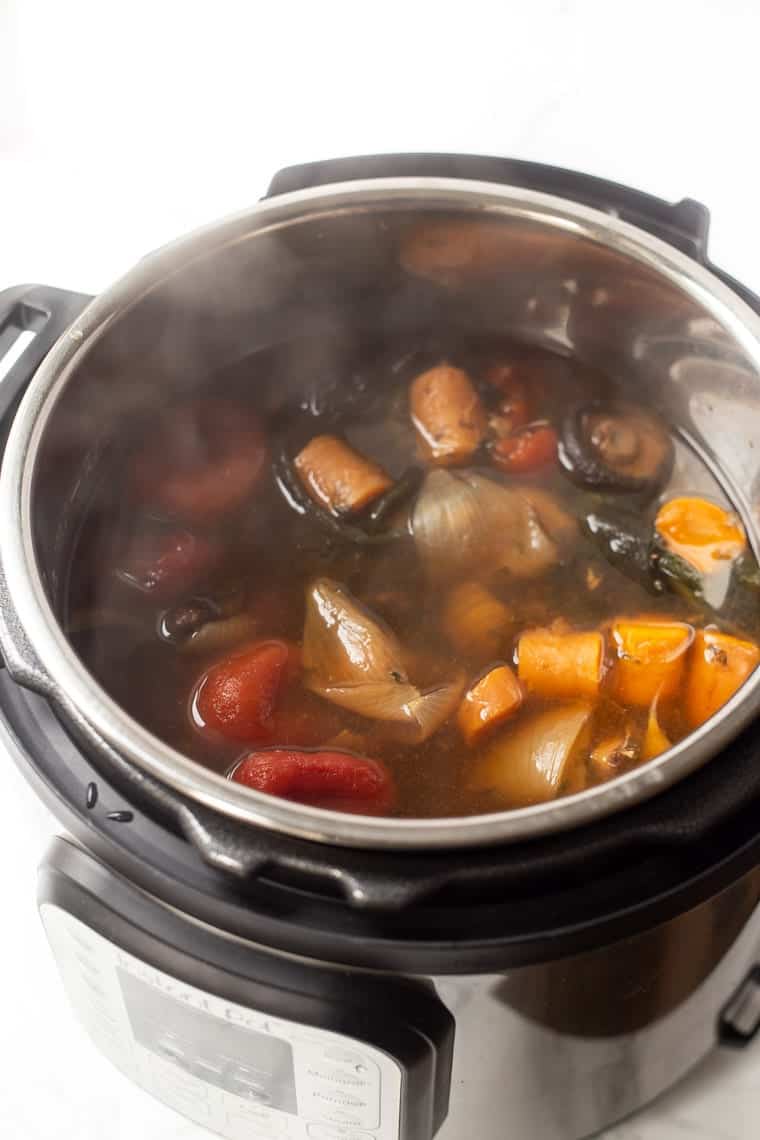 How to Cook Broth in the Instant Pot
Typical vegetable broth takes anywhere from 5 – 6 hours or even all day on the stove top. I didn't have time for that and I know many of you don't either, so I wanted to come up with a way to make it cook faster, but not sacrifice on flavor.
Solution: the Instant Pot!
I recently purchased an Instant Pot over Black Friday (here's the one I have) and figured this was the perfect recipe for it. The Instant Pot is a pressure cooker that allows you to cook things really quickly without losing out on a lot of the flavor. It's kind of like a slow cooker but in reverse.
So for our vegan bone broth (or really any broth), you just chuck everything into the Instant Pot, turn it on and let it cook. I wanted lots of flavor, so I cooked mine for about 2 hours. I think you could get away with less, but if you have the time, go for the full two as that will give you a more flavorful broth.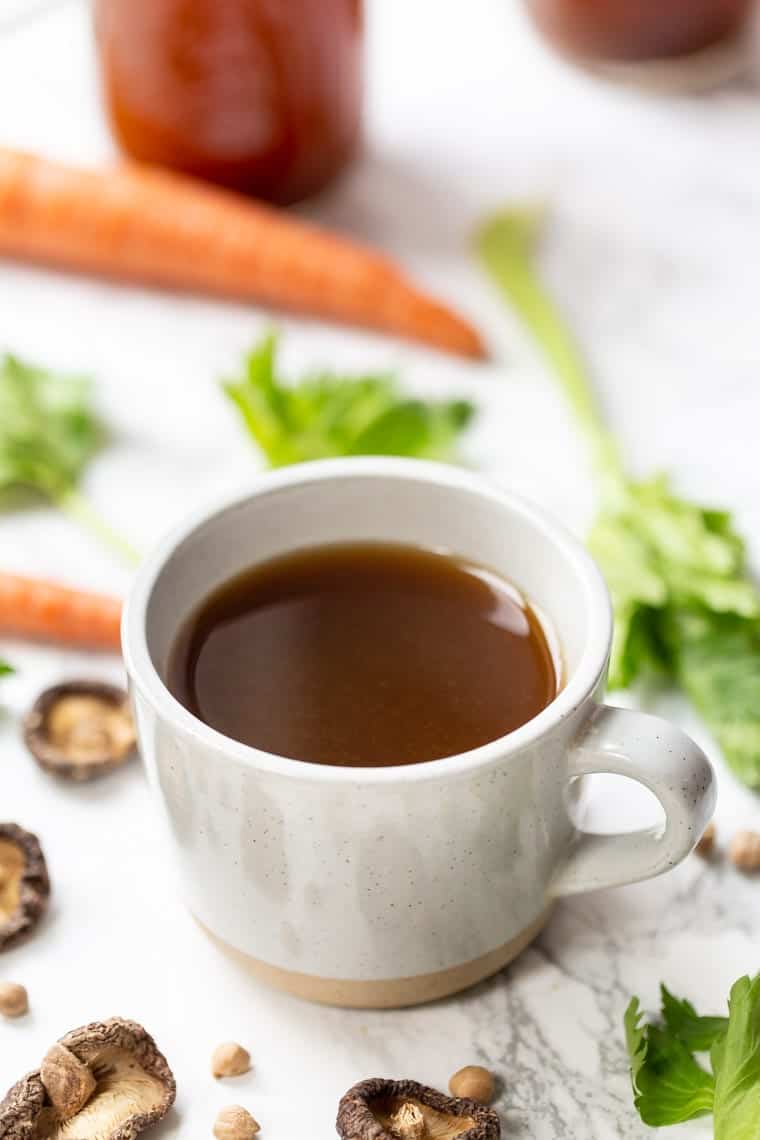 The Perfect Vegan Bone Broth Recipe
I was a little skeptical at first, but once I strained everything out, let it cool slightly and took a sip? WOW. Just wow.
Not only is it tasty, but it's incredibly nourishing. I can see why bone broth has become so popular. Sipping on this broth instantly makes you feel better. It's gentle on the system and is definitely something I'll be keeping on hand at all times.
Since this recipe makes a lot of liquid, if you don't feel like you get through it all in a week, you can either freeze some or use it as stock in some of your favorite soups. I'll link some soups down below that I think you could use this with.
I hope you enjoy this as much as I have been! Fellow plant-based eaters, I feel like we've hit the jackpot here!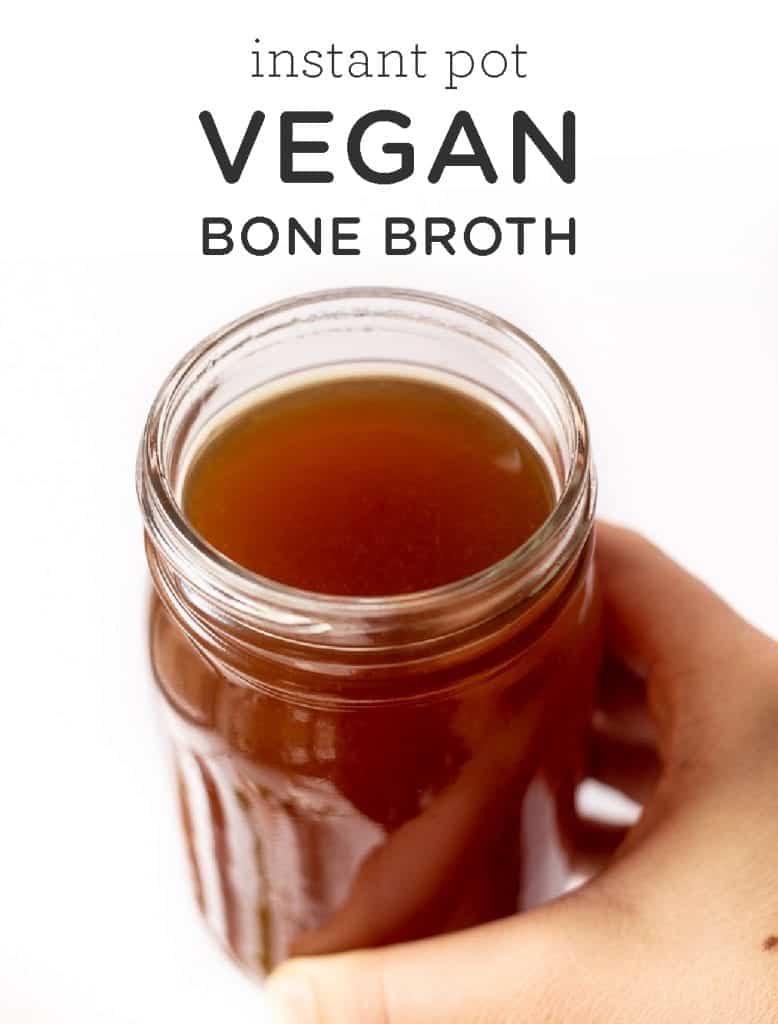 Soups Recipes to Use Your Vegan Bone Broth:
Vegan Bone Broth
This healing vegan bone broth is made in the instant pot and ready in just 2 hours. It's nourishing, gut-friendly and tastes amazing!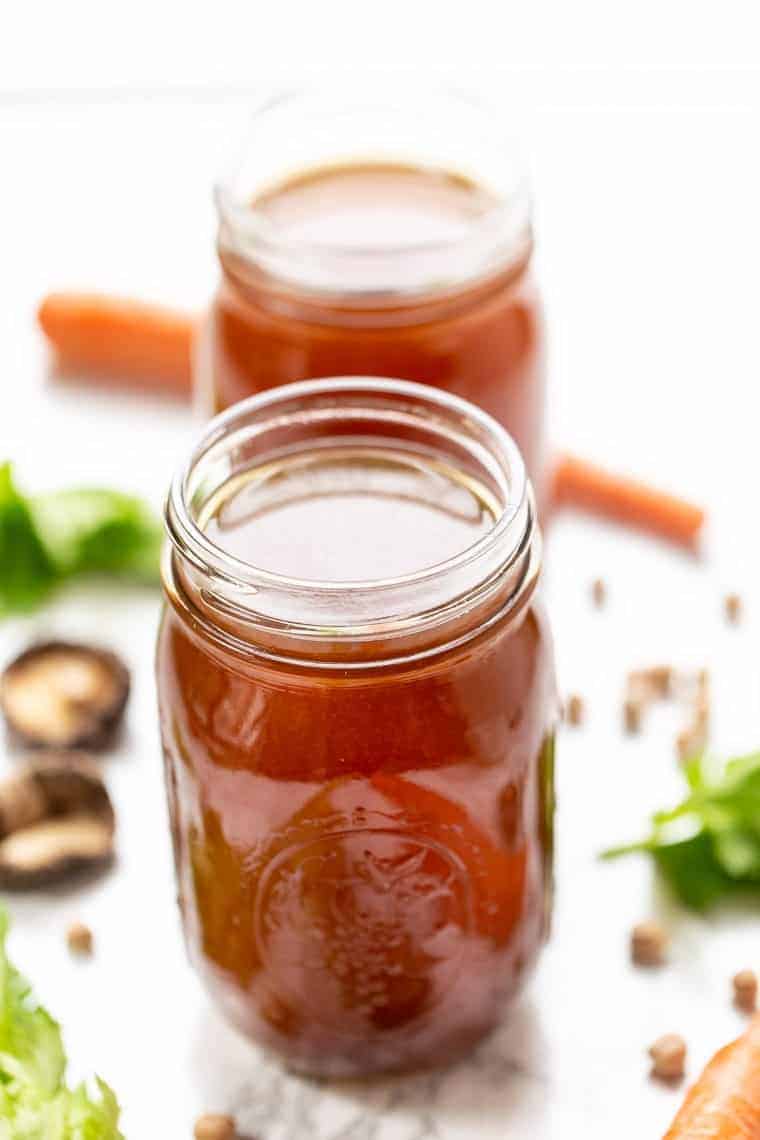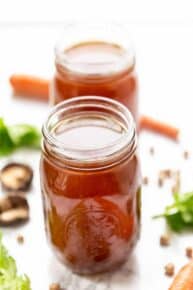 Instructions
Add all the ingredients into the Instant Pot. Give it a quick stir and then put on the lid. Make sure the vent is sealed.

Set the pressure to high and set the timer for 120 minutes (2 hours). The Instant Pot will take about 15 minutes to get to pressure and then will turn on.

Once the cooking cycle is done, allow the pressure to naturally release for about 15 minutes, then turn the vent to release the rest of the pressure. Remove the lid.

Place a fine mesh strainer over a bowl and line with cheesecloth. Pour the Contents of the Instant Pot through the cloth and strainer, being sure to only capture the liquid. Discard the veggies or blend them up with some water for a soup (although it's incredibly tasty!).

Pour the vegan bone broth into jars and allow to cool to room temperature. Seal and freeze or keep in the fridge for 4 - 5 days.

To serve, either drink the broth cold or gently reheat on the stove. Taste and add a touch of salt and pepper if desired.
Nutrition
Calories:
78
kcal
|
Carbohydrates:
16
g
|
Protein:
3
g
|
Sodium:
240
mg
|
Potassium:
432
mg
|
Fiber:
3
g
|
Sugar:
4
g
|
Vitamin A:
3215
IU
|
Vitamin C:
10.2
mg
|
Calcium:
57
mg
|
Iron:
1.5
mg