This healthy quinoa breakfast bake is studded with fresh apples and cinnamon. It's also naturally gluten-free, vegan, and high in protein!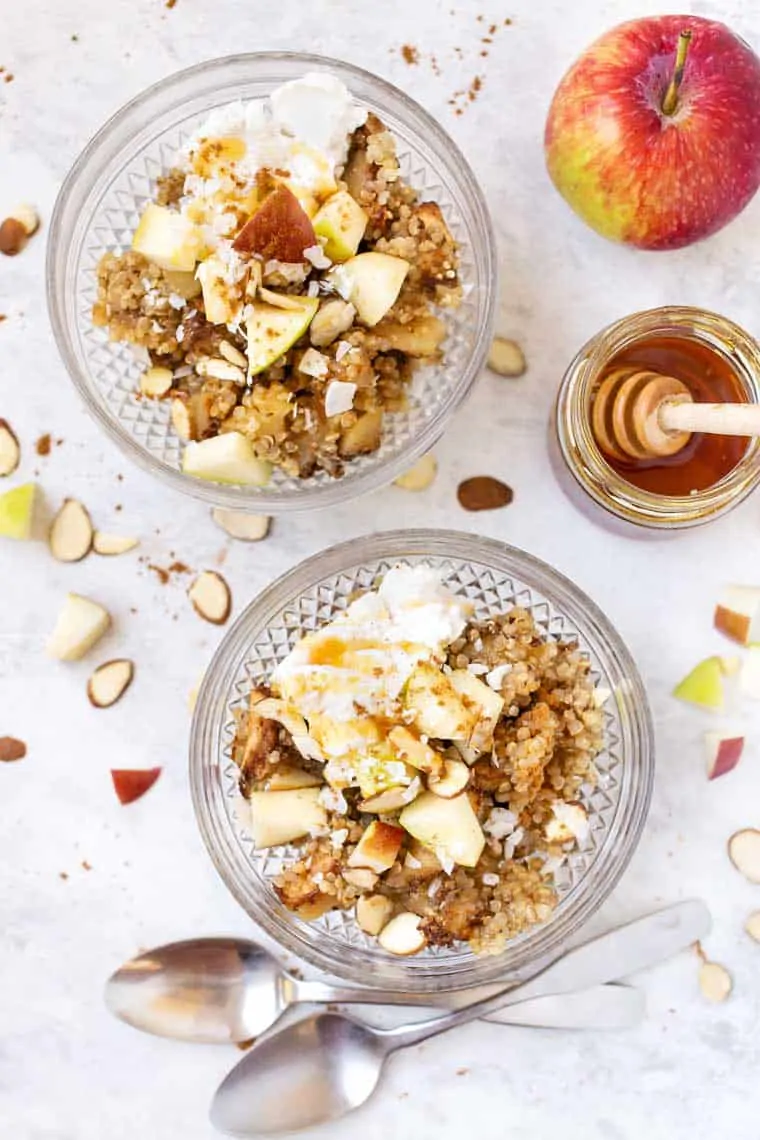 To me, the apple cinnamon flavor combo is timeless. It doesn't matter if it's fall, winter, spring, or summer, it just works. And it's delicious every single time!
Today we're making a delicious, high protein breakfast recipe that combines these two flavors into one bowl of goodness. It's vegan, gluten-free, full of protein, a cinch to make AND uses 7 ingredients. It can also be meal prepped and will make your house smell absolutely amazing as it bakes!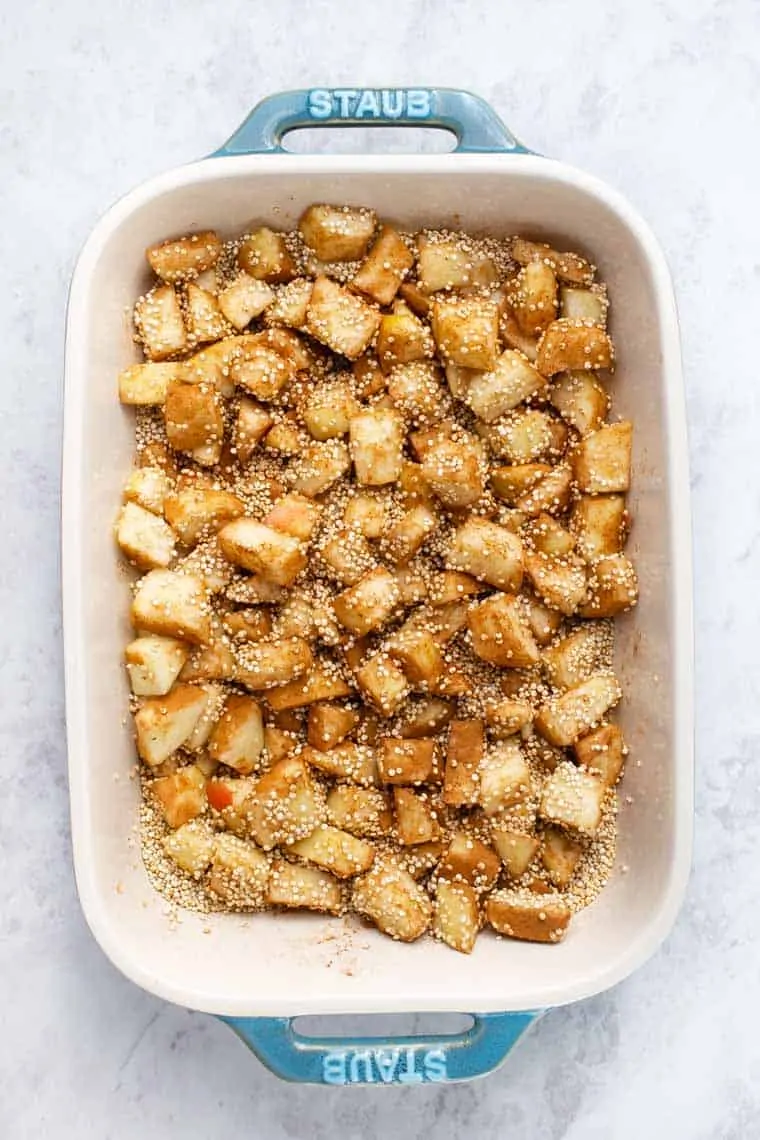 Our Quinoa Breakfast Bake Ingredients
Now we've shared a fair amount of apple cinnamon-flavored recipes before (we have an Apple Cinnamon Banana Bread, Apple Cinnamon Breakfast Quinoa, and even Chunky Cinnamon Applesauce), and this one is no exception. It's got the cozy flavors of cinnamon, sweet baked apples, and fluffy white quinoa. And it makes a pretty dang delicious bowl!
Here's what we'll be using to make it:
White quinoa: my favorite variety of quinoa to use for things like this; it's fluffy, it's light and it has a softer texture. Quinoa also absorbs flavors really well!
Chopped apples: the apples are adding natural sweetness and as they bake they get soft and tender, so each bite is bursting with flavor and sweetness.
Cinnamon: the only spice you need for this fab quinoa breakfast bake!
Almond milk: my liquid of choice – I always do unsweetened – but you can use any milk you'd like!
Applesauce: another way to sneak in some fiber, natural sugar and also flavor! You can use jarred or homemade. And if you don't want to use applesauce, you can use mashed banana or pumpkin.
Flax eggs: this is how we help it hold together, plus flaxseed meal adds more protein and healthy fats. If you don't want to use flax eggs, you can also use regular eggs!
Maple syrup: my own favorite sweetener, BUT you could also use honey or coconut sugar.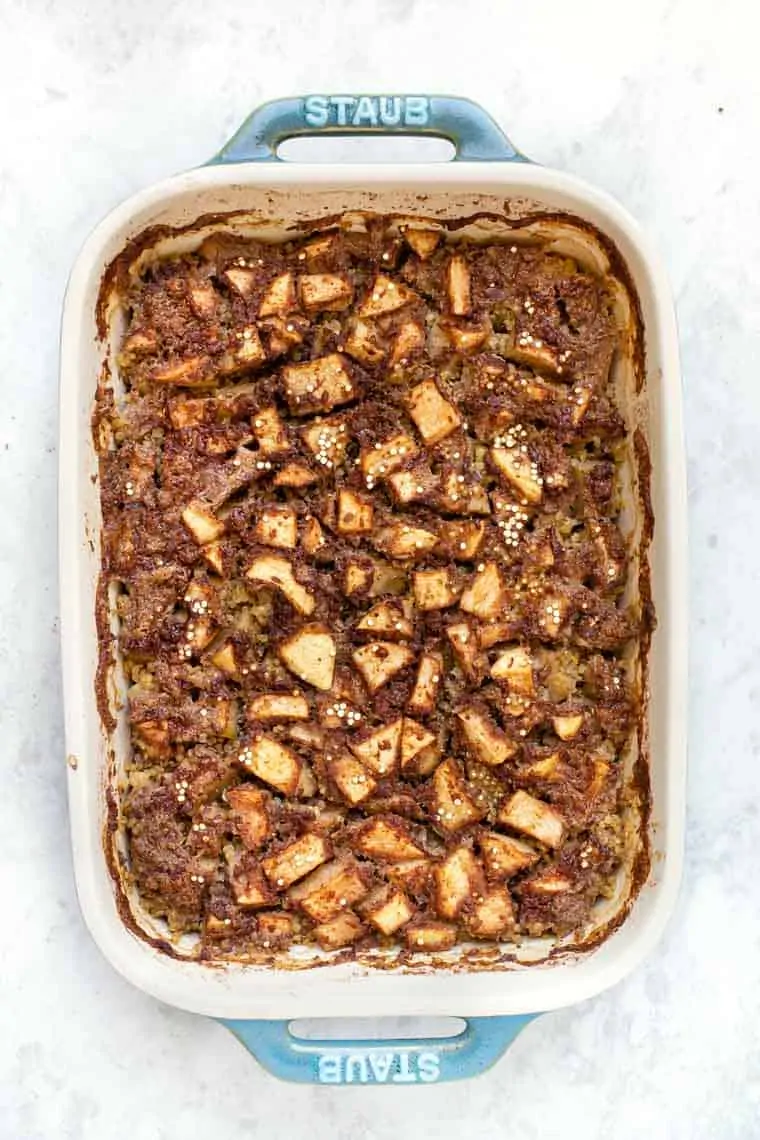 How to Make a Simple Quinoa Bake
Similar to my Triple Berry Quinoa Breakfast Bake, this recipe is an absolute cinch to make. You basically just add everything into your baking dish, give it a quick stir, then pop it in the oven.
Once most of the liquid has been absorbed, the quinoa should be cooked and the apples will be soft. From here, I recommend just scooping it into your bowl and starting to top! (side note: you can also meal prep this – more on that in a sec)
What To Top Your Quinoa Breakfast Bowl With
Since we'll be scooping this into our bowls nice and hot, here are some of my favorite toppings:
Coconut yogurt: adds some coolness, creaminess and some good fats
Sliced almonds: gives it some crunch, extra protein, and more good fats
Fresh apples: adds crispiness, freshness, sweetness, and a little zing
Drizzle of sweetness: either honey or maple syrup
But I also think it would be great with peanut butter, sliced banana, chopped walnuts, etc.!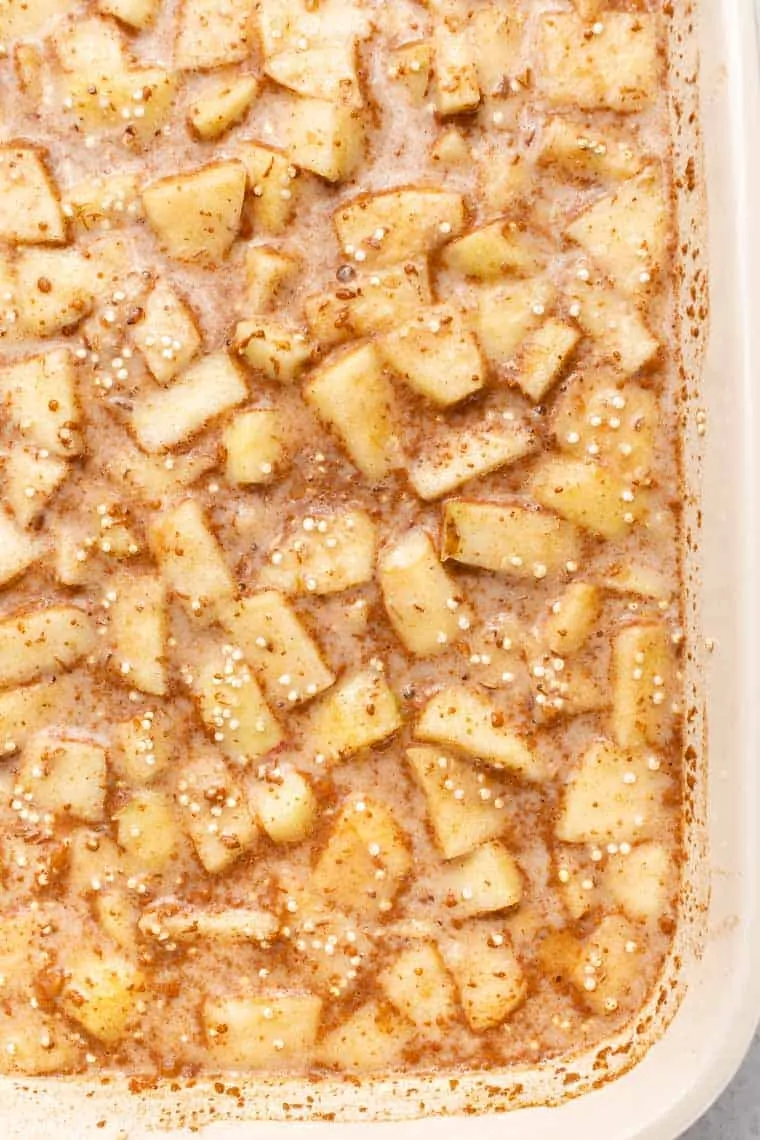 Best Ways to Store Your Breakfast Bake
Similar to simple cooked quinoa or baked oatmeal, your quinoa breakfast bake can be stored in two different ways:
Refrigerated: it will keep in the fridge for 4 – 5 days
Frozen: you can freeze this for 3 – 6 months
Meal Prepped & Ready to Go!
This recipe is an awesome vegan meal prep recipe because it can be made ahead! If you're making it for the week, refrigerate it and either just keep it in the baking dish and scoop out what you need, or you could keep it in individual portions.
If you're freezing it, I'd recommend freezing them in the portions you want to eat and then reheating them as needed!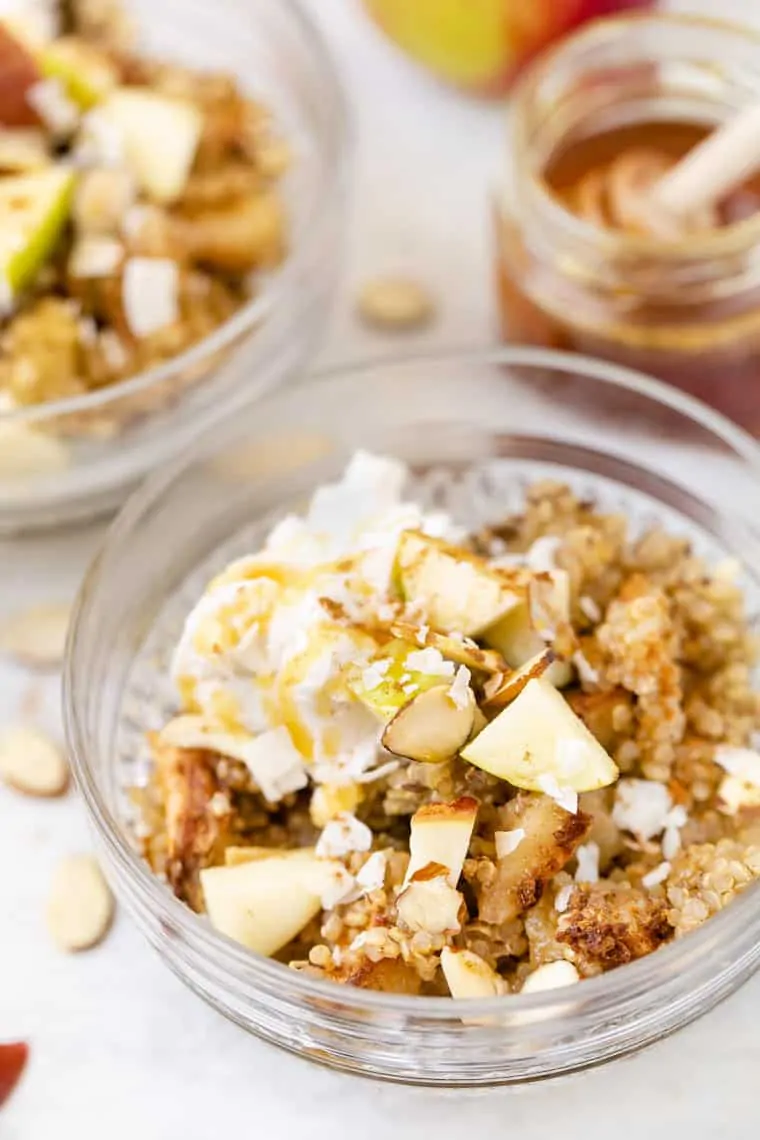 Your Quinoa Questions Answered!
I put this section into another recent blog post and I think it's super helpful, so let's do it again here!
Can you bake uncooked quinoa?
Yes! For this recipe, we're using uncooked quinoa and then adding in the liquid. It cooks by baking it in the oven!
Can you eat baked quinoa?
Yes! Otherwise, we probably wouldn't have this quinoa breakfast bake ?but in all seriousness, just make sure that the quinoa is actually cooked before you eat it. You can tell by texture – it should be nice and fluffy, just like when it comes out of the pot.
Can quinoa be crunchy?
Quinoa can be crunchy, but it shouldn't be if it's cooked properly. If your quinoa is crunchy, it probably means it's undercooked. If the water is gone and it's still not done cooking, add a splash or two more and keep cooking until it's fluffy!
How long does it take quinoa to cook?
It all depends on your cooking method! Here's a full post on how to cook quinoa with four different variations. Check that out and if you still have questions, let me know down below!
Does quinoa need to soak before cooking?
I actually don't soak my quinoa before cooking, but some like to. If you have a sensitive digestive system, it might help to soak your quinoa ahead of time. But it's definitely not necessary!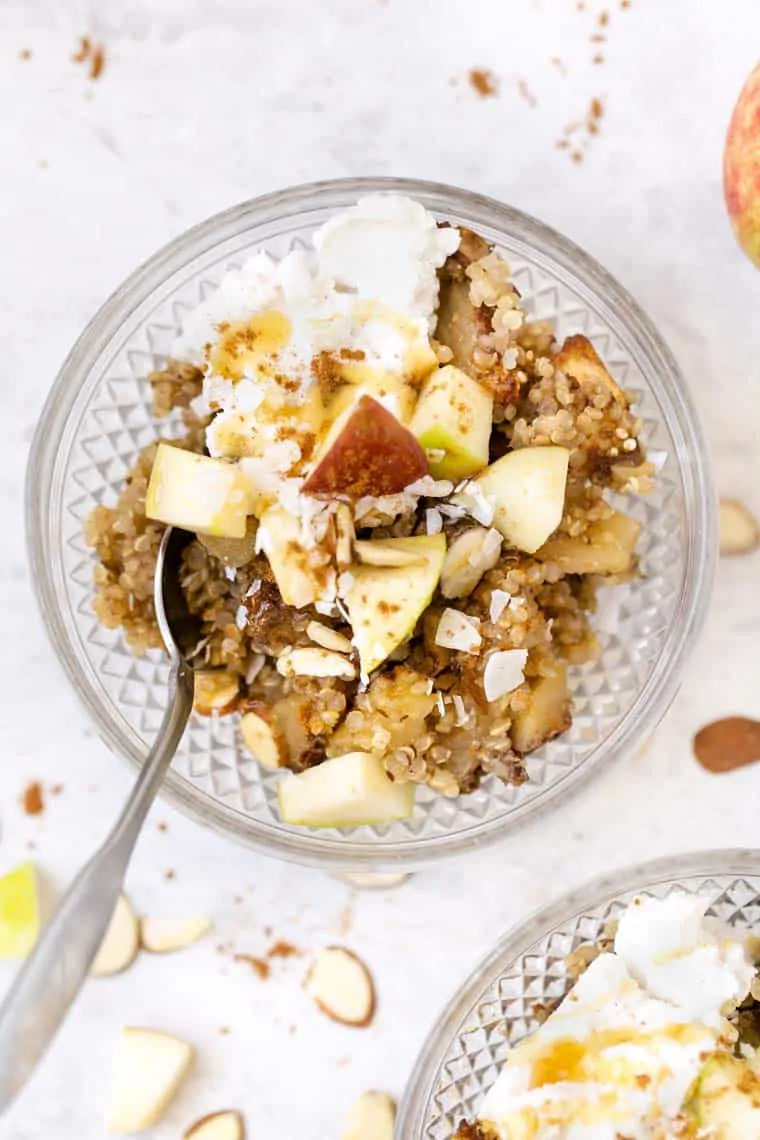 And that pretty much does it, friends! I can't wait to hear what you think of this new breakfast recipe. I love that it's high in protein, full of fiber and also easy to make. It's going to keep you full and energized all morning long AND who can't resist the delicious combo of apples and cinnamon!? Honestly, the BEST!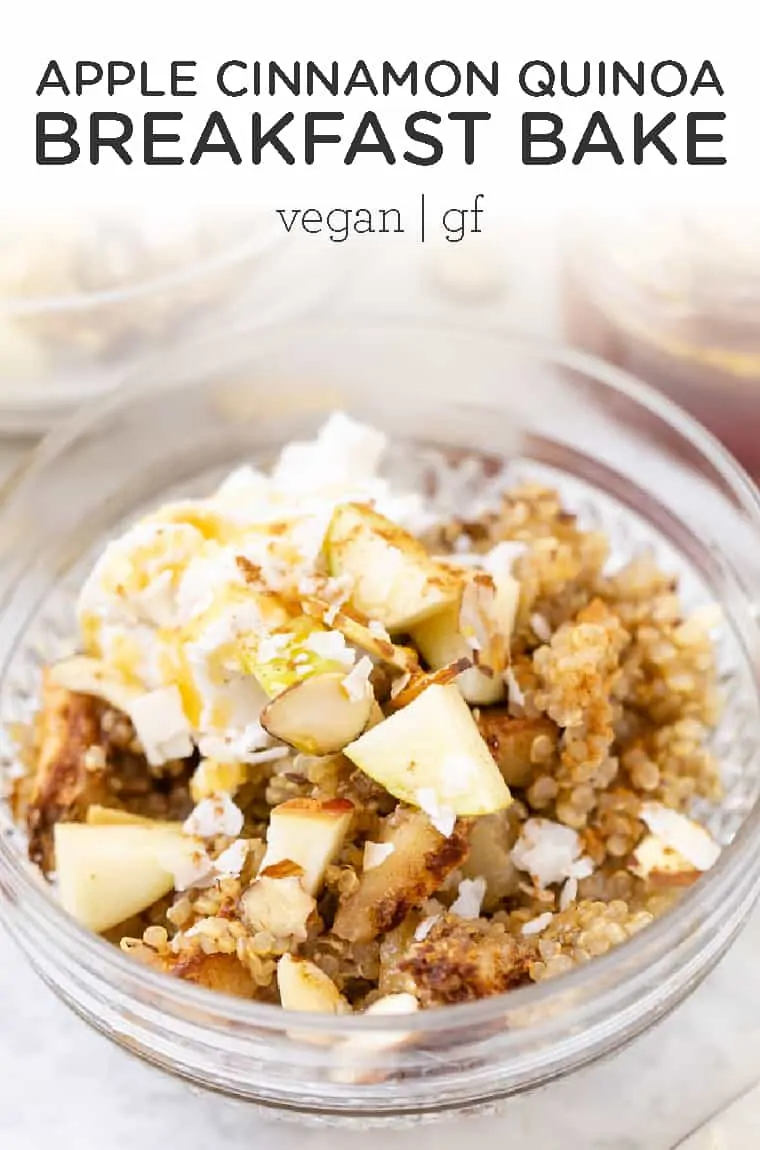 More Quinoa Breakfast Recipes to try:
Apple Cinnamon Quinoa Breakfast Bake
This healthy quinoa breakfast bake is studded with fresh apples and cinnamon. It's also naturally gluten-free, vegan and high in protein!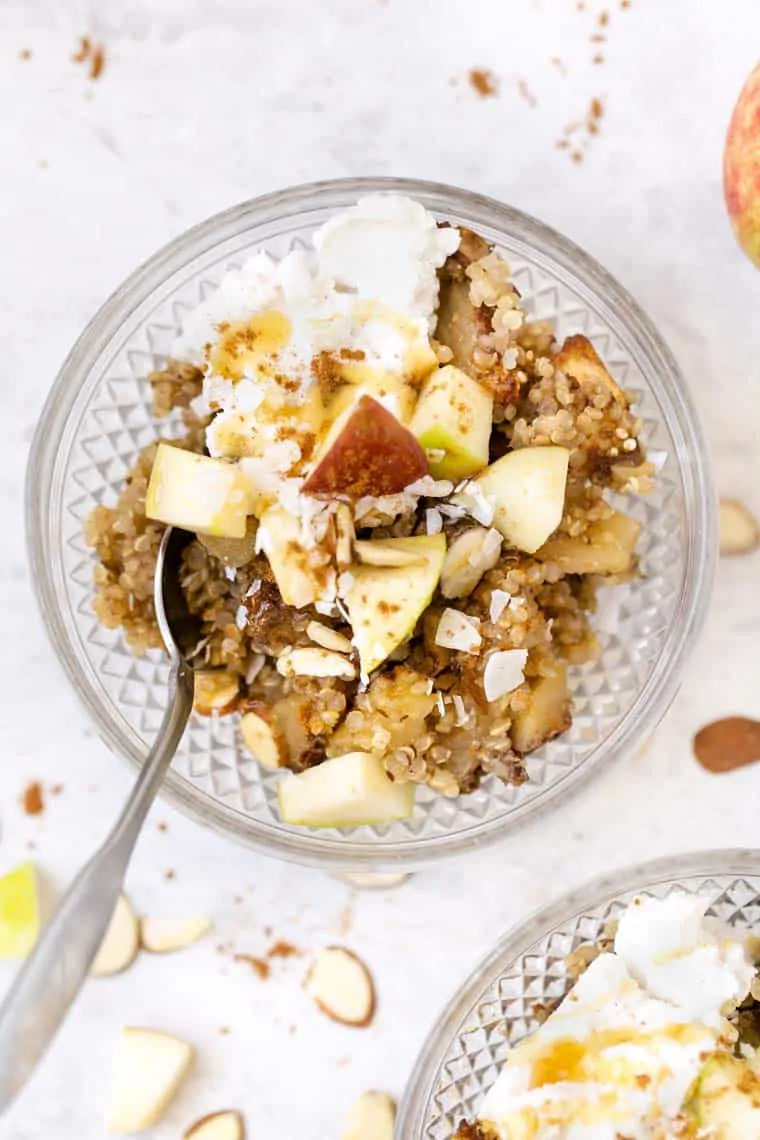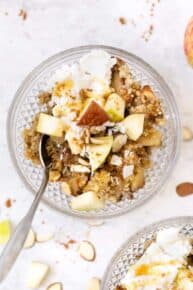 Instructions
Preheat the oven to 375ºF.

Add all the ingredients into a baking dish and stir to combine. Pop the pan in the oven and bake for about 50 - 60 minutes until the quinoa is cooked and the center is no longer liquidy.

Allow the cool for at least 15 minutes, then scoop and serve with your desired toppings!

For my toppings, I like a dollop of non-dairy yogurt, a drizzle of nut butter and some chopped nuts if desired.
Nutrition
Serving:
0.5
cup
|
Calories:
155
kcal
|
Carbohydrates:
29
g
|
Protein:
4
g
|
Fat:
3
g
|
Saturated Fat:
1
g
|
Sodium:
84
mg
|
Potassium:
230
mg
|
Fiber:
5
g
|
Sugar:
11
g
|
Vitamin A:
37
IU
|
Vitamin C:
3
mg
|
Calcium:
111
mg
|
Iron:
1
mg
Filed Under: