This sweet potato lentil soup is absolutely delicious! Simple to make, packed with flavor, great for meal prep and it's also vegetarian, vegan, and gluten-free. If you've been looking for a new lentil soup recipe to try, this one will quickly become a favorite!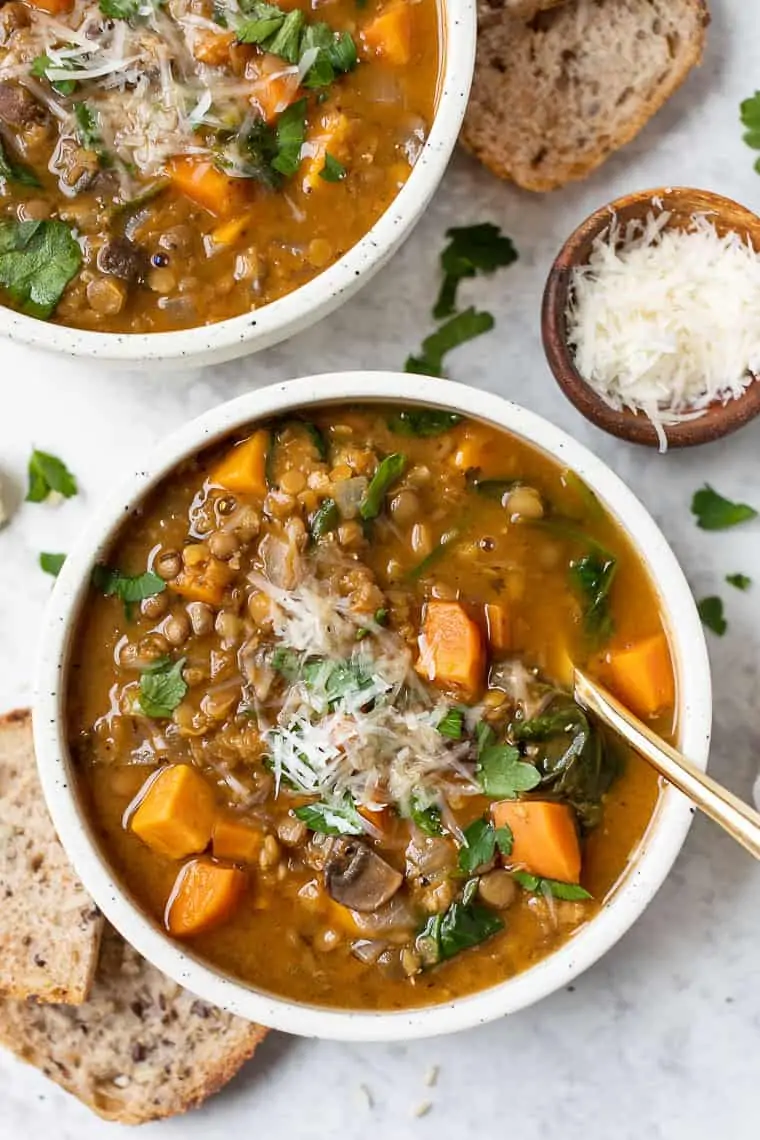 Cozy + comforting. Flavorful + easy. Satisfying + meal prep-friendly. All things that describe this incredible vegetarian lentil soup recipe!
This time of year, I'm always looking for new soup recipes. I love that soup is always fairly simple to put together, quick to make, super warming and makes amazing leftovers. Like soup leftovers are my absolute dream!
And since you seem to adore my lentil soup recipes – plus I adore my lentil soup recipes – today I've got a new variation that is to die for. This sweet potato lentil soup is jam-packed with protein and fiber, it's full of hearty veggies, it takes about 4o minutes to make and tastes incredible.  You're going to love it!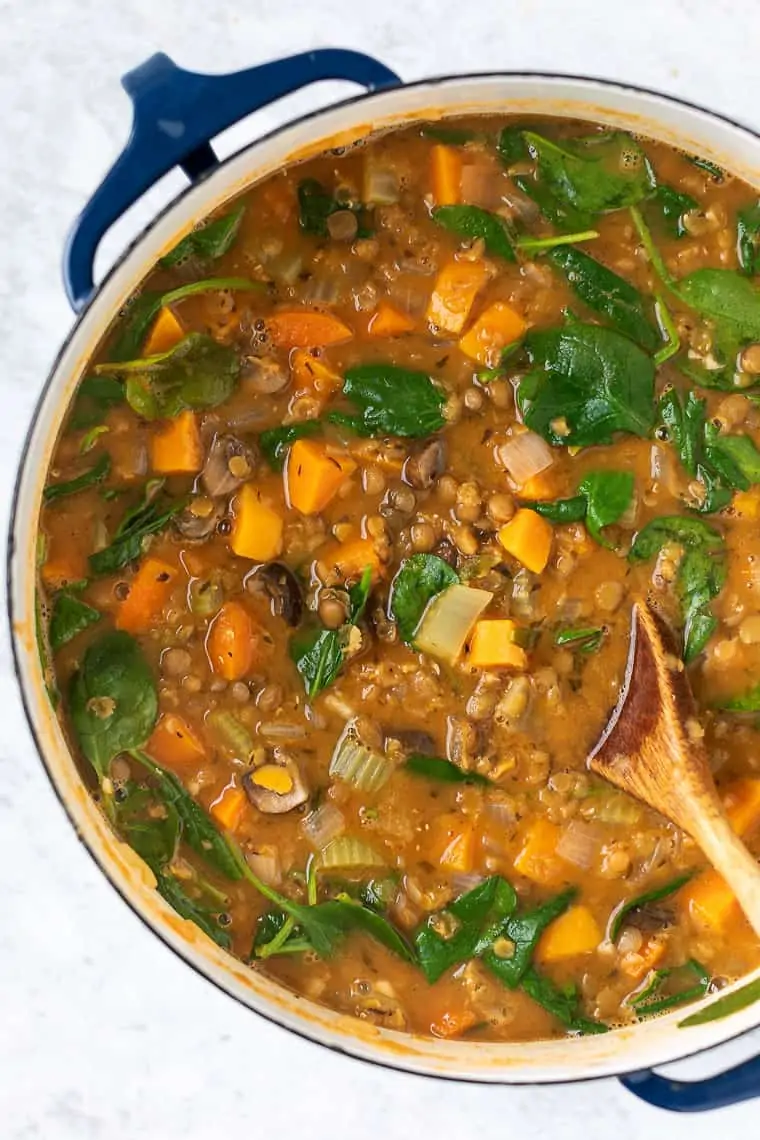 How to Make Lentil Soup
The best thing about this recipe? ONE POT! Yep, that means less clean-up for you!
Here's what you need to make it:
Aromatics: first things first, garlic + onion. I start every soup with these two ingredients because they add tons of flavor and are basically the base of all my cooking. (side note: if you don't eat garlic + onion, can you let me know in the comments? want to see if I'm excluding many folks!)
Veggies: we're using a bund of veggies including celery, carrot, mushrooms, and sweet potatoes. I love this combo, but if any of these don't work for you/you want to make substitutions, go for it!
Spices: we're using a kind of "Italian" blend with this one including thyme, basil, oregano, salt, and pepper
Lentils: you'll find two types of lentils in this soup – red and brown/green. You can use just brown/green, but I like the texture that red lentils bring. They cook down a bit more and make the soup kind of creamy.
Veggie broth: I always opt for low sodium so that I can control the amount of salt, but you can use whatever type of broth you want.
Water: just to add a bit more liquid (and because I like to use a whole quart of broth and not have you open two)
Tomato paste: the tomato adds an additional layer of flavor that is just delicious! If you don't do tomato (or nightshades), you can definitely swap in pumpkin puree or leave it out!
Almond milk: I like to finish my soups off with something creamy. I usually choose almond milk because it doesn't have much flavor, but coconut milk is also amazing. If you like coconut, it would be fab in this soup!
Lemon: and lastly, a little bit of acid to brighten everything up! I learned this from a cooking class years ago and still use it all the time – acid helps to elevate the flavor of almost everything!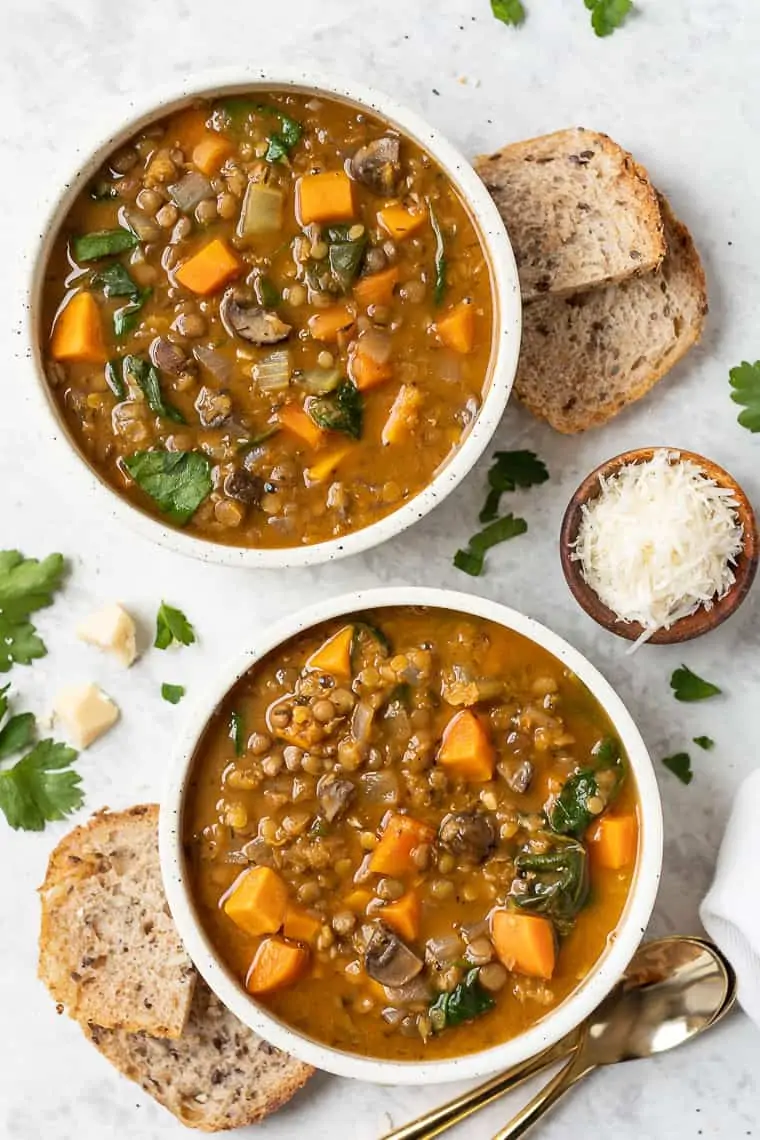 How to Season Lentil Soup
When making lentil soup, you can really go in any direction in terms of flavor. I personally think it depends on what you're craving. Think about what herbs and spices you like together and my guess is they'll probably work with lentil soup.
Here are some flavor ideas I've used in the past:
Italian/Herbs de Provence: these are usually your green herbs like thyme, basil, oregano, rosemary, tarragon, sage, parsley, etc. They all play pretty well together and can be interchangeable I think.
African: I've used things like ginger, cumin, cinnamon, paprika, and turmeric in my soups before
Curry/Indian: a simple curry powder is great, but also garam masala, cumin, red chili powder, coriander, and more.
Middle Eastern: using things like fenugreek, turmeric, and saffron work well.
Central/South American: this blend would be more like cumin, coriander, chili powder, smoked paprika, and maybe some lime.
But truthfully, the possibilities are endless. If you're making a green and red lentil soup like this, you can use any one of these combos!
Preparing Lentils for Soup
One of the things I love about lentils is how simple they are to cook. If you're preparing lentils for a soup, the only thing I would recommend is giving them a rinse. I don't personally soak my lentils or anything like that because I don't feel they need it. They'll cook in about 30 minutes that if they're clean, then you're basically god!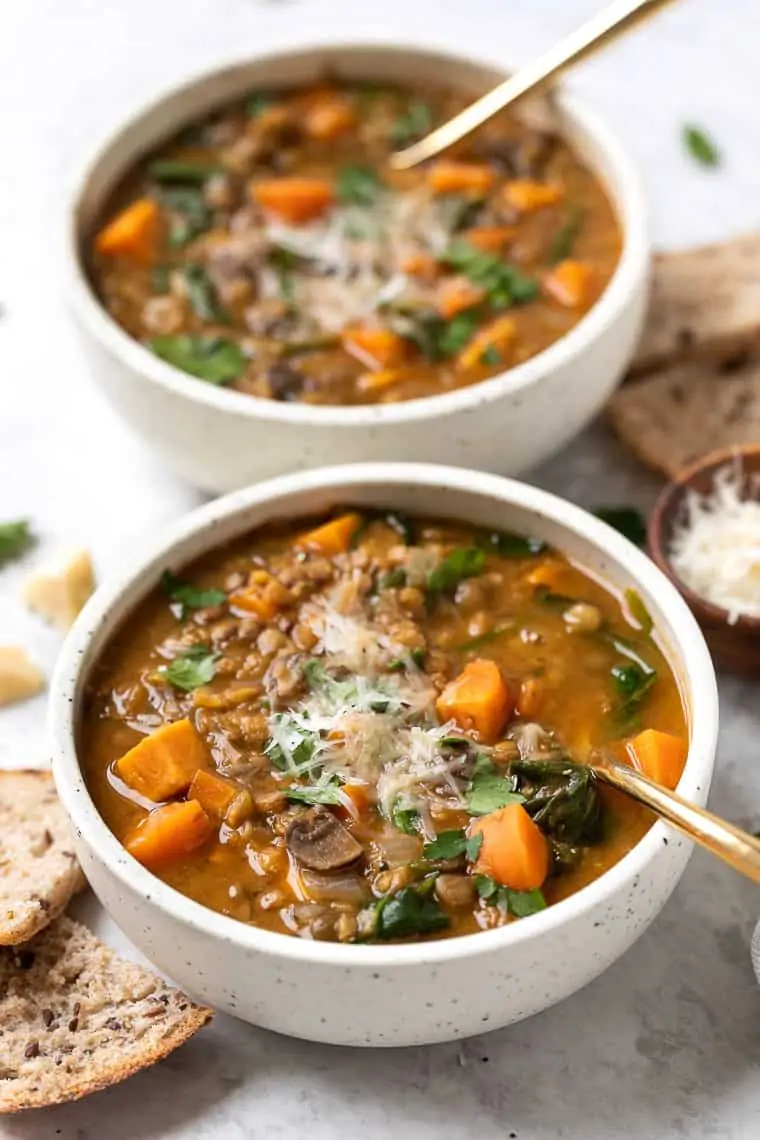 Can You Freeze Sweet Potato Lentil Soup?
Lentil soup is definitely freezer-friendly. It also keeps well in the fridge if you'd rather do it that way as well. If you want to keep it in the fridge, just leave it in a sealed container for 4 – 5 days and reheat however much you'd like to eat.
For freezing, here's what I recommend:
Allow your soup to cool completely
Transfer it to a glass container (I LOVE these glasslock ones)
Seal the lid and place it in the freezer for 3 – 6 months
To reheat your frozen lentil soup:
Remove the soup from the freezer
Allow thawing at room temp for at least 1 – 2 hours
Once partly thawed, transfer to a pot and cook over low heat until completely thawed
How to Serve Lentil Soup
Once you're ready to gobble this soup up – which by now I'm betting you are – I'd recommend adding some grated vegan parmesan (or regular!), and serving it alongside some gluten-free toast. It's simple, it's classic and it's honestly so good.
Hope you love it as much as I do. Yay to all my lentil soup lovers!!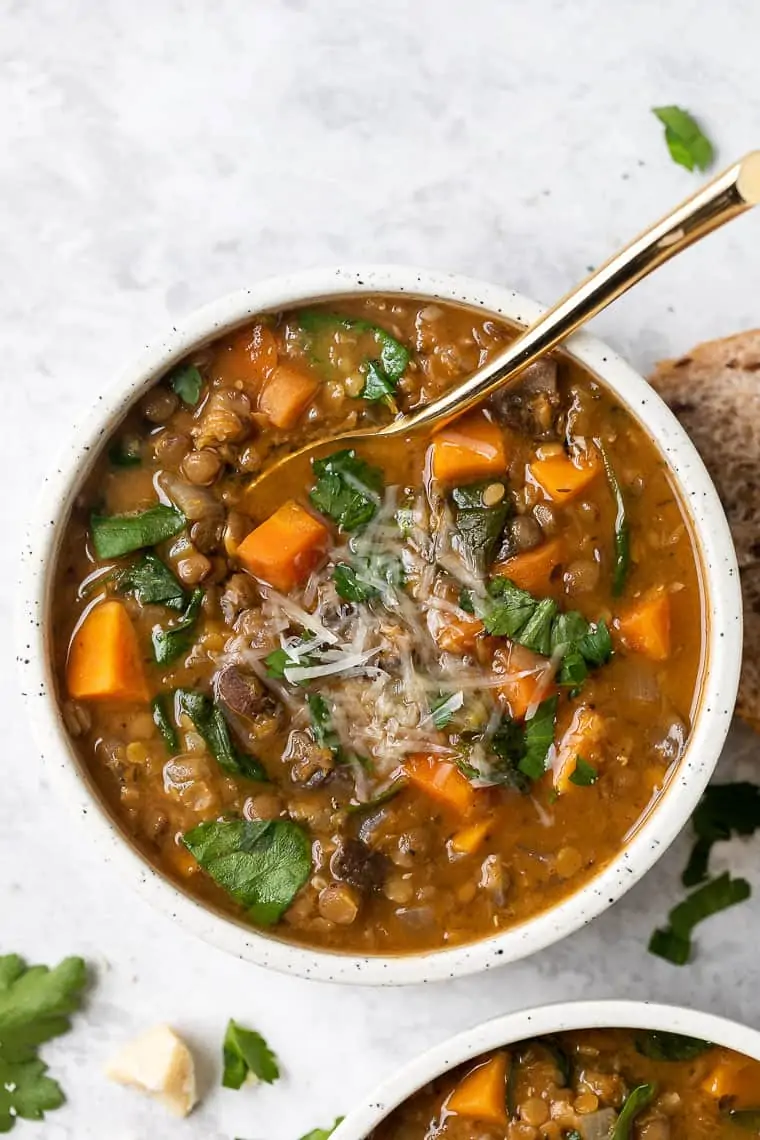 More Lentil Soup Recipes to try:
Vegetarian Sweet Potato Lentil Soup
This sweet potato lentils soup is incredible! Simple to make, packed with flavor, great for meal prep and it's also vegetarian, vegan and gluten-free.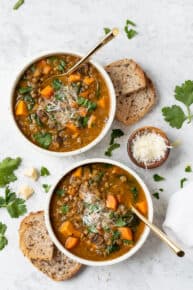 Ingredients
1

tablespoon

olive oil

1

cup

chopped onion

1

cup

chopped celery

1

cup

chopped carrot

1

cup

chopped button mushrooms

1

cup

chopped sweet potato

2

garlic cloves

, minced

1

teaspoon

sea salt

(+ more to taste)

1

teaspoon

dried thyme

1

teaspoon

dried basil

1

teaspoon

dried oregano

1

cup

green

or brown lentils

1

cup

red lentils

4

cups

vegetable broth

2

cups

water

1/4

cup

tomato paste

1

cup

almond milk

(or coconut milk depending on your preference)

1

tablespoon

lemon juice

2 - 3

cups

spinach
Instructions
Heat the oil in a large stockpot or dutch oven. Add onions and garlic, and saute until fragrant, about 3 minutes. Add the celery, carrot, potato, and mushrooms and saute for about 5 minutes until everything softens slightly. Season with salt, pepper, and spices and cook, about 2 minutes.

Add lentils and saute 1 - 2 minutes, then add the broth, water, and tomato paste. Stir to combine and until the tomato paste has dissolved. Bring the soup to a boil, cover, and reduce to simmer for 30 minutes.

Remove from heat and stir in almond milk, lemon juice, and spinach, and stir until the spinach has wilted. Serve immediately and top with your desired toppings.

For garnishes, I like to do a dollop of coconut yogurt, some fresh parsley, pepper flakes, cracked pepper and jalapeno slices. A little spicy, a little creamy and so good!
Notes
Other cooking method ideas:
Slow Cooker: you could also totally make this sweet potato lentil soup in the slow cooker as well. Just add all the ingredients into your slow cooker, stir it together and let it cook. It should cook for 4 - 6 hours on low, 3 - 4 on high. Here's the slow cooker I have at home.
Instant Pot: For this recipe, I'd say start with the saute setting to cook your veggies and then add the rest of the ingredients in. Cook it on high for about 10 minutes and let the pressure release naturally for 10 minutes. I have the 6qt Instant Pot and love it!
Note: I haven't tested these yet, so if you do, let us know in the comments!
Nutrition
Serving:
1.5
cups
|
Calories:
204
kcal
|
Carbohydrates:
34
g
|
Protein:
11
g
|
Fat:
4
g
|
Saturated Fat:
1
g
|
Sodium:
1225
mg
|
Potassium:
825
mg
|
Fiber:
13
g
|
Sugar:
7
g
|
Vitamin A:
9716
IU
|
Vitamin C:
18
mg
|
Calcium:
138
mg
|
Iron:
4
mg