This is the healthiest Apple Banana Bread recipe ever. Made with almond and quinoa flours, it's high protein, naturally gluten-free and makes a tasty treat!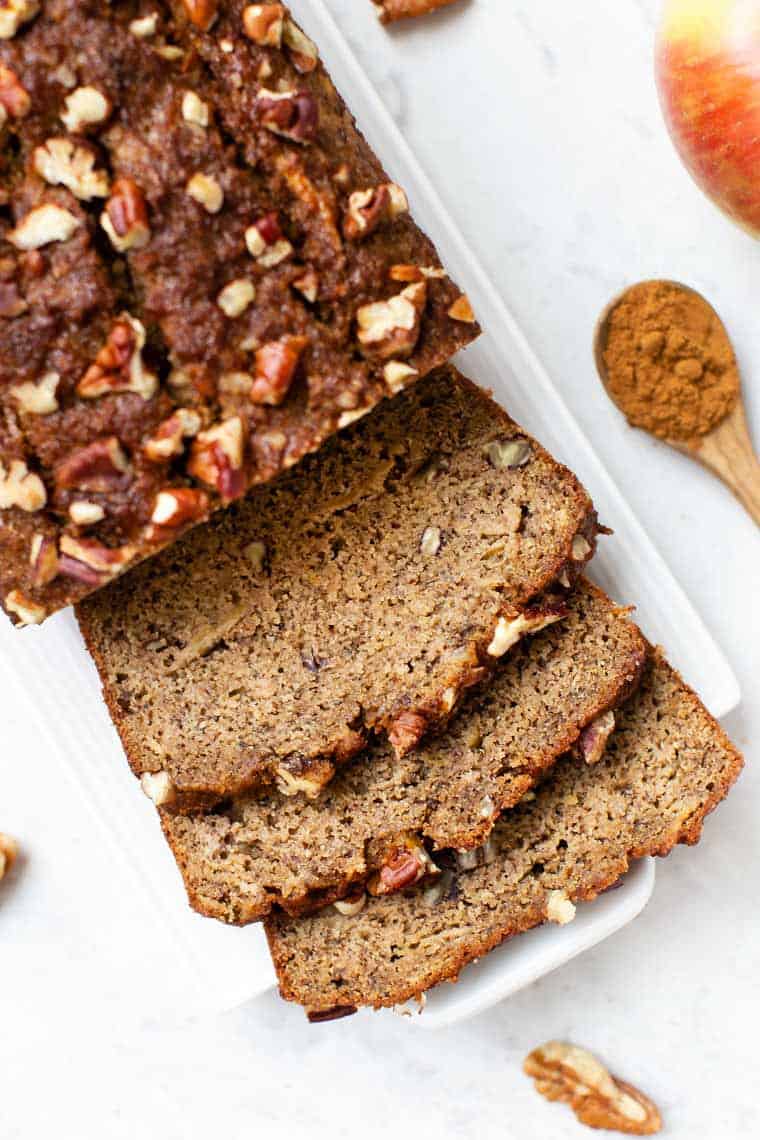 Banana bread is one of those baked goods – like chocolate chip cookies – that is timeless. It's not seasonal. It's not exclusively for dessert. It can be enjoyed pretty much any time of year, any time of day.
But there are some ingredients that are seasonal. Things like pumpkin. And apple. And butternut squash.
Since I love banana bread and have shared a few different variations on the blog before (they're linked below!), I figured let's do a mish-mash type recipe today. Let's add something season to spice up our classic banana bread and make it perfect for fall! And that's what we're doing today; making a fabulously healthy Apple Banana Bread that is absolutely delicious!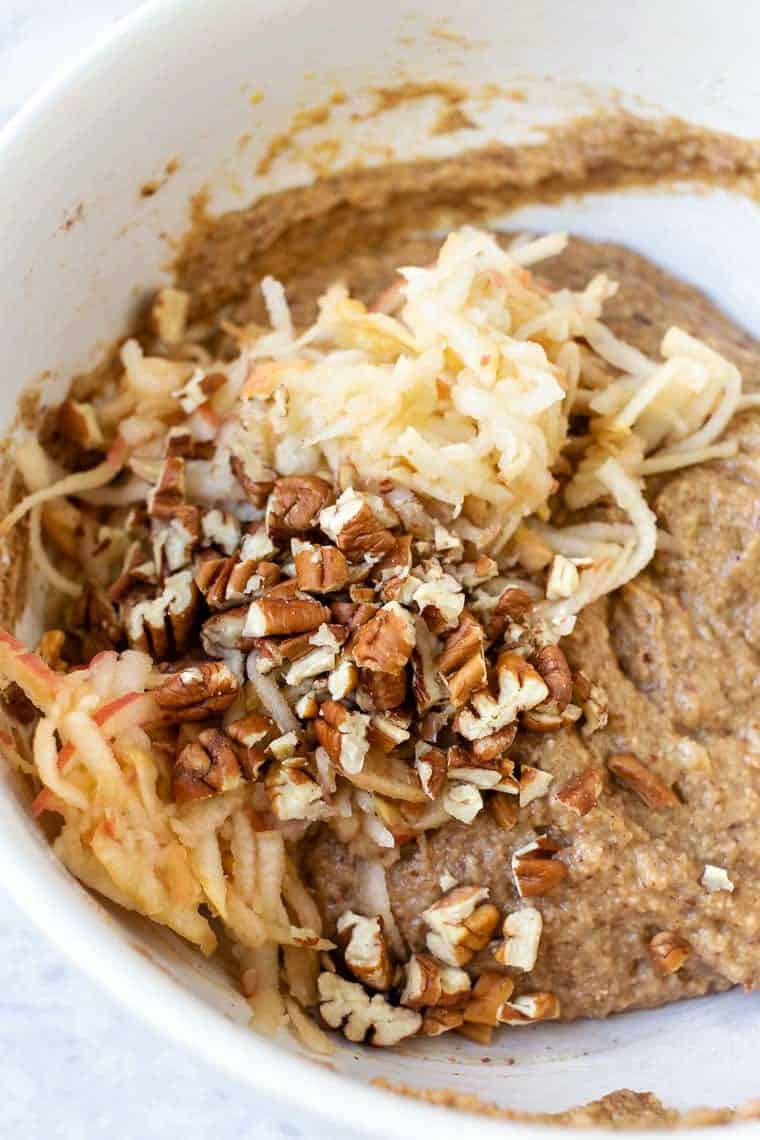 GF Flours For Apple Banana Bread
If you've tried one of my healthy banana bread recipes before, then the base won't be a surprise to you. And actually even if you haven't made one of the banana bread recipes, this base still won't be a surprise to you because it's my go-to flour combo!
My healthy gluten-free flour combo:
almond flour
quinoa flour
coconut flour
Some combination of these three flours is prevalent in many of my baked goods because it just works. It's healthy, it's high in protein, it's tasty and it has the BEST texture! Cakey, tender, but also with a nice crumb and not crumbly.
I'll say it now and I'll probably say it again: do yourself a favor and stock your pantry with those three flours. You really can't go wrong!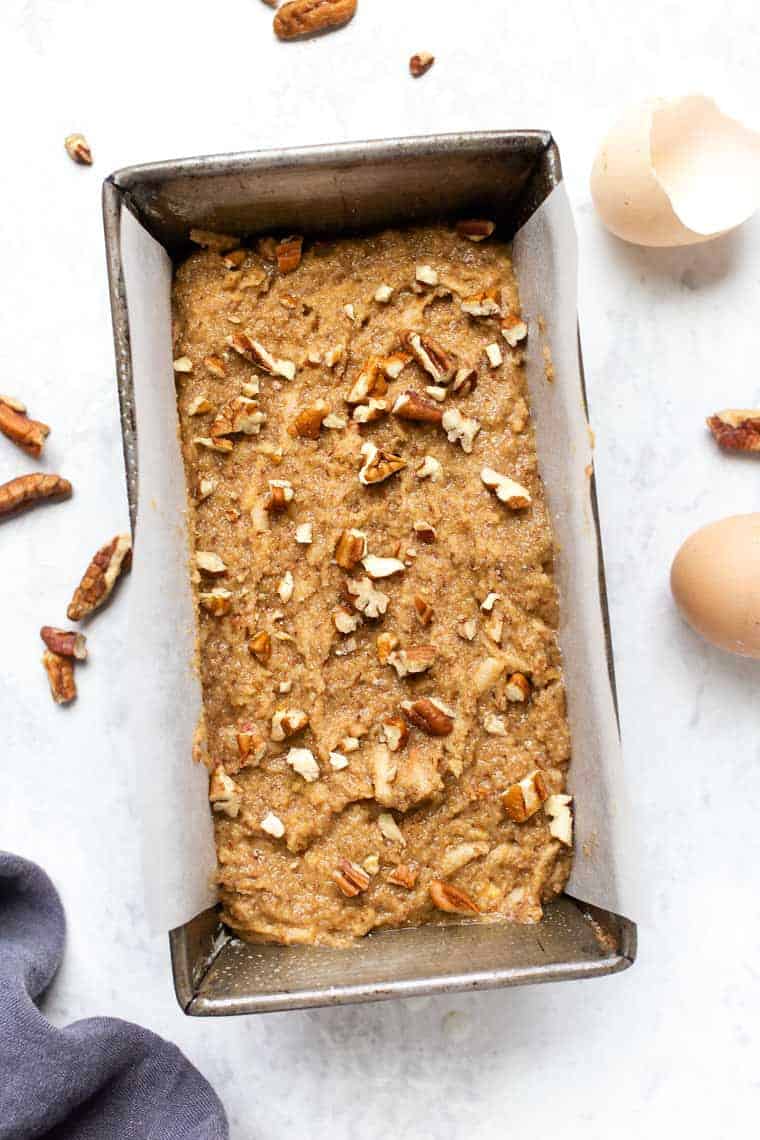 How to Make Banana and Apple Bread
So here's the thing with this apple banana bread: it might have a long ingredient list, but it's SO easy to make, It's just five simple steps, takes about 10 minutes of hands-on time and uses just one bowl.
We start by combining all our dry ingredients into a bowl. Then we add our eggs, our mashed banana, some maple syrup, a touch of oil and some apple cider vinegar for the lift.
Stir that bad boy together and you'll have this thickish batter. From there just fold in your pecans and shredded apple, pour it into the tin and bake it up!
It's one of those recipes that you can make over and over and over again because it's so darn easy!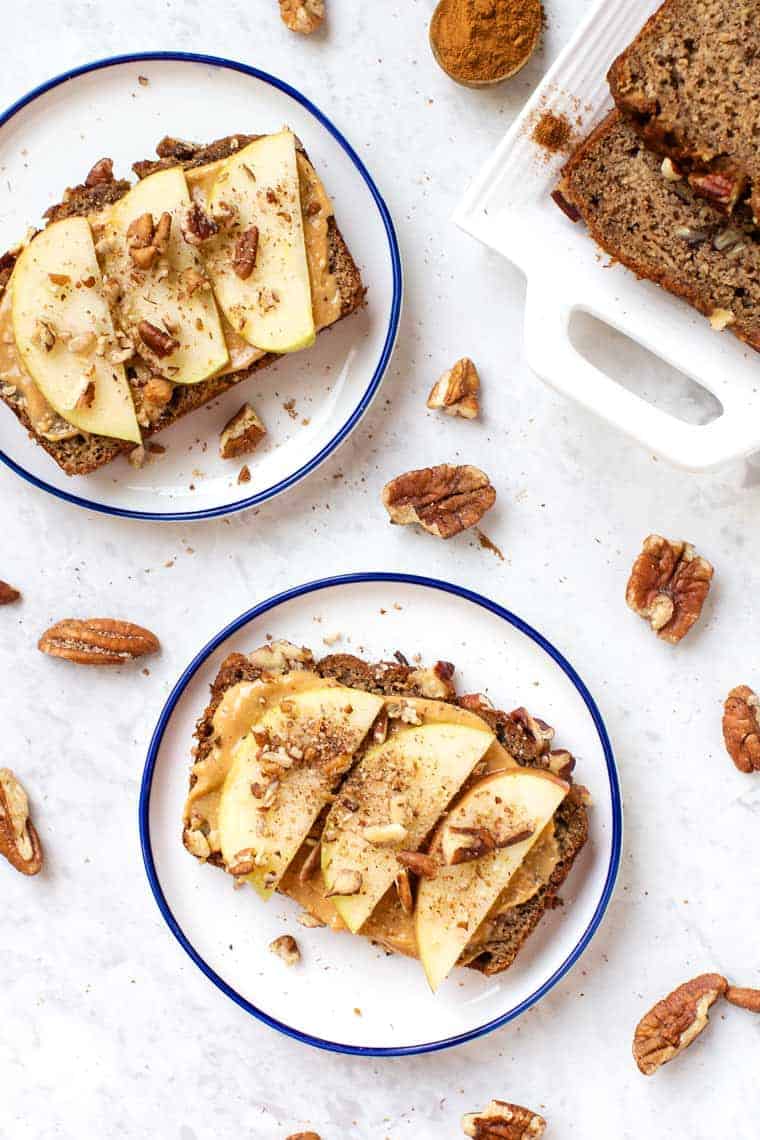 The Easiest & Healthiest Banana Bread!
What I also love about this apple banana bread is that it's super healthy! Especially compared to classic banana bread recipes.
Most banana bread recipes call for a ton of oil and a ton of sugar. I've realized that banana bread doesn't really need a lot of added sugar (or oil) because bananas themselves are sweet and can also be used as an oil replacement!
But in our healthy banana bread recipe, we're using just…
1/4 cup of added sugar (maple syrup & coconut sugar)
1 tablespoon of oil
THAT'S IT! And yet this bread is still the perfect texture, is just the right amount of sweet and is moist like a banana bread should be!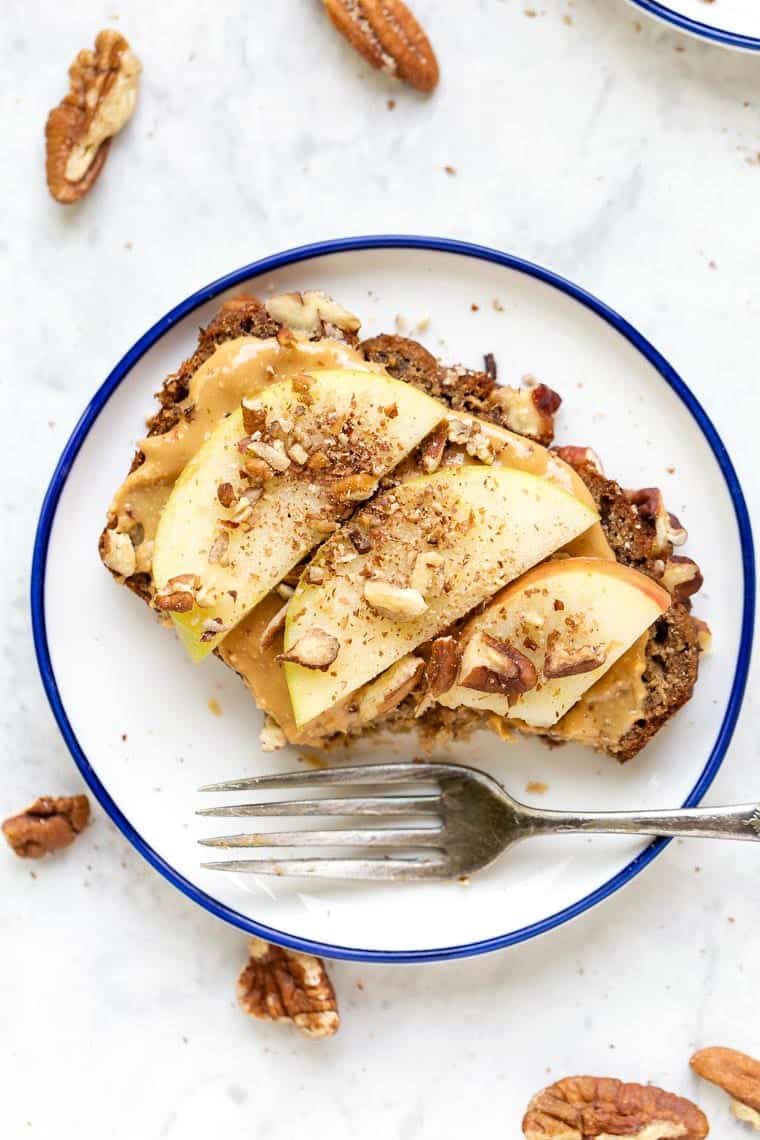 The Best Apple Banana Bread Recipe
So I'd say that this really is one of the healthiest banana bread recipes you could make! It's high in protein, it's low in sugar, it's full of healthy fats and it tastes delicious!
Now…before you dive in, let's quickly talk storage.
I find that this recipe is best when it's either enjoyed in the first two days or it's frozen. Because it has so many eggs, combined with the banana, it can get a funky taste if it's left out too long. So I'd suggest just slicing up the whole loaf, leaving a few slices out for you enjoy that day and the next and freezing the rest.
It freezes beautifully – just pull it out of the freezer, pop it in the toaster oven and toast it up. Slather it with some peanut butter, maybe top it with some sliced apple and pecans, and call it a day!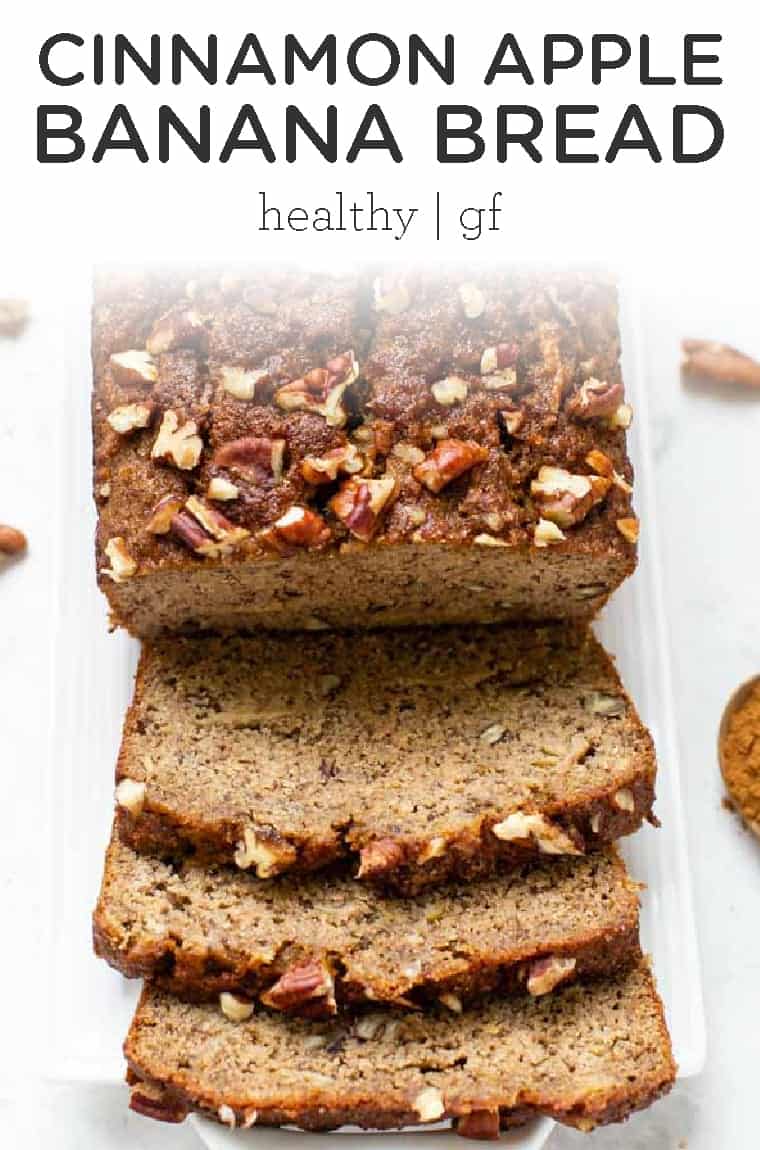 More Healthy Banana Bread Recipes
Healthy Cinnamon Apple Banana Bread
This is the healthiest Apple Banana Bread recipe you'll find. Made with almond flour and quinoa flour so it's high protein, naturally gluten-free and makes a delicious breakfast treat!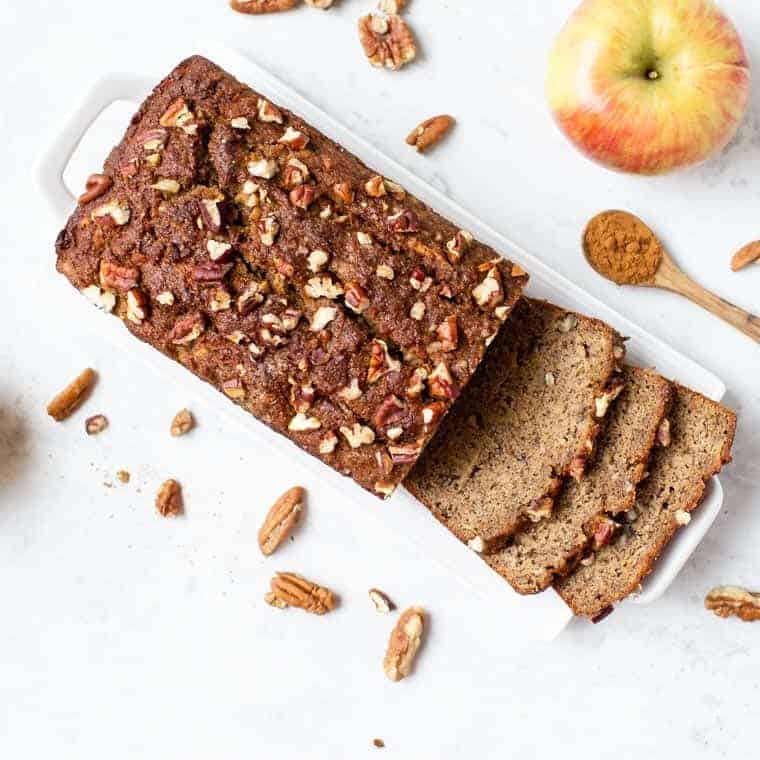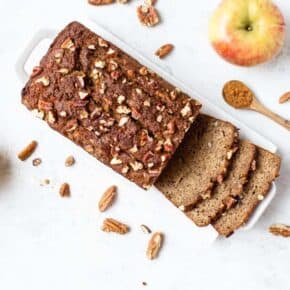 Instructions
Preheat the oven to 350ºF. Line a loaf pan with parchment paper and set aside.

Add the dry ingredients to the bowl and whisk to combine. In a separate bowl, beat together the eggs, mashed banana, oil, syrup, vinegar and vanilla and beat until smooth.

Pour the wet ingredients into the dry and fold together. Once combined, fold in the apple and pecans.

Transfer batter to the prepared loaf tin, sprinkle with additional chopped pecans and turbinado sugar (if using). Bake on the center rack for 45 - 50 minutes until the top has turned golden brown and a cake tester inserted into the center comes out clean.

Cool in the pan for 1 hour then transfer to a wire rack and cool completely before slicing.
Nutrition
Serving:
1
slice
|
Calories:
161
kcal
|
Carbohydrates:
13
g
|
Protein:
5
g
|
Fat:
11
g
|
Saturated Fat:
1
g
|
Cholesterol:
31
mg
|
Sodium:
89
mg
|
Potassium:
79
mg
|
Fiber:
3
g
|
Sugar:
6
g
|
Vitamin A:
50
IU
|
Vitamin C:
0.7
mg
|
Calcium:
43
mg
|
Iron:
1
mg
Filed Under: