Kick start your day with these delicious quinoa power breakfast bowls! They're a cinch to make, are packed with protein and will keep you energized all day long!
I don't know about where you live, but here in New York, we're inching our way closer and closer to Spring, but we're still stuck in the middle. It's like the tweener season. The days are lovely and warm, but the nights and mornings are chilly.
That means warm soups (I've been loving my Turmeric Wild Rice Soup) and creamy porridges for breakfast, and light, healthy salads for lunch. This season I've definitely been on a porridge kick; first, it was creamy steel-cut oats and now it's these quinoa power breakfast bowls.
I just love how cozy they are, but also that they're packed with ingredients that keep me full and fueled all morning long. I rarely need a snack when I start my day with a bowl like this and I feel peppy and energized too!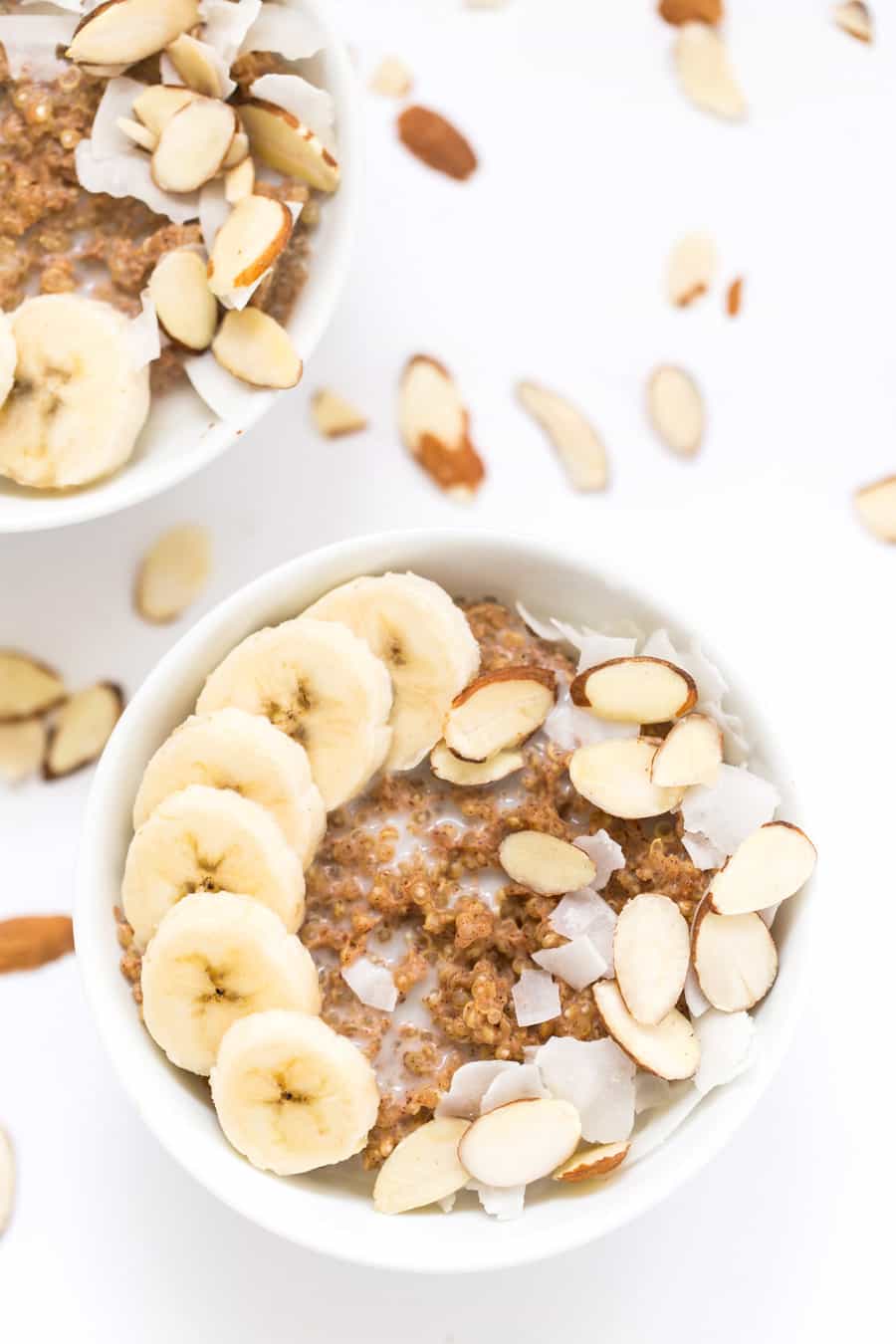 I'm partnering with my friends at Almond Breeze to bring you today's recipe and in addition to this lovely little breakfast bowl, I'm also going to share some photos from a trip that I recently took with them!
But since I know you've got food on the brain, let's chat brekkie bowls.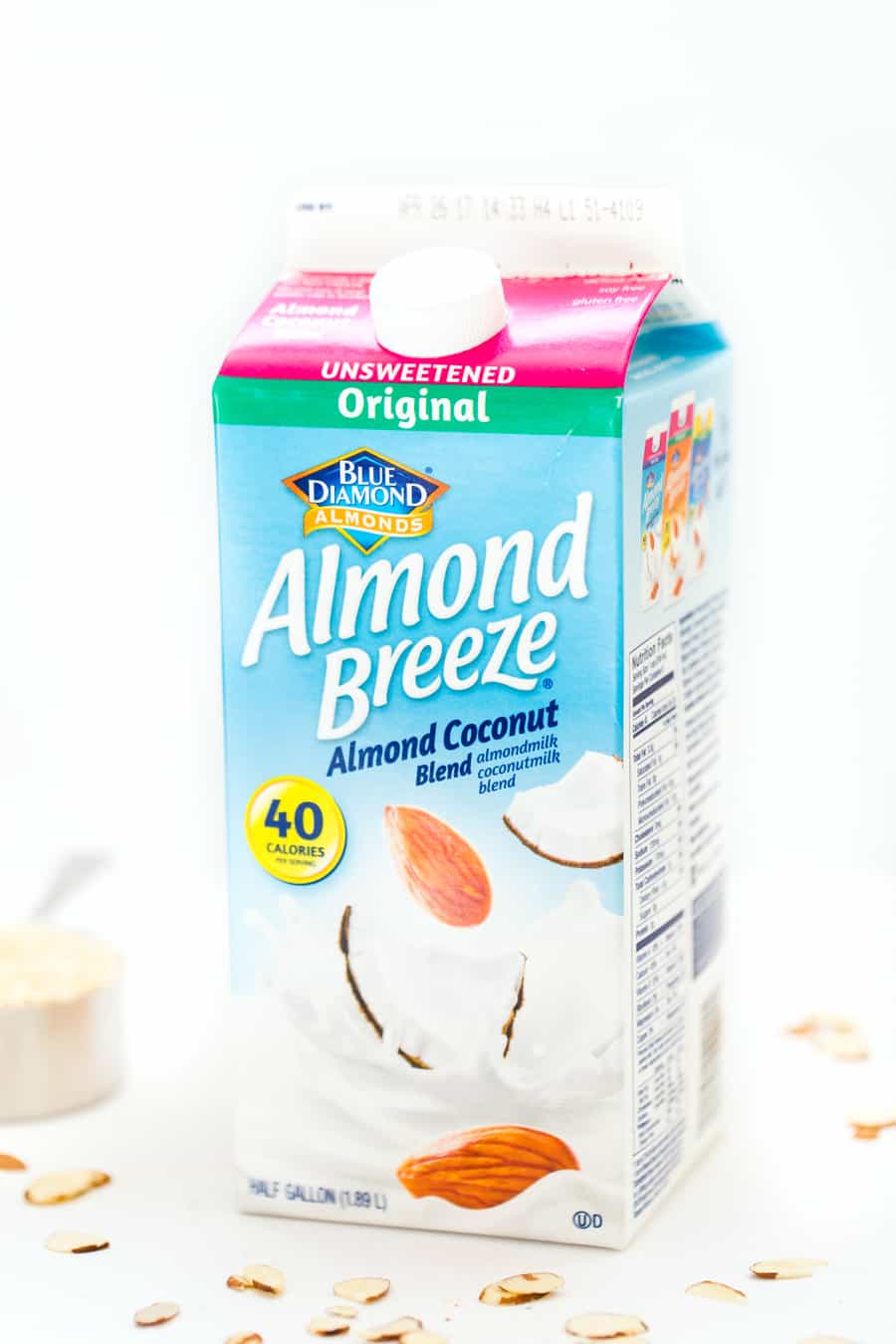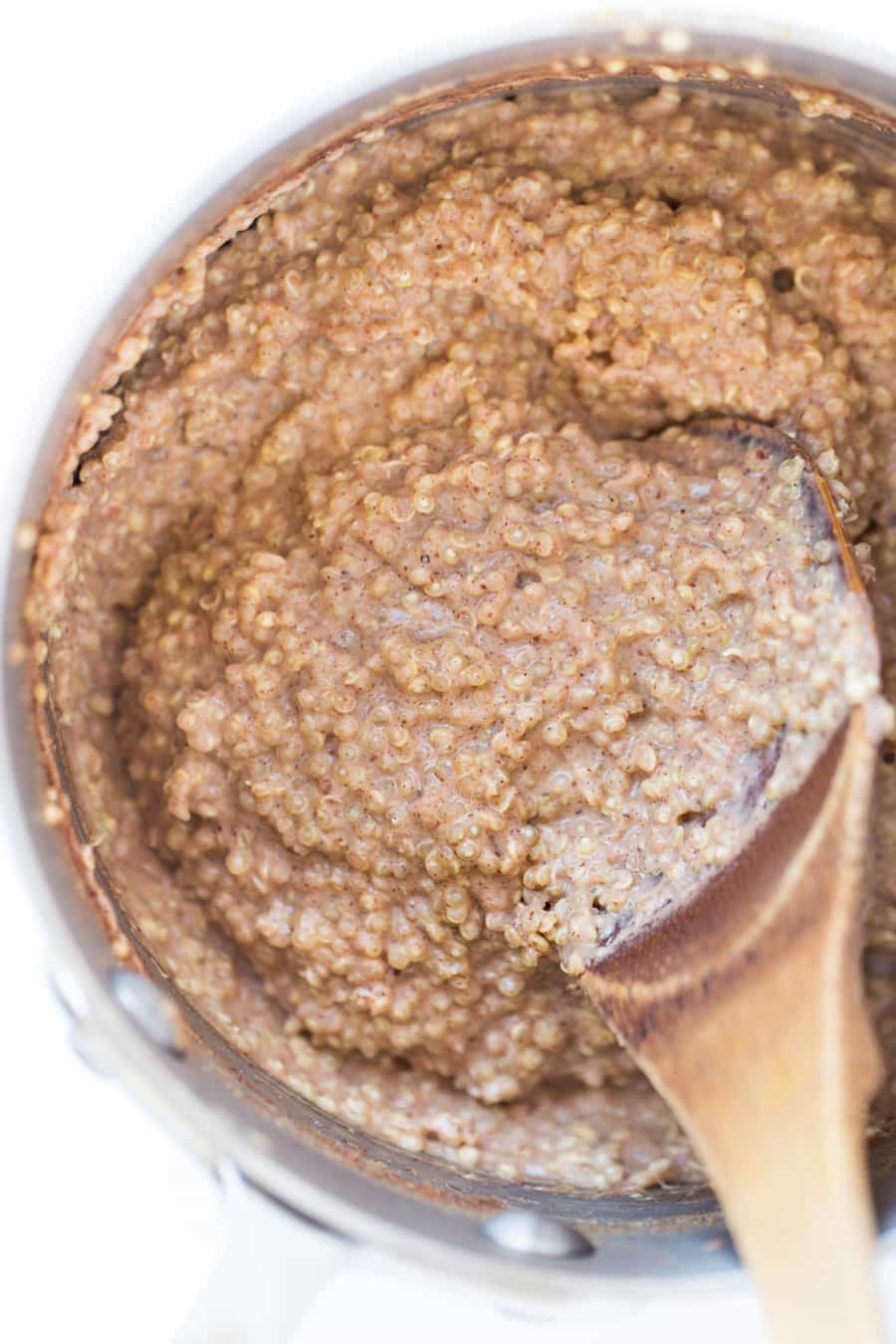 We start by simmering the quinoa in some unsweetened almondmilk coconutmilk blend, add in some cinnamon, maple syrup and almond butter for flavorings, and let it simmer away until it's gorgeously creamy.
Since it's quinoa, it does take a bit longer than oatmeal does, but it's totally worth it. The quinoa has a ton more protein, plus more fiber and vitamins, so I find that it keeps me much fuller than oats do.
For cooking time, honestly, just let it simmer until you've got the texture you like. I lean more towards thicker porridges, so I ended up cooking mine for about 15 minutes.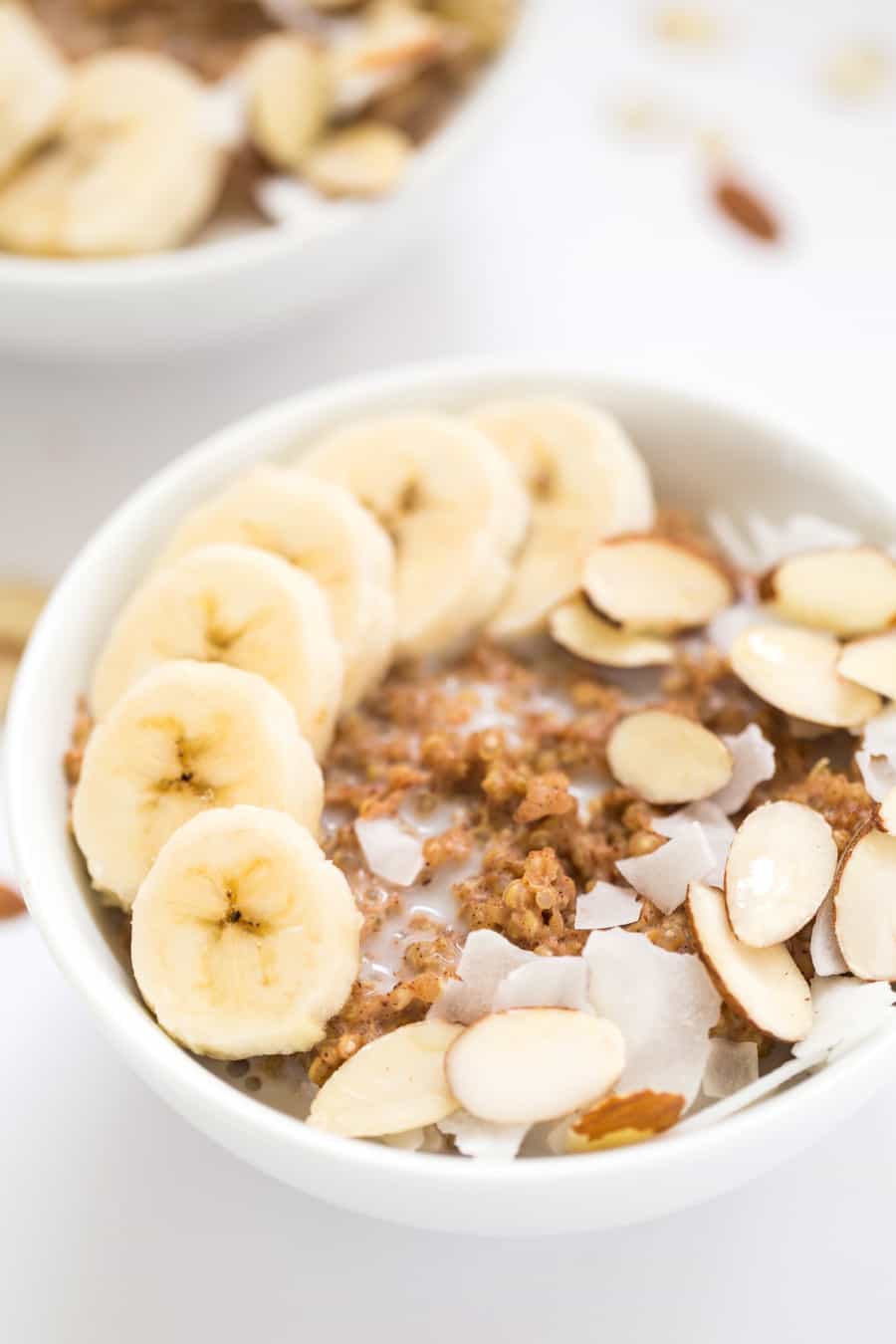 Just like with a smoothie bowl or oatmeal, I highly recommend that you go crazy with the toppings. I love combining fresh fruit, something crunchy and usually something sweet.
Here we've got bananas, coconut and almonds, which ticks all the boxes (the bananas tick two). But it would also be delicious with berries, mango, apples/pears, chia seeds, dried mulberries, cacao nibs or even chocolate chips! The base is simple, so think of it like a blank canvas and let your mind run wild with creativity!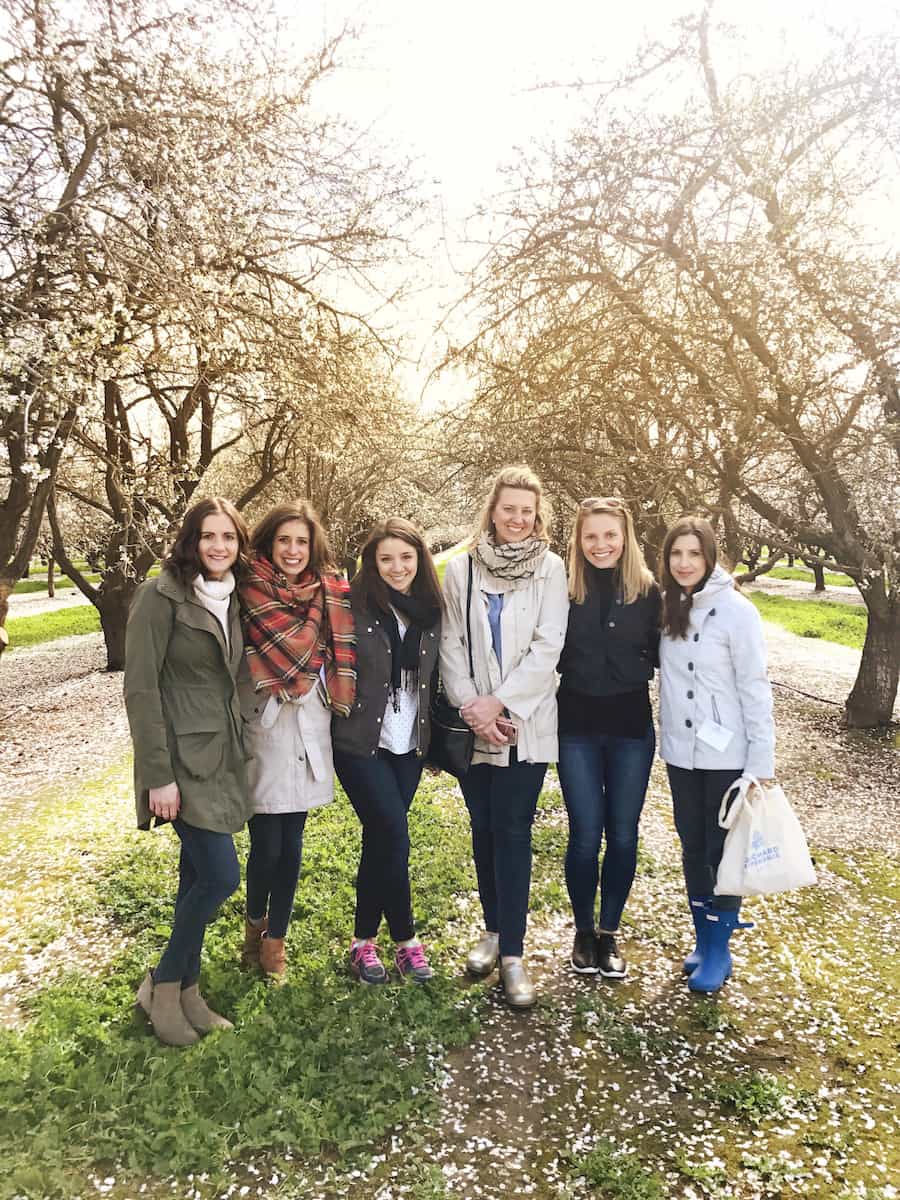 Before I let you scamper off to your kitchen so you can make these breakfast bowls for yourself, I just want to share a few photos from my trip to California. We went to Sacramento with Almond Breeze to visit one of their almond orchards, learn more about the growing process and meet some of the Blue Diamond team. It was SUCH a fun trip!
I got to hang out with some of my favorite bloggers! That's all of us in the photo above; from left to right we have Two Peas & Their Pod, Well Plated, me (!), Foodiecrush, Ambitious Kitchen and Love & Lemons. We went to a Sacramento Kings game, we met one of the almond growers and his wonderful family, we walked up and down the aisles of orchard surrounded by flowers, and of course, we ate some pretty amazing food (all made with almonds of course)!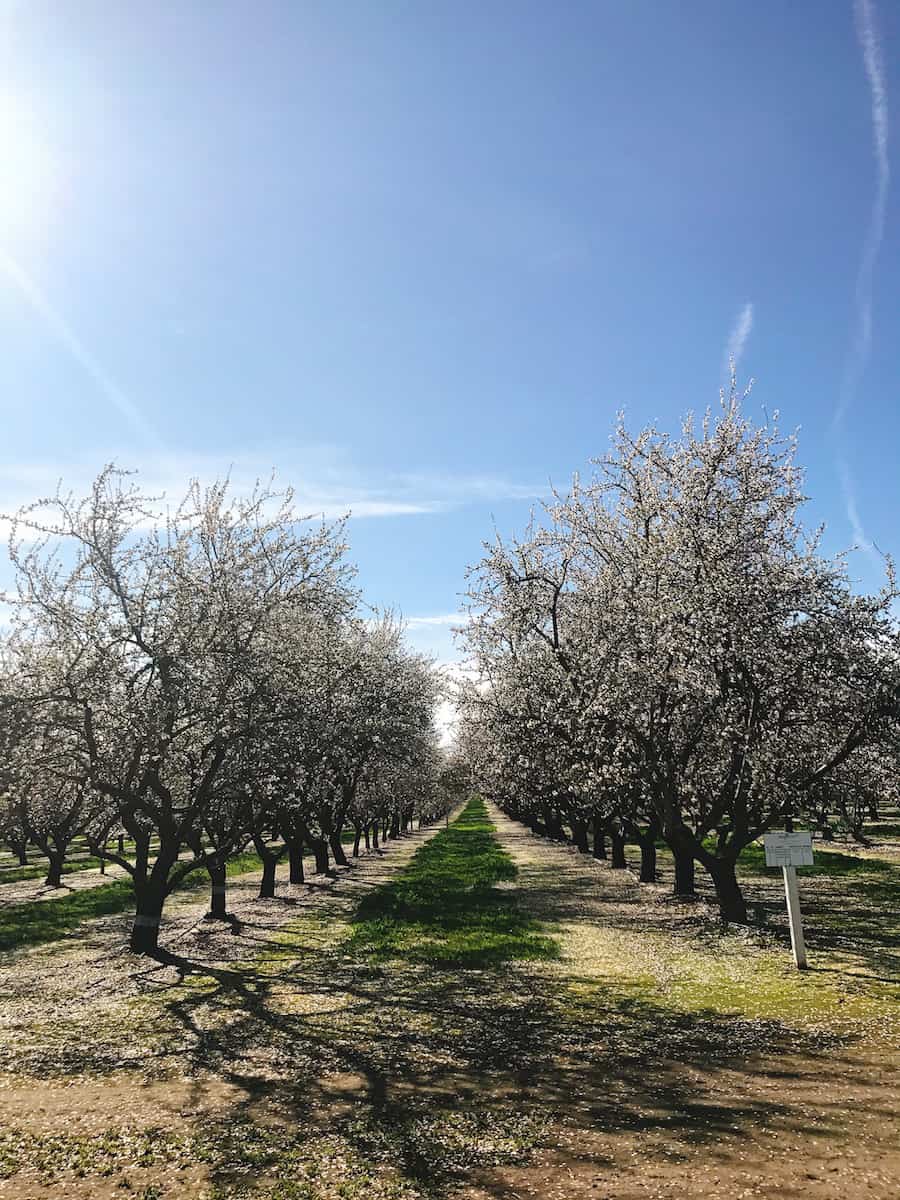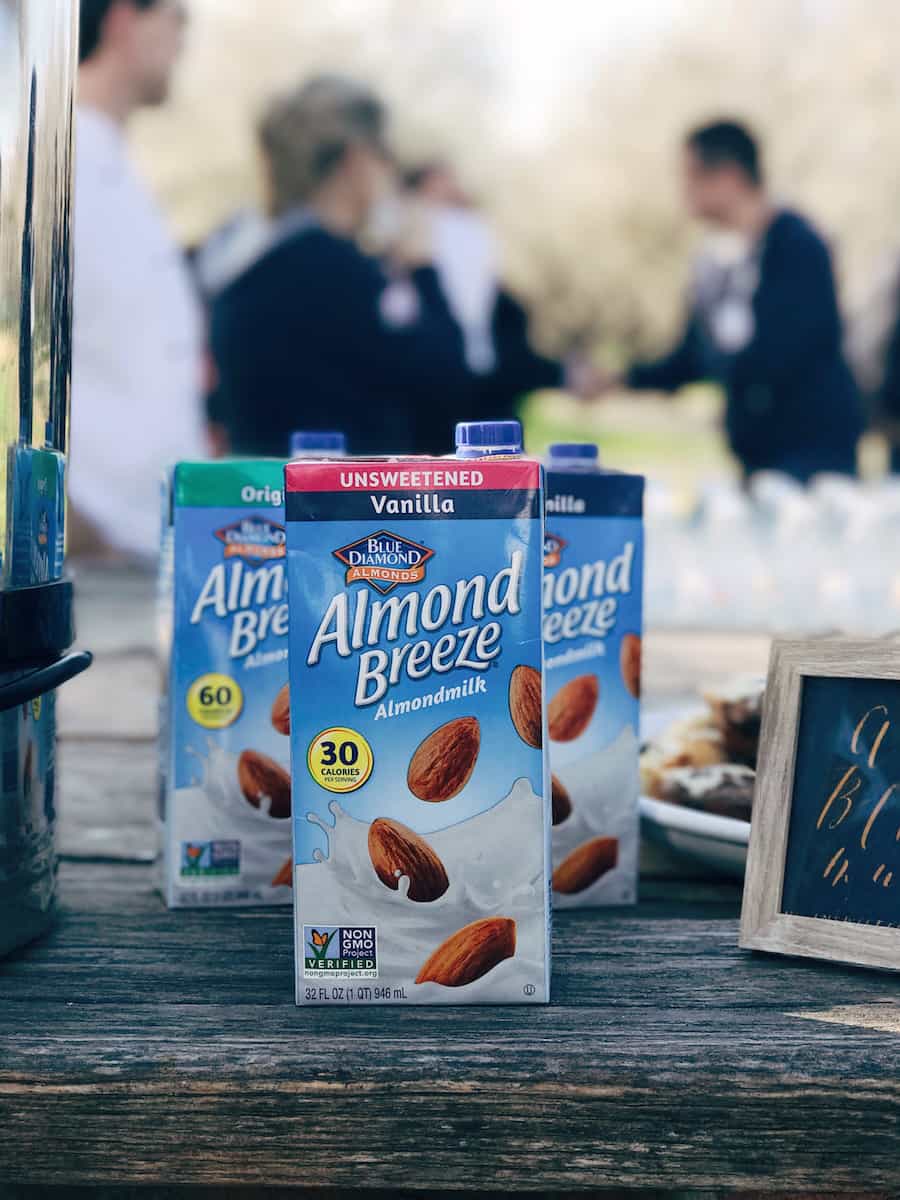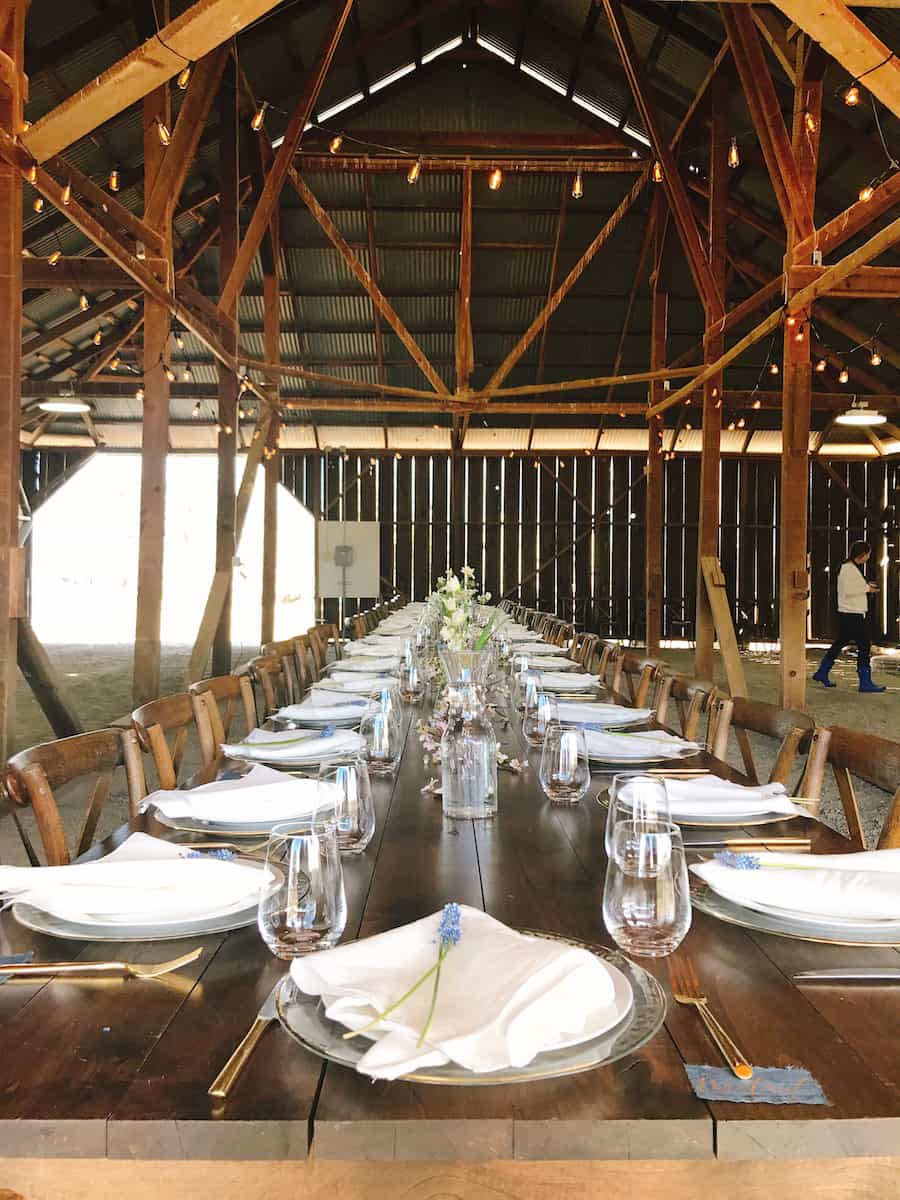 The grower we visited was born and raised in growing almonds. His family has been doing this for three generations and you could tell how passionate he was about his orchard. And to me, visiting an orchard like this, puts it all into perspective. I mean honestly, how many of us open up a carton of almond milk and think about the individual almonds and where they came from? I'm guessing pretty much no one.
But seeing this orchard in full bloom, hearing him talk about his selection process, and understanding the hard work that goes into it, gave me a newfound appreciation for almond milk (and really just almonds in general!).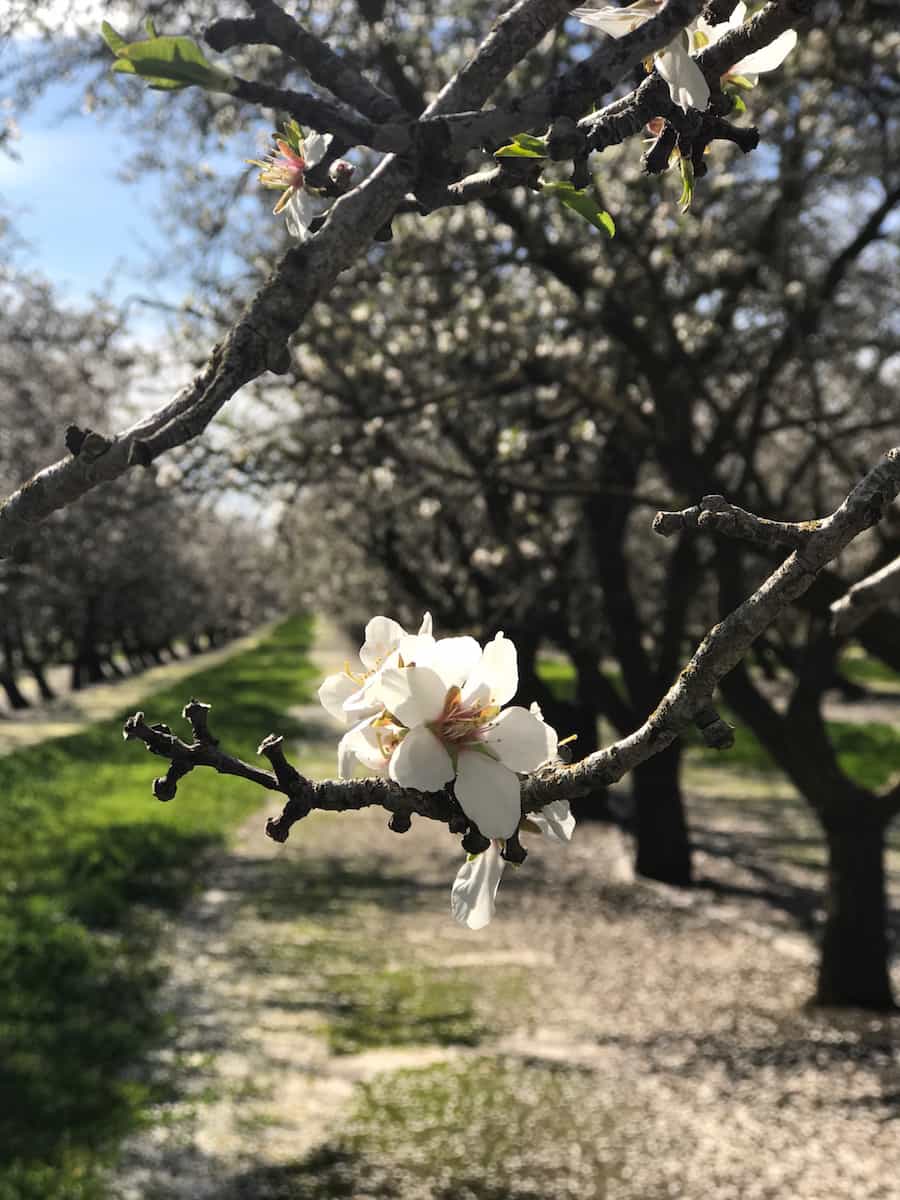 And did you know that the state of California produces over 80% of the world's almonds? Yes, world's! Isn't that crazy?! Crazy cool if you ask me 🙂 And Blue Diamond, the company who owns Almond Breeze, actually ships their almonds and almond products to over 90 countries worldwide. That's just incredible!
Okay, now you can go run to your kitchen and make these quinoa power breakfast bowls. I hope they warm your belly and energize you for a big day ahead!
And don't forget to share your topping creations with me 🙂 Tag me on Instagram (@simplyquinoa) so I can find your picture and give you some lovin'!
xo Alyssa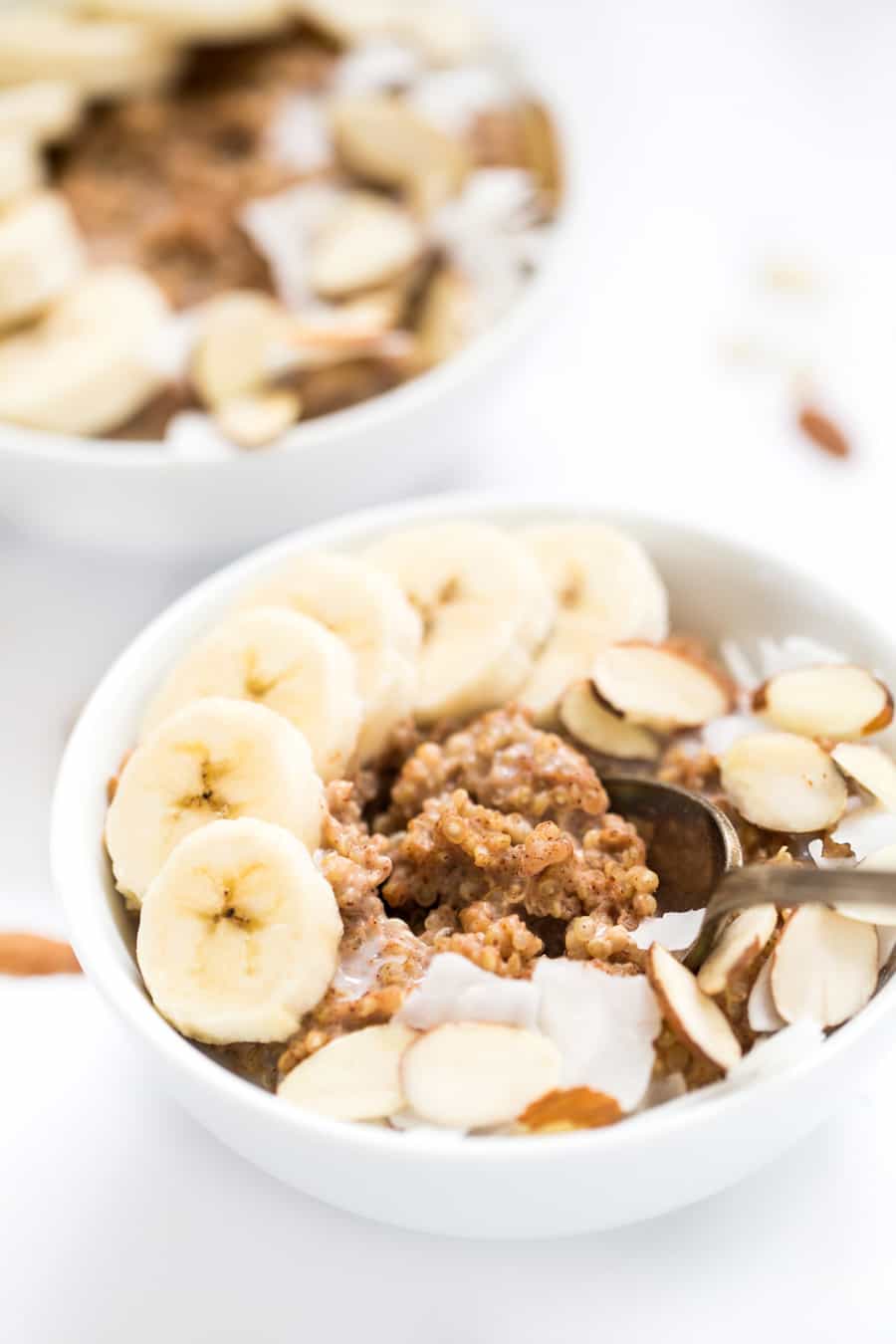 More Quinoa Breakfast Recipes to Try:

Quinoa Power Breakfast Bowls
Kick start your day with these delicious quinoa power breakfast bowls! They're a cinch to make, are packed with protein and will keep you energized all day long!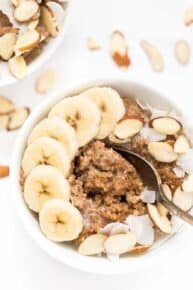 Instructions
Add quinoa and Almond Breeze into a small saucepan. Bring the mixture to boil, then reduce to simmer and cook for 15 minutes, stirring occasionally, until it's creamy and the quinoa is cooked. Stir in almond butter and maple syrup.

Transfer to two bowls and top with sliced banana, sliced almonds and coconut flakes.
Nutrition
Calories:
482
kcal
|
Carbohydrates:
56
g
|
Protein:
13
g
|
Fat:
24
g
|
Saturated Fat:
7
g
|
Sodium:
211
mg
|
Potassium:
716
mg
|
Fiber:
10
g
|
Sugar:
15
g
|
Vitamin A:
40
IU
|
Vitamin C:
5.1
mg
|
Calcium:
303
mg
|
Iron:
3.4
mg
Filed Under:
This recipe is brought to you in partnership with Blue Diamond Almond Breeze. As always, all opinions are my own. I only share companies I love and trust, so thank you for continuing to support Simply Quinoa!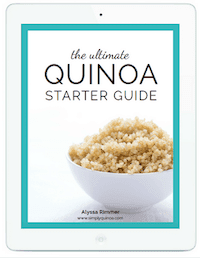 New to cooking quinoa? Grab your FREE Quinoa Starter Guide!
Become part of the Simply Quinoa community and receive weekly emails with exclusive content that I only share in email, as well as my in-depth guide to starting your quinoa journey.
Want more quinoa breakfast recipes?
Follow my board on Pinterest!