This is my at home spa day routine. It's a quick and easy self care routine that is perfect for the weekends. Includes face masks, pedicures, matcha + more!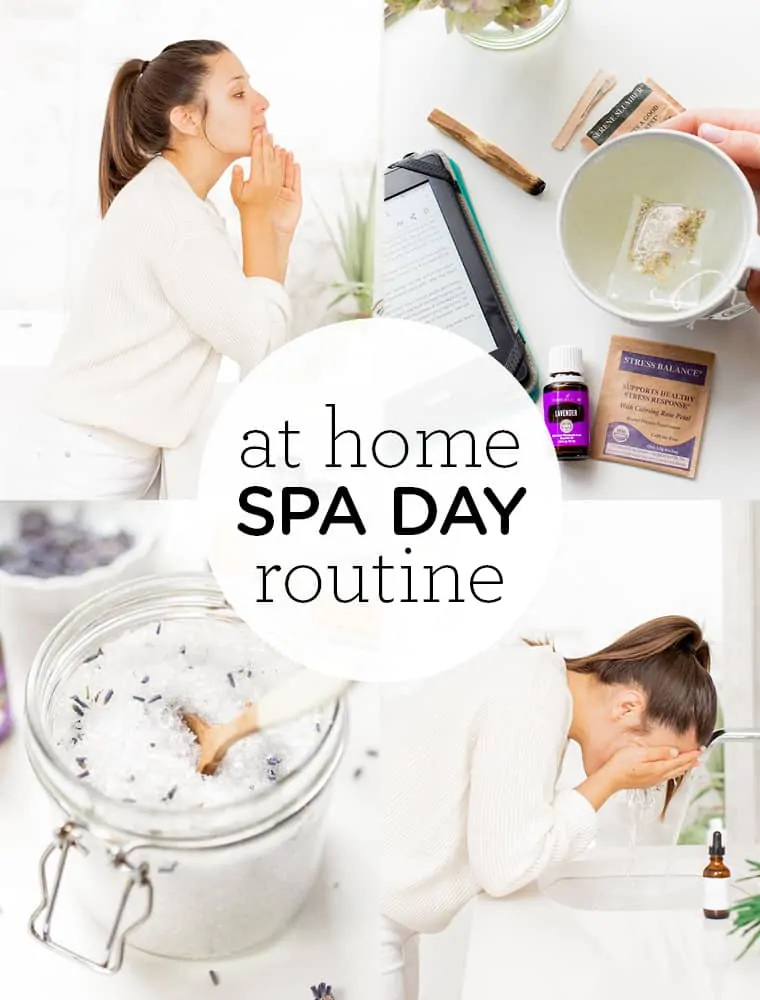 Now that spas are closed and we're home for the foreseeable future, I've been doing a lot of a weekly at home spa day. You can think of it as a self-care routine, a pamper yourself routine, or even just a longer morning routine that you might do on the weekends.
I'm going to share my specific routine, but I also wanted to encourage you to make it your own. Look for things that make you feel good. And don't put pressure on yourself to make the routine "perfect". As long as it's something that helps you relax and makes you feel nourished, you're doing it right!
What's Included in an At Home Spa Day?
As I said, your own spa day routine can be anything! But when I was creating mine, I thought about the services I liked to get done when I was at the spa.
Steam showers/saunas
Waxing
Facial treatments
Massages
Manicures/pedicures
Of course, not all these are options if you're alone/limited with your own space, but you can totally pick and choose things from that list to create your own routine.
My At Home Spa Day Routine
Okay so in addition to that video, I always want to detail each step of my process and include the exact products I use. I'm putting these steps in chronological order that I do them, but again, make it yours. Let's get into it!
1. Waxing at Home
Ever since quarantine started, my waxing places have been closed. I've been a devoted waxer for 10+ years so I wasn't about to go back to shaving. That meant I had to learn to do it myself. Scary sounding I know, but it's actually not as bad as it seems.
If you've been getting waxed at a spa/waxing studio then you probably know the general method they follow. The main thing I focused on was finding a wax that I could just heat in the microwave (instead of having a plugin warmer). I found this at home waxing kit that had good reviews on Amazon and it's worked really well!
Some tips for waxing at home:
Use some baby powder or starch on the hair first to help the wax stick to it
Test the temperature of the wax on your wrist first – the areas you wax tend to have more sensitive skin and it's easy to burn
Spread the wax in the direction that the hair grows
Place the waxing paper onto the wax and rub it a few times so it really adheres to the wax
Pull the strip in the opposite direction of the hair growth
Remove excess wax or sticky areas with some oil on a cloth or paper towel
Otherwise, it's pretty darn simple! Watch my waxing tutorial in my at home spa day video.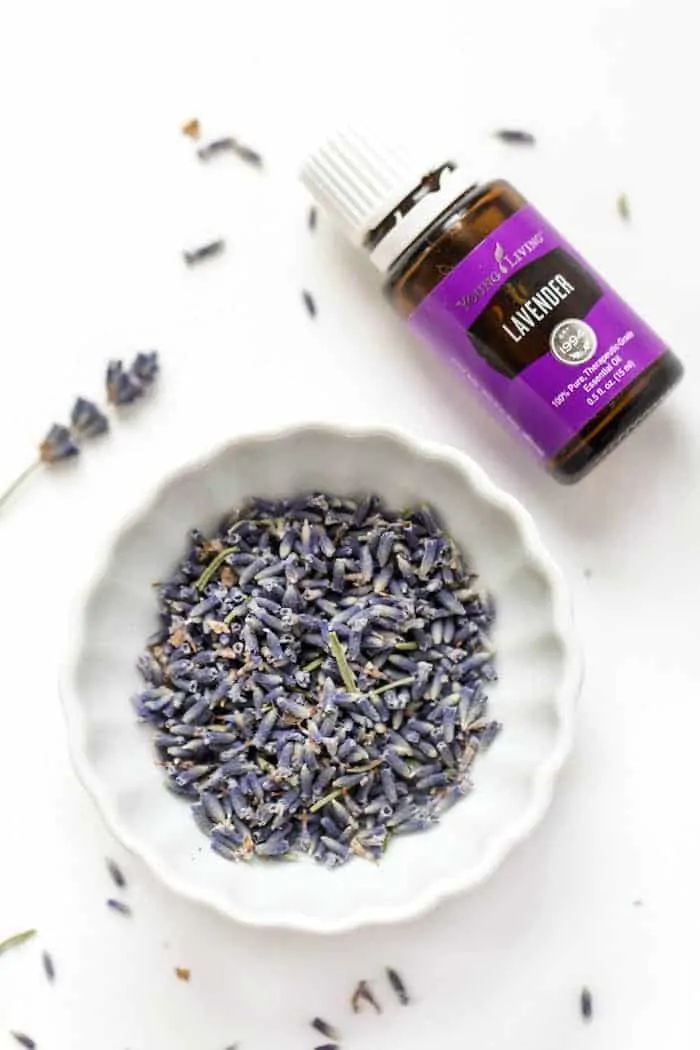 2. Steam Shower with Oils
The next step is a shower! I usually follow this routine after my morning workout, so I love to rinse off, shave my legs and get all nice and clean before I do my facial routines.
A simple way that you can make your shower a bit more luxurious is to use essential oils. Drop a few essential oils into the tub before your shower and it will smell amazing. Some of my favorite ones are:
lavender
eucalyptus
lemon
Or any sort of energy blend! My favorite essential oil brand is Saje Wellness – they have some awesome blends and a really high-quality product.
3. Non-Toxic Face Mask
Post-shower it's time for my face mask. If you've been reading/following for a while then you know I'm a BIG fan of face masks. It's been a regular part of my routine for years and I notice a huge difference in my skin.
What I love about using face masks is that you can tailor them based on what your skin is feeling.
Here are some of my favorite non-toxic face masks: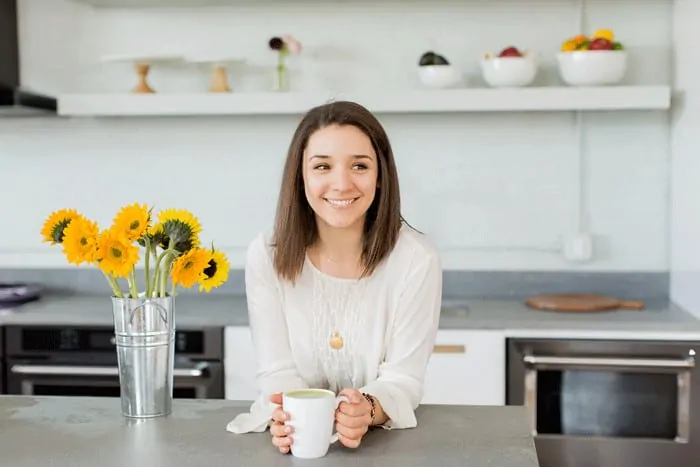 4. Matcha Latte: Favorite Morning Drink
Post-mask it's all about relaxation. I start by heading into my kitchen to make my matcha. Since I usually do my at home spa day in the morning, this just becomes part of my morning routine.
If you have a favorite morning drink – whether it's your coffee, tea, smoothie, etc. – I encourage you to make it. It will make you oh so happy and be such a lovely part of your routine.
Here's the recipe for my Everyday Pumpkin Spice Matcha Latte – soooo yum!
5. Reading
Many times when you're having a spa day, you have some time to relax. You're not necessarily jumping from treatment to treatment. So build that into your at-home routine as well.
For me, that means enjoying my matcha with my book. I like to sit on my couch, read a few chapters, and then get to my pedicure.
6. At-Home Manicure/Pedicure
This step in my at home spa day isn't an always, but it's a sometimes. If I'm feeling like I want to feel a little extra jazzy, I'll give myself a manicure or pedicure. I always make sure to use a non-toxic nail polish, and I often like to go with bright, bold colors.
Here are some great non-toxic nail polish brands: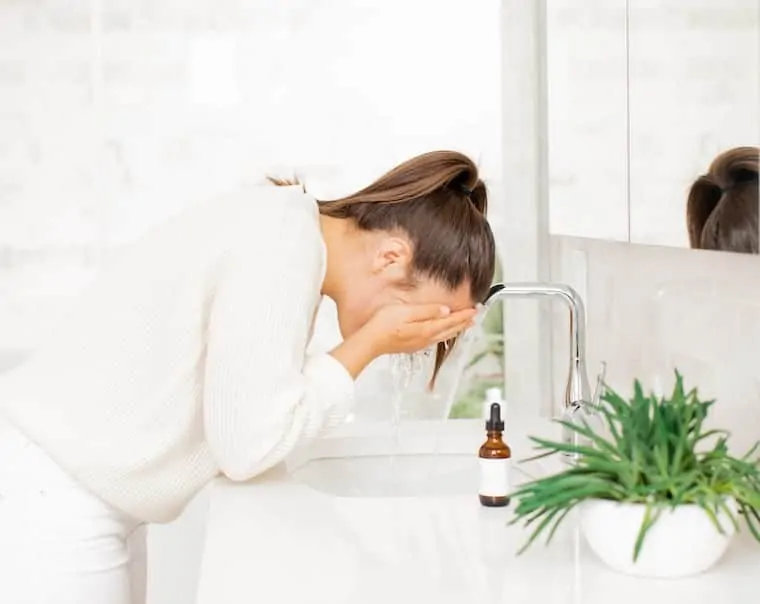 7. Nourishing Facial Routine
The last step in my spa day is finishing my facial routine. I'll wash my mask off – if I haven't already – then go to my skincare routine. Now my skincare routine changes with the season and if you watched the video, then I filmed that during the summer.
Depending on when you're reading this post, things might be slightly different, but at this moment in time, here's the non-toxic skincare routine I'm using and loving:
And that's it! Simple, clean, light, and really effective!
What's Your Self-Care Routine?
I'd love to know what you might do for self-care. Whether it's your standard weekend morning routine or simply something you like do to take care of yourself, let me know in the comments.
And if you're completely lost as to what this whole "self care" thing means, here are some helpful resources for you.
Self-Care Resources & Tips