This tasty chopped quinoa salad is made with delicious autumn vegetables like brussels sprouts and sweet potato and is tossed in an apple cider dressing.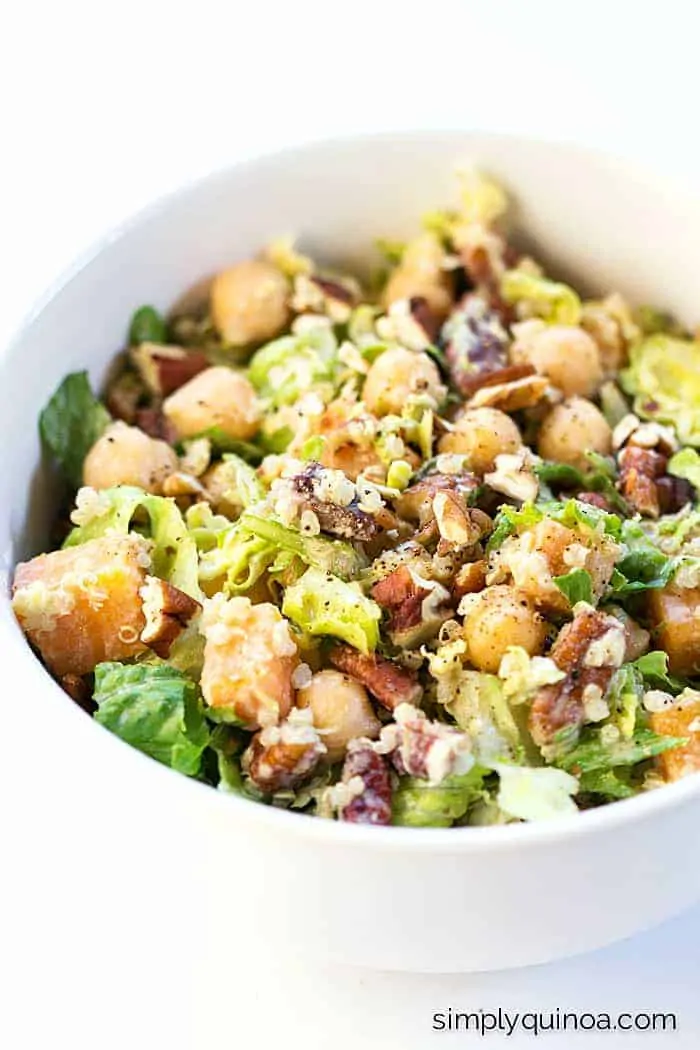 I've been in Vermont for the past three and a half weeks. My stay was unexpectedly extended, but honestly, I couldn't be happier. It's my favorite time of year to be here; we've had a surprisingly warm start to the month AND it's been an absolute record apple season.
I mean there are apples everywhere!
Not just exploding off the shelves at the store or at our local farm stand, but the wild apple trees that grow by the sides of the road and the people who have just one or two trees planted in their yards, those trees are just bursting with fruit. It's incredible!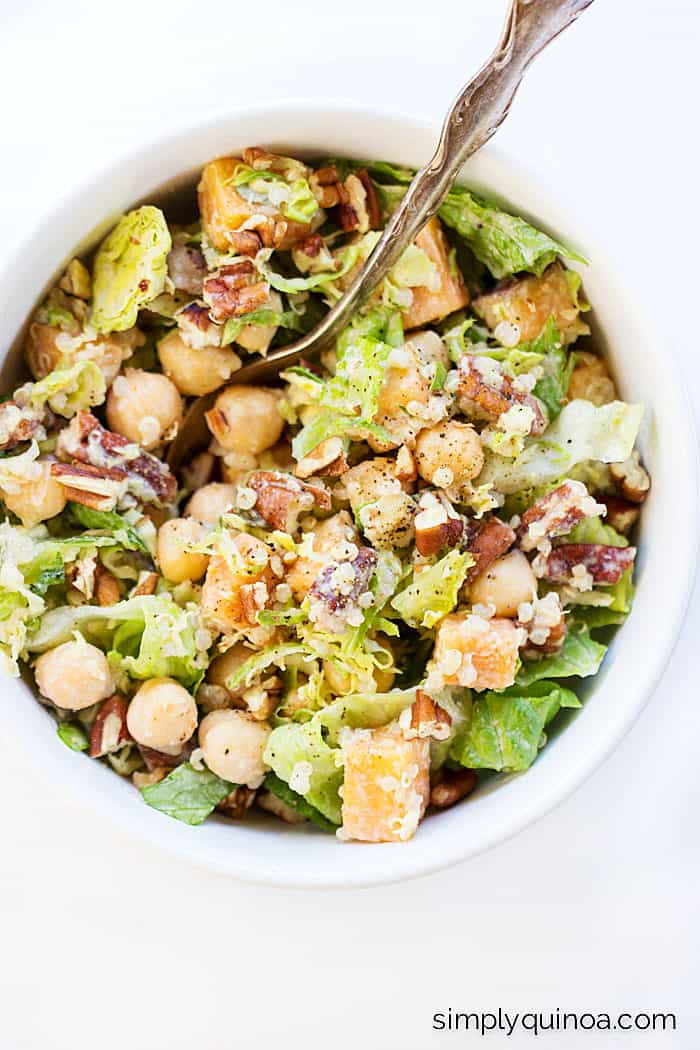 So we've been eating lots of apples. We've made crisps and pies, applesauce and even some slow cooker apple butter, but my favorite thing has been cider.
Cider isn't something you can really make with just any old tool. Well now that I say that, I guess you could make it in a juicer, but then you're really just drinking apple juice, not technically cider. (<– although I'm not quite sure what makes it cider over apple juice anyway)
BUT this is all the besides the point. The point is, during my time in Vermont, I actually got to make cider! From start to finish – we picked the apples from the trees, chopped them and ground them up, then pressed them into cider. And it's the best cider I have ever tasted.
ALSO, I made you a video of the whole process! (it was on my iPhone so not the best quality, but you'll still get to see us making it!)
That day we pressed at least 5 gallons of cider and we took home about 2 of them.
Cider itself does last a fairly long time in the fridge, but we've been eager to use it up since it tastes so delicious. We've mulled some for afternoon drinks, used it for the base of our smoothies and warm cereals, made some into donuts (which I still need to perfect), and last but not least dressing. This dressing.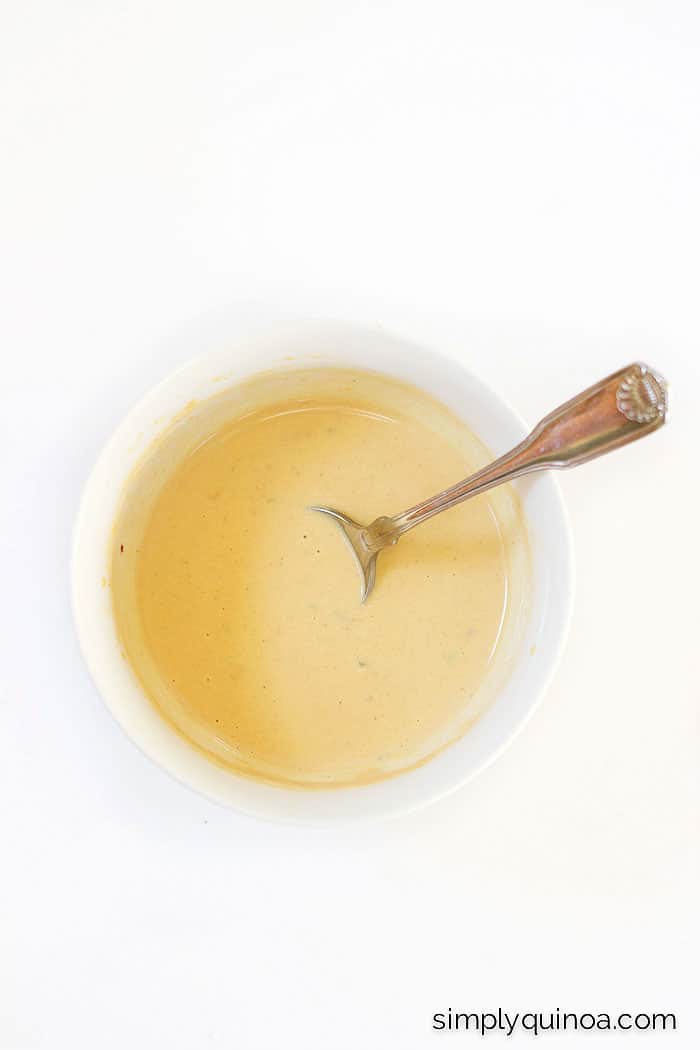 I was dreaming of my chopped quinoa salad from over the summer, but it needed an autumn spin. The dressing was what I love most about that salad, so that's actually where I started with today's recipe.
Tahini was a given because, well it's tahini and I pretty much eat it on everything, but from there I had a little fun. Instead of water, I used our fresh-pressed apple cider. For some tang, I added lemon juice and apple cider vinegar. I wanted to go more earthy with the fresh herbs so I used sage instead of chives. Then hit the whole thing with a sprinkle of salt, pepper, and red pepper flakes.
Oh my goodness, I wanted to drink it. It's insanely delicious!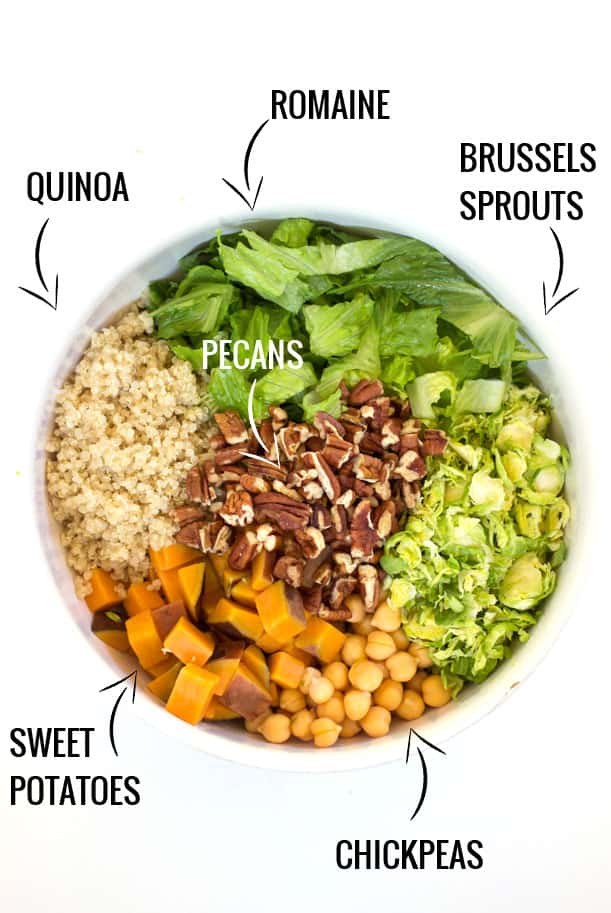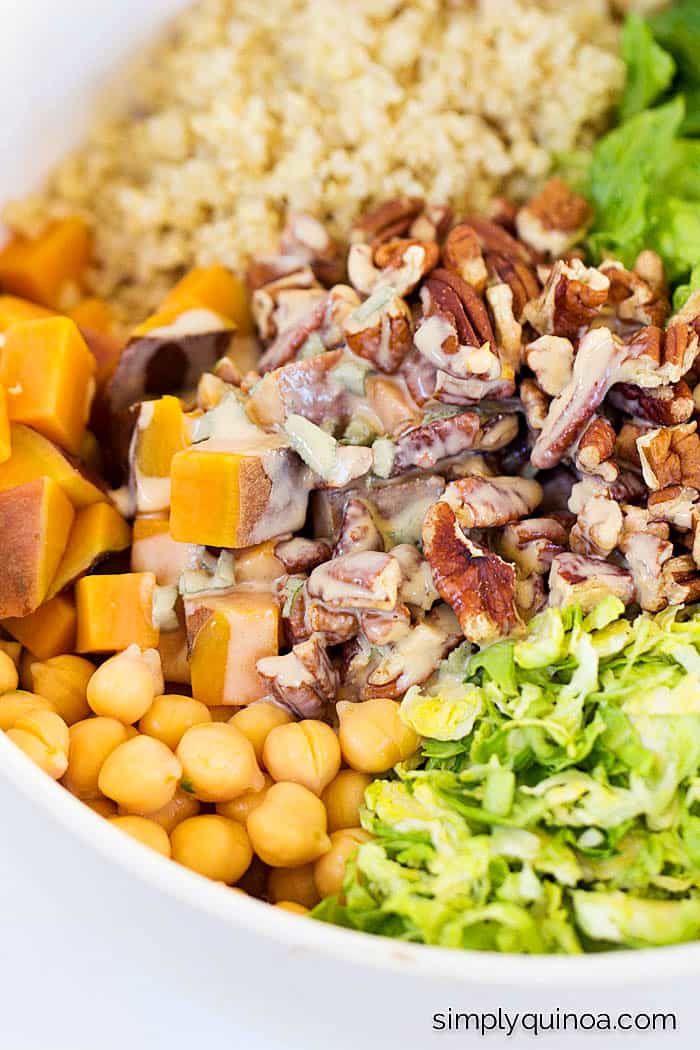 For the base of my salad, I went with veggies I could find at our local farm stand. The base was romaine just like last time, but I added in raw shredded brussels sprouts, steamed sweet potatoes, chickpeas, quinoa and crunchy pecans.
It was the perfect balance of texture and flavor. With soft, crunchy, raw, cooked, nutty and sweet, it's a salad that I know I'll be enjoying all season long.
And you know what? I hope you will 🙂 It's quick, easy, filling, comforting and tasty!
More Healthy Fall Salad Recipes to try:
Autumn Chopped Quinoa Salad with Apple Cider + Tahini-Sage Dressing
A salad that is quick, easy, filling, comforting and tasty!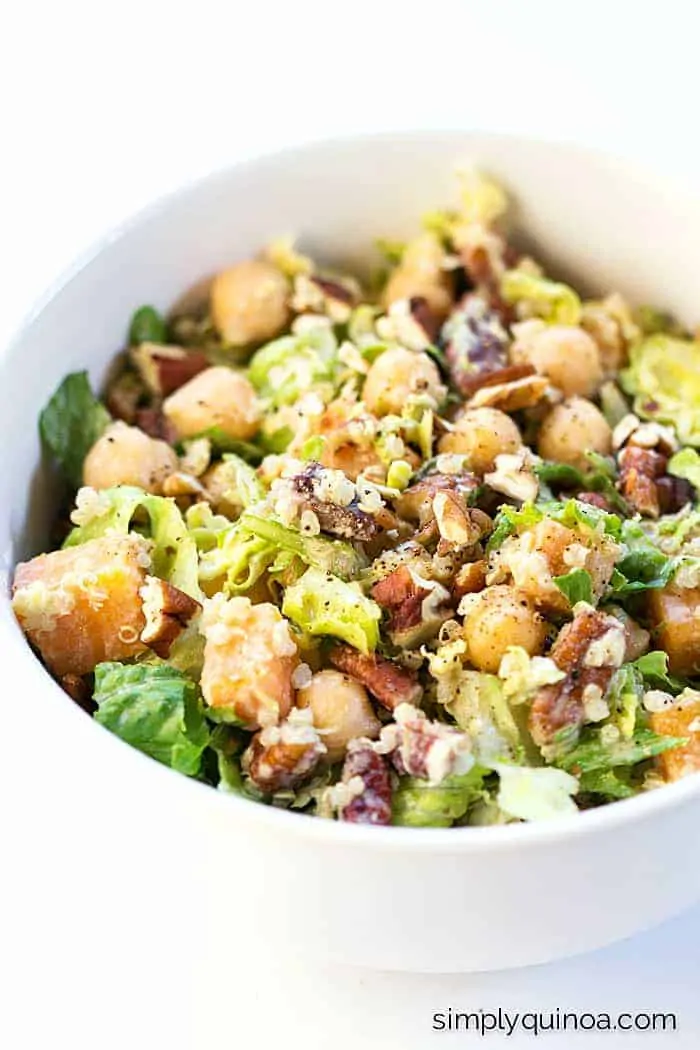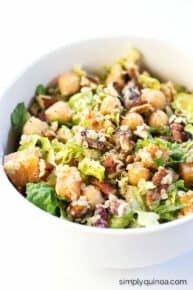 Ingredients
1

cup

diced sweet potatoes

steamed and cooled

2

cups

chopped romaine

1

cup

shredded brussels sprouts*

1

cup

chickpeas

1/2

cup

quinoa

1/2

cup

chopped pecans


Instructions
Steam the sweet potatoes for about 10 minutes until tender. Rinse under cool water and allow to cool completely.

In a large mixing bowl, combine romaine, brussels sprouts, chickpeas, quinoa, pecans and cooled sweet potatoes. Set aside.

In a small bowl, whisk together the dressing ingredients. Taste and adjust seasoning with fresh pepper if desired.

Pour dressing over salad and toss to combine.

Serve salad immediately (or chill for no more than 20 minutes). Garnish with additional chives and chili flakes if desired.
Notes
*To shred the brussels sprouts, either use a knife to slice them very thinly or use a box grater on the largest setting, a mandolin slicer or a food processor.
Nutrition
Calories:
715
kcal
|
Carbohydrates:
81
g
|
Protein:
22
g
|
Fat:
36
g
|
Saturated Fat:
3
g
|
Sodium:
658
mg
|
Potassium:
1234
mg
|
Fiber:
17
g
|
Sugar:
12
g
|
Vitamin A:
14010
IU
|
Vitamin C:
45.8
mg
|
Calcium:
165
mg
|
Iron:
7.5
mg
Filed Under: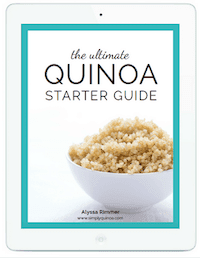 New to cooking quinoa? Grab your FREE Quinoa Starter Guide!
Become part of the Simply Quinoa community and receive weekly emails with exclusive content that I only share in email, as well as my in-depth guide to starting your quinoa journey.