These cozy harvest quinoa bowls feature roasted squash and brussels sprouts, steamed kale, and spiced chickpeas. The perfect nourishing meal for a chilly day. 
These bowls are great for meal prep, they're naturally gluten-free and vegan, and they're simple to make!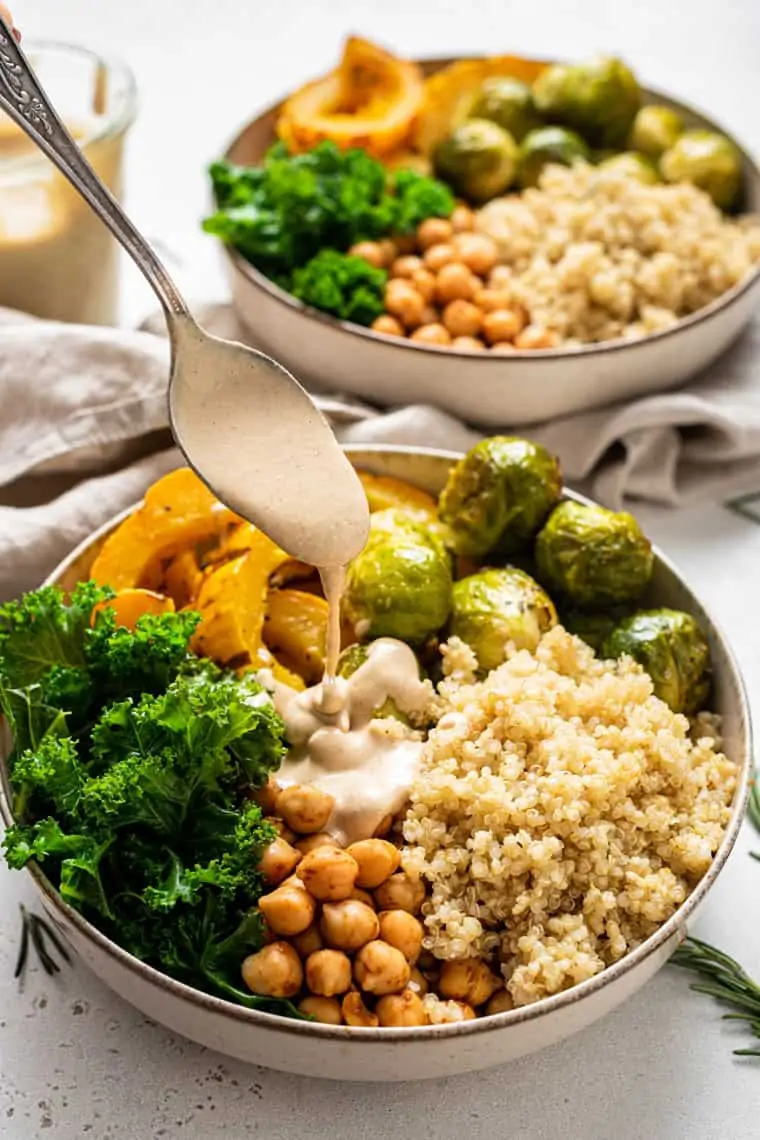 AND they feature some of my favorite fall produce:
roasted squash (delicata)
crispy brussels sprouts
steamed kale
spiced chickpeas
All drizzled with a creamy tahini dressing.
But my favorite thing about this recipe is that it can be easily customized with the ingredients you have on hand. It's a hearty, comforting, and delicious autumn-inspired recipe!
Prefer to Watch Instead of Read?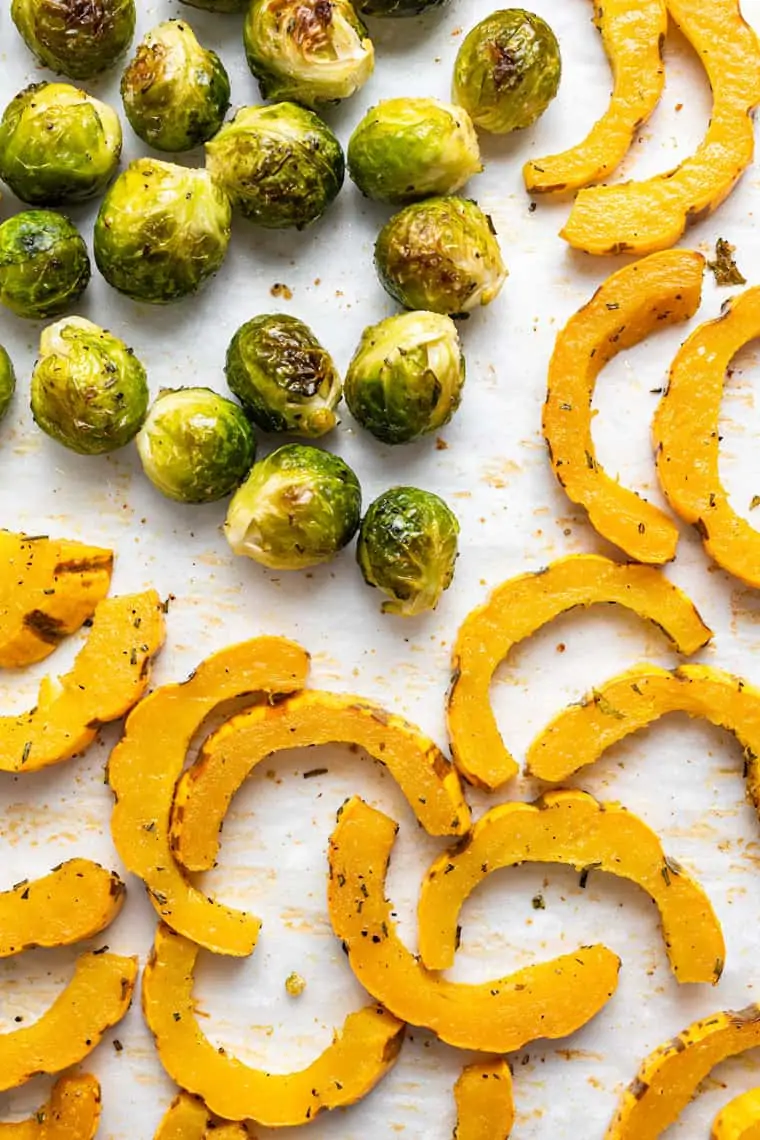 How to Make Harvest Quinoa Bowls
When I think about a quinoa bowl, or any bowl with a base of grains, I use a simple formula. I like to start with quinoa or another whole grain on the bottom. Then add a mixture of colorful vegetables to maximize nutrition.
I love combining some sort of starchy vegetable (like squash or sweet potato), a green vegetable and dark leafy greens. For protein, I'll add a plant-based source like nuts or beans. And of course, I top it with a creamy drizzle of homemade dressing.
This harvest quinoa bowl is no different!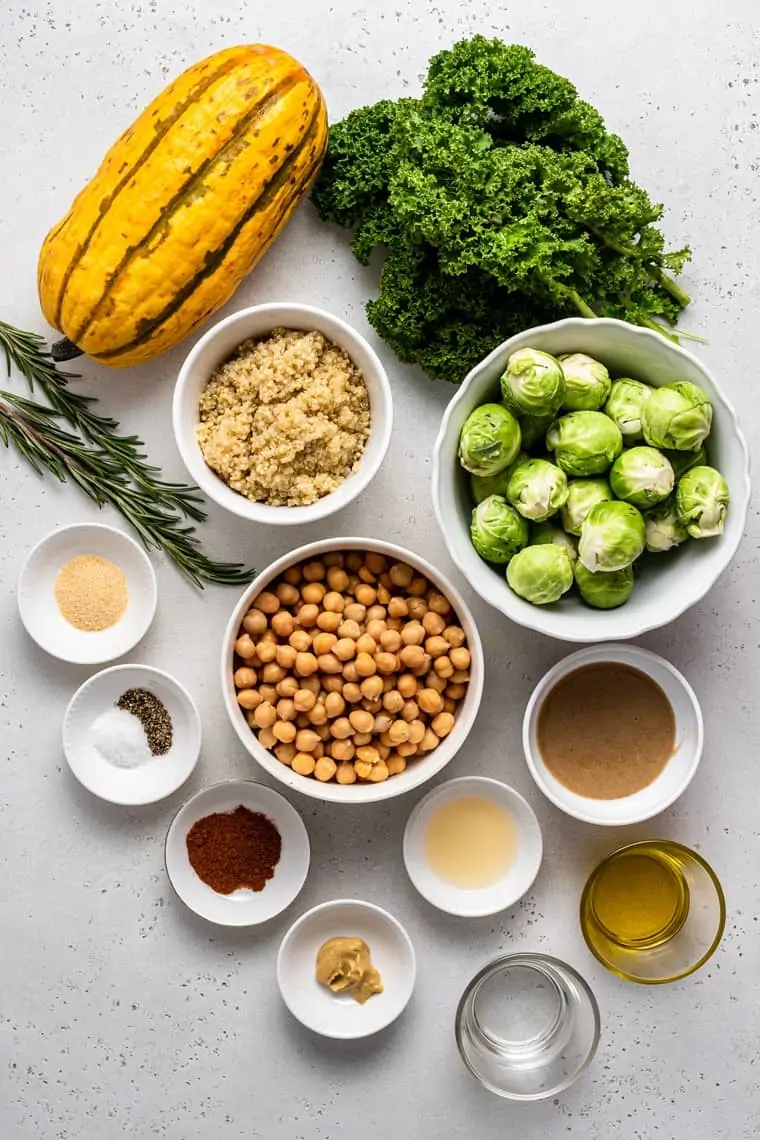 Ingredient Notes
Here's what you'll need to make these simple, seasonal grain bowls:
Squash. You can use any kind, but I love delicata. Butternut, acorn, or even sugar pumpkin will all work well.
Brussels sprouts. The great part about pairing squash and Brussels is that they roast at about the same rate, so you get crispy on the outside, soft on the inside veggies.
Olive oil. to help the veggies crisp up and add flavor.
Fresh rosemary. For seasonal herby goodness.
Garlic powder. You can also use minced fresh garlic if you prefer.
Kale. Steaming the kale makes it easier to eat and digest!
Chickpeas. A great no-cook vegan protein source for your grain bowls.
Smoked paprika. I like to add a touch of warm smoky flavor to the chickpeas.

What is Delicata Squash?
Delicata squash, if you aren't familiar with it, tastes kind of like acorn squash but it has a more delicate skin. So while you could peel it, you certainly don't need to.
I often slice the squash into half-moons and simply roast them until tender.
Ingredient Swaps and Substitutions
If you don't have every ingredient to make these bowls, that's no problem! HEre are a few simple swaps or additions you can make with the ingredients on hand:
Use any kind of whole grains instead of quinoa. Farro, barley or brown rice are all great options.
Swap rosemary for any other fresh herbs you love. I'd try thyme, oregano or parsley.
Add extra spices to your chickpeas, such as cumin or cayenne if you like extra heat.
Swap chickpeas with another protein sources, such as nuts (pecans, walnuts or hazelnuts will work) or another bean, like black or white beans. Tofu would work too!
Replace kale with another leafy green or veggie like spinach, broccoli or chard
Add sweetness with dried cranberries or dates!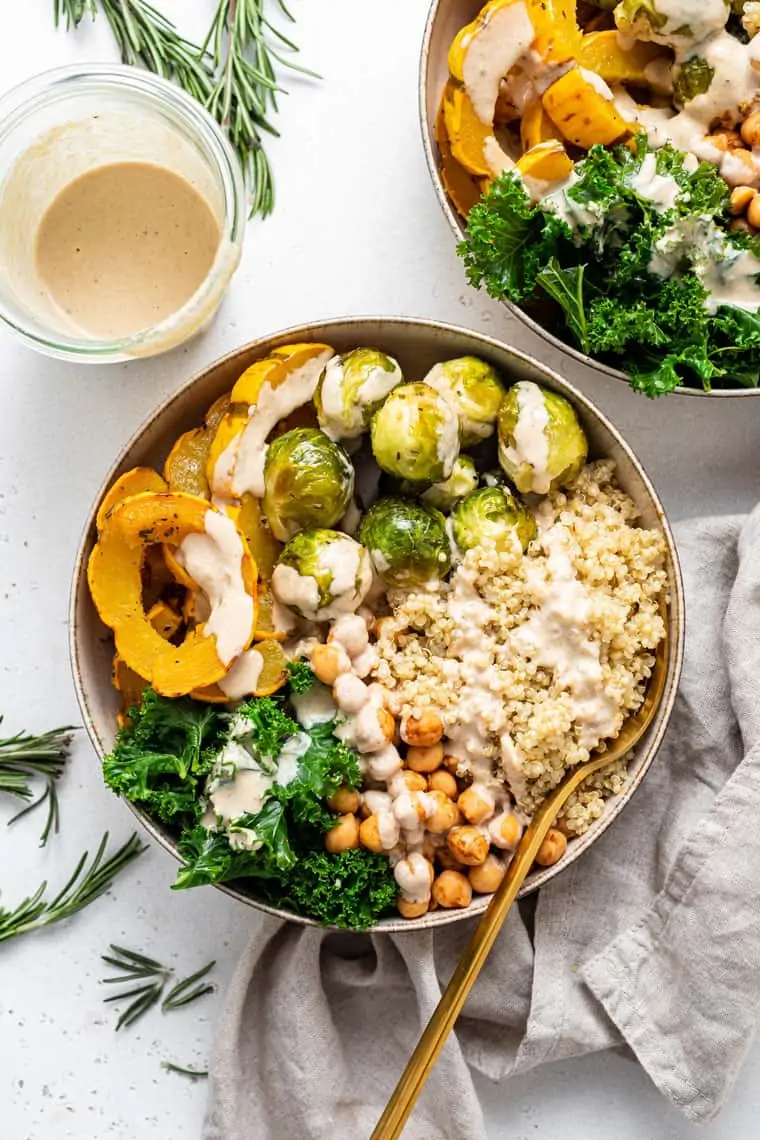 Creamy Tahini  Dressing
The homemade sauce on these grain bowls really brings everything together. Plus, you can use it on much more than quinoa bowls! Here's what you need to whip it up:
Tahini
Apple cider vinegar
Dijon mustard
That's right, just three ingredients (plus water, salt and pepper). And you can use this delicious dressing on any salad!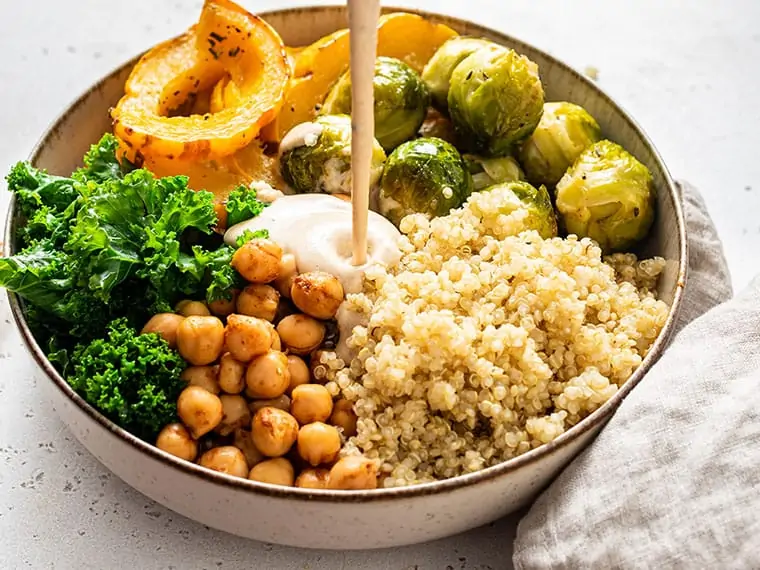 Meal Prep Quinoa Bowls
This dish is really easy to meal prep. You can whip up everything ahead of time, pre-portion it out into containers, and have it for meals all week long! Leave the dressing off until just before serving.
It won't take you more than 40 minutes to make this entire dish, which will end up saving you so much time during the week. Isn't it such a great feeling when you don't have to worry about cooking?
More Easy Meal Prep Friendly Recipes to try:
If you make these Harvest Quinoa Bowls, be sure to let me know what you think with a comment below!
Autumn Harvest Quinoa Bowls
These easy meal-prep-friendly Harvest Quinoa Bowls are topped with steamed quinoa, brussels sprouts and high-protein chickpeas.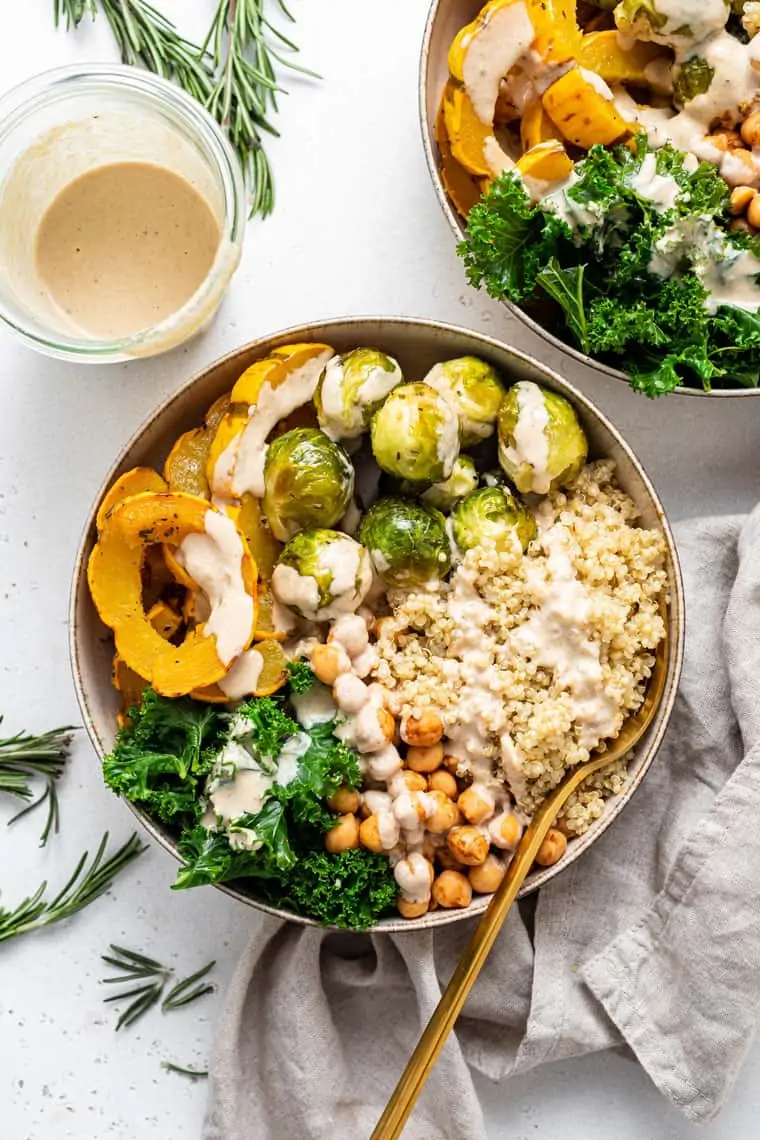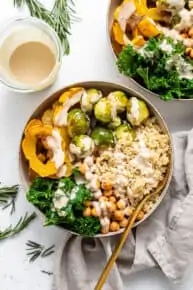 Instructions
Preheat the oven to 400ºF.

Cut the squash in half lengthwise and scoop out the seeds. Cut into half moon shapes, about 1/2" thick.

Add the squash along with the brussels sprouts, oil, rosemary, garlic powder, salt and pepper into a large bowl, and toss to combine. Transfer this mixture to a baking sheet and roast on the center rack for 30 minutes, flipping halfway through.

While the veggies are roasting, steam the kale in a large steamer basket. Set this aside.

In a separate bowl, toss together the chickpeas and paprika.

Assemble the bowls by dividing the quinoa, kale, chickpeas and roasted veggies evenly between two bowls.

In a separate bowl, whisk together the dressing ingredients. Pour the dressing over the two bowls and enjoy immediately.
Nutrition
Calories:
624
kcal
|
Carbohydrates:
89
g
|
Protein:
27
g
|
Fat:
22
g
|
Saturated Fat:
2
g
|
Sodium:
1030
mg
|
Potassium:
2203
mg
|
Fiber:
20
g
|
Sugar:
7
g
|
Vitamin A:
14355
IU
|
Vitamin C:
223.9
mg
|
Calcium:
362
mg
|
Iron:
8.9
mg
Filed Under: