These simple broccoli quinoa burgers take the classic broccoli cheddar flavor and turn them into a tasty vegan meal. Easy to make, gluten-free and freezer-friendly!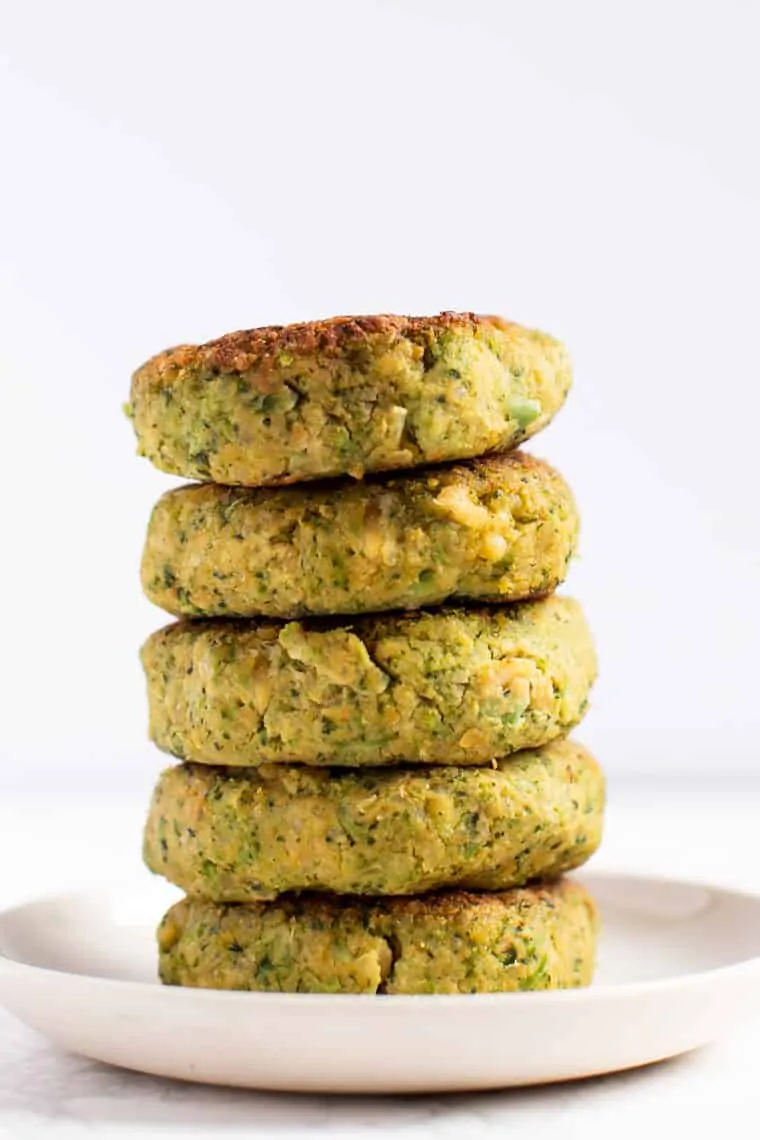 I've always loved the broccoli cheddar combination. I don't know who invented it, but dang. It's so good!
And while I used to love eating broccoli cheddar soup by the bowl-full, it's not so easy to do that now that I'm dairy-free. But the flavor combo? Still totally achievable. And today we're mixing things up and throwing it into a burger!
These broccoli quinoa burgers have a slightly "cheesy" flavor thanks to nutritional yeast. They also are so easy to make, use 10 ingredients and are great on top of salads or as a vegan main!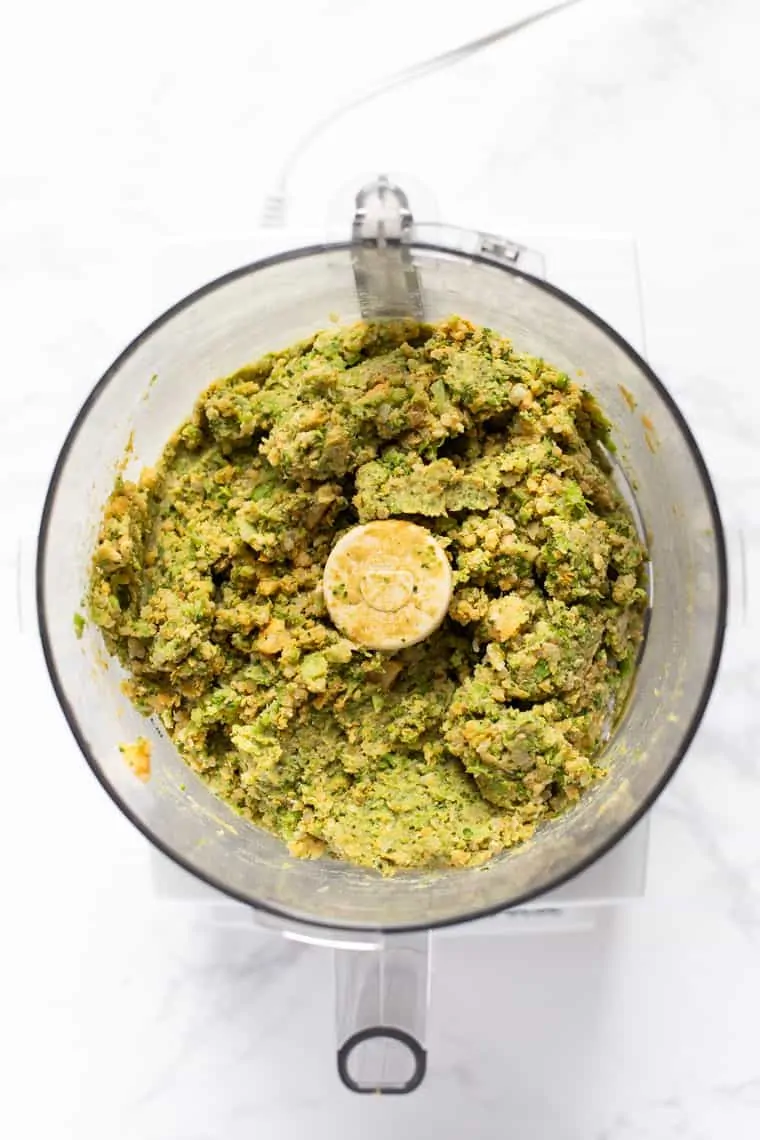 The Many Sides of Quinoa Burgers
I honestly love making homemade burgers. They're such a great thing to have on hand both for easy lunches or grab-and-go dinners. We basically always have a stockpile in our freezer.
And yes, I love adding quinoa to them.
Quinoa burgers are such a simple meal, but what makes them so special is that there are literally one hundred million ways we can make them. You can use:
And so many more! I'm linking even more below!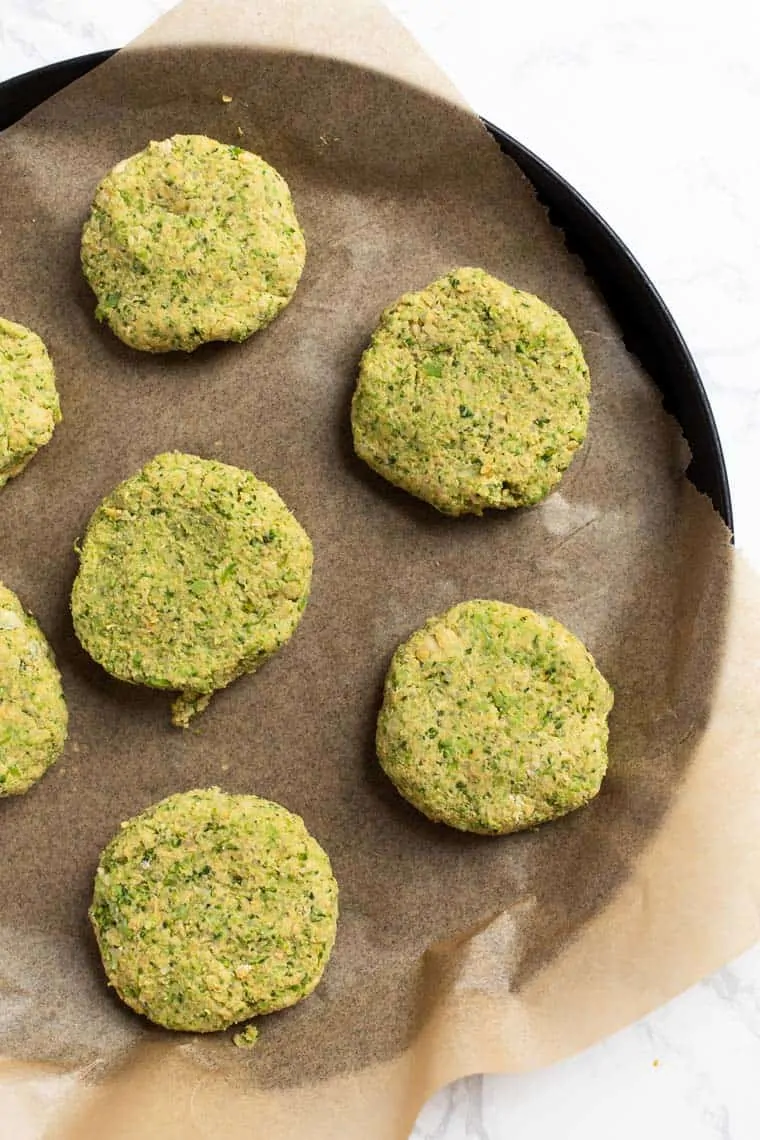 Ingredients for Broccoli Quinoa Burgers
So for today's recipe, we're using the base of beans. Specifically, chickpeas since they have a mild flavor and allow the color of the broccoli to really shine. In addition to the chickpeas, here's what else we're using:
Broccoli: we start by steaming some broccoli florets. We're using 3 whole cups in this recipe so they're packed with fiber and broccoli flavor!
Cooked quinoa: I love using cooked quinoa as a binder in burgers. It adds protein, helps give the burgers a nice texture and it tastes really great.
Whole grain mustard: mustard will add a nice little kick of flavor!
Nutritional yeast: our cheesy flavor is coming from nutritional yeast which is high in protein, delicious and also often fortified with vitamin B12.
Garlic powder: the other flavor for our broccoli quinoa burgers is garlic powder. It's such an easy way to get that garlicky flavor without the hassle of chopping garlic.
Quinoa flour: and finally, quinoa flour! The flour absorbs some fo the moisture and helps the burgers hold together as they cook.
And of course, we're also using salt and pepper!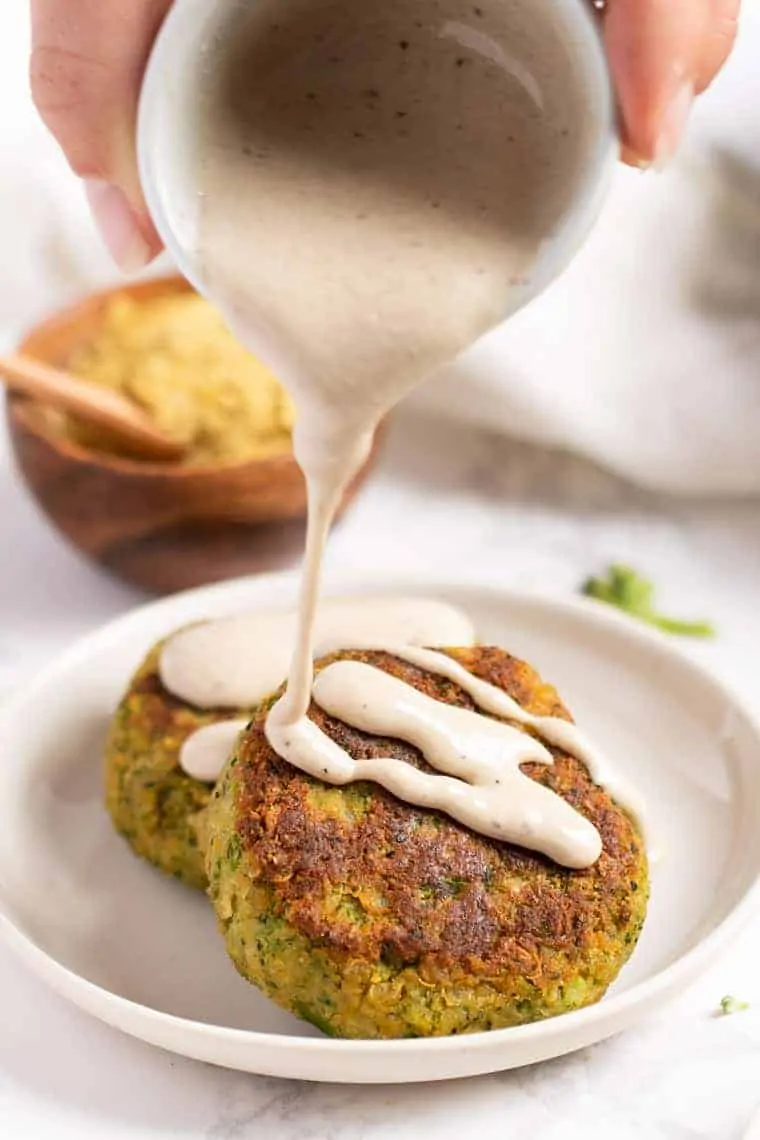 High Protein Veggie Burgers
Since our base is quinoa, beans, and nutritional yeast, we're packing a punch in the protein department. Each little burger (I usually eat two or three) contains 5 grams of plant-based protein. So they're filling and they're absolutely delicious!
Broccoli, I know can be a touchy subject, especially in a household of kids. Personally, I freaking love broccoli, but I think these burgers will convince even the pickiest of eaters. If broccoli is an absolute no-go for you or your fam, you can totally swap with cauliflower!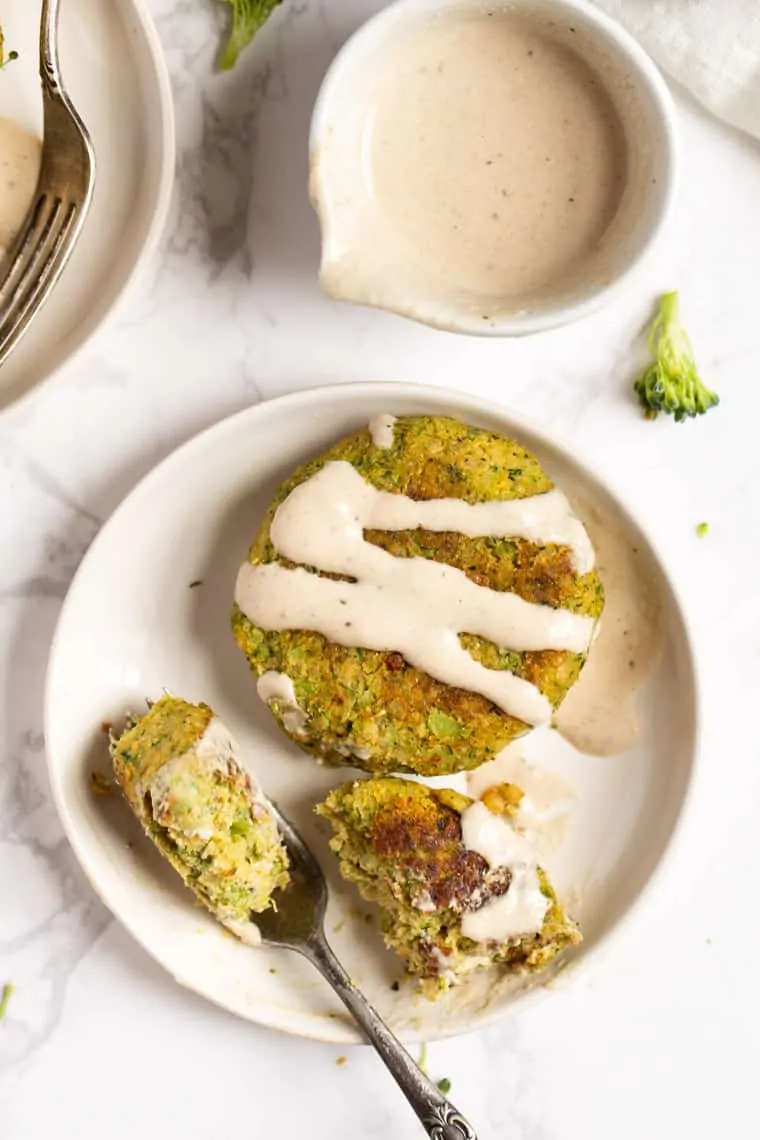 The Best Toppings for Veggie Burgers
These broccoli quinoa burgers are tender, light and make the perfect dinner or lunch. You could also make them into little balls and use them as an appetizer at your next party. They'd be delicious dipped in my vegan alfredo sauce!
I love topping them with:
Mashed avocado
Sliced tomatoes & melted vegan cheese (yum!)
But no matter who you top them, I know you're going to love them! Make sure to share a photo with us on Instagram by tagging @simplyquinoa and sharing in your story!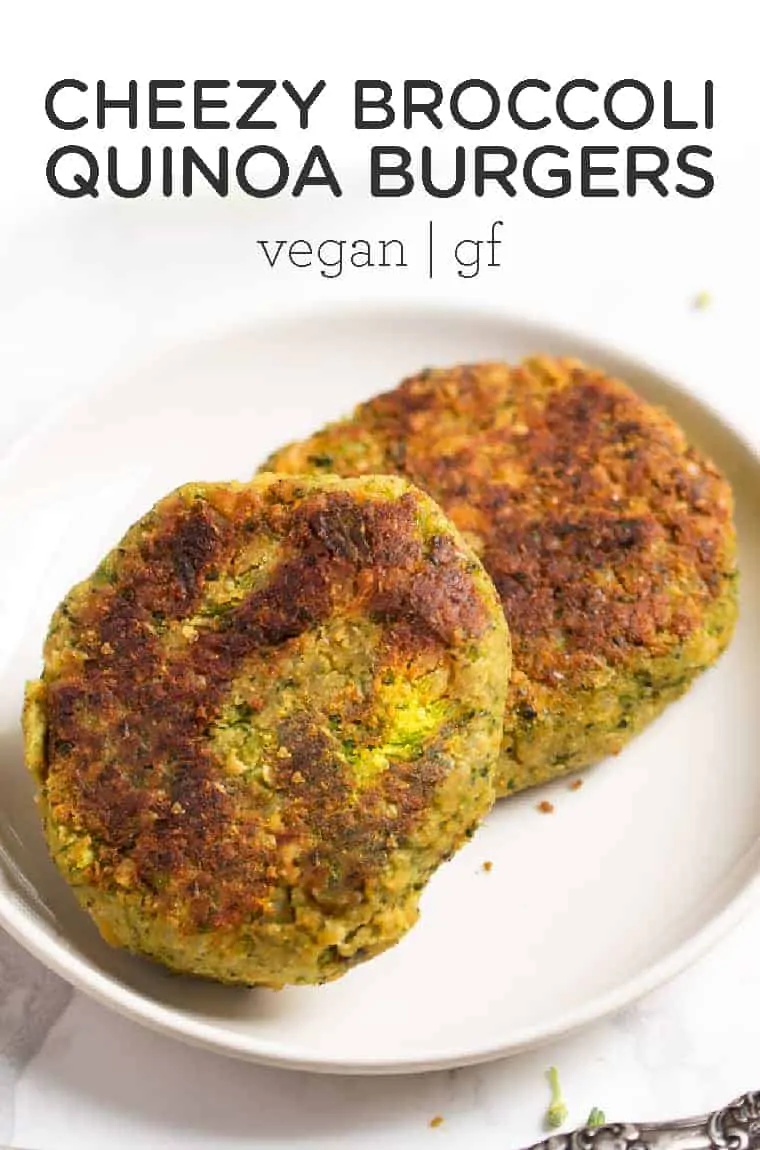 More Easy Veggie Burgers to try:
Cheezy Broccoli Quinoa Burgers
The classic broccoli-cheddar combo has been recreated, but with a vegan twist and turned into quinoa burgers. They're just as good as they sound.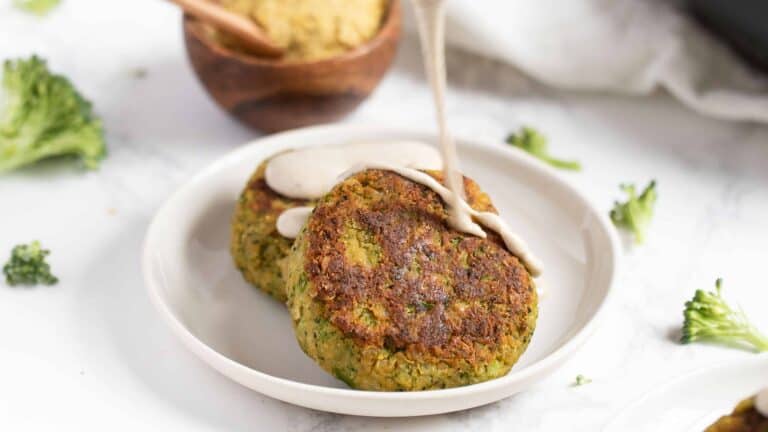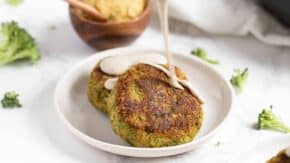 Instructions
Steam broccoli until tender, either using a steamer basket or just in a small pan with a little water in the bottom. Drain and let cool until cool enough to handle.

Once cool, add broccoli to a food processor and pulse until chopped into very small pieces, 10 - 15 pulses. Add chickpeas, quinoa and mustard and pulse until a dough starts to form.

Transfer mixture to a bowl, add in remaining ingredients (starting with 4 tablespoons quinoa flour) and knead by hand until dough can be formed into patties, adding more quinoa flour as needed.

Form dough into patties and place on a parchment lined sheet / plate. Chill in fridge for at least 1 hour.

Cooking options:

1) Heat oil over medium high heat. To test if it's ready, sprinkle a little water on the pan. If water immediately sizzles, the pan is ready. Add burgers to pan, cooking until browned on both sides, 2 - 3 minutes per side. Place on wire rack to cool while finish cooking.

2) Preheat oven to 350 degrees F. Line a baking sheet with parchment, add patties and bake on the center rack for 20 - 30 minutes, flipping halfway through, until burgers are crispy.
Nutrition
Serving:
1
burger
|
Calories:
95
kcal
|
Carbohydrates:
15
g
|
Protein:
5
g
|
Fat:
2
g
|
Saturated Fat:
1
g
|
Sodium:
147
mg
|
Potassium:
230
mg
|
Fiber:
4
g
|
Sugar:
1
g
|
Vitamin A:
176
IU
|
Vitamin C:
24
mg
|
Calcium:
32
mg
|
Iron:
1
mg
Filed Under: