These butternut squash white bean burgers are simple to make and packed with bold flavor from smoky chipotles in adobo. These veggie patties bake up golden and crispy in the oven with the best texture!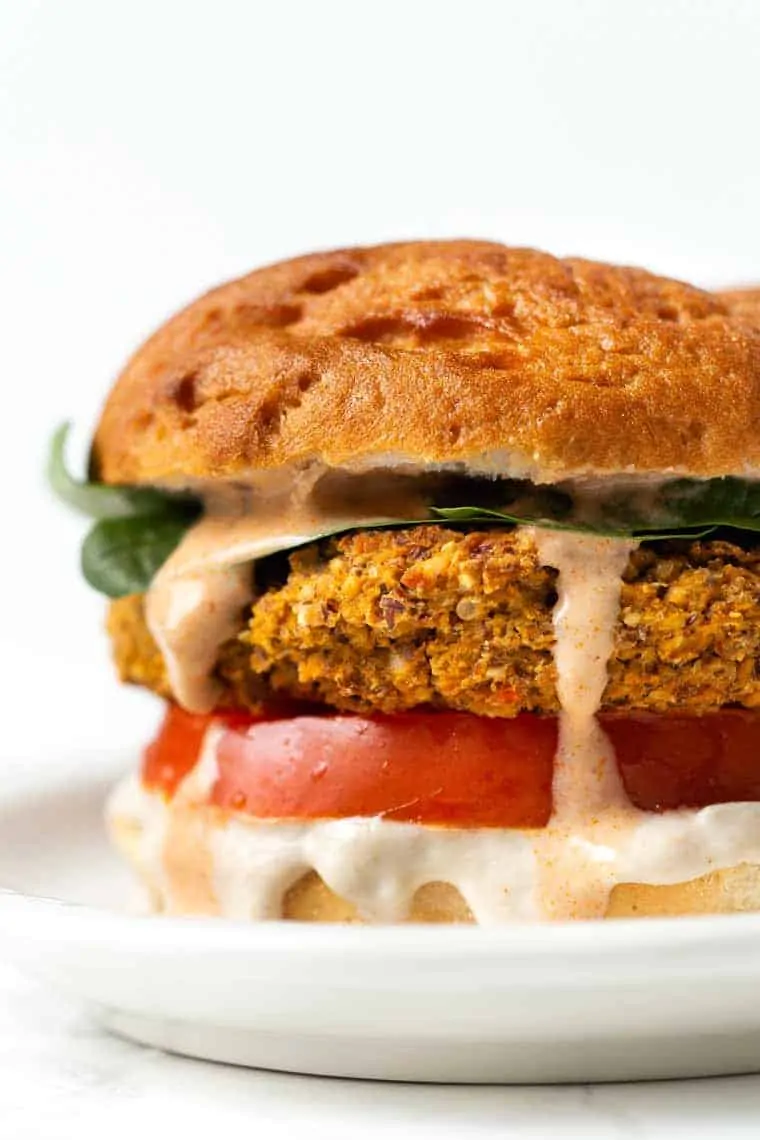 One of the things I've struggled with over the years of being mostly plant-based is the world of veggie burgers. Traditionally, veggie burgers are found in the frozen aisle of the grocery store. They're super thin and don't really resemble a real burger at all. It's almost something that you settle for rather than something you look forward to.
But I love burgers! I think they're one of those foods that are just so satisfying to eat. They should be filling, substantial and something that you're actually really excited to eat! Take these butternut squash white bean burgers, for example. They're filled with wholesome ingredients, baked until crispy, and spiced up with smoky chipotles in adobo. So good!
There are certainly options on the market today that are vegan burgers (i.e. veggie burgers that taste like meat burgers), but that's not what we're doing today. Those have their place, but they're not exactly nourishing. Today I'm showing you how to make nutritious, delicious, and hearty white bean burgers packed with flavor.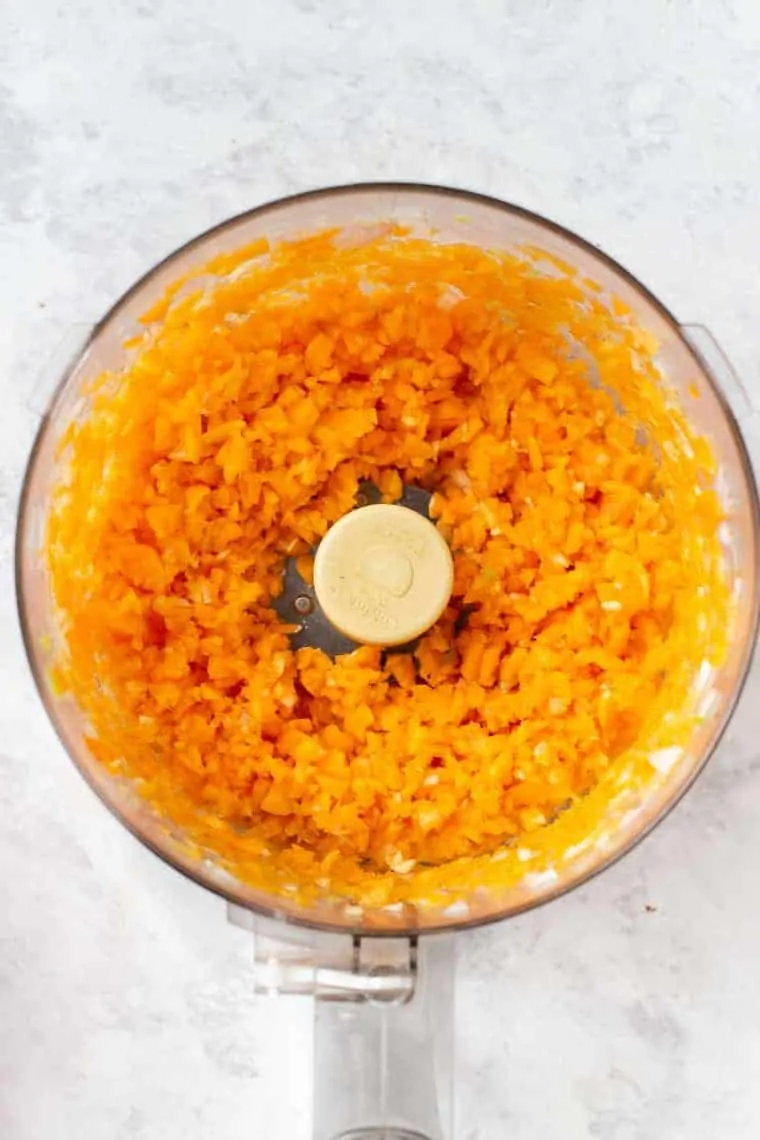 The Easiest Way to make Veggie Burgers
I think I've finally cracked the code on the best way to make veggie burgers. It's a method that's quick, easy and saves a ton of time. And you only need one appliance.
Your food processor!
I love making veggie burgers in my food processor because it's quick. You basically just toss everything in there, whizz it up and in less than 5 minutes, you'll have your veggie burger "dough". From there, I like to bake my veggie burgers rather than pan-fry them which makes them oil-free, a bit healthier and also crispy!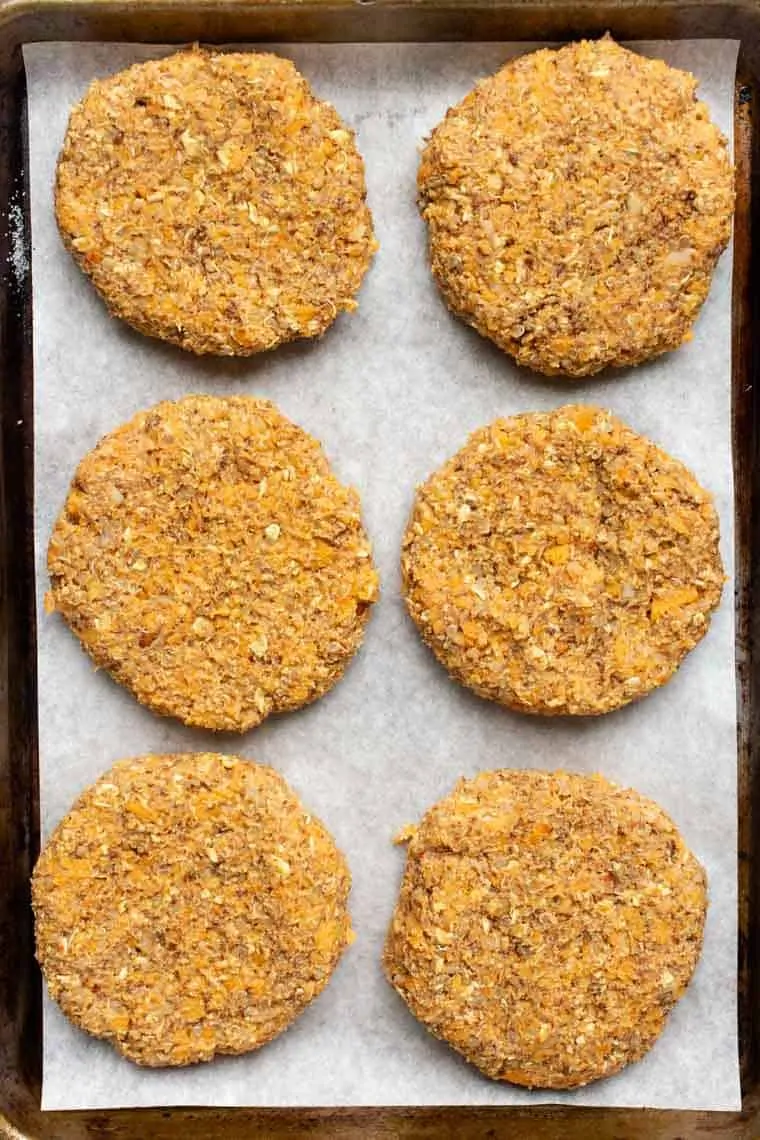 Ingredients for White Bean Burgers
Today's white bean burgers have a bit of a different base than most veggie burgers. Rather than sweet potato – which you see basically everywhere – we're using butternut squash. I absolutely LOVE butternut squash in recipes for spicy vegan butternut soup, butternut squash apple soup, and my vegan black bean enchiladas with butternut squash. And it brings delicious flavor to these white bean burgers, too!
We're of course also using white beans (hence the name of the recipe), but to bind these veggie burgers together we're using three simple ingredients:
rolled oats
cooked quinoa
flaxseed meal
That's been my formula for the last few recipes I've made and it not only helps hold everything together but also helps add more protein and fiber to the burgers. I love the cooked quinoa as it almost gives the burgers a little "meaty" texture.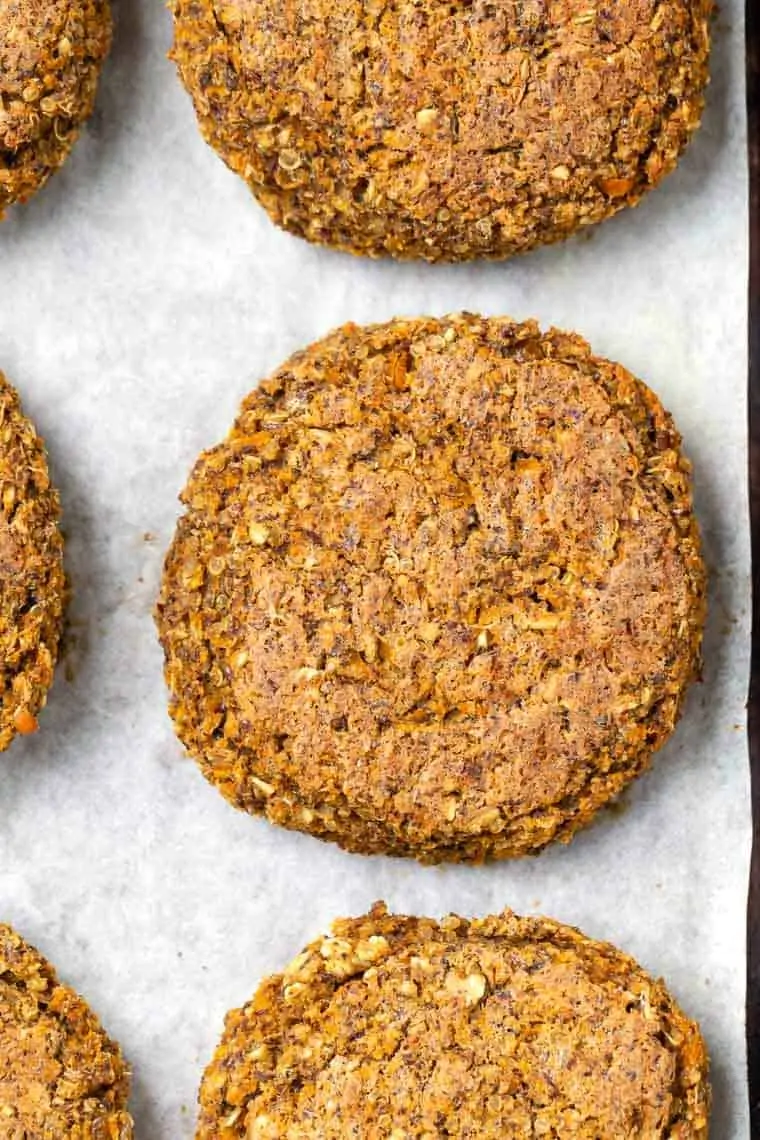 How to Make Baked Butternut Squash White Bean Burgers
I feel like I've talked about this before in some of my veggie burger recipes, but I have one major criterion for my homemade burgers: they can't be mushy.
Picture this…
You heat up a frozen veggie burger. You make it up into the perfect sandwich with your bun and all your toppings, then you take a bite. As you bite into the sandwich, the veggie burger pattie just squishes out the sides and oozes all over.
Has that ever happened to you? If so then you understand what I'm talking about. It's the worst! So that's what I'm trying to achieve with every homemade burger that I make.
And that's exactly what we have today with these white bean burgers. They're baked to perfection so they have a crispy outside and a soft inside, they don't ooze out the side and they taste incredible!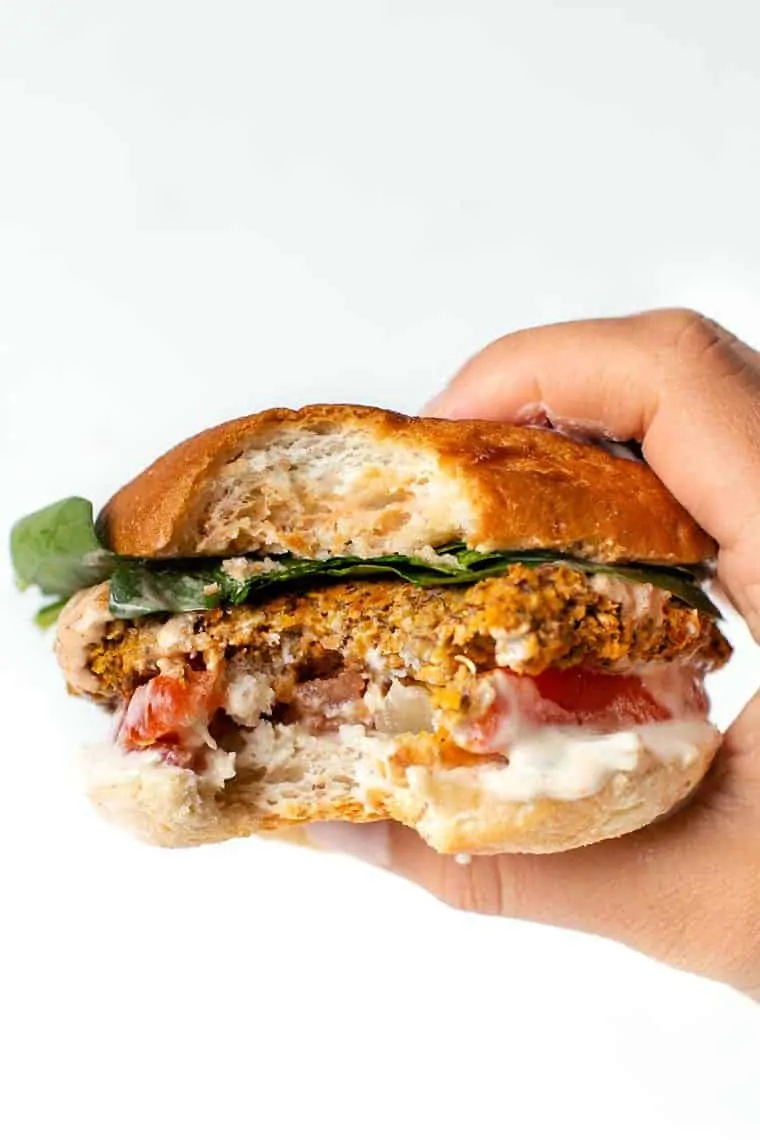 How to Serve Butternut Squash White Bean Burgers
These really are the ultimate veggie burger. We've chatted about how easy they are to make, but the flavor? It's next level.
I love spice – especially with a little smokiness – so the true secret ingredient is chipotle chiles in adobo sauce. They're spicy, they're smoky, they're kind of sweet and they had just the punch that these butternut white bean burgers need.
With one flavorful patty on your hands, it's time to assemble! Here's what I like to put on my veggie burgers:
It forms the perfect sandwich. Something kinda cheesy on the bottom. A cooling, juicy slice of tomato, then your bright, colorful greens. And finished with a sauce. These burgers are just delicious and I know you're going to love them!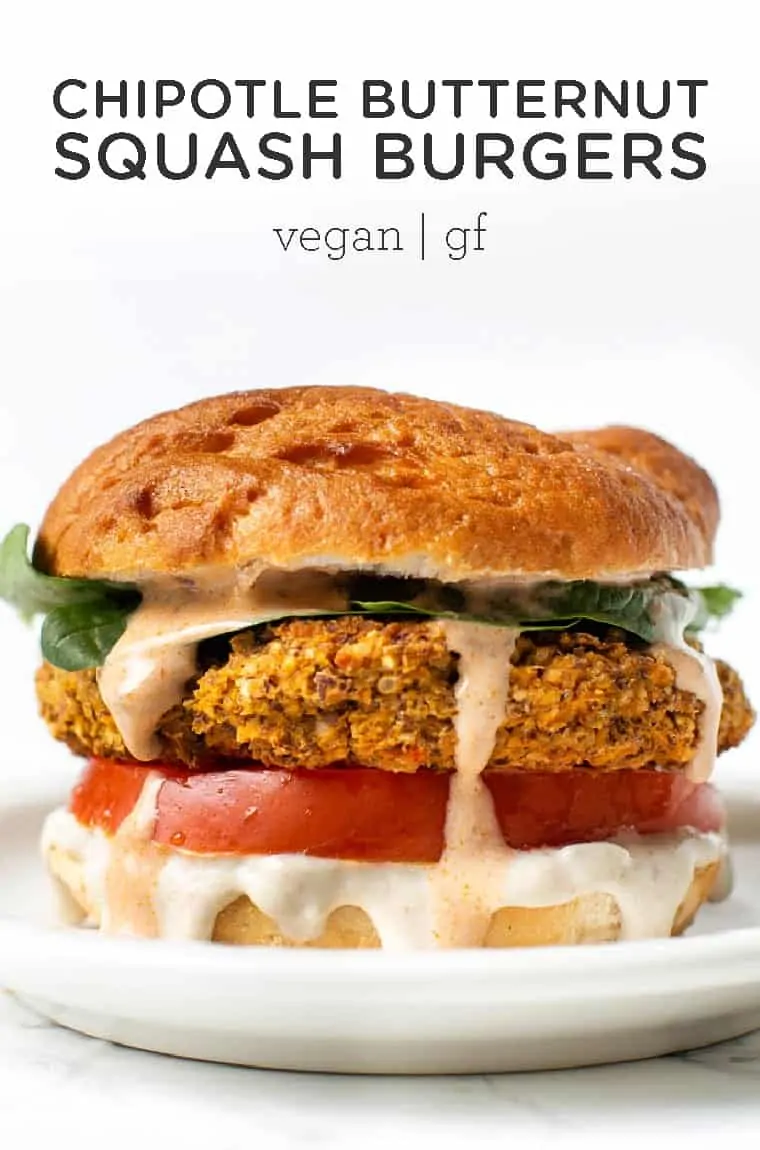 More Gluten-Free Veggie Burger Recipes:
Chipotle Butternut Squash White Bean Burgers
These baked butternut squash white bean burgers are simple to make, spiced up with smoky chipotles in adobo. They're a satisfying vegan patty with big, bold flavors!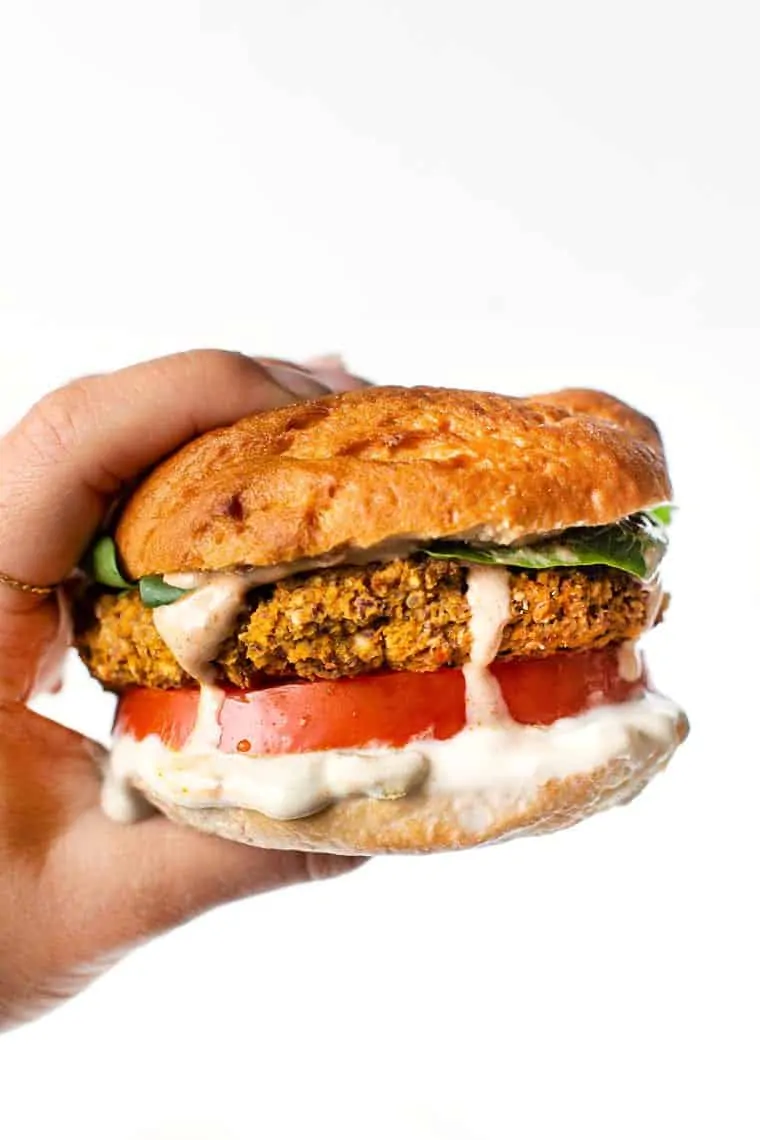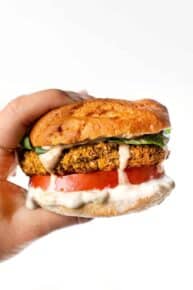 Ingredients
topping ideas
sliced tomato

spinach or romaine

tahini sauce
Instructions
Blitz the butternut squash, shallots and garlic in a food processor. Add the remaining ingredients and pulse to form a dough.

Divide the dough into 8 equal parts and shape them into patties. Place the burgers on a plate and refrigerate for 30 minutes.

When ready to cook, preheat the oven to 375ºF.

Add the burgers to a parchment lined baking sheet and bake for 40 minutes, flipping halfway through.

Serve immediately (or freeze for later) with your favorite toppings!
Nutrition
Serving:
1
burger
|
Calories:
130
kcal
|
Carbohydrates:
18
g
|
Protein:
4
g
|
Fat:
5
g
|
Saturated Fat:
1
g
|
Sodium:
397
mg
|
Potassium:
281
mg
|
Fiber:
5
g
|
Sugar:
2
g
|
Vitamin A:
3739
IU
|
Vitamin C:
8
mg
|
Calcium:
56
mg
|
Iron:
2
mg
Filed Under: