Vegan Bento Box Ideas: 3 Ways
Today we've got some quick and easy bento box ideas that are perfect for a healthy lunch! Each one features healthy ingredients, plenty of protein, and fresh vegetables for a fun and flavorful back-to-school lunch idea.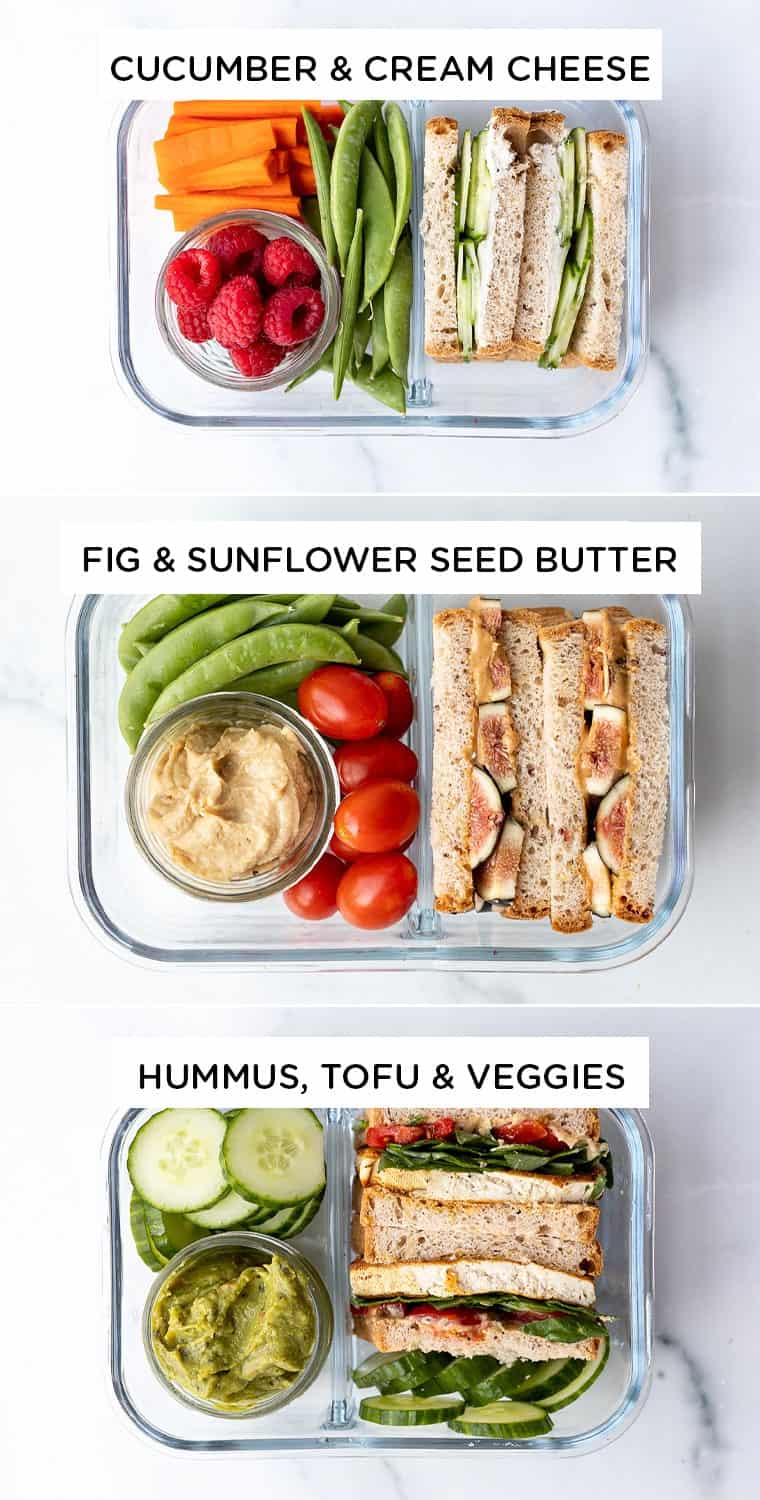 If you or someone in your house is headed back to school this fall or you simply are getting back into a busy schedule after a long summer of fun and relaxation, everyone can use a few hacks for easy, laid-back lunches.
And who doesn't love bento boxes?
Not only are they adorable and so refreshingly organized, but it's actually fun to both pack them and snack out of them. That's why I've put together my three favorite healthy bento box ideas for the back-to-school season.
All of these recipes are packed with whole grains, lots of gut-healthy fiber, and filling protein so you have a delicious lunch to look forward to, wherever you are.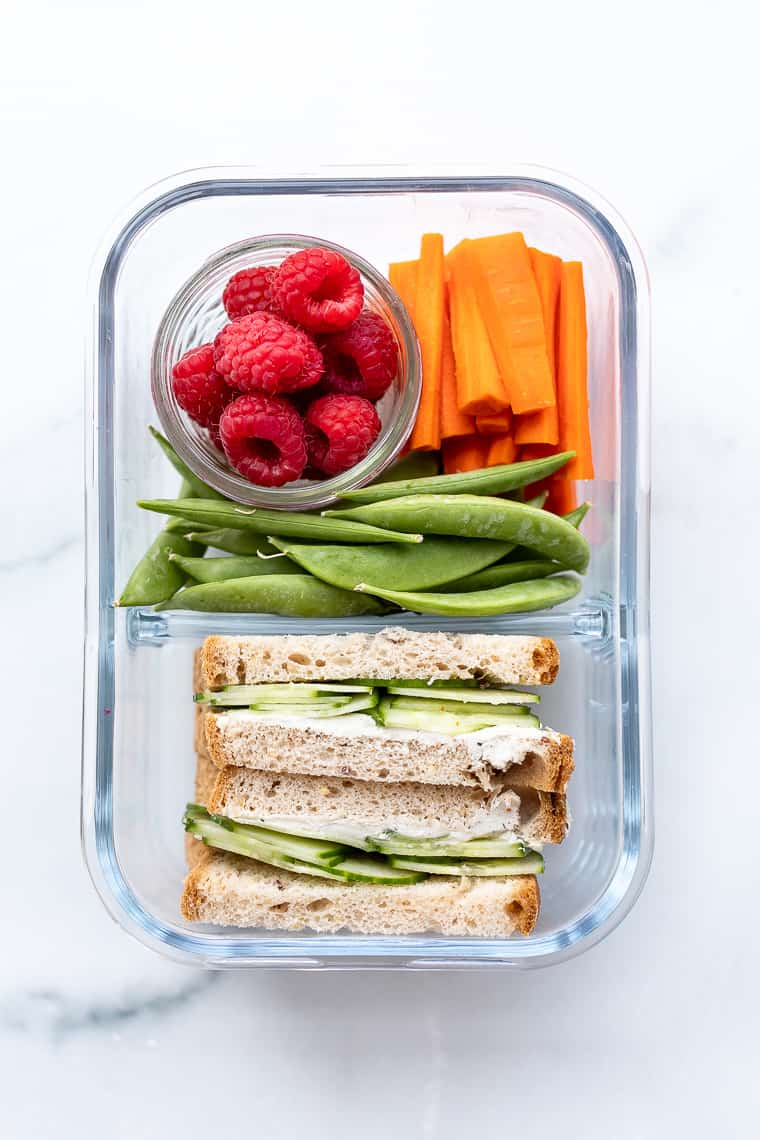 What To Put in Your Bento Box
There's really no right or wrong when it comes to filling your bento box. We simply encourage you to focus on healthy ingredients:
Complex carbohydrates: think whole grain bread, cooked grains, roasted sweet potato, whole grain crackers, etc.
Protein: think the classics like tofu, tempeh, chickpeas, tuna, deli meat, chicken, fish, etc., or add hummus, nuts, or seeds
Healthy fats: fats help to keep you fueled, so don't skip them! Think about including things like avocado, a nut- or seed-based cheese spread, nut/seed butter, nuts, and/or seeds
Veggies: you want most of your box to be filled with veggies – you'll see that we've included chopped veggies in each of them which is a simple way to make sure you're getting more veg into your meal
Fruit: if you like a little something sweet during your meal, feel free to add some fresh fruit. We like keeping it lower glycemic so often include things like berries
For today's bento box ideas, the star of these delicious sandwiches made on Little Northern Bakehouse bread.
This is my all-time favorite gluten-free bread. It has a rich, wheaty flavor that's so comforting, and is often sprinkled with seeds inside. It's hard to believe that the bread is gluten-free, but it's true. I also love that Little Northern Bakehouse uses organic grains like oat, millet, buckwheat, and my favorite, quinoa, while still making bread that is incredibly fluffy and light.
Plus if you're also vegan, you can count on their loaves to be gluten-free, egg-free, and non-GMO!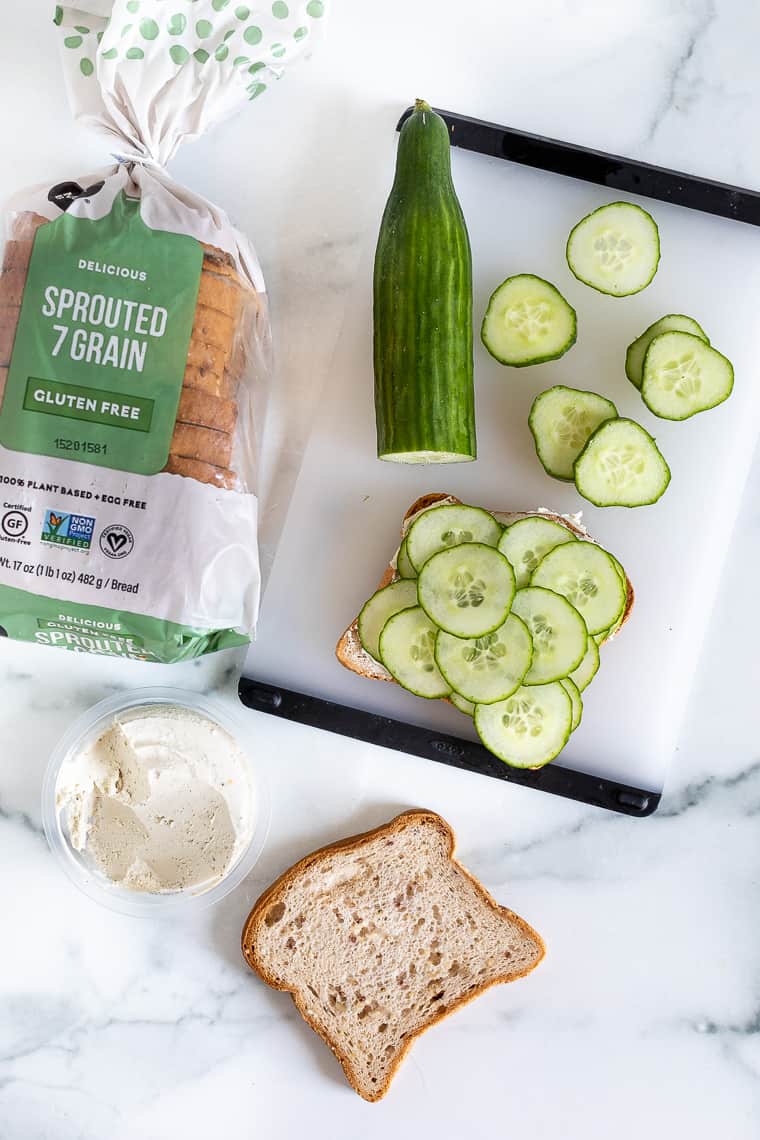 Bento Boxes Ideas: Three Ways
Here are my three favorite ways to fill my bento lunch box. These recipes take less than 5 minutes to make and will keep well for at least a few days.
I opted for sandwiches inside my bento boxes because they're a) delicious, b) not messy to eat and c) kid and adult-approved.
Our three sandwich ideas are:
Cucumber & Cream Cheese
Fig & Sunflower Seed Butter (or nut/seed butter of choice)
Hummus, Tofu & Veggie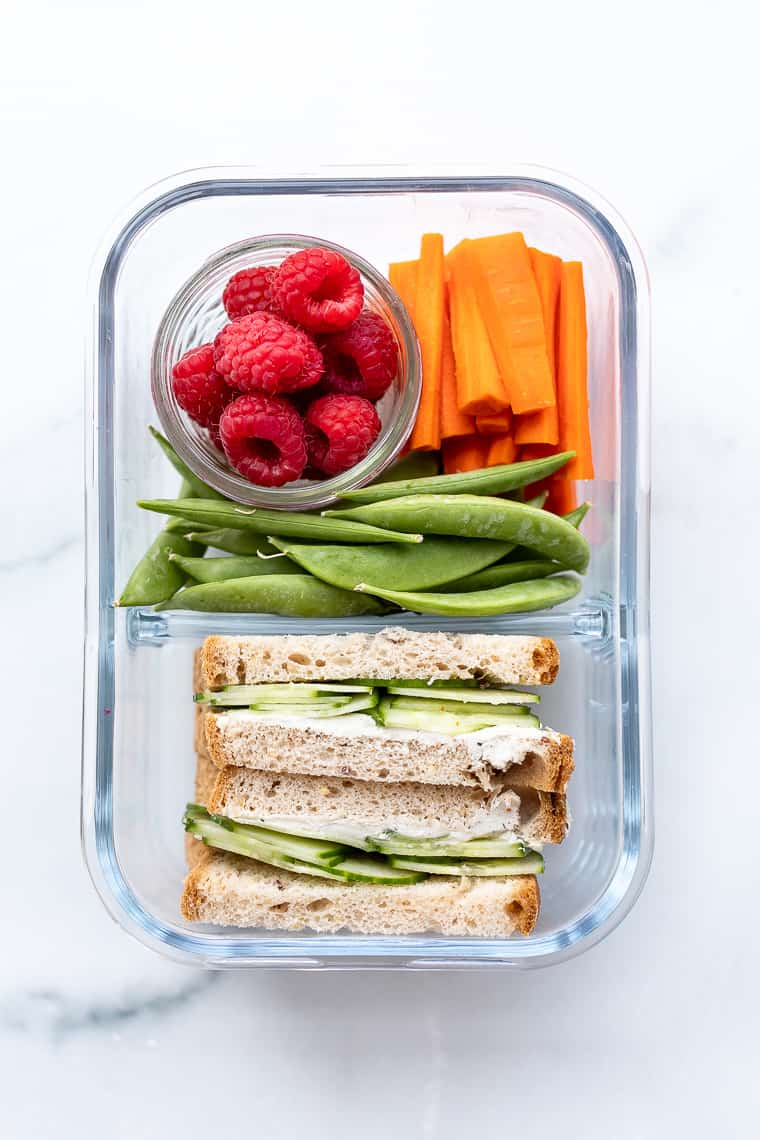 Idea #1: Cucumber Cream Cheese Sandwiches
First, a classic: the cucumber cream cheese sandwich is an underrated and truly delicious vegetarian lunch idea. I use the Sprouted 7-Grain bread for this sandwich.
Aside from your bread, this two-ingredient sandwich is made with:
Cream cheese. I like plant-based creamy cheese, but you can also use regular cream cheese if you're not vegan. Feel free to also use a flavored cream cheese too (scallion would be delicious).
Cucumber. Slice your cukes nice and thinly. If it has waxy skin, you can peel it first.
Then, I like to fill the rest of my bento box with fresh carrot sticks, sugar snap peas, and fresh raspberries for a sweet after-lunch treat.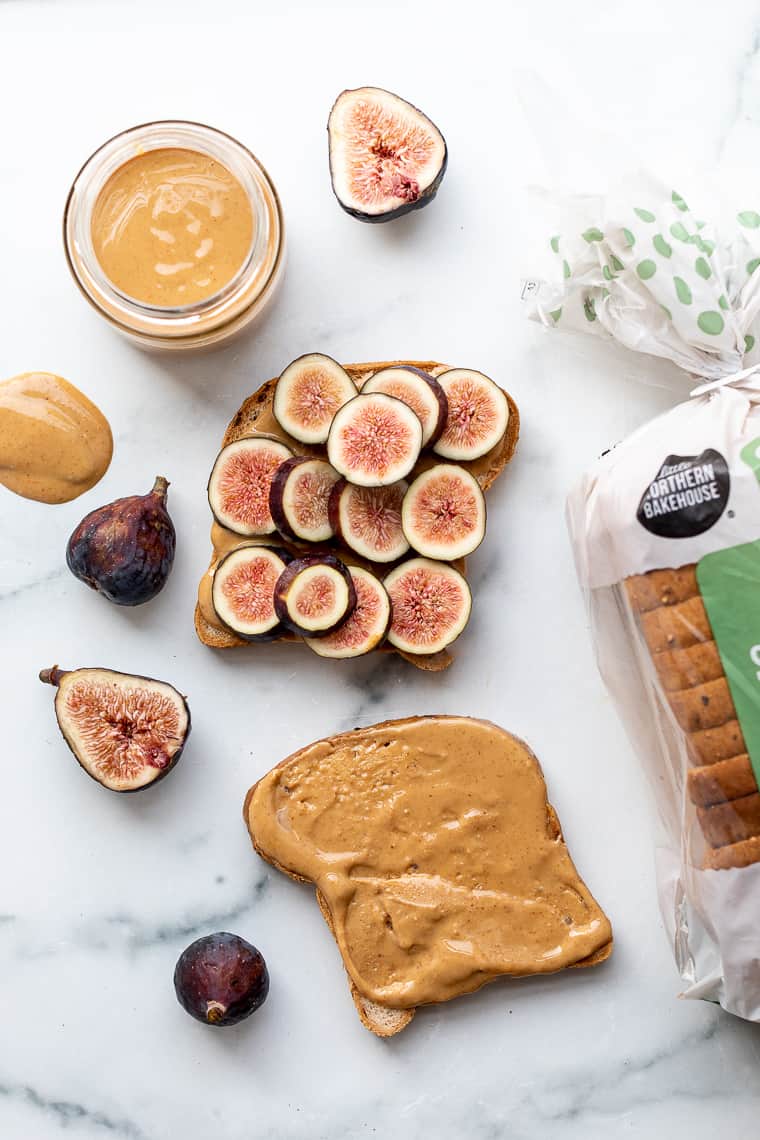 Idea #2: Fig and Sunbutter Bento Box Lunch
Everyone knows sunbutter seed butter and jelly. But during fig season, which is in the late summer and fall, I love to swap out the sugary jelly for fresh, juicy figs. They're naturally sweet and hold up well in the sandwich, so they're the perfect jelly replacement.
You can certainly use another nut/seed butter if you like. We like using sunflower seed butter because it's school safe and allergen-free.
On the side, I like sugar snap peas, juicy cherry tomatoes, and creamy hummus for dipping. This is a high-protein bento box that will keep you full and satisfied.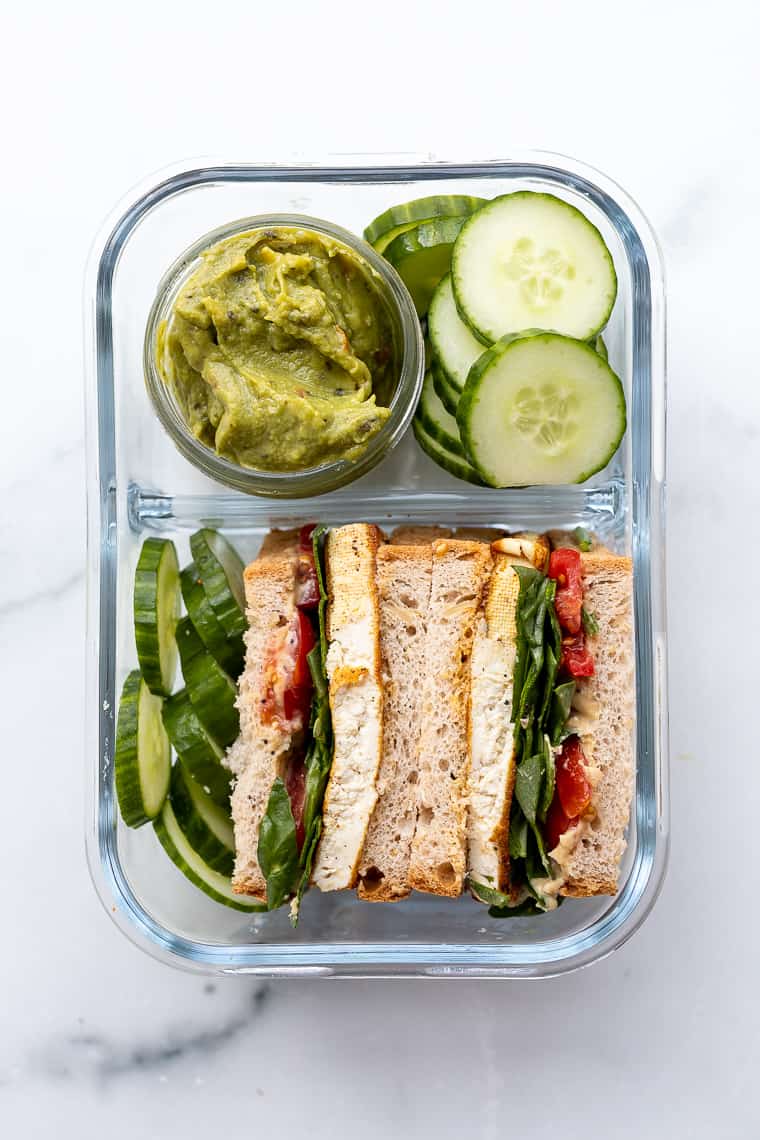 Idea #3: Hummus, Tofu and Veggie Bento Boxes
Finally, my other favorite bento box strategy is a protein-packed plant-based number.
To make this hummus and tofu sandwich, look for pre-cooked and seasoned tofu at the grocery store. It's ready to eat straight out of the package, so you have a no-cook lunch that's a cinch to prep. You find all sorts of tasty flavors like teriyaki or Greek-style tofu. Or, if you have some time, you can make a quick batch of my Balsamic Grilled Tofu to add to your sandwich.
To build these easy sandwiches, spread a thick layer of creamy hummus on each piece of bread. Then fill your sandwich with sliced cherry tomatoes and fresh spinach for more color and flavor. Top it off with thick slices of flavorful hummus. And on the side, add cucumbers and guacamole for dipping.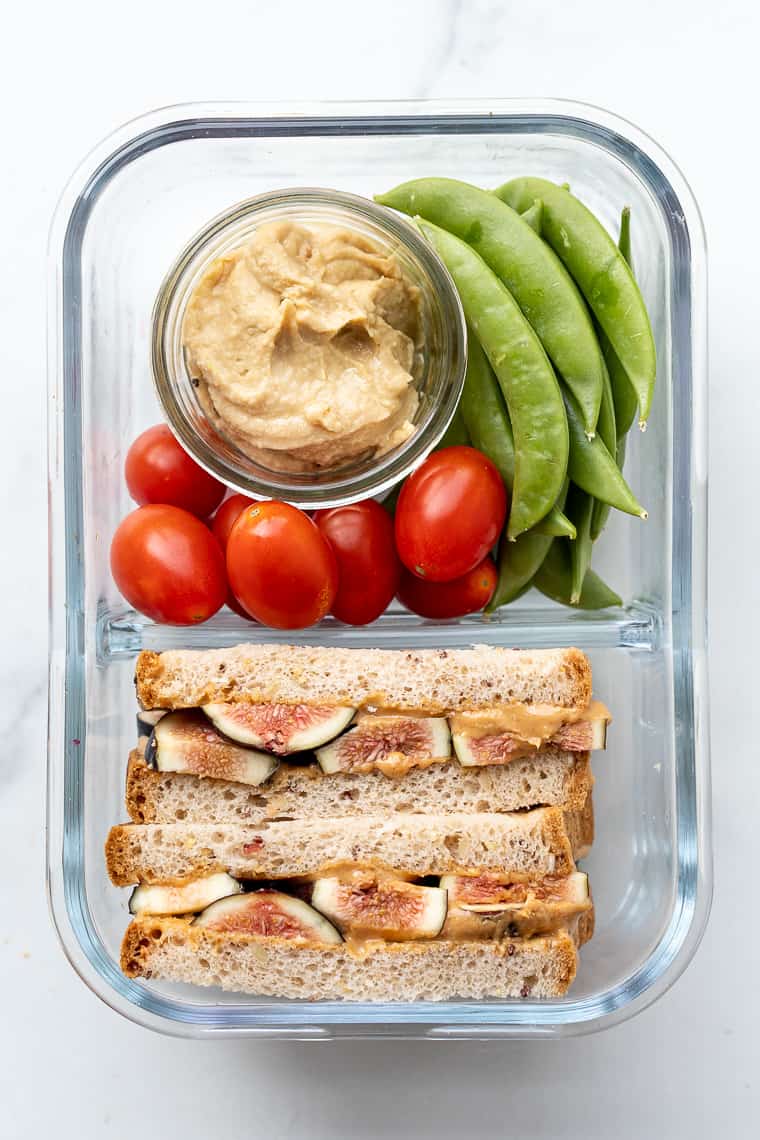 Prepping Bento Boxes Ahead of Time
If you're a meal prepper, then you're going to love bento boxes. They're such an easy way to keep your meals for the week organized and ready to go. You can prep each of these sandwiches and snacks the night or two before. Then in the morning, simply grab your box and go.
If you make any of these delicious bento boxes with Little Northern Bakehouse bread, be sure to let me know what you think with a comment below!
More Healthy Sandwich Ideas:
Bento Box Ideas: 3 Ways
Try these healthy back-to-school bento boxes ideas with three different variations. Filled with high-protein, fiber-packed plant-based ingredients.
Servings 1 bento box (each)
Calories 354kcal
Ingredients
for the Cucumber Cream Cheese:
2 slices Little Nothern Bakehouse bread
2 tablespoons vegan cream cheese (or regular)
1/2 cucumber , thinly sliced
1/2 cup carrot sticks
1/2 cup sugar snap peas
1/4 cup fresh raspberries
for the Fig & Sunflower Seed Butter:
2 slices Little Northern Bakehouse bread
2 tablespoons sunbutter butter
3 - 4 figs , sliced
1/2 cup sugar snap peas
1/2 cup cherry tomatoes
1/4 cup hummus
for the Hummus, Tofu & Veggie:
2 slices Little Northern Bakehouse bread
2 tablespoons hummus
4 oz flavored tofu
1/4 cup cherry tomatoes , sliced
1/4 cup spinach
1 cup sliced cucumber
1/4 cup guacamole
Instructions
For the Cucumber Cream Cheese: Spread 1 tablespoon of cream cheese on each slice of bread. Top one side with the thinly sliced cucumber and top with the other slice of bread. Cut in half and add to your bento box. Fill the other side of your box with the raspberries, carrot sticks and snap peas.

For the Fig & Sunflower Seed Butter: Spread 1 tablespoon of sunflower butter on each slice of bread. Top one side with the thinly sliced figs and top with the other slice of bread. Cut in half and add to your bento box. Fill the other side of your box with snap peas, tomatoes, and hummus.

For the Hummus, Tofu & Veggie: Spread 1 tablespoon of hummus on each slice of bread. Top one side with the tofu, cherry tomatoes and spinach, and top with the other slice of bread. Cut in half and add to your bento box. Fill the other side of your box with the sliced cucumbers and guacamole.
Notes
Note: nutrition facts are calculated for the Cucumber & Cream Cheese box. Storage tips: boxes can be made up to 3 days ahead. Store in the fridge in a sealed container.
Nutrition
Serving: 1box | Calories: 354kcal | Carbohydrates: 50g | Protein: 8g | Fat: 14g | Saturated Fat: 3g | Polyunsaturated Fat: 1g | Monounsaturated Fat: 1g | Cholesterol: 12mg | Sodium: 397mg | Potassium: 552mg | Fiber: 10g | Sugar: 14g | Vitamin A: 11494IU | Vitamin C: 46mg | Calcium: 166mg | Iron: 2mg
This recipe is brought to you in partnership with Little Northern Bakehouse. As always, all opinions are my own. I only share companies I love and trust, so thank you for continuing to support Simply Quinoa!
share what you make
Tag #simplyquinoa on Instagram with your creations! We love sharing what you make with the community. We can't wait to see!

follow on instagram